April, 24, 2013
4/24/13
4:30
PM ET


Most experts agree that the NFL draft's most talented quarterback class was in 1983. Three Hall of Fame signal-callers came from that group in the first round, and ESPN's "30 for 30" series did a tremendous job documenting it Tuesday night.
A total of six quarterbacks were taken in the first round, with four AFC East teams drafting the position. Half of the division landed Hall of Famers and the other half whiffed.
Here is a recap of the first round of the 1983 draft for the AFC East:
The Bills drafted Jim Kelly No. 14 overall. He went on to lead Buffalo to four Super Bowls and became the franchise's all-time leading passer. The Bills dominated the AFC East and won the AFC from 1990-93 but came up short each time in the Super Bowl. Kelly is a staple in Buffalo and still lives there.
The Patriots drafted Tony Eason one pick after Kelly, at No. 15 overall. His career highlight was helping to lead New England to the Super Bowl during the 1985 season. But Eason was mostly a bust and only reached double figures in touchdown passes three times. He would have an injury-plagued career and posted a 28-23 record in as a starter in right seasons.
The Jets drafted Ken O'Brien No. 24 overall. Jets fans were disappointed that the team passed on Dan Marino for O'Brien -- and they were correct in their assessment. But O'Brien had a decent career that included two Pro Bowls, and he was actually 8-7 head-to-head against Marino during their AFC East rivalry in the 1980s and early 1990s. But O'Brien could never come close to matching Marino's overall numbers and victories. O'Brien was 50-59-1 as a starter in his career.
Fortunately for the Dolphins, Miami landed Marino at No. 27, the second-to-last pick of the first round. Marino went to a very good Dolphins team and a Hall of Fame coach in Don Shula. The pair turned out to be the second-winningest quarterback-coach combination of all time, trailing only New England's Tom Brady and Bill Belichick. Marino's super-quick release and arm was one of the best ever. But like Kelly, Marino never won a Super Bowl.
The old Baltimore Colts were also in the AFC East in 1983. They drafted quarterback John Elway No. 1 overall, and you know the rest: Elway did not want to play for Baltimore and threatened to play baseball. As a result, the Colts traded Elway to the Denver Broncos, where he went to five Super Bowls, won two titles and had the most accomplished career of this famed quarterback class.
It's mind-boggling to think of the possibilities with every AFC East team drafting a quarterback in 1983.
What if the Jets took Marino? What if the Bills passed on Kelly and he went to New England one pick later?
The history of the AFC East would've been entirely different.
June, 14, 2011
6/14/11
11:46
AM ET
Alex Smith
's candidacy as the
San Francisco 49ers
' starting quarterback heading into 2011 sent me searching for some context.
The charts show some initial findings.
Smith
The first one shows quarterbacks since 1970 who met the following criteria, as
provided by Pro Football Reference
:
First-round draft choice;
Has thrown between 40 and 60 touchdown passes;
Career passer rating was no higher than 85.0;
Has played in no more than six seasons.
Smith's new coach, Jim Harbaugh, is one of the players on the list. Some of the players enjoyed moderately successful careers.
Vince Young
, Greg Landry, Harbaugh, Dan Pastorini and Archie Manning were named to at least one Pro Bowl.
The second chart eliminates Smith's statistically horrible rookie season, when he had one touchdown and 11 interceptions for a very bad team.
It shows statistics for quarterbacks drafted in first rounds since 1970 based on the following criteria, also
according to Pro Football Reference
:
Second through sixth seasons only;
Had thrown between 40 and 55 touchdown passes;
Had thrown no more than 45 interceptions;
Had started at least 40 games during this period.
Harbaugh again makes the list, but I was most struck by similarities between the numbers for Smith and Harbaugh's old teammate, Jim McMahon.
Smith and McMahon could not be less similar in terms of personality, overall approach, supporting cast and on-field results. McMahon went 22-1 as a starter from 1985-87.
The Harbaugh comparison is much more relevant. Both players failed to meet expectations early in their careers despite their diligence. Harbaugh's personality was much more aggressive, however, and that raises a very fair but harsh question: Does Smith have the right makeup to salvage his career in a manner the way Harbaugh did after leaving Chicago?
May, 19, 2010
5/19/10
1:39
PM ET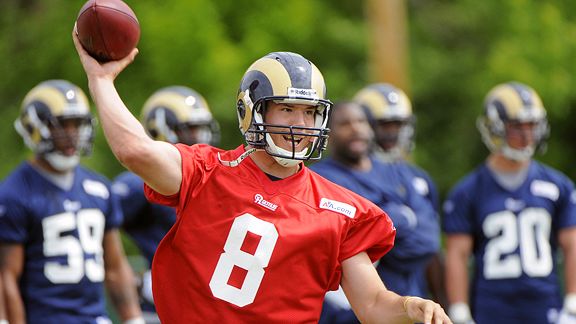 G. Newman Lowrance/Getty ImagesIt remains to be seen how the Rams will handle quarterback Sam Bradford during his rookie season.
The
St. Louis Rams
need not look far to see what can happen when an overmatched NFL team mishandles a quarterback drafted first overall.
The division-rival
San Francisco 49ers
are still trying to recoup their investment in 2005 first overall choice
Alex Smith
.
The Rams probably will not change offensive coordinators every year for the next five seasons, as the 49ers improbably did in Smith's first five, but they still need to be careful with rookie No. 1 overall choice
Sam Bradford
.
Early indications suggest the Rams would like to follow the plan Philadelphia took with
Donovan McNabb
back in 1999, when Rams offensive coordinator Pat Shurmur was coaching the Eagles' tight ends. Doug Pederson opened as the Eagles starter that season, allowing McNabb to ease into the starting role. McNabb got some reps off the bench before taking over as the starter in November.
In setting expectations for Bradford, I looked at production by rookie quarterbacks since 1970. The list featured several older players, some with experience in the CFL or USFL. I filtered out those players by focusing only on quarterbacks who were 25 or younger as NFL rookies. A quick look at them by games started:
16-game starters
There were only five, in part because the NFL season spanned only 14 games until 1978.
Peyton Manning
,
Matt Ryan
,
Joe Flacco
, Rick Mirer and
David Carr
pulled it off. All but Flacco, chosen 18th overall by Baltimore in 2008, were drafted among the top three overall choices in their class.
The ones who took the most sacks as rookies -- Carr (76) and Mirer (47) were the only ones to absorb more than 32 -- had the poorest careers. That might suggest the players had a hard time recovering from the beatings they took early in their careers. It also might reveal something about the quarterbacks' ability to process information quickly enough to get rid of the football before trouble arrives.
Offensive lines tend to take disproportionate blame for sacks, in my view. Quarterbacks are often responsible for them as well.
11- to 15-game starters
None in this group threw even 20 touchdown passes in a season (Manning and Dan Marino are the only rookie quarterbacks since 1970 to reach that barrier as rookies).
We should expect modest production from Bradford even if he starts most of the Rams' games.
Ben Roethlisberger
was a rarity among this group by completing at least 60 percent of his passes, but rookie completion percentage wasn't a reliable indicator for career success overall.
Some quarterbacks ranking lower played when teams ran higher-risk offenses and rules made it tougher to complete passes.
6- to 10-game starters
Hall of Famers Marino, John Elway, Terry Bradshaw and Dan Fouts fell into this group.
This group featured a solid middle class headed by McNabb,
Eli Manning
, Bernie Kosar, Jim McMahon, Neil Lomax, Steve Beuerlein, Pat Haden, Doug Williams and Rodney Peete.
There were a few disappointments -- Ryan Leaf, Cade McNown,
Kyle Boller
and the 49ers' Smith, who still has a shot at redemption -- but this seems like a reasonable number of starts for a quarterback drafted early.
Matthew Stafford
and
Josh Freeman
fell into this category last season.
3- to 5-game starters
Some high picks fell into this category, including Bert Jones, Vinny Testaverde, David Klingler, Tony Eason,
Rex Grossman
, Akili Smith,
Jay Cutler
, Tommy Maddox, Jim Everett and 1984 supplemental choice Steve Young.
This group produced relatively few true stars, however. Young was an obvious exception. Boomer Esiason was a good value.
In looking at the list, though, my sense is that a really good quarterback -- particularly one chosen early -- will start more than five games if he gets a chance to start at all in his first season.
2 or fewer starts
Hundreds of rookie quarterbacks failed to start a game and
69 did not attempt a pass
. The latter group featured
Tony Romo
and in-the-news quarterbacks
Kevin Kolb
and
Charlie Whitehurst
, but
Daunte Culpepper
, the 11th player chosen in 1999, stood out as a rare high draft choice among the group.
Unlike
Carson Palmer
, who sat out his rookie season as a high choice in Cincinnati, Bradford is going to play as a rookie unless he gets hurt.
It's reasonable to expect Bradford to start at least half the games, putting up modest numbers. He'll probably struggle some, and that is OK, but it's a bad sign if the Alex Smith comparisons apply by season's end. Smith tossed one touchdown pass with 11 interceptions as a rookie. He wasn't ready and his supporting cast gave him little chance. That's a bad combination.
February, 26, 2010
2/26/10
9:15
PM ET
INDIANAPOLIS --
I doubt Bill Belichick will be too impressed
with this declaration.
Nevertheless, NFL Network analyst Charley Casserly made a bold statement Friday about this year's draft class.
[+] Enlarge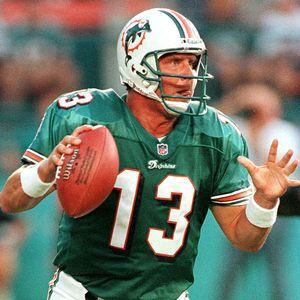 RHONA WISE/AFP/Getty Images Dan Marino was the 27th player drafted from the very successful Class of '83.
The former
Washington Redskins
and
Houston Texans
executive asserted the players taken in this year's first round will be the greatest collection of talent since the most celebrated class turned pro nearly three decades ago.
"This is the best first round I've seen since 1983," Casserly said at the NFL scouting combine in Lucas Oil Stadium.
Of the
28 players selected in the first round in 1983
, six have been inducted into the Pro Football Hall of Fame. They went to 77 Pro Bowls and won nine Super Bowls.
The 1983 quarterback class is legendary. All five AFC East clubs selected quarterbacks.
The Baltimore Colts took John Elway first overall. The
Buffalo Bills
drafted Jim Kelly 14th. One spot later, the
New England Patriots
chose Tony Eason. The
New York Jets
got Ken O'Brien 24th, and the
Miami Dolphins
used the 27th pick on Dan Marino.
Other first-round stars included running backs Eric Dickerson and Curt Warner, offensive linemen Chris Hinton, Jimbo Covert and Bruce Matthews and defensive backs Joey Browner, Gil Byrd and Darrell Green.
Casserly claimed only that crew will surpass the one that comes together in April.
With a rookie salary cap expected to be part of the next collective bargaining agreement, 53 underclassmen declared for this year's draft so they can sign under the current CBA, which allows rookies to get whatever they can.
"In talking to general managers throughout the league, decision-makers," Casserly said, "I think it's the result of two things. Last year, there was a concentrated effort to keep players in school. Conversely, both sides in the labor negotiations have talked about a rookie wage scale.
"So when you have those two things working, players without a motivation to stay in school will say 'The players who stayed in last year, you have a perfect storm to have the best junior crop you've had since all the way back to '83.' So I think this is the best first round I've seen going into a draft since 1983."
NFL SCOREBOARD
Thursday, 10/23
Sunday, 10/26
Monday, 10/27
WEEKLY LEADERS