NFL Nation:

Tony Mandarich
May, 6, 2011
5/06/11
12:00
PM ET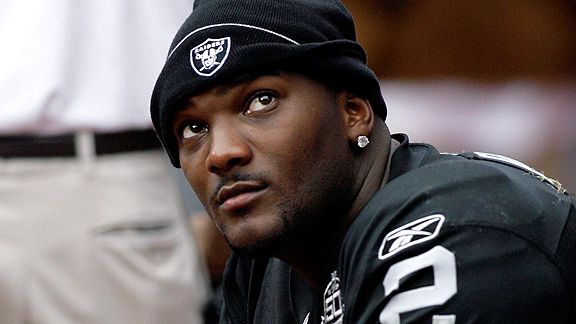 Brett Davis/US PresswireThings have been looking up for the Raiders since releasing JaMarcus Russell a year ago.
It was exactly one year ago that the
Oakland Raiders
liberated themselves from the greatest draft bust in NFL history.
Happy anniversary, Raider Nation.
On May 6, 2010, the Raiders decided it was no longer worth keeping
JaMarcus Russell
around their organization. Thus, just more than three years after making him the No. 1 overall pick in the draft, Oakland gave up on the talented but lackadaisical quarterback.
Russell, who was 24 at the time of his release, was 7-18 as a starter and made more than $39 million in guaranteed money. His questionable work ethic and general malaise were legendary. The only thing Russell accomplished in Oakland was taking
Tony Mandarich
and
Ryan Leaf
off the hook. Russell is the unquestioned biggest NFL draft bust of all time.
The events of the past year prove Oakland made the right decision. The Raiders are an improved, refreshed team without Russell, while he has made no positive strides toward resuming his NFL career. There have been significant developments that indicate Russell may never play in the NFL again.
"I don't see it happening," Gary Horton of Scouts Inc. said of a Russell comeback. "The guy has never shown he wants to work for it."
Russell was unavailable for comment on this story.
Admitting the mistake allowed Oakland owner Al Davis and the rest of the organization to move on. No one in Oakland had to watch Russell slump around the facility and answer questions about his never-to-come development. In January,
Davis acknowledged the pain of the Russell experience
, but he was happy the team was moving forward.
[+] Enlarge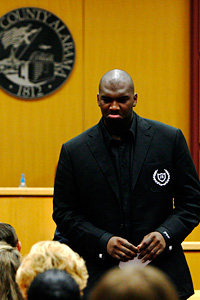 John David Mercer/US PRESSWIREJaMarcus Russell was arrested for possesion of codeine syrup without a prescription but was not indicted. Still, no team has picked him up since his Raiders release.
"(He's) a good person but he's got personal problems, and I decided that it was time that we were not going to fight it anymore," Davis said. "I wasn't going to. I wasn't going to ask the coaching staff to do it, and I had already traded for Jason and had that in the back of my mind. ... It hurt us a great deal. But you have to go on. ... JaMarcus hurt. Anytime you lose a first-round draft choice it hurts. But it's over. It's been a long time and we'll overcome it."
The recovery period began the day Russell was cut.
After winning a total of 14 games in the three seasons Russell was in Oakland, the Raiders went 8-8. Veteran quarterback
Jason Campbell
-- who was acquired less than two weeks before Russell was chopped -- started 12 games and gave the Raiders' offense professionalism, preparation and leadership that was lacking under Russell.
"I think the simple fact that Russell was cut helped the Raiders improve," Matt Williamson of Scouts Inc. said. "It had to send a message to the team that the Raiders weren't going to keep dead weight around just because he was a high draft pick. It showed the team that the Raiders were serious about winning and that they weren't going to keep a liability around … It had to fire up that team and helped make them improve in 2010."
Although Oakland has improved without Russell, the player himself has been unable to recover his career. Shortly before training camp, the
New York Jets
showed interest in Russell. Days later, however, Russell was arrested at his Mobile, Ala., home on charges of possession of codeine syrup without a valid prescription. In October, a grand jury declined to indict Russell.
In November, Russell worked out for both Washington and Miami. He was out of shape and unimpressive in both workouts. Russell weighed 282 pounds when Oakland cut him. He weighed significantly more during those workouts.
Russell has not had an NFL workout since. Don't expect teams to flock to him once the lockout is over. Russell is not even attracting interest from the minor league United Football League.
Last year, former Denver general manager and Omaha Nighthawks personnel man Ted Sundquist reached out to Russell as the team put him on its protected list. Sundquist said the word from Russell's camp was that he wanted to pursue an NFL career. This year, no UFL team put Russell on its protected list, and Russell went undrafted by the five-team league Monday while a player like 2002 Kansas City first-round pick
Ryan Sims
was a high draft pick.
In April, former NBA player and coach John Lucas
reportedly parted ways
with Russell after serving as a "life coach." Lucas was reportedly frustrated with Russell's work ethic. There hasn't been any indication that Russell is working out and or that he is preparing for a comeback. Despite earning $39 million in Oakland, Russell
reportedly faced foreclosure on his Bay Area mansion.
"I just don't see it in the kid," Horton said. "... I don't think he is throwing and he is not doing the right things to give himself a chance to get back. I don't think anyone will give him a chance."
That's what separates Russell from other recent quarterback busts such as Leaf,
Akili Smith
,
Tim Couch
,
Cade McNown
and
Joey Harrington
. At least one other organization acquired these players after they were cut by the teams that drafted them. They weren't considered untouchable, as Russell has become in the past 365 days.
May, 6, 2010
5/06/10
7:30
PM ET
You are off the hook,
Ryan Leaf
.
Now that he has been cut by Oakland
, quarterback
JaMarcus Russell
has to be considered the biggest all-time NFL draft bust. Here is my list of the five greatest busts in draft history:
1. JaMarcus Russell:
He is 7-18 as an NFL starter, which is the worst record by a quarterback who was a No. 1 overall pick. He is the fastest quarterback who was a top pick to be released by his drafting team. Russell, 24, lasted three years in Oakland. He cost the Raiders $39 million.
2. Ryan Leaf:
Leaf was the No. 2 pick in 1998, being taken one pick after the great
Peyton Manning
. Leaf was a disaster on and off the field in San Diego. He lasted three injury- and controversy-plagued seasons with the Chargers. He won four games with the Chargers. Still, Russell is a bigger bust because he was a top pick and he was much more expensive than Leaf.
3. Charles Rogers:
The Lions took Rogers with the No. 2 pick, one slot ahead of when Houston took
Andre Johnson
. Rogers lasted three seasons in Detroit. His stay there was marred by injuries and off-field issues.
4. Tim Couch:
Cleveland picked him with the first pick in 1999 over No. 2 pick
Donovan McNabb
. Couch lasted four horrible seasons in Cleveland.
5. Tony Mandarich:
The Packers took the tackle No. 2 in 1989, ahead of the likes of
Barry Sanders
,
Derrick Thomas
and
Deion Sanders
. He lasted three years in Green Bay and never made an impact.
March, 9, 2009
3/09/09
8:06
AM ET
Posted by ESPN.com's Kevin Seifert
Hope everyone had a pleasant weekend. It was decidedly quiet in these parts after Friday's flurry of moves.
Yes, the second tier of NFL free agency has begun. The big names are off the board, and now teams are filling in their depth and shifting gears to the draft. The college Pro Day schedule is kicking into gear, and executives like Minnesota vice president Rick Spielman plan to hit the road Monday.
What's left? You have to imagine that Chicago will address its right tackle position in some way, most likely by re-signing free agent John St. Clair. Green Bay will continue to sift through the rubble for players with experience in the 3-4 defense. They still have interest in free-agent linebacker Kevin Burnett.
Detroit, meanwhile, has indicated an interest in adding to its quarterback depth. Will the Lions help release the logjam of veterans available on the free-agent market, a group that includes Jeff Garcia, Rex Grossman, Byron Leftwich, J.P. Losman and others? And will the Bears join that pursuit or settle in with Caleb Hanie as their No. 2 quarterback? Those are some of the questions we will be following this week.
But first, let's catch up on the highlights of NFC North weekend coverage:
Tom Silverstein of the Milwaukee Journal Sentinel wonders if Packers cornerback Tramon Williams will hold out for a multiyear contract this offseason. Williams is an exclusive rights free agent, which means his contract has expired but he is not eligible to sign with another team. It's the same situation Packers running back Ryan Grant found himself in last offseason.
Tim Froberg of the Appleton Post-Crescent wants an apology from former Packers offensive lineman Tony Mandarich, who has admitted to steroid use during his playing days.
It's pretty clear Minnesota has no interest in re-signing safety Darren Sharper. Judd Zulgad of the Star Tribune wonders where Sharper will end up.
As it turns out, tight end L.J. Smith did visit Detroit last week. Carlos Monarrez of the Detroit Free Press reports Smith hasn't ruled out signing with the Lions.
Jerry Green of the Detroit News debunks, once and for all, the "curse" of Bobby Layne.
Mitch Albom of the Detroit Free Press on former Lions defense end Corey Smith: "I have been more stung by the thought that someone I met -- not a friend, not a close associate, just someone I spoke with a few times -- suddenly could be whisked away, not even a body to confirm the death. He's here. Then he's gone?"
Brad Biggs of the Chicago Sun-Times is confident the Bears will soon sign St. Clair.

October, 15, 2008
10/15/08
8:22
AM ET
Posted by ESPN.com's Kevin Seifert
Who would have thought the Detroit Lions would be the most newsworthy team in the NFC North? Not I, said the fly. Tuesday was their busiest day yet as they shelved quarterback Jon Kitna and traded receiver Roy Williams. We should start with Kitna's comments to Mitch Albom of the Detroit Free Press.
Kitna confirmed what many have thought all along: That he does have a back injury but it's not season-ending. Kitna said he was treated as a "cancer" because he pointed out some of the Lions' offensive flaws, that the team wouldn't let him travel to Minnesota last weekend and that he couldn't talk Rod Marinelli into letting him play.
Here's the summary quote:
"I'm not whining. Nobody wins when that happens. But this is factual. Not long ago, I had a talk with Rod concerning my health and my overall fate with the team, and basically the things I had to say, he didn't want to hear. On Friday they said you're not going on the trip [to Minnesota] even though I was perfectly healthy on Friday, which is the norm with back spasms for me. ...Then they said they were gonna look at three possibilities. One, wait a couple weeks to see how my back responds. Two, put me on IR. Three, try and trade me."
Again, this isn't the first time a team has put a player out to pasture. In some ways, the Lions deserve credit for making a forceful, if cold-blooded, football decision. It would have been the more obvious choice if they actually had a viable replacement on the roster, but few would disagree that Kitna's best days are behind him.
Bob Wojnowski of the Detroit News called it a "tough move, but the right one" and gave credit to the team for making progress at the end of the day. Free Press columnist Drew Sharp, meanwhile, credited new Lions general manager Martin Mayhew for fleecing Dallas on the Williams trade: "It's nothing short of miraculous that the Lions got a first-round draft choice for a player they really didn't want beyond this season."
Mayhew played his hand well, writes John Niyo of the Detroit News. Mayhew downplayed the possibility of trading Williams as late as Monday afternoon but said he had a firm offer on his desk when he returned to his office after meeting with Detroit reporters. In the end, Mayhew got as much as the Lions reasonably could have expected if they had put a first- and third-round franchise tag on Williams in the offseason.
Now, the Lions won't have to worry about an injury or downturn in production affecting Williams' value: "The uncertainty of what his value would be going forward dictated that we make that move today," Mayhew said.
That should give you a good taste of the reaction to Tuesday's events. We'll bring you more as the news dictates. For now, here's a jaunt around the rest of the NFC North: