September, 1, 2013
9/01/13
5:00
AM ET
Quick-hit thoughts on the NFL and the
New England Patriots
:
1. The Patriots kept just two quarterbacks on their initial 53-man roster, marking the fourth time in the past five years they have done so. How does that compare to the other teams in the NFL? By my count, here is the breakdown for 2013 after Saturday's cut-downs:
Four quarterbacks: three teams
Three quarterbacks: 15 teams
Two quarterbacks: 14 teams
The next step that will be interesting to monitor is how many of the 14 teams with just two quarterbacks add a third to their practice squad.
2. With all seven draft choices making the Patriots' initial roster, plus five undrafted players, that initially gives the club 12 of its 51 spots filled by rookies. Add in six draft picks from last year still on the roster, plus 2012 undrafted running back
Brandon Bolden
, and that's 19 players within their first two years in the NFL (35 percent of a 53-man roster). The Patriots have a solid veteran core, and trend older at some positions (defensive tackle, for example), but all in all, this is a very young team.
3. Let's play the armchair-general-manager game for the Patriots when it comes to their defensive tackle need and see if we can hit the bull's-eye. Here were a few players at the position we could envision being of interest to the Patriots on the waiver wire:
Marvin Austin (Giants):
The second-round pick out of North Carolina in 2011 hasn't panned out, as his rookie season was wiped out by a torn pectoral muscle and he didn't break through last year. He is 6-foot-2 and 312 pounds.
As ESPN Giants reporter Dan Graziano noted
, the Giants are pretty deep at defensive tackle, so part of Austin's release was a numbers game.
[+] Enlarge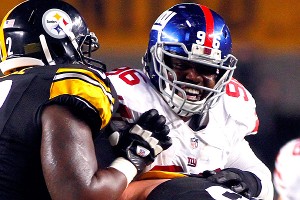 Justin K. Aller/Getty ImagesMarvin Austin, a second-round pick in 2011 who never found a groove with the Giants, could help New England at defensive tackle.
Kheeston Randall (Dolphins):
The 6-foot-5, 309-pounder who played collegiately at Texas appeared in 12 games for Miami last season. He was a 2012 seventh-round pick and has some physical traits (e.g. long arms) that might have some appeal to New England.
Adam Replogle (Falcons):
The undrafted rookie is 6-3 and 310 pounds, and started the final 47 games of his collegiate career at Indiana, where he was known for his work ethic and reliability. Patriots defensive line coach Patrick Graham had worked him out before the draft.
Torell Troup (Bills):
He has battled injuries in the past but has some physical traits (6-3, 327) that could be appealing as a bigger-bodied backup to
Vince Wilfork
and
Tommy Kelly
. Bill Belichick got to know him well on his annual pre-draft scouting trip in 2010. Troup, who played at Central Florida, was picked by the Bills in the second round that year. He has some partially guaranteed money in his contract, so it might be smarter, if interested, for the Patriots to see if he clears waivers and then bring him in.
4. While the Patriots are extremely thin at defensive tackle, which they figure to address with one of their open roster spots, it led us to check in on former New England tackles
Kyle Love
and
Brandon Deaderick
in Jacksonville. Both made the Jaguars' initial 53-man roster and are backups to
Sen'Derrick Marks
and
Roy Miller
, who were signed as unrestricted free agents this offseason. Deaderick missed the first two games of the preseason with a groin injury, but is now healthy. Looking back, it's only natural to wonder if the Patriots have any regret in parting ways with Love and Deaderick, as they created a void without having the reinforcements in place. In fairness, they were counting on Armond Armstead to play an integral role, but he later landed on the reserve/non-football illness list (he's out at least the first six weeks of the season) after undergoing surgery for an infection.
4b. One more check-in: Patriots 2009 second-round draft choice
Ron Brace
didn't make the initial 53-man roster with the Redskins. Given the depth questions at defensive tackle, would the Patriots consider bringing him back? Our guess: They probably look elsewhere.
5. Given the makeup of their initial roster -- with six receivers, five running backs, one fullback and three tight ends (one of whom,
Rob Gronkowski
, won't be ready for the season opener) -- the Patriots figure to trend more toward three-receiver and two-back sets than multiple-tight-end packages early in the season. So while this is a team that has a reputation as a two-tight-end offense, which goes back to 2011 with the dynamic duo of Gronkowski and
Aaron Hernandez
, the early part of this season is likely to have a different look. For the Sept. 8 opener at Buffalo, the three-receiver grouping might turn out to be the best matchup anyway, as the Bills are hurting at cornerback and it could hit their stress points from a depth perspective.
6. With
Elvis Dumervil
now in Baltimore, and
Von Miller
facing a six-game suspension to open the year, what's left for the Broncos at defensive end? The free-agent signing of veteran
Shaun Phillips
looks more significant now, as Denver will count on him to help fill the void along with
Derek Wolfe
(2012 second-round pick out of Cincinnati) and
Malik Jackson
(2012 fifth-round pick out of Tennessee). One lingering question is if the Broncos will be able to generate enough pass rush. As for Phillips, he jumped to the Broncos after spending the first nine years of his career with the Chargers, putting him in almost the same position as linebacker
Daryl Smith
, who signed with the Ravens after spending the first nine years of his career with the Jaguars. Both are stepping into important roles -- Phillips helping fill the Miller void and Smith part of the puzzle to account for Ray Lewis' absence -- which is a neat storyline for the Denver/Baltimore NFL season opener.
7. When it comes to the Patriots' rookie receivers, I think the pace of their progression goes in the reverse order of how they arrived: Undrafted
Kenbrell Thompkins
is furthest along, followed by speedy fourth-round pick
Josh Boyce
(Texas Christian) and then second-rounder
Aaron Dobson
(Marshall). The thought occurred to me as Thompkins was given the veteran treatment in the second half of Thursday's preseason finale, watching from the sideline as Boyce and Dobson were still on the field playing.
8. With news that the Bills signed center
Eric Wood
to a long-term contract extension, it served as a reminder that he was a player I believe the Patriots had targeted as one of their ideal choices in the 2009 draft. That was the year the team traded down twice -- from 23 (
Michael Oher
) to 26 (
Clay Matthews
) to 34, where they selected safety
Patrick Chung
. Had Wood been on the board at 34, I think he would have received strong consideration. Had they stuck at 26, maybe they would have taken him there. Not that the Patriots are currently hurting at center, as
Ryan Wendell
has developed into a solid starter, but there was a lot of smoke around the Patriots and Wood that year.
9. The Raiders did what I thought the Patriots might by keeping two punters on their initial 53-man roster, as they view both
Chris Kluwe
and
Marquette King
as assets. The thinking, it appears, is that maybe the Raiders could trade one of them for a draft pick, although it's hard to imagine that unfolding. As for New England, rookie
Ryan Allen
was so impressive that the Patriots didn't think he would clear waivers so they could bring him back on the practice squad (I thought that maybe by waiting a week or two, it would have a better chance of happening). So instead of keeping two, they just kept Allen and said goodbye to
Zoltan Mesko
, who should be punting somewhere in the NFL this season. He didn't lose the job as much as Allen won it.
10. Patriots players return to the practice field today and tomorrow. They were off Saturday, as owner Robert Kraft hosted his annual before-the-season party for players and their families on Cape Cod. The Patriots will also practice Monday, before a day off Tuesday.
April, 28, 2011
4/28/11
8:38
PM ET
ORCHARD PARK, N.Y. -- The
Buffalo Bills
could have taken a couple of philosophical approaches when it came to building their organization's future: quarterback at No. 3 or their best defensive player on the board and try to get a quarterback with the 34th selection. They drafted Alabama defensive lineman
Marcell Dareus
.
Why the Bills took him:
The Bills ranked dead last against the run last year, allowing 169.6 yards per game and 4.8 yards per carry. Dareus, at 6-foot-2 and 308 pounds, is considered the best defensive lineman in the draft and highly versatile, able to play nose tackle or 5-technique defensive end in the 3-4 or line up as a defensive tackle in a 4-3.
How it affects the roster:
Dareus should start immediately in the Bills' 3-4 hybrid defense and allow them to effectively mix in four-man fronts to keep offenses on their toes. Dareus would play alongside Pro Bowl defensive tackle
Kyle Williams
. The Bills also are high on sophomore defensive tackle
Torell Troup
. The Bills released defensive end
Marcus Stroud
before the lockout.
Scouts Inc. says:
Does an excellent job of finding the football. Elite awareness. Consistently does a great job of finding the football. Does an excellent job of disengaging from blocks; uses quick hands and feet to get out of trouble. He pursues hard, has great speed for his size, and will make some plays from behind.
March, 11, 2011
3/11/11
6:46
PM ET
»
NFC labor impact
:
East
|
West
|
North
|
South
»
AFC
:
East
|
West
|
North
|
South
A team-by-team look at how a continued labor impasse and extended NFL freeze on transactions would affect the division:

Buffalo Bills:
The Bills are a young team that built momentum toward the end of last season. They went 4-4 in the second half. Over a six-game stretch in October and November they went 2-4, and each loss was by three points to an eventual playoff team. Three of them were in overtime.
A prolonged work stoppage would stunt Buffalo's development. Head coach Chan Gailey is entering his second year, but his first offseason with
Ryan Fitzpatrick
as starting quarterback. The Bills also could draft a quarterback next month, but they wouldn't be able to sign him or work with him until there's a new collective bargaining agreement.
Inexperienced players with one or two years dot the roster: running back
C.J. Spiller
, guards
Eric Wood
and
Andy Levitre
, nose tackle
Torell Troup
, outside linebackers
Aaron Maybin
and
Arthur Moats
, safety
Jairus Byrd
. They would benefit from as much prep time as they can get.

Miami Dolphins:
The Dolphins' offense will have serious difficulty taking shape if there's a long work stoppage. Incumbent quarterback
Chad Henne
wouldn't be on the securest footing if we were heading into a normal offseason. The Dolphins were frustrated enough to remove him as their starter twice last year. Now he's working with a new offensive coordinator (Brian Daboll) and new quarterbacks coach (Karl Dorrell) who never has been a quarterbacks coach before.
Henne got a head start on his offseason by meeting with Daboll and Dorrell and trying to absorb as much of the playbook as he could. Henne intends to communicate Daboll's philosophies to his teammates with informal workouts in South Florida.
That's where the Dolphins can have an advantage if they remain diligent. A large percentage of their players maintain homes in South Florida, making it easy for them to assemble for group sessions.
All of Henne's work could be rendered moot if the Dolphins want to acquire another quarterback, but then they'll have another problem. Until there's a new CBA, teams cannot sign free agents or make player trades. That means the Dolphins are in limbo if they want to make a play for an intriguing group of candidates that includes
Kevin Kolb
,
Kyle Orton
,
Carson Palmer
,
Donovan McNabb
and
Vince Young
.

New England Patriots:
If any team can withstand a protracted work stoppage, it's the reigning AFC East champions. The Patriots have a solid roster filled with veterans, particularly on offense. Their coaching staff remained mostly intact. They're flush with draft picks.
The biggest impact probably would be felt on defense, where the Patriots sometimes started four rookies: end
Brandon Deaderick
, outside linebacker
Jermaine Cunningham
, inside linebacker
Brandon Spikes
and cornerback
Devin McCourty
.
Although a couple of veteran defenders returning from injuries -- defensive end
Ty Warren
and cornerback
Leigh Bodden
-- should help stabilize them, the Patriots will have difficulty coaching up their youngsters and improving their terrible third-down defense in a compacted offseason.
Another issue could be the way the Patriots flip through interchangeable parts. The Patriots are adept at discovering undrafted free agents and reclaiming other teams' castoffs while constantly overturning the bottom of their roster. With no CBA, these roster moves cannot happen.

New York Jets:
Free agency will be the Jets' biggest issue if a work stoppage drags out. They have the most free agents in the AFC East and declined to re-sign any of them aside from placing the franchise tag on inside linebacker
David Harris
. The Jets didn't want to make any decisions until they knew what the next CBA looked like. That created several questions up and down the roster.
Receiver is the biggest question mark.
Santonio Holmes
and
Braylon Edwards
are without contracts, and quarterback
Mark Sanchez
needs a strong supporting cast. On defense, safety is a concern with
Brodney Pool
,
Eric Smith
and
James Ihedigbo
all about to be free agents, too.
No CBA means the Jets won't be able to sign incoming free agents either. Polls have shown players around the league would love to play for Rex Ryan more than any other coach. But the Jets can't use that to their advantage until there's a new deal.
February, 15, 2011
2/15/11
1:00
PM ET
By
Matt Williamson, Scouts Inc.
| ESPN.com
Scouts Inc. analyzes Buffalo Bills defensive lineman Kyle Williams, whom head coach Chan Gailey has said defies categorization.
[+] Enlarge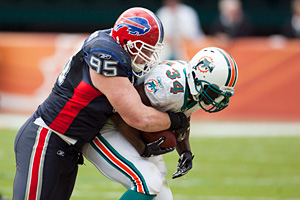 Jonathan Brownfield/US PresswireBuffalo's Kyle Williams is among the most versatile defensive linemen in the NFL.
Is Williams a nose tackle? A 3-4 end? A defensive tackle? Where might he best utilized, and if the Bills could draft a complementary player, what kind of rookie should they seek?
Williams is the NFL's most underrated defensive player. In fact, he should have been a legitimate Defensive Player of the Year candidate, but because of his supporting cast and the horrendous state of the Bills, few recognized Williams' outstanding accomplishments in 2010.
But what is the best way to utilize Williams? I don't say this about many defensive linemen, but I do feel that Williams would be very effective at either nose tackle or end in a 3-4 scheme. He also excels as a one technique lined up on a shoulder of the center, or as a three technique lined up on the outside shoulder of a guard in the 4-3 scheme. So, in reality, he is just a very good football player who demonstrates exceptional leverage, power, quickness and tenacity that would help any defense a great deal. But no matter what scheme is used as the base, I would move Williams around quite a bit. The
Baltimore Ravens
do the same with
Haloti Ngata
to find the best matchups for their best player.
But if we are talking about the ideal situation, I think adding a true nose tackle type (think the
New England Patriots
'
Vince Wilfork
) would be most beneficial for Williams and the Bills' run defense as a whole. Buffalo's run defense is among the worst in the league. But the Bills did draft
Torell Troup
with the thought of him developing into that wide-bodied nose tackle to eat up blockers. But Troup was less-than-impressive as a rookie.
Marcus Stroud
was also a massive disappointment, and it might be time to cut ties with him. But
Alex Carrington
,
Dwan Edwards
and
Spencer Johnson
all have varied skill sets and could contribute in either scheme, but would be best as ends in an odd front. All three played reasonably well in 2010, with Carrington still having a lot of upside after playing his college ball at Arkansas State.
If Troupe greatly improves, which could be far-fetched thinking, the thing that would help Williams and everyone else mentioned above the most would be a lethal edge pass-rusher. That player could be either in the form of a 4-3 defensive end or a 3-4 outside linebacker. In a passing league, that cannot be overlooked. Williams can only do so much by himself.
Again, I would remain very multiple with Williams' responsibilities. Obviously I am extremely high on Williams -- but in a way; because of his body type, he isn't the prototype for any one specific defensive line technique or position. That isn't a knock on what Williams can do for a defense at all, but it does go to show that he is a very unique player. It is time everyone took notice.
Scouts Inc. watches games, breaks down film and studies football from all angles for ESPN.com.
August, 28, 2010
8/28/10
5:57
PM ET
ORCHARD PARK, N.Y. -- If the
Buffalo Bills
' starters have a decent performance here Saturday night, they'll produce the AFC East's best showing in a third preseason game.
The third preseason game is the most realistic. Starters play into the second half. The
New York Jets
and
New England Patriots
stuck with their starting offenses into the fourth quarter.
But none of the AFC East teams have looked good in their third exhibitions. The Jets' offense sputtered against the
Washington Redskins
. The Patriots' defense struggled to stop rookie
St. Louis Rams
quarterback
Sam Bradford
. The
Miami Dolphins
had problems on both sides of the ball versus the
Atlanta Falcons
.
That leaves the Bills, who will host the
Cincinnati Bengals
in Ralph Wilson Stadium, where it couldn't be a more gorgeous day. It's 77 degrees with nary a cloud to be seen.
What to look for:
August, 24, 2010
8/24/10
9:16
AM ET
By
Scouts Inc.'s Matt Williamson
| ESPN.com
The Dolphins and Bills are opting for smaller, faster nose tackles. What impact does that have on their 3-4 defenses?

Troup
Williams

Starks
While this is a true statement, I think it has occurred more by default than by design. In a perfect world, Miami would have
Jason Ferguson
holding the point in the middle of its defense and Buffalo would have the much larger
Torell Troup
as its starting nose tackle. Troup, the Bills' second-round pick in the April draft, could very well take over the position from
Kyle Williams
. That is the long-term plan. Williams is vastly undersized to handle this position and his game doesn't translate well to getting pounded by double-teams from the excellent offensive lines Buffalo faces in the AFC East. As for Ferguson, he has retired, leaving
Randy Starks
, who excelled at defensive end last season, as the Dolphins' nose tackle.
However, there is more than one way to run a 3-4 defense and you don't necessarily need a massive plugger like
Vince Wilfork
or
Kris Jenkins
on the nose to be successful. Many teams use a three-man front, but utilize 4-3 principles with an attacking style. The Cowboys'
Jay Ratliff
is the best example of such a disruptive upfield nose tackle.
Neither Starks nor Williams is in Ratliff's class though. Starks is the superior player of the two, but he doesn't have Ratliff's quickness or explosion. Starks could do an above-average job in this capacity, but Miami also has another massive nose tackle on the roster,
Paul Soliai
, who fits the more traditional space-eating mold. Soliai can play the run, but offers nothing as a pass-rusher. Of course, Starks was put in this position as a stop-gap measure, not a long-term solution. He is best suited for end, where he was exceptional in 2009.
As for Williams, he too has some upfield ability and could use his leverage and quickness to get penetration off the snap. He certainly is not a bad player. But I just can't envision him holding up play after play with his physical dimensions. He might be effective in spurts, but Troup will need to contribute heavily to make Buffalo's transition to a 3-4 successful. That is asking a lot from a rookie nose tackle -- adjusting to that position in terms of strength, stamina and reading blocking schemes is not easy on a rookie.
Never forget, the AFC East is probably the most physical division in the league. Being powerful -- like Wilfork or Jenkins -- on the nose is a must to keep up with the divisional rivals. With Starks, Miami might be able to hold its own, but I think Buffalo is in a lot of trouble.
Scouts Inc. watches games, breaks down film and studies football from all angles for ESPN.com.
April, 24, 2010
4/24/10
10:52
PM ET
Robert Irsay, the late
Indianapolis Colts
owner, once asked incredulously, "Who the hell is Mel Kiper?"
He's the guy who's grading the draft for ESPN, that's who.
[+] Enlarge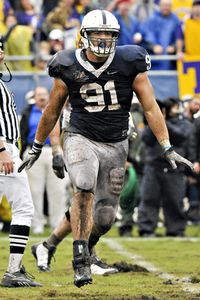 Fernando Medina/US PresswireOther than Penn State's Jared Odrick, Mel Kiper didn't have many good things to say about the Dolphins' class.
Kiper has handed out his draft grades in a column for ESPN Insider
, and if
Miami Dolphins
owner Stephen Ross reads this, maybe he will do an Irsay impression.
Kiper wasn't a fan of the Dolphins' draft, rating it ahead of only one other team. He assigns the Dolphins a C-minus. The
Jacksonville Jaguars
receive the only D.
"This draft for me is really
Jared Odrick
and the rest," Kiper writes. "Odrick can be a really good player, another active, disruptive tackle in a draft full of them."
Kiper thinks the Dolphins reached on some picks. He believes Utah outside linebacker
Koa Misi
(second round) will need time to develop, but said Maryland cornerback
Nolan Carroll
(fifth round) might be a find.
The highest AFC East grade went to the
New York Jets
with a B. He doesn't rave about any of their picks, but says they were solid, calling Kentucky fullback
John Conner
(fifth round) the best fullback in the draft.
"Just four picks, but zero misses," Kiper writes.
He gave the
New England Patriots
a B-minus.
"New England once again took a surgical, long-range approach to the draft, getting some good talent," Kiper writes, "but also positioning themselves for a haul in 2011. You have to factor that into the analysis."
The
Buffalo Bills
received a C-plus. Kiper is a big fan of ninth overall pick
C.J. Spiller
but was down on Central Florida nose tackle
Torell Troup
early in the second round and Arkansas State defensive end
Alex Carrington
in the third.
"Outside of Spiller," Kiper writes, "it's hard to see where Buffalo got much better."
April, 23, 2010
4/23/10
10:30
PM ET
ORCHARD PARK, N.Y. --
Buffalo Bills
general manager Buddy Nix clearly didn't use Q-ratings in the evaluation process.
The Bills drafted Central Florida nose tackle
Torell Troup
-- a prospect so far out of the pre-draft spotlight some official Web sites misspelled his name -- with the 41st pick in the draft Friday night, passing on bigger names that would have appeased the fans more.
The Bills avoided Notre Dame quarterback
Jimmy Clausen
for the second time when they chose Troup, whom they preferred ahead of Alabama nose tackle
Terrence Cody
. Scouts Inc. projected Troup as a fourth-round pick and Cody as a second-rounder. The
Baltimore Ravens
drafted Cody with the 57th pick.
The
Carolina Panthers
ended Clausen's misery with the 48th selection. The Bills still could have had Texas quarterback
Colt McCoy
in the third round, but went with Arkansas State defensive end
Alex Carrington
in the 72nd slot instead.
"We got a lot of needs, guys," Nix said in explaining why they passed on certain players.
Buffalo took running back
C.J. Spiller
ninth overall rather than a number of highly touted prospects at need positions.
"In the draft, you can only take on each pick," Nix said. "We're in a position where they should give us about three, but they won't do that.
"You say we haven't addressed the offensive line. We want to take a guy we know can come in and help us, and if he can't then we're going to go on to another guy. If you take a guy that can't play, then you've compounded the problem. Now you got two that can't play."
When it was pointed out to Nix that Clausen was considered an early first-round pick, he cracked back.
"How come they didn't take him?" Nix said. "He was there, and he was there at 42."
The Bills have an ambiguous quarterback situation with
Trent Edwards
,
Ryan Fitzpatrick
and
Brian Brohm
. Even though they didn't add another one through the first three rounds, Nix confirmed the Bills will add a fourth quarterback either Saturday or by adding a veteran through free agency or a trade.
"We got three quarterbacks that got talent that we don't know," Nix said. "All the physical stuff you see, they can play. Now they've got to prove to us whether they can or not, not what they have done. I keep saying that, and we have positions where we don't have three [players] that we can count on."
April, 23, 2010
4/23/10
7:12
PM ET
The
Buffalo Bills
passed on quarterbacks Jimmy Clausen and Colt McCoy and defensive tackle Terrence Cody to take Central Florida defensive tackle Torell Troup with the 41st pick of the draft.
Why the Bills took him:
Troup will remain under the magnifying glass as the guy the Bills preferred to a pair of much-needed quarterbacks, but the Bills needed a nose tackle to have any shot at a successful conversion to a 3-4 defense. Scouts Inc. projected Troup as a fourth-round pick, Cody as a second-rounder.
Where Troup fits:
He might be the Bills' opening-day starter because nobody else on the roster really fits the mold of a 3-4 nose tackle. Troup is about 6-foot-3 and 314 pounds. Veteran defensive lineman
Kyle Williams
expects to alternate between tackle and end.
Scouts Inc. says:
Well, they didn't think highly enough of Troup to produce a scouting report on him. They ranked him as the 13th-best defensive tackle.