NFL Nation:

Tory Polamalu
June, 11, 2013
6/11/13
6:27
PM ET
SAN DIEGO -- I understand why the
San Diego Chargers
are trying to protect
Manti Te'o
from the media onslaught as the polarizing rookie begins his NFL career.
However, after watching the kid handle the spotlight on Tuesday, I don't believe the organization has anything to worry about. The kid is a polished pro at dealing with the media.
[+] Enlarge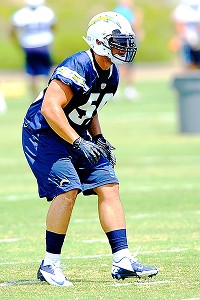 Christopher Hanewinckel/USA TODAY SportsIt's safe to say that observers at the Chargers' Tuesday workout came away impressed with rookie linebacker Manti Te'o.
It's stunning that any 22-year-old can handle himself publicly this well let alone one who had to deal with the pressure Te'o has had.
We all know the back story by now. The middle linebacker from Notre Dame was involved in an Internet hoax involving a fake dead girlfriend. It was the first negative publicity Te'o has ever had to deal with. It likely had a part in his tumble from a top-five prospect to being the No. 38 overall NFL draft pick.
Part of the Chargers' plan for Te'o was to shield him from overexposure with the media. In the past several team workouts, Te'o has been off limits to the media. He was basically the only player in the NFL who was off limits to the media this spring, and the team caught a lot of national heat for it.
The Te'o sequester ended Tuesday as the Chargers made him available in a news conference setting only. There were about 60-70 reporters there for the end of the media boycott as it were.
Te'o handled it seamlessly -- just like he has with every media session since the hoax story broke.
Te'o patiently answered every question he was asked in a session that lasted about 20 minutes. He gave well-thought out answers. Nothing was off limits. However, there was no new ground broken nor did Te'o supply any headlines.
He did say that he was appreciative that the team made its media plan because it allowed him to focus on football. It is clear he is completely focused on the playbook and by all accounts Te'o is doing everything the team wants him to do on the field. He is pegged as a three-down player in San Diego's 3-4 system.
Here are some of the more interesting tidbits from the Te'o session:
He said he did allow himself to watch the tape of Notre Dame's blowout loss to Alabama in the national title game once. Te'o had perhaps his worst college performance in that game.

Asked why he went to a recent Maxim Magazine function that poked fun at his hoax Te'o said like, most 22-year-olds, he wanted to "check out" the party. Good answer.

He said several NFL luminaries have offered their support including Troy Polamalu, Ray Lewis and Steve Young.

We will further delve into Te'o's transition to the NFL on Wednesday. But rest assured San Diego, there is little to worry about at this point -- on and off the field. The kid is impressive.
January, 16, 2011
1/16/11
10:05
PM ET
Three things to know about next Sunday's New York Jets at Pittsburgh Steelers AFC Championship Game:


1. The Jets already have won at Heinz Field this season
. The Jets rebounded from humiliating back-to-back losses (45-3 to the
New England Patriots
and at home against the
Miami Dolphins
) by going into Pittsburgh and beating the eventual AFC North champs in Week 15. But it wasn't a textbook victory.
Brad Smith
returned the opening kickoff 97 yards for a touchdown, and
Jason Taylor
recorded a safety in the fourth quarter that forced the Steelers to go for a touchdown on their final drive rather than kick a field goal. The Steelers made it to the Jets' 10-yard line and had two shots at the end zone before time expired in a thriller.
2. The Jets know they can beat anybody when they come to play.
The Jets not only return to a venue they've already conquered, but they also have won consecutive games against future Hall of Fame quarterbacks. For the second year under Rex Ryan, the Jets won two road playoff games and advanced to the AFC Championship Game. Last year, though, they knocked off the
Cincinnati Bengals
and
San Diego Chargers
with the help of some missed field goals. This year's run has been more impressive. The Jets are back after slaying
Peyton Manning
and
Tom Brady
in two of the toughest stadiums for a visitor to escape triumphant -- in any sport. Now they'll have to knock off another championship quarterback to reach the Super Bowl.
3. That said, the Steelers didn't have safety Troy Polamalu in that game.
The perennial defensive player of the year candidate didn't play particularly well in Saturday's victory over the
Baltimore Ravens
, but you can't count on him to miss many tackles two weeks in a row. Polamalu is a game-changer for the Steelers and may be the league's ultimate defensive force. His teammates voted him the team MVP for good reason. He had 63 tackles, a sack, seven interceptions, 11 passes defensed and a forced fumble in 14 games.
January, 26, 2009
1/26/09
8:24
PM ET
Posted by ESPN.com's James Walker

TAMPA, Fla. -- After a busy first day with the arrival of both Super Bowl teams, here are several additional notes from the Pittsburgh Steelers' camp.
Pittsburgh was not afraid to roll out the big names right away. The six players each team had to make available Monday were optional, but the Steelers chose stars such as quarterback Ben Roethlisberger, safety Troy Polamalu, receiver Hines Ward and NFL Defensive MVP James Harrison. It was good practice for Tuesday's media day when everyone will be hounding these players.

Pittsburgh head coach Mike Tomlin said he is taking in this experience and wants his team to do the same. For Tomlin, this is his second Super Bowl (first as a head coach), and there are tons of story lines surrounding him, such as returning to Tampa where he got his start and being one of the youngest head coaches ever in a Super Bowl.

"It's my goal that we embrace all that comes with being in the Super Bowl," Tomlin said of his mindset. "We're not going to come down here and have the mentality that we're going to be resistant of the obligations that we have, or resistant of these opportunities to visit with the media and so forth.
"We're down here to play. We're down here to win. But there are a lot of things that come with that. There are 30 other teams that I'm sure would love to have the burden we have this week."
The Steelers will aim for normalcy with their practice routine. Pittsburgh will train at the University of South Florida and, for the most part, hold true to the same meeting and practice schedules that it had in Pittsburgh.
An interesting note is that Pittsburgh is not accustomed to playing outdoors in warm weather this time of year. Both playoff games against the San Diego Chargers and Baltimore Ravens this month were in Heinz Field under frigid conditions.
"We'll see," Roethlisberger said. "[Arizona is] used to this weather and we haven't played in it in a long time."