NFL Nation:

Tourek Williams
November, 11, 2013
11/11/13
12:15
AM ET
SAN DIEGO – Even though
Demaryius Thomas
finished with a game-high seven receptions for 108 yards and three touchdowns,
San Diego Chargers
cornerback
Shareece Wright
refused to be in awe of the talented Denver receiver's impressive performance.
Given another opportunity, Wright truly believes he can shut down the physical Thomas, who San Diego coach Mike McCoy calls one of the best receivers in the game.
"When I was able to play man on him, I did a pretty good job," Wright said, following the Chargers'
28-20 loss
. "And lining up against him, I can press him at the line. He's just strong, so he's going to finish a little stronger at the top of the routes. He's got some little tricks to his game, and now I know how to play him.
[+] Enlarge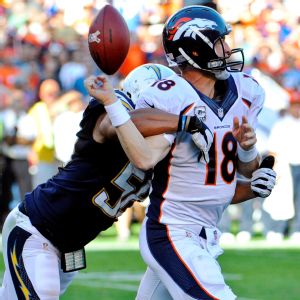 AP Photo/Denis PoroyLike they were able to do against Peyton Manning last season, the Chargers are aiming to pressure opposing QBs more consistently in 2014.
"I'll be ready next time."
While not exactly a reflection of what happened, Wright's words are refreshing. Pro football is a young man's game. And for a San Diego squad that over the years leaned on veterans like
Philip Rivers
,
Antonio Gates
and
Eric Weddle
to lead the way, at some point young players like Wright have to emerge and have an impact in order for the Chargers to once again to be playoff contenders.
A third-round selection in the 2011 draft, Wright finally earned his opportunity to start this season after serving as a backup in his first two years. He's missed three games due to a hamstring injury, but during his time on the field Wright has flashed an ability to develop into a solid, NFL cover corner.
Another young player that made an impact for San Diego was pass-rusher
Tourek Williams
, a sixth-round selection in this year's draft. The Florida International product got his third start with
Jarret Johnson
inactive. And Williams made the most of it, chasing down
Peyton Manning
from behind for a strip sack in the third quarter, forcing a fumble that teammate
Donald Butler
recovered.
The momentum-changing play led to a 7-yard touchdown reception by
Danny Woodhead
, cutting Denver's lead to 28-13.
But Williams wasn't overly excited about the play, showing more concern that his team couldn't find a way to battle back for a victory.
"It feels good," Williams said. "But when you lose a game, I haven't even thought about that play since I left the field. So you've just got to play the game. The next time in that situation, we'll make the game-changing play and we'll finish."
Along with Williams, other players from San Diego's draft class this year have played well. Offensive tackle
D.J. Fluker
and receiver
Keenan Allen
deserve rookie of the year consideration. Middle linebacker
Manti Te'o
continues to improve with each game. And even someone like quarterback
Brad Sorensen
, a seventh-round selection out of Southern Utah, showed promise when he played in the preseason.
At 4-5 on the season, the Chargers are a team that is being developed for success down the road. But that doesn't mean young players like defensive lineman
Corey Liuget
are willing to except moral victories by playing elite teams like Denver tough on their home field.
"We don't care for moral victories," Liuget said. "Those don't get you where you want to be. We've just got to be prepared for the next one, and keep fighting and clawing."
And while the Chargers are building for the future, for guys like Weddle the future is now.
"We've got seven games left," Weddle said. "The whole season is right there in front of us. If you guys on the outside think the season is done, then don't come talk to me because we still have everything there."
September, 30, 2013
9/30/13
5:55
PM ET
SAN DIEGO -- Coach
Mike McCoy
confirmed that
San Diego Chargers
pass-rusher
Dwight Freeney
tore a quad muscle during Sunday's game against the
Dallas Cowboys
.
"He does have a torn quad, and we're exploring all of the options," McCoy said. "We're getting all of the medical advice, and [exploring] what is in his best interest moving forward."
He did not rule out the possibility of the team placing Freeney on the injured reserve with a designation to return. Under the injured reserve rules, Freeney will be ineligible for the next eight weeks. He can return to practice six weeks after being placed on the list and be eligible for the Dec. 8 game at home against the
New York Giants
.
McCoy said that
Larry English
would be the team's first option to fill in for Freeney. But he did not rule out going outside the organization to find pass rush help if the players on the roster are not getting the job done.
"Any time you lose a great player like Dwight Freeney it's a blow to your football team," McCoy said. "That's offense, defense or special teams. When you lose one of the great players of all time from your team out with an injury like that during a game, it's tough. But you give a lot of guys credit for stepping up."
Along with English, McCoy said rookie sixth round draft choice
Tourek Williams
played 10 snaps, and did a nice job.
McCoy still does not know the availability of the three starters along the offensive line that missed last week's game. Left tackle
King Dunlap
(concussion), left guard
Chad Rinehart
(toe) and right guard
Jeromey Clary
(clavicle) did not play against the Cowboys.
Rich Ohrnberger
injured his groin during the game while playing right guard, and had to give way to
Stephen Schilling
.
"With the injuries that these guys have, everyone's different," McCoy said. "All three of these guys who missed last week, the severity of their injuries are different -- they're completely different injuries. And we're going to get out there on Wednesday and see who's available."
McCoy did say that he os hopeful to get starting cornerback
Shareece Wright
back. Wright has missed the last two games with a hamstring issue. San Diego's other cornerback,
Derek Cox
, also could miss Sunday's game at Oakland. Cox left the Dallas game with a knee issue.
August, 8, 2013
8/08/13
12:00
PM ET
SAN DIEGO -- Gone is the omnipresent GM lurking from the large deck that hovers over the practice field.
Gone is the comfortable head coach who went at his own pace.

It's a new day for the
San Diego Chargers
. There is new energy in America's Finest City.
Change was badly needed. The Chargers arguably had the best roster in the NFL five years ago, but it never paid off. The lack of success finally cost general manager A.J. Smith and coach Norv Turner their jobs after another lackluster season in 2012.
The Chargers' fans demanded new leadership for the stagnant franchise. They got their wish. The Chargers now have some of the youngest, freshest leaders in football as the team moves past the stale days of the Smith-Turner era.
Smith was famous for watching practice from the deck of his office. New general manager Tom Telesco, 40, watches practice from the sideline. There are no messages of pecking order being sent from the general manager's office. Telesco, in a camp-issued T-shirt and shorts, could easily be mistaken for an equipment manager.
The head-coaching switch from Turner to Mike McCoy, 41, is almost as distinctive as the change at GM. McCoy's practices have appeared to be crisper and more detailed-oriented than in the past. There isn't much downtime in San Diego's practices. Everyone's moving at all times. That wasn't always the case under Turner.
"I think we're getting a lot done," quarterback
Philip Rivers
said. "Coach McCoy clearly has a plan. It's been impressive. ... The big thing is everyone has bought in to him. The reality is we are .500 over the past three years. It was pretty easy to buy in what's now going on here."
THREE HOT ISSUES
[+] Enlarge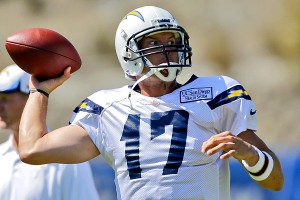 AP Photo/Lenny IgnelziPhilip Rivers threw 15 picks last season to just 26 touchdown passes.
1. The quarterback:
Rivers is a major focal point of this training camp. Telesco hired McCoy, Denver's former offensive coordinator, with an eye toward fixing Rivers. The quarterback has struggled the past couple of years, particularly with turnovers. McCoy and new offensive coordinator Ken Whisenhunt, the former head coach of Arizona, form a strong quarterback-coaching tandem and quarterback coach Frank Reich is also highly regarded. All three men believe in Rivers, and it seems to be paying off. Rivers has looked fantastic in training camp. His confidence is high, and his passes are accurate. It is vital for both Rivers and the Chargers that he has a good season and the team continues build around him. If not, it could be a crossroads season for both the franchise and Rivers' career.
2. The offensive line:
Because of injuries, this unit has been terrible the past couple of years. No matter how much Rivers improves, he won't have much of a chance if he doesn't have protection. The Chargers' line has four new starters. It is not a great unit, and there will be some growing pains. But the group is getting rave reviews for being athletic and tough. Rivers is impressed and trusts the group. He thinks it's deeper with players such as rookie
D.J. Fluker
at right tackle and veterans
King Dunlap
and
Max Starks
competing at left tackle. Dunlap is leading the race. But if there are injuries, this group appears better equipped to weather them than last year's squad.
3. The rookie linebacker:
The Chargers are thrilled with inside linebacker
Manti Te'o
. He will start in the team's 3-4 schemes. He has looked good in training camp and has fit in with the locker room. The hoax he was involved in at Notre Dame is not a factor. The Chargers love the way he works and practices. He is instinctive, and he plays faster on the field than his combine times suggested. The Chargers think Te'o is ready to make a big impact.
REASON FOR OPTIMISM
[+] Enlarge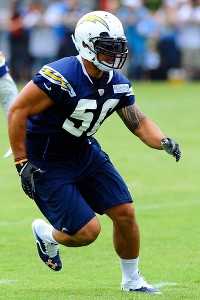 Christopher Hanewinckel/USA TODAY SportsThe Chargers are happy with the progress of second-rounder Manti Te'o, who's slated to start at inside linebacker.
The Chargers are loaded with young talent on defense. Any defense that has
Eric Weddle
at safety, Te'o and
Donald Butler
at inside linebacker and
Corey Liuget
and
Kendall Reyes
at defensive end is an impressive group.
I think these players will be the core to one of the better defenses in the coming years. The Chargers are doing backflips over the combination of Liuget and Reyes. Liuget is entering his third NFL season, and Reyes is entering his second. Liuget was terrific all of last season, and Reyes showed serious pass-rush potential toward the end of the season.
While this defense has some holes, there are some exciting pieces here.
REASON FOR PESSIMISM
The Chargers are pretty thin in a lot of places. I think this team is on the rise, but it may not be a quick fix. There are too many positions where depth is an issue.
San Diego has dealt with the injury bug already. Pass-rusher
Melvin Ingram
, the No. 18 overall pick in 2012, suffered a torn ACL in May. Starting receiver
Danario Alexander
and backup linebacker
Jonas Mouton
suffered the same injury during camp.
Alexander's and Ingram's injuries are particularly worrisome. This team can't afford to lose high-end talent before the season starts. Other positions vulnerable to injuries include the offensive line (even though the depth is better than in the past), defensive tackle, edge rushers and the secondary. There isn't much wiggle room on this roster.
OBSERVATION DECK
The Chargers appear to be well-coached. The influx of offensive coaches and the return of several defensive coaches, led by coordinator John Pagano, makes for a nice mix. Most of the new blood was needed on the offensive side of the ball.

The team feels great about Dwight Freeney, who was signed to replace Ingram. The Chargers are convinced Freeney still has something left in the tank and will be a difference-maker.

The Chargers like the progress of nose tackle Cam Thomas, who they think is ready for a breakout year. Coaches and teammates are talking him up big.

San Diego is looking to add depth on the defensive line. Free agent Justin Bannan on is still on the team's radar. I think we will see the Chargers be active on the waiver wire at a few positions.

Free-agent guard Chad Rinehart is showing solid leadership skills.

The team loves free-agent running back Danny Woodhead. He has been a camp star and should take pressure off starter Ryan Mathews. Expect to see Woodhead used in several different ways. He could be a poor man's Darren Sproles, perhaps.

Yes, tight end Antonio Gates hasn't had a superstar season in years because of injuries, but the team likes what they see from him. He may have another year or two left in the tank.

Ladarius Green, Gates' potential successor, is still growing. But he has shown flashes. He has natural pass-catching ability.

While there are questions at cornerback, the Chargers feel like Derek Cox and Shareece Wright will be an upgrade over last year's starting duo of Quentin Jammer and Antoine Cason.

Rookie quarterback Brad Sorensen has been up and down. He has a good enough arm to keep him on the 53-man roster.

Cornerback Johnny Patrick has looked good. He could see a lot of action in nickel situations.

Fifth-round pick Tourek Williams is getting looks at both defensive end and outside linebacker. The team would like for him to contribute at linebacker.

Robert Meachem, a big-money, free-agent bust last season, has been given new life after Alexander's injury. Still, I have my doubts that Meachem will make much of a difference. He hasn't been a standout in camp.
May, 14, 2013
5/14/13
8:22
PM ET
The
San Diego Chargers
received terrible news Tuesday in their second day of organized non-contact drills.
The team announced 2012 first-round pick
Melvin Ingram
has a torn ACL.
The Chargers were counting on Ingram to provide a strong pass rush. He had a slow start to his rookie season, but he showed promise late. The team saw veteran edge rushers
Shaun Phillips
and
Antwan Barnes
leave in free agency.
Ingram was expected to be the primary pass-rusher from the edge. Defensive linemen
Kendall Reyes
and
Corey Liuget
provide good pass-rush burst from the line, but the Chargers need an outside presence. Former first-round pick
Larry English
in on the roster, but he has shown he can't be counted on. The Chargers drafted
Tourek Williams
in the late rounds last month. His route to the field may be expedited with Ingram's injuries.
I'd think the Chargers would seriously consider pursuing veteran
Dwight Freeney
. He was in Indianapolis with new San Diego general manager Tom Telesco. Veteran
John Abraham
is also out there.
With Ingram out for the year, the Chargers will have to find help somewhere.
This will be a tough setback for a young player. His career will certainly be salvageable, but it will be such a waste to lose his second NFL season in May.
In other AFC West news:
The Chiefs claimed offensive lineman

Matt Reynolds

from the Eagles and cornerback

Buddy Jackson

from the Giants. Reynolds was coached by new Kansas City coach Andy Reid last season.

The Bills claimed tight end

Mickey Shuler

. He was cut by the Raiders.
May, 9, 2013
5/09/13
8:57
PM ET
Manti Te'o
is officially a San Diego Charger.
Te'o
When Te'o steps on the practice field Friday for the Chargers' minicamp, he will do it as a signed member of the team. The middle linebacker from Note Dame was one of four San Diego draft picks to sign with the club Thursday night. Joining Te'o on the dotted line were receiver
Keenan Allen
, defensive lineman
Tourek Williams
and quarterback
Brad Sorensen
.
They are the first draft picks in the division to sign. Because of the new CBA, rookie contracts take little negotiation time.
Te'o's signing shows he is ready to put a tough start to 2013 behind him and focus on starting his NFL career. The Chargers took Te'o with the No. 38 overall pick in the draft. He was originally expected to be a top-10 pick.
But Te'o tumbled in the draft after a poor showing against Alabama in the national title game, a bizarre hoax involving a dead fake girlfriend and a low 40-yard dash.
Still, the Chargers have high hopes for Te'o. He is expected to start at an inside linebacker spot as a rookie. Now that he has signed, that is the next goal for Te'o.