December, 5, 2014
Dec 5
11:30
AM ET
CHARLOTTE, N.C. --
Trai Turner
was 12 when Hurricane Katrina struck his hometown of New Orleans in 2005. He didn't realize the magnitude of it until a week or so later when he asked his mother when they were going home.
Her response: "I don't know if we have a home."
Fortunately for Turner and his family, the damage was minimal compared to other areas outside the seventh ward where they lived. They weren't forced to relocate to other parts of the country as many were.
They are still there.
[+] Enlarge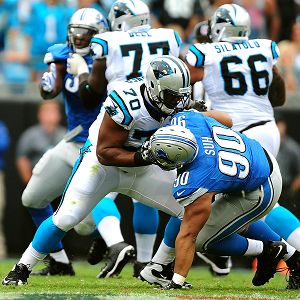 Scott Cunningham/Getty ImagesPanthers rookie guard Trai Turner is excited to return to New Orleans, where he grew up.
Which brings us to Sunday's game between the
Carolina Panthers
and
New Orleans Saints
. Turner, a rookie right guard for Carolina, will have about 20 family members in the stands for the 1 p.m. game. He's been looking forward to this game as much as any all season, particularly after having to miss the first game with a knee injury.
"I love my city," Turner said. "I love where I'm from. I appreciate being from there. It taught me a lot of life lessons."
Turner spent his entire football career in Louisiana before Carolina selected him in the third round. He played collegiately at LSU in Baton Rouge, about 90 minutes west of New Orleans.
This will be his third game in the Superdome. The first came when he was a 6-year-old playing for the local recreational league championship. He doesn't remember much, except it was big.
"I was used to playing on a park ball ground," Turner recalled.
The second time was the BCS National Championship for the 2011 season. Turner was a freshman. LSU lost 21-0 to Alabama. It still was a special moment, because it was in his hometown.
But Turner didn't grow up a Saints fan.
"If they win, cool," he said. "If they lose, cool."
Turner prefers the Saints lose on Sunday, by the way.
Just because he's not a New Orleans fan doesn't mean Turner doesn't understand what one is like.
"Rowdy. Passionate. Crazy," he said. "The city is one big place with everything that signifies New Orleans in one place on a Sunday or a Monday. Pretty chaotic, for the lack of a better word."
Turner has been part of a chaotic offensive line this season. The Panthers have started seven different combinations because of injuries. Coach Ron Rivera can't remember a season when he has had more.
The grouping that has played together the most includes Turner, left tackle
Byron Bell
, left guard
Amini Silatolu
, center
Ryan Kalil
and right tackle
Nate Chandler
.
That group has played 22 percent of the snaps. Only the
Miami Dolphins
have a grouping with a lower percentage (19), according to ESPN Stats and Information.
Chandler and Silatolu won't be a part of Carolina's grouping on Sunday. Chandler is on injured reserve and Silatolu is nursing a knee injury.
Turner tries not to make a big deal about all the different combinations, but admits he never went through anything like it at LSU or high school. He's just glad to be a part of the group that will start the same five in consecutive weeks for his trip home.
This is a business trip for Turner. He recently went home for fun during the bye week. But if it wasn't a business trip, he would probably go to one of his three favorite spots -- Katie's, New Orleans Food and Spirit, or Drago's Seafood.
He would have shrimp pasta or crawfish pasta.
"Anything pasta," Turner said. "I'm not too big on the spicy stuff."
Turner also isn't big on going to Bourbon St., a New Orleans landmark for tourist.
"People who are from New Orleans don't go to those places," Turner said.
But Turner might take time to go by his house. He has one because Katrina didn't destroy it, like so many others were.
December, 3, 2014
Dec 3
8:00
AM ET
CHARLOTTE, N.C. -- The message sent by the
Carolina Panthers
with Tuesday's personnel moves was clear: perform or look for work elsewhere.
Starting cornerback
Antoine Cason
was cut two days after giving up an easy 17-yard touchdown catch with 16 seconds left in the first half of Sunday's 31-13 loss at Minnesota.
[+] Enlarge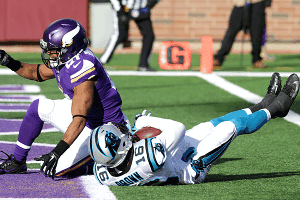 AP Photo/Jim MonePhilly Brown took advantage of his playing time on Sunday with this touchdown reception.
Backup linebacker
Jason Williams
was released after missing an assignment on the first of two blocked punts returned for touchdowns. That he didn't take responsibility postgame may have played into him being released as well.
Coach Ron Rivera praised linebacker
Ben Jacobs
for taking the blame on the second block.
There were earlier messages that things were headed in this direction as well. Wide receiver
Jason Avant
was released two weeks ago after questioning the play calling in the final minutes against Atlanta. Undrafted rookie
Philly Brown
was given his playing time.
In October,
Charles Godfrey
was released after consecutive poor performances against Cincinnati and Green Bay.
These decisions and a rash of injuries to the offensive line have left the Panthers with potentially six rookies or second-year players starting and several others getting significant playing time in this Sunday's game at New Orleans.
It's a game, by the way, Carolina (3-8-1) has to win in order to keep its dying hopes of winning the NFC South alive.
Let's take a look at the youth movement:
Other rookies expected to see an increased role include second-round pick
Kony Ealy
, a defensive end out of Missouri, Brown and cornerback Cary Byndom.
The Panthers haven't admitted to making mistakes in the offseason with the veterans these players are replacing, but their message is clear moving forward.
November, 5, 2014
Nov 5
11:00
AM ET
»
AFC Report
:
East
|
West
|
North
|
South
»
NFC
:
East
|
West
|
North
|
South
|
HOME
CHARLOTTE, N.C. -- Third-and-goal from the Seattle 1 in a Week 8 home loss sums up the first half of the
Carolina Panthers
' season.
Seattle blew up the right side of Carolina's offensive line, which had two undrafted rookies playing at guard and tackle because of injuries. Running back
Jonathan Stewart
lost 7 yards.
Carolina settled for a field goal.
Missed opportunities, as well as inconsistency on offense and a defense that has gone from one of the best in the NFL to subpar at best, says it all. So do injuries that limited leading rusher
DeAngelo Williams
to six quarters and led to four undrafted players starting on the offensive line.
Midseason MVP:
This has to go to tight end
Greg Olsen
. He's been Carolina's most dependable and consistent player. He ranks among the league's top tight ends in catches (45), receiving yards (539) and touchdowns (5) to put him on a career-best pace in all three categories. In a Week 7 loss at Green Bay, he set a regular-season high with 105 yards receiving on eight catches. Until the past two games, when he was limited to four catches for 46 yards, he had easily been Carolina's best weapon. He has made a strong case for his first Pro Bowl selection.
Biggest disappointment:
The defense. You easily could say defensive end
Greg Hardy
, who, before the third game, was placed on the commissioner's exempt list until his domestic violence case is resolved. His off-the-field issue has by far been the biggest single-player disappointment. But the defense overall has underperformed at mind-boggling proportions. It has gone from No. 2 in the league in points allowed per game (15.01) to 25th (26.2). It has given up 236 points in nine games after allowing only 241 all of last season. Bad gap control. Missed tackles. Lack of discipline. Everything this unit excelled at in 2013 has been consistently lacking.
Best moment:
It occurred on second-and-10 early in the fourth quarter of a Week 2 win over Detroit. Rookie wide receiver
Kelvin Benjamin
had just dropped a routine pass. Quarterback
Cam Newton
came right back to Benjamin on the left side. The ball was overthrown and off target, but 6-foot-5, 240-pound Benjamin twisted his body and hauled in the pass with one hand, then got two feet down before going out of bounds, for a 24-yard pickup. It led to the decisive touchdown and showcased the reason the Panthers drafted Benjamin to replace all-time leading receiver
Steve Smith
.
Worst moment:
Baltimore faced third-and-2 from the Carolina 39 in the second quarter of a scoreless game in Week 4. Quarterback
Joe Flacco
overthrew a pass to tight end
Owen Daniels
, who got his fingertips on the pass just enough to tip the ball into the air. Smith caught the ball in stride and went 61 yards for a touchdown. Smith, whose release in March dominated Carolina's offseason talk, went on to catch seven passes for 139 yards and two touchdowns. The Panthers lost 38-10 to begin a 1-4-1 skid.
Key to the second half:
The schedule gets considerably easier. The combined record of Carolina's remaining opponents is 21-32. Injured players are starting to get healthy. Leading rusher Williams returned for a Week 9 loss to New Orleans after missing four straight games. Starting left tackle
Byron Bell
, left guard
Amini Silatolu
and possibly right guard
Trai Turner
should be back for Week 10 against Philadelphia. But it all comes down to the consistency of the defense. When it plays well, the Panthers have a chance. If it doesn't, repeating as NFC South champs won't happen.
October, 20, 2014
Oct 20
3:59
PM ET
CHARLOTTE, N.C. -- The
Carolina Panthers
could have running back
DeAngelo Williams
back on the practice field Wednesday, coach Ron Rivera said Monday.
Williams
Williams has missed the past three games with a high ankle sprain suffered in the first half of a Sept. 28 loss at Baltimore. The team's all-time leading rusher hasn't participated in practice since.
Williams walked through the locker room Monday with no visible signs of a limp, but there was tape on his right ankle.
The Panthers' offensive line has several injury situations to work through this week. Rookie right guard
Trai Turner
has a sprained ankle and knee and likely won't be available for next Sunday's game against Seattle.
Turner suffered the injury in the first half of Sunday's
38-17 loss
at Green Bay.
Left tackle
Byron Bell
suffered an elbow contusion that doesn't appear to be serious. His status for the Seattle game will be determined later in the week, but Rivera sounded optimistic on his availability.
Left guard
Amini Silatolu
, who missed Sunday's game with a calf injury, could return this week.
Rivera didn't sound optimistic that nickel cornerback
Bene Benwikere
, who missed his second straight start with an ankle injury, would return. But he said Benwikere would replace
Charles Godfrey
in the lineup when he does.
Rivera remained in wait-and-see mode on whether
Josh Norman
, who has missed two games with a concussion, would return as a starting cornerback.
September, 1, 2014
Sep 1
1:22
PM ET
CHARLOTTE, N.C. --
Carolina Panthers
quarterback
Cam Newton
was back throwing on Monday, his first participation in a full practice since suffering fractured ribs during an Aug. 22 exhibition game at New England.
Newton
Newton said last Wednesday he had no doubt he would start in Sunday's opener at Tampa Bay, and nothing he did early in practice would dispute that.
The first pick of the 2011 draft, who hasn't missed a start at Carolina, showed no limitation in his throwing motion. He ran between drills, something he didn't do all of last week, and had a full range of motion during stretching.
Newton was wearing a larger flak jacket than the one he was wearing when New England linebacker
Jamie Collins
stepped on the back of Carolina's franchise quarterback at the end of a 7-yard run to cause the fracture.
He did not appear hindered by that.
Also back at practice after sitting out the exhibition finale at Pittsburgh were defensive ends
Charles Johnson
(hamstring) and
Greg Hardy
, (shoulder) and right guard
Trai Turner
(groin).
Turner started the first two preseason games before suffering the injury. The team released
Chris Scott
, who started the last two preseason games, on Saturday.
Either Turner or
Fernando Velasco
, signed in July, is expected to start against Tampa.
Backup quarterback
Derek Anderson
, who suffered a bruised hand against the Steelers, showed no ill effects from the injury.
August, 30, 2014
Aug 30
4:47
PM ET
Most significant move:
This has to be the release of guard Chris Scott. He started eight games last season and started the last two preseason games at right guard with rookie
Trai Turner
nursing a groin injury. This sends a message that Turner is ready to start the opener at Tampa Bay. Conditioning has been an issue for Scott, but coach Ron Rivera told me on Wednesday that Scott had worked himself into a good position when I asked if he could win a starting job. The release shows how much the Panthers like guard
Andrew Norwell
and the confidence they have in
Fernando Velasco
to play center and guard.
Not King for this day:
Wide receiver
Tavarres King
and
Marvin McNutt
were mentioned by general manager Dave Gettleman as young players they'd like to get a good look at when they released
Steve Smith
. McNutt didn't make the first cut and now King, who at one point appeared to be fourth or fifth on the depth chart, is gone.
No pick for Barner:
The
Philadelphia Eagles
waived injured running back
Kenjon Barner
, meaning Carolina won't get the conditional seventh-round pick they negotiated in the trade. Barner had to make the team's 46-man active list for at least the first four games for the Panthers to get the pick.
Alexander on reserve/suspended:
DE
Frank Alexander
, suspended for the first four games for violating the league's substance abuse policy, was placed on the reserve/suspended list. He is expected to return to
the 53-man roster
(depth charts will be updated shortly) after the Week 4 game at Baltimore.
What's next:
Look for Gettleman to keep a close eye on the waiver wire for a wide receiver/return specialist. As much as Rivera says he likes undrafted rookie wideout Philly Brown returning punts, the drops have to make him nervous. There are quite a few interesting players available, including Jets 2012 second-round pick
Stephen Hill
.
Panthers moves:
Cut -- LB
Denicos Allen
, CB
Carrington Byndom
, G
Derek Dennis
, CB
James Dockery
, LB
Adarius Glanton
, WR Tavarres King, S
Robert Lester
, WR
Marcus Lucas
, OT
Andrew McDonald
, S Tom Nelson, DT
Drake Nevis
, RB
Darrin Reaves
, DT Micanor Regis, LB D.J. Smith, CB
Josh Thomas
, DT
Casey Walker
, FB
Michael Zordich
, OG Chris Scott. Waived/injured -- T
Kevin Hughes
. Waived/injured settlement -- TE Mike McNeil, S
Anderson Russell
. Reserve/suspended -- DE Frank Alexander.
August, 30, 2014
Aug 30
11:57
AM ET
Scott
The reported release of right guard
Chris Scott
means the
Carolina Panthers
are confident the groin injury that sidelined rookie
Trai Turner
in the past two preseason games won't be an issue for the Sept. 7 opener at Tampa Bay.
Scott appeared to have worked himself into position to challenge Turner for the start, but according to Pro Football Talk, he was released on Saturday as the Panthers trimmed their roster to 53.
When asked on Wednesday about the possibility of Scott starting versus the Buccaneers, coach Ron Rivera said, "Chris worked himself into a good position, and we'll see how it goes."
Scott started eight games last season before a knee injury became an issue.
A fifth-round pick by the
Pittsburgh Steelers
in 2010, the 6-foot-4, 315-pound Scott had issues with conditioning that sidelined him for much of offseason workouts. He failed conditioning tests at Buffalo in 2013, making him available for the Panthers to sign.
The release of Scott also shows Carolina's confidence in
Fernando Velasco
's ability to play center and guard. Velasco signed with the Panthers in July after suffering a season-ending Achilles injury in Week 14 last season.
August, 26, 2014
Aug 26
9:28
AM ET
TAMPA, Fla. -- Tampa Bay Buccaneers general manager Jason Licht and coach Lovie Smith haven't had their personnel decisions second guessed very much.
That's largely because the Bucs have made a lot of good moves. But, with the team getting desperate enough to bring in guard
Richie Incognito
for a visit, there's room to question at least one move by Licht and Smith.
Was it really necessary to draft running back
Charles Sims
in the third round? The Bucs already had good depth at running back with
Doug Martin
,
Bobby Rainey
and
Mike James
. But the team saw a guy who had caught over 200 passes in his college career and decided to bring Sims in as a pass-catcher out of the backfield.
It was a nice idea. But, at the time, the Bucs already knew they had a bigger need at guard. Had they not taken Sims, they could have taken
Spencer Long
,
Gabe Jackson
,
Chris Watt
,
Trai Turner
or
Brandon Linder
-- all guards who went in the third round.
Any of those guys would have been an instant candidate to start. Sims never was a candidate to start. That job belongs to Martin. Sims was going to be a rotational player.
But he won't even be playing for at least the first half of the season. Sims suffered an ankle injury that will keep him out 12 to 14 weeks. You can't control injuries and you can't blame Licht and Smith for what happened to Sims. He still might turn out to be a terrific player.
But you certainly can question why the Bucs didn't use a third-round pick on a guard.
August, 25, 2014
Aug 25
4:59
PM ET
CHARLOTTE, N.C. -- The
Carolina Panthers
are planning for their Sept. 7 opener at Tampa Bay as if quarterback
Cam Newton
will start.
Newton suffered a hairline fracture in a rib during the second quarter of Friday night's exhibition loss at New England. He will not play in Thursday night's preseason finale at Pittsburgh, but he is attending every meeting and watching every snap at practice.
Newton
While Newton is not physically involved, he has been mentally since the team began putting the Tampa Bay game plan in on Sunday.
"Very, very," coach Ron Rivera said on Monday. "He's with the coordinator, he's with the quarterback coach and they're talking about what we're looking at and why we're looking at it.
"So Cam's getting a feel for Tampa Bay right now."
Rivera said he hasn't gotten an update on how much Newton's condition has improved in the last 24 hours, but the first pick of the 2011 draft did seem less stiff when walking.
As Newton left the practice field, rookie wide receiver
Kelvin Benjamin
playfully nudged him in the shoulder a couple of times. Newton responded by raising his arms and playfully shoving Benjamin back.
Rivera said treatment hasn't gotten in the way of Newton being a part of all planning involving the Bucs.
"We're working around him," said Rivera, who closed practices to the media when preparing for the Bucs began. "We're focusing him on Tampa in terms of our preparation."
Rivera said there aren't two different game plans in case Newton can't play against Tampa Bay and backup
Derek Anderson
has to start.
"We're putting a regular game plan together," he said. "The big thing is everything we put in our game plan Derek is able to do. We don't have two separate sheets. We have one plan."
But Rivera is having to make adjustments for what little game plan there will be for Pittsburgh. With Anderson's wife expecting their first child at any time and fourth-string quarterback
Matt Blanchard
out with a concussion, there's a chance third-stringer
Joe Webb
is the only quarterback.
As a precaution, Rivera said a couple of non-quarterbacks are being prepped to play quarterback if Anderson is with his wife and Webb gets hurt. He would not identify them.
Otherwise, Rivera said the plan is to play the healthy starters for about a quarter.
Starters not expected to play against Pittsburgh include Newton, right guard
Trai Turner
(groin), defensive ends
Greg Hardy
(shoulder) and
Charles Johnson
(hamstring).
A decision has not been made on tight end
Greg Olsen
, whose son successfully underwent open heart surgery on Monday.
All are expected to be ready for Tampa Bay.
June, 12, 2014
Jun 12
8:00
AM ET
CHARLOTTE, N.C. --
Carolina Panthers
running back
Jonathan Stewart
has missed so many offseason and preseason practices with injuries during his six-year NFL career that you'd swear he was faking it to avoid the hot, humid days that are typical in these parts.
Stewart
He's not.
Stewart's injuries, from big toe surgery that kept him out of OTAs in 2008 to ankle surgery that sidelined him throughout the entire 2013 offseason, have been legitimate.
But he's healthy now, as healthy as he's been since the 2011 season.
If the former Oregon star can return to the form he was in 2009 when he rushed for 1,133 yards sharing the backfield with
DeAngelo Williams
as they became known as "Double Trouble," the Panthers can't help but be better for it in their quest to be a ball-control team.
"Very excited about having Jonathan on the field," coach Ron Rivera said after Wednesday's workout. "He's healthy again. He's moving the way we need him to move. I like what we're getting out of him.
"Even Jonathan is saying this is the first time he's been healthy [in a while]. So that's a good thing."
The rotation of a healthy Stewart and Williams, along with fullback/halfback
Mike Tolbert
, could give the Panthers one of the best trio of running backs in the league.
Throw in quarterback
Cam Newton
, who should be stronger and faster than ever once his left ankle completely heals from surgery, and Carolina has four legitimate threats in the running game.
That's why Rivera said Stewart doesn't need to be a 1,000-yard rusher to be effective. He just needs Stewart to be more effective than he was a year ago when he spent the first seven games on the physically unable to perform list and then missed the last three games after suffering a knee injury at New Orleans.
"We need to be able to rush for 100 yards a game like we did last year," Rivera said. "That's one of the things that really helped us out [last season]. We ran the ball well, we controlled the clock, we controlled the tempo of the game."
A healthy Stewart would help all of that.
A few more observations from Wednesday:
May, 11, 2014
May 11
1:00
PM ET
CHARLOTTE, N.C. -- The
Carolina Panthers
needed a dynamic wide receiver. They got one in first-round draft pick
Kelvin Benjamin
. They needed a left tackle to replace the retired
Jordan Gross
. They didn't get one. They needed a cornerback. They got a potential starter at nickel back, but the need for a starting every-down player wasn't quite as big as many thought with the news that safety
Charles Godfrey
has moved to corner.
That my quick assessment of how the Panthers did in the NFL draft.
Overall, I'd give this class a C-plus based on need. The plus is the Godfrey factor that nobody outside the organization was aware of.
Based on value and potential impact, I'd give it a B-minus. I really like the addition of Missouri defensive end
Kony Ealy
in the second round. He adds another pass-rusher to a defense that led the league in sacks last season with 60 and gives general manager Dave Gettleman flexibility for the future in dealing with the big contracts of
Charles Johnson
and
Greg Hardy
.
I also like the selection of LSU guard
Trai Turner
in the third round. He may not fill the void at tackle, but he gives the team a huge (6-foot-2 1/2, 310 pounds) player with a nasty attitude that could start at right guard.
ESPN draft analyst Mel Kiper Jr.
gave the Panthers a C-minus

based on need and a C based on value. He wasn't quite as high on Benjamin and the failure to get a tackle played a role in his evaluation.
It really doesn't matter what either of us think. It's what Gettleman and head coach Ron Rivera think that matters the most. Rivera believes the post-draft roster has the potential to be better than it was last season when Carolina went 12-4 and won the NFC South.
"I like the potential in a lot of different phases of our offense and defense, and I think we added some free agents who are going to help us on the field," Rivera said. "I told Dave a few days ago that I really liked the way we set up our board, and I liked what they had come up with. I loved the targets that we had.
"Especially in the first three rounds, we had a pod of guys that we felt comfortable drafting and then feeling very good about who the number one guy was in each round. We can be better than we were and we are going to work and strive to get better."
Some of that might be coach speak. It will be tough for this team to improve in terms of wins and losses even if the overall talent is improved.
But the defense has the potential to be at least as good as the unit that ranked second in the league last season.
For all that was made of the losses on offense, it ranked 24th in the league last season. There needed to be an overhaul. That the Panthers didn't take a tackle shouldn't impact the grade of this class.
As Gettleman noted, after the first four there was a drop-off and the Panthers felt the talent already on the roster was better than anybody they could have selected. Looking at it that way, not taking a tackle with the top four gone before Carolina picked at No. 28 was the smart move.
Here's a look at my thoughts on Carolina's entire draft class:
WR Kelvin Benjamin, Florida State, 1st round, No. 28: Will be a huge target (6-5, 240) for Newton in the red zone and will keep teams from stacking eight players in the box, which should help the new offensive line and the running game.
DE Kony Ealy, Missouri, 2nd, No. 60: This wasn't considered a big need because of Hardy and Johnson, but keeping Johnson fresh will only make the defensive front that already was among the best in the NFL better.
OG Trai Turner, LSU, 3rd, No. 92: Never a bad thing to have a quality player who can strengthen the interior line, particularly for a team that wants to run as much as Carolina does.
S Tre Boston, North Carolina, 4th, No. 128: Carolina needed a young player to develop behind Thomas DeCoud and Roman Harper.
CB Bene' Benwikere, San Jose State, 5th, No. 148 (traded fifth and seventh with Minnesota to move up 20 spots): Can compete for the nickel back spot that was left open when Captain Munnerlyn went to Minnesota.
RB Tyler Gaffney, Stanford, 6th, No. 204: This seems like a reach for a team stacked with backs, but he's a good blocker for a college back and can play special teams. It's not a sexy class, but it has the potential to be slightly better than average.
May, 6, 2014
May 6
9:30
AM ET
IRVING, Texas -- With the draft finally within site, unless there is some sort of rain delay, it's time for Five Wonders to return.
We'll keep them focused on the draft.
** I wonder if the Cowboys are in never-never land with the 16th pick when it comes to first-round defensive linemen. That's what an 8-8 finish will do for you. You're stuck right in the middle and have to do too much to move up significantly and won't get enough (some of the time) to move down big either. After
Jadeveon Clowney
and
Khalil Mack
, there is a drop-off on right defensive ends.
Anthony Barr
is a project and somebody I believe the Cowboys would pick at No. 16. Will he be there at No. 16? The rest of the options available, like a
Kony Ealy
,
Scott Crichton
,
Kareem Martin
or
Demarcus Lawrence
look more like second-round picks. That's why I think if the Cowboys move up it's only a couple of spots for a specific player. The more likely option is to move back where they'd have better choices at the right value. Now if only some team would be willing to move up.
** I wonder what the reaction of people who live in the best-player-available world would be if the Cowboys took North Carolina tight end
Eric Ebron
in the first round. If Ebron is there at No. 16 and is the best player, then the Cowboys must take him, right? If you live in the best-player-available world in which there is no gray area, then Ebron is your guy. Hooray. But after taking
Gavin Escobar
in the second round last year and seeing
Jason Witten
make another Pro Bowl in 2013, do the Cowboys need a first-round tight end? You might hate the word "need" but I don't. Need has become the four-letter word in draft circles. If they take Ebron, they are saying the Escobar pick was a mistake and Witten is on his final legs. Ebron is a terrific talent, but the Cowboys can't pick him. I do think, however, the Cowboys would take a tight end (more of a blocker than receiver) later on in the draft.
** I wonder how much scheme versatility will factor into the Cowboys' decision making Thursday-Saturday. The elephant in the room is that Jason Garrett must win now. He is in the final year of his contract. If he doesn't win, then Jerry Jones doesn't have to fire him. He just needs to pick a new coach. But let's say Jerry falls in love with a coach who has a 3-4 background or an offensive coach who wants to bring in a 3-4 coordinator. Can the Cowboys make the switch again? They felt they had the tools to move from a 3-4 to a 4-3 somewhat seamlessly and we saw how that worked in 2013. If the Cowboys picked
Aaron Donald
in the first round, then would he fit in a 3-4 scheme next year? He doesn't look like a 3-4 player. It is a fatalistic view to have going into a draft, but the Cowboys could find some defensive prospects that offer versatility in a 3-4 or 4-3, like Barr, Ealy, Lawrence and possibly
Ryan Shazier
.
**I wonder if third round is the area in which the Cowboys target an offensive lineman. Of the linemen not named
Zack Martin
who visited Valley Ranch before the draft, almost all of them are in that Rounds 3-4 neighborhood like
Gabe Jackson
,
Trai Turner
,
Jack Mewhort
and
Billy Turner
. To be clear, in just about every mock I've been asked to participate in, I have the Cowboys taking Martin at No. 16. If they go offense there, I think they need (there's that word again) to go defense with the second- and third-round picks, provided the grades match up. I'm breaking all ties in the defense's favor. I'll add this note: The last middle-round (Rounds 3-5) offensive lineman to pan out for the Cowboys was
Doug Free
(fourth round) back in 2007. And it took him well into his third season to get on the field. Since then the Cowboys have missed on
Robert Brewster
(third, 2009) and
David Arkin
(fourth, 2011). I'll give them partial credit for
Sam Young
(sixth, 2010) since he's still in the league. Their best middle-round offensive lineman in the last 10 years has been
Stephen Peterman
(third, 2004) and his playing time came with the
Detroit Lions
after he was cut.
**I wonder if the extra time in the draft has led teams to overanalyze things. The
New Orleans Saints
attempted to bust up the boredom by spending some time in Las Vegas. Some other teams took a week's break earlier in the process. The Cowboys altered their schedule some but not that much. Too often we hear teams talk about the importance of watching the players play and not putting as much stock into the combine or pro days. And every year there are guys that come out of nowhere, like Pitt quarterback
Tom Savage
, and small-school gems, like
Pierre Desir
. Maybe they will be great finds. Who knows really? The extra time served up plenty of interest, which the NFL craves, and allowed for more mock drafts than ever before, but did it really serve the teams well? We'll find out in a couple of years.
April, 3, 2014
Apr 3
12:15
PM ET
The
Tampa Bay Buccaneers
have the seventh overall pick in this year's draft after going 4-12 last season.
A wide receiver, an offensive guard and anything that would bring much-needed depth to just about any position would make a lot of sense for the Bucs.

Mel Kiper's
fourth 2014 NFL mock draft
is out on ESPN Insider today, and his choice isn't a big surprise for the Bucs. In this mock draft, Kiper chooses what he thinks each team should do, not what it will do.