NFL Nation:

Travis taylor
March, 18, 2014
Mar 18
12:00
PM ET
Offensive tackle
Michael Oher
signed
a four-year, $20 million deal
with the
Tennessee Titans
last week, becoming one of a handful of
Baltimore Ravens
' first-round picks not to remain with the team beyond their rookie deal.
Oher, the 23rd overall pick of the 2009 draft, will be known as a durable yet not dominant offensive tackle during his five seasons with the Ravens.
Let's take a look at where Oher ranks among the Ravens' first-round picks:
1. Ray Lewis, linebacker (1996)
: He will be remembered as one of the greatest players in NFL history. Few can match Lewis' resume: Two NFL Defensive Player of the Year awards, two Super Bowl rings, 13 Pro Bowls and one Super Bowl MVP award.
[+] Enlarge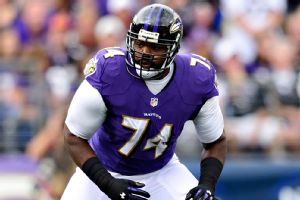 AP Photos/David DrapkinMichael Oher has been a durable, if not outstanding, tackle for the Ravens.
2. Jonathan Ogden, offensive tackle (1996)
: How revered is Ogden? He became the first pure offensive tackle to be voted into the Hall of Fame in his first year of eligibility since
Jackie Slater
in 2001. Ogden went to the Pro Bowl in each of his final 11 seasons in the NFL.
3. Ed Reed, safety (2002)
: He was the 2004 NFL Defensive Player of the Year, the first safety in 20 years to win the award. Reed led the league in interceptions for three seasons, and he holds the NFL record for most career interception return yards (1,541) and longest interception return (108 yards).
4. Jamal Lewis, running back (2000)
: In 2003, Lewis was named the NFL Offensive Player of the Year for rushing for 2,066 yards, falling just 39 yards short of the NFL's all-time single season rushing record. He carried the Ravens' offense in the 2000 Super Bowl run and still ranks as the franchise's all-time leading rusher.
5. Terrell Suggs, linebacker (2003)
: He became the third Ravens player to win NFL Defensive Player of the Year, earning the award in 2011 by leading the AFC with 14 sacks and topping the NFL with seven forced fumbles. Suggs has recorded 94.5 career sacks, which is 24.5 more than any other Ravens player.
6. Haloti Ngata, defensive tackle (2006)
: A five-time Pro Bowl player, Ngata was considered the NFL's best interior defensive lineman a few years ago.
7. Chris McAlister, cornerback (1999)
: The Ravens' first shutdown cornerback, McAlister forced quarterbacks to throw away from him for years before a knee injury and off-the-field issues caught up to him.
8. Joe Flacco, quarterback (2008)
: He led the Ravens to a Super Bowl with a
Joe Montana
-like run and has produced more wins than any other quarterback since 2008. But Flacco's pedestrian regular-season numbers have stopped him from becoming an elite NFL quarterback.
9. Todd Heap, tight end (2001)
: Overshadowed by
Tony Gonzalez
and
Antonio Gates
in the AFC, Heap remains the Ravens' all-time leader with 41 touchdown catches.
10. Peter Boulware, linebacker (1997)
: The 1997 NFL Defensive Rookie of the Year, Boulware finished with 70 sacks (second all-time for the Ravens), including a team-record 15 sacks in 2001.
11. Duane Starks, cornerback (1998)
: He struggled mightily at times, but he had three interceptions in the Ravens' 2000 championship run including a 49-yard return for a touchdown in the Super Bowl.
12. Ben Grubbs, guard (2007)
: He started 70 of 74 games for the Ravens and made the Pro Bowl in 2012, his last season with the team.
13. Michael Oher, offensive tackle (2009)
: He never missed a start in his five-year career, but he fell short of expectations because of false starts and inconsistent pass protection.
15. Mark Clayton, wide receiver (2005)
: He never led the team in receiving, and he had nine 100-yard receiving games. His best season was 2006, when he caught 67 passes for 939 yards and five touchdowns.
16. Kyle Boller, quarterback (2003)
: A flop as a franchise quarterback, Boller had one 300-yard passing game for the Ravens and seven starts where he threw under 100 yards. His five seasons with the Ravens produced a losing record as a starter (20-22) and just one more touchdown (45) than interceptions (44).
17. Travis Taylor, wide receiver (2000)
: Yes, Taylor is a bigger bust than Boller. The 10th overall pick of the 2000 draft, Taylor eclipsed 60 catches once and produced a grand total of two 100-yard games. If that doesn't convince you, Taylor didn't score a touchdown in his final 22 games with the Ravens.
Note
: Safety
Matt Elam
was left off the rankings because he's only played one season.
April, 11, 2012
4/11/12
10:00
AM ET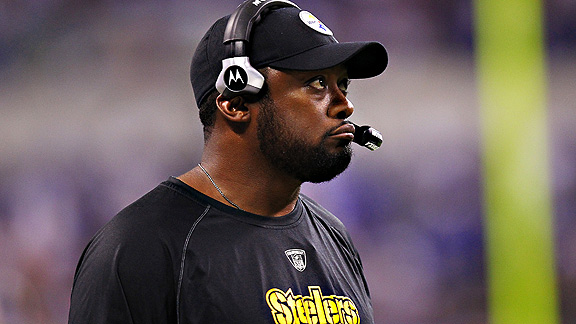 Michael Hickey/US PresswireMike Tomlin and the Steelers need to tap into their draft magic this year more than many.
Nearly a full month into free agency, the Steelers finally signed their first player Tuesday. It was -- yawn --
Leonard Pope
.
Not excited about adding a backup tight end? Well, this is essentially a repeat of last year, when the Steelers' big free-agent signing was wide receiver
Jerricho Cotchery
. Let's face it, Steelers' free agency contains as much action as a Sarah Jessica Parker flick. Everyone knows this, and that's why no one is wringing their Terrible Towel over the inactivity.
The Steelers find players in April, not March. They hit on first-round picks every year -- at least in recent memory -- and develop undrafted prospects into starters. No one has built their team through the draft quite like the Steelers this decade. If the season started today, only one of the projected starters (safety
Ryan Clark
) joined the Steelers as an unrestricted free agent.
The Steelers need this remarkable track record in the draft to come through for them again. In some ways, this is the most important draft of the Mike Tomlin era. I'm not saying this is a crucial draft in terms of finding immediate starters. But the pressure is on the Steelers to find "potential" starters for the 2012 season.
The organization lost a piece of its history when it parted ways with wide receiver
Hines Ward
, linebacker
James Farrior
, defensive end
Aaron Smith
, nose tackle
Chris Hoke
and guard
Chris Kemoeatu
this offseason. Some have downplayed these departures because none were major contributors last season. Farrior was a part-time player, Ward was being phased out, Kemoeatu was benched and Smith and Hoke were both injured. The Steelers, though, could have used their experience as backups this season.
The loss of these veteran safety nets makes injuries a major concern. Two starters -- running back
Rashard Mendenhall
and nose tackle
Casey Hampton
-- are candidates to start the regular season on the physically unable to perform list (and miss at least the first six games) after ACL surgeries this offseason. Tomlin has expressed concern whether right tackle
Willie Colon
and wide receiver
Emmanuel Sanders
can shake their injury histories. And the Steelers have to be worried about
Maurkice Pouncey
's ankle,
LaMarr Woodley
's hamstrings and
Doug Legursky
's shoulder.
If Hampton is placed on the PUP, the starting nose tackle would likely be an out-of-position
Ziggy Hood
. If Legursky is hurt, the current top backup at guard is
John Malecki
. If Colon goes down, the Steelers have to turn to the often-struggling
Jonathan Scott
. If Sanders can't play, the third receiver would be ... well, no one right now. These are all painful scenarios for the Steelers.
This is where the draft comes into play for Pittsburgh. Taking the right college player has always kept the Steelers in the mode of reloading, not rebuilding. No one knows whom the Steelers will select with the 24th overall pick. It could be Alabama inside linebacker
Dont'a Hightower
, Georgia offensive lineman
Cordy Glenn
, Stanford tight end
Coby Fleener
or someone not even linked to Pittsburgh. Based on the Steelers' history, the only certainty is the pick will become an impact player.
[+] Enlarge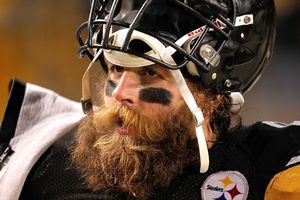 Gregory Shamus/Getty ImagesDefensive end Brett Keisel, taken in the seventh round, is just one of the Steelers' draft finds.
Since 2000, the Steelers' first-round selections have been wide receiver
Plaxico Burress
, Hampton, guard
Kendall Simmons
, safety
Troy Polamalu
, quarterback
Ben Roethlisberger
, tight end
Heath Miller
, wide receiver
Santonio Holmes
, linebacker
Lawrence Timmons
, Mendenhall, Hood, Pouncey and defensive end
Cameron Heyward
. The only one who didn't quite live up to expectations is Mendenhall, and he is hardly a major disappointment, having led the team in rushing for the past three seasons. This great run is more amazing when you consider only two (Burress and Roethlisberger) were selected in the top half of the first round. Even the Ravens, who are known for excelling in the draft, have had two busts during this span with quarterback
Kyle Boller
and wide receiver
Travis Taylor
.
General manager Kevin Colbert, one of the underrated decision-makers in the NFL, can't explain this string of success.
"We've been fortunate," he told reporters at the NFL owners meetings. "We are capable as anybody of making a mistake. We never keep score. There's only one score that matters and that's the last game of the year."
If the Steelers had been keeping score, they would realize their success goes beyond the first round. They have come away with current starters in the second round (linebacker Woodley), third round (wide receiver
Mike Wallace
), fourth round (cornerback
Ike Taylor
), sixth round (wide receiver
Antonio Brown
) and seventh round (defensive end
Brett Keisel
). And don't forget about the undrafted finds like Legursky, right guard
Ramon Foster
and running back
Isaac Redman
.
This is why the Steelers don't have to write a $100 million check to free agents. This is why the Steelers can sign one player in the first 28 days of free agency and not sweat about it. Pittsburgh's way of business is about patience and faith. The Steelers believe in their front office to select the right college players and they believe in their coaching staff to develop them. It's a proven system that has led to five AFC North titles in 10 seasons and three trips to the Super Bowl during that span.
As players come and go, the Steelers' goals never change. Like Tomlin always preaches: "The standard is the standard."
"If you have a desire to be in this league for a length of time, you are going to roll with the punches and the ebb and flow, the evolution of the game," Tomlin said at the NFL owners meetings. "Thankfully, I've been in the game long enough to see a little bit of that. Those who are able to sustain success are pliable and flexible."
And the organizations that are able to sustain success are often quiet in free agency and make their most noise in the draft.
April, 9, 2012
4/09/12
5:09
PM ET
Todd McShay set off alarms as he considered if NFL teams drafting sixth (
St. Louis Rams
) and 10th (
Buffalo Bills
) might consider selecting wide receivers with those choices.
The alarms grew louder as McShay, speaking in the video above, noted that Oklahoma State's
Justin Blackmon
, widely rated as the top receiver in the 2012 NFL draft, did not possess prototypical size.
Blackmon, though obviously talented, doesn't fit the physical mold for receivers drafted among the top three overall choices over the past 25-plus years. We
discussed the reasons
back at the combine, when the Rams held the second overall choice and Blackmon was a consideration for them.
The Rams subsequently traded the second overall choice to Washington. They now hold the sixth overall choice. Blackmon would be a more logical value there than at No. 2, except for those alarms going off.
Consider recent draft history.
First, take a look at receivers drafted among the top five overall choices since 2000, listed in the first chart below.
Three of the seven are superstars:
Calvin Johnson
,
Larry Fitzgerald
and
Andre Johnson
. Another,
A.J. Green
, is coming off an impressive rookie season.
Braylon Edwards
has enjoyed sporadic success. The other two,
Charles Rogers
and
Peter Warrick
, fell far short of expectations.
Those seven players have combined for 12 Pro Bowl appearances (Fitzgerald 5, Johnson 5, Johnson 1, Edwards 1).
The next set of receivers, listed below, were drafted sixth to 15th overall. I selected that range because three NFC West teams -- the Rams,
Seattle Seahawks
(12th) and
Arizona Cardinals
(13th) -- hold picks in that area.
The 16 players listed in the second chart have combined for two Pro Bowls, one by
Roy Williams
and the other by
Koren Robinson
as a return specialist in Minnesota, long after Robinson had bombed as a receiver.
Receivers talented enough to command selection among the top few overall choices have fared better than the ones with enough question marks to push them down into the next tier.
That is something to consider when weighing how the Rams, Seahawks and Cardinals should use their first-round selections, even if the Rams did land
Torry Holt
with the sixth overall choice in 1999.
November, 20, 2011
11/20/11
10:03
PM ET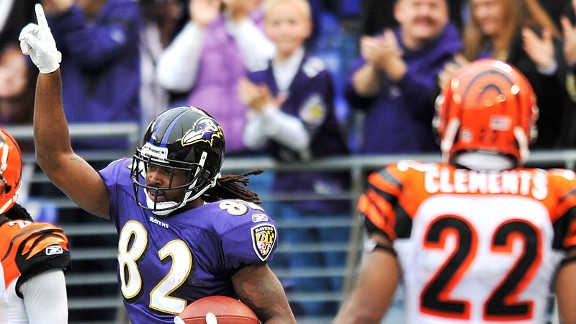 AP Photo/Gail BurtonRookie receiver Torrey Smith has given the Ravens the deep threat they've tried for years to find.
BALTIMORE -- The Ravens find themselves leading the AFC North race because of the speed of
Torrey Smith
.
The second-round pick is the wide receiver Baltimore has been desperately searching for over the past decade. Smith is fast. He's a playmaker.
Smith was the difference in the Ravens winning and losing at Pittsburgh. He was the difference between the Ravens losing to the Bengals last season and beating them
31-24
on Sunday.
"In past years, they've been able to put some pressure on us with their coverage, lock us up pretty tightly, and get some pressure with their front four," Baltimore quarterback
Joe Flacco
said. "But with Torrey out there, he definitely has the speed and can hurt them in man-to-man coverage. That helped us out today."
With the game tied at 7-7 in the second quarter, Smith burst past Cincinnati cornerback
Nate Clements
down the right sideline for a 49-yard over-the-shoulder catch, which set up the go-ahead touchdown. His 38-yard touchdown grab early in the fourth quarter-- which came with him beating a cornerback and splitting two safeties -- put Baltimore up 31-14.
Smith is fast learning how to handle the ups and downs of a first season in the NFL. He's made some big drops, but he's always responded with bigger catches.
The dangerous part of Smith's game is that his confidence is at an all-time high. It was apparent in the huddle right before his fourth-quarter touchdown.
"We all knew it was time for us to get seven," Smith said. "We knew what type of play it was."
Thanks to Smith's six catches for 165 yards, Ravens (7-3) are in first place and control their playoff fate. They have the same record as the Steelers but hold the tiebreaker advantage by sweeping them.
To elevate themselves past the Steelers, the Ravens made it a priority to find a wide receiver to complement Flacco's big arm, which has been the one blemish on the team's spectacular draft resume. The Ravens have drafted 16 wide receivers -- from Patrick Johnson to
Travis Taylor
to
Mark Clayton
-- and none became consistent downfield threats.
Baltimore had to look to free agency to find wide receivers. Defenses respected the likes of
Derrick Mason
and
T.J. Houshmandzadeh
, but they fear Smith.
His 27.5-yards per catch on Sunday should cause the Bengals defensive backs to pull out their hair -- instead of pulling Smith down by his.
"I think we did envision the type of player he was going to be," coach John Harbaugh said. "That's why we drafted him."
Before the season began, if you saw Smith's statistics for the Bengals-Ravens game, you would have expected
A.J. Green
or
Lee Evans
to put up those numbers. But Green was inactive with a knee injury, and Evans has been surpassed by Smith on the depth chart because of an ankle injury.
While Green and Atlanta's
Julio Jones
have garnered most of the attention when it comes to rookie receivers, Smith is starting to close the gap on them after posting the top two receiving performances by a rookie (as far as receiving yards) this season.
He now has two games of at least 150 yards receiving during his rookie season. According to ESPN Stats & Information, the only other rookies in the past 15 years to accomplish this are
Randy Moss
with the Vikings in 1998 and
Marques Colston
with the Saints in 2006.
"He's been a guy that we thought could go get the deep ball," Harbaugh said, "He kind of put it in another gear at the end and go chase down a ball."
Smith's speed is different than what Pittsburgh's
Mike Wallace
shows on the field, according to former NFL wide receiver
Qadry Ismail
, who is on the Ravens' radio team. Ismail said Wallace accelerates immediately off the line, whereas Smith has that burst at the end to separate from receivers.
Flacco has gotten a feel for Smith's speed and has now thrown four touchdowns over 20 yards to Smith. He hasn't thrown more than three such touchdowns to any receiver in his previous three seasons, according to ESPN Stats & Information.
"Like I've always said, when the ball is in the air, he can separate," Flacco said.
That separation has led to some desperation for opponents. At one point, the Bengals saved a touchdown late in the second quarter when
Adam Jones
pulled Smith down by grabbing his hair. It's not a penalty because that's considered part of Smith's uniform.
Smith said it didn't hurt.
"I was surprised by it," Smith said. "It actually felt like I was getting pulled down by my jersey."
Is a new haircut in order?
"I honestly thought about it, but my grandma likes it a little too much," he said. "I'm a momma and grandmamma's boy, at least for now."
Smith did provide a new look for the Ravens' passing attack against Cincinnati. Flacco has long struggled against the Bengals and their cover-2 defense, averaging 178 yards passing in going 3-3 against them. Smith nearly matched that passing average by himself.
Some could argue that Smith's production earlier this season caught defenses by surprise. But defensive backs know about Smith now and they're still having trouble containing him.
His 165 yards receiving is third-highest for a Ravens receiver and is the most allowed by Cincinnati this season.
"Coming into the game, we knew he was a guy who could stretch the field," Clements said. "We just had to take away his strength and make him go elsewhere. We didn't do that today, and he made us pay for that."
Bengals-Ravens notes
Pro Bowl safety
Ed Reed
made a bizarre shout-out at a postgame session with reporters when asked about
Jimmy Smith
fumbling after making his first career interception. "It reminds me of my rookie year, they slapped it out of my hands and it wound up going back to him. But I'm glad we got it back," Reed said. "I'm kind of surprised you haven't asked me about the President's Cup, though. Congratulations to those guys, Fred Couples and our team. That was huge." Never knew Reed was such a huge golf fan. ... Former kicker
Matt Stover
became the sixth member of the Ravens organization to be inducted into the team's Ring of Honor. ... George Clooney was spotted at Sunday's game between the Ravens and Bengals. He's dating Baltimore native
Stacy Keibler
. Yes, this isn't football-related. But this has to be the first time a movie star ever attended a Ravens-Bengals game, right?
April, 13, 2011
4/13/11
11:30
AM ET
Consider it one of the biggest draft mysteries in the AFC North.
The
Baltimore Ravens
deservedly have a reputation as one of the NFL's top drafting teams. But they also may be the league's worst at drafting wide receivers.

How bad is Baltimore's track record at the position?
Consider this: Since the beginning of the franchise in 1996, the Ravens have selected 16 wide receivers and none have had a 1,000-yard season in Baltimore. Only
Brandon Stokley
, a former fourth-round pick of the Ravens in 1999, had a 1,000-yard season in his career with the
Indianapolis Colts
in 2004.
For every draft success like linebacker
Ray Lewis
and safety
Ed Reed
, the Ravens also have busts at receiver like
Travis Taylor
and
Mark Clayton
. Receivers
Yamon Figurs
,
Demetrius Williams
,
Devard Darling
and
Pat Johnson
were all drafted by Baltimore with high hopes but flamed out. The most successful receivers in Baltimore have been veteran free agents such as
Derrick Mason
and
Anquan Boldin
.
It's baffling how mightily Baltimore struggles drafting receivers, especially since the team is so good at finding talent at other positions. Ravens General Manager Ozzie Newsome, one of the best in the business, has drafted Pro Bowlers at running back, tight end, linebacker, safety, cornerback and the offensive and defensive lines. Yet, somehow, Baltimore continues to strike out at receiver.
With the Ravens searching for a speedy deep threat to complement Mason and Boldin, can they finally hit a home run in this year's draft?
April, 16, 2010
4/16/10
5:24
PM ET
Ted Ginn Jr. clearly wasn't wanted in Miami.
The Dolphins announced his departure in a news release short enough to
fit in a tweet
: "The
Miami Dolphins
today traded wide receiver Ted Ginn Jr. to the
San Francisco 49ers
in exchange for an undisclosed 2010 draft choice."
That was it. No acknowledgment of Ginn's status as a 2007 first-round choice, or the kickoffs he returned for touchdowns last season or anything else.
For Miami, this was like removing a wart from their draft record. The faster, the better. Get it over with. Minimize the pain.
Ginn was the ninth player chosen in the 2007 draft.
Koren Robinson
and
Reggie Williams
were also receivers taken ninth overall in recent years.
The seventh through 10th overall choices have produced quite a few disappointing receivers in recent years:
Troy Williamson
,
Mike Williams
, Reggie Williams, Robinson,
David Terrell
,
Travis Taylor
and
David Boston
.
That history doesn't matter much to the 49ers regarding Ginn. They're getting a return specialist with potential as a receiver, outside the context that downgraded Ginn in the Dolphins' eyes.
May, 4, 2009
5/04/09
6:10
PM ET
Posted by ESPN.com's Kevin Seifert
A few notes on a Monday evening:
You can assume that Detroit is on the short list of teams that ex-Pittsburgh linebacker Larry Foote will consider. Unable to swing a trade for the veteran linebacker, the Steelers released Foote on Monday. Foote said last week he would like to return to Detroit, his hometown. He also played at the University of Michigan, and the Lions have a pretty empty hole at middle linebacker. (Currently, rookie DeAndre Levy is on top of the unofficial depth chart.) Although Foote's best days probably are behind him, he would team with Ernie Sims and Julian Peterson to give the Lions a credible group of linebackers.
The Lions made several other roster moves, according to Nicholas J. Cotsonika of the Detroit Free Press. They released tailback Brian Calhoun, ending his disappointing three-year run with the team, and also cut receivers Travis Taylor and Steve Sanders. They also signed defensive end Eric Hicks, who played for new defensive coordinator Gunther Cunningham in Kansas City. Hicks did not play in 2008.

Green Bay released linebacker Jason Hunter, a casualty of the team's switch to the 3-4 defense. Hunter had appeared in 42 games over the past three years, but at 271 pounds he is too small to play defensive end in a 3-4 but is probably ill-suited to play linebacker. The Packers also signed four players following their rookie minicamp, including former University of Pittsburgh punter Adam Graessle.

February, 21, 2009
2/21/09
12:00
PM ET
| | |
| --- | --- |
| | |
| | Getty Images |
| | Former first-round picks David Terrell, Charles Rogers and Donte' Stallworth haven't measured up to their lofty draft status. |
Posted by ESPN.com's Mike Sando
INDIANAPOLIS -- The last time a current NFC West general manager watched his team draft a receiver among the top five overall choices, the Arizona Cardinals emerged with Larry Fitzgerald.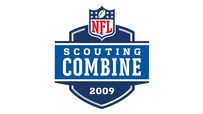 If only it were that easy every time.
The Cardinals' division rivals lack dynamic wideouts now that Torry Holt is winding down in St. Louis.
Unlike Arizona, which rode Fitzgerald to an appearance in Super Bowl XLIII, the rest of the NFC West is drafting early enough to consider the top college receivers.
The Rams, picking second, or Seattle Seahawks, picking fourth, could be in position to select the top receiver in a potentially deep 2009 class.
Even the San Francisco 49ers, with the 10th choice, could get that chance depending upon how perceptions change over the next two months.
No team drafted a receiver in the first round last year. The Rams made Donnie Avery the first receiver drafted when they selected him 33rd overall.
"There are some wide receivers certainly capable of being taken in the first round, much moreso than last year," Tennessee Titans general manager Mike Reinfeldt said.
Capable does not necessarily mean worthy. Teams consistently use first-round choices on receivers without realizing the anticipated payoff.
For every Fitzgerald, whom the Cardinals selected third overall in 2004, there's a David Boston, whom the Cardinals selected eighth overall in 1999. And a Koren Robinson, whom the Seahawks selected ninth in 2001.
Teams have more often found success selecting receivers at the very top of the draft, at least in recent seasons. The first receiver chosen generally justifies the investment:
August, 30, 2008
8/30/08
8:57
PM ET
Posted by ESPN.com's Pat Yasinskas
Biggest surprise: Can't really say there was any shock at Carolina's moves. But I think it's fair to say the release of defensive end Stanley McClover was a big disappointment to the team. McClover had plenty of chances last year and in training camp. McClover had potential but never was able to get anything out of that and the Panthers decided to keep undrafted rookie Hilee Taylor. They could still look to add another defensive end.
No-brainer: A day ago, cornerback and return man Ricardo Colclough probably would have been on the roster. But Colclough was charged with driving while impaired early this morning and that probably prompted his release. The Panthers might put up with some issues from important players, but not from Colclough.
What's next: With Steve Smith suspended for the first two games, the Panthers still let veteran receivers Samie Parker and Travis Taylor go. They did keep undrafted rookie Dominique Thompson but it's likely they'll scour the list of newly-available receivers.

NFL SCOREBOARD
Thursday, 12/18
Saturday, 12/20
Sunday, 12/21
Monday, 12/22
WEEKLY LEADERS