NFL Nation:

Trent Richardson to the Colts
September, 20, 2013
9/20/13
2:00
PM ET
INDIANAPOLIS – The ESPN.com NFL reporters were recently asked which young quarterback we would want to lead a team for an upcoming issue of ESPN The Magazine.
Here's the list:
I chose Luck (and it's not because I cover him on a daily basis).
Mike Holmgren evidently feels the same way.
Richardson
Holmgren, the former
Cleveland Browns
president, said he talked to Colts general manager
Ryan Grigson
about trading all of his picks in the 2012 draft to get the No. 1 overall pick to select Luck.
"I talked to him last year (at the owners meetings) before we made the trade (to move up and get Richardson)," Holmgren told Seattle radio station 950 KJR. "I said, 'I'll give you all of our draft picks for the No. 1 pick and I'll take Luck. I'll give the whole draft to you.
"I said, 'Ryan let's do the deal, right now, right here.' He said, 'We're taking Luck.' We were by the pool, I might've even had a lemonade in my hand. He didn't take me seriously, because I was ready to pull the trigger. They were going to take him, and they should've taken him. They did the right thing, but he said if some craziness would've happened, they would've taken
Trent Richardson
. And now a year later, they get both of them."
Holmgren was shocked that the Browns traded running back Trent Richardson to the Colts. Holmgren traded up in that draft to select Richardson at No. 3 pick in 2012.
"How do you make your team better by trading your best player?'' Holmgren told 950 KJR. "He's the best offensive player. He's a valuable, valuable guy.''
Holmgren wasn't done talking about his former team.
"I struggled with it,'' Holmgren told the radio station. "Philosophically, if I am the coach and someone came in anywhere and did that, I'd say, 'OK, fire me, or I'm going to quit. Or we're going to both go into the owner and talk about this and then we'll see who's still standing.'"
Browns CEO Joe Banner was on "Mike & Mike" on Friday morning and responded to Holmgren's comments.
"Mike's entitled to his opinion, he ran the team for three years and was able to do what he believes then," Banner said. "It's our turn for us to do what we think is right. Obviously we wouldn't have done this if we agreed with his comments. I think the most important thing for me to say is, we don't do anything with (coach Rob Chudzinski) not right in the middle of every discussion, every evaluation."
September, 19, 2013
9/19/13
11:18
AM ET
The
Cleveland Browns
shocked the football world when they traded running back
Trent Richardson
to the
Indianapolis Colts
for a 2014 first-round pick Wednesday.
According to the Elias Sports Bureau, Richardson joins defensive lineman John Matuszak as the only players since the NFL merger in 1970 to be drafted within the top three, play their first season with the team that drafted them, and then play for another team the following season.
Some believe it was a good trade for the Browns because this gives them another top pick that can be used to draft a franchise quarterback. Others feel like this is a sign that the Browns have given up on the season.
"We have to earn their belief and trust in the decisions we're going to make as a group, and I don't expect them to trust that until we prove that the trust is well placed," Browns CEO Joe Banner said. "So, I understand the skepticism for now. We have to do what we think is right, move the franchise forward and get it to where we want it to be."
Here is some reaction on Twitter to the surprising Richardson trade:
September, 18, 2013
9/18/13
8:50
PM ET
INDIANAPOLIS – You have to give
Indianapolis Colts
general manager Ryan Grigson credit.
His nonstop, never-willing-to-settle mentality with the roster reached an all-time high at around 6 p.m. Wednesday when he
acquired
running back
Trent Richardson
from the
Cleveland Browns
for a first-round draft pick in 2014.
[+] Enlarge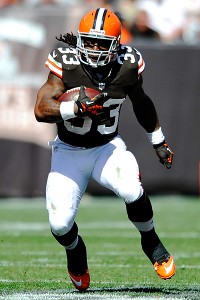 AP Photo/David RichardTrent Richardson should benefit from being surrounded by better offensive weapons in Indianapolis.
None of Grigson's previous 15 trades in his 20 months on the job as general manager were as big as this one.
Not
Vontae Davis
. Not
T.Y. Hilton
.
If Grigson and the Colts have their way, the pick will be in the late teens or early 20's next year because they have no intention of missing the playoffs this season.
The Colts have been ravaged by injuries to starters over the past week, losing running back
Vick Ballard
, guard
Donald Thomas
and tight end
Dwayne Allen
for the season.
"Since I've taken this job, my owner (Jim Irsay) has wanted to achieve greatness no matter the circumstances," Grigson said. "Losing three starters in one week, you can't let that affect your mindset."
Acquiring Richardson does more than make up for the loss of Ballard -- he's an upgrade at the position. Richardson, the No. 3 pick in the 2012 draft, rushed for 950 yards and 11 touchdowns despite playing with broken ribs most of his rookie season. He also had 51 catches for 367 yards and another touchdown.
Colts offensive coordinator Pep Hamilton has to be the happiest about the trade because Richardson is the type of back who could make their power running game successful.
Richardson will become the starter once he learns the offensive system. He'll team with
Ahmad Bradshaw
, the current starter, to give the Colts the backfield duo they envisioned with Bradshaw and Ballard before the latter was injured. But instead of them splitting the load 50-50, expect Richardson to get the majority of the carries as long as he remains healthy.
"That's the mindset of myself and (coach) Chuck (Pagano), we're always trying get better, always trying to upgrade, trying to make it a competitive environment," Grigson said. "We have a need at running back moving forward and the opportunity presented itself. This works for us in the near and long term over the next four years."
But it'll still take blocking in order for the Colts' running game, which is averaging 130 yards a game, to be effective and for quarterback
Andrew Luck
to have time to find his receivers.
Luck, who was sacked 41 times last season, has already been sacked seven times in just two games this season, and on Sunday the Colts will start rookie
Hugh Thornton
at left guard in place of the injured Thomas against the
San Francisco 49ers
.
Richardson should help in the way Ballard would have with his protection. Cleveland quarterbacks were sacked on only 4.8 percent of their dropbacks with Richardson on the field, compared with 9.4 percent when he was off the field.
The Colts lost their best blocking tight end in Allen earlier Wednesday, leaving
Coby Fleener
as the starter. Fleener was drafted thirty picks ahead of Allen in the 2012 draft, but he fell behind him on the depth chart because he doesn't have the all-around skill set that Allen does.
Acquiring Richardson is a start, but don't think Grigson is done yet.
It's not in his blood to sit still.
September, 18, 2013
9/18/13
8:46
PM ET
The
Cleveland Browns
are officially on the clock. The Browns must deliver a franchise quarterback in the 2014 draft, or the next excruciatingly painful 14 weeks will be an utter waste.
The white flag was raised on the Browns' 2013 season Wednesday afternoon when they shocked the football world by trading running back
Trent Richardson
to the
Indianapolis Colts
for a first-round draft pick. I initially thought someone had hacked
Adam Schefter's Twitter account
when I read the news. Trading your top player for a draft pick after two games? This is strange even by the Browns' standards. The Browns received a pick that will likely end up in the bottom half of the first round and are left with no offense for the rest of the season. This is a bad trade, and the only way the Browns can save face is by finding the new face of the franchise.
[+] Enlarge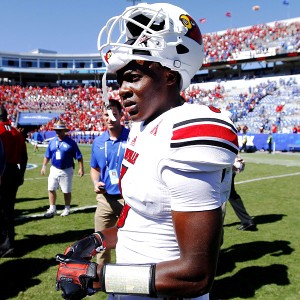 AP Photo/James CrispThe Cleveland Browns will surely take a hard look at taking Teddy Bridgewater in the 2014 draft.
Browns CEO Joe Banner, general manager Mike Lombardi and coach Rob Chudzinski are pushing all of their chips into the 2014 draft, which is 232 days away for those wondering when the Browns can become relevant again. The Browns have multiple picks in the first, third and fourth rounds, giving them the means to draft the quarterback of the future that they want.
Will it be
Teddy Bridgewater
?
Johnny Manziel
? Or how about
Tajh Boyd
? I have no idea right now. All I know is the Browns had better be right after mortgaging this season so quickly.
"Right now, based on how we're building this team for sustainable success, we're going to be aggressive and do what it takes to assemble a team that consistently wins," Banner said in a statement.
Browns fans, who have enjoyed just two winning seasons since the team rejoined the league in 1999, don't want to hear about "building." They want some assurance that this team is headed in the right direction. Right now, hope and offensive talent are in short supply in Cleveland.
The day began with the Browns announcing
Brian Hoyer
will replace the injured
Brandon Weeden
at starting quarterback for Sunday's game at Minnesota. It ended with Cleveland announcing
Willis McGahee
is coming to town to replace Richardson, if McGahee passes his physical. McGahee for Richardson? Even the worst fantasy football owners are snickering about this.
Richardson hasn't lived up to the hype of being the No. 3 overall pick in 2012. His career average of 3.5 yards per carry is less than pedestrian. It's easy to say the Browns lost with Richardson and can lose without him. That's not seeing the big picture. If that's the case, the Browns should trade Pro Bowl offensive tackle
Joe Thomas
, too.
All you have to do is watch Richardson to see his potential. He played most of his rookie season with broken ribs. He was running behind an offensive line this year that doesn't get any push off the ball. Richardson is a powerful and versatile runner who has the talent to be a top-five back in this league. The Colts will give him the opportunity and carries to prove that.
This is the latest move showing the Browns' new regime wants its own players. Of the 27 players drafted by former general manager Tom Heckert from 2010 to 2012, only 15 are currently on the 53-man roster, with Richardson being the latest to go. Now, the decision-makers can set their sights on getting their own quarterback.
My question is who's going to take the handoffs from the new quarterback? Young quarterbacks in this league had reliable runners.
Matt Ryan
had
Michael Turner
, and
Joe Flacco
has
Ray Rice
. Richardson would have been an integral part of the supporting cast for a rookie first-round pick.
I understand the need to get the quarterback position fixed. That has to be a priority for a franchise that is on its 19th starting quarterback since 1999. Weeden knows he has no future after hearing of the Richardson trade. Hoyer is merely a stop-gap.
The pressure is on the new regime to get the right franchise quarterback in 2014. If not, it could be the one getting sacked in a few years.
September, 18, 2013
9/18/13
7:45
PM ET
SANTA CLARA, Calif. -- The
San Francisco 49ers
were on the practice field, executing their game plan to stop the
Indianapolis Colts
' offense, when events in the Midwest immediately altered their work.
In a rare, in-season blockbuster trade, the Colts acquired running back
Trent Richardson
from the
Cleveland Browns
for a first-round pick next year. The Colts made the trade because they had a weakened ground game after losing running back
Vick Ballard
to a knee injury. They think they can win now with a complete offense led by second-year quarterback
Andrew Luck
.
Expect the Colts to get Richardson involved in the offense right away. Richardson initially may not be as comfortable and as involved as he will be in coming weeks, but he will be able to play an immediate role. He may not see the field on some of the Colts' more complicated plays, but he'll get playing time against San Francisco.
The 49ers' defensive coaches are altering their attack accordingly and boning up on Cleveland film as much as possible Wednesday night.
September, 18, 2013
9/18/13
7:30
PM ET
EDEN PRAIRIE, Minn. -- The
Minnesota Vikings
will play the
Cleveland Browns
at Mall of America Field on Sunday, and they spent the first two days of the week preparing for a team that likely would start
Jason Campbell
at quarterback and
Trent Richardson
at running back.
The team they face in actuality will use neither player.
The Browns announced Wednesday morning they would start third-stringer
Brian Hoyer
, not Campbell, in place of the injured
Brandon Weeden
, a move that had a grateful Leslie Frazier chuckling about how he'd rather find out now than at game time on Sunday. Then, on Wednesday evening, Cleveland traded Richardson to Indianapolis for a first-round pick, as ESPN NFL Insider Adam Schefter reported.
Not only does the latter move take the Browns' top playmaker off the field on Sunday, it adds another interesting wrinkle to one of Vikings general manager Rick Spielman's biggest trades.
It was Cleveland, you'll recall, that sent three additional picks to the Vikings last year to swap first-rounders with Minnesota, moving up one spot from No. 4 to No. 3 overall. The Browns drafted Richardson, and the Vikings got the player they were targeting anyway (USC offensive tackle
Matt Kalil
). The trade gave the Vikings an extra fourth-rounder, making it easier for them to part with their own fourth-round selection to move back into the first round and take Notre Dame safety
Harrison Smith
. Kalil reached the Pro Bowl last year, and Smith looks like he could be headed in that direction.
The Browns, meanwhile, gave up three picks for a running back they decided to deal 17 games into his career. Richardson scored 11 touchdowns as a rookie, and it's not the Vikings' business what the Browns did with him after they took him, but the Browns-Colts trade does speak again to Spielman's ability to create a market for his assets. The Browns likely believed they had to move up to No. 3 to take Richardson, and in return the Vikings got the flexibility to deal back into the first round and pick up a starting safety in addition to the tackle they wanted. It's similar to what Spielman did in March, landing three picks for
Percy Harvin
(a receiver it seemed obvious the Vikings would trade at some point) and moving back into the first round to draft
Cordarrelle Patterson
after taking
Sharrif Floyd
and
Xavier Rhodes
with Minnesota's other two first-rounders.
With Harvin out for at least the first six weeks of the season, and Richardson gone to Indianapolis, the ledger looks like this: From the Cleveland trade, the Vikings got picks to take receiver
Jarius Wright
and safety
Robert Blanton
(who are still on the team), and had an extra fourth-rounder to help them move up and get Smith. From the Seattle trade, they got Rhodes and offensive guard Travis Bond (who is currently on their practice squad). In exchange for all that, the Vikings gave up Harvin and the rights to two picks that became Ravens linebacker
Courtney Upshaw
and offensive guard
Gino Gradkowski
.
Again, Spielman couldn't control anything that happened to the pieces he parted with in trades, but the fragility of the NFL so often rewards teams that are more willing to assemble pieces than pay dearly for one player. The Richardson trade was a reminder of that, and the fact the Browns won't have him on Sunday probably shouldn't be the only reason for Spielman to smile today.
September, 18, 2013
9/18/13
6:58
PM ET
NASHVILLE, Tenn. -- The Texans established on Sunday that they remain better than the Titans. I believe Tennessee's most realistic chance to get to the playoffs this season is to pass the Colts, and get to the postseason as a second-place wild card.
That was unlikely to me even as the Colts have suffered season-ending injuries to running back
Vick Ballard
, guard
Donald Thomas
and tight end
Dwayne Allen
. I think the Colts with
Andrew Luck
are better than the Titans with
Jake Locker
, even if the Titans' offseason additions are a better overall group (which isn't a certainty at this point).
But
Indianapolis' surprising trade
Wednesday -- giving up their 2014 first-round pick for Cleveland running back
Trent Richardson
-- upgrades the Colts significantly.
"He makes the Colts substantially better," said ESPN.com's resident scout, Matt Williamson. "Such a powerful runner and a very good receiver as well, which of course fits what they want to do. Stud."
Indy's new offensive triumvirate of Luck, Richardson and
Reggie Wayne
far outdistances any trio the Titans can field at quarterback, running back and receiver.
And having a big-time trio at those spots will do a lot to keep a team in contention and ahead of a team without one.
The Titans, of course, still may wind up ahead of the Colts. But it just got harder for them to get there.
September, 18, 2013
9/18/13
6:55
PM ET
With news from
ESPN NFL Insider Adam Schefter
on Wednesday evening that the
Cleveland Browns
have traded running back
Trent Richardson
to the
Indianapolis Colts
, the
Buffalo Bills
could be one team that stands to benefit.
The Bills will travel to Cleveland on Oct. 3 for both teams' only prime-time game of the season.
Looking at the Bills' schedule initially, it would have been reasonable to view that contest as a "trap" game for the Bills. Coming off a Week 4 tilt with a physical
Baltimore Ravens
squad, traveling for a Thursday night game would hardly be ideal.
But now, the Browns have taken a very early step toward positioning themselves to most likely take the best quarterback available in the 2014 draft, weakening their team in the interim.
Backup
Brian Hoyer
will start Sunday for Cleveland, and if
Brandon Weeden
cannot return from a hand injury in time for Week 5, it's another factor in Buffalo's favor.
The 0-2 Browns could be reeling in the aftermath of this trade, so this is a game that the Bills should win.

NFL SCOREBOARD
Thursday, 12/18
Saturday, 12/20
Sunday, 12/21
Monday, 12/22