NFL Nation:

Trevard Lindley
August, 30, 2013
8/30/13
3:05
PM ET
Philadelphia Eagles
coach Chip Kelly likes to do things fast. So it's no surprise he started making his necessary roster cuts within a few hours of getting back to Philadelphia from the Meadowlands early Friday morning.

The Eagles announced 13 roster moves so far. They must make nine more to get down to the mandatory 53 by Saturday at 6 p.m. ET.
Two offensive linemen who saw some action last season, centers
Dallas Reynolds
and
Matt Tennant
, were released. So was
Matt Kopa
. The implications:
Julian Vandervelde
will be the primary backup to starting center
Jason Kelce
, and
Danny Watkins
' chances of sticking went up a bit.
Two 2013 draft picks were affected. Defensive end
David King
(seventh round) was released.
Joe Kruger
, another second-round defensive end, was placed on injured reserve with a shoulder injury. Kruger played Thursday night and was not mentioned on the injury report, but Kelly is not nearly as diligent on that issue as Andy Reid was.
Defensive tackle
Antonio Dixon
, who started 10 games for the Eagles in 2010, was released. Dixon never seemed to adjust to the nose tackle spot in the 3-4 scheme.
Cornerback
Trevard Lindley
, a fourth-round pick from 2010 who was out of the league last year, was waived with an injury settlement. Lindley sprained an ankle against the Jets.
Two quarterbacks,
Dennis Dixon
and
G.J. Kinne
, were released.
Linebacker
Everette Brown
flashed in the last two preseason games but it wasn't enough. The Eagles probably would have had to give up on former first-round pick in
Brandon Graham
for Brown to make the team.
Linebacker
Adrian Robinson
, who was obtained in the trade that sent RB
Felix Jones
to Pittsburgh, was released.
Wide receivers
Ifeanyi Momah
and
Will Murphy
rounded out the cuts. Momah drew attention early in camp because of his size: 6-7, 240. But he never really made an impact on the field. He could be a candidate for the practice squad.
August, 29, 2013
8/29/13
10:15
PM ET
EAST RUTHERFORD, N.J. -- It is probably a mistake to read too much into the
Philadelphia Eagles
'
27-20 preseason-ending loss
to the
New York Jets
, but let's do it, anyway. Here, with all due awareness of the relative lack of meaning, are some observations:

Maybe the most significant thing that happened for the Eagles was the hamstring injury that sent tight end James Casey to the locker room in the first half. The severity wasn't immediately known (and given Chip Kelly's casual approach to dispensing injury info, may never be known), but staying healthy is the No. 1 priority in a fourth preseason game. So an injury to a guy expected to be a key part of the offense can't be good.
This one last chance to impress before roster cuts resulted in more impact defensive plays than in the first three preseason games combined. If coordinator Bill Davis is looking for reserves who can step in and make an impact, he had to like what he saw from:
-- Inside linebacker Emmanuel Acho, who sacked Jets QB Matt Simms on a blitz, played solidly against the run and forced a Konrad Reuland fumble in the second quarter. In the first half alone, Acho was credited with eight tackles. Acquired from Cleveland in the Dion Lewis trade, Acho sure looks like the third-best ILB on the team right now behind starters DeMeco Ryans and Mychal Kendricks.
-- Brandon Graham, who bull-rushed Simms on the Jets' first possession and wrapped him up in the end zone. Simms threw the ball away, an intentional-grounding play that resulted in a safety. Graham still needs work on his pass drops (an understatement), but he can get to the QB from the OLB spot.
-- Chris McCoy, who started at the ROLB spot and tormented Jets tackle Jason Smith. McCoy dropped an interception on the first play from scrimmage -- a negative, sure, but he was in position to make it -- and sacked Simms for a 6-yard loss on the third play. McCoy got around Smith and hit Simms from behind, knocking the ball loose.
-- Everette Brown, the guy singled out by Pro Football Focus for his play against Jacksonville, ended the first half by sacking Simms and knocking the ball out of his hands when the Jets were in the red zone. Eagles fans would recognize the failure to get even a field-goal attempt from Marty Mornhinweg's days as Andy Reid's lieutenant.
On the other side, a few of the veterans who are trying to stick just did not impress. Safety Nate Allen gave up a 23-yard completion to Zach Rogers on a third-and-19 play. He had decent coverage on Michael Campbell on a later Jets possession, but did not make any real impact. Of course, neither did fifth-round pick Earl Wolff, who started alongside Allen.
Inside linebacker Casey Matthews had a very rough night. If he makes the team, it is going to be because he's that valuable on special teams. Matthews had gap control and a chance to tackle Kahlil Bell in the backfield, but ran into a teammate instead. Bell ran into the end zone for an all-too-easy 8-yard TD. Matthews had a defensive holding penalty two plays before that.
The only significant competition on the offensive side is for the backup spots along the line. With the starters sidelined, it was interesting to see who Chip Kelly lined up out there. Allen Barbre, who played two games at left tackle in place of Jason Peters, was at left guard. Undrafted rookie Matt Tobin, a 6-foot-6, 300-pounder from Iowa, started at left tackle. With Dennis Kelly expected to miss at least a couple of regular-season games because of a back injury, there is an opportunity for a backup tackle. Michael Bamiro, the massive but raw rookie from Stony Brook, started at left tackle. He looked massive and raw, especially in the early going. Danny Watkins was at right guard. He looked like Danny Watkins. Julian Vandervelde looks very much like he'll make the team as the backup center.
There was no reason to ponder whether Nick Foles should have been given a longer opportunity to compete for the starting QB job. He did not have a great game. But then, he was playing behind a dreadful offensive line against a Jets defense that blitzed more than usual in the preseason. It was also clear that Kelly was using as little of his offense as possible. Foles fumbled the ball away on the first series. He succeeded in finishing the game, and the preseason, without an injury.
By the second half, when Matt Barkley took over at QB, the line had settled in a little bit. Barkley engineered a 16-play, 80-yard touchdown drive. On the downside, he threw the Kevin Kolb-patented pick-six with two minutes left in the game. Barkley didn't get enough on an out to Jeff Maehl. Antonio Allen stepped in, intercepted and returned it for a TD.
In the midst of a sea of vanilla, Kelly suddenly called one of the triple-option plays the Eagles frequently ran in a recent practice. Foles faked a handoff, started running to his left, then whipped an overhand lateral to wide receiver Greg Salas. Surprised Kelly put that on film. Also, that play seems certain to result in a turnover at some point.
The injury plague continued at cornerback. Trevard Lindley limped off the field in the third quarter with a right ankle sprain. The Eagles have two corners, Curtis Marsh and Brandon Hughes, sidelined with broken hands. They are so thin there that safety Kurt Coleman was playing corner even before Lindley went down.
Speaking of which, Coleman would seem to be one of the guys on the bubble here. The fact that he played both safety and cornerback could help his case for making the team. You never know when you're going to be caught short in a game. On the other hand, it could mean Coleman is so far out of the running at safety that Kelly and Davis weren't interested in seeing him there.
If the cutdown to 75 was an indicator, Kelly is likely to do most of his roster work Friday, the day before the deadline to reach 53.
May, 7, 2013
5/07/13
4:14
PM ET

On the topic of super-early roster projections, we take a look at the
Philadelphia Eagles
and the cornerback position,
with the help of our friend Sheil Kapadia
. He's got newcomers
Bradley Fletcher
and
Cary Williams
and holdover
Brandon Boykin
as sure things to make the roster, with two spots left for a group that includes
Curtis Marsh
,
Brandon Hughes
,
Trevard Lindley
,
Eddie Whitley
and 2013 seventh-round pick
Jordan Poyer
, who's an interesting wild card who could threaten Boykin's nickel corner spot if he comes quickly:
Poyer has a really good shot of sticking because of his wide array of skills. Poyer has experience playing inside, outside, safety and special teams (returner and coverage). Of course, if Chip Kelly and the coaches determine that Poyer is not particularly good at any of those skills, he could be let go. But at this point, he's got a good chance of making the team.
Also working in Poyer's favor is that the current staff is the one that drafted him, where a few of these other guys are holdovers who might not impress Kelly's staff the way they impressed Andy Reid's once upon a time. You have to figure free-agent signings Williams and Fletcher are the projected starters right now, with Boykin penciled in for the nickel role. But minicamps and the summer program will help sort out Boykin's chances of a larger role, and the chances of someone like Poyer -- who in the end is a seventh-round flyer for a reason -- to make an impact on this year's team.
January, 12, 2011
1/12/11
10:59
AM ET
By
Matt Mosley
| ESPN.com
I'm planning to take a look at the biggest offseason questions for the four teams in the division for my Thursday column. But let's get a head start with the NFC East's only playoff team.
Bob Ford of the Inquirer
wonders whether the Eagles' playoff failures over the years should be blamed on Reid or an overall lack of talent. I've hit on this theme before that Reid has an arrogance that suggests he can win with his players or
your
players. He often comes back from his offseason self-scouting camp and concludes that a few personnel tweaks might get the job done. Last offseason was more dramatic than most because of the
Donovan McNabb
trade, but you can't say all the turnover on defense really amounted to much.
[+] Enlarge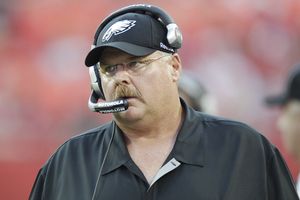 AP Photo/Orlin WagnerEagles coach Andy Reid may need to make some upgrades in the secondary.
"It is as if Reid believes he has the staff and the system capable of winning the Kentucky Derby with whatever plow horses wander into his stable," writes Ford. "You can get lucky with players sometimes, but it isn't how the NFL really works. Look at the team on the field Sunday against Green Bay. There were 10 starters among the 22 on offense and defense who entered the league either as undrafted free agents or seventh-round draft picks.
"There were seven starters among the 22 who entered the league as either first- or second-round picks, a number that includes both
Ernie Sims
and
Winston Justice
, one of whom is probably gone and one of whom wasn't a starter by the end of the game.
"The old basketball coaches always say, 'It's not the X's and the O's. It's the Jimmys and the Joes.' That's the case here. The Eagles aren't talented enough. Whether that is because the player personnel department hasn't done a good enough job of identifying and acquiring the talent, or whether the coaching staff hasn't done a good enough job of developing it is a fair question."
Ford concludes that a roster overhaul is needed for the Eagles to take the next step. I'm not sure the Eagles are in a position to make massive changes. They had 11 of their 13 rookies on the field at some point this season. And some of them --
Nate Allen
,
Brandon Graham
,
Kurt Coleman
,
Keenan Clayton
-- showed a lot of promise. You expect that from Graham and Allen because of where they were taken in the draft (first and second rounds), but it seems like GM Howie Roseman has also done a nice job hitting on players in the later rounds. If you examined the
New England Patriots
' starters, I think you'd also find quite a few undrafted free agents and late-round picks. And you don't have to look further than quarterback for a good example.
The Eagles did not have enough quality depth at cornerback heading into the season, and that ultimately played a large role in their issues on that side of the ball. I still don't understand how and why they convinced themselves that
Ellis Hobbs
was a starter. He played poorly and then suffered a season-ending injury. And when Pro Bowler
Asante Samuel
was injured, the Eagles were left with
Dimitri Patterson
,
Joselio Hanson
and rookie
Trevard Lindley
receiving most of the reps.
I don't think the Eagles need to make the types of sweeping personnel changes that we saw last offseason, but they do need to zero in on some specific positions. And if that means spending some serious money on free agent cornerback
Nnamdi Asomugha
, so be it.
I do think the Eagles' roster is in much better shape than it was at the end of '09. But that doesn't mean much when you keep losing in the wild-card round.
November, 27, 2010
11/27/10
2:40
PM ET
By
Matt Mosley
| ESPN.com
The
Philadelphia Eagles
will line up Sunday afternoon
without their Pro Bowl cornerback
Asante Samuel
because of a knee injury. Samuel leads the league with seven interceptions, and he would've made life tough for Bears quarterback
Jay Cutler
.
Nickel corner
Joselio Hanson
will replace Samuel and rookie
Trevard Lindley
will also see plenty of playing time when the Bears use three wide receivers. It will now be more important than ever to generate pressure with the front four. I don't think Eagles defensive coordinator
Sean McDermott
can be as aggressive with the blitz without Samuel playing.
The Bears haven't done a great job of protecting Cutler this season, so defensive ends
Trent Cole
and
Brandon Graham
need to pressure him early in this game. Bears offensive coordinator Mike Martz will likely try to exploit matchups against Hanson and Lindley. And it's not like the other starter,
Dimitri Patterson
, is a career starter. He recently replaced
Ellis Hobbs
, who is out for the season following a collision during a kickoff return against the
New York Giants
.
The Eagles entered the season thin at cornerback, and that trend has continued. If the Bears can give Cutler enough time, he should be able to find
Devin Hester
and
Johnny Knox
on double moves. But I think the Eagles' pass-rush will be up to the test.
October, 15, 2010
10/15/10
7:02
PM ET
Officials flagged
San Francisco 49ers
receiver
Michael Crabtree
for unnecessary roughness and the NFL
fined him $2,500
for the hit Crabtree made following a late interception against Philadelphia in Week 5.

Crabtree
What was Crabtree supposed to do in that situation? More on that in a bit. First, let's set the scene:
Eagles cornerback Trevard Lindley picked off the third-and-10 pass from 49ers quarterback Alex Smith, essentially sealing the game's outcome. Lindley slid to the ground, but no one touched him. To my knowledge, no whistle was blown. Crabtree barreled into the picture and hit Lindley, forcing loose the ball. Lindley recovered, and only then did we hear whistles on the NBC broadcast.
The NFL rulebook defines several dead-ball situations, including:
"... whenever a runner declares himself down by sliding feet first on the ground. The ball is dead at the spot of the ball at the instant the runner so touches the ground. Since the down is over when any part of a sliding runner's body, other than his hands or feet touches the ground, defenders are required to treat a sliding runner as they would a downed runner. A defender must pull up when a runner begins a feet-first slide. That does not mean that all contact by a defender is illegal. If a defender has already committed himself, and the contact is unavoidable, it is not a foul unless the defender makes some other act, such as helmet-to-helmet contact or by driving his forearm into the head or neck area of the runner."
Lindley did slide to the ground, but he did not necessarily slide with both feet first. He dropped onto his left hip. His left hip and left leg ran across the 30-yard line. His feet were pointing sideways. His shoulder then touched the ground. No whistle could be heard. Lindley then stood up. Still no whistle. Crabtree was already running toward Lindley at this point. He went after the football and struck Lindley in the process.
This play wound up being no big deal because Lindley recovered the ball. But if a 49ers player had scooped up the ball and run it into the end zone for the go-ahead touchdown, this play would be a talker.
I'll pass along any clarification if I get one.
October, 3, 2010
10/03/10
3:11
PM ET
By
Matt Mosley
| ESPN.com
PHILADELPHIA -- Not that this should catch any of you by surprise, but
Washington Redskins
rookie left tackle
Trent Williams
is inactive for today's game against the Eagles because of knee and toe injuries. Williams will be replaced by
Stephon Heyer
, who will likely need some help against defensive end
Trent Cole
.
Kory Lichtensteiger
will start in place of
Derrick Dockery
at left guard for the Redskins. Here's a full list of inactives:
Eagles
: QB
Mike Kafka
, RB
Joique Bell
, CB
Trevard Lindley
, DE
Antwan Barnes
, DE
Daniel Te'o-Nesheim
, LB
Keenan Clayton
, OT
Austin Howard
, TE
Clay Harbor
Redskins
: QB
John Beck
, CB
Kevin Barnes
, LB
Perry Riley
, OT Trent Williams, DT
Anthony Bryant
, TE
Logan Paulsen
, DE
Jeremy Jarmon
, DT
Vonnie Holliday
August, 14, 2010
8/14/10
12:11
PM ET
By
Matt Mosley
| ESPN.com
We weren't able to catch the Eagles-Jaguars exhibition live in the Dallas area, but I stayed up for the replay.
Kevin Kolb
had a nice first outing and he showed a lot of poise. Sorry, I can't muster up much disappointment about the red-zone performance. Tight end
Brent Celek
will make that catch in the back of the end zone in the regular-season. The fact that the Eagles won, 28-27, is just a side note. Here are my observations from the game:
We were quickly reminded that DeSean Jackson is perhaps the most exciting player in the league on Kolb's first throw. He hit Jackson in stride on a quick slant, and the Jaguars linebacker never had a chance. Jackson's a matchup nightmare for any team, but the Jags seemed especially overmatched.
You might have been surprised to see how mobile Kolb was on Friday night. He does a really nice job of always keeping his eyes looking downfield as he escapes the pocket. He doesn't have a lot of speed, but he's actually pretty elusive. I didn't see any evidence of "happy feet" in the first quarter. Both Kolb and Michael Vick did a nice job using their legs.
Speaking of Vick, he looks like a completely different player than last season. That touchdown run was vintage Vick in that he broke containment and then turned on the afterburners down the sideline. The Jaguars defensive linemen had no chance when Vick decided to take off. He was so much more decisive in Friday's game than he was at this point last season.
Jeremy Maclin looks so much smoother in his route running. On that first pass from Kolb, he sort of lulled the Jags to sleep and then he exploded across the middle. He and Kolb seem to already have a nice rhythm. If Kolb's able to hit Jackson and Maclin in stride most of the time, this offense will put up huge numbers. The one thing Kolb can't do is stare down a receiver in the red zone. He did that with Jason Avant on that first drive. Fortunately, Avant was able to break up a possible interception.
Give cornerback Asante Samuel credit for popping big tight end Marcedes Lewis early in the game. He's normally averse to contact, but he made a really nice play on third down. The first-team defense didn't get a lot of reps, because they played too well. Two three-and-outs is a good way to begin the preseason.
Trevard Lindley prevented a long kick return early in the game with a really nice open-field tackle. I think general manager Howie Roseman has to feel pretty good about getting him in the fourth round. Lindley and free-agent rookie safety Kurt Coleman are both very aggressive players who play with a ton of confidence. Coleman's in the process of playing his way onto the 53-man roster.
I'd love to see Chad Hall make this team, but you have to put Jackson back there on punt returns during the regular season. I heard the Philadelphia broadcasters talking about letting someone else do it to prevent an injury to Jackson. That doesn't make sense to me. Jackson's gamebreaking ability makes it worth the risk.
You have to give it up for the first-team offensive line. Seemed like Kolb and Vick both had plenty of time in the pocket. By the way, Vick's pass to Riley Cooper was a thing of beauty. Cooper's acting like he belongs. It's going to be impossible to keep him out of the rotation once the regular-season begins. Three catches for 61 yards in his first preseason game. Just a very impressive rookie. He and Bengals' rookie Jordan Shipley have really stood out to me.
Surely the Jags will have a better plan against the Eagles in a game that counts. Giving Jackson a free release is like begging him to beat you. The 26-yard catch and run was pretty impressive, but the end-around was the play of the night. Jags cornerback Derek Cox is trying to have film of that play destroyed, because Jackson made him look silly with that little stutter-step.
LeSean McCoy did a nice job between the tackles. I thought he was a little too quick to bounce runs outside last season. On Friday, he lowered his shoulder and churned out yards in the first quarter. It wasn't a huge night or anything, but I saw some good signs. The huge night belonged to Martell Mallett. Some players just take it to the next level when the lights come on, and Mallett was that guy.
I know Joselio Hanson wants to be competing for a starting job, but he can't bite on those double moves. Luke McCown, who hails from Jacksonville, Texas, made Hanson look really bad on a long touchdown pass. And if Hanson's going to interfere, you better pull the guy to the ground. Really poor technique. Geoff Pope also got burned on a deep ball from McCown.
Left tackle Austin Howard basically took over the game in the second quarter. He had at least two pancake blocks in the game and his footwork was outstanding. I was amazed to see how technically sound he looked. And at 330 pounds, he was doing an excellent job of anchoring.
Akeem Jordan was ready to play. Loved seeing him knife through on what might have been a run blitz early in the game. It's hard to complain about anything the first-team defense did.
Jonathan Tamari of the Inquirer felt like center Mike McGlynn had a solid effort. The announcers sort of acted like he has the starting job sewn up until Jamaal Jackson returns, but I'm not so sure.
April, 27, 2010
4/27/10
1:00
PM ET
By
Matt Mosley
| ESPN.com
»
NFC Big Question
:
East
|
West
|
North
|
South
»
AFC
:
East
|
West
|
North
|
South
Did the Philadelphia Eagles wheel and deal themselves out of a quality cornerback?
[+] Enlarge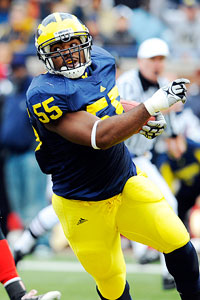 Eric Bronson/Icon SMIThe Eagles filled a void by drafting Michigan defensive end Brandon Graham, but they still have questions at cornerback.
If nothing else, new Eagles general manager Howie Roseman was entertaining while running his first draft alongside coach Andy Reid. Even the stoic Reid admitted to being impressed with the way Roseman moved up and down the draft board.
I've talked to some scouts who thought the Eagles "reached" a bit in moving up 11 spots to land Michigan defensive end
Brandon Graham
. But Roseman and Reid obviously decided that Graham was the best fit scheme-wise as a pass-rusher and they didn't want to take the chance of losing him. The fact they gave up two third-rounders to move from No. 24 to No. 13 was almost forgotten as Roseman basically tried to commandeer the fourth round. The Eagles once again extended a helping hand to a division foe in flipping picks with the Cowboys in the second round. The Cowboys took Penn State linebacker
Sean Lee
, who's expected to eventually take over for
Keith Brooking
at inside linebacker.
I think Graham and South Florida safety
Nate Allen
were both solid choices for the Eagles, but it concerns me they couldn't find a potential starter at cornerback. Veteran
Marlin Jackson
, signed in free agency, has experience at cornerback, but he's probably more comfortable at safety after tearing the ACL in each knee the past two years.
Asante Samuel
's a perennial Pro Bowler, but he's one of the least willing tacklers in the league.
The projected starter on the other side,
Ellis Hobbs
, is returning from a neck injury. I thought the Eagles needed more depth at cornerback in this draft, but they only came up with fourth-rounder
Trevard Lindley
out of Kentucky. Had Lindley come out after the '08 season, he probably would have gone in the second round. But the cornerback suffered a high ankle sprain last year and had a challenging senior season.
"He got banged-up this year,'' Reid said Saturday. "He had a high ankle sprain and that can kind of put a damper on a college season, and that's what happened. It happened early and he never really got over it, but he didn't want to stop playing, which showed me something."
Good to know, but it doesn't really address the issue that
Miles Austin
and
Jason Witten
ran roughshod over this secondary at the end of the '09 season. Even
Roy Williams
stumbled into daylight a couple times against this unit. Reid seems to think that players such as
Macho Harris
and
Joselio Hanson
can help patch together a decent group of cornerbacks. But that's a scary proposition when you know that the Giants and Cowboys both have big-time weapons on the outside. And the Redskins happened to acquire a quarterback who has been successful with inferior talent at wide receiver before. (I'd give
Santana Moss
the edge over Freddie Mitchell.)
I think the Eagles certainly improved their roster this past weekend, but cornerback is still a position of need. If you want to poke holes in Roseman's first draft, I'd start with that position.
April, 24, 2010
4/24/10
10:45
AM ET
By
Matt Mosley
| ESPN.com
The
Philadelphia Eagles
have left doubt as to where their biggest needs are. With the 105th pick overall this morning, the Eagles have selected Kentucky cornerback
Trevard Lindley
.
On Day 1, they went with a pass-rusher. On Day 2, the Eagles went after South Florida safety
Nate Allen
, who has excellent cover skills.
Lindley is 5-11, but has very long arms. He had 10 interceptions in his four years at Kentucky and he's known for his leaping ability. Unfortunately, he's not known for his tackling. He's not a particularly physical player, but he projects as a solid nickel corner who could possibly become a No. 2 corner at some point in his career.
With Allen and Lindley, the Eagles have added talent in the secondary. Without
Sheldon Brown
, the Eagles had to address this area. Now, you'll start to see more teams address needs. For whatever reason, scouts have told me that the fourth round has the most value in this draft.
The Eagles will be very busy today.