NFL Nation:

Trevardo Williams
August, 28, 2013
Aug 28
5:30
PM ET
HOUSTON -- Thursday night the Texans take on the
Dallas Cowboys
in their final preseason game.

Montgomery
In keeping with tradition, this game will feature mostly players low on the depth chart. Starters will get the night off.
One guy who knows just how important this game can be is outside linebacker
Sam Montgomery
.
"It's probably the biggest game of my life so far," Montgomery told me after Sunday's game against the Saints.
The former LSU defensive end shouldn't be in this position, given that he's one of the team's third-round draft picks. But he came into camp out of shape, had to work past that, and then had to work past injuries which set him behind his teammates including some talented undrafted rookies. The Texans have made his position clear, waiting until late to give Montgomery snaps.
"It doesn't mess with me," Montgomery said. "It's just a great opportunity for someone else. ... I know what I can do for this team, and I know whenever it's the last time I step on the field, whether it's show team or anything, I give good looks to the offense."
Montgomery will be one player to watch for the Texans on Thursday. Four more follow. I've excluded undrafted rookies for this post. Gary Kubiak has been so glowingly positive about this class of rookie free agents that they deserve their own post.
WR DeVier Posey:
A rare guy playing in the fourth game who isn't fighting for his roster spot. This will be Posey's first chance at game action since he suffered a torn Achilles tendon in January. He's confident, but getting some actual football snaps is necessary to for both him and the team to make sure he's ready.
OLB Trevardo Williams:
Williams has also slid despite being a fourth-round draft pick. He'll get more time this weekend to try and improve his status.
QB Case Keenum:
He'll be the starter in Dallas with
T.J. Yates
coming in second. Kubiak insists he's withholding his decision until the end of the preseason. Right now Kubiak's biggest decision will be whether or not to keep three quarterbacks on his roster. Keenum's play could force that.
RB Deji Karim:
This is Karim's third stop in the AFC South and he's vying for a role that saw plenty of action last season for the Texans -- the third running back. Karim's competition for the job includes former Notre Dame running back
Cierre Wood
and former Arkansas running back
Dennis Johnson
.
August, 18, 2013
Aug 18
1:50
AM ET
HOUSTON -- Last season it was against Miami that
Houston Texans
defensive end
J.J. Watt
had his swat-ridden coming-out party.

Sure, Watt had already started to become a star as a rookie, when he returned that interception for a touchdown against the Bengals in the 2011 playoffs. But he tipped three of Dolphins quarterback
Ryan Tannehill
's passes in the 2012 season opener and completely changed the complexion of the game.
It seemed like a series of flukey plays. We all learned shortly thereafter that tipped passes by Watt were no fluke.
This time around, in their preseason meeting, the Texans opted to limit Watt, who departed the game much earlier than most of his defensive teammates. Watt said that was the Texans' plan heading into the game. He played two snaps.
"I like not showing everything I'll have during the season," Watt said.
He also said he felt like a caged animal.
"I missed the whole preseason last year," Watt said. "So I'm not worried about missing a couple snaps here and there."
Here are a few more observations from Saturday night's game, which
the Texans won 24-17
:
July, 12, 2013
Jul 12
12:00
PM ET
»
NFC Eight in the Box:
East
|
West
|
North
|
South
»
AFC:
East
|
West
|
North
|
South
A look at the one offseason move each team in the AFC South needed to make but didn't.

Houston Texans:
They still have time to extend
Brian Cushing
and
Antonio Smith
, so I can't say they regret not having done so yet. I think they will be OK at linebacker. They aren't going to be eight-deep the way owner Bob McNair naively suggested they should have been last year when injuries thinned the group. They are counting on two college defensive ends converting to outside linebackers (
Sam Montgomery
and
Trevardo Williams
). A veteran addition like
Daryl Smith
or
Karlos Dansby
could have offered assurances, but such a player could have overstuffed the group.

Indianapolis Colts:
Sean Smith
got roughly $2 million more over three years in Kansas City than the Colts gave to
Greg Toler
. Ryan Grigson and Chuck Pagano have made largely solid personnel choices, so they get the benefit of the doubt on Toler at the start. But Smith is roughly 3 inches taller and 20 pounds heavier, and he has been more durable than Toler. I'll be comparing the two going forward. If not that move, how about
Brent Grimes
over
Darius Butler
? Grimes would have been more expensive but could have been a second or third cornerback if he fully recovers from his Achilles injury. I fear they could regret not doing more at cornerback.

Jacksonville Jaguars
: For a team that moved on from
Derek Cox
,
Rashean Mathis
and
Aaron Ross
, the Jaguars had a lot of work to do to restock at cornerback.
Alan Ball
and
Marcus Trufant
are not good enough veteran answers to surround and supplement three draft picks. Sean Smith is the sort of bigger corner the Jags like and could have upgraded the position. And he's just 26, so he would have fit the team's desire to be young. He got a three-year, $16.5 million deal, which is probably a bit rich, and the Jags would have had to go further. But they've got a ton of money and could have spent more while still being very fiscally responsible.

Tennessee Titans
: The Titans will rush the passer better with some new people and the influence of Gregg Williams. But defensive end
Michael Bennett
could have been had at a reasonable price and, as a bigger defensive end, he would have been a better addition than
Ropati Pitoitua
. Bennett went to Seattle for a one-year, $4.8 million deal. The Titans wouldn't have been as attractive a destination as Seattle, but they could have gotten Bennett with a multiyear deal. Are Pitoitua and fifth-rounder
Lavar Edwards
enough to boost the pass-rush production and fortify the run-stopping at end?
June, 25, 2013
Jun 25
4:27
PM ET
When the
Houston Texans
drafted
Sam Montgomery
and
Trevardo Williams
in the third and fourth rounds, respectively, they talked of giving both a chance to win the strongside linebacker spot.

The team needs to sort through candidates for two of its four starting linebacking spots -- an outside linebacker to replace
Connor Barwin
, who went to Philadelphia as a free agent, and an inside guy to play beside
Brian Cushing
, with the team moving on from
Bradie James
.
In his second year,
Whitney Mercilus
is in line to start at weakside linebacker, where Barwin played.
Brooks Reed
can remain the strongside starter if an inside guy like
Darryl Sharpton
or
Tim Dobbins
seizes the inside job. Or Reed can go inside if Montgomery or Williams has a strong camp and the Texans feel best about starting one of them.
I found one twist in that, however, when I spoke to Williams last week.
I asked him about simultaneously becoming friends with and competing against Montgomery.
"He's playing a different position now, he's on the Will, I'm on the Sam," Williams said. "We both compete in pass rushing, but other than that he's basically working on honing his skills on that side of the field while I'm working on dropping back."
Williams doesn't know how much the team will ask him to drop into coverage, but plans on being ready when asked.
"I believe it will be more of a pass-rush deal, setting the edge at times," he said.
Williams said he and Montgomery get along very well, that they kind of have the same personality.
"Whatever comes to our minds, we pretty much say and do," he said.
Like Montgomery, Williams is a college defensive end shifting to 3-4 linebacker. That transition will be something to watch in the middle of the linebacker competition during training camp.
"It's taking some time, a gradual change," Williams said of starting plays off the line of scrimmage, standing up. "I don't think it's completely different than a three-point stance. It takes a lot of balance and building habits. I don't feel it'll be a problem, I'll be practicing it over the next several weeks …
"The big difference is the initial attack. Usually in a three-point stance you have a more explosive attack. In a two-point stance you're required to use a little more technique, using your arms and your footwork. It needs to be more coordinated. It's not difficult."
May, 9, 2013
May 9
1:53
PM ET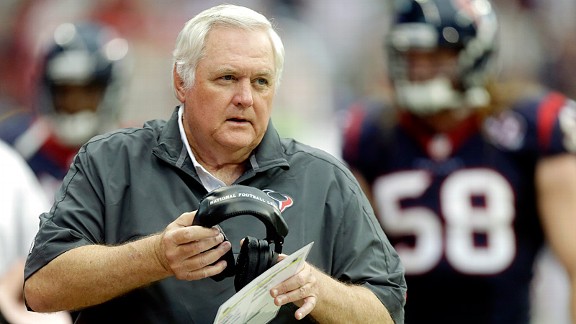 AP Photo/Patric SchneiderWade Phillips will have a lot of options when putting together Houston's linebacking unit.
The
Houston Texans
have uncertainty at linebacker. But they also have flexibility and time.
Two things are certain:
Brian Cushing
will be back from a torn ACL and manning the weak inside spot, and second-year man
Whitney Mercilus
will graduate to the starter on the weak side.
Two things are uncertain: Who mans the inside spot next to Cushing, and who will line up on the strong side?
There are two primary scenarios.
Either scenario could be fine on a defense looking to replace
Connor Barwin
, the weakside linebacker who had a disappointing 2012 and left for Philadelphia as a free agent, and needing to find the right guy to play inside with Cushing.
"The one thing I've learned about Wade Phillips is he knows exactly what he's doing when he drafts a player," Cushing said. "He sees things in people and prospects other coaches and scouts don't. He will always play the best players and we have a lot to pick from now."
Reed can key a lot of the flexibility.
"Brooks can do it [inside], he played inside some last year and he played real well," said Phillips, Houston's defensive coordinator. "It's not something foreign. He's played inside enough where we can say, 'Wow, he can play inside, too.' And we'd still rush him on third downs outside. You'd still get the rush factor with him. It's a possibility.
"But right now, we're just looking at those two rookies to see how they do. It just depends on how good our young players are, and what they can do."
Sharpton isn't part of the Texans' organized team activities right now, still recovering from a hip issue that landed him on injured reserve at the end of the regular season.
For Montgomery and Williams, who were 4-3 defensive ends at LSU and UConn, respectively, the big transition might be about dropping into coverage.
That's nowhere near as complicated as some people make it out to be, Phillips said. The Texans' defense can drop the strongside linebacker into the flat, but "he doesn't ever cover the tight end," Phillips said.
"It's not that big a deal," Phillips said. "I think people can go overboard on what kind of drop guy you have to have, because he doesn't drop all that much."
Rushing the passer remains the primary job, and the defense rushes five players almost all the time -- typically three linemen and both outside backers.
"This is what we normally get, guys who played defensive end in college," Phillips said. "We're excited about both of them, we think both of them can do it. I've had a lot of them in the past who've done it, and these guys both have the ability. We'll see what happens. Both of them can rush the passer No. 1, and that's what we look for in outside backers."
Phillips and the Texans want to have three outside linebackers they can rotate. But in 2011 they lost
Mario Williams
early, and Barwin and Reed played virtually all the time. Last season, Mercilus wasn't ready to contribute early, then Reed missed four games because of injury.
If both Montgomery and Williams pan out, and both Sharpton and Dobbins stay healthy, the Texans could have serious depth and actually be able to rotate more on the outside.
But Phillips won't set any playing-time goals. He said it depends on how good guys are, and what kind of stamina they have. He's had starters who have played 94 percent and guys who have played 80.
Cushing was lost when he tore up his knee in the Texans' fifth game last season. He looks very good now, Phillips said, and Houston expects him to be on the field on opening day with no issues.
That will be the biggest, and best, change to the linebacking corps.
"He's running around, he's running fast and moving well right now," Phillips said. "So I think three months from now he'll really be ready to go. … He's a fantastic player, he's a difference-maker."
"The type of energy that he brings out there," Mercilus said of Cushing, "it's unreal."
[+] Enlarge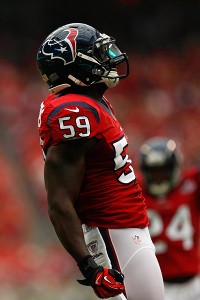 Thomas Campbell/US PresswireWhitney Mercilus says he is ready to assume a starting role.
Even without Cushing, and with eight players starting at linebacker at some point, the Texans were seventh against the run in 2012.
Owner Bob McNair said after the season that the team needed better linebacker depth, but it's silly to think any team can have better depth than the Texans did. Any team needing to play that many guys at one position will have problems.
Moving forward, with defensive tackle
J.J. Watt
, Cushing and safety
Ed Reed
, the Texans' defense will be strong up the middle with star players. That is the reigning defensive player of the year in front of Cushing, and a future Hall of Famer behind him.
The team's 2012 first-round pick, Mercilus, will take over Barwin's spot, and expectations are high for his second season. He got on the field more late last season when Brooks Reed was hurt and had a bigger role once Reed returned from his groin injury.
Mercilus had six sacks, the third most on a team that relied heavily on Watt, who notched 20.5.
"In Year 2 I can do a lot more, especially coming into a starting role," Mercilus said. "Run techniques are something I'll be focusing on a lot more so that I'm a more well-balanced player than I was last year."
"The position they put me at plays a lot to my strengths. I'm pretty good at rushing the passer, getting after the quarterback. There's not really a whole lot of thinking, it's just getting out there and playing ball."
April, 28, 2013
Apr 28
10:34
AM ET
You can't grade a draft class on production the day after it is finished being put together.
But America demands grades, so Mel Kiper Jr.
offers them

.
He bases them on how teams answered these three questions:
" How much overall talent did a team add based on board position?
" How effectively did they address key personnel needs?
" How efficient were they in maneuvering on the draft board?
Jacksonville Jaguars

Overall grade:
B-plus
One thought from Kiper Jr.:
Johnathan Cyprien
was one of the best safeties in college football last season, and should be the starter at strong safety in Week 1.
Dwayne Gratz
is a physical corner who should also start immediately.
Tennessee Titans

Overall grade:
B-plus
One thought from Kiper Jr.:
"The Titans may not have any idea what will become of
Jake Locker
. I don't know either. But they sure as heck should be better running the ball in 2013 behind the line they're building, and between whatever pressure that takes off Locker and the addition of yet another receiver, they can say they gave him a chance."
Houston Texans

Overall grade:
B
One thought from Kiper Jr.:
"
Trevardo Williams
was a steal for me. Wade Phillips can get him on the field because Williams can rush the passer and was hugely productive."
Indianapolis Colts

Overall grade:
C-plus
One thought from Kiper Jr.:
"One pick I think could help now and be a great option for this offense is
Kerwynn Williams
. He's a speedster, and if they can find him touches you're going to see some explosive plays."
April, 27, 2013
Apr 27
6:07
PM ET
»
NFC draft analysis
:
East
|
West
|
North
|
South
»
AFC
:
East
|
West
|
North
|
South
The AFC South's two 3-4 teams spent first-, third- and fourth-round picks on pass-rushing outside linebackers, trying to amp up the pressure they can put on opposing quarterbacks.
The Colts will be converting first-rounder
Bjoern Werner
of Florida State from a college defensive end to an outside linebacker, where he probably will compete for time on the strong side with free-agent acquisition
Erik Walden
. Walden is a solid run player, so if Werner can get into the backfield, they might complement each other well.
Werner has drawn comparisons to
Paul Kruger
, who left the Ravens after the Super Bowl to join the
Cleveland Browns
.
In Houston, the pass rush was overly reliant on
J.J. Watt
last season and lost
Connor Barwin
to Philadelphia in free agency. Enter third-rounder
Sam Montgomery
from LSU and fourth-rounder
Trevardo Williams
from UConn.
The two college ends will move back a unit in Wade Phillips' defense. If they pan out on the strong side,
Brooks Reed
probably will move inside and work there with
Brian Cushing
.
BEST MOVE
The Jaguars steered clear of a quarterback.
They had the second pick overall and flip-flopped between first and second in each subsequent round. It's a great landscape to add a lot of talent to a team that needs an influx and chose not to spend a lot in free agency.
Jacksonville added cheaper veterans who it thinks might blossom and be more productive in its systems.
A team that wants to be draft-centric wasn't tempted by
EJ Manuel
,
Geno Smith
,
Mike Glennon
,
Matt Barkley
,
Ryan Nassib
,
Tyler Wilson
or
Landry Jones
.
Meanwhile the Jaguars grabbed a cornerstone lineman in
Luke Joeckel
, probable starting strong safety
Johnathan Cyprien
, big corner
Dwayne Gratz
, receiver/punt returner
Ace Sanders
, running back/kick returner
Denard Robinson
and free safety
Josh Evans
with their first six picks.
They dealt away the first pick of the fourth round and let Philadelphia draft Barkley.
I don't believe
Blaine Gabbert
or
Chad Henne
will prove to be a long-term answer for the franchise. But I don't believe any of the alternatives available through six rounds of this draft would have either. So I like the focus and determination to add pieces elsewhere.
When the time comes, probably next year, to add the quarterback, he'll be joining a better roster.
RISKIEST MOVE
Indianapolis fifth-round defensive tackle
Montori Hughes
had issues at the University of Tennessee that got him thrown off the team. He told Indianapolis reporters that the Colts were the only team he would be talking to.
There are indications that he matured as he finished up at UT-Martin, but if his previous troubles are a predictor of future troubles, the Colts could be bringing a headache onto themselves.
"I went through some academic troubles and I went through some team issues and then I transferred down to UT-Martin," Hughes said. "I had a new coach, so I transferred down, and I felt like it was a good fit at the time. Everything from when I first went on the campus at UT-Martin had a good feeling about it.
[+] Enlarge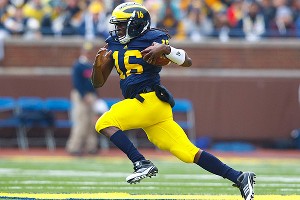 Rick Osentoski/US PresswireJacksonville draftee Denard Robinson rushed for 4,495 yards and had 42 rushing TDs in four years at Michigan, but as a quarterback.
"So when I went down there, I just went to work and knew I had to prove to myself and others that I was a better person than what was out there and just go to work every day, go hard, go hard on the field, on and off, and just learn to play football, the passion for the game. I just love being out there, so just taking it one day at a time."
MOST SURPRISING MOVE
Outside of the first round, the biggest name to come into the AFC South was Robinson, the former Michigan quarterback. Jacksonville drafted him in the fifth round, 135th overall, as a running back and kick returner.
The Jaguars need playmakers for sure, but it feels like there is a bit of danger connected to a guy drafted to play running back who has never played running back. Robinson is regarded as a high-character guy with great drive. He wants to succeed and is willing to do whatever is asked of him.
If he pans out, it could be a real boom pick, offering hard-to-defend, hard-to-predict chunks of yardage.
FILE IT AWAY
Jaguars corner Gratz, Titans cornerback
Blidi Wreh-Wilson
and two Texans -- outside linebacker Williams and tight end
Ryan Griffin
-- all played together for the UConn Huskies.
UConn coach Paul Pasqualoni spent six years in the NFL coaching ranks, including terms as defensive coordinator for the
Miami Dolphins
and
Dallas Cowboys
.
The Titans said they had Gratz (5-11, 201) and Wreh-Wilson (6-1, 195) rated close to each other on their board. As teams look for corners with more size who can press, hit and hold up, they'll be an interesting duo to watch grow up in the same division.
April, 27, 2013
Apr 27
1:45
PM ET
After grabbing a strongside linebacker in the third round, the
Houston Texans
went with a weakside linebacker in the fourth:
Trevardo Williams
from UConn.

The Texans will now ideally have
Whitney Mercilus
and Williams on the weakside with
Brooks Reed
and
Sam Montgomery
on the strongside.
Williams is an athletic guy who was productive for the Huskies.
Like Montgomery, he will be making the conversion from college end to NFL linebacker under defensive coordinator Wade Phillips and linebacker coach Reggie Herring.
NFL Draft Scout raves about Williams' abilities at the snap.
"Explosive athlete with natural edge-rush ability. Extremely quick get-off to go with flexibility that makes him a consistent threat to round the edge on every play. Big-time closing burst in space. Exhibits an impressive lateral quickness when countering back to the inside from the edge. May have the best pure get-off of anyone edge rusher in this year's class. Relentless motor to the whistle. Exhibits acceleration to track down the stretch play from the backside."
The Texans still need to address inside linebacker.
April, 17, 2013
Apr 17
2:52
PM ET
Mel Kiper Jr. goes three rounds deep in a mock draft today, just eight days removed from the start of the real thing.
You can peruse the
team-by-team results

or follow his draft
in order
.

Jacksonville Jaguars

Rd. 1 (2) OT
Luke Joeckel
, Texas A&M
Rd. 2 (33) QB
Matt Barkley
, USC
Rd. 3 (64) CB
Johnthan Banks
, Mississippi St.
Kiper's analysis:
I know this isn't the biggest need on the board, but given where Jacksonville is from a personnel standpoint, if the best player in the draft is available at the No. 2 pick -- and my current left tackle is potentially gone after this year -- I'm taking the guy. This is a franchise that has taken the guy it wants and eschewed great value too many times in recent years, but that's not the case here. Take Joeckel, get better at tackle, do a better job of protecting the QB and whether I stick with
Blaine Gabbert
or let the next guy take over, I've at least given him a reasonable chance to succeed. That next guy might be the second-round pick.
My thoughts:
Kiper has Detroit moving up to No. 1 for cornerback
Dee Milliner
, which leaves Joeckel available for the Jaguars. The Jaguars need a sure thing, and this is a tackle rated as a sure thing, so I don't think you factor
Eugene Monroe
into it too much.
Tennessee Titans

Rd. 1 (10) G
Jonathan Cooper
, North Carolina
Rd. 2 (40) WR
Justin Hunter
, Tennessee
Rd. 3 (70) DE
Alex Okafor
, Texas
Rd. 3 (97) DE
John Simon
, Ohio St.
Kiper's analysis:
The way the board breaks, Cooper becomes the best value at a need spot. With (
Ezekiel) Ansah
going to Buffalo at No. 8, I look to improve my other guard position. With Cooper and free-agent acquisition
Andy Levitre
, I could have one of the better guard tandems in the league.
Shonn Greene
is on the roster because there's going to be more of an emphasis on power running, and Cooper helps accomplish that.
My thoughts:
I don't believe they'd prefer Cooper to
Chance Warmack
if both are on the board as they are here. Cooper may rate as more athletic, but the Titans got their athletic, pulling guard in Levitre. If they go guard I think they'd like a power tandem in pairing Warmack with right tackle
David Stewart
. Hunter seems like good value and can help them get past
Kenny Britt
after his contract runs out. I don't expect two of the four top picks to be spent on one position as Kiper does here in the third-round at defensive end.
Indianapolis Colts

Rd. 1 (24) CB
Desmond Trufant
, Washington
Rd. 3 (86) OLB
Trevardo Williams
, Connecticut
Kiper's analysis:
Vontae Davis
is a decent starter at CB when he's playing up to his full capability, but
Greg Toler
is a fringy starter. If the board breaks this way, I'd be getting below average value at outside linebacker and guard right here, and
Cordarrelle Patterson
and
Tavon Austin
are off the board. (Also, wide receiver is a need, but not a desperate one.) Where I end up is with Trufant, a cornerback with a diverse skill set. He can work in man or zone and offers defenses some flexibility.
My thoughts:
Versatility is good, but ultimately if they have sufficient man corners, the ability of their DBs to play zone shouldn't matter a great deal in Chuck Pagano's system. Davis, Toler and
Darius Butler
are not enough as the top three so if they can land a top corner at No. 24 that will be great. Kiper sees Williams as a guy who can help the pass rush quickly and they need that badly, too.
Houston Texans

Rd. 1 (27) OT
Menelik Watson
, Florida St.
Rd. 2 (57) WR
Quinton Patton
, Louisiana Tech
Rd. 3 (89) LB
Steve Beauharnais
, Rutgers
Rd. 3 (95) FB
Lonnie Pryor
, Florida St.
Kiper's analysis:
The Texans need a right tackle, and Watson's grade fits this draft range for me. He's a great athlete, and could certainly challenge to start early. I know some NFL personnel folks who think he could move inside, but in either instance I'm looking for help up front. This offensive system starts there, and you need a nimble guy for the scheme.
My thoughts:
I wouldn't object to these first three picks, though I do not expect the Texans to go offensive line in the first round. As for Pryor, Kiper says part of the rationale for putting him in Houston is that
Greg Jones
"isn't a true fullback." I respectively disagree with that so long as Jones is healthy.
NFL SCOREBOARD
Thursday, 12/5
Sunday, 12/8
Monday, 12/9