July, 31, 2010
7/31/10
12:27
PM ET
ESPN.com NFL Power Ranking
(pre-camp): 2
METAIRIE, La. -- As the
New Orleans Saints
finished their first camp practice Friday morning, defensive coordinator Gregg Williams, a man known for holding back nothing on or off the field, unloaded. He wanted to get something off his chest. Heck, out of his body, out of his mouth and out into the open.
Without ever really being asked anything that would prompt the issue, Williams started talking about why the Saints can repeat as Super Bowl champions. He's tired of hearing the reasons they can't and the repeated reminders that the follow-up season hasn't been good to many Super Bowl teams in recent history.
"I keep on hearing you guys talk about this Super Bowl hangover and it's starting to chafe me a little bit,'' Williams said. "It really is and I'm being real honest. The reason being is, if you could see behind the scenes of our offseason program from April 19 and to see every single practice we've had, I don't have any qualms about the way our defense is because all they did was show up with more hunger, more fire, wanted me to be a bigger jerk and get on their (butt) more. They begged for me to get on their (butt) more. So far, I've seen nothing that would indicate that we can't make another run at this.''
Williams may be one of the organization's more vocal figures, but you quickly get the feeling he's not alone on this idea. Sure, the Saints spent a good portion of the offseason celebrating the first Super Bowl title in franchise history. Sure, recent history is stacked against them. No team has repeated since the 2004 Patriots.
Confidence -- some even have suggested arrogance -- was a big part of the reason the Saints won the Super Bowl last season. That hasn't changed. Unlike a lot of recent Super Bowl teams, the Saints really didn't lose much in free agency and they didn't have their coaching staff picked apart. There really hasn't been much turnover of faces or attitude.
"There was a really good locker room here before I got here,'' Williams said. "There's a better locker room now. The guys that we brought in this year, they fit into that locker room because Jon Vilma and
Drew Brees
aren't going to let the wrong kind of people be in that locker room. They're just not going to do that.''
THREE HOT ISSUES
[+] Enlarge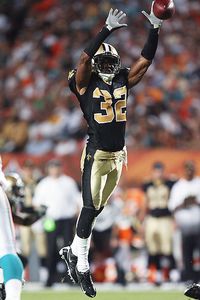 Doug Benc/Getty ImagesA healthy Jabari Greer could help the defense be more consistent.
1. Can a defense that was opportunistic but far from dominant become more consistent?
Sure, there is some bravado that comes with Williams. That's part of his nature and it's part of what makes him a good coach. But what he's saying isn't just bluster.
The Saints really should be much better on defense this season. All they really lost was linebacker
Scott Fujita
and defensive end
Charles Grant
. They showed Grant the door and probably upgraded the position by signing veterans
Alex Brown
and
Jimmy Wilkerson
. They'll line up on the other side from
Will Smith
. Brown and Wilkerson aren't dominant pass-rushers, but they're consistent in that area and play the run very well. Fujita was a key contributor, but the Saints believe they have a group of promising linebackers (
Troy Evans
,
Jo-Lonn Dunbar
and
Stanley Arnoux
) and believe one of them will rise up.
Plug in a healthy
Sedrick Ellis
in the middle of the defensive line and the Saints should have a solid front seven. But the defensive backfield is where the Saints really could be outstanding. They've assembled one of the best collections of secondary talent in the league.
Jabari Greer
and
Tracy Porter
might be the best cornerbacks no one outside of New Orleans has heard of. When healthy, they both can be shut-down guys. Both were banged up last season, and that's one of the reasons the Saints drafted cornerback
Patrick Robinson
. That move also has allowed them to move last year's first-round pick,
Malcolm Jenkins
, to free safety, where he might get the chance to beat out
Darren Sharper
. If you can put Sharper, a possible future Hall of Famer on the bench, that's a pretty big statement. People talk about New Orleans' offense being explosive, but the defense has a chance to be every bit as dynamic.
2. Can the offense live up to last year's standards?
Brees remains the quarterback and, as long as that's the case, this offense is going to be great. Brees clearly is in his prime and his pairing with head coach/offensive genius Sean Payton makes magic possible on every play.
This is an offense that can hit you from every angle -- Brees throwing short or long,
Pierre Thomas
running inside and
Reggie Bush
outside and an offensive line filled with Pro Bowlers. Keep in mind that the Saints had some injuries at the skill positions last year, but they still were phenomenal on offense. If they can keep Bush, Thomas,
Marques Colston
,
Heath Evans
and
Jeremy Shockey
healthy, last year's production could be eclipsed.
[+] Enlarge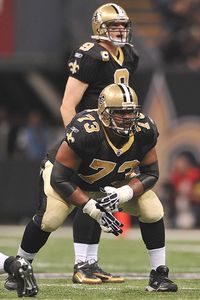 Larry French/Getty ImagesJahri Evans is part of a dominant offensive line that makes up for any weakness at left tackle.
3. Is left tackle really that important?
The Saints used to have a Pro Bowl left tackle. His name was
Jammal Brown
and they traded him to Washington in the offseason. That happened after Brown missed all last season with an injury and the Saints got by with
Jermon Bushrod
quite nicely.
The Saints aren't touting Bushrod as a franchise left tackle, although he's the favorite to be the starter. They also drafted
Charles Brown
, and
Zach Strief
, who filled in when Bushrod slumped a bit last season, also is in the mix. The Saints gave Bushrod plenty of help last season and they're prepared to do it again for him -- or for Brown or Streif. But the lesson that came out of last year is, in this offense, it's not a necessity to have a dominant left tackle.
But that's partly because the Saints have the league's best guard tandem (
Jahri Evans
and
Carl Nicks
), a Pro Bowl right tackle (
Jonathan Stinchcomb
) and an excellent center (
Jonathan Goodwin
). Throw anyone out there at left tackle and the rest of the line and Brees will make him look good.
BIGGEST SURPRISE
Jimmy Graham.
The Saints took what seemed like a bit of a leap when they drafted the tight end in the third round. He played basketball at the University of Miami before deciding to switch to football in his final year. The conventional wisdom was that Graham would be a bit of a project and would take a year or two to really have an impact. But there already is a buzz among the coaching staff and other offensive players about Graham. Everyone knew he had great athletic ability coming in, but he's picked up things faster than anyone expected and he got some first-team work with Brees in June workouts. He might play a bigger role faster than anyone expected.
BIGGEST DISAPPOINTMENT
Clint Ingram.
When the Saints signed Ingram, a lot of fans instantly thought he would be the automatic replacement for Fujita. Ingram had been a starter in Jacksonville, so the logic was solid. But Ingram was injured when the Saints signed him and he still hasn't been on the practice field, except while riding a stationary bike. That has allowed Troy Evans, Dunbar and Arnoux time to make a good impression. Unless Ingram gets healthy very soon and makes a huge impression on the field, he might not even get a roster spot.
OBSERVATION DECK
James Lang/US PresswireDarren Sharper wore down toward the end of last season and had offseason microfracture surgery.

I know this might sound like blasphemy to Saints fans because Sharper is very popular and had a huge impact last year. But the fact is he's 34 and coming off micro-fracture knee surgery. I've suggested before I think there's a good chance Jenkins takes his place in the starting lineup. But I'll take it one step further here and say -- I'm not promising this will happen -- I can see a scenario where Sharper doesn't even stay on the active roster. The Saints are high on Jenkins. They also like Usama Young and are hopeful about Chip Vaughn, who missed his rookie year with an injury. Ideally, the Saints would like to keep Sharper around for his leadership. But if his knee doesn't come along, he could spend part of the season on the physically-unable-to-perform list, the injured-reserve list or maybe even be released or retired. Even with all his credentials, Sharper can't contribute if his knee isn't right. The Saints have a lot of other safeties with young legs.

The Saints used a three-headed backfield with Bush, Thomas and Mike Bell last season. Bell is gone, but the playing time division should be pretty similar this year. Just plug Lynell Hamilton into Bell's place. The Saints wouldn't have let Bell go if they didn't think Hamilton was ready. I don't want to tease you and say this is the year Bush shows he can run between the tackles. But remember how well he ran in the playoffs and how he was more physical than at any time in his career? That was because he was completely healthy. That seems to still be the case, so don't be surprised if you see Bush's numbers go up a bit. This guy can do a little bit of everything.

Shockey's always been an easy target and there's no doubt he's brought some of that on himself. But he appears to be in very good physical shape. Shockey hasn't really been a distraction in New Orleans like many thought he was when he was with the Giants. He's just been banged up for much of his time with the Saints. Maybe –- and I'm just saying maybe -- Shockey might have matured and might be taking better care of himself in an effort to stay on the field.

It really didn't get much attention, but the best move the Saints made in the offseason might have been signing Patrick Ramsey to serve as Brees' backup. Veteran Mark Brunell was a good fit in that role for a couple of years, but the Saints needed to get a little younger. The Saints hope and pray nothing ever happens to Brees. But, if he were to miss some time, the New Orleans offense might not suddenly fall apart. Ramsey's a guy who has bounced around the league. He got messed up by Steve Spurrier early in his career in Washington, but he still has some talent. This is a quarterback-friendly offense with all sorts of weapons and Ramsey could win games for the Saints -- if that ever becomes necessary.

For a couple years, special teams were a bit of a question. That has changed. Kicker Garrett Hartley and punter Thomas Morstead were heroes in the Super Bowl. They're still young and should only continue to get better.

It's very early in camp, but one player who has intrigued the coaching staff is defensive end Junior Galette. He's an undrafted rookie and very undersized at 258 pounds. But this guy is showing great speed and there's a chance he could land a job as a pass-rush specialist. Yeah, Bobby McCray also is supposed to fit that description. But McCray had 1.5 sacks last season and actually was cut because of a high salary before he basically begged his way back (at a reduced salary). If the Saints cut McCray once, there's no reason why they couldn't do it again.
March, 12, 2010
3/12/10
3:54
PM ET
New Orleans general manager Mickey Loomis met with the local media Friday morning for a "season wrap-up'' session. Yes, it came about two months later than the rest of the wrap-ups around the division.
But we'll give Loomis a pass on this one. The man has been very business because the Super Bowl win kept the Saints playing a month longer than the rest of the teams in the division. Loomis also had to quickly get ready for the combine and free agency.
But he made time to summarize the season and look ahead and the Saints PR department passed along the transcript of his interview. Loomis covered more ground than we can include here, so we'll touch on the highlights.
The contract talks with free-agent safety Darren Sharper:
"I have all of the love in the world for Darren Sharper. I just don't have all the money in the world for Darren Sharper. We'd like to have Darren back. We really would and again, no different than any player, if it fits under the salary structure and the resources that we have, then we'll definitely want to have him back. If it doesn't and he has an opportunity somewhere else, we understand that."
The loss of free-agent linebacker Scott Fujita to Cleveland:
"Scott just got an offer that was too good to turn down. He wanted to return to New Orleans. We wanted him to return to New Orleans, but we understand what free agency is. We're going to miss Scott and [wife] Jaclyn. They were the first to commit to the
New Orleans Saints
after Hurricane Katrina, after the 2005 season and Scott really exemplified the type of player we want in New Orleans, intelligent, tough, high-character and a great leader for our team. We wish them all the best."
Who will fill Fujita's position:
"That remains to be seen. We have some guys in our program right now in
Jonathan Casillas
and
Stanley Arnoux
, young players. We have some other candidates,
Anthony Waters
,
Troy Evans
, but that will be determined in training camp."
On free agents who are visiting:
"We're going to have Jake [Delhomme] visit later today. We have
James Hall
in here today. We had a visit scheduled with
Leonard Little
and an emergency came up and he's had to postpone that, so we'll see what happens."
On if running back Reggie Bush will remain with the Saints:
"Yes. He'll be back and he'll be back at his current salary."
March, 7, 2010
3/07/10
5:18
PM ET
The
New Orleans Saints
have just been hit with their first key loss from their Super Bowl team. The
Cleveland Browns
announced they have signed free-agent linebacker
Scott Fujita
.
I don't know contract details yet, but it's safe to say the Browns paid more than the Saints were willing to for Fujita. There seemed to be mutual interest in Fujita returning to the Saints, but only at a reasonable price.
Fujita will turn 31 in April and he dealt with some injury problems last season. Although there is no automatic replacement in place, the Saints have some options in young linebackers
Marvin Mitchell
,
Jonathan Casillas
and
Troy Evans
. All got a fair amount of playing time last season.
The Saints also drafted
Stanley Arnoux
last year, but he was injured in minicamp and missed the entire season. Arnoux is expected to return this year and could be a factor.
But it remains very possible the Saints could use one of their early draft picks to find a potential replacement for Fujita.
January, 20, 2010
1/20/10
7:09
PM ET
METAIRIE, La. – We've got another chapter in the
Deuce McAllister
saga and it's the next logical step.

McAllister
The Saints just announced McAllister will serve as the honorary captain for Sunday's NFC Championship Game. That's pretty much what he did in the divisional round against Arizona, when the Saints re-signed their all-time leading rusher and let him lead them onto the field.
McAllister, who has been out of football since 2008, was placed on the reserve/retired list Tuesday. But this move will allow him to accompany captains
Drew Brees
,
Jonathan Vilma
,
Will Smith
and
Troy Evans
to midfield for the coin toss prior to the game.
October, 21, 2009
10/21/09
5:23
PM ET
Posted by ESPN.com's Pat Yasinskas
Time for a quick run through the most significant injuries in the NFC South. Surprisingly, as we approach midseason, there aren't that many of note.
As expected Tampa Bay return man/running back
Clifton Smith
was out after suffering a concussion during Sunday's big hit by Carolina's
Dante Wesley
. Look for Smith to be out at least one game and look for rookie
Sammie Stroughter
to handle return duties. The other injury of note is that defensive tackle
Chris Hovan
sat out with an ankle injury. Not sure how significant the injury is and Hovan's nearing the end of the road, but the possibility of being without a starter is not good news as the Bucs get ready for the Patriots.
The Falcons may have to do some shuffling in the backfield as they prepare for Dallas.
Jerious Norwood
(hip) and
Ovie Mughelli
(calf) sat out practice and starting running back
Michael Turner
(chest) was limited. We'll assume Turner will be ready to go, but the Falcons may have to start
Verron Haynes
at fullback and let
Jason Snelling
be the top backup at both running back and fullback.
No surprise that New Orleans linebacker
Scott Fujita
(calf) sat out. The injury looked somewhat serious when it happened Sunday.
Troy Evans
filled in for Fujita on Sunday and it looks like he'll get the start against Miami on Sunday. Tight end
Jeremy Shockey
(shoulder) was limited, but the veteran might have been just getting a little rest.
Carolina remained relatively healthy, but kickoff specialist
Rhys Lloyd
(ankle) did not practice. If he can't kick, punter
Jason Baker
or field goal kicker
John Kasay
would have to handle kickoffs.
NFL SCOREBOARD
Sunday, 2/2
WEEKLY LEADERS