April, 11, 2014
Apr 11
11:00
AM ET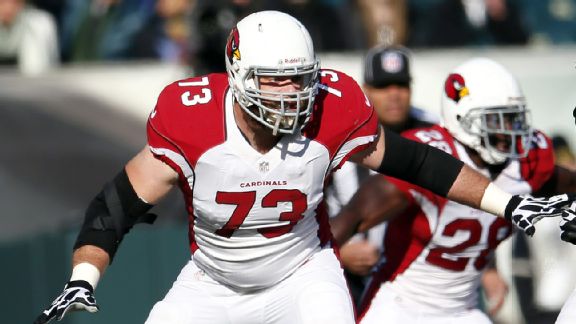 AP Photo/Damian StrohmeyerEric Winston becomes the president of the NFL Players Association during labor peace, but with plenty to resolve.
Four years ago, this would be a different conversation.
It would be about millionaires versus billionaires, about how one document will shape the course of professional football for the next decade and how
Eric Winston
would be the face of the future of the sport.
Fortunately for Winston, the former
Arizona Cardinals
right tackle who was recently elected president of the NFL Players Association, he doesn't have to worry about that. He doesn't have to worry about his constituents being locked out by the owners or sitting down at the negotiating table to hammer out a collective bargaining agreement. His two-year tenure begins amid labor peace, allowing Winston to spend most his time this offseason on specific issues that face the players and the game.
Timing is everything.
"Yes and no," Winston said. "I think in those negotiations, that's where you're going to accomplish a lot. I think that's where you're getting, whether it's benefits, whether it's salary, whether it's health and safety, all those are up for grabs at that point.
"With a lot of that stuff being settled I can focus in on some topics, and focus on and find out what's hurting our players today and what are the few things we can do right now that can improve the lives of all of our players. I think that's kind of my mission, so to speak."
Winston's mission, to serve as the collective voice of the players, came about with a simple question, he said: "Would you be interested in running?"
He was at the biannual NFLPA meetings when the question was posed. If he was nominated, Winston said, he'd run. It didn't take long for someone at the meetings to follow protocol. A speech later and Winston was the new face -- clean-shaven after a season of growing out a hockey playoff-like beard -- of the players' association.
"It happened fast, that's for sure," Winston said. "I'm happy it happened. I'm eager to try to make a difference."
[+] Enlarge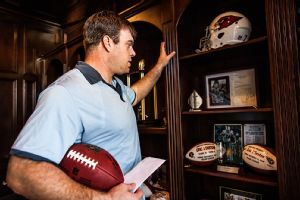 Michael Starghill, Jr. for ESPNEric Winston wants to "find out what's hurting our players today and what are the few things we can do right now that can improve the lives of all of our players. I think that's kind of my mission."
Whether he knows it or not, Winston has already made a difference. And it's built an air of confidence from his side of the table and the other.
Cardinals linebacker
Lorenzo Alexander
knew Winston but never spent much time around the hulking right tackle. After spending last season with him, Alexander, who has been an NFLPA player rep and was voted onto the current association's executive committee, believes the NFLPA has the right leader.
"He has great leadership qualities and I think a great grasp on the vision he has for the PA," Alexander said. "I think all those things really help him as far as moving forward and strengthening our union as a whole and the perception, I guess, internally and externally from the players."
The perception of Winston was built two years ago, when he was protecting
Matt Cassel
's strong side for the
Kansas City Chiefs
. Winston showed everyone -- thanks to countless replays -- that he's more than a big, burly blocker. After Cassel was knocked out of a game against Baltimore and booed by Chiefs fans, Winston verbalized his frustration with the fans and his disdain for their gesture. As Winston's voice rose, his passion for the sport filled the locker room.
Troy Vincent, recently appointed NFL executive vice president for football operations, is also a former NFLPA president. He thinks Winston's passion is only part of the reason he will succeed.
"That says a lot about who an individual is," Vincent said. "I think he's going to be a great leader.
"I know what it takes to be elected. That's not a given and I think he's going to be a fine leader. He's very thoughtful. I think Eric is also very reasonable. I think at that position it has to be balanced to get things done, where you're not always going to agree on everything but you've got to find a common ground that works for everybody and I think, with his experience, I think with his values, I think he's going to be a very good leader for the union."
Assuming the presidency at a time of labor peace gives Winston the opportunity to focus on the players. Winston can lean on the experience of eight NFL seasons of serving as part of three different organizations and apply it to make the difference he's seeking.
The question Winston has to answer first: Where to start?
His overarching goal is to improve the day-to-day lives of the nearly 2,000 players in the NFL, but to do that, Winston understands he has nearly 2,000 different sets of issues to tackle. Each player has his own concerns about the direction of the league and his own career, but Winston has narrowed his first set of priorities to three areas: health and safety, financial literacy and working conditions.
When it comes to health and safety, Winston, who's second among active tackles in consecutive games played and started, thinks looking toward the future can help players now. Continuing to invest in technology and research is a priority, Winston said, because it'll help the league and its players learn more about the health and safety issues that they face on a daily basis, namely head injuries.
[+] Enlarge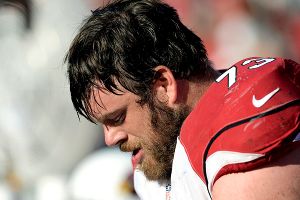 AP Photo/Greg TrottEric Winston has played eight NFL seasons with three different organizations.
"Doing that now is going to help the guys when they become former players and I think it's going to help the research side of it and it's going to help our former players now that have been suffering," Winston said.
Having watched thousands of players come and go during his career, Winston is also placing an emphasis on teaching players -- young and old -- the importance of taking care of their finances.
"Guys need to understand how to budget, guys need to understand what it means to have a mortgage, what it means to pay something like that, what does the typical cost of living [look like]?" Winston said. "It sounds clichéd but those checks are going to run out at some point. They're not always going to be there and what is really enough, so to speak, to retire on? And, in a way, [I want to] get that word 'retire' out of the lexicon. You play 10 years and you're 32. There's other things you could do, but it doesn't mean you shouldn't have a nest egg, you shouldn't have something you can fall back on if you can't play that long."
Winston also wants to address workplace conditions, especially when it comes to the locker rooms.
A year ago at this time, Tampa Bay's locker room hadn't been infected by the MRSA outbreak, which occurred in October, nor had the situation in Miami involving
Richie Incognito
and
Jonathan Martin
been exposed. Both will help shape the way Winston approaches changes in the locker rooms, albeit in extremely different ways.
"Working conditions are something that's going to be coming up, and we have to do something," Winston said. "I think there needs to be some standardization throughout the NFL and of course, you never know what's going to happen around the corner."
When it comes to approaching the locker room culture, which has come under siege since the reports of bullying in the Dolphins' organization were revealed in November, Winston believes his experience in the league is a bonus. But he's careful to warn that what happened in Miami isn't permeating through the NFL.
"I always think you're going to have something that's out of your control," Winston said. "You're always going to have a 'bad apple,' something that just happens. For whatever reason it happens and obviously it needs to be fixed.
"It's a challenge for all of us," Winston added. "We're professionals now. We got to act professionally. We can't be doing immature things."
Vincent wants to make sure he and Winston work together to "preserve our game."
"Have we forgotten the art of sportsmanship?" Vincent asked.
Vincent foresees working together to educate "all audiences" on eliminating facets of the game that either lead to injury or cast a negative light on the league, such as "harmful" plays.
Another one of Winston's priorities is curbing fines, an interesting dynamic since Vincent is the man responsible for assigning the fines. Winston would like to see fines eliminated for first-time incidental offenses. He thinks they should be levied for a second or third offense.
[+] Enlarge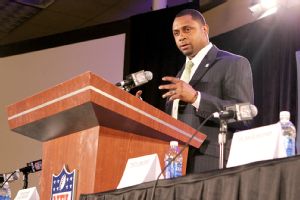 AP Photo/Doug Benc"When you watch him, when you look at his demeanor, you see how he answers questions, he's very thoughtful," NFL Executive Vice President for Football Operations Troy Vincent said of Eric Winston. "Frankly, I think he's going to do a phenomenal job."
"I know plenty of guys that whether you fine them $5,000 or $15,000, it's the same to him," Winston said. "They get it. I don't think we have to fine guys an extraordinary amount to get their attention.
"They understand the value of money and what it means to them. To get the fines going up at a rate, it doesn't make sense. It seems much more punitive more than sending a message."
Winston will also help usher in a new era for the NFL when it welcomes its first openly gay player; Missouri's
Michael Sam
is expected to be drafted in May. The league, Winston said, is more ready than it gets credit for, mainly because this generation of players -- even on the older side -- is more accepting than previous generations.
One issue Winston said the players won't accept, though, is an 18-game schedule.
"I just don't see how that would ever make sense for us," Winston said.
"I don't think there's a need for it. I don't think there's a want for it. There's not a lot of scenarios that I'd say, 18 games in that context make sense. I just don't understand why that would make sense for our players and our guys."
While it's still early, there's an outside chance Winston may not play in any of the 16 games next season. He's been a free agent since March 11. But he's not fretting. Last season, Winston didn't sign with the Cardinals until the first day of training camp.
If Winston isn't signed for the 2014 season, he'll still hold onto his role as president. He'll just have more time on his hands to advocate for the players. Vincent would know. He was the NFLPA president for a year after retiring following the 2006 season and spent it crisscrossing the country, meeting with players, listening to their issues and helping them when called upon. Winston is ready for the responsibility if his career should go that way, but he'd rather be on the field.
Winston admits he has plenty to learn. He's served on NFLPA committees and understands the politics and policies, but has never held a role comparable to this.
Even though Vincent has crossed over to the league, he still offered a piece of advice to Winston: Listen. Vincent told him he doesn't need to have every answer, but he needs to be a great listener.
The more he listens, the more Winston will learn about his constituents. And the better president he'll become.
"You got to have balance," Vincent said. "There's a reason you have to be able to make sure that you're hearing all arguments, all positions, all opinions and then be able to come back to your group and properly inform the player on what is taking place and what has happened. That itself is one of the responsibilities for that position.
"When you watch him, when you look at his demeanor, you see how he answers questions, he's very thoughtful. He's not jumping out there. Frankly, I think he's going to do a phenomenal job as a leader."
March, 27, 2014
Mar 27
1:30
PM ET
ORLANDO, Fla. -- NFL commissioner Roger Goodell provided some closing thoughts on this week's NFL owners meetings.
Here are some tidbits Goodell offered about the
Miami Dolphins
:
Goodell was pleased with the progress the NFL made this week on locker-room culture. There were several productive sessions to help coaches and general managers be proactive and avoid what happened last year in Miami during the Dolphins' bullying scandal.
In terms of suspensions, Goodell said the NFL will not take action until all three players complete their medical evaluations. Goodell announced Tuesday that Richie Incognito, John Jerry and Mike Pouncey must seek treatment. "The medical evaluation is a priority for us," Goodell said.
NFL vice president of football Troy Vincent added that the league will "consider everything" when it comes to potential suspensions. Pouncey could be in hot water because NFL lead investigator Ted Wells didn't find some of Pouncey's accounts credible, according to the report.
The Dolphins and the NFL leave Orlando with a much better grasp on how to improve locker-room culture, which was a major focus at the owners meetings. The next step for Miami will be awaiting word on Pouncey's playing status for the start of the regular season.
March, 26, 2014
Mar 26
1:40
PM ET
ORLANDO, Fla. – NFL Executive Vice President of Football Operations Troy Vincent is one of the foremost figures in the NFL addressing football culture. Vincent is a former NFL player for 15 years and has plenty of experience in locker rooms during his stints with the
Miami Dolphins
,
Philadelphia Eagles
and
Buffalo Bills
.
Improving locker-room culture has been a major topic at this year's NFL owners meetings following the high-profile bullying scandal involving the Dolphins. Vincent said he believes this week's meetings resonated with Miami and particularly head coach Joe Philbin, who vowed to
spend more time connecting
with his players in the locker room.
"I think that's important, because the players want to see you," Vincent explained Wednesday. "They want a connection. You're their leader. They want to see their leader.
"But I will say Coach Philbin will adjust, I believe, after our conversations this week. That's the special part about we as coaches inside of our industry. We're flexible. We make adjustments Sunday to Sunday."
Vincent shared his NFL experiences Wednesday. He said most head coaches he played for took enough time to talk to players away from practices.
"Coach [Don] Shula stayed in the locker room," Vincent said of his four-year stint in Miami. "As coach [Jeff] Fisher said, you can't coach. It's difficult coaching if you don't have a relationship and a connection with your players."
Vincent said Philbin addressed the issue with his coaching peers and was genuine in his goal to improve as a head coach. Philbin was caught unaware during Miami's bullying scandal, and much of that came from the failure to communicate enough with his players.
"As I examined some of the things as head coach of the Dolphins I can do better, I think the visibility factor can be the difference," Philbin explained Tuesday. "That's one of the things that I'm going to do. It's not that I [had] never been [visible]. But I think one of the things that happens sometimes to coaches is you're conflicted of whether I should watch that blitz tape or third-down film.
"Sometimes a better use of a head coach's time is to walk through the training room, walk through the locker room, walk through the hallways. It's not that I never done that stuff, but I think it's fair to say I'm going to do it more."
July, 26, 2012
7/26/12
4:10
PM ET
Ten weeks after George Koonce made
a powerful statement
about life after football, the retired linebacker is helping the NFL address some of the issues he highlighted.
Koonce has agreed to join an advisory board charged with developing programs for counselors and life transition coaches as part of a newly established
NFL Total Wellness initiative
. The move is a natural one for Koonce, who detailed his own struggles upon leaving the game -- struggles that included a suicide attempt when he drove his car off the road while rounding a corner in North Carolina.
"I am extremely excited to be involved because this is an excellent opportunity for me to share my research, experience and ideas," Koonce said in an email Thursday. "This board will be another key component for improving the difficult transition into the afterlife for current and future NFL players."
Koonce, who finished his career with Seattle in 2000 after eight seasons with Green Bay, was submitting a doctoral dissertation on life after football when news broke that former
San Diego Chargers
great Junior Seau had taken his life on May 2.
"No one wants to hear about another tragic loss like that of Junior Seau," Koonce wrote in his email. "I believe we can prepare players more by providing them with information, resources and support for their post career. Success is in the game plan and every player needs one for the afterlife!"
Former NFL cornerback and NFL Players Association president Troy Vincent is among those putting together the advisory board. The league already announced plans for an telephone hotline players can access anonymously for consultation with mental health professionals.
It's good to see the NFL taking real steps on such an important issue. As Koonce wrote in his May 15 piece on ESPN.com:
"The NFL and NFL Players Association just hammered out a 10-year agreement. How much money is allocated toward players' transition away from the game? What about deferring some of the players' salaries until they reach a certain age and have matured enough to use it more wisely?

"We hear about mentors when the focus should be on sponsors -- someone who goes beyond pointing athletes in the right direction, helping to personally make the introductions that make all the difference.

"At the college level, Title IX forced the NCAA to account for women's athletics. Why can't the NCAA implement a senior level position for player and community development?

"The average NFL career lasts only a few years. The game requires a player's unconditional investment while promising a very conditional and one-dimensional return. It produces too many athletes unprepared for anything else. More of them than we know will have thoughts like the ones I had coming around that curve in Kinston, N.C.

"It's time to do more about it."
June, 22, 2009
6/22/09
3:55
PM ET
Posted by ESPN.com's Tim Graham
DAVIE, Fla. -- Two Miami Dolphins were selected for ESPN.com's all-decade defense.
| | |
| --- | --- |
| | |
| | Gregory Shamus/Getty Images |
| | Jason Taylor, left, was disappointed former Dolphins teammate Zach Thomas, right, did not make ESPN.com's all-decade defense. |
Jason Taylor
believes there should've been three.
Taylor, an easy selection for defensive end, was disappointed to learn Zach Thomas didn't make the cut at linebacker in the honorary squad's 4-3 setup.
"Obviously, I'm biased, but I think Zach is a guy that never got the respect he should've had but was as good as or better than anybody out there," Taylor said after a recent minicamp practice.
Taylor is married to Thomas' sister. They played 10 years together, combining for 12 Pro Bowl selections.
Thomas was voted to seven Pro Bowls. He was a five-time All-Pro. He led the Dolphins in tackles 10 times in his dozen seasons with them.
But Thomas was against formidable competition on the all-decade team, chosen with input from an assembly of NFL general managers, coaches, scouts and players. Derrick Brooks, Ray Lewis and Brian Urlacher boxed Thomas out.
"It's always a disappointing thing when I don't see his name associated with guys like these," Taylor said. "Not to take anything away from these guys, but I just know who Zach was and what kind of guy he was."
Former Dolphins and Buffalo Bills defensive back Troy Vincent made the all-decade team. Also from the AFC East was defensive tackle Kris Jenkins, who joined the New York Jets last year after seven years with the Carolina Panthers.
As for his inclusion on the all-decade team, Taylor didn't want to get too excited.
This is a legacy-oriented honor, and a player rarely admits to considering his place in history before he has played his final down. Randy Moss, of course, is an exception.
"I'm flattered, but you don't play the game for things like this," Taylor said. "They're the byproduct of trying to do things the right way and play your [expletive] off for years. It's a great thing, but I never think about it.
"I've always shied away from people talking about things like that or the Hall of Fame because I think those things will just happen. If you talk about them ... maybe I'm superstitious. I just don't want to be jinxed. I haven't rolled up the extension cord yet. I'm still going."
June, 22, 2009
6/22/09
11:00
AM ET
| | |
| --- | --- |
| | |
| | ESPN.com Illustration |
| | The ESPN.com all-decade defense is stacked with Pro Bowlers. |
Posted by ESPN.com's Mike Sando
All-Decade Defense
DE: Michael Strahan, N.Y. Giants,
DT: Warren Sapp, Tampa Bay/Oakland
DT: Kris Jenkins, Carolina/N.Y. Jets
DE: Jason Taylor, Miami/Washington
LB: Derrick Brooks, Tampa Bay
LB: Ray Lewis, Baltimore
LB: Brian Urlacher, Chicago
CB: Champ Bailey, Washington/Denver
CB: Troy Vincent: Phil./Mia./Buff./Wash.
S: Ed Reed, Baltimore
S: Troy Polamalu, Pittsburgh


All-Decade Honors


Monday: Defense
Tuesday: Offense
Wednesday: Moments
Thursday: Team, coach, MVP | Rankings
Friday: Top players | Special teams

Related Content

• Karabell: Decade's top fantasy players
• Rank 'Em: Players of the decade
• Football Outsiders: Most overrated


• Football Outsiders: Most underrated


• Pasquarelli: Brooks wants to play on
The choice between Michael Strahan and Jason Taylor was simple when ESPN.com selected its all-decade defense.
We took both.
Warren Sapp and Kris Jenkins prevailed at defensive tackle. Ray Lewis, Derrick Brooks and Brian Urlacher made the cut at linebacker, edging Zach Thomas.
Champ Bailey was an easy choice opposite Troy Vincent at cornerback. Ed Reed and Troy Polamalu beat out a strong field of safeties.
"It's a great group to be associated with," Taylor told ESPN.com's Tim Graham. "Derrick Brooks, Mr. Consistency and Class. Ray Lewis, everybody fears. And Urlacher came in and took the game to another level at that position.
"The two big guys inside -- Jenkins doesn't get a whole lot of credit, but we all know what kind of player he is. Sapp is Sapp. We know he's good. He knows he's good. He's going to tell you he's good.
"And to be associated with 'Stray,' he's the best of our generation."
Taylor, back with Miami after a season with the Redskins, and Strahan combined for 189.5 sacks over the first eight years of the decade. Strahan, who retired in 2008 after a 15-year career with the Giants, had 22.5 in 2001. Taylor had 18.5 in 2002.
"No. 1, [Strahan] really loved playing the game," Giants general manager Jerry Reese said. "No. 2, he's well known for rushing the passer, but he's one of the best run-playing defensive ends of all time."
Taylor and Strahan combined for 10 Pro Bowl appearances this decade. Overall, our 11-man squad combined for 60 Pro Bowl appearances in the first nine years of the decade. They wouldn't need much coaching.
"I'd probably tell them, 'Take care of yourself, give me a call during the week at some point so I know you're alive and I'll see you Sunday,'" Taylor said. "Then just turn them loose."
With training camps beginning next month for the final year of the decade, we thought we had sufficient evidence to determine our all-decade teams. ESPN.com began the evaluation process by ranking players according to most Pro Bowl appearances since the 2000 season (tight end Tony Gonzalez was the only player with nine).
General managers, scouts, coaches and players shaped the selections from that list. I consulted with several of them on background while selecting the defensive line and linebackers. NFC North blogger Kevin Seifert did the same in selecting cornerbacks. NFC East blogger Matt Mosley handled the safeties.
Brooks, Lewis and Bailey were consensus choices. Lewis' ferocity gives this defense a menacing edge.
"Ray deserves this honor, without a doubt," Ravens general manager Ozzie Newsome said. "There is no question that he plays at a Hall of Fame level year in and year out. He's as smart and as instinctive a defensive player as I've ever seen. He plays hard
every play -- every single play."
Newsome was new to the Ravens in 1996 when he asked the team's then-coach, Ted Marchibroda, what he wanted from a player.
"Ted said, 'Give me a player with a 'football temperament,' meaning a player who loves every part of the game -- the preparation, the practices, the long offseason workouts, the physicality, the games," Newsome said. "Ray embodies that definition. There is no player who enjoys preparing, competing and playing as much as Ray. There is only one Ray Lewis, and the Ravens have the good fortune of having him for his entire career."
Taylor felt strongly that his longtime teammate, Thomas, deserved inclusion.
And one veteran offensive lineman I consulted said he would "line up against Sapp every day before I'd go against La'Roi Glover" simply because Glover could beat an opponent in more ways.
"Sapp had one move and he was good at it," the lineman said. "He lined up so wide and it was so much different than all the other three-technique guys. Glover would butt you in the chin and run over your ass, but he was so quick, he could take a side-angle on you. He had a move and a counter and a counter off that one."
Thomas, Glover (who announced his retirement Monday) and other victims of this high-stakes numbers game could fill out a dominant defense of their own. The list of near-misses also includes Richard Seymour, Dwight Freeney, Julius Peppers, Bryant Young, Kevin Williams, Casey Hampton, Keith Brooking, Ty Law, Ronde Barber, Brian Dawkins and John Lynch. Seymour seemed particularly worthy, but not at the expense of Taylor or Strahan.
Only Bailey and Brooks have more Pro Bowl appearances this decade -- eight apiece -- than Lynch (seven) among defensive players. Six defensive players have six Pro Bowl appearances in the decade. Three of them -- Dawkins, Thomas and Glover -- fell just short.
A position-by-position look at the all-decade defense:
Defensive ends Michael Strahan and Jason Taylor: "Stray's a left end and I'm a right end, so it works perfect," Taylor said. "You let the two big boys do what they want inside. Let's hit it and get it."
Bucs defensive coordinator Jim Bates was with the Dolphins during Taylor's most dominant years.
"The biggest thing that has made Jason special over the years is to not only have God-given ability, but intelligence," Bates said. "He did a great job studying the opponent. He was very effective with several different moves he used on his pass rush. He's not only fast, but he's explosive. When he put together the power move with his speed, he had it all."
Defensive tackles Kris Jenkins and Warren Sapp: No players dominated at the position for the full period in question.
Jenkins, at his best, disrupted opposing offensive lines to a degree that might have exceeded the problems his peers created. I had a hard time leaving off Glover based on what offensive linemen told me, but Sapp enjoyed broad support and was also worthy.
Linebackers Derrick Brooks, Ray Lewis and Brian Urlacher: Brooks has started 16 games in each of the last 13 seasons. He has 17
interceptions this decade. Brooks, released by Tampa Bay in the offseason, brought exceptional quickness to the position even late in his career.
Lewis and Chicago's Urlacher are sluggers by comparison.
At his best, the 260-pound Urlacher was athletic enough to play the deep middle in coverage, yet strong enough to punish receivers and running backs on underneath plays.
Cornerbacks Champ Bailey and Troy Vincent: Shutdown cover corners with height are a rarity, but Vincent and the Broncos' Bailey qualify.
Smarts, range and playmaking ability set them apart from Barber and other candidates, although the Raiders' Nnamdi Asomugha is making a strong run late in the decade.
"You want to talk about an all-around corner, that's Troy Vincent," said former Eagles secondary coach Leslie Frazier, now the Vikings' defensive coordinator, told Seifert. "He could cover as well as any guy out there in the league, but he wasn't one-dimensional by any means. He could hit. He could support the run. He was a sure tackler. Total package, as far as I'm concerned."
Vincent played for the Eagles, Bills and Redskins during this decade.
Safeties Troy Polamalu and Ed Reed: Lynch (seven) and Dawkins (six) have more Pro Bowls this decade, but the Steelers' Polamalu and Ravens' Reed stood apart in overall athletic ability and their flair for the spectacular play.
"I love watching [Polamalu] play," Cowboys Ring of Honor member Cliff Harris told Mosley. "They give him a lot of freedom and he's able to make a lot of plays. I think I'd love playing in that defense -- even though it's the Steelers. I'm biased, but I still think it's one of the most important positions on the field. And no one can match Reed and Polamalu right now."
Reed's production -- 43 interceptions in seven NFL seasons, compared to 34 picks in 13 seasons for Dawkins -- separates him from all challengers.
Lynch spent four seasons with Denver and four with Tampa this decade. And while he kept racking up Pro Bowl appearances, his best years were probably with the Bucs.
The Colts' Bob Sanders might have challenged if injuries hadn't limited him to two seasons with more than six games played.
Tim Hasselbeck and Michael Smith break down the all-decade defense.
March, 1, 2009
3/01/09
10:45
AM ET
| | |
| --- | --- |
| | |
| | Hunter Martin/Getty Images |
| | Philadelphia's decision to let Brian Dawkins go may leave the team with a void in team leadership. |
Posted by ESPN.com's Matt Mosley
The problem with making the Eagles the villain in safety Brian Dawkins' surprising departure is that they were following a successful blueprint. Since Andy Reid became head coach a decade ago, the Eagles have rarely succumbed to sentimentality when it comes to negotiating contracts.
Players such as Troy Vincent and Jeremiah Trotter learned that lesson the hard way. Other teams might offer lifetime achievement contracts, but the Eagles are always asking, "What can you do for us tomorrow?" If the answer's not much, the Eagles quickly move on.
But the team's rabid fan base could get over Vincent and Trotter because it was obvious they were declining players. At age 35, Dawkins was coming off a season in which he revitalized his career. After some shaky moments early in the season, he helped ignite the Eagles' late-season run and was named the NFC's defensive player of the month in December. More importantly, he was the heart and soul of this team. No one cared as much as Dawkins, and his raw emotion rubbed off on teammates.
Donovan McNabb is the face of the franchise, but he's always seemed a bit distant, even aloof at times. Dawkins was completely transparent. When he was talking, you never had to read between the lines. He embodied this city's lunch-pail spirit -- and fans loved him for it. Even when Iverson was in town, Dawkins was the city's most beloved athlete.
That's why the Eagles may have taken for granted Dawkins staying with the team. Why offer a lot of guaranteed money to a guy not interested in leaving? On Saturday, that laid-back approach backfired on the Eagles. They allowed a man who had a vice grip on the locker room to finish his career in orange.
The Eagles owed it to themselves to bring Dawkins back. It seems odd to release the best leader on the team when you were minutes away from appearing in the Super Bowl. And what will McNabb think of this? If you believe recent reports, he's basically taking a wait-and-see approach on his future based on what the Eagles do in the offseason.
On Saturday, the Eagles took the whole Brotherly Love thing to a new level with the addition of Shawn Andrews' big brother, Stacy. But Shawn still sounded distraught about Dawkins.
"It's definitely a loss to the team and a loss to me personally," Andrews said. "There's nothing like talking to a guy who's helped you out along the way with things, and kind of mentors you, and an overall leader. If I had to pinpoint one guy since I've been in Philadelphia that I respect as a husband, a father, an athlete, a football player, it would be Dawkins. He will be dearly, dearly missed."
According to various reports, Dawkins will receive $7.5 million in guarantees from the Broncos. The Eagles weren't in the same ballpark, which is too bad. They were in the best position to know how much Dawkins was worth -- and they got it wrong. I don't think anyone in Philly begrudges Dawkins for accepting a tremendous deal with the Broncos.
But Eagles management will draw plenty of criticism. Being fiscally responsible might be en vogue right now, but losing a civic hero never seems appropriate.
August, 21, 2008
8/21/08
6:20
PM ET
Posted by ESPN.com's Matt Mosley
In his Q&A on what's next for the NFLPA, John Clayton mentions several potential candidates to replace Gene Upshaw, including former NFLPA presidents Trace Armstong and Troy Vincent. He also brought up former Vikings running back Robert Smith and current union president Kevin Mawae.
Another name that has been mentioned today is former Cowboys fullback Daryl "Moose" Johnston, who has been very outspoken on behalf of retired players over the past couple of years.
And if you want another outside-the-box guy, I'm hearing some talk that super-agent Tom Condon could receive consideration. He's a former player (Chiefs) and he's worked with Upshaw in the past. He's obviously no stranger to players since he and his staff at CAA represent about 120 of them. And he's used to going toe-to-toe with owners. The more I think about this name, the more sense it makes.
The players should consider every option, and that includes someone from outside the football fraternity. If you were worried that Upshaw had been too close to the owners in the past, maybe you consider someone from Major League Baseball union chief Donald Fehr's staff (Michael Weiner). I know that sounds like an awful idea, but a lot of players have wanted the union chief to have a more adversarial relationship with the owners.
If that's truly what they want, now's the time to speak up.

NFL SCOREBOARD
Thursday, 9/18
Sunday, 9/21
Monday, 9/22
WEEKLY LEADERS