NFL Nation:

Troy Williams
July, 31, 2014
Jul 31
4:59
PM ET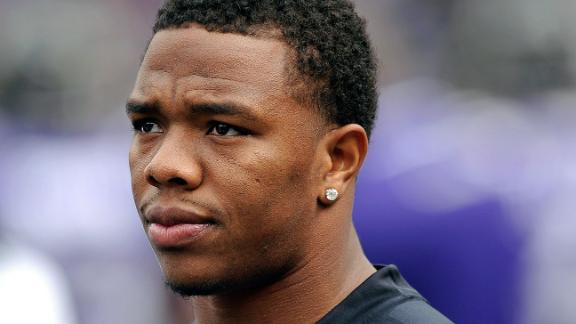 OWINGS MILLS, Md. -- In stark contrast to
Ray Rice
's awkward news conference in May, the
Baltimore Ravens
running back showed Thursday that he finally understood the weight of his actions from the alleged altercation with his then-fiancée in February.
He delivered the correct message, one the NFL failed to do last week with the two-game suspension, by not only apologizing to his wife, Janay Palmer, but also expressing a desire to become an advocate for domestic-violence causes.
Rice was compelling in his contrition, calling it the biggest mistake of his life. He stood in front of the microphone alone, without his wife standing by his side, and took full responsibility for the incident. Perhaps more importantly, Rice actually said the words "domestic violence," which weren't heard in his statement two months ago.
"My actions were inexcusable," Rice said. "That's something I have to live with the rest of my life."
Before anyone pats Rice on the back, this is what he should have said the first time when he broke his silence in May. Instead, Rice nervously fumbled through notes on his phone and apologized to team officials and his sponsors. That debacle of a news conference came across as damage control to his image.
His 17-minute news conference Thursday hit the right tones. He apologized to all women affected by domestic violence. He accepted the blame for losing the respect of fans. Rice came across as genuinely sorry.
"I let my wife down, I let my daughter down, I let my wife's parents down, I let the whole Baltimore community down," Rice said.
Rice's biggest misstep was not talking about what happened in the elevator. He was asked twice about it and declined to answer both times. His stance against domestic violence would have resonated stronger if he had explained his transgressions.
"I'll be honest: Like I said, I own my actions," Rice said. "I just don't want to keep reliving the incident. It doesn't bring any good to me. I'm just trying to move forward from it. I don't condone it. I take full responsibility for my actions. What happened that night is something that I'm going to pay for the rest of my life."
The only way Rice can move forward from this incident and show he's truly sincere is through his actions. It's not by his words. It's not by a hefty donation, which is merely a gesture. It's by proving this will remain a "one-time incident" and by supporting domestic-violence causes.
Thursday represented a small step forward for Rice. But it was an important one.
February, 24, 2010
2/24/10
2:08
PM ET
»
NFC Busts/Gems
:
East
|
West
|
North
|
South
»
AFC
:
East
|
West
|
North
|
South
»
Draft Watch
:
Biggest needs
(2/17) |
Busts/gems
(2/24) |
Schemes, themes
(3/3) |
Recent history
(3/10) |
Needs revisited
(3/17) |
Under-the-radar needs
(3/26) |
History in that spot
(3/31) |
Draft approach
(4/7) |
Decision-makers
(4/14) |
Dream scenario/Plan B
(4/21)
Each Wednesday leading up to the NFL draft (April 22-24), the ESPN.com blog network will take a division-by-division look at key aspects of the draft. Today's topic: Busts and late-round gems.
Chicago Bears

Gems:
The Bears took a chance on an unknown with elite speed in the fifth round last year and came up with receiver
Johnny Knox
, a Division II college player. Knox caught 45 passes, including five touchdowns, as a rookie and made the Pro Bowl as a kickoff returner. Cornerback
Zack Bowman
, a fifth-round pick in 2008, has seven interceptions in 17 career games. He appears to have the makeup to be a long-term starter.
Busts:
Running back
Cedric Benson
, the No. 4 overall pick in 2005, was released after three years. Defensive end Dan Bazuin, a second-round pick in 2007, never played for the Bears.
Detroit Lions

Gems:
Running back
Aaron Brown
, a sixth-round pick last year, proved to be an explosive and exciting playmaker. He'll get more playing time as he limits mental errors, but his speed and open-field running ability give him the capacity to be a difference-maker. Linebacker
Zack Follett
, a seventh-round pick in 2009, is a strong special teams player.
Busts:
The Lions' mid-decade mistakes, from quarterback
Joey Harrington
to receivers
Charles Rogers
and
Mike Williams
, have been well-chronicled. The Lions have only one player remaining from the 2006 draft, linebacker
Ernie Sims
, and receiver
Calvin Johnson
is the only 2007 draftee expected to make a significant impact in 2010.
Green Bay Packers

Gems:
Defensive lineman
Johnny Jolly
, a sixth-round pick in 2006, has proved to be a solid starter at both tackle and now end in the Packers' 3-4 scheme. His immediate future is threatened by a looming trial for felony drug possession in Houston, but from a football perspective, he has been a hit. Guard
Josh Sitton
, a fourth-round pick in 2008, might have been the Packers' most consistent offensive lineman last season.
Busts:
Quarterback
Brian Brohm
, the No. 56 overall pick of the 2008 draft, stumbled from the start and didn't make it through his second year with the team. Among other things, Brohm struggled with his downfield accuracy. He is now on Buffalo's roster. Defensive lineman
Justin Harrell
, the No. 16 overall pick in 2007, has been plagued by what could ultimately be a career-ending back injury and has made minimal impact.
Minnesota Vikings

Gems:
Center
John Sullivan
started 16 games in 2009, a year after Minnesota made him the No. 187 overall pick of the 2008 draft. Although he wasn't perfect, Sullivan has already given the Vikings more starts than many sixth-round picks provide. A fourth-rounder in 2006, defensive end
Ray Edwards
has been a full-time starter for the past three years. Over that span, he has 18.5 regular-season sacks plus another four in the playoffs. Some have expected even more from him, but that's pretty good production for a second-day pick. Edwards was part of a draft that has helped make up for a disastrous 2005 affair.
Busts:
In that 2005 draft, the Vikings had three picks in the top 49, but none made an impact. Receiver
Troy Williamson
couldn't catch the ball, defensive end
Erasmus James
tore the same anterior cruciate ligament twice and offensive lineman
Marcus Johnson
couldn't hold a starting job.