March, 3, 2015
Mar 3
1:15
PM ET
GREEN BAY, Wis. -- When the
Green Bay Packers
announced last week that they would
open up Lambeau Field to fans
for Brett Favre's induction into the Packers Hall of Fame, former team president Bob Harlan offered a glimpse into what this summer's ceremony might entail.
"We have featured people coming in to participate in the ceremony," said Harlan, who now serves on the Hall of Fame's board of directors. "To say it's going to be a historic evening when you see the people who are going to be here, you can't say enough about how historic it is."
The guest list is typically left up to the inductee, but it's safe to say plenty of Favre's old coaches and teammates will be present.
In fact, the invitations for the July 18 event already have gone out.
Thanks to
Indianapolis Colts
backup quarterback
Matt Hasselbeck
, who began his career as one of Favre's understudies, we can see exactly what the invites look like:
This is going to be awesome! http://t.co/Iox7Isxmn8 pic.twitter.com/OksskhcM9y

— Matthew Hasselbeck (@Hasselbeck) February 12, 2015
In a telephone interview, Hasselbeck said he will do everything in his power to make it back for the event and expects many of Favre's former teammates to do the same.
"I think there's just a lot of respect for certain things, and that's a dead time in our offseason," said Hasselbeck, who spent three seasons (1998-00) in Green Bay. "Aside from some family commitment that I don't know about yet, I'm going to do everything in my power to be there. I think it's really cool. Thanks to Brett for [the invitation]."
Hasselbeck was one of several quarterbacks the Packers drafted, developed and then traded away during Favre's 16 years with the team. The list also includes Ty Detmer, Mark Brunell and
Aaron Brooks
. Hasselbeck, a sixth-round pick in 1998, said he actually became closer with Favre after the Packers traded him to the
Seattle Seahawks
in 2001.
"My first year, Brett was still a wild man," Hasselbeck recalled. "That second year he was trying to quit drinking and then the third year he did, so that third year it was a totally different experience. All those other guys that Brett had been with -- Chewy [Mark Chmura] and Frankie [Winters] -- were gone."
Like Favre, Hasselbeck got his first chance to start under coach Mike Holmgren, who left the Packers after the 1998 seasons to coach the Seahawks.
"When I left, Brett was really, really helpful," Hasselbeck said. "It was really hard for me that first year in Seattle. I had gotten hurt. I essentially got benched for Trent Dilfer and Holmgren was so, so hard on me. The only thing that gave me hope was that I knew that Holmgren had been harder on Brett. So I can remember phone calls with him [talking] about that."
Hasselbeck said he was on the fringes of Favre's inner circle during his time in Green Bay.
"I did Thanksgiving with the Favres and Christmas with the Favres, but it was probably Chewy, Frankie and Deanna [Favre] that got me the invite," Hasselbeck said. "And I was probably closer in age to Brett's daughter, Brittany. When I'd do Thanksgiving over there, I'd end up playing Battleship with Brittany while everyone else sat around watching football."
February, 22, 2014
2/22/14
8:00
AM ET
INDIANAPOLIS -- The
Green Bay Packers
would like to get back into the business of developing young quarterbacks like they did throughout the 1990s -- when
Ty Detmer
,
Mark Brunell
,
Matt Hasselbeck
and
Aaron Brooks
all came up through their system.
The problem is, this isn't the 1990s.
The rules of the collective bargaining agreement that was put in place following the 2011 lockout greatly reduced the amount of time coaches can work with players in the offseason, a time often set aside for individual and group instruction. For Packers' quarterbacks, that means four weeks have been shaved off coach Mike McCarthy's quarterback school.
Nevertheless, the Packers have come to the NFL scouting combine with one eye on finding a developmental quarterback prospect and hope to take four quarterbacks into training camp this summer.
"I think we definitely need four," McCarthy said at the combine, "So I'm hopeful that we can get a young guy in the draft."
The Packers have only two quarterbacks under contract for 2014 -- starter
Aaron Rodgers
and
Scott Tolzien
, who was signed to the practice squad last September and then promoted to the active roster after Rodgers broke his collarbone on Nov. 4. Tolzien has yet to go through an offseason in McCarthy's training program, having been with the
San Francisco 49ers
for his first two seasons.
Matt Flynn
was re-signed last November and became the fourth quarterback to start for the Packers last season, but his contract was only for the 2013 season.
"I thought Matt Flynn came in and did a number of good things," McCarthy said. "There's a lot of stability he brings to the quarterback room as far as the role that he needs to play and his role to the starting quarterback to help them scout and so forth, so Matt is obviously a good fit for our program. I thought he definitely gave us a shot in the arm when we needed it. Free agency is upon us, we'll see what happens."
Whatever happens, the Packers don't want to be stuck in the position they were in at the end of last summer, when the trio of
Vince Young
,
Graham Harrell
and B.J. Coleman all failed to win the backup job, forcing the Packers to sign veteran
Seneca Wallace
the week of the season opener.
That general manager Ted Thompson has drafted only one quarterback -- Coleman in the seventh round in 2012 -- since he took
Brian Brohm
(second round) and Flynn (seventh round) in 2008 would seemingly indicate that it's time to take another one.
"We're always looking," Thompson said. "Coach McCarthy's a quarterback guy. He likes to have a group, so you never stop looking, turning over rocks, that sort of thing."
April, 19, 2012
4/19/12
10:03
AM ET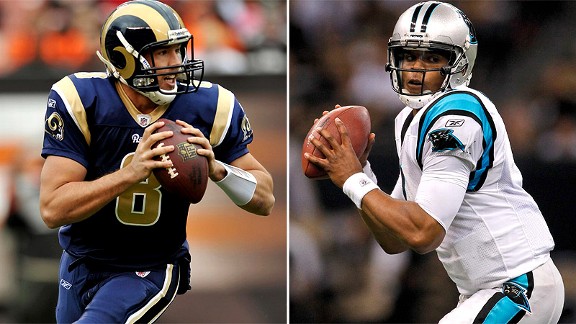 US PresswireSt. Louis' Sam Bradford, left, and Carolina's Cam Newton have helped change the thinking that a Heisman Trophy-winning quarterback won't be successful in the NFL.
There was a time -- like pretty much the last 50 years -- when a Heisman Trophy wasn't a very good thing for a quarterback to have on his résumé as he entered the NFL.
When Baylor's
Robert Griffin III
gets taken early in next week's NFL draft, he could be the latest piece in the trend of turning around the apparent curse on quarterbacks who won the Heisman. It has started to change only recently, but all of the sudden it's looking like the trophy isn't an anchor guaranteeing NFL mediocrity or obscurity for a quarterback.
Look back at 2010 winner
Cam Newton
. He was last year's offensive rookie of the year for the
Carolina Panthers
and set all sorts of rookie passing (and rushing) records. There's big hope in St. Louis that 2008 winner
Sam Bradford
can get back to the promise he showed as a rookie after struggling through a rough 2010 season. Then there's 2007 winner
Tim Tebow
. He couldn't throw spirals in Denver, but he won games. That at least created a market for Tebow to get traded to the
New York Jets
, where it remains to be seen if he'll ever be able to win the starting job away from
Mark Sanchez
.
But there's at least hope that Griffin, Newton, Bradford and Tebow can go on to have long and prosperous NFL careers. Before they came along, there were decades of evidence that suggested quarterbacks should just quit the game after winning the Heisman.
Remember
Troy Smith
,
Eric Crouch
,
Danny Wuerffel
, Charlie Ward and
Gino Torretta
? How about
Ty Detmer
,
Andre Ware
or Pat Sullivan?
They had little to no success in the NFL.
And remember Jason White?
I honestly did not at first. I had to go back and look up White, who won the trophy not all that long ago. He won it in 2003 while putting up some gaudy numbers at the University of Oklahoma. White didn't even get drafted and quit football altogether after a short training-camp stint with the
Tennessee Titans
. He never even played in a regular-season NFL game.
[+] Enlarge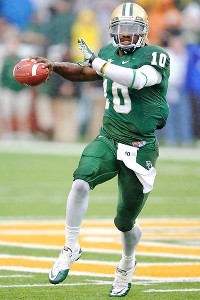 Jerome Miron/US PresswireRobert Griffin III threw for 4,293 yards and 37 touchdowns on his way to winning the Heisman Trophy last season.
Guys like White, Smith, Crouch, Wuerffel, Ward, Torretta, Detmer, Ware and Sullivan all had some things in common. In general, they were able to win the Heisman because they put up big statistics at programs where they were surrounded by elite players. They also had limitations -- usually in size, speed or arm strength -- that prevented them from being taken very seriously by NFL talent evaluators.
But those same evaluators also missed on some Heisman winners who seemed to have what the NFL wanted. Remember
Matt Leinart
?
He came from one of those football factories (USC), where he was surrounded by guys like
Reggie Bush
, but Leinart was supposed to be the one whose college success could transfer to the NFL. That's why the
Arizona Cardinals
drafted him in the first round. But Leinart was nothing short of a tremendous disappointment.
When he flopped, it looked like there really was something to the Heisman Curse.
Prior to Tebow, Bradford, Newton and Griffin, you've got to look at a list of 18 quarterbacks who won the Heisman before you find one who really made it big. You've got to go all the way back to Roger Staubach, who won it for Navy in 1963. He went on to have a great career for the
Dallas Cowboys
and earned a spot in the Pro Football Hall of Fame. Since Staubach won the Heisman, other quarterbacks have had to settle for just getting into the College Football Hall of Fame.
Sure, there have been a few Heisman winners to come out and have some success. Jim Plunkett won two Super Bowls, but his career didn't really take off until he landed with the Raiders after mediocre stints in New England and San Francisco.
Vinny Testaverde had an extremely long NFL career and the longevity led to some impressive career statistics. But Testaverde never had the kind of career so many people imagined when he was coming out of the University of Miami and taken No. 1 overall by the
Tampa Bay Buccaneers
in 1987.
Guys like Steve Spurrier and
Doug Flutie
bounced around and had some success. Then there's
Carson Palmer
, who has had some bright moments, but still is trying to fully live up to the Heisman hype.
But Newton, Griffin, Tebow and Bradford finally might be able to put a stop to the near-half-decade drought of Heisman Trophy winners truly excelling in the NFL.
"Cam Newton is the best thing to ever happen to Robert Griffin III,'' former NFL quarterback
Chris Weinke
said as we discussed this year's crop of quarterbacks back in February. "Just like
Drew Brees
is the best thing to happen to [Wisconsin draft prospect Russell Wilson]. Cam showed that a big, athletic quarterback that can run can be great in the NFL. Brees showed that a guy that's not 6-foot-4 or 6-foot-5 can throw for 5,000 yards in an NFL season. We all know the NFL is a copycat league. Cam's success and Drew's success helps the draft stock of guys like Robert and Russell.''
Ironically, Weinke's name is another one on that
Heisman list
. His story might be the most unique of all the Heisman-winning quarterbacks. Weinke enrolled at Florida State after giving up a minor-league baseball career. He won the Heisman in 2000 and seemed to have the talent of a classic drop-back passer, but the fact he would turn 29 in his rookie training camp, pushed him into the fourth round of the 2001 draft. The Carolina Panthers took him and he started under coach George Seifert as a rookie, but never could quite won over John Fox, who took over the next year.
Weinke spent the next five seasons as a backup in Carolina and finished his career in 2007 with San Francisco.
These days, Weinke has carved a niche as a quarterback guru. He is the director of football operations at IMG Academies in Bradenton, Fla. He has worked extensively with Newton and some other quarterback prospects over the past few years.
Weinke says he's seen the game change just since his playing days ended. Like just about everyone else, he says the NFL has become more driven by quarterbacks. He says natural talent is a prerequisite for NFL success and he points to guys like Newton and Griffin, saying they could be a new prototype. And he goes back to his point about the NFL being a copycat league.
"People are always looking for what works,'' Weinke said. "Cam obviously had a fantastic rookie season. So people look at Robert and say he can do the same thing because the skill sets are similar.''
For Griffin, Newton and Bradford -- and perhaps even Tebow in his own way -- maybe the skill sets are so good that it no longer matters if a quarterback is lugging around a Heisman Trophy.
September, 8, 2011
9/08/11
11:09
AM ET
Cool note from ESPN Stats & Information: First-year
San Francisco 49ers
coach Jim Harbaugh is the last quarterback other than
Peyton Manning
to start a regular-season game for the
Indianapolis Colts
.
That will change when
Kerry Collins
replaces an injured Manning in the Colts' lineup for Week 1.
The first preseason game I covered as an NFL beat reporter featured Manning making his first start against the
Seattle Seahawks
in the Kingdome. His very first pass found
Marvin Harrison
for a 49-yard touchdown. Preseason games are generally without much meaning, but could there have been a more fitting beginning for Manning?
For a fuller appreciation of Manning's durability and consistency in starting 227 consecutive games, I went through Pro Football Reference counting how many quarterbacks had started for current NFC West teams since Manning made his regular-season debut. There have been 48. That figure includes 14 for the
St. Louis Rams
, 13 for the 49ers, 11 for the
Arizona Cardinals
and 10 for the Seahawks.
A few notes on the 48 players to start for current NFC West teams since 1998:
There have been two Brocks (Berlin, Huard), two Charlies (Frye, Whitehurst), two named Chris (Chandler, Weinke), two Jeffs (Plummer, Martin), three Johns (Friesz, Navarre, Skelton), one Jon (Kitna), two Matts (Hasselbeck, Leinart), two Shauns (Hill, King), three Steves (Young, Bono, Stenstrom) and two Trents (Dilfer, Green).
Two, Young and Warren Moon, have been enshrined in the Pro Football Hall of Fame since Manning's streak began.
Dilfer and Warner started for more than one current NFC West team since Manning's streak began. Warner started 57 games for Arizona and 50 for St. Louis. Dilfer started 12 for Seattle and six for San Francisco.
Hasselbeck has the most total starts for current NFC West teams with 131, followed by Marc Bulger (95 for St. Louis), Jake Plummer (73 for the Cardinals) and Jeff Garcia (71 for the 49ers).
Smith -- Alex, not Troy -- owns the most starts among current NFC West players with 50, all for San Francisco.
Eight of the 48 were one-and-done as starters: Berlin, Scott Covington, Ty Detmer, Glenn Foley, Friesz, Frye, Navarre and Weinke. Nineteen have made at least 10 starts.
The NFC West will have two starters new to the division in Week 1:
Tarvaris Jackson
and
Kevin Kolb
.
The chart shows start totals by team for the 48. The NFC West changed membership with realignment in 2002. I'm going back to 1998 for the four teams currently in the division.
April, 29, 2011
4/29/11
9:28
AM ET
Nice nugget from ESPN Stats & Information on multiple Heisman Trophy winners selected in the same draft and this one has big NFC South implications.
With
Cam Newton
and
Mark Ingram
both selected in the first round Thursday night, the 2011 draft marked just the seventh draft since 1967 in which more than one Heisman Trophy winner has entered the league in the same year.
Newton was picked No. 1 overall and he was college football's Heisman Trophy winner last season. Ingram was taken at No. 28, after the Saints traded back into the first round to get him. Ingram won the Heisman in the 2009 college season.
The feat also happened in last year's draft, when
Sam Bradford
and
Tim Tebow
both came with the trophy. Prior to that,
Reggie Bush
and
Matt Leinart
came in together in 2006.
Beyond that, there was a much bigger gap in the time frame. Desmond Howard and Ty Detmer came in the 1992 draft. Vinny Testaverde and Bo Jackson were picked in the 1987 draft. Herschel Walker and Doug Flutie were selected in 1985. Billy Sims and Charles White were drafted in 1980.