August, 18, 2014
8/18/14
9:30
AM ET
ENGLEWOOD, Colo. -- There's a learning curve and then there is the twisting, turning, work-fast riddle that is the
Denver Broncos
' offensive playbook.
And that is what receiver
Cody Latimer
must navigate to go from draft pick with piles of potential to draft pick with a productive place in a fast-paced touchdown factory.
"Our code words have code words, our signals have signals," said Broncos wide receivers coach Tyke Tolbert. "To be able to put that together, to know what's the real deal. Is it an audible? Is it a dummy call? It takes a while to get all that running smoothly. ... And that's the major hurdle for any young guy in our offense, just to know all there is to know as fast as we need you to know it.''
[+] Enlarge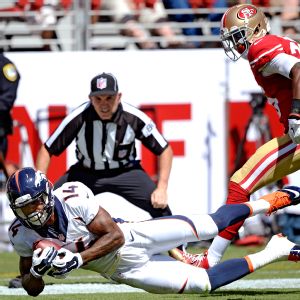 John Leyba/The Denver Post via Getty ImagesCody Latimer hauls in a 33-yard touchdown catch against the 49ers.
And then Tolbert added with a smile: "but I'd venture to say he's picking it up fairly well ... for a rookie."
A rookie that is looking more and more like he can be, despite the Broncos' obvious firepower and depth on offense, a contributor when the Broncos close in on the end zone. Sunday, in the Broncos' 34-0 preseason win over the
San Francisco 49ers
, Latimer caught his first scoring pass in a game for the Broncos.
He showed his top-tier speed up the right sideline and backup quarterback
Brock Osweiler
tossed a 33-yard scoring pass that he dove to catch.
"I just saw a one-on-one matchup there," Osweiler said following the game. " ... Cody just did a tremendous job by running by the corner and making a great catch in the end zone."
The starting jobs in the Broncos' three-wide receiver look are largely spoken for with
Demaryius Thomas
,
Wes Welker
and
Emmanuel Sanders
set to get the bulk of the plays. But when the May draft rolled around, the Broncos were still on the hunt for a little more size at the position, and when the 6-foot-2, 215-pound Latimer was still on the board when their second-round pick rolled around they grabbed him.
Latimer had fractured his foot in a pre-draft workout so the Broncos knew he would initially be limited in their offseason work. But just as Latimer showed the initiative to seek out special teams coordinator Jeff Rodgers to see if he could return kickoffs, Latimer has also been a willing post-practice student with quarterback
Peyton Manning
, sweating the details along the way.
"You just want to learn as much as possible," Latimer said. "You have to know where you need to be all the time. You have to know the plays, the variations, just all of things that need to be done."
Latimer also fits another job description the team was looking to fill when they sifted through the rubble that was Super Bowl XLVIII. The defenses that did give the Broncos' record-setting offense at least some trouble last season, including the
Seattle Seahawks
' D in the title game, often did so by re-routing the Broncos receivers off the line of scrimmage, preventing them from getting a free release and disrupting the timing of an offense that lives on timing.
So when the Broncos looked at Latimer, in almost everything he did at Indiana, they saw a pass-catcher who was also one of the most physically aggressive receivers on the board.
"Absolutely, that was one thing that stood out, his aggressive play in general, not necessarily just to the ball," Tolbert said. "In the run game, he was a rusher on the punt team, on the kickoff team he would run down there and make tackles. Just a tough guy all the way around, rare for a receiver of his caliber to play special teams in the non-traditional roles of a wide receiver."
And when the ball was in the air, Tolbert said, "he was a guy who would get the ball and go win the ball."
All of that, when the Broncos crank things up for real, figures to put Latimer in some kind of rotation when the Broncos move into the red zone. That is if he can master the right-place, right-time technicalities of the team's offense.
"You want to be a guy Peyton Manning can trust," Latimer said. "He knows where (Thomas), Wes and Emmanuel are going to be. I just want to keep working so he always feels like he knows where I'll be and that I'll fight for that ball if it comes my way."
January, 5, 2014
1/05/14
12:10
PM ET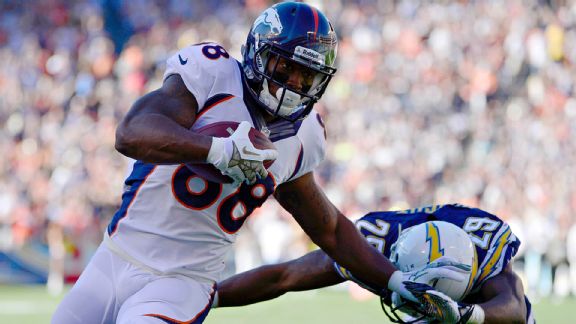 Donald Miralle/Getty ImagesWide receiver Demaryius Thomas has developed into a big part of Denver's high-scoring offense.
ENGLEWOOD, Colo. -- There was a time, when he was cocooned within an option-based, run-heavy offense, when many of the league's talent evaluators looked at one
Demaryius Thomas
and tried to project what he could eventually be as a professional.
They wondered if a wide receiver with that many physical gifts, with size, speed, who was coming into the 2010 NFL draft with a fractured foot, having spent his college career running past harried defensive backs busy trying to defend Georgia Tech's triple-option attack, would blossom into somebody's go-to guy.
Four
Denver Broncos
seasons later, the answer is pretty clear.
Or as Broncos wide receivers coach Tyke Tolbert now tells it: "For a big guy ... he runs really good routes. He runs routes like a smaller guy, that's one thing that stands out about him compared to some other big guys, the fact he can run pretty good intermediate routes as well as go deep, as well as make you miss and break tackles, he's got the total package.''
What Thomas has got these days is back-to-back 90-catch, 1,400-yard seasons with
Peyton Manning
at quarterback. What the Broncos got was a size-speed matchup nightmare, a 6-foot-3, 229-pound, every-down player who is a significant, get-it-done piece of the puzzle that is the Broncos' record-setting offense.
Defense coaches around the league say
Wes Welker
, when healthy, is the league's best slot receiver. They say
Julius Thomas
is an up-and-coming tight end who has flashed the potential to be a monstrous headache in the coming seasons. And they say when he's right and involved
Eric Decker
plays like an impact player.
But Demaryius Thomas, they say, is the guy who turns games, affects coverages, turns missed tackles into touchdowns. And as the Broncos prepare for the postseason, Thomas is also the player who will have to the guy who has to be ready for that kind of attention. Things routinely get physical in the passing game in the postseason, and the defenses that have slowed the Broncos even a little this season, have done it by playing the rough stuff against the Broncos' receivers to disrupt Denver's timing overall.
So much so, it has been in recent weeks, and will be a point of emphasis, in what's to come in the Broncos' postseason practices.
"And [Thomas] hasn't even missed a practice, I don't think, since I've been here,'' Tolbert said. "I really have instilled in those guys, every rep, make sure it's a championship rep. That's the way he goes about practice.''
Thomas has already seen both sides of the postseason coin in his career. There was his 80-yard catch and run on a short flip from
Tim Tebow
in the wild-card win over the
Pittsburgh Steelers
two Januarys ago, the kind of play more people than there are seats in the stadium will say they saw live. And there was last January's double-overtime loss to the Ravens, when Thomas finished with just three receptions, just one of those in the second half.
"The main thing is you win or you go home,'' Thomas said. "... You want to start fast, go out fast and don't want to lose. So we're going to do our best to -- whoever our opponent is -- do great on preparing for them, make sure we're ready come ... January 12th and get the 'W.'"
As the postseason routinely shows, it's all about the matchups. And while defenses will certainly give Thomas plenty of attention, the Broncos are built with plenty of potential week-to-week, even drive-to-drive heroes on offense, including Thomas.
At 37, Manning has played with hard-earned patience and remember-when perspective in his post-surgical time with the Broncos. And when it comes to touchdowns, he has played no favorites with the Broncos finishing the season with five players – Demaryius Thomas, Welker, Decker, Julius Thomas and running back
Knowshon Moreno
– with at least 10 touchdowns.
To put that group's scoring output in perspective, no other team has finished any season in league history with three players with at least 10 touchdowns.
The balance has enabled the Broncos to continue to get the ball where they want it, no matter how the defense is aligned in front of them. And the receivers, Thomas said, know that any moment, on any play, Manning will decide it's their turn for big things.
"You just know, if you get open, get to where you are supposed to be, the ball is coming,'' Thomas said. "You might not have a catch or anything, then all of a sudden he sees something or [offensive coordinator Adam Gase] sees something and it's on for you. I think it makes everybody ready to go all the time because you want to be ready to go when the ball comes your way.''
"They know when Peyton Manning's at quarterback, they have a chance to get the ball on any given play,'' Tolbert said. "... Of all the records, in my opinion, the one that's going to last a while is, I call it the five-10 group. I don't think it will be broken for a while where you have five guys have at least 10 touchdowns. Anybody can score at any given time. ... They can go 18 games, the yardage record can be in jeopardy and all that stuff, but that five-10 group, that's going to be hard to break.''
January, 4, 2010
1/04/10
12:30
PM ET
Buffalo Bills general manager Buddy Nix said at his introductory news conference Thursday he wanted a coach who could build a staff, and the new hire apparently will have to do it from scratch.
The Bills resumed heavy internal renovations Monday by firing their entire coaching staff a day after completing a 6-10 season, their 10th straight without the playoffs.
The story was broken by Jay Glazer of Fox Sports and confirmed by Buffalo News reporter Mark Gaughan, who noted
all of the coaches had one year remaining
on their contracts.
The Bills fired offensive coordinator Turk Schonert 10 days before the season opener and head coach Dick Jauron after a Week 10 loss. They named defensive coordinator Perry Fewell interim head coach.
Nix on Thursday said Fewell would be interviewed for the head-coaching vacancy. Other assistants could be re-hired.
Here is a rundown of the coaches who finished the year with the Bills:
Bobby April, assistant head coach/special teams coordinator
Alex Van Pelt, offensive coordinator
Eric Studesville, running game coordinator/running backs
Ray Brown, assistant offensive line
George Catavolos, defensive backs
Charlie Coiner, tight ends
DeMontie Cross assistant linebackers/special teams
Nathaniel Hackett, offensive quality control
Sean Kugler, offensive line
Chuck Lester, assistant to the head coach/special projects
Bob Sanders, defensive line
Matt Sheldon, linebackers
Tyke Tolbert, wide receivers
Adrian White, defensive quality control
John Allaire, strength and conditioning