August, 29, 2013
8/29/13
11:04
PM ET
FOXBOROUGH, Mass. –- The
New York Giants
suffered yet another significant preseason injury Thursday, as running back
Andre Brown
broke his left leg during the Giants'
28-20 loss
to the
New England Patriots
.

What it means:
One week after losing safety
Stevie Brown
for the season to a torn ACL in a preseason game, Andre Brown breaks his left leg. It's the same leg on which Andre fractured his fibula against the Packers on Nov. 25 last year. The Giants said Andre could have returned that season if they made it to the Super Bowl, so he could be a candidate for the injured reserve/"designated to return" spot that would allow him to come back after eight weeks.
Andre Brown's injury is a blow to the running game. Coach Tom Coughlin wanted a one-two punch with
David Wilson
and Brown, who is the Giants' most well-rounded running back. Brown could run with power and speed and catch out of the backfield and was the team's best pass-protecting back. The team will now have to depend on and trust Wilson even more. Seventh-round pick
Michael Cox
might move up to the backup spot.
Ryan Torain
's and
Da'Rel Scott
's chances of making the team have increased with Saturday's final cuts looming.
The Giants could also always look outside and see what is available, especially after teams make final cuts on Saturday.
More injuries:
Brown wasn't the only Giant to suffer an injury. Backup safety
Tyler Sash
suffered a concussion, and the Giants were already smarting there with the loss of Stevie Brown for the year. With
Will Hill
having to serve a four-game suspension to start the regular season, the Giants can't afford to lose Sash for an extended amount of time. Rookie
Cooper Taylor
will be behind starters
Antrel Rolle
and
Ryan Mundy
if Sash has to miss time.
Also, tight end
Adrien Robinson
suffered an injury to what appeared to be his left foot. The severity of the injury wasn't immediately known. Already this preseason, the Giants have watched starters such as
Victor Cruz
(heel),
David Baas
(left MCL),
David Diehl
(thumb) and the two Browns suffer injuries in preseason games.
Offense awakens:
On a very small side note, the starting offense finished the preseason strong by scoring a touchdown in the red zone. After struggling in the preseason inside the opponent's 20,
Eli Manning
orchestrated a 10-play, 91-yard drive that resulted in a 3-yard touchdown strike to
Hakeem Nicks
.
Manning opened the drive with a 37-yard completion to
Louis Murphy
. Manning also hit tight end
Brandon Myers
on a 10-yard gain, and Wilson had a 16-yard run as well on the drive.
One more time:
Several Giants tried to make a final impression in the last preseason game. Defensive tackle
Mike Patterson
looked good, applying pressure to the quarterback several times and getting a sack and a half. Patterson might have solidified a roster spot with that performance.
Marvin Austin
, a second-round pick in 2011, might be fighting for a roster spot.
Middle linebacker
Mark Herzlich
also had a strong outing, snatching an interception off a deflection right before it hit the turf. Defensive ends
Matt Broha
,
Justin Trattou
and
Adewale Ojomo
all had sacks on
Tim Tebow
as well.
What's next:
The Giants will make final cuts on Saturday and play in Dallas in the season opener on Sept. 8.
August, 24, 2013
8/24/13
8:05
PM ET
EAST RUTHERFORD, N.J. -- The
New York Giants
couldn't make it out of the first quarter of their preseason game against the Jets here Saturday night without two more potentially significant injuries. Nickel cornerback
Jayron Hosley
left the game early in the first quarter with a sprained ankle, and starting safety
Stevie Brown
appeared to seriously injure his left knee while returning a
Geno Smith
interception late in the quarter.
Brown
Hosley
Brown was playing deep, and Smith, under pressure from
Mathias Kiwanuka
, threw it right to him. While running with the ball, just before getting hit, Brown appeared to fall to the turf on his own and clutch at his left knee. He had to be helped up and off the field by team trainers. The team announced that he was out for the game with a knee sprain.
An injury to Brown, who was a revelation last season with his eight interceptions, would be tough for the Giants to handle. Their other starting safety,
Antrel Rolle
, is working his way back from a sprained ankle, and his status for the Sept. 8 opener in Dallas remains in doubt.
Ryan Mundy
and
Tyler Sash
are the backups, with
Will Hill
set to miss the first four games of the season due to a drug suspension.
It's possible that cornerback
Terrell Thomas
, who's still working his way back from two years off due to major knee reconstructions, could play some safety. He said last week that he'd been studying the position and has some experience there. But the Giants don't even know yet whether Thomas can help them at all, let alone at what position. He's been playing the slot corner position tonight in his first game action since he tore his anterior cruciate ligament in the preseason two years ago, and he might be needed there if Hosley is out.
Speaking of which, the Giants aren't super healthy at cornerback, either. Starter
Corey Webster
has been missing practice time with groin and knee issues.
Aaron Ross
has been playing in his place. But Hosley was filling a role on defense as well as on punt returns.
Obviously, we'll have more updates on these injury issues as the night goes on. But after they lost two starting offensive linemen to injury in Sunday night's game, this is a poor start to preseason Week 3 for the Giants.
August, 14, 2013
8/14/13
1:10
PM ET
This one's by request, after Twitter follower @justinwillfail asked for an analysis of the New York Giants' secondary situation. Yes, of course I take requests. Why wouldn't I? Hope you enjoy it, Justin.
The Giants' secondary was clearly an issue in 2012. Although only two teams in the league had more interceptions than the Giants' 21, no team allowed more yards per pass than the Giants' 8.1. Only five teams allowed a higher opponents' completion percentage than the Giants' 63.9. Only three teams allowed more than the Giants' 60 pass plays of 20 yards or longer. Only one allowed more than their 13 pass plays of 40 yards or longer.
To address their issues on the back end in the offseason, the Giants did ... well, they did very little, actually. They let the chronically injured
Kenny Phillips
leave via free agency and elevated
Stevie Brown
, who had eight interceptions last year, to Phillips' starting safety role alongside
Antrel Rolle
. They return both starting cornerbacks,
Corey Webster
and
Prince Amukamara
, as well as promising nickel corner
Jayron Hosley
. For depth at safety, they brought in former Steeler
Ryan Mundy
. For depth at corner, they brought back old friend
Aaron Ross
. And
Terrell Thomas
is in camp as well, looking good as he attempts his recovery from a third ACL surgery.
If everybody stays healthy and plays to his pedigree (including Thomas, who was a starting corner for the Giants three years ago), there is surprising depth at both positions. Here's a bit of a breakdown of each:
[+] Enlarge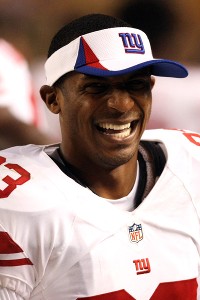 Jason Bridge/USA TODAY SportsThe Giants are expecting cornerback Corey Webster to have a bounce-back season.
Cornerback
: Webster had a big year in 2011, and the Giants won the NFC East and the Super Bowl. Webster struggled badly in 2012 (Pro Football Focus ranked him 111th in coverage out of the 113 cornerbacks who played at least 25 percent of their teams' snaps) and the Giants missed the playoffs. While it bears mentioning that they had the same 9-7 regular-season record in both of those seasons, the point is that a big play here or there can be enough to swing your season the right or wrong way. Had Webster been burned less, perhaps the Giants win a 10th or 11th game and get into the playoffs for a second straight year. Webster had to take a pay cut in order to stay, and the team does not believe he's washed up at age 31.
"We expect Corey to have a bounce-back year," GM Jerry Reese said during a recent training camp practice.
But the guy about whom Reese really raved was Amukamara, who was the team's best corner in 2012 and has looked strong in camp this year. The 2011 first-round pick struggled with injuries in his first two seasons but is healthy now and has big plans for the way in which he's used going forward.
"I just want the coaches to either let me and Corey just play right/left, or 'OK, Prince, you go in and get that assignment to shadow this receiver or whatever,'" Amukamara said. "I think when you get that assignment, it just shows that the coaches trust you enough to be on that island, quote/unquote, with that receiver. I'm just trying to build that trust in them. I know they're confident in Corey, but just that they're confident enough in me that they would say, 'Prince and Corey, you guys can just play right/left regardless of where the receivers line up.'"
Amukamara wants to be good enough to be considered a No. 1 cornerback, and he believes the best-case scenario for the Giants would be that he and Webster could both be trusted to be that. Amukamara's trajectory is encouraging, but much depends on Webster's ability to play the way he did in 2011.
Hosley is a physical second-year corner whom they like in the slot. Ross was a disappointment in Jacksonville last year, and if they needed him to start as they did in 2011 there would likely be some drop-off, but the Giants believe there are certain packages in which he can help them. He's good in blitz packages, and not bad in run support, so there's likely a role of some sort for Ross. Thomas is the wild card, because they can't possibly know whether he'll actually make it back from his latest knee surgery. So far, so good on that, but there's no way to know whether he'll be able to contribute, or at what position if he is. Reese spoke early in the offseason about possibly using him at safety. Speaking of which...
Safety
: The key player is Rolle, who's entering his fourth year with the Giants and is the only safety they have with significant experience playing the dual roles the Giants need their safeties to play in this defense. Last season, after Phillips went down, Brown played the post safety position almost exclusively while Rolle moved up and played in the box. But the defense works best when the two safeties can switch off, as Rolle and Phillips did so well before Phillips' knee problems started keeping him off the field. Rolle said Brown has been working in camp to develop into a better-rounded safety who can handle all of the responsibilities required of him.
"We already know that he's a ballhawk and he can go get the ball and do something with it once he gets it," Rolle said. "Now he's showing us that he can play in the box and definitely be a versatile safety."
The ankle injury Rolle suffered in practice Monday is alarming because it would be nearly impossible for the Giants to replace him. No other safety on their roster approaches him in terms of experience or leadership ability. But even in terms of bodies, they're a bit light here. Mundy is a serviceable player with some NFL experience, but he struggles in run support.
Will Hill
is suspended for the first four games of the season.
Tyler Sash
hasn't shown much, and
Cooper Taylor
is a rookie whose long-term position isn't even clear.
The Giants need Brown to develop, Amukamara to stay healthy and Webster to rediscover his 2011 magic. But the most important thing they need in the secondary is a healthy Rolle organizing it all on the back end. And quite frankly, the Giants believe that whatever problems they had in the secondary last year can be fixed by improving further up toward the line.
"We've got some talent back there, and it has to jell, but it really doesn't matter what the secondary does if we don't rush the passer," Reese said. "We've got to rush the passer better."
That's an organizational philosophy, right there. The Giants' 2012 sack total of 33 was unacceptably low. If it comes back up into the high 40s, the secondary's going to have a much better chance to look good this time around.
May, 16, 2013
5/16/13
2:30
PM ET
Woodson
So yeah, this is interesting. The agent for veteran defensive back
Charles Woodson
tells ESPN's Josina Anderson that the
New York Giants
have "
put their toe in the water
" regarding interest in Woodson. Now, of course, you never know with agents. This could be true or it could be a ploy to scare the Broncos or some other team into upping their offer and signing Woodson soon. But if we take the man at his word, it's worth examining the idea of Woodson to the Giants, which I think makes a lot of sense, as does my friend Ohm:
Woodson, 36, would be an intriguing piece for the Giants. He could potentially play as one of the team's three safeties utilized often by defensive coordinator Perry Fewell. He also would provide the team with another veteran able to play corner, if needed, as well.

The Giants currently have Antrel Rolle and Stevie Brown as their starting safeties. Will Hill, fifth-round pick Cooper Taylor, Ryan Mundy and Tyler Sash are also on the roster.

Woodson would provide the Giants with the kind of veteran leadership presence at safety that Deon Grant provided when he played the role of the team's third safety. He also could help fill the void left by Kenny Phillips' departure in free agency to Philadelphia.
Yes, Woodson could fill a depth role as well as a mentor role with the Giants, who are transitioning to a younger defensive backfield that would benefit from the experience and wisdom of a player as decorated as Woodson. Phillips always talked about the effect Grant had on his development, and young players such as Brown, Hill, Mundy, Taylor, Sash and
Prince Amukamara
could surely learn something from Woodson, who has experience playing safety as well as cornerback.
As a veteran-minimum deal, Woodson to the Giants makes a great deal of sense. The fact that it hasn't yet happened makes me think the interest isn't serious, since the Giants tend to move quickly when they find someone they want on the market. But as long as he's still unsigned, it's worth imagining it.
March, 19, 2013
3/19/13
8:11
PM ET
PHOENIX --
New York Giants
safety
Stevie Brown
has signed his
restricted free-agent tender
, guaranteeing him $2.023 million for the 2013 season. The move isn't a surprise, but it's worth noting that Brown will make more from the Giants this upcoming season than the man he replaced,
Kenny Phillips
, will make with the
Philadelphia Eagles
. Phillips, an unrestricted free agent whose 2012 season was plagued by knee problems, signed a one-year deal with the Eagles on which the most he can make is $1.85 million.

This is the clearest evidence yet that the Giants didn't pursue Phillips at all and decided simply to move on from their former first-round pick, likely because of long-term concerns about the knee. Brown, who had eight interceptions as a Phillips fill-in last year, is the leading candidate to start at safety alongside
Antrel Rolle
. The team also recently signed free-agent safety
Ryan Mundy
from the Steelers and has
Will Hill
and
Tyler Sash
at the position as well. General manager Jerry Reese also suggested earlier in the offseason that cornerback
Terrell Thomas
could potentially be moved to safety, so there is depth there.
Earlier in the day, the Giants agreed on a
one-year contract
with backup quarterback
David Carr
, who tested the free-agent market but apparently didn't find anything better than another season as backup for
Eli Manning
, who has started 146 games in a row.
January, 8, 2012
1/08/12
2:39
PM ET
EAST RUTHERFORD, N.J. -- Well, Saints-Lions this one ain't. The
New York Giants
lead the
Atlanta Falcons
7-2 at halftime of their wild-card round playoff game here at MetLife Stadium, and they do so because they were able to crack the Falcons' defense once and the Falcons haven't been able to crack theirs at all.


It's been a defensive struggle both ways, as the Giants' defensive front has dominated the Falcons' offensive line the way it knows it needs to and the Falcons' defensive front has returned the favor against a shaky-looking Giants pass protection unit. The first points of the game were a Falcons safety when Giants quarterback
Eli Manning
was called for intentional grounding in the end zone while under pressure, and neither offense was able to score until Manning found
Hakeem Nicks
in the end zone for a 4-yard touchdown pass with 2:47 left before halftime.
The reason the Giants were able to get those points is that they found something in the run game. Manning escaped trouble and ran for 14 yards earlier in the drive (remarkable, considering he only ran for 15, total, in the regular season). And running back
Brandon Jacobs
' 34-yard run was the biggest play of the first half. Jacobs also converted a big fourth down just before the touchdown pass with a spin move after being stuffed behind the line.
The Giants ranked 32nd in the NFL this year with 89.2 rush yards per game. But they have 75 already in this game, and if they can keep having success on the ground, they have to like their chances.
The Falcons will get the ball back to start the second half, but as of now there's little proof that that will help them. Quarterback
Matt Ryan
has been pressured from the sides and especially up the middle, with Giants defensive tackles
Chris Canty
and
Rocky Bernard
having delivered big hits already. He hasn't had time to look downfield and find his big-time receivers for big plays, which means the Giants are executing their defensive game plan exactly the way they want to. The Giants have more work to do, but to this point things have gone about as well as they could have wanted them to go. They have weathered the early assault from the Atlanta front and found a way to overcome it.
Two injury situations to watch: Atlanta safety
William Moore
and Giants safety
Deon Grant
both have left the game.
James Sanders
has stepped in for Moore, and there seems to be little drop-off there. But if rookie
Tyler Sash
has to play the rest of the game in Grant's place, the Giants' secondary could be very vulnerable. If, that is, Ryan gets enough time to take advantage of it.
September, 2, 2011
9/02/11
4:19
PM ET
OK, there are a number of reasons this took all day and you don't want to hear any of them. It suffices to say I am ecstatic to be done watching preseason football for another year and more ready than ever for the real thing.
As for our
New York Giants
, who finished their preseason by scoring 15 points in the fourth quarter for a meaningless 18-17 victory over the Patriots in New England ... I don't know. I'm trying to be open-minded about what I see, but what I see with the Giants is almost all disheartening. They just do a lot of things wrong. And yes, it was all backups Thursday night, and if
David Carr
ends up playing significant minutes at quarterback they're cooked anyway. But there were a couple of things that could matter if they leak into the regular season, and I'm 100 percent certain the Giants' coaching staff feels the same way.


For example, when one of your biggest areas of concern is special teams and you get banged for an illegal wedge penalty on the return of the opening kickoff, that's not a good thing. When you're trying to find a No. 3 receiver and one of the candidates (
Domenik Hixon
, in this case) fumbles on the first play from scrimmage, that's not a good thing. When you're trying to use a rookie punt returner and the kid can't catch the ball, that's not a good thing.
The Giants had holding penalties and illegal-hands-to-the-face penalties that stopped offensive momentum. They had another significant injury, this one a season-ending ACL tear for linebacker
Clint Sintim
. They fumbled at the Patriots' 1-yard line. They're effectively playing without a useful tight end. Tom Coughlin's challenges aren't even working.
Now, I continue to believe preseason doesn't mean anything -- that it has no predictive value at all in terms of what will happen once the real season starts. The Giants could snap awake nine days from now and start playing well enough to make everyone forget how inept in so many facets of the game they looked in the preseason. But what we have right now to evaluate is what they've done over the past month, and not even the most myopically optimistic Giants fan can credibly say the preseason went well for them.
Some specifics on what I saw in the Giants' (mercifully) final preseason game of this year:
1. Give Jerrel Jernigan credit for toughing it out.
And give the Giants credit for sticking with the rookie even as he continues to struggle with the most critical part of punt returns -- actually catching the ball. He ripped off a 42-yard return on his first chance of the night, which showed why they're giving him all of these chances. But then he muffed two in a row, and there's all kinds of footage of Coughlin and
Aaron Ross
and everybody you can think of working with Jernigan on the correct form to use when catching a punt. I guess I wonder how hard it is to learn something like this and why they believed he'd be a good punt returner if he didn't already know it. But once the ball is in his hands, it's clear Jernigan can do some things with it. So it appears as though they'll keep giving him chances, even if it could cost them early on. The night had a happy ending for Jernigan, as he made a tremendous catch on the two-point conversion pass that sealed the victory. You had to feel good for the guy, after the month he's had.
2. Tyler Sash looks like an athlete.
The rookie safety looked quick and nimble and decisive as he came up with two sacks (one of which forced a fumble) and moved well all over the field. There were a couple of times where
Tom Brady
and the Patriots' offense ran some tricky looks that caught Sash out of position, but that's bound to happen and there are worse things than getting schooled by Brady in a preseason game. You still get the lesson, and it doesn't count against your record.
3. I like Da'Rel Scott better than Andre Brown.
It's not personal. I don't even know Andre Brown. I'm just talking about what they look like when they run. Brown looks fine when he has room to run, but he doesn't blow you away as anything special and he doesn't look as though he does much to make it difficult to tackle him. Scott seems to have more speed, keeps his feet moving better and runs with more determination. He earned those 65 yards he got on that fake-punt touchdown, and with cuts looming tomorrow, that's the kind of play that makes it hard for a coaching staff to keep a guy off the roster.
4. I like Devin Thomas, too.
Specifically, I like what he does after he catches the ball. He seems to know where his feet are and what he needs to do to find the sideline or the extra yard or two he needs. He seems like he knows how to keep his body between the ball and the defender and protect it while making those moves. He's got the skills in the return game, and the speed, but I was surprised how much I liked him Thursday night as a receiver.
5. The Sintim injury hurts.
But there are rookies to take his spot, and it might help someone like
Mark Herzlich
or
Spencer Paysinger
make the roster and/or claim more playing time. The Giants liked the way Sintim had been playing, and he was their clear first option off the bench in the case of an injury to one of their starting linebackers. Now it's not as cut-and-dried, and they'll hope somebody from the rookie group can step in when they need to spell a starter.
August, 14, 2011
8/14/11
12:02
PM ET
EAST RUTHERFORD, N.J. -- It's funny to say this about a team that plays where they play, but the
New York Giants
like it when nobody notices them. They like being forgotten, underestimated, treated as an afterthought. They're OK with the Jets getting all the back-page-tabloid attention and the Eagles being the big offseason story because of their free-agent shopping spree. The Giants believe in their own way of doing things, and if that means lying in the weeds while people on the outside are distracted by other teams that are hot at the moment, that's fine with them.
"We believe in our organization, and we believe in our coaches," said ninth-year offensive lineman
David Diehl
, who has moved from left tackle to left guard as part of the Giants' offensive line shuffle. "We're not running around doing the free-agency fiasco and all that stuff. Yeah, you hope that, if an opportunity arises, you bring in guys that fit holes. But at the same time, we've got guys that have been here, guys that are a part of this team, guys who know the system."
That's why, even though they lost tight end
Kevin Boss
and receiver
Steve Smith
in free agency and didn't sign new guys the way the Eagles did, the Giants say they're not worried. They have a different way of doing things here. They build through the draft and groom their own players to replace the ones who leave. And they have a few guys they think can fill the holes created by their cuts and free-agent defections. It remains to be seen whether they're right, of course, but the vibe at Giants training camp is clear: Go ahead, underestimate us. We'll see how it turns out in the end.
THREE HOT ISSUES
[+] Enlarge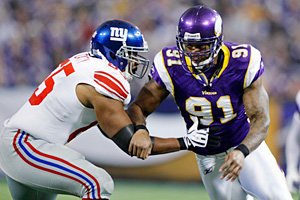 Bruce Kluckhohn/US PresswireThe Giants will have a revamped offensive line that includes William Beatty, left, at left tackle.
1. The new offensive line.
When they cut longtime center
Shaun O'Hara
and guard
Rich Seubert
on the first day of free agency, the Giants signaled a decision to change an aspect of their team that hadn't changed much over the past six or seven years. They signed free-agent center
David Baas
from San Francisco, moved Diehl inside, and gave the starting left tackle job to 2009 second-round draft pick
William Beatty
. So there are questions that must be answered about how quickly the newly configured group can jell, how smooth the relationship between Baas and quarterback
Eli Manning
will be and, perhaps most importantly, whether Beatty in his third NFL season is ready for the responsibility of protecting Manning's blind side.
"In the case of William Beatty, it's time," Giants coach Tom Coughlin said. "We've had him here. He's talented. He's had an opportunity to learn. He's practiced against some of the best. We've had some defensive ends around here that can play. So it's time. It's his turn."
Beatty started four games in his rookie season and two last season as he was being groomed for this opportunity. He's perhaps the best example of the Giants' belief in their ability to groom their own replacements for departing veterans rather than having to hit the free-agent market to do so. Now, he must prove that their faith in him was justified.
2. Can Osi Umenyiora be happy?
Upset about his contract, the Giants' star defensive end has sat out practice and demanded that the team re-work his deal or trade him to a team that will. Neither of those things appears likely to happen, though the Giants have offered an olive branch in the form of some 2011 incentives depending on the number of sacks Umenyiora gets this year. He had his knee checked out last week and there's a sense he could return to practice Monday. The way
Jason Pierre-Paul
played in Saturday night's preseason opener only helped the Giants' leverage in this situation. They believe Pierre-Paul, their 2010 first-round pick, can be a capable replacement for Umenyiora at the defensive end spot opposite
Justin Tuck
. Of course, if Umenyiora wants to come back and play, they'll be thrilled to be able to rotate three such weapons at the defensive end spots. It would also enable them to put
Mathias Kiwanuka
at linebacker and leave him there.
3. Manning's safety valves.
As the Giants' passing game evolved over the past couple of seasons, Manning relied heavily on Smith and Boss as targets when things broke down. Both are gone. The Giants hope that 2009 third-round pick
Travis Beckum
is ready to replace Boss. Beckum is a good receiver, but he doesn't have Boss' size or blocking ability. And they're trying everyone from
Mario Manningham
to
Domenik Hixon
to
Victor Cruz
in Smith's old slot-receiver role in the hopes that someone can play the position the way Smith did. Top receiver
Hakeem Nicks
appears poised to have another big year, and the Giants can use Manningham on the outside as they did last season. But Manning is justifiably concerned about who will be there for him when a play inevitably breaks down, and tight end and slot receiver are positions that need to be sorted out before camp ends.
"When we've gotten in trouble in the past, we always had Steve in the slot, and that's kind of all we worked on -- Steve's in the slot, there you go, he's got it down," Manning said. "And so last year, when he got hurt, we were in trouble. No one else really knew how to play it. So this year we're putting everybody -- Hakeem is in there, Manningham's getting in here, we're getting a lot of people in there to get them to learn some of it, so that'll probably create some more opportunities for us to move guys around and get some mismatches."
MAN IN THE MIDDLE
[+] Enlarge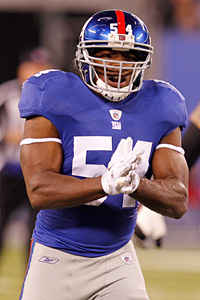 William Perlman/The Star-Ledger via US PresswireJonathan Goff is entering his second season as the starting middle linebacker.
Linebacker has been a weak spot for the Giants the past couple of years. Unable to add outside free agents because of cap concerns, they'll address it by moving Kiwanuka there for first and second downs. But much will still fall on the shoulders of
Jonathan Goff
, who enters his second season as starter at middle linebacker in the Giants' 4-3 defense. "I'll have better composure this year," Goff said. "Last year, being my first year, was a little bit of a learning experience for me. This year, I think we're all on the same page to move forward as a defense and get better. It's just natural now." Goff is responsible for communicating the calls from the sidelines and for making any front-seven checks. (The coverage checks are the responsibility of the safeties.) He knows he'll need to take a stronger on-field leadership role for the defense to play more consistently this season.
AN 'EXPLOSIVE' PHILLIPS
Two years ago,
Kenny Phillips
was on the verge of breaking out as one of the top safeties in the NFL. But he lost his 2009 season to a left knee injury, spent the 2009-10 offseason rehabbing the knee and wasn't the same player when he returned in 2010. This year, Phillips said, he was able to condition himself the way he normally would for a season, rather than have to rehab, and believes it has made a huge difference. "Just being more explosive," Phillips said. "Last year, just seeing the field, it was kind of difficult at times, because I'd been away from the game, to be able to break on the ball -- to actually see it and then be able to get to it. But this year, now, everything is just fluid. My technique and everything is sound. I just feel good about everything this year." Phillips said he learned a lot last season playing and working with veteran safety
Deon Grant
(who remains an unsigned free agent), and that, with his physical ability fully restored, he believes he'll be a better player.
OBSERVATION DECK
Hixon could be a very important player for the Giants if he's recovered from his knee injury. He showed ability to play that slot receiver position when he was healthy, and will get a chance to show it again, though it seems clear the Giants would like to have multiple options there in case something goes wrong.
Linval Joseph, the 2010 second-round pick, would seem to have the playing-time edge at defensive tackle over 2011 second-round pick Marvin Austin. But each brings impressive size and agility to the position, and between them the Giants should be able to capably replace Barry Cofield, who signed with Washington.
The starting secondary of Phillips, Antrel Rolle, Terrell Thomas and Corey Webster looks excellent in practice. The question is whether there's enough depth behind those guys if there's an injury. Cornerbacks Michael Coe and Brian Witherspoon and safety Tyler Sash have a chance to earn playing time with Prince Amukamara hurt and Grant not re-signed. Witherspoon has been impressive on special teams and looked good in Saturday's game. Sash appears to be very athletic, but he needs to play with more discipline.
Kiwanuka at linebacker is a work in progress. No question he has the ability to play it, but he over-pursued Saturday at times the way a defensive end might.
Even before he left Saturday's preseason game with a thigh injury, kicker Lawrence Tynes looked as though he might be cause for concern. Having missed a few practices as he recovers from knee surgery, Tynes was unable to boot kickoffs out of the back of the end zone the way it seems every other kicker in the league has so far this preseason. And he missed a couple of field goals (though the first was a 56-yarder he shouldn't have been asked to try). Worth keeping an eye out to see how he looks the rest of August.
As for punters, Matt Dodge has looked better than he did in his difficult rookie season, but it's going to be tough for him to beat out Steve Weatherford, who's just better at the job.
August, 13, 2011
8/13/11
11:48
PM ET

The
New York Giants
could have used a feel-good preseason opener Saturday night. No, I don't think you can read much into these preseason games. You don't know which teams are game-planning and which aren't. You can make judgments on individual efforts in certain cases, and get a sense of what teams might be planning in terms of playing time and defensive and offensive alignments. But when we say a team looked good or bad in a preseason game, we are not making any predictions or judgments about the way the season will go based on that.
All of that said, after a week in which they got knocked around in free agency and faced questions about whether their offseason plan was sound or even extant, the Giants could have used a match that left them feeling good about things. Kind of like the one the Redskins had Friday.
They didn't get it.
Yeah, some good things happened in their
20-10 exhibition loss
to the
Carolina Panthers
.
Jason Pierre-Paul
was the star of the first half, looking fast, athletic and hungry as he recorded two sacks. Both punters looked good, third receiver candidates
Domenik Hixon
and
Victor Cruz
had nice moments, and
Michael Boley
ran back an interception for a touchdown on the first series of the game. But all in all, it wasn't a good night. There were tackling issues, communication issues and special teams issues. The backup offensive line was so bad that it may have gotten kicker
Lawrence Tynes
hurt.
Other than the Tynes thing, none of this is cause for any reason concern. Just because they were sloppy Saturday night doesn't mean anything about the season. I'm just saying, given the way their fans were feeling in the wake of the free-agent departures of
Steve Smith
, they could have used a better performance.
Here's some stuff I saw:
[+] Enlarge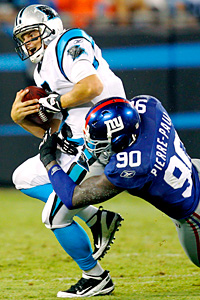 AP Photo/Chuck BurtonJason Pierre-Paul nabbed two sacks and could be a viable replacement if Osi Umenyiora continues to sit out.
1. Pierre-Paul looks like a monster.
The Giants' 2010 first-rounder has been getting a lot of snaps with the starters in practice with
Osi Umenyiora
sitting out, and he looked fantastic Saturday night. Two sacks, pressure on almost every play, quickness off the edge, athleticism, determination -- everything you want in a pass rusher. If Umenyiora wants to continue to sit out because of his contract, the Giants have some tape they can show him of a guy who looks like a very capable replacement. If Umenyiora wants to come back, the Giants have even more depth on the offensive line and can keep
Mathias Kiwanuka
at linebacker. Pierre-Paul's rapid development would be a very useful thing for the Giants.
2. Other good stuff from the defensive line.
We saw encouraging play from the defensive tackles, too, with
Chris Canty
getting into the backfield,
Rocky Bernard
getting a sack, rookie
Marvin Austin
playing well in the second half and the Giants generally producing a lot of pressure with their defensive front. As expected, they moved Kiwanuka up to the line in passing downs, and they did the same thing with
Adrian Tracy
when he replaced Kiwanuka in the second quarter. Tracy played well, helping generate the pressure that led to the Bernard sack as well as
Alex Hall
's. The Giants are looking for depth at linebacker, and Tracy could help if he plays like this.
3. The punters look good. The coverage? Not so much.
Matt Dodge
hit a couple of nice punts, including one that looked a little bit like a
Jeff Feagles
directional special. But
Steve Weatherford
was one of the best punters in the league the last couple of years and hits the ball farther than Dodge does. Could be tough for Dodge to win this competition. And regardless of who wins it, the coverage team will just have to do a better job. This is one area that actually does mean something in preseason, because the guys on special-teams coverage units should be playing hard and trying to win roster spots. They were miserable all night until Cruz came up with a big solo tackle on a punt return in the third quarter. A guy like
Michael Coe
, who has an opportunity with the Giants losing so much depth at cornerback, needs to come up bigger than he did on
Armanti Edwards
' long first return.
3a. Also, one punt-related question:
Why in the world did Tom Coughlin call for a 56-yard field goal attempt in the first quarter when Tynes is coming off knee surgery and he's trying to get a look at two punters? Just wondering. Seemed like a weird decision. Tynes, who is also the only kicker I've seen so far this preseason who hasn't been able to kick it through the end zone on kickoffs, missed the attempt.
4. William Beatty -- some good, some bad:
The new starting left tackle got manhandled a bit on the first two offensive series, looking overwhelmed and doing a lot of reaching and grabbing as he was getting beaten off the edge. But he seemed to settle in and looked much more authoritative and aggressive on the next few series. He stayed in longer than did the other starting offensive linemen, and it's no coincidence. Whether Beatty is ready to handle his new full-time job will go a long way toward determining how well the Giants handle their transition to this new offensive line assignment.
5. Brian Witherspoon was a bright spot.
The Giants' starting secondary looks as though it should be very good (though there did seem to be some communication issues there early on). The question is whether they have depth behind the starters, with
Prince Amukamara
and
Bruce Johnson
hurt. Witherspoon was a star of the second half on special teams as well as at cornerback. A guy to watch as the preseason rolls along.
6. Quick hits:
It was fun to watch top draft pick
Cam Newton
get his first game action for the Panthers. He beat Giants rookie
Tyler Sash
with a great throw on his first drive, but Sash and Coe made good plays to help keep him from capping that drive with a touchdown pass. ... It appears as though Hixon is the leader for that No. 3 receiver spot. He got a lot of work in the slot in the second half with
Sage Rosenfels
throwing to him. ... I thought
Danny Ware
looked all right as a third-down back catching screen passes. ... The word on Tynes was a thigh contusion, which is better than a knee injury for sure.
More on the Giants on Sunday, as you'll get my "Camp Confidential" report on them. Meantime, let me know what you thought.
NFL SCOREBOARD
Thursday, 11/27
Sunday, 11/30
Monday, 12/1