January, 16, 2013
1/16/13
4:02
PM ET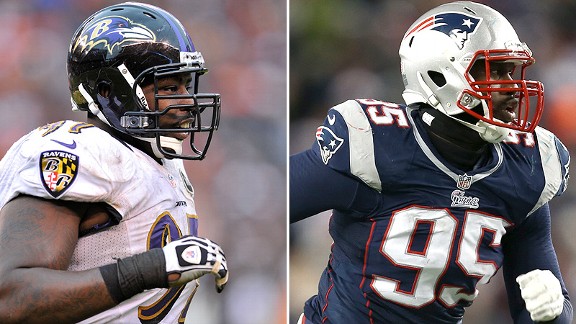 US PresswireOnly one of the Jones brothers, Arthur (left) and Chandler, will be able to reach his goal of getting to his first Super Bowl.
The big brother got the best of the little brother
in the first meeting
. But this time the stakes are higher when siblings
Arthur Jones
of the
Baltimore Ravens
face
Chandler Jones
and the
New England Patriots
.
A trip to the Super Bowl is on the line for the Jones brothers in Sunday's AFC Championship Game. Baltimore beat New England, 31-30, in Week 3 of the regular season.
Arthur, 26, currently has bragging rights in the family. But the oldest brother knows it's more important to win this weekend.
Whoever advances has a golden opportunity to bring the first Super Bowl ring to the Jones family.
"Absolutely, I rubbed it in his face a little bit," Arthur said Wednesday of beating Chandler in the regular season. "But the bragging rights are not going to matter if I don't win this game. This is a lot bigger game and a lot more at stake than last game."
The good news is one of the Jones brothers will be playing in his first Super Bowl on Feb. 3. The bad news is the other Jones brother will be heartbroken after getting so close in the AFC title game.
However, the first champion among the Jones brothers has already been crowned in a different sport: mixed martial arts. Middle brother Jon Jones, 25, became the UFC light heavyweight champion in 2011 and still holds the title. Jon, when reached on a promotional tour for "The Ultimate Fighter," said this weekend is another great moment for the Jones family.
"I'm so happy for my brothers and I'm excited to see the game this weekend," Jon Jones said. "I know they both want to play in the Super Bowl, so I expect them to play the best games of their lives. I'm proud of Arthur and Chandler.
"I know it's not easy to make it this far in the NFL, but they've both dedicated their lives to becoming the best football players they can be. I can't wait to see who makes it to the Super Bowl."
There are very few secrets Chandler Jones, 22, keeps from his oldest brother. But this is one of those weeks when he will.
Chandler tweaked his ankle in New England's playoff victory over the
Houston Texans
, but
he did practice
on Wednesday. The two close-knit brothers have talked this week. Yet, Chandler is doing his best Bill Belichick impersonation by not informing Arthur of his status.
Still, Arthur knows his younger brother better than anyone and expects Chandler on the field Sunday considering how much is at stake.
"He's a hard worker, he's a kid that has heart, and he's going to be out there no matter what, I think," Arthur Jones said. "But who knows? I'm not a doctor. I don't know what's going on and he's doing a good job of not telling me."
Regardless of the outcome, it's been a great year for the Jones brothers. Chandler and Arthur both made it to the conference title game, while Jon won both of his championship fights in 2012.
It will take Sunday's AFC Championship Game to determine which Jones brother will finish the season at Super Bowl XLVII.
"It's definitely a blessing for my family, and it's definitely a unique situation," Arthur Jones said. "It's going to be cool. So why not us?"
September, 19, 2012
9/19/12
12:00
PM ET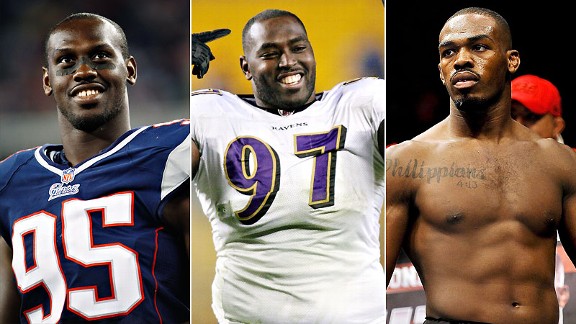 US PresswireThis weekend will be a big one for brothers (L to R) Chandler, Arthur and Jon Jones.
The marks on their faces tell the story.
Chandler, Jon and
Arthur Jones
form a tight-knit group that loves to compete. Being the second best was not an option for these three brothers, and often that led to various family scuffles as young children.
"We used to fight all the time," said Jon Jones, now the UFC light heavyweight champion. "But it wasn't because we hated each other. It was because we love each other and we're best friends. That's what best friends do -- we beat each other up over everything. But after we were done beating each other up, still bleeding, we were playing video games 25 minutes later.
"If you look at all of our faces, we got black scars and black lines all over, and that's from our fingernails. We used to scratch and beat into each other's skin."
That ultra-competitiveness in the Jones household has bred two NFL players and one of the most dominant champions in Mixed Martial Arts history. This trio will take center stage this weekend when rookie Chandler and the
New England Patriots
(1-1) play against his older brother Arthur and the
Baltimore Ravens
(1-1) for the first time Sunday night. Jon will defend his title Saturday at UFC 152 against contender Vitor Belfort.
This is a huge showcase for the Jones brothers, who have combined hard work, dedication and freakish athleticism to make a mark in their sports. This is the first time this trio will compete on the same weekend as professional athletes.
Sept. 22-23 is as much a family celebration for the Jones brothers as it is a competition.
"Everything goes to my parents and the way they raised us," Chandler said this week. "They raised us, [protected us], and all of our successes I owe to God and my parents."
Arthur, 26, is the oldest brother and is described as the leader of the group. The defensive tackle was a fifth-round draft pick of the Ravens in 2010.
Jon, 25, is the middle brother and probably the most competitive. He was on the same wrestling team as Arthur in high school, and that path led him to MMA. Jones became the UFC's youngest world champion last year and is arguably the pound-for-pound best fighter in the sport.
Chandler, 22, is the youngest but also has been described as the most athletic. A first-round pick of the Patriots this year, Chandler is making an immediate impact at linebacker. He has 10 tackles, one sack and two forced fumbles in his first two games. Usually, rookies do not get much playing time under Patriots coach Bill Belichick. But Chandler is making a strong impression.
"Chandler is a guy who's kind of like a baby giraffe: He came out wobbly but he's full of potential," Arthur said. "I don't think he's scratched the surface of what he can do yet. I think he can be one of the elite, great players and can play for a long time."
Jon will be the table-setter for the family. Jones will have his 18th professional fight Saturday in Toronto and fourth straight title defense at UFC 152.
In the past two years, Jon has been MMA's fastest-rising star. He is 16-1, and his only loss was a disqualification in 2009.
"I definitely plan on setting the tone and just putting on a great performance, but I'm sure my brothers won't play differently depending on my outcome," Jon said. "They're planning on me doing well, and they're going to play hard either way. I'm just interested to see who has the better game [Sunday]."
Arthur trained with Jon last offseason in Albuquerque, N.M. Arthur and Chandler will be anxiously watching their middle brother fight Saturday from their hotels in Baltimore while they put the finishing touches on preparations for their game.
"For me, it's nothing like it," Arthur said of watching Jon in the Octagon. "Even if I wasn't in his training camp, I know how hard and how prepared he is for each fight. It's just you see your brother out there and you can't help him, and you get that feeling. But fighters fight for themselves. It's just a weird feeling. I get butterflies."
After the fight, Jon will catch a flight from Toronto to Baltimore on Sunday morning. Jon and the family will go to M&T Bank Stadium together Sunday night to watch Arthur and Chandler play.
The Patriots-Ravens matchup is a rematch of last January's thrilling AFC Championship Game. The Patriots won after a missed Ravens field goal at the end of regulation and advanced to the Super Bowl. Both teams are title contenders again this season and have a lot on the line after Week 2 losses. The loser will be in a surprising 1-2 hole.
This will be a special weekend the Jones brothers will never forget. But the bad news for the Jones family is that at least one brother has to lose.
MMA is unpredictable, but Jon will go in Saturday night as a huge favorite. He is expected to defend his title in dominant fashion. But either Chandler's Patriots or Arthur's Ravens is guaranteed to come up short Sunday night.
"I feel bad for the loser," Jon said of his brothers. "Because there is going to be some bragging."