NFL Nation:

United Football League
April, 27, 2012
4/27/12
11:52
PM ET
The
New Orleans Saints
turned
a few heads
when they drafted a player from a Canadian university Friday night.

They used a third-round pick No. 89 overall on Regina defensive tackle
Akiem Hicks
.
ESPN Stats & Information passed along a great trivia nugget. Hicks became the highest-drafted player from Canadian Interuniversity Sports since offensive lineman
Mike Schad
went No. 23 overall to the Los Angeles Rams in 1986.
Schad, a native of Canada, stayed with the Rams through 1988. He then went on to play for the
Philadelphia Eagles
from 1989 through 1993.
Hicks took a different route. He's a native of Elk Grove, Calif. He played at Sacramento City College before transferring to LSU. But Hicks didn't stay in Louisiana for long. He transferred to Regina in 2010 and played two eight-game seasons at Regina where he had eight career sacks and 56 tackles, including 12 for a loss.
This isn't the first time Hicks has been drafted. He was selected by the Omaha Nighthawks in the United Football League's 2011 draft, but chose to return to Regina.
December, 7, 2010
12/07/10
2:10
PM ET
The
Atlanta Falcons
held onto the No. 1 spot in the ESPN.com Power Rankings for the fourth straight week -- but just barely.
With Paul Kuharsky continuing to refuse to vote for an NFC team at the top and Mike Sando jumping on the New England bandwagon, there actually was a tie at the top between the Falcons and Patriots. It should be noted that John Clayton and James Walker had the Falcons at No. 1.
Anyway, that forced Sando, who does all of the math on the Power Rankings, to pull out the tiebreaker rules and that's how the Falcons won. It came down to the fourth tiebreaker and the Falcons got the edge because they were ranked higher than the Patriots last week.
We have two NFC South teams in the top five, which is appropriate for the best division in the NFL (in my eyes, anyway). The
New Orleans Saints
moved up a spot to No. 5. If they were in the AFC, Kuharsky would have voted them second.
Tampa Bay stayed put at No. 13, which seems fair because the Bucs lost a close game to Atlanta. Finally, the
Carolina Panthers
kept their lock on No. 32.
But I'll fill you in on a little behind-the-scenes stuff on the voting. Kuharsky, in his wisest vote of the day, initially had the Omaha franchise of the United Football League at No. 32 and the Panthers at No. 33. When told he couldn't vote for a UFL team, Kuharsky did the only thing he could do and elevated the Panthers to No. 32.
October, 11, 2010
10/11/10
2:33
PM ET
Some random NFC South thoughts that I jotted down on the plane and spoke into my recorder on the drive home from the airport.
Caught a little bit of Adam Schein and Rich Gannon on SIRIUS NFL Radio and they were talking about the Atlanta Falcons being the best team in the NFC. I'm with them. That was already one of the thoughts I wrote down on the plane as I looked at the NFC standings this morning. No, I'm not ready to fully write off the Saints, but they've got some issues right now. I look around the rest of the NFC and I don't see a team that's more well-rounded or better coached than the Falcons right now.
Speaking of airports, I ran into a personnel executive from an NFL team in an airport a few weeks ago and we started chatting about Tampa Bay quarterback Josh Freeman. After watching the highlights of Freeman's performance in Sunday's victory against Cleveland, that conversation came back to me. I asked the personnel guy to compare Freeman to another quarterback and I threw out the name Donovan McNabb. The personnel man said there are some similarities, but said Freeman's size makes him different than McNabb. He thought a little more and came up with an observation I thought was pretty strong. He said Freeman is on the way to becoming what Daunte Culpepper "could have been''. He then added that Freeman is a more "cerebral and mature'' version of Culpepper and is getting better coaching than Culpepper did through much of his short-lived career that now has him in the United Football League.
As I flew out of Charlotte this morning, I was pondering Carolina's quarterback situation. Are the Panthers better off starting Jimmy Clausen or Matt Moore when they come back from the bye? I really couldn't come to a conclusion. I think Clausen can develop into a decent NFL starter in time, but I worry that throwing him out there with the current supporting cast might ruin him forever.
May, 21, 2010
5/21/10
11:41
AM ET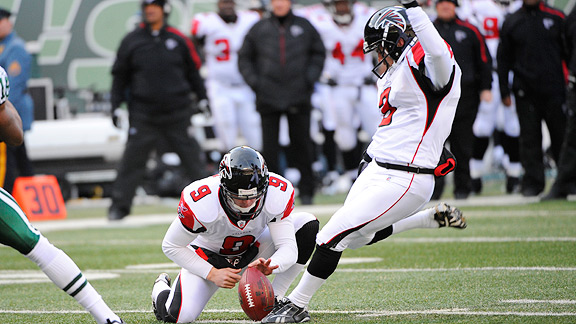 AP Photo/Bill KostrounAfter regaining his kicking stroke in the UFL last season, Matt Bryant found a home with the Falcons.
FLOWERY BRANCH, Ga. -- He kicked them to victory at a time when his heart was broken. In return, the
Tampa Bay Buccaneers
kicked
Matt Bryant
to the curb.
He's been through more tragedy and a very humbling experience since that 2008 weekend when he buried his infant son and booted the Buccaneers to victory. But if you thought all those off-field sorrows were going to relegate Bryant to a spot in the minor leagues and send him on a path out of football, think again.
Bryant, 34, is back in the NFL, back in the NFC South and doing just fine. He's the kicker for the
Atlanta Falcons
and, in some ways, he's stronger now than he was before the sudden death of his infant son, Tryson, and the slow and painful death of his father.
"There's never a day that goes by that I don't think about my son and now my dad," Bryant said after a recent workout with the Falcons. "That just never goes away. It doesn't change and it probably never will. That's all right because that's my life. But when I step out on the field, no matter what has happened off the field, I go out there with the mentality of trying to be the best.''
That's Bryant's mindset these days and he's in a good spot. The Falcons have some younger kickers on the roster, but all indications are they'll go with Bryant as long as he kicks well in training camp and the preseason.
"Right now, Matt Bryant is our kicker, but we have a very competitive situation,'' Atlanta coach Mike Smith said. "Matt's advantage is he has done it in this league. He's had some tough times personally, but he's a very strong man.''
Probably stronger than any of us realize. After going undrafted out of Baylor, Bryant had to scratch and claw his way to the NFL. He worked in a pawn shop and as a personal trainer for several years before catching on with the
New York Giants
in 2002. He bounced around with the Colts and Dolphins, too, before finally finding what seemed like a home in Tampa Bay in 2005.
[+] Enlarge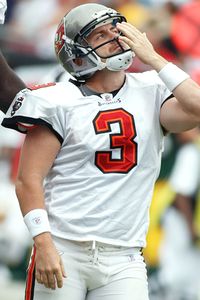 AP Photo/Reinhold MatayMatt Bryant blew a kiss as a tribute to his son during a game against the Packers on Sept. 28, 2008.
That's where Bryant thrived for four seasons. In 2006, he made a game-winning 62-yard field goal and the city declared a day in Bryant's honor. He firmly grabbed the city's heart in September 2008, when just days after his infant son, Tryson, died in his sleep, Bryant kicked a game-winning field goal.
But a strange thing happened when coach Jon Gruden was fired after the 2008 season. Even though Bryant temporarily survived the purge of veterans such as
Derrick Brooks
that started soon after coach Raheem Morris and general manager Mark Dominik took over, it quickly became obvious he also was on the way out.
The Bucs spent $2.4 million (more than double Bryant's salary) to bring in kicker
Mike Nugent
.
"That was their guy," Bryant said. "It was very clear and obvious. I'd love to tell you the whole story and if I do it would actually accomplish something. If I thought it would do any good, I would. But it would probably actually hurt me. Let's just say it was a very frustrating situation that could have been easily resolved. All the way from the top, from the owners to the GM, it was a frustrating situation that I wish I never had to have been a part of it. My family and I loved Tampa and the fans were absolutely great. But there are some situations you can't pick and choose."
The Bucs kept Bryant through training camp as he dealt with a hamstring injury. He said he was healthy enough to kick by the final preseason game, but the Bucs didn't let him. They released him in the final cut and the perception around the league was he still had hamstring issues.
He got a tryout in Cleveland last September.
"It was exactly a year from the day Tryson had passed,'' Bryant said. "Going into it, I didn't feel very good and I hadn't kicked with a snapper and a holder in two months. I didn't have a great workout.''
That left Bryant with only one option -- taking a big step back from the NFL. He signed a contract with the Orlando Tuskers of the United Football League. That's where Bryant's kicking stroke firmly returned and the Falcons kept an eye on him from a distance. With veteran
Jason Elam
struggling with accuracy, the Falcons signed Bryant on Dec. 1, 2009.
"Going to the UFL was good,'' Bryant said. "The pay was considerably less, but it still was football. It was good football. Everybody was there for their own reasons. I want to publicly thank them for letting me come into their league.''
Bryant finished the season with Atlanta, but not without another tragedy. After a lengthy battle with ALS, Bryant's father passed away late last season. Bryant had another funeral to attend, but didn't miss any game time.
Painful as it may be, Bryant is trying to put distance on the tragedies. He's spent much of his offseason in Atlanta and his family recently moved into the area. Wife Melissa's been busy getting the children involved in sports and school and Bryant's been focusing on football.
They once thought they had a long-term home in Tampa. That's what they now are trying to build in Atlanta.
"It's been a tough couple of years," Bryant said. "I've had some big losses and I've been very humbled professionally. But I'm coming in here and starting over. I'm approaching it with the mindset of going out there every day and doing my best and letting whatever happens happen."
July, 24, 2009
7/24/09
11:30
AM ET
| | |
| --- | --- |
| | |
| | Al Messerschmidt/Getty Images |
| | Former Falcons quarterback Michael Vick may get conditionally reinstated, but even if he does, will any team want him? |
Posted by ESPN.com's Pat Yasinskas
Anybody want Michael Vick?
That's not a question. It's a plea. Seriously, I'd be thrilled to trade you the former Atlanta quarterback for anything. Heck, for nothing. Take him and the mountain of baggage he carries, please.
Still no takers?
Don't feel isolated. It appears nobody is lining up to take Vick. Selfishly, I'm not real happy about that because I've had more than my share of the ugly Vick saga, which has dragged on seemingly forever.
As the NFC South blogger, my territory includes Vick until he signs with a team in another division. My readers write me every day to ask me to stop writing about Vick because they're so tired of hearing about him. That's probably not going to change any time soon.
Yes, Vick is out of prison and done with home confinement. Yes, ESPN's Sal Paolantonio is reporting Commissioner Roger Goodell has decided to grant Vick a conditional reinstatement for training camp, although there remains a chance the quarterback could face a four-game suspension.
Even with the conditional reinstatement, there's no guarantee an NFL team will step forward to take an immensely talented athlete, who may or may not be suited to play quarterback or some other position and is certain to bring a swarm of media and protesters if he shows up anywhere near a stadium. And the cloud of a possible four-game suspension doesn't make Vick any more appealing.
Still, I thought there was a chance some owner (Jerry Jones? Al Davis?) might take a shot. Now, I'm thinking there's a very real chance 32 owners will pass on Vick.
July, 20, 2009
7/20/09
11:29
AM ET
Posted by ESPN.com's Pat Yasinskas
Michael Vick's home confinement ended Monday, but that doesn't mean his sentence is over.
Although Vick completed the home confinement and a stint in prison as part of his legal obligation, that doesn't mean he'll step right back into the NFL. The former Atlanta quarterback still is suspended by the league and it's anybody's guess how long that will last.
NFL commissioner Roger Goodell ultimately will make the decision on if and when Vick will return, and Goodell has pretty strong latitude on this one. Goodell's already made it very clear that he will not reinstate Vick unless the quarterback shows genuine remorse for his involvement in dogfighting.
Keep the word "genuine" in mind because Goodell and Falcons owner Arthur Blank weren't very happy when Vick initially denied involvement in the dogfighting ring and details showing he was very involved emerged later on.
Blank has cut ties to Vick. But Goodell has a major decision to make and it's a pretty safe bet he'll rule on that some time before the start of the season. Look for a face-to-face meeting between Goodell and Vick in the coming weeks, and the former quarterback better put on a strong show if he is to have any chance to play in the NFL this season.
The whole episode was a big embarrassment to the NFL, and Goodell has taken a hard-line stance about off-field problems. Also, I'm not sure NFL teams are going to be lining up to sign Vick and all the baggage that will come with him.
I'm just guessing here, but I wouldn't be surprised if Goodell makes Vick wait a bit longer. Again, this is just my guess, but I say Vick ends up in the new United Football League (with the Orlando franchise) for this season. If all goes well, I say Vick will be back in the NFL in 2010.
June, 12, 2009
6/12/09
11:19
AM ET
Posted by ESPN.com's Pat Yasinskas
For months, it's been premature to speculate on Michael Vick's football future. Now that he's been released by the Atlanta Falcons, it's time to start.
| | |
| --- | --- |
| | |
| | Howard Smith/US Presswire |
| | The new United Football League remains an option for Michael Vick. |
Keep in mind, Vick still has to finish the home-confinement portion of his legal sentence. Also, he has not been reinstated by the NFL.
Commissioner Roger Goodell has made it clear he won't reinstate Vick unless he believes the quarterback is truly remorseful. Even if Goodell reinstates Vick, that doesn't mean there will be a large parade of teams lining up for him.
We'll tell you right now Vick won't end up in the NFC South. The Falcons are glad he's finally behind them. Carolina owner Jerry Richardson wouldn't touch a player with Vick's past. Despite speculation the Saints might view Vick in a Wildcat role, they don't. They've got a real quarterback in Drew Brees and aren't going to take the ball out of his hands. Tampa Bay just spent a first-round pick on Josh Freeman and has declared him the franchise quarterback.
Look around the rest of the league and the options may be limited for Vick. Go ahead and speculate about Dallas and Oakland because the Cowboys and Raiders always seem to be willing to take chances on guys with a troubled past. There might be another team or two out there willing to take a chance on Vick.
But I also think, even if Vick is reinstated, NFL teams may take a collective pass in part because they might not want to deal with the controversy and protests that are sure to follow Vick.
That's why I'm going to say the most likely landing spot for Vick is the new United Football League. Officials and coaches in that league have been hinting Vick is welcome. Makes sense. The league needs a name and Vick needs a place to play.
I'll say Vick ends up with the Orlando franchise. First, Orlando has geographic first rights to any player cut by an NFC South or AFC South team. Second, Jim Haslett is the coach of the Orlando team. Haslett's on record saying he'd be interested in Vick and that Orlando would be a good place for him to restart his career. Haslett's also very familiar with Vick from their days playing against each other in the NFC South.
I say Vick spends this season in Orlando and returns to the NFL in 2010.
March, 10, 2009
3/10/09
7:51
AM ET
Posted by ESPN.com's Kevin Seifert
Admit it. You were virtually joining me Monday night by flipping between "Dancing with the Stars" (We call it DWTS on Disney-owned ABC!), "2001: A Space Odyssey" on the Encore Mystery Channel and that 1985 matchup between Chicago and Green Bay on the NFL Network.

I must say that the Packers' Jim Zorn era had totally passed from my consciousness. Took me multiple squints -- thank you, video degradation -- to realize that the left-handed quarterback wearing No. 18 was Zorn. I thought it was cool seeing Minnesota defensive coordinator Leslie Frazier playing cornerback for the Bears in what was his last NFL season, but one part of the game stood out most prominently for me.
As you recall, William "The Refrigerator" Perry caught a 4-yard touchdown pass from Jim McMahon just before halftime, his first scoring reception. I vaguely remembered that play. What came next, however, I did not. Perry returned to the sidelines, joined the special teams huddle -- led by unofficial Bears assistant coach Jeff Fisher, who was on injured reserve at the time -- and trotted back onto the field to cover the kickoff.

That's something you don't see in today's game: A starting defensive tackle covering kickoffs, let alone one who participated in the previous offensive play. The Fridge got down the field, too, and was near the tackle. Just one example of how the game has changed over the years.
Oh, the Bears went on to defeat the Packers 16-10.
End fantastical digression. On with our morning march around the NFC North:
NFL SCOREBOARD
Thursday, 12/5
Sunday, 12/8
Monday, 12/9
WEEKLY LEADERS