NFL Nation:

University of Florida
August, 15, 2013
8/15/13
4:00
PM ET
DAVIE, Fla. -- The
Miami Dolphins
completed their 2013 training camp Thursday, and one of the top players in camp was second-year defensive end
Olivier Vernon
.
The former third-round draft pick has been arguably Miami's most improved player throughout organized team activities, minicamps and training camp. Vernon beat out No. 3 overall pick
Dion Jordan
for the starting job at defensive end, although Jordan has been hampered by an injured shoulder.
Vernon was a backup for the Dolphins last year and registered 3.5 sacks off the bench. This year he's looking for more. I caught up with Vernon Thursday after the final practice of camp to get thoughts on his progress.
[+] Enlarge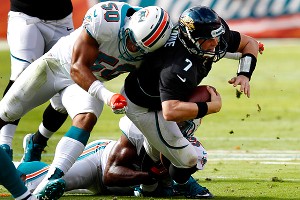 Robert Mayer/USA TODAY SportsDefensive end Olivier Vernon (50) hopes to build on a solid rookie season.
James Walker:
Olivier, you and left tackle
Jonathan Martin
have been going at it a lot in this camp. How much are you making each other better for the regular season?
Olivier Vernon:
We're making each other a whole lot better. We try to go against each other every time in practice. As far as pass-rush moves, with me using my hand techniques, I've learned so much [facing Martin]. I've grown so much from last year to now, it's like a whole different person. I have him to thank for that. He helped me a lot, and being able to see him, he's gotten so much better. It works hand and hand.
Walker:
I was going to ask about your growth since your rookie year. Has the game slowed down for you in Year 2?
Vernon:
Last year was a whole boatload I had to learn. It was kind of overwhelming. But I just tried to go out there and played my best. Now, this year I feel like I know most of the things that's going on. So it's much easier. You don't have to worry about, "Do I have to do this? Do I have to do that?" It slows down for you mentally.
Walker:
What's it been like playing for Dolphins defensive coordinator Kevin Coyle?
Vernon:
He's a real cool dude. He sets people in position to make plays. If you know your role and you're good at your role and do your job, you're going to make plays. Last year was a new coaching staff, so he couldn't put everything in. We had to crawl before we [could] walk. So this year it should be more things added on defense-wise.
Walker:
Miami's defensive line has a lot of depth. What's the ceiling for this group?
Vernon:
It can be great. We got a special D-line group. We all try to make each other better, especially with competition. The sky is the limit I feel like for this D-line.
Walker:
Any predictions for your alma mater this year: the University of Miami?
Vernon:
For the U? I know they're going to beat the Gators [laughs]. That's for one. But I feel like they're going to be okay. They're going to be alright. It all depends on what happens with this whole NCAA thing [investigation].
December, 23, 2012
12/23/12
12:56
PM ET


More evidence is starting to add up that
Tim Tebow
is wrapping up his final games with the
New York Jets
and heading to the
Jacksonville Jaguars
next season.
First, it was
ESPN's Chris Mortensen's
report Saturday night that it is a "virtual certainty" Tebow will land in Jacksonville.
Next, Ian Rapoport of the NFL Network
reported Sunday morning that a Jaguars team source said Tebow "will be a Jaguar" next season.
There is enough smoke here to believe something will happen.
The Jaguars wanted Tebow a year ago, and it appears the organization's thinking hasn't changed. The Jets could be willing to dump Tebow altogether for nothing or trade for a low-round draft pick, if possible. New York just wants to end this failed experiment sooner than later. The Jaguars reportedly are willing to take Tebow in.
As we mentioned earlier Sunday
, this move makes a lot of sense. Tebow is a Jacksonville native and former University of Florida star who can sell tickets. Jacksonville also has a vacant quarterback job next year that Tebow can compete for. He never got that chance in New York.
March, 20, 2012
3/20/12
5:19
PM ET

The Miami Dolphins cannot help themselves. The
Tim Tebow
temptation is just too strong.
ESPN's Adam Schefter reports Miami is
one of four teams
expressing interest in the popular Broncos quarterback. As we mentioned Monday in
the AFC East blog
, this move would make little sense in terms of Xs and Os. But the Dolphins' front office has proved this offseason that logic rarely applies.
Going after Tebow is strictly a public relations move for the Dolphins. Tebow, who played for the University of Florida, would quickly put fans in the seats at Sun Life Stadium. But Tebow running a precision passing, West Coast offense on the field would be a train wreck waiting to happen.
If Tebow would have any success in Miami, the team would have to go away from the West Coast principles rookie coach Joe Philbin and first-year offensive coordinator Mike Sherman were brought to Miami to implement. Is it worth undermining your entire coaching staff for Tebow?
An educated guess is this interest has owner Stephen Ross' fingerprints on it. It hurts Ross to go to games and see so many orange, empty seats. Based on the moves and non-moves the team made this offseason, Ross is probably anticipating more empty seats this year and desperately wants to change it.
Tebow would provide a short-term buzz, but eventually Miami has to win to keep fans interested. That is where Miami's thought of adding Tebow should stop.
The
New York Jets
are also mentioned as one of four interested suitors for Tebow. But Schefter reports Tebow to the Jets is a "long shot." New York just gave starter
Mark Sanchez
a $58.25 million extension that ensures he will be the starter for at least the next two years.
January, 10, 2012
1/10/12
1:26
PM ET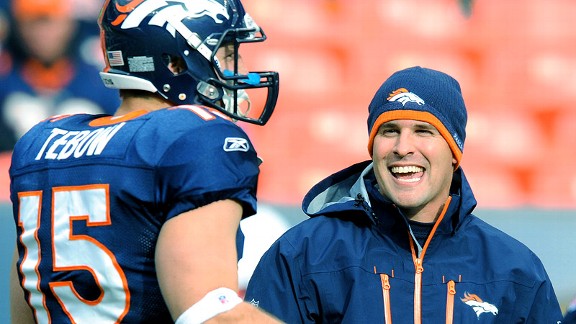 Ron Chenoy/US PresswireFormer Denver coach Josh McDaniels, right, is back with the Patriots. He'll help New England prepare for a Broncos team led by quarterback Tim Tebow, whom he drafted.
Someone has to lose Saturday's divisional-round playoff game between the
New England Patriots
and
Denver Broncos
. But one person will smell like roses this weekend no matter the outcome: Josh McDaniels.
The formers Broncos head coach and current Patriots assistant has cleverly positioned himself in a win-win situation.
On one hand, McDaniels rejoins New England at the perfect time to help the team make a deep playoff run. McDaniels has plenty of inside knowledge on the Broncos' roster and would get a lot of credit if he helped New England win its first playoff game since the end of the 2007 season.
On the other hand, if New England (13-3) were upset by the Broncos (9-8), it would be in large part due to McDaniels' most controversial draft pick in Denver:
Tim Tebow
. McDaniels was heavily ridiculed for "reaching" to take the former Florida quarterback in the first round. One more win by Tebow would advance Denver to the AFC Championship Game and within one game of the Super Bowl. That would be the ultimate vindication for McDaniels, who believed in Tebow from the start when no one else did.
Obviously McDaniels would prefer the former outcome, not the latter. But both options have McDaniels sitting pretty in this AFC playoff game filled with interesting storylines.
After an ugly two-year stint in Denver, after which he was fired, and one year with the
St. Louis Rams
, McDaniels was welcomed back in New England.
"I have a lot of respect for Josh, not only as a coach, but as a friend," Patriots director of player personnel Nick Casario said this week. "I've known Josh a long time, it's no secret. I think it's great to have him back. It's great to have him a part of our program and our system again. His goal and our goal is for everyone to work as hard as they can in preparation for this game, and that's what we'll try to do."
What is McDaniels' role during the playoffs with New England? Patriots head coach Bill Belichick has been vague.
McDaniels' title is "offensive assistant." But this week, because of the opponent, McDaniels could serve as more a scout on both sides of the football.
McDaniels, who was head coach of the Broncos from 2009 to 2010, has great intel on many of their key players. He drafted Denver's building blocks on offense -- Tebow and receivers
Demaryius Thomas
and
Eric Decker
. McDaniels also coached defensive stars
Champ Bailey
and
Elvis Dumervil
. This is priceless inside info that the Patriots could not get from simply studying tape.
McDaniels also should fit in seamlessly with New England's coaching staff. He spent eight seasons with the Patriots as an assistant and position coach, and three additional seasons as offensive coordinator. The system and terminology is virtually the same. This is a great way to ease McDaniels back into the fold to eventually take over for offensive coordinator Bill O'Brien when O'Brien leaves for Penn State after the playoffs.
"[McDaniels] is a person that I spent a lot of time with in a lot of different situations," Patriots head coach Bill Belichick said. "I have a lot of confidence in him, he's smart, he's got great experience and background, and he knows our system. I've enjoyed our conversations the past couple days as we've gotten caught up on some things and moved forward into the playoffs here. I think that he'll be a good asset to our team for the remainder of the season."
McDaniels is reviled by Broncos fans. He was expected to be the next prodigy at head coach. Instead, he went 11-17 and didn't complete his second season. Joining New England's staff this week in an effort to end the Broncos' season certainly doesn't help his reputation in Denver.
Still, no one can deny first-year head coach John Fox is advancing through the playoffs with a roster McDaniels helped build. Starters Tebow, Thomas, Decker and offensive linemen
Zane Beadles
and
J.D. Walton
were all from McDaniels' final draft class in 2010. McDaniels' 2009 draft picks
Robert Ayers
, who had two sacks in last week's playoff win against the
Pittsburgh Steelers
, and safety
David Bruton,
also are contributors on defense.
But Tebow and Thomas are McDaniels' greatest parting gifts to the Broncos. The quarterback-receiver tandem connected for one of the greatest plays in Broncos' history last week.
Denver's playoff run probably will end this weekend in New England. The Broncos are nearly two-touchdown underdogs. The matchup is perfect for the Patriots, who won the regular-season meeting in Denver by 18 points.
But if the Broncos pull a monumental upset, players like Tebow, Thomas, Decker (if healthy) and Ayers will have a huge role. For that, McDaniels would still deserve a lot of credit.
Sometimes the stars align.
McDaniels simply can't lose this week.
January, 9, 2012
1/09/12
5:02
PM ET


Say what you want about
Denver Broncos
quarterback
Tim Tebow
. But one thing he does pretty well is throw the deep ball over top of coverage that's trying to stop the run.
Tebow had a career day Sunday throwing deep in a wild-card win over the
Pittsburgh Steelers
. Tebow was had three completions over 50 yards and, according to ESPN Stats & Information, the most yards per completion (31.6) in NFL playoff history.
The Steelers made the mistake by stacking the line of scrimmage too much and showing little respect for Tebow's deep ball. New England's pass defense, which is notorious for giving up big plays, has to be more balanced in its approach in order to avoid getting "Tebowed."
"Really one of the best things that he did or better things he did among a number of things at Florida was he threw the ball down field really well," Patriots director of player personnel Nick Casario said Monday. "He has good arm strength, real accurate with the football, and I think there have been a lot of examples this year in Denver, not only in yesterday's game against Pittsburgh, but where they've thrown the ball down the field and been able to get the ball behind the defense. They have players on the perimeter that they're able to get vertical into the defense and down the field."
The opportunities will be there for Tebow to make plays with his arm. The Patriots were 31st in the NFL defending the pass. New England also led the league in giving up an astounding 79 pass plays of 20 yards or more this season.
Tebow's accuracy isn't great -- he was 10 for 21 last week -- but he proved against Pittsburgh that he's not afraid to "pull the trigger." His 80-yard touchdown pass in overtime to Broncos receiver
Demaryius Thomas
was the biggest play in Denver's season.
November, 16, 2011
11/16/11
2:07
PM ET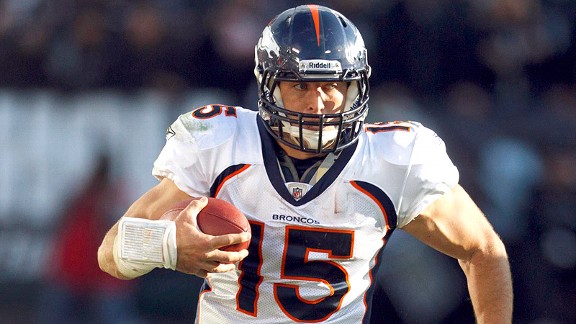 Jason O. Watson/US PresswireThe Broncos are 3-1 this season with quarterback Tim Tebow in the lineup.
The
New York Jets
have Pro Bowlers on both sides of the football. This week, they play a
Denver Broncos
team with a losing record and a quarterback who completed just two passes last week.
There's no reason to worry, right?
Not so fast.
Thursday's meeting with the underdog Broncos (4-5) is a classic trap game for the Jets (5-4). Nothing has been easy all season for New York, which
lost an emotional game
just a few days ago to the
New England Patriots
.
As the Jets try to move on from that loss, here are five reasons they should be wary of the upstart Broncos:
Reason No. 1: Tim Tebow is a winner
There are
plenty of reasons to criticize Tebow
. His throwing motion is as bad as there is in the NFL. His accuracy is spotty, and his footwork and pocket presence leave a lot to be desired.
But no one can deny that Tebow is a winner. Since putting Tebow into the starting lineup, the Broncos are 3-1 and are within just one game of first place in the AFC West. Despite the many holes in his game, Tebow is a natural leader who finds ways to win.
The Broncos have altered their offense to fit Tebow's strengths as an athletic, running quarterback. Denver is using a read-option offense similar to what Tebow thrived in at the University of Florida. Last week the Broncos ran the ball 55 times and had just eight pass attempts in a win over the
Kansas City Chiefs
.
Overall, Tebow's numbers are pretty good. He's thrown for 605 yards, seven touchdowns and one interception. Tebow also has rushed for 320 yards and averages 6.7 yards per carry. These stats shouldn't be overlooked.
"I think every week we're trying to come up with something different and it's not necessarily the same thing," Tebow said in a conference call this week. "We're trying to just keep defenses off balance and however we can do that, we're going to try to do that. I think that's the name of the game, and then make good decisions, and I think that's kind of our plan."
The Jets will try to be the first defense to shut down Denver's "T-bone" offense. Otherwise, Tebow could improve to 4-1 this season at New York's expense.
Reason No. 2: Patriots hangover, short week
The Jets put a lot of stock into last week's game against New England. New York's players were describing it as the AFC East championship. The Jets had a chance to take control of the division but were trounced by the Patriots, 37-16, which was a big emotional blow to the Jets.
Can New York recover in four days?
The Jets have been inconsistent after playing the Patriots in the past. Including playoffs, New York is just 10-12 in games since 2001 after facing New England. There is an emotional and physical toll New York pays every time it plays its biggest rival.
"They definitely did it on purpose to mess with the Jets," Ryan said jokingly. "No, that's not what happened. It's just the way it is. These are games that if you win, you feel great that they're on your schedule. If you lose, then it was terrible."
In addition, the Jets have a big AFC East rematch next week against the
Buffalo Bills
(5-4). Both are battling for the wild card and have similar records.
Tiebreakers will be on the line and it could be a playoff elimination game for one of these teams. But the Jets need to win Thursday to set up that scenario.
Reason No. 3: Jets are a bad road team
The Jets are an impressive 4-1 at home. But they have not been the same team this season on the road, where New York is 1-3.
Rex Ryan usually has his teams ready to play away from MetLife Stadium. But surprisingly this year that hasn't been the case. The Jets beat the Bills on the road this year and suffered road losses to the Patriots,
Baltimore Ravens
and
Oakland Raiders
. New York has been outscored 109-89 in those four games.
This year it's hard to predict which Jets team will show up on the road. Will we see the physical and efficient Jets team from two weeks ago in Buffalo? Or will we see the sloppy, turnover-prone road team during New York's three-game losing streak?
Reason No. 4: Mark Sanchez is struggling
[+] Enlarge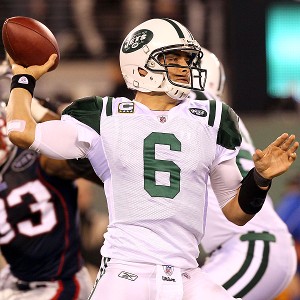 Jim McIsaac/Getty ImagesMark Sanchez is on track to set career highs in yards and TD passes, but he's also thrown nine picks and lost three fumbles.
Sanchez is on pace to set career highs for yards, touchdowns and completion percentage. But he hasn't made the kind of strides the Jets expected in Sanchez's third season.
Like New York's offense, Sanchez has been inconsistent. Denver's defense is in the middle of the pack at No. 18. But last week Sanchez struggled against New England, which is the league's worst defense. He had two costly interceptions, including a pick-six in the fourth quarter to seal the game for the Patriots.
Sanchez, who is facing a lot of heat in New York, was asked to rate himself this week.
"At this point we're 5-4. So, that's how I grade myself," Sanchez said. "I think, if anything, everybody in this locker room, we're all just a little frustrated, and a little upset at this last loss, because we thought we could've put ourselves in a good position, but I grade myself at 5-4 and we'll see how this season turns out."
If Sanchez can struggle against New England's defense at home, it's not beyond the realm of possibility he could struggle against Denver on the road with little preparation time. Sanchez needs to be at his best Thursday night.
Reason No. 5: Jets' defense doesn't always travel
This season, the Jets' defense already has allowed 30 points or more in four games, doubling their total from last year.
New York's defense has shown flashes. But overall, its not the same dominant group that it was last year. Patriots quarterback
Tom Brady
dropped 37 points on the Jets last week.
The Jets' defense also doesn't travel well. The Oakland Raiders, Baltimore Ravens and Patriots all scored at least 30 points against the visiting Jets in three consecutive weeks from Sept. 25-Oct. 9.
Despite their inconsistencies, the Jets are eighth in total defense. Denver is No. 22 in total offense.
"Just matching them up on paper, I think the Jets match up great against Denver's offense," said Matt Williamson from Scouts Inc. "The Jets can play so much man that I think they can put a lot of defenders around the line of scrimmage. I could see Ryan doing some very unique things."
New York is expected to win this game. But if the Jets aren't focused, Tebow and the Broncos could put a surprising dent in New York's postseason hopes.
September, 22, 2011
9/22/11
10:00
AM ET
It's been a special week for
Buffalo Bills
receiver
David Nelson
.
Undrafted in 2010, Nelson is now in the national spotlight after making the game-winning touchdown catch for Buffalo against the
Oakland Raiders
. He led the surprising Bills (2-0) with 10 receptions for 83 yards and a touchdown.
Nelson spoke with ESPN.com's AFC East blog this week to discuss a variety of topics, including his draft experience and Sunday's big matchup against the
New England Patriots
(2-0).
What's this week been like after making the final catch?
David Nelson:
It's been crazy to tell you the truth. For me, I enjoy interviews and interacting with the media and interacting with the fans. But to be honest with you, I get a little uncomfortable with people calling me the hero of a game or the game winner. There was 10 other guys [on offense] who were doing their job. There's 11 other guys on the defensive side. The special teams was playing unbelievable. So to have some people say "I'm the hero" or "I'm the game winner" makes me very uncomfortable.
[+] Enlarge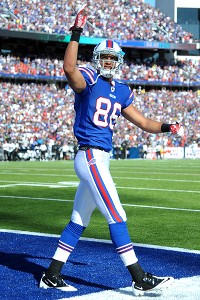 Kirby Lee/Image of Sport/US PresswireDavid Nelson is looking forward to seeing how the Bills match up with New England on Sunday.
What about you draft experience. No team picked you up. How did you feel at that time?
Nelson:
It was tough. Obviously we knew my name wasn't going to be called on Day 1. But it was nice to see some of my teammates get drafted that first day. So I was watching and rooting for my college buddies and friends I met through the draft process. The second day was a long shot, but some teams told me you never know what can happen. The second day went and came and nothing happened. The third day was the longest day of my life. Starting with the fifth round and sixth round, teams were calling me and saying they were going to draft me. Then they would come up and my name wasn't called. So it was an emotional rollercoaster. But I knew coming into the draft that it was a good possibility that I wasn't going in the draft, and I wasn't going to let anybody get me down.
How did you end up in Buffalo?
Nelson:
It was because of the conversation I had with Chan [Gailey]. Chan called me on draft day. We did our research in anticipation I didn't get drafted. We talked to about three or four teams we felt would be the best fit for me just in case I didn't get drafted. I had already known about Chan and his offense, and how he used his big receivers and four-wide receiver sets. So after talking with him, he said he was going to give everybody a fair shot. He liked what I did at Florida and he would give me an opportunity to come in and compete. And that's all I can ask for. Going undrafted all I wanted was to come in, compete for a job and show what I can do. Coming in from Day 1, he gave me that opportunity. He was a man of his word.
Are you aware Gailey also is a Gator alum and played there in the 1970s?
Nelson:
You know, he mentioned that in the talk. I think he mentioned that he was a Gator and he wanted to get a couple more out here. It was a joke. It didn't have anything to do with my decision, but it was good to know. And I did my research. I know Chan is a good man. He's a man of his word. I talked to a lot of people who played under him and they had nothing but great things to say about him. I wasn't going to go into this decision blindly, and I was excited about getting the chance. When he called me, him and Coach [Bill] Belichick, those were the only two head coaches who called me on the phone. So that meant a lot. From the head person himself, that meant that Chan was going to give me an opportunity to compete.
It's interesting Gailey and Belichick both called. That leads me to my next question. What's your thoughts on Sunday's game against Belichick and the Patriots?
Nelson:
We're excited about the opportunity. It's a division rivalry. We have goals that we want to accomplish. One of those goals is to get to the playoffs. In order to get to the playoffs you have to beat teams in our division. Not only do we have to beat teams in our division, we have to win those games at home. This week New England is coming in. We have a confidence about us winning two games in a row. They're 2-0. This town, this city is buzzing right now. They finally have some hope and the stadium is going to be rocking.
What's it like playing in the slot? Not every receiver can do it.
Nelson:
It's a real different speed in the slot, because you have linebackers screaming across your face. You have guys blitzing across you. You got coverages that are changing. You have to use your knowledge of the coverage. Your routes have to be more precise. You have to understand the coverages, and a lot of times for me it's being able to find the hole.
A lot of slot receivers are Wes Welker types, much smaller. You're the exception at 6-foot-5, 220 pounds. Why aren't there as many bigger slot players in the NFL?
Nelson:
That's a good question, and I don't have the answer to that. I just feel comfortable there. I'm a smooth route-runner. It's something I pride myself in. I'm not a blazing 4.3, 40 [-yard dash] guy. But I do have deceptive speed. I have to rely on my hands because I'm not that 4.3 guy.
Has the game slowed down for you in your second season?
Nelson:
I wouldn't say it slowed down. But I do feel more comfortable out there. I do have a little more confidence. When you have more confidence, you play at a higher speed. So I wouldn't say the game has slowed down. I would say that I'm playing a little faster. I'm able to pick up coverages faster. Me and Fitz [quarterback
Ryan Fitzpatrick
] have a better understanding of each other now. He knows where I'm going to be. I know where he's going to want the ball. So I'd say I'm playing at a faster pace.
Not a lot of people realize Fred Jackson is leading the NFL in rushing after two weeks. How much has he meant to the Bills' offense?
Nelson:
The thing that impresses me so much about Fred is his yards after the contact. He's not letting one guy bring him down. He's running through tackles. He's getting extra yards. He's fighting for the first down, and that motivates the team. When you see a guy like that just running through tackles and running through defenders and taking it upon himself, that gets guys jacked up. That motivates our entire team and gets us going. Fred Jackson's our leader. I love that guy to death. I'm so excited for him and so happy with what he's done so far.
July, 8, 2010
7/08/10
1:00
PM ET
»
NFC On the Radar
:
East
|
West
|
North
|
South
»
AFC
:
East
|
West
|
North
|
South
A player, coach or issue that should be on your radar as training camp approaches.
In just one week, offensive lineman
Trai Essex
has gone from a relative unknown to one of the most talked about
Pittsburgh Steelers
heading into training camp.
[+] Enlarge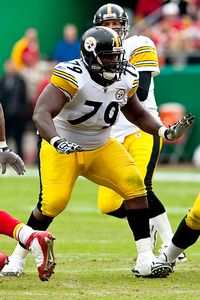 Icon SMITrai Essex may be called on to replace injured right tackle Willie Colon.
The buzz surrounding Essex is whether he's the key component to replace injured right tackle
Willie Colon
, who was
lost for the season
after rupturing his right Achilles tendon.
Now Pittsburgh needs answers -- and quickly. With training camp set to begin later this month, the Steelers worked out veteran offensive tackle
Flozell Adams
but didn't sign him to a contract. If there is no movement in free agency, Essex could be the top choice to replace Colon.
Essex started all 16 games at right guard last season, but his starting job this year was already in jeopardy. Pittsburgh drafted rookie
Maurkice Pouncey
in the first round (No. 18 overall) with the anticipation that the Florida product would eventually take over for Essex, who has played on the first team this spring. Colon's injury could speed up the process and give Essex a chance to work at right tackle in training camp and the preseason.
"When you look at Essex, I kind of like him because he's smart and he's versatile," said Scouts Inc.'s Matt Williamson. "In a pinch, he can probably play any of the five positions. But he's going to get exposed if he's there too long for any of them.
"He moves pretty well, although I think he carries too much weight and a bigger spare tire than you'd like to see [for an offensive tackle]."
Other in-house options for Pittsburgh include backups
Jonathan Scott
and
Tony Hills
. Expect both players to get a look in training camp.
For an offense that recently traded receiver
Santonio Holmes
and will be without quarterback
Ben Roethlisberger
for at least four games, solving the right tackle issue this summer would be a huge plus.
February, 27, 2010
2/27/10
11:52
AM ET
INDIANAPOLIS--
As we've pointed out
this week, the Cincinnati Bengals and Baltimore Ravens need big-play receivers.
But a big-play tight end wouldn't be a bad second option for both teams, either.

Gresham

Hernandez
Enter University of Florida's
Aaron Hernandez
and Oklahoma's
Jermaine Gresham
. This athletic duo could be the answer to a lot of the offensive problems facing Baltimore and Cincinnati.
The Bengals and Ravens both struggled with "splash" plays last season, which often is defined as passing plays of 20-30 yards or more. Long gains from the tight-end position certainly were few and far between.
Gresham and Hernandez, the top-rated tight ends in this year's draft, have the ability to stretch the field. Both players are projected to run in the range of 4.5 or 4.6 in the 40-yard dash at the NFL combine.
"I'd like to be like a Tony Gonzalez, just be great like that, in a sense," Gresham said. "You know, he played in so many Pro Bowls year in and year out. He's a great player, he puts numbers up, he's productive."
As with most pass-catching tight ends, blocking at the next level is the biggest unknown for both players.
Gresham missed all of 2009 with a knee injury and wasn't known for his blocking even before that. Hernandez, who played in Florida's spread offense, was rarely asked to block at the point of attack.
"I don't think I'm a horrible blocker," Hernandez said. "But I feel like I definitely have room to improve a lot of things in my game and that's one of them."
Gresham also admitted that improved blocking is "a personal goal for myself." If either tight end gets drafted in the division, run blocking will be a large part of their responsibilities as Baltimore, Cincinnati and the Pittsburgh Steelers all had 1,000-yard rushers last season.
But the strengths of Gresham and Hernandez -- catching and running with the football -- are certainly needed in the AFC North. That makes them prime candidates for Cincinnati, picking No. 21, and Baltimore, picking No. 25.
February, 26, 2010
2/26/10
9:16
AM ET
INDIANAPOLIS -- University of Florida's
Tim Tebow
is expected to be among the quarterbacks interviewing with the media Friday at the NFL combine.
Tebow
This means a lot of hype and a lot of stern questions will come Tebow's way.
Tebow has been a lightning rod for discussion during the NFL draft process. He is arguably the most accomplished collegiate player of all time, yet many question if Tebow's skills will translate at the NFL level.
Expect Tebow to be grilled on his delivery, his poor performance at the Senior Bowl, and his choice not to throw at the combine. Currently Tebow is working on changing his mechanics in an attempt to improve his draft stock. The next time he will throw in front of scouts will be during his individual workout.
Either way, it should be an interesting day in Indianapolis with Tebow as one of the headliners. Other high-profile quarterbacks scheduled to meet with the media Friday include future first-round picks
Sam Bradford
of Oklahoma and
Jimmy Clausen
of Notre Dame.
February, 17, 2010
2/17/10
12:00
PM ET
»
NFC Draft Watch
:
East
|
West
|
North
|
South
»
AFC
:
East
|
West
|
North
|
South
Each Wednesday leading up to the NFL draft (April 22-24), the ESPN.com blog network will take a division-by-division look at key aspects of the draft. Today's topic: biggest team needs.

Baltimore Ravens
For years, adding an elite No. 1 receiver has been a major topic of discussion in Baltimore. This should be the year the Ravens finally make it happen. Baltimore will likely see what's available in free agency or the trade market at receiver. But look for Baltimore also to acquire fresh legs at receiver or tight end in the draft. This offseason should be mostly about helping budding quarterback
Joe Flacco
reach his full potential. The recent signing of Jim Zorn as quarterbacks coach also is a good step in that direction.
Although the defense is still one of the NFL's best, cornerback depth is needed.

Cincinnati Bengals
The Bengals were a good team in 2009. But their inconsistent passing game prevented the reigning AFC North champs from being a great team, as Cincinnati was one-and-done in the playoffs. Outside of Pro Bowl receiver
Chad Ochocinco
, the Bengals had no reliable receivers or tight ends. So look for the Bengals to address both needs in the draft. The recent addition of free-agent receiver
Matt Jones
might fill a need if he stays out of trouble. There are also rumors of
Terrell Owens
being interested in Cincinnati, which would be a solid upgrade over
Laveranues Coles
. Oklahoma tight end
Jermaine Gresham
also has been linked to the Bengals as a possible first-round option with the No. 21 overall pick.

Cleveland Browns
When your offense was ranked dead last and the defense finished 31st in the NFL last season, there are a lot of holes. New Browns president Mike Holmgren and general manager Tom Heckert have a big project ahead of them. But 11 draft picks give the team a lot of flexibility to fill those needs.
The biggest question for Cleveland is at quarterback. Can the Browns find their long-term solution at the position or is
Brady Quinn
the answer? With a thin crop of quality rookie quarterbacks, Cleveland likely will explore trades or free agency. Other key positions like linebacker, safety and cornerback are also huge needs. Reportedly, the team is intrigued by University of Florida cornerback
Joe Haden
. Tennessee safety
Eric Berry
is another potential option in the secondary.

Pittsburgh Steelers
Just one year removed from winning a Super Bowl, the Steelers do not have a lot of major needs. But a 9-7 season exposed some weaknesses with Pittsburgh, and cornerback is probably the biggest.
William Gay
was not ready to make the jump to a full-time starter in 2009. Unfortunately for Pittsburgh, there are not a lot of corners with first-round grades thus far, although that may change after the combine and individual workouts.
The status of Pro Bowl nose tackle and pending free agent
Casey Hampton
is another issue. The Steelers could use the franchise tag to keep Hampton for at least another year while they try to find a replacement. Defensive tackle
Dan Williams
from the University of Tennessee would be an enticing draft option in the first round. Depth on the offensive line is also needed.