NFL Nation:

University of Southern California
September, 14, 2010
9/14/10
5:26
PM ET
So
Reggie Bush
is forfeiting his Heisman Trophy? I guess that's a big story for our college football folks, but we've got to address it here because Bush is now a member of the
New Orleans Saints
.
[+] Enlarge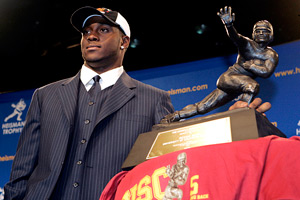 AP Photo/Frank Franklin IIReggie Bush is losing the Heisman Trophy, but not the memories of that special 2005 season.
You know what I'm doing right now? I'm shrugging my shoulders because this really doesn't impact the Saints or the NFL. Does it impact Bush? I'm sure it does to some degree and you can hear it in the words of the statement he released through the Saints.
"I will forever appreciate the honor bestowed upon me as a winner of the Heisman,'' Bush said. "While this decision is heart-breaking, I find solace in knowing that the award was made possible by the support and love of so many. Those are gifts that can never be taken away.''
Yep, give the Heisman Trust folks their trophy back and try to move forward. That's the best thing Bush can do right now. I'm not condoning his actions that got the University of Southern California in trouble and led to this latest move. But they were ancient history.
Bush is right when he talks about gifts that can never be taken away. Think about your college or high school diploma or some other old award that's stored in a box somewhere in your garage. If it were gone tomorrow, would it really be gone from your mind?
Somewhere in my garage I've got a plaque with the photo and a list of achievements of a high school baseball team that went very deep into the state playoffs back in the 1980s. I haven't seen the plaque in years and, if it disappeared tomorrow, would I really miss it? No. When I was in Pennsylvania this summer, I walked into a restaurant and saw two of my teammates. Instantly, three quarters of the starting infield from that team was back together. We looked up and saw a picture of our late coach on the wall. We talked about that season, the fun we had and the fact we were incredibly lucky to be carried so far by an incredible pitcher. Those were gifts that can't be taken away.
It's the same thing for Bush. He'll always know that he was the best college football player in the world in 2005. He'll have the memories and he'll have the relationships. So what if he doesn't have the trophy?
July, 31, 2010
7/31/10
1:51
PM ET
METAIRIE, La. -- I just sent a story to our news desk that will run under the headlines section momentarily on
New Orleans Saints
running back
Reggie Bush
addressing the controversy involving him and the University of Southern California.
It was the first time Bush talked publicly since USC returned its copy of his Heisman Trophy and took other measures to distance itself from one of its all-time great players.
Here's some of what Bush had to say.
"I like to think that I'm pretty mentally tough and I never allow any outside distraction to affect me on the football field,'' Bush said Saturday as the Saints went through their second day of training camp. "Once I step on the field, it's all football. I try to remember that every time I step on this field. This is kind of like our sanctuary. This is where we get a chance to kind of forget about everything and play football, do what we love to do and not worry about anything else.''
Although he said he is focusing on football, Bush admitted he is bothered by the way the university has distanced itself from him.
"I think I'd be lying if I said it didn't,'' Bush said. "Obviously, it does, but at the end of the day it is what it is. All I can really do now is focus on the New Orleans Saints and just try to move on. It bothers me and it sucks. The whole situation is terrible and nobody feels worse about it than I do. But, at the same time, I can't dwell on the negatives because I do have a job to do and I have a whole organization and a city riding on my back, not necessarily my back, but the team's back.''
Bush also said he hopes his relationship with USC doesn't remain fractured forever.
"I hope someday at some point it can be repaired,'' Bush said. "We'll see what happens. That's all I can do.''
June, 17, 2010
6/17/10
1:00
PM ET
»
NFC On the Radar
:
East
|
West
|
North
|
South
»
AFC
:
East
|
West
|
North
|
South
A player, coach or issue that should be on your radar as training camp approaches.
His name has been prominent in every story about the NCAA and the University of Southern California.
Reggie Bush
was at the center of most of the violations that brought heavy sanctions against the Trojans.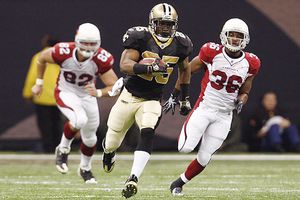 Matt Stamey/US PresswireReggie Bush had a breakout game against the Cardinals in the playoffs last season.
Bush says he's devastated by what's happened and that may provide some extra motivation for the
New Orleans Saints
running back on the field. But that extra motivation might not even be needed.
Bush has had nagging injuries throughout his career, but he's telling those close to him he feels better this offseason than at any time since he came into the NFL. In a break from past years, Bush hasn't been held out of many of the offseason workouts and appears quicker and stronger than ever.
Does that mean Bush, who came into the league as the No. 2 overall draft pick, will become a workhorse running back? No. The Saints have come to realize that's not what Bush is and they've stopped using the old line about how this might be the year Bush shows the world he can indeed run between the tackles.
Coach Sean Payton has a great offensive mind and he now knows how to get the most out of Bush. The playoff victory against Arizona was a prime example of that. Bush was a factor as a runner, a receiver and a punt returner.
With
Pierre Thomas
and
Lynell Hamilton
sharing the load, Bush is never going to be one of those backs who gets 25 or 30 carries a game. But the Saints have accepted that. Payton's come to the conclusion he needs Bush to get somewhere around 10 or 15 touches.
That will keep him fresh and allow Bush to make some big plays.