May, 19, 2013
5/19/13
5:37
PM ET

The
Buffalo Bills
nearly have their entire 2013 rookie NFL draft class under contract.
Buffalo reached a four-year agreement with second-round pick and rookie receiver
Robert Woods
, a source tells ESPN.com's AFC East blog. Woods was in Los Angeles for the NFLPA's Rookie Premiere this weekend, and is expected to sign the contract with Buffalo in the next few days.
Woods, a USC product, is considered one of the most NFL-ready receivers in this year's draft. He is the favorite to win the No. 2 receiver job in Buffalo opposite veteran
Steve Johnson
.
The Bills now have contract agreements with seven of their eight draft picks. First-round pick
EJ Manuel
, who was taken No. 16 overall, remains the only unsigned player from the 2013 class.
July, 20, 2012
7/20/12
7:07
PM ET
New York Jets
quarterback
Tim Tebow
continues to work on his quirky throwing motion. Tebow has one of the slowest releases in the NFL, and it continues to be his biggest weakness.
Tebow
The latest chapter in fixing Tebow's poor throwing
takes us to Southern California
. Tebow has been working with passing guru Tom House at USC this week, reports Pedro Moura of ESPNLosAngeles.com.
Tebow has worked with several throwing coaches, dating to 2010, when he entered the NFL draft. Tebow also had a quarterbacks coach during his two seasons with the
Denver Broncos
, and has one now that he's with the New York Jets. After plenty of work, Tebow's throwing motion still is not up to par.
I most recently watched Tebow throw during New York's mandatory minicamp last month, and there continued to be stretches of poor accuracy. One play that stood out most, during which Tebow pump-faked and tried to reload to throw. The pass seemingly took forever, and the defensive line was all over Tebow by the time the ball left his hands. It's hard to see that changing by New York's Week 1 game against the
Buffalo Bills
.
Tebow deserves to be applauded for the immense work he's put in this offseason. Physically, he looks to be in the best shape of his career as he competes with Jets starter
Mark Sanchez
. Tebow's toughness, character and athleticism should make him an immediate contributor.
But you wonder if Tebow's throwing motion will ever change dramatically enough to where it is no longer a question. I haven't seen enough evidence for that to be the case.
May, 14, 2011
5/14/11
12:09
PM ET
Similar to his great instincts on the field,
Pittsburgh Steelers
safety and reigning NFL Defensive Player of the Year
Troy Polamalu
is staying two steps ahead during the lockout off the field.

While many players are scrambling and trying to figure out what to do with their free time, Polamalu returned to USC this semester and
earned a history degree
at his alma mater. Polamalu, 30, didn't complete all of his credits before being drafted by the Steelers in 2003 but utilized the lockout to do so eight years and two Super Bowl titles later.
"I decided to finish what I started and walked that stage today not only because it was very important to me personally, but because I want to emphasize the importance of education, and that nothing should supersede it," Polamalu said.
In addition to Polamalu, other AFC North players have found interesting ways to pass the time during this extended lockout, which started in March.
Steelers teammate
Hines Ward
is doing well on "Dancing With The Stars."
Baltimore Ravens
safety
Tom Zbikowski
registered two knockouts as a professional boxer, and
Cincinnati Bengals
receiver
Chad Ochocinco
tried pro soccer and will ride a bull this weekend.
July, 26, 2010
7/26/10
6:08
PM ET
Jeff Fisher's stinging comments about Lane Kiffin's lack of professionalism in luring Kennedy Pola away from the
Tennessee Titans
' staff were only a first indication of the team's discontent.
[+] Enlarge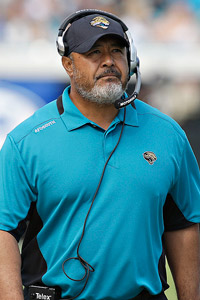 AP Photo/Phil CoaleThe Titans hired Kennedy Pola to be their running backs coach in January.
Jim Wyatt reports
the team has sued both Kiffin and USC
. The school hired Pola, Fisher's running backs coach, away from the Titans on Saturday, to be its offensive coordinator just a week before the Titans' first training camp practice.
"According to the lawsuit, 'USC and Kiffin maliciously intended to -- and did -- induce Pola to breach his contract with the Titans.' The lawsuit alleges 'USC and Kiffin engaged in improper means in their procedure of the breach and were not legally justified in their actions.'

"According to the lawsuit, Pola agreed he would 'not under any circumstance solicit discussions or entertain employment with any other person or entity during the term without given written permission to do so,' under the terms of his contract with the Titans. Pola was not given written consent by the Titans.

"'Kiffin and USC's actions through him were part of a course and pattern of conduct fostered by Kiffin and USC to use improper methods and means to the direct harm and damage of parties to contract, to interfere with an existing contract includes the breach thereof,' the lawsuit reads."
The Titans would love to stop Kiffin and USC from having Pola, but they certainly wouldn't want him back after this. If the suits are successful, they could see USC or Kiffin penalized financially and make a statement about protecting their turf, which might also set a precedent that would help ensure other franchises don't wind up dealing with similar issues in the future.
Pola joined the Titans in January, leaving Jacksonville. Fisher long coveted Pola and fired Earnest Byner to make room for the new assistant. Byner wound up replacing Pola on Jack Del Rio's staff.
Since Pola jumped to USC, Fisher has faced a second round of bashing from fans over the Byner move. How, they ask, could he have fired a coach who oversaw
Chris Johnson
during a 2,000-yard season?
I've been critical of Fisher for being overly loyal to assistants in the past. In recent years, however, largely because of his stability, he's put together and held together one of the NFL's better coaching staffs.
If he didn't love Byner and did love Pola, then making the switch was fine by me. And it's not as if Fisher could have foreseen that (a) the new coach at his alma mater would steal Pola away, or that (b) Pola would actually leave him in such a bad spot so late in the year.
Fisher told Wyatt he intends to replace Pola from within.
Fisher could shift quarterbacks coach Craig Johnson over, or elevate one of three assistants who don't have their own position groups -- assistant special-teams coach Marty Galbraith, offensive quality control coach Dowell Loggains or offensive assistant Richie Wessman.
June, 12, 2009
6/12/09
11:56
AM ET
| | |
| --- | --- |
| | |
| | Crystal LoGiudice/US Presswire |
| | Versatile running back Reggie Bush may be ahead of his time. |
Posted by ESPN.com's Pat Yasinskas
METAIRIE, La. -- As obvious as it is, do not take the easy way out and compare Reggie Bush to Deuce McAllister.
They are not the same guy.
If you still want to compare Bush to someone, stay in the Gulf Coast region, but switch sports. Think basketball. Think Pete Maravich.
Think about guys who were, depending how you look at it, either on the cutting edge or ahead of their times. About 40 years and a sport apart, Bush and Maravich might have a lot more in common than you think.
I picked up a copy of Mark Kriegel's fine book "Pistol: The Life of Pete Maravich'' in the Tampa airport before I flew to New Orleans for Saints minicamp last week. I was somewhat intrigued because I have some vague memories of Maravich playing in the NBA in the mid-1970s when I first became interested in sports. I kind of recalled that Maravich had been a pretty good player at Louisiana State.
Kriegel filled me in on the rest and it was a lot. The short version of it is that, back in the late 1960s, Maravich introduced basketball to a region that only had known football. Maravich made passes behind his back, dribbled between his legs and averaged around 45 points in his college career. He set himself up for a high draft selection and a contract that seemed absurd at the time. Although Maravich had a very good NBA career (including a stint with the New Orleans Jazz), the tragic undertone of the book is that he was born 10 or 15 years too soon.
The suggestion is, had Maravich played in the NBA in the glory days of Magic Johnson, Larry Bird and Michael Jordan, his talents might have been fully appreciated because they would have fit the time frame. Instead, Maravich never quite lived up to the hype and expectations that followed him out of college.
That's where Bush comes in. When he came out of USC as the No. 2 overall pick in 2006, the natural assumption was that Bush would run for 1,500 yards a season because that's what great running backs are supposed to do. Instead, Bush has run for 1,550 yards -- in three seasons.
But let's not go calling Bush a "bust" because he hasn't run for 1,500 yards a season. There's still time for him to be a whole lot more.
"I think the direction where the NFL is headed toward, you don't see those type of running backs anymore,'' Bush said between minicamp practices Saturday. "You see guys splitting time. Guys who are able to play running back and multiple positions. I think those days of the one-running back system are over.''
Think about it a bit and look around the NFL. The days of the Saints giving the ball to McAllister up the gut 25 or 30 times a game are over in New Orleans. They may be over in a lot of places. Look at Carolina's "Double Trouble'' with DeAngelo Williams and Jonathan Stewart or Tennessee's "Smash and Dash'' with LenDale White and Chris Johnson.
Maybe Bush is right. Maybe this is a turning point in the NFL, a time when running backs don't have to fit the profile of Earl Campbell or Jerome Bettis.
"I hear it debated about because I think the framework of how people try to fix the position and we don't have to worry about that,'' Saints coach Sean Payton said. "Since he's been here, we've changed a lot in how we move the football. The most important thing is, are we scoring points and are we moving the football? If the answer is yes to that and he's a big part of that, then all that other stuff will sort itself out.''
There are some people who will say Bush isn't a true running back and can't run between the tackles. Let's get this out of the way now because Bush resents that.
"I can run the ball between the tackles,'' Bush said. "Anybody can run the ball between the tackles. I don't feel like that is going to make me or break me. I don't feel like running the ball between the tackles is going to win us the Super Bowl or help me win the MVP. It's being versatile, being able to run the ball between the tackles, outside the tackles, returning punts, catching the ball out of the backfield and catching the ball down the field. That's what I do. That's who I am.''
Maybe, just maybe, Bush realizes who he is before the rest of the world. He's right about the versatility thing. Think about it -- there have been running backs who could catch the ball out of the backfield (LaDainian Tomlinson and Marshall Faulk for example) and running backs who could return punts (Gale Sayers).
But has there ever been a running back who could line up at receiver and beat just about any cornerback in the league, who could return two punts (almost three in one half against Minnesota last year) and run inside and outside the tackles?
Go ahead and say Bush is less than a running back. I say he's more than a running back.
Give him a full and healthy season. Bush missed six games last year and four in 2007 because of injury. As a rookie, he sat a lot because of McAllister.
"(The coaches) know I can run the ball between the tackles,'' Bush said. "That's not a question. It's just a matter of me staying healthy. I think that's more of the question.''
Give him a full season of Pierre Thomas sharing the duties at running back. Give him a full season with quarterback Drew Brees. Give him a full season with Payton, who just might be the most progressive offensive mind in the league. And give him a season where the New Orleans' defense gets off the field every now and then.
Let it all come together and let Bush be Bush. Maybe then Bush can avoid the same fate as Maravich. Maybe Bush isn't too late or too early. Maybe Bush has arrived at just the right time to redefine the game.
Posted by ESPN.com's James Walker
BEREA, Ohio -- If there is any player in the AFC North who knows Cincinnati Bengals second-round pick Rey Maualuga well, it is Cal center and Cleveland Browns first-round pick Alex Mack.
Following his introductory press conference with the Browns, Mack checked in with the AFC North blog to provide his personal scouting report on his former Pac 10 rival from USC.
"He's got a great nose for the ball," Mack said of Maualuga. "He's big player, physical, but he's also not afraid to go through you or around you. He's obviously one of the bigger inside guys, but he also has some speed and some moves.
"He will hit you if he needs to, but he will also just go right around you if he doesn't have to. That's what I mean by a good nose for the ball. He knows exactly where he needs to go to get to the ball."
Mack said in his five years at Cal, he's never beaten USC. Mack will have a chance to beat Maualuga twice a year in the AFC North.
April, 25, 2009
4/25/09
4:55
PM ET
Posted by ESPN.com's James Walker
BEREA, Ohio -- Talk about irony.
The Cleveland Browns and new coach Eric Mangini have worked out the first trade of the NFL draft with Mangini's former team in the New York Jets. With the No. 5 overall pick, the Jets selected former USC quarterback Mark Sanchez.
The Browns coveted draft picks much more than they did any particular player in this draft. Behind the scenes, Cleveland did its best to drum up interest in Sanchez the past couple of weeks and it turned out to be a good plan.
In return Cleveland gets New York's first-rounder at No. 17, the Jets' second-round pick (No. 52 overall) and three additional players who played for Mangini last season in defensive lineman Kenyon Coleman, safety Abram Elam and quarterback Brett Ratliff.
The Browns now have four picks on the first day, including three second-rounders.
February, 24, 2009
2/24/09
8:32
AM ET
Posted by ESPN.com's James Walker
Here are the most interesting stories Tuesday in the AFC North:
Morning take: Take your pick Ravens fans: Scott or Brown?
Morning take: Every great 3-4 defense has hybrids, and Matthews has the potential to develop into a solid one.
Morning take: If the phone didn't ring by now, chances are it won't by Friday's start of free agency.
Morning take: The draft within the division should get interesting as all four teams make a run this year on either corners (Baltimore, Pittsburgh, Cleveland) or safeties (Cleveland, Cincinnati).
July, 28, 2008
7/28/08
8:51
AM ET
Posted by ESPN.com's James Walker
Here is your one-stop shopping around the AFC North:
Morning take: Palmer thought he was looking forward to the USC-Ohio State game on Sept. 13 before. Now he probably cannot wait until it's over.
Ed Bouchette of the Pittsburgh Post-Gazette writes Steelers nose tackle Casey Hampton failed his running test Sunday and was placed on the training camp physically unable to perform list.
Morning take: This is not a good sign. There already is growing concern for Pittsburgh's aging defensive line, and now its longtime anchor comes into camp out of shape. Hampton becomes yet another Steelers lineman to watch closely this summer.
Aaron Wilson of the Carroll County Times provides Sunday's recap of the Baltimore Ravens' quarterback derby.
Morning take: Kyle Boller is showing his experience by playing it safe the first week of training camp. He doesn't take many chances, but Troy Smith and Joe Flacco have. It will be interesting to see if that strategy lands Boller the job.
According to Steve Doerschuk of the Canton Repository, Browns head coach Romeo Crennel believes defensive coordinator Mel Tucker is a rising star.
Morning take: That's high praise coming from Crennel, who has seen many coaches come and go. Tucker has a unique way of displaying high energy without being overbearing, and most importantly, players want to give Tucker their maximum effort.
NFL SCOREBOARD
Thursday, 11/27
Sunday, 11/30
Monday, 12/1