NFL Nation:

Vikings-Cardinals
December, 7, 2009
12/07/09
1:38
AM ET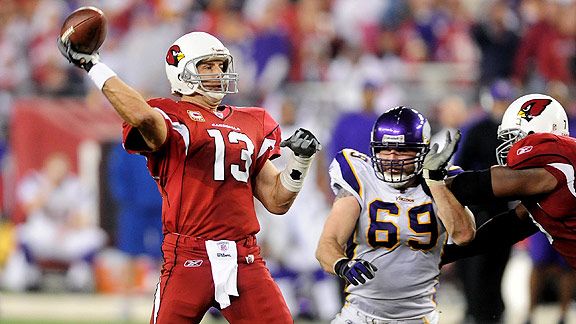 Mark J. Rebilas/US PresswireKurt Warner returned to the lineup and passed for 285 yards and three touchdowns thanks in large part to the protection he received from his offensive line.
GLENDALE, Ariz. -- Do not anoint the
New Orleans Saints
or
Minnesota Vikings
quite yet.
The defending NFC champion
Arizona Cardinals
played better than anyone in the conference Sunday. And as they proved last season, timing can be everything.
Their
30-17
victory Sunday night over the previously 10-1 Vikings reestablished Arizona as a legitimate threat to make another Super Bowl run. It also demonstrated how much the Cardinals have grown since last December, when the Vikings dominated them here and Arizona limped into the playoffs.
"We're learning a lot about ourselves as a team, but if we can continue to play like we did tonight, I'm excited about where we can go," coach Ken Whisenhunt said.
The Cardinals outperformed the Vikings in every important dimension: offense, defense, special teams, coaching, intelligence and overall orneriness.
Their postseason swagger was back.
Cardinals defensive end
Calais Campbell
didn't even notice when
Brett Favre
tried to get in his face after Campbell rag-dolled the Vikings' quarterback during one of three Arizona sacks.
Defensive tackle
Darnell Dockett
slipped under Vikings guard
Steve Hutchinson
to bring down
Adrian Peterson
for a 5-yard loss in the third quarter (Peterson averaged 1.5 yards per attempt).
Jeremy Bridges
, starting at left tackle for the first time in his career, typified the Cardinals' bravado. With a little help, Bridges improbably held the Vikings'
Jared Allen
without a sack. The Vikings might as well have had Jared from Subway trying to distract
Kurt Warner
with a foot-long Veggie Delite.
"Everybody to a man this week was talking about how great their defensive line was and how much pressure they could put on us," Whisenhunt said. "For us to be able to have no sacks tonight was really a tribute to our [offensive] line."
Bridges matched Allen syllable for syllable in a game-long exhibition of trash talking.
"It was one of the funnest games I've ever played in my life," Bridges said. "I'm hoarse right now. I ran my mouth the whole game."
The Cardinals' success in pass protection -- zero sacks in 32 pass attempts -- stood out as the single most surprising and pivotal development of the game. Right tackle
Levi Brown
, maligned ever since the Cardinals drafted him instead of Peterson, had a better game than the two-time Pro Bowl runner. But Bridges' success against Allen, who had two sacks during a 35-14 Vikings victory at Arizona last season, might have been more stunning.
"He started getting frustrated and he got a little corny with the things he was saying," Bridges said. "It got a little comical. He started to pout like a little baby, but that is to be expected. ... You have success and then you are not having it, you are going to be a little frustrated."
The Cardinals occasionally helped Bridges, leaving running back
Tim Hightower
to assist in protection. But there were other times when Bridges held up well enough for Warner to make big plays in the passing game. Warner, back in the lineup after missing six quarters because of a concussion, completed 22 of 32 passes for 285 yards and three touchdowns.
Larry Fitzgerald
and
Anquan Boldin
combined for 15 receptions and 241 yards.
The Vikings had previously recorded at least one sack in 23 consecutive regular-season games.
Bridges called this his "Shawshank Redemption" after the
Washington Redskins
released him when reducing their roster to 53 players.
"[Allen] said he didn't know my name," Bridges added. "I said, 'You'll know by the end of the game because they're going to say it a whole lot on ESPN.' "
Another surprise: The Cardinals averaged 8.3 yards per attempt on 10 carries from their one-back, double-tight end offense. They didn't have to spread the field or resort to gimmicks in generating yards on the ground. They finished with 25 rushes for 113 yards, with Hightower breaking a 32-yard run.
As impressive as the Cardinals were on offense, their defense and special teams were at least as good.
Steve Breaston
's 64-yard punt return was pivotal early. Arizona also pressured Favre into his fourth and fifth interceptions of the season. Strong safety
Adrian Wilson
probably should have had at least one more pick.
The Cardinals felt as though Favre was still taking chances this season, contrary to conventional wisdom. His receivers' ability to make plays on the football was the primary difference in Favre's revival, their thinking went.
Only a garbage-time touchdown pass while the Vikings trailed 30-10 prevented Favre from finishing with more interceptions than touchdowns.
The Cardinals needed a strong showing on defense after watching the Titans march 99 yards for the winning touchdown against them in Week 12. They got two sacks from
Bertrand Berry
and improved play from
Alan Branch
and the other nose tackles.
"We don't always get it right," Whisenhunt said, "but a lot of times when something happens to us, we respond in the correct way."
That's probably bad news for the
San Francisco 49ers
. They surprised the Cardinals in the season opener, 20-16, but Arizona can clinch its second consecutive NFC West title by beating the 49ers at Candlestick Park in the Monday night game next week.
Anyone who watched the Cardinals against Minnesota would have to like their chances -- in Week 14 and beyond.
December, 6, 2009
12/06/09
11:44
PM ET
The NFC West stage isn't big enough for the Cardinals when they play like this.
Arizona looked like a Super Bowl contender Sunday.


Kurt Warner
's ability to play at an MVP-caliber level after missing six quarters to a concussion makes everything right for the Cardinals. Warner took a hit on the Cardinals' first play. He shook it off and threw three first-half touchdown passes on the way to a
30-17
victory.
Receivers
Larry Fitzgerald
,
Anquan Boldin
and
Steve Breaston
haven't looked this good together in a while. They overwhelmed the Vikings secondary, finding openings when tackles
Levi Brown
and
Jeremy Bridges
held up better in protection than anyone could have expected. The Vikings' inability to get consistent pressure on Warner stood out as the most surprising and pivotal development for both teams.
This was a statement game for Arizona. The Cardinals were more physical. Their defensive line won individual matchups, including when
Darnell Dockett
slipped under
Steve Hutchinson
to make a tackle in the backfield. Getting 2 sacks from
Bertrand Berry
was a bonus.
They are 8-4 and leading the NFC West by three games.
The 49ers went into Week 13 thinking they could beat the Seahawks, then possibly overtake Arizona with a victory over the Cardinals in Week 14. The thinking seemed somewhat plausible, or at least defensible at the time. The Cardinals' performance against Minnesota made those thoughts seem laughable in retrospect.
When the Cardinals are right, there isn't another team in the division close to their level.
December, 6, 2009
12/06/09
10:31
PM ET
GLENDALE, Ariz. --
Karlos Dansby
's interception against
Brett Favre
highlights a key difference for the Cardinals this week.
Dansby's injury-related absence during the Titans' winning 99-yard drive last week hurt the Cardinals. Inside linebacker
Gerald Hayes
, a run defender, replaced him.
Brett Favre is taking chances in this game.
Adrian Wilson
had two passes in his hands, but could not hold on. Dansby held on. The Cardinals have to like their chances.
December, 6, 2009
12/06/09
9:29
PM ET
GLENDALE, Ariz. -- Both starting tackles are back on the field for Minnesota after missing time following injuries.
Phil Loadholt
and
Bryant McKinnie
should help the Vikings run their offense with fewer limitations.
December, 6, 2009
12/06/09
9:18
PM ET
GLENDALE, Ariz. -- Offensive linemen keep falling.
The Vikings have lost right tackle
Phil Loadholt
to a shoulder injury. His return is questionable. The Cardinals, already without left tackle
Mike Gandy
, briefly lost right guard
Deuce Lutui
, who returned for the next series.
Vikings left tackle
Bryant McKinnie
just left the game. Not sure if it's serious, but three of the four projected starting tackles in this game are not playing.
Not having both starting tackles could give the Cardinals' pass-rushers a needed edge.
December, 6, 2009
12/06/09
9:05
PM ET
GLENDALE, Ariz. -- Tim Hightower's lost fumble on the Cardinals' first possession against Minnesota set up the Vikings for their first touchdown.

The Cardinals are 19-1 under Ken Whisenhunt, counting playoffs, when they win the turnover battle. They are 2-17 when they lose the turnover battle and 6-2 when turnovers are even.

Update: Steve Breaston's long punt return might have bailed out Hightower.
December, 6, 2009
12/06/09
9:02
PM ET
GLENDALE, Ariz. -- Looks like a few Minnesotans wintering in Arizona found tickets to the Vikings-Cardinals game.

There's lots of purple here at University of Phoenix Stadium. Fans are cheering loudly as the Vikings run onto the field.

Guessing percentages is tough. I might be conservative in saying at least 25 percent of the crowd appears to be supporting the Vikings.
December, 14, 2008
12/14/08
11:13
PM ET
| | |
| --- | --- |
| | |
| | Chris Morrison/US Presswire |
| | Quarterback Kurt Warner and the rest of the Cardinals came out flat in a 35-14 home loss to the Vikings. |
Posted by ESPN.com's Mike Sando
GLENDALE, Ariz. -- Appearing content with their recently won NFC West title, the Arizona Cardinals invited all manner of ridicule about their playoff worthiness during a 35-14 home defeat to the Minnesota Vikings on Sunday.
The playoff seeding they potentially squandered will not matter much if they lose in the first round.
Given that the Cardinals won't be facing another NFC West team in the playoffs, their postseason shelf life appears unlikely to extend past one week. Arizona is 5-0 against division opponents and 3-6 against varsity teams this season.
"There are no excuses," coach Ken Whisenhunt said. "We are a good football team. We won our division. We know we are going to the playoffs. But we have to play better over these next two games in order to get prepared for that."
The Vikings had more at stake in this Week 15 game and it showed. The New England Patriots, still fighting for their AFC East lives, will have more at stake when the Cardinals visit Gillette Stadium in Week 16.
Winning the NFC West with three games to spare has put the Cardinals at additional risk. The team hasn't had much practice handling success. It's tough to pretend the stakes are high when the other team has much more to lose.
"Today we didn't approach that game like we had something to win and something to reach for, and it showed on the field," Cardinals linebacker Karlos Dansby said. "We played lackadaisical today, then in the second half we came out swinging like we had something to fight for. We showed spurts, but we can't start that flat ever again."
The Cardinals are not a particularly mature team. They have continued to rank among the most penalized teams in the league. They have not consistently risen to the level of their opposition. They do not finish plays or games consistently. And they are one-dimensional on offense to a fault.
They are also division champions for the first time in 33 years, which makes this season a success no matter what happens next.
"The thing we have to understand is this is a growing process," Cardinals quarterback Kurt Warner said. "We're not a great football team and we have to get better to be one of those teams that can go in and dominate teams week in and week out. It's a process."
Ten more observations focusing mostly on the Cardinals:
December, 14, 2008
12/14/08
7:16
PM ET


Posted by ESPN.com's Kevin Seifert
GLENDALE, Ariz. -- Minnesota's magic number is one.
That's the upshot of Sunday's impressive victory over the NFC West champion. The Vikings jumped out on Arizona with a 21-first point quarter and protected the lead for the remainder of the afternoon. Now, they can clinch their first-ever NFC North title with one more victory -- or one more loss by the Chicago Bears -- over the season's final two weeks.
The division could be decided, in fact, before Chicago steps back on the field. The Vikings will host Atlanta next Sunday at the Metrodome, but Chicago won't take the field until Monday night against Green Bay. (The Packers officially were eliminated from postseason contention on Sunday.)
Even after winning their fourth consecutive game, the Vikings have a few questions left to answer. Namely: Will they stay with quarterback Tarvaris Jackson, who has helped them to a pair of December victories? Or will they reinstall Gus Frerotte as their starter when he recovers from a fracture in his lower back?
Those are questions for later this week. For now, the Vikings can take comfort that they're one favorable result away from a division title.
December, 14, 2008
12/14/08
7:16
PM ET
Posted by ESPN.com's Mike Sando
GLENDALE, Ariz. -- It's tough to take the Cardinals seriously beyond the NFC West when they fail to show up at home with a chance to become the NFC's third seed heading into the final two games.


This was an across-the-board meltdown for Arizona.
The team spent timeouts and replay challenges freely. The Cardinals' defense couldn't contain Adrian Peterson or even Tarvaris Jackson.
Kurt Warner was careless with the football early and defenseless against the Vikings' pass rush most of the day.
As a result, Arizona has gone from a likely 10-victory team to one that might need to beat Seattle in the regular-season finale for a shot at topping its 8-8 record from 2007.
Perhaps this outcome will serve as a wake-up call heading into a Week 16 game at New England. The Cardinals had better hope so.

December, 14, 2008
12/14/08
5:58
PM ET
Posted by ESPN.com's Kevin Seifert
GLENDALE, Ariz. -- Some random halftime thoughts from University of Phoenix Stadium, where Minnesota is thumping Arizona by a score of 28-0:
The Vikings' front four is thoroughly dominating Arizona's offensive line, especially in passing situations. The Vikings have sacked Kurt Warner twice, but they've rushed a half-dozen of his throws and are hitting him regularly. (An aside: When are the Cardinals going to realize they can't leave left tackle Wayne Gandy alone on defensive end Jared Allen)? With such a big deficit, you figure the Vikings are going to come after Warner for the entire second half with no fear of the running game. We call that "pinning your ears back" in the business.
It's hard to tell if the Vikings have pulled back on their downfield passing game because of the score or their change in quarterbacks, but it's been noticeable. Tarvaris Jackson made a couple of nice early throws to receiver Bernard Berrian, but for the most part the Vikings are relying Adrian Peterson (104 yards) and Chester Taylor (46). And based on how the game has gone, you can't argue with the intent or results.
No matter how this game turns out, the Vikings can't clinch the NFC North on Sunday. But if they hold on for a win over the Cardinals, the Vikings' "magic number" will be 1. That means they could clinch the division with any combination of a victory or loss by Chicago.

December, 12, 2008
12/12/08
3:20
PM ET
Posted by ESPN.com's Mike Sando
The Bears' victory over the Saints on Thursday night puts additional pressure on Minnesota to beat the Cardinals in Week 15. Arizona should feel some urgency, too.
Beating the Vikings would help the Cardinals secure the third seed instead of the fourth seed in the NFC playoff race. If the Cardinals won their wild-card game as the third seed, they would avoid the top-seeded team in the divisional round.
The difference could be between facing the Giants at the Meadowlands, where I would give Arizona little chance at victory, or facing the Panthers at Carolina, where the Cardinals built a 17-3 lead in Week 8 and nearly won the game.
Kurt Warner passed for 381 yards, two touchdowns and a 99.1 rating against the Panthers, completing 71 percent of his passes. The Giants held Warner to one touchdown pass, a 79.9 rating and a 61.5 percent completion rate.
December, 2, 2008
12/02/08
5:55
PM ET
Posted by ESPN.com's Mike Sando
The NFL's decision to suspend six players for four games apiece should help the Cardinals jump-start their ground game.
Kevin Williams and Pat Williams, the Vikings' often-immovable defensive tackles, were among the six players suspended. That means neither will play when Minnesota visits University of Phoenix Stadium for a Week 15 game against the Cardinals.
The other suspended players -- Charles Grant, Will Smith and Deuce McAllister of the Saints and Bryan Pittman of the Texans -- do not face NFC West teams over the final four games.
The suspensions also disqualify the six players from consideration for the Pro Bowl, which could help the Cardinals' Darnell Dockett earn a spot. Both Williamses earned Pro Bowl berths after the 2007 season. Dockett participated in the game as an alternate after the Bears' Tommie Harris withdrew from the game.
(Note: ESPN's Chris Mortensen reports that at least one player is planning to file for an injunction in U.S. District Court on Wednesday morning.)