NFL Nation:

Vince Ferragamo
February, 8, 2014
Feb 8
11:00
AM ET
The Super Bowl is done so the season is officially over. Let's get our Twitter mailbag going ...


January, 29, 2014
Jan 29
12:00
PM ET
ALAMEDA, Calif. -- Former
Oakland Raiders
receiver
Tim Brown
assuredly has Hall of Fame-worthy stats.
When he retired, following the 2004 season, Brown ranked second in NFL history in receiving yards (14,934), third in receptions (1,094) and tied for third in receiving touchdowns (100), figures that, nine years later, rank sixth, fifth and tied for seventh.
Plus, the nine-time Pro Bowler, who was twice selected as a kick returner, ranked fifth in league history with 19,682 combined net yards.
And still, this is the fifth time Brown has been a finalist.
A year ago, in the wake of his "sabotage" comments about former Raiders coach Bill Callahan and Super Bowl XXXVII again coming to the forefront, Brown was among the first wave of cuts when the 46 Hall selectors reduced the finalists from 17 to 12. Receiving contemporaries
Cris Carter
and
Andre Reed
made that initial cut with Carter being voted into Canton.
Now, Brown not only faces competition as a receiver from Reed again, but
Marvin Harrison
is also a finalist. Plus, former Raiders punter Ray Guy is also one of two senior candidates, and 15 of the past 18 such nominees have been elected.
In a certain pecking order, it would seem that Reed is ahead of Brown, based on last year's vote. And Harrison could be a first-ballot Hall of Famer. A look, then, at the trio's career pass-catching numbers:
Harrison:

1,102 receptions, 14,580 yards, 128 TDs, 190 games, 13 seasons.

Reed:

951 receptions, 13,198 yards, 87 TDs, 234 games, 16 seasons.

Brown:

1,094 receptions, 14,934 yards, 100 TDs, 255 games, 17 seasons.
Then there's this: Reed, an eight-time Hall finalist who caught his first career TD pass from Vince Ferragamo on Sept. 22, 1985, played in four Super Bowls, while Harrison won a ring in 2007. Brown, meanwhile, caught just one pass, for nine yards, in the Raiders' 48-21 loss to the
Tampa Bay Buccaneers
in Super Bowl XXXVII.
Still, a case could be made that Brown's accomplishments are more noteworthy considering the motley assortment of quarterbacks he had throwing him the ball. Meanwhile, the bulk of Reed's and Harrison's careers were spent catching passes from future Hall of Famers in
Jim Kelly
and
Peyton Manning
.
Brown? From Brown's rookie season of 1988 in Los Angeles through his last year in Oakland in 2003, the Raiders had 12 starting quarterbacks --
Steve Beuerlein
,
Jay Schroeder
,
Vince Evans
, Todd Marinovich,
Jeff Hostetler
,
Billy Joe Hobert
,
Jeff George
,
Donald Hollas
,
Wade Wilson
,
Rich Gannon
,
Rick Mirer
and
Marques Tuiasosopo
.
In the Bay Area, many Brown supporters say he would have had
Jerry Rice
's career had he played in San Francisco with 49ers quarterbacks
Joe Montana
and
Steve Young
.
There are 22 receivers enshrined in Canton, and Brown's career intersected or missed by two years with eight of them -- Carter, Michael Irvin, Charlie Joiner, Steve Largent, James Lofton, Art Monk, Jerry Rice and John Stallworth. Of that group, Brown's career receiving yardage is higher than all but Rice and only Rice and Carter had more TD catches than Brown, whose 100 equaled that of Largent in that era.
But if the Hall simply is a case study in stats, then yes, Brown deserves to rock a yellow jacket. It just seems like Brown is in for a wait, especially with
Terrell Owens
and
Randy Moss
coming down the pike soon and selectors seeming to have a relatively short memory.
Or have you forgotten that former
Pittsburgh Steelers
receiver Lynn Swann was a 13-time finalist before his 14
th
year was the one?
Which brings us back to other -- if not just as worthy but perhaps even more deserving -- Raiders candidates than Brown, whose Heisman Trophy at Notre Dame matters not in this discussion.
Guys like, well, Guy, a punter who revolutionized the game. And Tom Flores, who was the first minority coach to win a Super Bowl and actually has four rings. And Jim Plunkett, who won two Super Bowls and has a comeback story for the ages. And Cliff Branch, who has three rings. And Lester Hayes, a four-time Hall finalist who once had 13 interceptions in a season. And Ken Stabler, a former league MVP. And Dave Dalby, who was a starting center on three title teams. And Steve Wisniewski, a first-time semifinalist this year.
Alas, in an era in which the receiver pipeline to Canton seems clogged, Brown's proponents should seemingly push his early-career success as a kick returner as he had a combined 1,542 return yards as a rookie -- his first career touchdown was a 97-yard kickoff return -- and he finished his career with a combined 4,555 yards with four TDs returning kickoffs (one) and punts (three) while rushing for another score.
The Raiders currently recognize 21 Hall of Famers to have played for them in
Marcus Allen
, Fred Biletnikoff, George Blanda, Bob Brown, Willie Brown, Dave Casper, Al Davis,
Eric Dickerson
, Mike Haynes, Ted Hendricks,
James Lofton
,
Howie Long
,
Ronnie Lott
, John Madden, Ron Mix, Jim Otto, Jerry Rice,
Warren Sapp
, Art Shell, Gene Upshaw and
Rod Woodson
.
August, 7, 2013
8/07/13
4:00
PM ET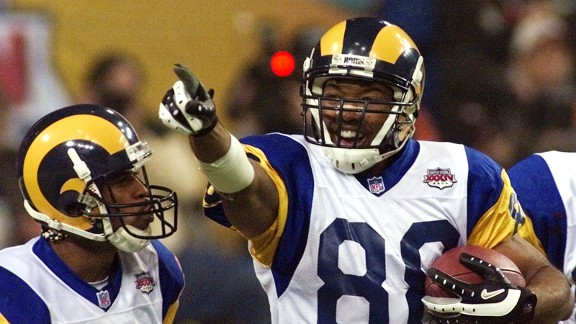 AP Photo/Chuck BurtonAfter years of feeling unwelcome by their old franchise, former Rams greats such as Torry Holt are making their way back to Rams Park at the invitation of St. Louis coach Jeff Fisher.
EARTH CITY, Mo. -- Standing between two fields at Rams Park watching practice on Monday afternoon was a group that might as well have been a part of a reunion for Super Bowl XXXIV.
Former Rams receivers
Torry Holt
and
Isaac Bruce
chatted it up with former Tennessee cornerback
Samari Rolle
, who is working in the team's coaching internship program. That trio was joined at various times by
Lance Schulters
, another former Titans defensive back in the internship program,
La'Roi Glover
, a former Rams defensive tackle and now the team's director of player programs, and former Rams tackle
Grant Williams
.
The sight of former Rams is nothing new around the team's training facility these days. Since Jeff Fisher took over as coach in Jan. 2012, he's made it abundantly clear that he's happy to welcome back former players who might want to offer some advice to his young team or who might just want to watch practice.
In the two weeks since camp started, other former Rams such as defensive back
Aeneas Williams
, safety
Keith Lyle
and linebacker
Chris Draft
have stopped by. It's not limited to Rams alumni, either. In addition to Schulters and Rolle, former Titans linebacker
Keith Bulluck
was also in town for a couple of days.
While it might be nothing new for Fisher to open the doors to past Rams, it does represent something of a departure from how things were in the not-too-distant past.
"This is home," Holt said. "I should feel comfortable and good when I come here. Myself and others, we did a lot for this organization. So it feels good to be able to step back out on this field and not be looking over your shoulder or feel like you're stepping on anybody's toes and then to be able to provide information for guys to improve their game. It's not about us, it's just about sharing what we've learned to make this organization better and try to bring back championships to this organization."
That's a feeling that Holt shared with plenty of other former Rams who didn't feel welcome or comfortable about being at Rams Park on a regular basis.
In 2011, Rams Hall of Famer Jack Youngblood told ESPN's Arash Markazi that he didn't feel like he had any connection to the team he once played Super Bowl XIV with while nursing a broken leg.
"We are their legacy but they forgot us," Youngblood said then. "They don't have anything to do with us, really. I find that unfortunate because you look at other franchises, even those that have moved, and they use their alumni in their marketing and in their organization. They use their Hall of Famers as an example for the players who are there today. They use their alumni, but the Rams have cut us out of the picture."
At the time, the Rams had begun to make inroads in their alumni program, which has taken off in recent years. As part of those efforts, the Rams signed Holt and Bruce to one-day contracts so each could retire as Rams. Most notably they welcomed back 20 prominent players from their past to celebrate the team's 75th anniversary last December.
Included in that group were a number of Los Angeles Rams, including Rosey Grier, Vince Ferragamo, Dennis Harrah,
Jackie Slater
, LeRoy Irvin and Youngblood.
That's just the tip of iceberg. Holt is back in St. Louis this week in preparation for his work as a color analyst on the team's preseason broadcasts. He joins another former Ram, Hall of Fame running back
Marshall Faulk
, in the booth for those duties.
Fisher's open-door policy should come as no surprise given his experience in the league. He's entering his 28th year coaching in the NFL and his 18th as a head coach.
Surrounded by a veteran staff with plenty of experience of its own, Fisher is undeniably comfortable in his own skin. The paranoia that can sometimes accompany first-time head coaches has long since evaporated and Fisher clearly views the opportunity to bring in any former player with wisdom to share as a positive for a team that again figures to be one of the youngest in the league.
"It feels good to be back, it feels good to be welcome and Coach Fisher gets it," Holt said. "He welcomes us. He knows the value and the importance of the guys talking to veteran guys who have been there, done it and done it at a high level because you can gain so much from that as a player. I'm thankful that I'm able to come back and coach Fisher is an excellent coach who understands the game, understands what it takes to improve his roster and he's allowing us to help out."
January, 21, 2013
1/21/13
9:00
AM ET
Count
@krisaverett
among those wondering how many quarterbacks have started Super Bowls with fewer starts on their résumé than San Francisco's
Colin Kaepernick
possesses.
Jeff Hostetler and Vince Ferragamo are the only ones with fewer than the nine combined regular-season and postseason starts for Kaepernick.
Hostetler had to compete with Phil Simms for the
New York Giants
' starting job after winning the Super Bowl as an injury replacement for Simms. He won the job heading into the next season.
Ferragamo closed the 1979 regular season with five touchdown passes and 10 interceptions after subbing for injured starter Pat Haden. He remained the starter and tossed 30 touchdown passes in 1980 before leaving the NFL to play in Canada.
December, 1, 2011
12/01/11
2:46
PM ET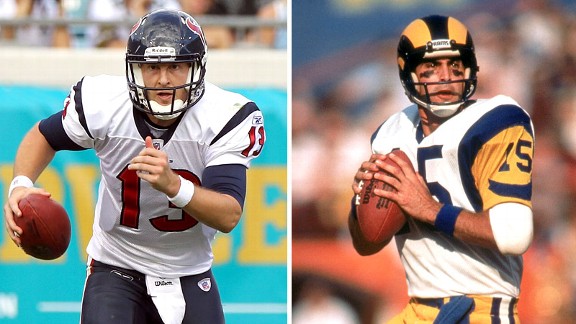 Getty ImagesHouston's T.J. Yates, left, finds himself leading a contender, as the Rams' Vince Ferragamo did in '79.
The presumption is doom.
No team with a third-string quarterback at the helm, a rookie, no less, is going anywhere.
But
T.J. Yates
and the
Houston Texans
will set about trying to disprove that theory starting Sunday against the
Atlanta Falcons
at Reliant Stadium
The Texans have lost
Matt Schaub
and
Matt Leinart
for the season in consecutive games. Now a team with the NFL's top defense and third-ranked rush offense moves forward with Yates.
In a year when
Cam Newton
,
Andy Dalton
and
Christian Ponder
have played well as full-time rookies and
Blaine Gabbert
and
Jake Locker
were top draft picks, Yates was the eighth quarterback selected and the 152nd player drafted.
He worked as the third quarterback until Schaub's injury, not dressing for games and running the scout team in practices.
Plugging him in as the lead guy is hardly something the Texans envisioned, and hardly the sort of thing seen around the league.
One team that experienced similar circumstances was the 1979 Los Angeles Rams.
After losing Pat Haden to injury in Week 10 that season and then getting an ineffective start from Jeff Rutledge in a Week 11 loss tot the
Chicago Bears
, the Rams turned over the starting job to Vince Ferragamo, then a third-year pro who had never started an NFL game before.
Ferragamo posted a 4-1 record over the remainder of the regular season as the Rams won the NFC West. They then beat the Cowboys in Dallas and the Buccaneers in Tampa Bay in the NFC playoffs before they fell to the Steelers, 31-19, in Super Bowl XIV.
Someone asked Yates, who was born in 1987, if he knew who Ferragamo was. He said no. Relayed Ferragamo's story, he said simply, "sweet."
Can Yates do anything similar?
Schaub thinks the rookie is equipped to succeed.
"The one thing that I've observed, I've been in this type of offense now … all the way back into my college days. T.J., for being a rookie, he's probably picked this offense up to the point where he can function in it well, faster than anyone I've seen, including myself, including a lot of players that I've been around," Schaub told KILT radio in Houston this week. "That's a big credit to him, because this is not an easy offense to pick up. … I, personally, have a ton of confidence that he's going to go in there and play very well."
It's not just the understanding, though. Right tackle
Eric Winston
said Yates is the most athletic of the Texans' top three quarterbacks. Matt Williamson of Scouts Inc. likes Yates' arm: "He throws the ball quite well and should be able to get the ball to where it needs to be." And everyone is talking about the youngester's calm, a key quarterback quality.
The Texans regard themselves as having supreme resolve, and they should. Their top players on offense have missed time -- receiver
Andre Johnson
was out six games with a hamstring injury and running back
Arian Foster
missed two and hardly played in one with a hamstring injury -- and outside linebacker
Mario Williams
was lost for the season with a torn pectoral muscle suffered Oct. 19 against Oakland.
Kansas City probably didn't come into the season with as much talent as the Texans. But the Chiefs won their division and appeared in the playoffs last season. This season they've lost safety
Eric Berry
, tight end
Tony Moeaki
, running back
Jamaal Charles
and quarterback
Matt Cassel
for the season along the way in their follow-up year.
They are 4-7, tied with San Diego at the bottom of the AFC West.
Houston's had far better results overcoming injuries.
The mantra is how it's about the team.
"They know how big the challenge is this weekend, but [they are a] very upbeat group, very positive group," coach Gary Kubiak said. "… It's a new world for [Yates]. Last week, he's getting more reps because he's the backup. All of a sudden, he's running the team [Wednesday] and got a lot on his plate, mentally from leaving the classroom to coming out here, but he did fine. He'll get better every day out here, and that's the most important thing. The key is everybody else making sure they do their job."
Said Yates: "Everybody around me is very confident. You can tell this team hasn't really skipped a beat as far as intensity or tempo at practice. Nothing seems different except for it's just a different guy at quarterback."
Atlanta is the toughest team the Texans will have faced in some time. It's a game they could have lost even with Schaub healthy. If they lose it with Yates it will hardly be a season-killer.
They simply need to see he can manage the game, maintain the calm they've lauded, and can make enough throws to make a defense either stay honest or pay the price for loading up the box with an eighth defender to slow Foster and
Ben Tate
.
If Yates does that, he can be enough.
If he does that, the Texans will have a chance to make us talk more about how he and the Texans can compare to Ferragamo and those Rams.
October, 8, 2009
10/08/09
11:29
AM ET

Posted by ESPN.com's Tim Graham
Miami Dolphins
head coach Tony Sparano said Monday night's game against the
New York Jets
is "not going to be for the meek."
What Sparano was getting at is that both teams have
strong defenses and love to run the ball
.
But another element that could make for a rugged night is if the quarterbacks perform commensurate with their experience.
Dolphins quarterback
Chad Henne
made his first NFL start last week and did little more than hand off. I wrote last week about the
hardships Henne might endure
against the Jets.
New York Jets rookie
Mark Sanchez
has four starts to his name and is coming off a game in which he committed four turnovers, two that were pounced on for
New Orleans Saints
touchdowns.
Their five combined starts will tie for the third fewest in the history of "Monday Night Football."
Here's the list, excluding 1987, when replacement players were used:
Five starts: Randy Wright, Green Bay Packers (four starts) versus Mike Tomczak, Chicago Bears (one start) in 1986.
Four starts: Joe Reed, San Francisco 49ers (two starts) versus Jerry Tagge, Packers (two starts).
Three starts: Vince Ferragamo, Los Angeles Rams (zero starts) versus June Jones, Atlanta Falcons (three starts).
September, 1, 2009
9/01/09
11:58
AM ET

Posted by ESPN.com staff
After surveying your team's backup quarterbacking situation, are you skeptical about the franchise's chances if the starting signal-caller is sidelined? No matter how discouraging the depth chart appears to be, keep the faith. Some of the NFL's best quarterbacking jobs were supplied by men who were second-stringers pushed into the spotlight by fate. ESPN Stats & Information compiled our top 10 single-season performances by backup quarterbacks.
Top 10 single-season performances by backup quarterbacks
Player
Team
Year(s)
Comments
1. Tom Brady

New England

2001

The NFL's No. 1 overall pick in 1993, Drew Bledsoe had started 123 of 124 games in New England. Then one hit by Jets linebacker Mo Lewis in Week 2 of the 2001 season pushed a somewhat unknown QB into the starting role. Former Michigan star Tom Brady -- a sixth-round pick in the 2000 draft who did not play his rookie season -- led the Patriots to their first Super Bowl title in franchise history.

2. Kurt Warner

St. Louis

1999

When Trent Green went down with a season-ending knee injury in the 1999 preseason, journeyman Warner -- who had 11 career NFL pass attempts to his credit -- became his replacement. A veteran of the Arena League and NFL Europe, Warner went from football footnote to NFL and Super Bowl MVP that season, throwing 41 touchdown passes.

3. Jeff Hostetler

N.Y. Giants

1990

Phil Simms had been in control of the Giants' offense since 1984, leading the team to a win in Super Bowl XXI. With another title in reach, Giants fans winced as Simms suffered a sprained foot in Week 14 of 1990. In stepped Hostetler, who had started only two previous games. Five wins later, the Giants had a second Super Bowl triumph.

4. Earl Morrall

Baltimore Colts/Miami


1968, 1972

Morrall is the only man on this list with two memorable backup performances. Stepping in for an injured Johnny Unitas in 1968, Morrall proceeded to lead the Colts to a 13-1 record, an NFL championship and a berth in Super Bowl III. He earned NFL MVP honors along the way. In 1972 with the Dolphins, Morrall took over for the injured Bob Griese and was at the helm for 11 wins during the Perfect Season.

5. Doug Williams

Washington

1987

In 1987, Doug Williams made only two regular-season starts for the Redskins, losing both. But he came on in relief three other times, winning all three games. Before the playoffs, he replaced Jay Schroeder as the team's starter and led Washington to Super Bowl XXII. Despite missing two plays with a knee injury, Williams was named MVP with a then-Super Bowl record 340 pass yards.

6. Jim Plunkett

Oakland

1980

In the 1971 NFL draft, the New England Patriots made former Stanford star Jim Plunkett the first overall selection. But by 1980, Plunkett had been let go by two teams and was sitting on the bench for the Raiders. In the fifth game of the year, starter Dan Pastorini suffered a broken leg. Plunkett won nine of his 11 regular-season starts, then led the Raiders to a win in Super Bowl XV, the first for a wild-card team.

7. Trent Dilfer

Baltimore

2000

After six years with the Tampa Bay Buccaneers, five as a starter, Trent Dilfer signed with the Ravens as a free agent in 2000. But four weeks without a touchdown in the middle of the season forced Ravens coach Brian Billick to sit Tony Banks and insert Dilfer. Dilfer lost his first start, but won the next 11, including Super Bowl XXXV.

8. Jake Delhomme

Carolina

2003

Former NFL Europe QB Delhomme enjoyed some success with the New Orleans Saints before signing with the Panthers as a free agent in 2003. After Rodney Peete proved ineffective in the first half of the season opener, Delhomme took over in the second half trailing 17-0. Not only did he lead the Panthers to a comeback win in that game, he won the starting job. His Cinderella season ended with the Panthers' first Super Bowl berth, a last-minute loss to the New England Patriots.

9. Vince Ferragamo

L.A. Rams

1979

The Los Angeles Rams were unable to find two things for most of the 1970s: playoff success and quarterback stability. In 1979, Pat Haden started the first 10 games, going 5-5 before breaking a finger on his throwing hand. Starting the final five games of the season, Vince Ferragamo went 4-1, and then won two playoff games to lead the Rams to their first Super Bowl appearance.

10. Norm Van Brocklin

L.A. Rams

1951

With two eventual Hall of Famers, it's no wonder the 1951 Rams sought to get both Bob Waterfield and Norm Van Brocklin into games. As the season progressed, Waterfield was starting the games, including the 1951 NFL Championship. But in that one, it was Van Brocklin who supplied the game-winning 73-yard touchdown pass to Tom Fears.
January, 12, 2009
1/12/09
10:49
AM ET
Posted by ESPN.com's Mike Sando
| | | |
| --- | --- | --- |
| Team | Record | Championship Game Result |
| 2008 Cardinals | 9-7-0 | Cardinals vs. Eagles |
| 2008 Eagles | 9-6-1 | Eagles at Cardinals |
| 1996 Jaguars | 9-7-0 | Patriots 20, Jaguars 6 |
| 1995 Colts | 9-7-0 | Steelers 20, Colts 16 |
| 1989 Browns | 9-6-1 | Broncos 37, Browns 21 |
| 1987 Vikings | 8-7-0 | Redskins 17, Vikings 10 |
| 1984 Steelers | 9-7-1 | Dolphins 45, Steelers 28 |
| 1983 Seahawks | 9-7-1 | Raiders 30, Seahawks 14 |
| 1979 Rams | 9-7-0 | Rams 9, Bucs 0 |
| 1977 Vikings | 9-5-0 | Cowboys 23, Vikings 6 |
| 1973 Raiders | 9-4-1 | Dolphins 27, Raiders 10 |
| 1971 49ers | 9-5-0 | Cowboys 14, 49ers 3 |
| 1970 Raiders | 8-4-2 | Colts 27, Raiders 17 |
The greatest teams in NFL history exist in our memories. They certainly aren't participating in the playoffs this season.
Exhibit A, courtesy of ESPN Stats & Information: The Eagles-Cardinals NFC Championship will be the first conference championship game in a non-strike season to feature two teams who won fewer than 10 games in the regular season.
The chart shows how teams with fewer than 10 regular-season victories fared in championship games since 1970. We excluded the 1982 strike season because teams played only nine games.
The 1979 Rams were the last NFL team to win a conference championship game after finishing a regular season with fewer than 10 victories (they were 9-7). The Cardinals or Eagles will join them. Those 1979 Rams suffered a 31-19 defeat to the Steelers in Super Bowl XIV despite the efforts of Vince Ferragamo, Wendell Tyler, Cullen Bryant, Preston Dennard, Billy Waddy, Nolan Cromwell and Jack Youngblood.
NFL SCOREBOARD
Thursday, 10/30
Sunday, 11/2
Monday, 11/3
WEEKLY LEADERS