NFL Nation:

Vinston Painter
February, 27, 2014
Feb 27
7:00
AM ET
During the league's scouting combine this past week,
Denver Broncos
executive vice president of football operations/general manager John Elway gave a clear, unvarnished opinion of how the team will approach its own group of soon-to-be free agents.
That is, the team won't approach them. At least not out of the gate. At least not before those players can see if the bank accounts are greener on the other side of the fence.
"I think they have to hit the market, the market sets those," Elway said. "Especially where you look where we are and what we have coming up."
[+] Enlarge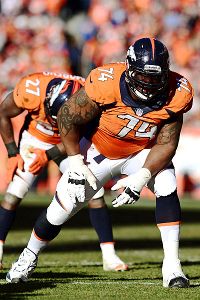 Ron Chenoy/USA TODAY SportsThe Broncos may turn to Orlando Franklin if left guard Zane Beadles leaves in free agency.
The Broncos have
Demaryius Thomas
,
Julius Thomas
and
Von Miller
also poised for free agency following the 2014 season, so that will impact how the Broncos divvy up the checks this time around as well. It also means the Broncos aren't interested in starting the bidding for guys like wide receiver
Eric Decker
, running back
Knowshon Moreno
and guard
Zane Beadles
. And it means, unless the three don't draw much interest in the open market the Broncos have given some consideration to what they would do if they move on.
Beadles' departure would force changes in the offensive line that the Broncos are expected to take on in house. With so many needs on defense, any significant dollars spent in free agency will address issues there. The coming draft class is expected to have a heavy defensive flavor as well.
Up front Beadles has started the last 62 regular season games for the Broncos and has played in every game -- 64 in the regular season as well as six playoff games -- of his career. If he leaves as expected, the Broncos would be inclined to take another look at
Orlando Franklin
at guard.
While Franklin has spent his time with the Broncos at right tackle, many teams believed he would be a better guard in the NFL when he was drafted in 2011. The Broncos have worked him occasionally on the inside during practice with the idea a move would be in his future.
Franklin is a power player and with
Louis Vasquez
at right guard, a move to the left guard spot for Franklin would give the Broncos the kind of bulk on the inside they want in front of quarterback
Peyton Manning
. If the Broncos are going to play as much in three-wide receiver sets as they have in Manning's two seasons behind center they have to be able to stone-wall defenses in the middle of the field.
Manning's post-surgery throwing motion is very pronounced in the lower body and he needs a well-constructed pocket to get the ball away with his best available velocity on the throw.
Any move to guard for Franklin would mean the Broncos would also need a right tackle to replace him. And they believe that, too, can be done with the players already in their locker room. Especially with left tackle
Ryan Clady
on schedule to be full speed by training camp -- he recently had the pins and screws removed from his surgically-repaired foot -- the Broncos will have their best lineman back in his customary spot.
"Ryan's doing well," Elway said. "We feel very good about where he is."
Clady's return alone is the balm the Broncos need to address much of the pass protection issues they had at times. This was especially true against the more physical four-man fronts they faced this past seaosn, including in their loss in Super Bowl XLVIII. Clady's return would free them to move
Chris Clark
, who started for Clady after he was lost for the year in Week 2, to right tackle. The Broncos also feel optimistic enough about
Vinston Painter
's development to have projected him as a potential starter at right tackle in the future.
Painter, who has spent plenty of post-practice time working with offensive line consultant Alex Gibbs, was a sixth-round pick in last April's draft. The Broncos had to promote him from their own practice squad to the 53-man roster in January when the
San Francisco 49ers
were set to sign him.
So, the Broncos will still take a look at some guards in the draft, perhaps even a right tackle, but overall with Beadles expected to get his best offer elsewhere, they will be set to quickly respond to that departure with players already on the roster.
September, 2, 2013
9/02/13
1:00
PM ET
As much as everyone in the locker room hopes the roster is "set'' when the cuts are made to get to 53, it is always a fluid situation when it comes to how things shake out over the course of a season.

But the Broncos' first-year class fared OK as it exited the preseason and is poised for Thursday's opener. With that in mind, here's the rookie report, a weekly check-in with how Denver's first-year class on offense is doing:
Running back Montee Ball:
Ball figures to get the most work of any
Denver Broncos
first-year player as the season unfolds. At least that's what he wants, and the Broncos have him squarely in the rotation. And it will be a rotation, uneven at times, with the carries being handed out with the ebb and flow of each game. Ball was held out of the preseason finale, so many have presumed since the starters were held out of that game, he is the starter. However, tread lightly there fantasy footballers,
Knowshon Moreno
was held out of the game as well, and
Ronnie Hillman
was given two carries simply because they wanted him to have a re-set after three fumbles -- two were recovered by the opponent and returned for touchdowns -- in the previous two preseason games combined. Ball will get the rock, but at least for now, so will Hillman, and Moreno is the most consistent pass-protector as the third-down down guy, and it will be tough to predict how the carries go for quite some time.
Quarterback Zac Dysert:
All through training camp Dysert said he wanted to make it tough for the team not to keep him. He did just that, showing some good poise, mobility and chucked it around for 163 yards and a touchdown against the Cardinals to close out the preseason. With the number of players who were claimed on waivers this year after the cuts to 53 -- teams were claiming five, six and seven players -- it might have been difficult to get Dysert through waivers so the Broncos could bring him back to the practice squad. So, they elected to keep three quarterbacks for the second time in the three-year John Elway/John Fox tenure. As Fox put it; "I think it's a key position in this league. Finding young ones to develop is not easy. Obviously, we felt (Dysert) was one of our 53 top guys. I don't think you can ever have too many of those guys … He earned it."
Running back C.J. Anderson:
He was the only undrafted rookie the team kept on offense, but it was the 10
th
consecutive year an undrafted rookie has made the initial cut to 53 players. He's still recovering from a severe MCL sprain suffered in practice following the preseason opener, but at 224 pounds, he gives the Broncos the big back they want and showed enough in one preseason game, and the practices leading up to it, that they kept him even though he isn't ready to see the field right now.
Practice squad:
Wide receiver
Tavarres King
, a fifth-round pick, and tackle
Vinston Painter
, a sixth-round pick, were waived, cleared waivers and signed back to the practice squad. King's talent puts him among the team's top 53 players, but his work habits were inconsistent enough for them to waive him. Painter is an athletic tackle prospect who just needs some time to develop.
August, 31, 2013
8/31/13
6:40
PM ET
Most significant move:
It was a tough couple days for some of the Broncos' younger players. After retaining the bulk of their draft classes in the first two years on the job for John Elway and John Fox, the Broncos waived four former draft picks Saturday. Three were from the two Elway/Fox classes, when they trimmed the roster to 53 players.

Center/guard
Philip Blake
(fourth round in 2012),
Jeremy Beal
(seventh round in '11), wide receiver
Tavarres King
(fifth round in '13) and tackle
Vinston Painter
(sixth round in '13) were all let go. King, who spent much of training camp and the preseason working with the second-team offense, likely lost his spot when the Broncos kept 11 defensive backs and three quarterbacks, including rookie
Zac Dysert
.
King and Painter are practice squad possibilities if they clear waivers.
"As you get better -- you never want to release anybody -- but as you get better, you have fewer slots,'' Elway said. "That's the situation that we're running into.''
Eleven's a crowd:
In 2011, the first year of Elway's tenure as the Broncos' top football decision-maker, the Broncos kept nine defensive backs when they cut the roster to 53. Last year they kept 10 -- five cornerbacks, five safeties.
This year, with needs on special teams carrying the day, they kept 11 defensive backs, six cornerbacks and five safeties. The Broncos, like many teams in the league, have gone to more defensive backs on special teams, taking several jobs in coverage units that used to go to linebackers.
"You have to look at special teams too, what guys do on special teams," Elway said. "… So, those are the type things that a lot of people don't think comes into the equation but what you do on fourth down is part of it."
As a result the Broncos are little light at wide receiver, with just five including returner
Trindon Holliday
. Holliday played just seven snaps on offense last season after joining the Broncos in October. They team will likely to expand his role slightly this season.
What's next:
They are reasonably healthy after an offseason filled with drama, but it remains to be seen if they can consistently generate a pass rush without Miller and if they can consistently protect quarterback
Peyton Manning
when they play their preferred three-wide receiver look on offense.
But Elway likes the choices they made.
"The bottom line is we kept the best 53,'' Elway said. "Everyone says you want to win now, and I say we want to win now on.''
Broncos cuts/moves:
RB
Lance Ball
, C/G
C.J. Davis
, RB
Jeremiah Johnson
, C/G
Ryan Lilja
, TE Jake O'Connell, DE Jeremy Beal, C/G Philip Blake, T
Paul Cornick
, DT
Romney Fuga
, DT
Ben Garland
, CB
Aaron Hester
, LB
Damien Holmes
, WR
Tavarres King
, T Vinston Painter, S
Ross Rasner
, WR
Gerell Robinson
, WR
Lamaar Thomas
, DE
John Youboty
. DE
Quanterus Smith
, LB
Stewart Bradley
, LB
Lerentee McCray
were placed on injured reserve. LB
Von Miller
was placed on reserve/suspended.
August, 29, 2013
8/29/13
6:30
AM ET
The
Denver Broncos
, like the rest of the league, will tie a bow on the preseason Thursday night. Most of the team's regulars will get the night off against the visiting
Arizona Cardinals
, but decisions still need to be made at a few spots at the back end of the roster.
With that in mind, some things to keep an eye on:


One of the most difficult spots for the Broncos to make cuts ahead of Saturday's deadline to pare the roster to 53 players -- the bulk of which will come Friday -- will be in the secondary.
The Broncos kept nine defensive backs on the opening-weekend roster in 2011 and 10 last season -- five cornerbacks and five safeties. The issue this year is that Denver has two young, homegrown cornerback prospects in
Omar Bolden
and rookie
Kayvon Webster
, who have shown themselves to be worthy of the roster and would raise the overall athleticism at the position.
With
Champ Bailey
,
Dominique Rodgers-Cromartie
,
Rahim Moore
,
Duke Ihenacho
,
Chris Harris
,
David Bruton
and
Tony Carter
having worked in the top seven slots all through the preseason, that doesn't leave room for Webster, Bolden,
Mike Adams
and
Quentin Jammer
to all make it.
If the Broncos stick with nine players in the secondary, they are essentially choosing between youth and experience for those final two spots. If they keep an extra cornerback, however, it may be an indication they feel they need to open the season with some insurance for Bailey's foot injury.
Unless Denver takes the uncharacteristic step and keeps 11 defensive backs, Bolden and Webster both figure to play plenty against the Cardinals to state their cases.
Brock Osweiler is slated to get the start at quarterback behind what is largely a backup line. That has been a tough combination thus far in the preseason for Osweiler, who has been sacked eight times in the three previous games behind the reserves. It makes it difficult for the Broncos to work out of the three-wide look as much as they'd like given that they haven't consistently protected the quarterback in it -- even when the starters have been in the game -- this preseason. If things get dicey they might have to go big again, as they did last weekend against the Rams. After opening the game with three wide receivers and allowing too many rushers to get too close to Peyton Manning, the Broncos went to a two-tight-end look. They lined up in a two-tight-end look on 29 of the next 35 plays after the opening three-and-out, including all 12 in a drive that ended with a blocked field goal. The Broncos might feel like they need to give Osweiler a little more beef up front.

The last few rosters spots will be decided on special teams, and the Broncos could use a good showing there. In the past two games they have surrendered a 107-yard kickoff return for a score, a 33-yard punt return, an 81-yard punt return and seen a field goal blocked. Many of the Broncos' youngest players will have a chance to help their causes against Arizona, with Denver special-teams coach Jeff Rodgers looking for those who display speed and smarts.

[+] Enlarge

AP Photo/Eric BakkeCornerback Kayvon Webster, a third-round pick, gets a last chance tonight to show he deserves a roster spot.

The Broncos have lost five fumbles in three preseason games -- two by Osweiler, two by Ronnie Hillman and one by Julius Thomas. Hillman is not expected to play Thursday, but things need to be cleaned up. Lance Ball and Jacob Hester figure to get some work as the Broncos face some tough decisions at running back as well. Hester has not had a carry in the preseason and is the only back that has lined up at fullback thus far.

The Broncos have to sort things out in the offensive line, where they kept nine players in both 2011 and last season. After the starting five -- Ryan Clady, Zane Beadles, Manny Ramirez, Louis Vasquez and Orlando Franklin -- the Broncos need a swing tackle, likely Chris Clark, and a swing guard/center or two, with Ryan Lilja, Steve Vallos and Philip Blake in the mix. Blake, a fourth-round pick in 2012, has been headed the wrong way on the depth chart -- the Broncos didn't even work him much at center in the preseason, a position he played in college and one they originally drafted him for. Blake is decidedly on the bubble -- a long way down for a player some believed was pushing to start before a thumb injury ended his rookie season. He has regressed since that point, so he's either not getting the message about the changes in the offense or is not reacting well to the coaching he's getting. Rookie tackle Vinston Painter has shown the kind of athleticism that deserves a roster spot, but the Broncos may be in a position where they have to hope he makes it through waivers so they can sign him to their practice squad. Lilja is a tough call, too. Denver certainly likes him in the offense, but he had microfracture surgery on his knee just a few months ago and has missed significant amount of practice time of late because of the knee.

Rookie quarterback Zac Dysert will likely get his most significant work of the preseason. Dysert has shown some quality scrambling skills in practice, so he could have an entertaining down or two if he gets loose. He projects to the practice squad, but the Broncos would like to see some better accuracy from the pocket, especially in the shorter and intermediate routes.

Linebacker Lerentee McCray and wide receiver Lamaar Thomas are the undrafted rookies with the best chance to make the final 53 -- especially McCray. If the Broncos don't keep McCray, there are at least two other teams that would consider signing him. He's a big-bodied linebacker who, while not always showing good instincts, has the ability to disrupt an offense and closes to the ball with speed and intent.
August, 10, 2013
8/10/13
6:20
PM ET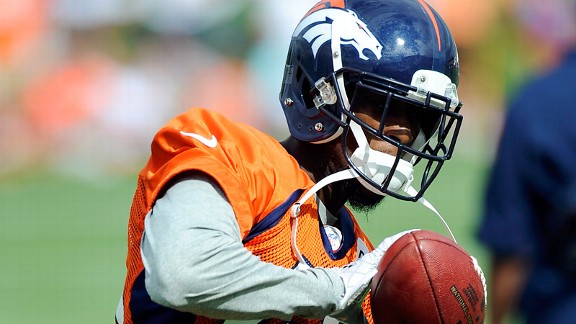 AP Photo/Jack DempseyDominique Rodgers-Cromartie practiced Saturday for the first time since spraining his ankle July 31.
The
Denver Broncos
looked at the available cornerbacks in the offseason and saw
Dominique Rodgers-Cromartie
as a still-in-his-prime, high-value target. Personnel boss John Elway went so far as to call him a "Pro Bowl talent."
Rodgers-Cromartie looked at his available options in free agency and saw the Broncos as a Super Bowl contender, making the decision to sign what is essentially a one-year deal something he called "really a no-brainer."
And how all this works out for both sides likely will depend on how cooperative Rodgers-Cromartie's left ankle is in the coming weeks and months. Rodgers-Cromartie returned to the practice field Saturday for the first time since suffering a high ankle sprain July 31 during practice.
"It's good to be back ... I'm just easing my way back in," Rodgers-Cromartie said. "I'm just trying to get a feel for it, some days you feel good, some days you don't."
It is often a notoriously difficult injury for a player to shake, especially at a position like cornerback where top-flight speed and the ability to change direction in the open field are integral parts of the job. It is the kind of injury that also resurfaces at times if a player lands awkwardly on the same spot.
And there is the matter that Rodgers-Cromartie previously suffered what he said were torn ligaments in the same ankle earlier in his career, during the 2011 season in Philadelphia.
Certainly the Broncos can function without Rodgers-Cromartie in the lineup -- they simply play their 2012 rotation, with
Chris Harris
as the starting right cornerback. In nickel and dime looks, Harris then moves inside to the slot and
Tony Carter
lines up outside.
But Rodgers-Cromartie gives them the size -- 6-foot-2, 193 pounds -- and speed they want in an outside corner. He would also allow the Broncos use Harris almost exclusively in the slot and keep size on the outside when they do go to the specialty looks. (Harris is 5-10 and Carter checks in at 5-9.)
The Broncos have not expressed concern about Rodgers-Cromartie over the long haul, but the injury, as well as his recovery, will bear watching as the team works toward the regular-season opener.
Before their bye in Week 9 the Broncos will face a cast of quarterbacks that includes
Joe Flacco
,
Eli Manning
,
Tony Romo
,
Andrew Luck
and
Robert Griffin III
. They are going to spend plenty of time in the nickel and dime -- they played the nickel over 60 percent of the defensive snaps last season -- and certainly want Rodgers-Cromartie in that mix.
August, 7, 2013
8/07/13
4:34
PM ET
ENGLEWOOD, Colo. -- Despite the Broncos' recent run of 30-something signings -- offensive linemen
Dan Koppen
and
Ryan Lilja
to go with defensive back
Quentin Jammer
in late May -- the key to remaining a Super Bowl contender and managing some coming salary-cap dilemmas will be how well they draft and develop those draft picks.
Or as Tony Dungy often said during his coaching career; "you can't be afraid of young players."
After all this is a team with 33.4 percent of its cap space in 2013 devoted to three players (
Peyton Manning
with a $17.5 million cap figure,
Ryan Clady
at $12.6 million and
Champ Bailey
at $11 million).
In light of that, we will be doing a weekly check-in with how the team's first-year players are doing. Let's get to it:
THE DRAFT CLASS
Defensive tackle Sylvester Williams.
The Broncos' first-rounder was slowed early in camp with a knee injury that cost him a few days worth of practices, but it's clear the Broncos have plans for him in their pass-rush looks early on. Williams has most often lined up as
Terrance Knighton
's backup on the nose in the team's base 4-3 look. But when defensive coordinator Jack Del Rio goes to the specialty looks that feature a variety of fronts, Williams has been in the mix with the regulars. At least early on, he figures to play on longer-yardage situations most often.
[+] Enlarge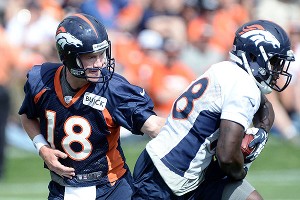 Ron Chenoy/USA TODAY SportsSecond-rounder Montee Ball, right, could be a red zone threat for the Broncos.
Running back Montee Ball.
Ball has consistently said he "attacked'' the playbook before training camp as well as in his limited free time since the team began its preseason work. He is already at the top tier of the rotation in the run game -- a No. 1B to
Ronnie Hillman
's No. 1A status. Ball cannot match Hillman's speed or big-play ability. But Ball has good vision, quick feet and
has shown the team better hands in the passing game than some scouts believed he had. Ball is also bigger than Hillman -- Ball weighs about 214 pounds compared to Hillman's 195 -- so could appear in some scoring situations deep in the red zone. But Ball will have to continue to progress in pass protection to see work in longer-yardage situations.
Cornerback Kayvon Webster.
Webster has shown good speed in practices thus far and a willingness to match up in both press coverage and play with awareness off the ball in zone. But he also finds himself at one of the more crowded spots on the depth chart. Champ Bailey,
Dominique Rodgers-Cromartie
,
Chris Harris
,
Tony Carter
and
Omar Bolden
are ahead of him at the moment. Rodgers-Cromartie will miss some time with an ankle injury so Webster will get the benefit of some additional practice snaps in the coming weeks.
Defensive end Quanterus Smith.
Smith is coming back from surgery to repair a torn ACL he suffered in the 10th game of the 2012 season at Western Kentucky. The Broncos worked him back slowly through the offseason program. Other than one practice he left early because of the knee, he has practiced fully throughout training camp. The Broncos believe -- and he has shown it in practice thus far -- that he can contribute immediately as an edge player in some of their nickel and dime packages. He has worked as the No. 3 right defensive end in most team drills behind
Robert Ayers
and
Shaun Phillips
but has moved up the ladder when the team goes to its long-yardage groupings.
Wide receiver Tavarres King
. On another team or in another situation, King would have the potential to be a rookie of notice league-wide. But he arrived to a team with plenty of veteran production at wideout in
Demaryius Thomas
,
Eric Decker
and Wes Welker. King, who played a school-record 56 games at Georgia, has shown a savvy about how to conduct himself in practice to go with upper-level ball skills, an understanding of a complicated offense and the ability to make plays in traffic. He was slowed during offseason workouts with a thigh injury, but has been healthy so far in camp and is making a legitimate push to be the No. 4 player at the position, especially if he can show some value on special teams in the preseason.
Tackle Vinston Painter
. When the Broncos selected Painter in the sixth round this past April, they saw an athletic project with a pile of potential. What they got was a player who has steadily worked his way up the depth chart, some by necessity because of injuries and some because he has advanced slightly more quickly than expected. Painter has worked much of the time as the backup right tackle, just behind
Orlando Franklin
. But the coaching staff showed this past week it doesn't think he's quite ready for work with the starters yet. Rather than simply elevating Painter after Franklin was injured, the coaches jumbled things up front, moving
Louis Vasquez
to right tackle in one practice and
Chris Clark
there in another.
Quarterback Zac Dysert
. There is no rush for Dysert, whose task right now is to show enough to force the Broncos to keep three quarterbacks among the final 53. He's shown mobility and the ability to improvise as things break down in front of him. But he'll need to be more accurate, especially throwing to his right as well as in the short and intermediate areas.
UNDRAFTED ROOKIES
The Broncos have had at least one undrafted rookie make the roster for nine consecutive seasons. A number of undrafted rookies have stood out as candidates to keep the streak going.
Running back
C.J. Anderson
, at 224 pounds, has flashed some quality work with the ball in his hands, especially on runs between the guards. But his attention to detail wavers at times and he has made just the kind of assignment errors that get players ushered out. He needs a quality, no-nonsense showing in the first two preseason games, especially if he can make a play or two on special teams.
Linebacker
Lerentee McCray
is one of the biggest players, at 6-foot-3 and 249 pounds, the Broncos have at the position. He had just 25 tackles in 11 starts for the Florida Gators last season, but has shown the Broncos enough to have worked as the No. 3 strongside linebacker behind
Von Miller
and Phillips. If he can do some quality special-teams work in the coming weeks that could be the difference for him, especially if Miller loses his appeal of a four-game suspension to open the regular season for violating the league's substance-abuse policy.
Wide receiver/Kick returner
Quincy McDuffie
has missed some time of late with a hamstring injury and will have a difficult time getting many quality snaps at wideout. But he has done good work in the return game and while he would not supplant
Trindon Holliday
as the team's top returner, he has certainly gotten the Broncos' attention.
May, 11, 2013
5/11/13
11:50
AM ET

Give credit to
Branden Albert
for deciding to join the
Kansas City Chiefs
on Monday.
Albert previously said he would stay away from the team until the mandatory session begin, Yet, Albert will join voluntary session. New Kansas City coach Andy Reid called Albert, and the two have come to an accord.
Expect both sides to continue to talk about coming to terms on a long-term deal. No deal is close, but both sides are interested in getting a deal done. If not, Albert will play for the $9.8 million franchise tag and be a free agent next year.
In the meantime, Albert is joining his team and putting a spring holdout behind him.
In other AFC West notes:
The draft-pick signings continue to roll in for the AFC West. Denver has signed three picks, defensive end
Quanterus Smith
, receiver
Tavarres King
and offensive lineman
Vinston Painter
. Kansas City signed center
Eric Kush
and linebacker
Mike Catapano
. San Diego has signed four of its six picks.
The Chiefs named Marvin Allen director of college scouting. He was formerly with the Falcons.

NFL SCOREBOARD
Thursday, 8/28
WEEKLY LEADERS