September, 16, 2012
9/16/12
8:04
PM ET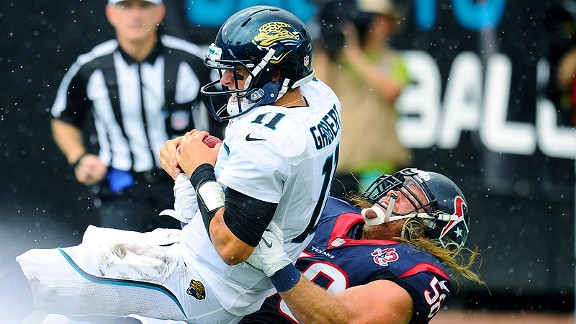 Dale Zanine/US PresswireThe Texans' D held the Jaguars to 117 yards on offense -- a new franchise low for Jacksonville.
JACKSONVILLE, Fla. -- In suffocating the division-rival
Jacksonville Jaguars
27-7
at EverBank Field, the
Houston Texans
showed many of the characteristics good football teams generally possess.
By so doing they moved to 2-0 and remained atop the AFC South, where they stand as perhaps the most clear-cut favorite to win their division.
"Two 20-point wins in the first two weeks, that's what you're supposed to do," said defensive end
J.J. Watt
, who had another sterling effort and productive stat line: four tackles, a sack-and-a-half, two batted down passes and a fumble recovery.
His teammates talked of him performing like a Pro Bowler. He said he hopes to be unavailable for the game, which would be the case if the Texans are busy preparing for a Super Bowl.
What did the Texans show us that helps make the case they could make it to New Orleans?
1) They dispatched a team that can't match their talent in relative short order, taking away any hope of an upset in a hurry. And they still weren't entirely satisfied. It was 17-0 with less than seven minutes left in the first half and felt like they could double that.
"We can be better," defensive lineman
Antonio Smith
said. "But we're a good defense. We thought we could come out with a zero, a goose egg."
2) They fared well in an area where they were not good just a week ago, showing the capacity to repair a problem in short order -- in this instance, running the ball.
"I would say [it is a sign of a good team], you've got a problem, you can fix it fast," said running back
Arian Foster
, who turned 28 carries into 110 yards and a touchdown. "But it could go back the other way, so you've got to continue to try to fix it."
3) They took advantage of another team's weak spot. The Jaguars were down two starting offensive lineman, and starting left guard
Herb Taylor
had not played in an NFL game since 2008 and was just signed on Monday.
"That was a tough road to hoe for them," defensive coordinator Wade Phillips said. "But they have a great running back and we knew that we had to keep him down, which we did."
Maurice Jones-Drew
managed 5 yards a carry, but the Jaguars couldn't feed him like they wanted to because they were 0-for-9 on third down and held the ball for just 16:43.
Not a misprint. Jacksonville's time of possession was 16:43.
"They have really, really nice benches here," Watt said of the real estate he occupied for most of the afternoon. "They have shade and they have cooling. So it was awesome that our offense could hold the ball for so long because it was relaxing over there."
Some other things I took out of the Texans' big win:
Don't expect a controversy:
Blaine Gabbert
has an injury in the back of his leg and didn't finish the game. Coach Mike Mularkey made the move to sit the quarterback sound precautionary. Gabbert didn't talk about his own leg, deferring to Mularkey because of the coach's overzealous policy that fines a player $10,000 for talking about an injury.
He was unproductive with seven completions in 19 attempts for 53 yards with three sacks and a touchdown pass. His accuracy was poor, but his receivers looked to run some bad routes too.
The protection against a top defense was weak, he was hurt by several drops and he didn't throw a pick or lose a fumble. Gabbert is still the starter -- provided his injury doesn't cost him the bulk of practice this week and leave Mularkey feeling he'd be better off with
Chad Henne
in the short term.
For Jacksonville, 117 total net yards was a new franchise low, as was that time of possession.
"It was absolutely unbelievable some of the things we did, especially in the [scripted first] 15 plays," Mularkey said.
The Jaguars had some mixed feelings about what the loss meant, which served mostly as evidence for how different guys digest a terrible day in different ways.
"It tells us that we're not good enough, that we've got to change things, that we've got to improve, otherwise it's going to happen every week," safety
Dwight Lowery
said. "You can go about it a bunch of different ways. But the way we've been going about it obviously ain't working."
[+] Enlarge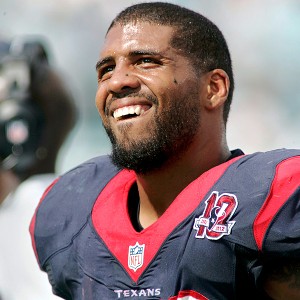 Phil Sears/US Presswire Arian Foster rushed for 110 yards on 28 carries as the Texans controlled the ball all game.
Countered tight end
Marcedes Lewis
: "Obviously they played a better game than we did today. That wasn't us out there. We just never could really get it going. It just wasn't our day. This is two games, you know. Fourteen left, that's the good thing about it. When you lose, it sucks, but there are some things to gain from it. We'll get better."
Offensively the Jaguars were simply too conservative. Sure, missing two starters on the offensive line can create a dangerous situation for the quarterback. But at some point you have to threaten more to have a chance to win, if that's what you intend to do.
Gabbert did not look down the middle of the field or deep often enough, and when he finally did the Jags found their biggest play of the day, a 39-yard connection with
Laurent Robinson
that set up a 5-yard touchdown catch for Jones-Drew.
"Those plays were called," Mularkey promised. "I was on phones. I know it was called. The ball has to come out quicker."
Such a good vibe:
The Texans feel great about their ability to beat you in different ways and do what is necessary to win.
But they consider the run game their backbone, and a week after an 82-yard effort they found insufficient against Miami, Foster got his 17th 100-yard game and
Ben Tate
took 12 carries 74 yards and scored twice. The team managed 48 carries for 216 yards, which amounts to a 4.5-yard average.
"Whenever we can go out and run the ball we did, we just keep teams off balance," said receiver
Andre Johnson
, who caught only three passes for 21 yards. "When we do that it's hard to stop. Our plan was to run the ball. Coach stressed that after our performance last week.
"Every time we play that team the game is pretty much won by the team who runs the ball the best. The team that plays the most physical pretty much wins it. That's what we did today."
It wasn't technically no-huddle, but the Texans quick huddle dictated pace and certainly helped wear down the Jaguars considering how much Jacksonville's defense was on the field.
"It really helped us keep attacking," quarterback
Matt Schaub
said.
Not reactive:
Apparently EverBank Field's security's plan for a fan running on to the field is to pretend nothing is happening. That, or put the game on hold and let him tire himself out. If it is the latter, it should be reassessed, because it made the security look clueless and you can never tell what someone's intention is when he or she gets close to players.
At any rate, after this barefoot boob ran up and down the field early in the fourth quarter, he lined up wide near the line of scrimmage as if he was a split end and caught his breath. Then he took off again.
Lowery had seen enough, and chased him down. Grabbing him with one hand, then passing him to a security person.
I asked Lowery what he was thinking as he decided to take care of it.
"Get the f--- off the field," he said. "It's ridiculous. I was willing to put a shot on him, but he held up when I got him."
"That was crazy," Houston left tackle
Duane Brown
said. "But it was pretty disturbing that he was just able to go out there and run freely and have a good time. I guess it was fun to watch and gave us a bit of a break."
Chimed in Smith, who calls himself the Ninja Assasin: "That dude had, like, Ninja-like stealthness."
September, 6, 2012
9/06/12
9:05
AM ET
Among the questions about the
Houston Texans
' defense as the NFL season kicks off is this: After a great gain last year, will there be some regression?
Football Outsiders expects a drop off. They predict the Texans will be 15th in
their defensive ratings
.
The Texans begin to show us how they'll be Sunday against Miami, and they will be at full strength.
[+] Enlarge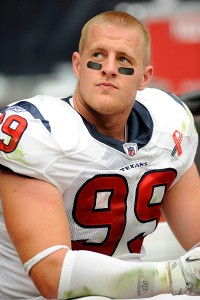 Jerome Miron/US PresswireHouston coach Gary Kubiak said J.J. Watt has been "excellent" in practice heading into Sunday's season opener.
Three key players -- end
J.J. Watt
(elbow), inside linebacker
Brian Cushing
(ribs) and nose tackle
Shaun Cody
(back) -- played sparingly or not at all in the preseason.
They are good to go now, but may be kicking some rust off this week in preparations.
Watt was injured early and didn't suit up for any of the four games. The Texans will monitor how much he plays.
"Well, I don't want to say a play count, but there's no reason for him to go out there and play 70 plays," coach Gary Kubiak told Houston reporters Wednesday. "I think we know that. That's on me and Wade [Phillips] and [defensive line coach] Bill [Kollar] to make sure. But watching practice, he's been excellent. I watched one-on-ones today, he was excellent. He looks like J.J. I know he's going to be battling us to take every play but I think it's smart of us to make sure that we bring him along the right way."
Cody and Cushing won't necessarily have the same limitations. Cody missed three preseason games, Cushing two.
"Well they're a little different; they did play some in the preseason, so I would say they're a little further ahead from that standpoint," Kubiak said. "We're going to rotate Shaun anyway. Earl [Mitchell] has had a great preseason. Mister [Alexander] has had a great preseason; he'll have to spell Cush some. I think we're going to play a lot of people, regardless.
"This is the week where every team goes past a point they haven't been to yet, as far as how many plays you play and the first team and that type of thing. We're going to rotate players. We're going to keep fresh guys on the field. We've got confidence in all of them."
Said Watt: "It feels good. It feels good to have the defense at full strength, have the guys you're familiar with, the guys you're used to. We all know each other so well it's fun and the defense really jells well."
The expectation is that a defense that regularly swarmed quarterbacks last year will have a big day against rookie quarterback
Ryan Tannehill
.
He's certainly not expecting a team that's regressing to the mean defensively.
"They don't have as many exotic pressures and zone blitzes as you will see from other teams, but they're really good at what they do," Tannehill said in a conference call. "They believe [in] what they do and they're crisp at it.
"So, it's not a situation where they have so much in that they're not good at it, or you're going to catch them at something that they're not really comfortable with and do a whole lot. So they really trust, like I said earlier, in their players and they believe in their one-on-one matchups."
July, 19, 2012
7/19/12
1:18
PM ET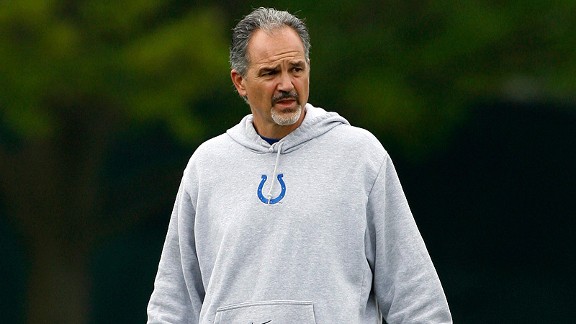 Brian Spurlock/US PresswireIndy's Chuck Pagano utilizes some philosophies that go against conventional wisdom in today's NFL.
I fear for the AFC South.
Sure, it's aligning with modern pro football in some ways:
Three of the four teams have picked a quarterback in the top 10 of the draft in the past two years, intent on building around him.

Yes, we see Andre Johnson in place for the Texans and the influx of promising, young wide receivers in Justin Blackmon and Kendall Wright.

Of course everyone's got an emphasis on rushing the passer: The Texans in the second incarnation of Wade Phillips' swarming front, the Colts as they shift Dwight Freeney and Robert Mathis around, the Titans with the addition of Kamerion Wimbley, the Jaguars with the draft selection of Andre Branch.
But it's a division with some outdated philosophies, expenditures and roster construction.
We've got teams talking too much about the run and not enough about the pass. We've got costly running backs. We've got offenses determined to use fullbacks, most of whom are unlikely to be threatening as receiving targets.
While the Texans can have a nice offensive-defensive balance and a nice run-pass balance on offense, the teams chasing them can't yet claim the same.
So here's my look at some of the issues that put the division at risk of being dodo birds who lose out in the NFL's survival of the fittest.
Mindset:
Coach Chuck Pagano arrived in Indianapolis touting
an old staple
of how to play. His Colts, he said, will run and stop the run -- even if that's not a great template for success anymore as teams that don't run well and don't play great run defense are winning.
He cited the Steelers, who were 14th in rushing last year and eighth in run defense. Hardly dominant.
A team with a great running game and ground defense can probably win big in today's league. But it would be breaking with current convention, where our most recent Super Bowl winners have been built around quarterbacks and people who rush the quarterback.
Last year's Super Bowl teams were hardly in line with a run-and-stop-the-run philosophy. The Giants were the league's worst run team in the regular season and ranked 19th in rush defense, while the Patriots were 20th in rushing and 17th in rush defense.
Paying running backs and roster construct:
Three of the four teams in the division have big, second-contract investments in running backs: Houston's
Arian Foster
, Jacksonville's
Maurice Jones-Drew
and Tennessee's
Chris Johnson
.
Spending big money at the position is not the way the league is moving and those three teams are no longer in position to try to play keep away from
Peyton Manning
. In today's NFL, veteran running backs get used up and discarded in favor of younger, cheaper options with more tread who are less prone to a sudden drop-off.
The Jaguars are built around Jones-Drew, who now wants a new, bigger contract, despite the high odds that his team can win five games without him in 2012 just as easily as it did with him in 2011.
In fact, it's reasonable to wonder about Jacksonville's overall financial allocations.
Jones-Drew makes good money, and if the Jaguars are healthy at linebacker, it's probably their best position on defense. They paid big bucks to recruit
Paul Posluszny
and
Clint Session
to town last year to play with
Daryl Smith
.
Unfortunately, teams that play 4-3 defenses don't require three top-flight linebackers. One of them is typically a situational player who's not part of the nickel package.
And the difference between a great 4-3 linebacker and an average 4-3 linebacker seems much smaller to me than the difference between a great end and an average end in the same system. It's easier to find guys who can run, hit and tackle than it is to find guys with pass-rush skills. That's where a 4-3 focus should be.
It's an issue in Tennessee, too, where the Titans have spent their past two second-round picks on linebackers
Akeem Ayers
and
Zach Brown
. Even if they are starters for years, isn't it easier to find good linebackers later in the draft (see
Colin McCarthy
from the fourth round in 2011) than it is to find good pass-rushers?
Plenty of fullback snaps:
Houston can continue to call
James Casey
a fullback. He's an H-back to me. He can block, sure, but the Texans sacrifice nothing having him on the field at one of the five spots eligible to catch passes. Teammates rate his as the best hands on the team.
The other three teams in the division don't have such a guy.
Greg Jones
is a good blocker for the Jaguars. I want him in the game on third-and-short or a goal-line package. But beyond that, his presence does at least one of two things if not both: signals run and sacrifices one of those five eligible positions as a weapon for
Blaine Gabbert
. (I know
Montell Owens
is viewed as a special-teamer, but with Jones, Owens and
Brock Bolen
, the Jaguars have three fullbacks. Three!)
The role for a fullback on offense is small. And although small roles can have big value, I'm not so sure about fullbacks these days. With two fantastic tight ends on its team, New England used a fullback on 10 snaps last season. The Giants used a fullback on 24.93 percent of their offensive snaps, less than the Texans, Jaguars and Titans.
Isn't a tight end who is capable of lining up a bit in the backfield more valuable, presuming he's got better hands?
I'd rather the Jaguars line up with
Marcedes Lewis
and
Zach Miller
than with Lewis and Jones, because Miller can be a threat in the pass game. I'd rather the Titans line up with
Jared Cook
and
Craig Stevens
than with Cook and
Quinn Johnson
or
Collin Mooney
. I'd rather the Colts use
Coby Fleener
and
Dwayne Allen
than take one off the field for a fullback whose name I do not yet know. (The Colts have said they intend to use a fullback, though they don't have one now and didn't use one in the Manning/Bill Polian era.)
Heck, feel free to go all the way from a two-back set right past a two-tight set all the way to a three-wide set. Spread out the field for your passing game, while also creating space for your running back to work. Jones-Drew led the league against stacked boxes. Imagine what he might do if the Jaguars can spread out a defense.
Sure, you're going to mix up personnel and use all those sets, and your people and philosophy will dictate some of it. But look to the league's best teams, centered on quarterbacks and pass-rushers, as a guide for what to try to use more and what to de-emphasize.
It's a copycat league. Is the AFC South keeping up with the Joneses?
October, 7, 2011
10/07/11
1:30
PM ET
»
NFC Final Word
:
East
|
West
|
North
|
South
»
AFC
:
East
|
West
|
North
|
South
Five nuggets of knowledge about Week 5:
[+] Enlarge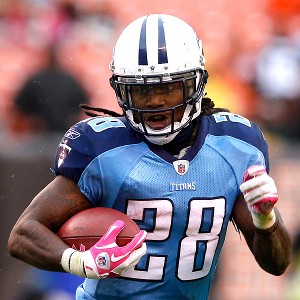 Matt Sullivan/Getty ImagesChris Johnson was effective last week with the Titans protecting a big lead. Can he keep it up against the Falcons?
Counter action:
A week ago, we examined how the Titans had moved away from some run plays that had benefited
Chris Johnson
in the past, plays that unconventionally featured
a counter element
. In the win at Cleveland, those plays re-emerged. K.C. Joyner said the Titans employed that counter action on Johnson's 25-yard run and again on an 8-yard gain in the win over the Browns. It was a good adjustment and needs to be part of what the Titans do going forward. Look for it against the Steelers.
Darren McFadden to the left:
ESPN Stats & Information says that Raiders running back Darren McFadden has had great success running to the left this season. He's averaging a remarkable 8.2 yards per carry going that direction. It's bad news for the Texans, because they've been susceptible to runs in that direction, allowing 6.35 yards a carry, the fourth-highest average in the NFL. I'm sure defensive coordinator Wade Phillips and the Texans are aware of this and will be concentrating on making sure it's not an issue Sunday at Reliant Stadium.
Quiet first quarter:
The Colts and the Chiefs are two of five teams in the league that have not scored a first-quarter touchdown this season. Kansas City is the only team that hasn't scored a rushing touchdown. Defensive ends
Dwight Freeney
and
Robert Mathis
may be the Colts' two most productive players through four weeks. Kansas City quarterback
Matt Cassel
's protection and ability to get rid of the ball have been pretty good; he's been sacked only five times so far. The ability of the Colts' pass-rushing duo to hit and harass Cassel may be the biggest factor in the game.
No let up:
When we first looked at the Jaguars' schedule, this game against Cincinnati looked like one they should win. But heading into a game pitting rookie quarterbacks head-to-head,
Andy Dalton
versus
Blaine Gabbert
, the Bengals have the league's top defense. That's not good news for a Jacksonville offense that's last in points per game and second to last in yards per game. On the bright side, the Jaguars have won seven times in a row against the Bengals in Jacksonville. Gabbert threw flat-footed too often this past Sunday in the loss to New Orleans and needs to be better mechanically to increase his offense's chances to move the ball and score some points.
Badly timed injury:
Former Titans tight end Frank Wycheck (who I work with on Nashville radio) rates
Craig Stevens
as one of the best blocking tight ends in the league. Stevens would figure to be key in a game against the physical Steelers, even without the injured
James Harrison
. But the tight end has been out this week with a rib injury suffered in Cleveland, and odds are he's unable to play. Without him at Heinz Field,
Daniel Graham
and
Jared Cook
will have to do more blocking. I expect the Steelers to try to really test them and for Tennessee to really miss Stevens.
October, 29, 2010
10/29/10
11:28
AM ET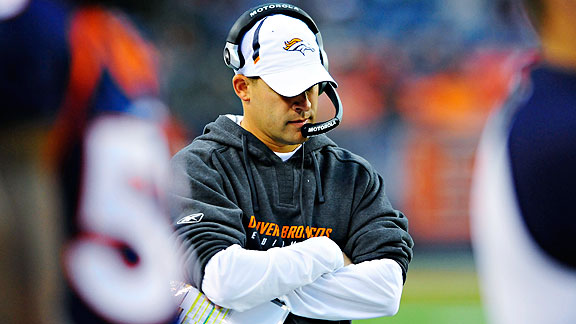 Ron Chenoy/US PresswireJosh McDaniels and the Broncos had no answers in Sunday's blowout loss to the Raiders.
Josh McDaniels is suddenly no longer being compared to Mike Shanahan, the man he replaced in Denver.
In the past five days, McDaniels' name has been more connected to Wade Phillips.
Ouch.
That's what happens after one of the worst days in team history. McDaniels was in charge of the Broncos on Sunday when they were dismantled at home 59-14 by the rival
Oakland Raiders
. The Raiders came into the game with a 2-4 record, coming off a loss to the previously winless
San Francisco 49ers
and they were playing their backup quarterback.
It was a total embarrassment. The sold-out Invesco Field at Mile High crowd departed early in droves. Those who stayed until the bitter end savaged McDaniels as he left the field. It reminded longtime residents of the Rocky Mountains of the abuse Phillips took when Oakland beat the Broncos by 32 points in 1994.
That was Phillips' second and final season as Denver's coach. Denver owner Pat Bowlen quickly ended the Phillips era and hired Shanahan, who had a mostly good 14-year run before he was replaced by McDaniels after a late-season collapse in 2008.
McDaniels' popularity in Denver was uneven prior to the Oakland game. He caught the ire of some fans for the handling of the departures of standouts
Jay Cutler
and
Brandon Marshall
. But others liked the energy of McDaniels, 34, and liked the direction he was taking the offense. In short, the jury was still out on McDaniels, whose team was competitive in the early stages of the 2010 season, even though it was 2-4.
But Denver doesn't take kindly to being blown out by the Raiders at home. In the days since the loss, talk radio in Denver has been dominated by fans who are calling for his head. Readers have flooded my
AFC West mailbag
daily this week with questions about McDaniels' job security.
Adam Schefter addressed the suddenly hot-button subject
this week in his mailbag on ESPN.com.
McDaniels was asked about fan frustration in his news conference Wednesday. He didn't shy away from the subject.
"It bothers me because I understand the frustration and the passion of the people in this state, in this city and in this organization," McDaniels said. "I think that we mirror that here. The players do, the staff does, I do -- I know that [Bowlen], [chief operating officer] Joe [Ellis] and everybody does. The best way for us to try to help remedy that is to work and to win."
The following is an examination of the pros and cons of Denver moving away from McDaniels at the end of this season.
Pros of firing McDaniels
The Oakland loss:
This was a legacy defeat. It will be the signature game of McDaniels' Denver tenure until he reaches the playoffs. You can't be in charge of a team that has taken this type of whipping and make observers believe your team is going in the right direction.
Gary Horton of Scouts Inc. came away with this observation after the loss to the Raiders: "This thing was over in the first quarter, and the Broncos did not tackle, they did not play with any gap discipline and there was very little pride in this performance. And this kind of a loss can have lasting implications all season."
McDaniels apologized to ownership, the team and fans after the loss. It is clear he knows the potential ramifications of the game.
4-13:
McDaniels' troubles extend beyond the loss to the Raiders. Since his team opened the 2009 season with a 6-0 run to begin his NFL head-coaching career, the Broncos have been one of the worst teams in the NFL. Denver is 4-13 since the 6-0 start.
Seventeen games is a large enough sample size to conclude that these are the real Broncos under McDaniels and not the team that started 6-0 (and ended up blowing a 3.5-game lead in the AFC West).
Another damaging statistic is that the Broncos are 0-4 at home against AFC West opponents under McDaniels. The Broncos were almost always competitive under Shanahan. That has not been the case so far under McDaniels. It is a legitimate question to ask if it will ever happen.
Questionable decisions:
McDaniels is one of Denver's primary decision-makers despite him never being in that role before.
Of course, his most scrutinized decision came before he ever roamed the sideline in Denver. McDaniels traded Cutler, a 25-year-old Pro Bowl quarterback, after the two fought when Cutler caught wind of McDaniels wanting to trade for
Matt Cassel
, who excelled for him in New England in 2008. Cutler was sent to Chicago for a load of draft picks after a five-week saga.
This offseason, McDaniels traded Marshall to Miami. While Marshall and McDaniels had their issues, Marshall had plenty of problems in Denver in his three seasons in Denver before McDaniels came to town.
McDaniels has had so-so success in free agency and the draft. In 2009, McDaniels traded Denver's 2010 No. 1 pick (No. 14) to take cornerback
Alphonso Smith
in the second round. After Smith struggled as a rookie and in camp this summer, he was shipped to Detroit for a reserve tight end on cut day in September.
McDaniels also has jettisoned two running backs from Shanahan's final draft class in Denver --
Peyton Hillis
and
Ryan Torain
. Both youngsters are playing well elsewhere while Denver has the NFL's worst-ranked run offense. Days after tackle
Tyler Polumbus
was cut and claimed by Detroit this summer, the Lions flipped him to Seattle for a draft pick.
Moves such as these have all made observers question if the task is too big for McDaniels at this point of his career.
[+] Enlarge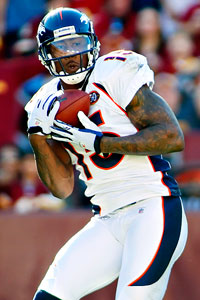 Geoff Burke/US PresswireReceiver Brandon Marshall had three consecutive 100-catch seasons in Denver before he was traded to Miami.
Cons of firing McDaniels
Passing offense:
There's no denying McDaniels' ability to coach offense, especially in the passing game. He has made quarterback
Kyle Orton
-- a throw-in in the Cutler trade -- a legitimate standout quarterback.
Receiver
Brandon Lloyd
has enjoyed career resurgence under McDaniels, and receiver
Demaryius Thomas
looks to have a future in the NFL. Denver could be explosive under McDaniels, who was the architect New England's record-breaking offense in 2007.
Rash of injuries:
Prior to the Oakland game, it was fairly impressive that the Broncos had been competitive in three of their four losses because all of the injuries the Broncos have endured.
The injuries started early in camp. The biggest blow was when Pro Bowl linebacker
Elvis Dumervil
was lost for the season with a pectoral injury a week into camp. Dumervil is Denver's best defensive player and he led the NFL with 17 sacks last year.
Several players, including starter
Knowshon Moreno
, have dealt with injuries. It seems every week the Broncos have been dealing with a significant injury. Yes, that is part of life in the NFL, but perhaps McDaniels will buy some time because of the onslaught of injuries.
Tebow Factor:
McDaniels' decision to draft
Tim Tebow
could end up being a reason to fire him. Or it could end up being a reason to keep him. McDaniels should get a chance to develop Tebow, whom McDaniels took at No. 25 in April after dealing three picks for the former Florida quarterback.
While Tebow was a polarizing draft figure, McDaniels had no reservations. He thinks Tebow can be a star. But it may take time for him to develop. Orton was given a one-year contract extension during the summer, so Tebow probably won't get a chance to start until 2012.
I'm not sure Denver's brass will want to fire McDaniels before he proves he can make Tebow a franchise quarterback, and McDaniels' track record working with quarterbacks is intriguing. There's no guarantee any coach who replaces McDaniels would be a believer in Tebow.
Conclusion:
I generally think an NFL coach deserves three seasons to build a program, and I think that is the case with McDaniels. I do know Denver's ownership really likes McDaniels and trusts him. There has been silence from the top in Denver in the days since the Oakland debacle, but that is to be expected.
I think he is safe, unless, of course, there are a few more humiliations like the Oakland loss in Denver's final 10 games. McDaniels didn't do himself any favors with this loss, but talk of his demise may be premature at this point.

NFL SCOREBOARD
Thursday, 9/18
Sunday, 9/21
Monday, 9/22
WEEKLY LEADERS