NFL Nation:

Wallace Wright
August, 29, 2010
8/29/10
11:46
AM ET
Let's hit the links to review Carolina's preseason 15-7 victory against Tennessee on Saturday night.
Tom Sorensen writes that the continued
lack of offensive production now is a legitimate concern
. With the starters getting extensive playing time in the third preseason game, that's when you get the best glimpse of what the regular season will look like. If this is what Carolina's offense is going to look like in the regular season, the Panthers could be in big trouble. But, keep in mind, they've been playing without receiver
Steve Smith
and running back
Jonathan Stewart
, who are expected back for the start of the season.
Carolina's
defense continues to play exceptionally well
. That's a little surprising, because the Panthers have a bunch of no-names up front, they'll probably be without injured linebacker
Thomas Davis
for the entire season, and the secondary, aside from
Chris Gamble
, doesn't appear to be anything special on paper. But always remember that John Fox can coach, especially on the defensive side of the ball.
Three guys that likely are on the roster bubble
suffered injuries
against the Titans. Receiver
Wallace Wright
(shoulder), running back
Tyrell Sutton
(shoulder) and receiver
Trent Guy
(hamstring) were the players Fox said were injured in the game. We probably won't know the severity of any of the injuries for another day or two.
Steve Reed points out that
the Panthers have spent most of their preseason working on the passing game
. They've virtually ignored the run. While there's no doubt they need improvement in the passing game, and Smith's return should help, do you really think Fox is going to continue to abandon the running game in the regular season?
July, 20, 2010
7/20/10
9:56
PM ET
New York Jets
nose tackle
Kris Jenkins
beamed into the NFL Network studios and
delivered some pointed remarks
about Jets fans and some former teammates.
"NFL Total Access" host Rich Eisen asked Jenkins to advise nervous Jets fans how to approach a season full of expectations but also question marks because of such key departures as running backs
Thomas Jones
and
Leon Washington
, guard
Alan Faneca
and safety
Kerry Rhodes
.
[+] Enlarge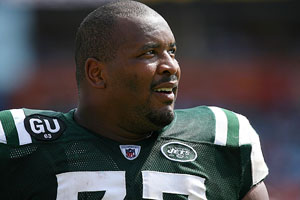 Doug Benc/Getty ImagesJets' nose tackle Kris Jenkins has a message for departed teammates: "We've had some real men come in and step in for the women that we lost."
"Suck it up. That's what y'all being doing so far," Jenkins said of the fans. "Look, you've got to understand that this is football, and if I could make a public-service announcement, I will say this: New York fans, we love you. This is Kris Jenkins. I am a little bit of a clown in my free time, so if I hurt your feelings I'm really not going to apologize because this is my time right now. ...
"If we win, then you get all your dreams coming true. If we lose, then you all get to do what you've been doing for a long time and talk about us until you basically run us out of the city. So you're going to get what you want either way. But we're going for a Super Bowl. So sit back, enjoy the ride. We're planning on doing it big."
Jenkins continued with a curious and disparaging comment about players who have left -- without naming names.
"We have great guys who have come in to step up, to fill in the void of some of these big losses that we have had this season," Jenkins said.
"Then in some other cases, we've had some real men come in and step in for the women that we lost. So we're going to be OK. Don't worry about it."
Jenkins probably was being that aforementioned clown, but Eisen didn't follow up with another question to clarify who Jenkins was referring to. Some players left on rougher terms than others. Many Jets weren't pleased to see guys like Jones, Faneca and kicker
Jay Feely
leave.
Rhodes would be a good guess as to one player Jenkins meant. But Jenkins did say "women" plural.
For the record, Jets who were on the final 2009 roster but not currently with the team (in addition to those listed above) are receiver
Wallace Wright
, defensive tackler
Howard Green
, defensive end
Marques Douglas
, linebackers
Marques Murrell
and
Ryan Fowler
, cornerbacks
Lito Sheppard
and
Donald Strickland
, special-teams ace
Larry Izzo
and long snapper
James Dearth
.
Douglas reportedly will re-sign with the Jets later this week.
June, 21, 2010
6/21/10
5:19
PM ET
Carolina receiver
Steve Smith
broke
his left arm sometime over the weekend
and there is a bit of discrepancy over the details. Smith's agent has said the injury came during Smith's annual youth camp. All the team will say is the injury happened during a flag football game.
No matter who Smith was playing with, this isn't good news for the Panthers in any way. Their best player won't be available for the start of training camp. All indications are Smith should be ready for the start of the regular season. But he's going to miss some valuable practice time with quarterbacks
Matt Moore
and
Jimmy Clausen
. That's going to hurt Moore and Clausen more than it will Smith.
If you're looking for some sort of bright spot, here's a small one. Smith's injury means the rest of the receivers will get more work in camp. That's a good thing because the rest of the receiving corps needs all the work it can get.
Carolina drafted
Brandon LaFell
,
Armanti Edwards
and
David Gettis
this year. The Panthers also have
Dwayne Jarrett
, who's been a bust since coming into the league. Other than that, the roster looks like this:
Trent Guy
,
Dexter Jackson
,
Charly Martin
, Kenneth Moore,
Wallace Wright
and
Oliver Young
.
Maybe the Panthers will go out and sign another receiver or two before camp, but don't expect anything big from a team that's not making any big moves right now. It's more likely the Panthers will just throw all those young guys out there in camp and see who rises up.
March, 4, 2010
3/04/10
2:15
PM ET
The
New York Jets
have confirmed the tender offers they've extended to restricted free agents.
If another team signs the following players to an offer sheet and the Jets decline to match, then these are the draft considerations the Jets would receive as compensation:
An explanation on Clemens: He was drafted in the second round, but a rule states that once a team places a second-round tender on another player, it can't receive compensation for a player chosen in that round. So the reimbursement slides back to the third round for Clemens.
The Jets also announced they would not extend offers to:
Posted by ESPN.com's Tim Graham
Three quick takes on the New York Jets:

1. Mark Sanchez can end the quarterback debate after two games. Sanchez sent Jets fans' hearts atwitter in his preseason debut last week. He trotted off the sideline in relief of Kellen Clemens, completed his first pass for 48 yards and orchestrated a 93-yard touchdown drive. Sanchez will make his first NFL start Monday night against the Baltimore Ravens. If Sanchez can hold his own against the Ravens' first-string defense, then Jets coach Rex Ryan -- the former Ravens defensive coordinator who holds his old unit in high regard -- will need no more convincing on who his quarterback should be.
Football Outsiders
The Football Outsiders use their unique brand of analysis to break down each of the league's 32 teams.
New York Jets

2. The Jets' secondary has the personnel to be sublime. All four starters in the base defense have shown they can be playmakers, and Ryan's defense unleashes them to do their thing. Left cornerback Darrelle Revis, entering only his third season, already is among the league's best pass defenders. Right cornerback Lito Sheppard doesn't have the best coverage skills, but if quarterbacks test the two-time Pro Bowler too much, he can burn them. With safety Kerry Rhodes on the prowl, opponents have to worry about him blitzing and in coverage. New safety Jim Leonhard showed last year in Baltimore he always will be around the ball.
3. The Jets will regret not landing a receiver. Jets fans have pined for every notable receiver who has been said to be available -- Brandon Marshall, Anquan Boldin, Braylon Edwards, et al. Draft analysts were sure they'd pick up a receiver, maybe Percy Harvin. They could've had Terrell Owens. The Jets didn't get any of them, but they reportedly still are trying to find help with opening day just three weeks away. The Jets needed to upgrade their receiving corps before they let Laveranues Coles walk. In addition to Jerricho Cotchery, they hoped they could make do with Chansi Stuckey, David Clowney, Brad Smith and Wallace Wright. But the front office apparently isn't comfortable with that crew and keeps looking to swing a trade.
August, 1, 2009
8/01/09
1:06
PM ET
| | |
| --- | --- |
| | |
| | Al Pereira/Getty Images |
| | The Jets would like to see rookie Mark Sanchez win the starting quarterback job. |
Posted by ESPN.com's Tim Graham
CORTLAND, N.Y. -- The New York Jets needed to head off into the hills and find themselves.
No matter that they opened a sparkling, $75 million facility in Florham Park, N.J., less than a year ago.
Rookie head coach Rex Ryan thought it was critical for team chemistry to get away from home. So he's holding his first training camp at SUNY Cortland in the bucolic Finger Lakes region.
"I had a vision for what I wanted our training camp to be and look like, and the feel for it, and I think this really, maybe exceeds what my expectations were," Ryan said upon reporting to Cortland on Thursday. "We really have everything here and we can set out to accomplish everything that we have to do and make this a close-knit football team and get better.
"I think it is so important that when you come out from training camp three-and-a-half weeks from now, we are going to be a really good football team, an excellent football team."
The players all seem to be on board. They've offered nothing but praise about facilities at the Division III college. They have two artificial turf fields. New sod is being put down on the grass field. The dorms are said to be posh -- by dorm standards.
| | |
| --- | --- |
| | |
| | AP Photo/Kevin Rivoli |
| | Will Kellen Clemens' experience be enough to hold off Mark Sanchez for the starting spot? |
"You get away from the distractions of home and have a chance to bond as a team," quarterback Kellen Clemens said. "We are a close-knit team. We'll be able to battle through some of the adversities that will undoubtedly come up over the course of the season. The work that we are doing right now on the field and off the field will hopefully pay dividends in November and December."
Key questions
Can Clemens win the quarterback battle with rookie Mark Sanchez?
No matter how many times it has been rehashed, there's no other camp storyline that comes remotely close. Whether the Jets want to acknowledge it, they want Sanchez to win the job over the fourth-year pro Clemens.
It's common sense, really. Not pulling for him would be unnatural. With everything they've invested in the fifth overall draft choice -- two picks and three players just to draft him and as much as $60 million over the next five years -- they would love to see him seize the job immediately. That would validate their investment.
Ryan repeatedly insists he doesn't care which quarterback emerges, that the best man will win the job. On Friday, he said Sanchez "has got to be the best quarterback and the best leader" to be named the starter.
Clemens has the edge in experience, having started a handful of games in 2007. If he convincingly holds off the hotshot, it would be a strong enough statement to instill confidence in his teammates for the campaign.
But the Jets would rather Sanchez overtake the veteran instead.
How will the Jets make sure their running backs are happy?
There's a lot of unhappiness in the backfield. The Jets have a pair of Pro Bowlers back there: Thomas Jones and Leon Washington. Both of them wanted new contracts. Neither of them has gotten one.
The remarkable news is that both were on the practice field when camp opened Friday morning. That's a wonderful sign that Jones and Washington are willing to put their personal disappointments aside for the good of the team.
The Jets need to make sure they stay in that frame of mind.
June, 11, 2009
6/11/09
10:14
AM ET
Posted by ESPN.com's Tim Graham
Wallace Wright disliked the idea.
When we spoke during a break at teammate David Clowney's youth football clinic Saturday in Delray Beach, Fla., the subject of Plaxico Burress becoming a New York Jet came up.
Wright and Clowney are unproven receivers already on the New York Jets roster. They, along with Chansi Stuckey, want their opportunity on a team that needs help at their position.
Wright remarked the mere temptation of acquiring Burress should be insulting to them.
"If you don't take it personally, then there's something wrong with you," said Wright, who had zero catches last year but was one of the Jets' best special-teamers. "That means you either don't want it or you don't want to play as bad as you should. I see it as a problem if you don't take it personally."
But Wright and other receivers apparently are in the minority.
New York Daily News beat reporter Rich Cimini took an informal poll Wednesday at Jets minicamp to see if they would welcome the free-agent receiver, whose future could come into better focus Monday.
Jerricho Cotchery, the only Jets receiver with a legit resume: "When you have that type of talent on the market, I think anyone would want to have that guy. Any team would find a way to welcome him. It's just rare that you have that type of talent on the market this time of the year. I don't think anyone would pass."

Cornerback Lito Sheppard: "I'd open my arms wide if he's able to come here. I think the rest of the team would, too. That's a special talent. I only see upside if we're able to get him. That could definitely put us a lot closer to our goal."

Right tackle Damien Woody: "We've got a strong locker room and a strong locker room can deal with, quote-unquote, guys like that. I don't see any problem bringing in a guy like Plaxico."
June, 9, 2009
6/09/09
11:04
AM ET
Posted by ESPN.com's Tim Graham
DELRAY BEACH, Fla. -- Anytime a name receiver is rumored to be available, the New York Jets are said to be interested.
Plaxico Burress, Anquan Boldin and Braylon Edwards have been involved in Jets talk. Many draft analysts predicted the Jets would draft a receiver, maybe Percy Harvin or Darrius Heyward-Bey.
The Jets were in need of a prototypical No. 1 wideout even before Laveranues Coles wriggled out of his contract. They've declined to replace him thus far, creating even more skepticism that the Jets are set at receiver.
At least two players on the depth chart disagree.
| | |
| --- | --- |
| | |
| | Joe Robbins/Getty Images |
| | David Clowney caught one pass for the Jets last season. |
"I think we're good," Jets receiver Wallace Wright said. "People want to speculate, but with the talent we have in that room, I don't think we need anybody else."
David Clowney has a more specific solution to New York's receiving needs. The third-year speed demon with one career NFL catch considers himself the answer.
"I don't stress or harp" on the stream of reports the Jets are looking for outside help, Clowney said, "because at the end of the day it's all in my hands. That's been my whole mind-set. If they would've drafted a first-round receiver, he would have had to earn that job just like me, and I would just have to beat him out."
Clowney was emphatic about what he can offer the Jets. He took a break from the youth football camp he staged Saturday in his hometown -- the presence of teammates D'Brickashaw Ferguson, Vernon Gholston, Kareem Brown, Brian Schaefering, Marques Murrell, Nate Harris, Stanley Daniels and Wright gave it the feel of a Jets' organized team activity -- to talk about his expectations for 2009.
Clowney has been taking reps with the first- and second-team offense throughout OTAs.
"I'm grinding, trying to get that starting job," Clowney said. "I'm really hoping that they give it to me. I'm working for it.
"Shouldn't be a reason why I shouldn't get it, but with all this competition, we're going to make the best of it. We're all going to be out there, making plays."

NFL SCOREBOARD
Thursday, 12/18
Saturday, 12/20
Sunday, 12/21
Monday, 12/22
WEEKLY LEADERS