NFL Nation:

wallce gilberry
July, 31, 2014
Jul 31
4:59
PM ET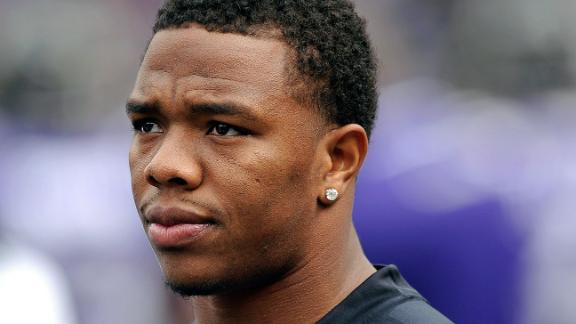 OWINGS MILLS, Md. -- In stark contrast to
Ray Rice
's awkward news conference in May, the
Baltimore Ravens
running back showed Thursday that he finally understood the weight of his actions from the alleged altercation with his then-fiancée in February.
He delivered the correct message, one the NFL failed to do last week with the two-game suspension, by not only apologizing to his wife, Janay Palmer, but also expressing a desire to become an advocate for domestic-violence causes.
Rice was compelling in his contrition, calling it the biggest mistake of his life. He stood in front of the microphone alone, without his wife standing by his side, and took full responsibility for the incident. Perhaps more importantly, Rice actually said the words "domestic violence," which weren't heard in his statement two months ago.
"My actions were inexcusable," Rice said. "That's something I have to live with the rest of my life."
Before anyone pats Rice on the back, this is what he should have said the first time when he broke his silence in May. Instead, Rice nervously fumbled through notes on his phone and apologized to team officials and his sponsors. That debacle of a news conference came across as damage control to his image.
His 17-minute news conference Thursday hit the right tones. He apologized to all women affected by domestic violence. He accepted the blame for losing the respect of fans. Rice came across as genuinely sorry.
"I let my wife down, I let my daughter down, I let my wife's parents down, I let the whole Baltimore community down," Rice said.
Rice's biggest misstep was not talking about what happened in the elevator. He was asked twice about it and declined to answer both times. His stance against domestic violence would have resonated stronger if he had explained his transgressions.
"I'll be honest: Like I said, I own my actions," Rice said. "I just don't want to keep reliving the incident. It doesn't bring any good to me. I'm just trying to move forward from it. I don't condone it. I take full responsibility for my actions. What happened that night is something that I'm going to pay for the rest of my life."
The only way Rice can move forward from this incident and show he's truly sincere is through his actions. It's not by his words. It's not by a hefty donation, which is merely a gesture. It's by proving this will remain a "one-time incident" and by supporting domestic-violence causes.
Thursday represented a small step forward for Rice. But it was an important one.
November, 1, 2013
11/01/13
4:00
PM ET
CINCINNATI -- The glass door opened. When it did, a new phase of
Geno Atkins
' football-playing life began.
Whether his
Cincinnati Bengals
teammates knew it or not, at the very same time, a new era started for them, too -- particularly for those who occupy a now suddenly thin defensive line.
With a backpack strapped around his shoulders, a pair of metal crutches tucked underneath his armpits and a massive tape job that stretched the length of his right leg and was covered by a bulky plastic brace, Atkins ever-so-gently tiptoed through the doorway, smiling and nodding hello to a nearby observer.
Just before his exit from the Bengals' Paul Brown Stadium locker room Friday, the defensive tackle had just been given news he and others around the organization were dreading. Yet, there he was, smiling. It was the kind of smile that said, "I'm not worried, I'll beat this. Everything is going to be just fine. It'll only be a matter of time until I'm back."
[+] Enlarge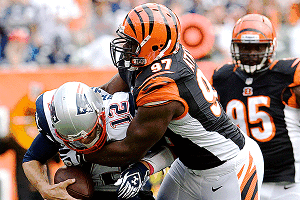 Mark Zerof/USA TODAY SportsGeno Atkins' participation in practice had the Bengals pumped on Wednesday.
It wasn't the kind of smile you'd expect to see from a 25-year-old who had just been told he had suffered an ACL tear in Cincinnati's overtime loss Thursday at Miami and was being put on the shelf for the
rest of the season
, slated for return as early as next summer. There was good reason for him to feel crestfallen and to look that way, too. He was stepping into an uncertain realm, unsure if he will return from the knee injury the same player, a better player or a worse one.
Similarly, the Bengals defensive line's overall future isn't very clear, either.
Without Atkins, Cincinnati's hope for interior-line success now rests squarely on the shoulders of veteran
Domata Peko
and reserve
Brandon Thompson
. When
Devon Still
returns from an elbow injury, he will add depth at the tackle positions, too. It's still unclear when Still will be able to return from the injury that sidelined him at Detroit three games ago, but according to coach Marvin Lewis, that day could come sooner rather than later.
"Devon is well on his way to progressing back," Lewis said during his news conference Friday. He didn't want to say whether he thought Still would be healthy enough to play at Baltimore next weekend.
When Still gets back in the mix, the Bengals will be incorporating an interior front that will feature a heavy rotation of the two young linemen. Both Still and Thompson are in their second seasons and are still growing in the Bengals' aggressive system. If one of them or Peko goes down, the once-deep defensive-tackle pool turns into really slim pickings. If that happens, it could cause
Wallace Gilberry
to shift away from his defensive-end duties and slide into tackle responsibilities.
It might take quite the domino fall for that final scenario to occur, but it's a possibility. Gilberry has rotated into tackle responsibilities at times as he helps give a new look, and some depth, to the Bengals' style of play on the inside.
Another reason Atkins' departure has some uncertainty attached to it is because the Bengals still aren't yet sure if they are going to go out and add a defensive tackle or two in free agency to fill the 300-pound player's spot. If a move comes, it likely would come by Monday, or some other day next week. Whenever it happens, it should correspond with the announcement of the Bengals formally placing Atkins on the injured-reserve list. It doesn't appear that will come this weekend.
"We came in heavy and now we'll be thin," Lewis said about his line. "We'll have to look at some kind of adjustment."
One defensive lineman whose spot Cincinnati never did fill was end
Robert Geathers
. He suffered an elbow injury during Week 2 and was immediately placed on IR. With a strong, deep stable of defensive linemen, the Bengals didn't think they needed to get another at the time. They had other positions that needed shoring up first.
When Atkins does eventually join the IR list, he will become the fourth Bengals player to end up on it this regular season. Along with Geathers, cornerback
Leon Hall
and defensive back
Taylor Mays
are already there.
Absent Atkins, a potential run-stopper who has a knack for getting into the backfield on passing downs, the Bengals will go through a bit of uncertainty across the next two weeks as they begin transitioning to this new post-Atkins defense. Will the rest of the interior line share the optimism Atkins appeared to have as he started walking with crutches Friday? Or will Atkins' previous successes prove to be too much for the rest of the line to live up to?
Just as Atkins hobbles through the door and makes his exit, the Bengals are hoping others step up quickly and make their own entrances.