August, 5, 2010
8/05/10
11:30
AM ET
JACKSONVILLE, Fla. --
Jacksonville Jaguars
GM Gene Smith graciously gave me some time Wednesday, and while some of what we talked about will be splashed into posts to come, some of what he said demands a quick turn.
Here are those nuggets:
Derek Cox moved from left corner to right corner late last year and continues to work on the switch. "He's not where he was a year ago, he's playing through something right now, he's got a little bit of a soft tissue thing he's playing through," Smith said.
Corner Don Carey is "in the hunt" for a starting spot even without much experience, something Jack Del Rio mentioned a day earlier. Smith said Carey "has the instincts and the intelligence to play safety and enough movement skills to play right corner." Carey is playing a lot of nickelback now.
Defensive tackle Walter Curry, a better run defender than pass rusher, is on the rise with the loss to D'Anthony Smith to an Achilles injury. "He's a tough rugged guy, probably one of the strongest core strength guys on our team," Smith said. "He has an opportunity to compete for that fourth tackle spot.
Even with D'Anthony Smith's injury, Gene Smith feels good about defensive line and offensive line depth. The offensive line will be one of the strengths of the team by the end of the year, he said. He's looking for people to emerge at free safety and receiver. Smith said he feels like Tiquan Underwood's been emerging.
Free safety "hasn't been an asset for our defense, it's been a little bit of a question mark. We don't want it to be a liability. I feel like a couple players can emerge, they just need to show the level of consistency that we need to win game. You just don't want a position group to be a liability. All your position groups aren't going to be an asset, but you don't want them to be a liability. And right now I don't think they will be a liability."
Vince Manuwai is behind. "When you have a guy at 325 coming off an ACL [tear in 2008] it's probably a little different," Smith said. "… He didn't progress the way I know he would have liked and we would have liked. His weight's down and he's actually better in training camp than he was in OTAs in terms of his movement skills but he's still not there yet. So this is a defining preseason for him."
Center Brad Meester is thinner, healthy, moving better and still the quarterback of the group, Smith said. He also had a calming effect on David Garrard. A share of his poor reviews last year resulted from the guard play, and with better guard play he will be better. "I think too much was put on him," Smith said. "There are not a lot of centers that are just pure power players when somebody is on their nose. The guards have got to help."
Right tackle Eben Britton, off the last few practices, is not 100 percent with multiple soft tissue injuries, one that started late in OTAs.
Smith couldn't be more please with left tackle Eugene Monroe. He's lost 23 pounds, increased his lean muscle mass and is playing at a different level.
Garrard has "has got to be smart enough to know he's not a one-man show. I really believe David will have a good year." Smith said Garrard gives the Jaguars a chance to be in games and as the supporting cast improves, Smith expects Garrard to be closer to 2007 form than 2009 form.
August, 4, 2010
8/04/10
10:03
AM ET
ESPN.com NFL Power Ranking
(pre-camp): 26
JACKSONVILLE, Fla. -- The 2009
Jacksonville Jaguars
were a fourth-place team that lost its final four games.
Seems to me the logical goal would be trying to move out of the basement and establish some upward mobility in a tough division. But
Jack Del Rio
and his troops aren't thinking that way, and who does, really?
They are thinking bigger.
Jack Del Rio has talked to them about contending for a championship.
"I kind of cut my teeth in Baltimore on the same staff with Rex Ryan [under] Brian Billick," Del Rio said. "You can't tiptoe in and hope you don't wake the guy up and you're going to sneak up on somebody and, 'Oh, shh, here we come and be quiet.' In many respects in the NFL, you've got to take what you want. You've got to set some goals and then go after them. And I don't think there is anything wrong with having a goal of being champs."
"Now the reality is, we've got to cover a lot of ground. I'm not unrealistic with that. But I'm not going to concede anything. We're going to work our tails off to maximize our potential. We can say this is our goal, this is our mission to do these things, but our focus has to be on squeezing what we can out of every day."
Or as
Maurice Jones-Drew
said, you never run a race you once lost aiming to finish second-to-last.
THREE HOT ISSUES
[+] Enlarge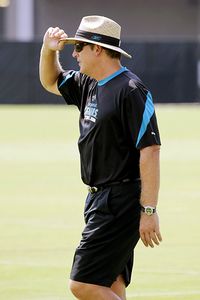 AP Photo/John RaouxJack Del Rio will need to keep his eyes on the safety position this season.
1. Are the safeties enough?
They have faith in
Gerald Alexander
at strong safety, though he's not a guarantee to lock down a spot all season. But free safety is a huge issue.
Reggie Nelson
struggled badly last season with botched coverages and missed tackles and
Anthony Smith
didn't do a lot to displace Nelson last year. Word is Nelson has been better, but neither guy has made a big impression in practices I've seen so far.
They need the free safety to consistently play a reliable center field. And if he can't make a tackle, he at least has to hold the ball carrier up long enough for help to arrive.
With two games against
Peyton Manning
and two against
Matt Schaub
, if one of those guys can't provide help to corners
Rashean Mathis
and
Derek Cox
-- even if there is a vastly better pass rush -- the Jaguars could have some long AFC South afternoons.
They could look for an additional option on waivers.
2. Is there enough weaponry to go with Jones-Drew and Mike Sims-Walker?
Jones-Drew is a top-flight weapon taking handoffs or running under short passes and Sims-Walker did well establishing himself as a go-to guy for
David Garrard
. But beyond them, do the Jaguars have the playmakers to take the next step?
They certainly have a large pool of candidates.
Marcedes Lewis
averaged 16.2 yards per catch last season, the best number in the league for a tight end, and another tight end,
Zach Miller
, is a potential big-play option.
Troy Williamson
hasn't created buzz yet as he did last camp, but I still think they'd like him to secure the starting role opposite Sims-Walker because of his field-stretching speed. The three receivers from the 2009 draft --
Mike Thomas
,
Jarett Dillard
and
Tiquan Underwood
-- are an intriguing pool. I anticipate Thomas can really grow into a nifty slot option.
They also like sixth-round pick
Deji Karim
from Southern Illinois, a quick back who could earn some touches and can win the kick return job. He'll probably have to get past
Rashad Jennings
to be a factor on offense, and I feel like they still like Jennings plenty too.
[+] Enlarge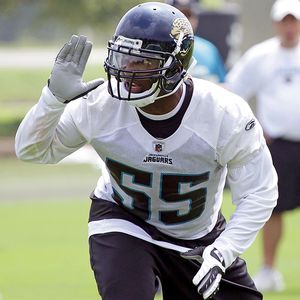 AP Photo/John RaouxThe Jaguars will need linebacker Kirk Morrison to lead.
3. Do they have sufficient leadership?
While they are relying on a load of young talent, particularly on defense, the two significant veteran imports -- free-agent defensive end
Aaron Kampman
and trade-acquisition middle linebacker
Kirk Morrison
-- need to lead the way.
"You want to give the young guys everything that you've seen in the league," Morrison said. "I've been in the league five years already. I've seen what losing can do, how it can separate a team. I'm saying this is what needs to be done, if you want to go out and win games, you've got to work like this. Losing was not fun. There are things I can bring over here like my toughness. I've never missed a game in the National Football League."
The best way to lead is to produce. Morrison can be a tackling machine, and if Kampman returns healthy to a 4-3 defense a year after major knee surgery, he's a constant threat to the quarterback.
BIGGEST SURPRISE
Defensive end
Jeremy Mincey
has been productive on a daily basis so far. With a crowd at defensive end including Kampman,
Derrick Harvey
and rookies
Austen Lane
and
Larry Hart
, can Mincey stay healthy and wedge himself onto the roster? The line overall is a young bunch, but its new position coach, Joe Cullen, has the group absolutely flying around and setting a tone the entire team would be wise to follow.
[+] Enlarge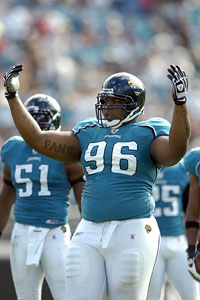 AP Photo/Stephen MortonThere have been concerns about defensive tackle Terrance Knighton's weight.
BIGGEST DISAPPOINTMENT
Defensive tackle
Terrance Knighton
's got a good head on his shoulders and has time to get where he needs to be. But he was 346 pounds on Monday, and the team would like him close to 330. If his play drops off, they could be in trouble in the middle no matter how good first-round pick
Tyson Alualu
is, and he's been real good from what I've seen of him at OTAs and in his debut camp practice. The team can't move into Knighton's house and feed him, but how did his weight get so out of hand?
OBSERVATION DECK
Vince Manuwai's flipped from left to right guard and the Jaguars will make that their power side for the run game. But if he doesn't bounce back from a poor 2009, when he was coming off reconstructive right knee surgery, the team could look to Kynan Forney as the next best interior run blocker.

Undrafted running back Chad Kackert catches everything and can turn and go… Are there too many guys on this team who can play good to great special teams but not contribute on offense or defense?

I like the way Ted Monken teaches receivers on the field -- with pointed-but-encouraging detail. I watched him spell out to Roren Thomas how and why he needed to be patient and allow a play to develop for his quarterback after he'd run a short route way too quickly.

Harvey and Hart have created some buzz. Are they off to really good starts, or is a slow start by right tackle Eben Britton contributing?

The Jaguars really like second-year corner Don Carey, and it would seem he'd make sense to be the nickel. But Del Rio left the door open that Carey could even earn a starting spot. Left unsaid is whether Del Rio thinks that would impact veteran Mathis or second-year man Cox, whom they loved as a rookie. Or perhaps he's just looking to light fires.

I hope offensive coordinator Dirk Koetter runs some option with tight end Zach Miller taking snaps. It'd create excitement and a wrinkle for a team that can be limited on offense and wouldn't suffer for taking some snaps from Garrard.

An early Achilles injury to third-round defensive tackle D'Anthony Smith already puts a dent in the depth there. Walter Curry will be a beneficiary.
February, 18, 2010
2/18/10
11:16
AM ET
The Seahawks have reportedly added two former CFL players this offseason. The Rams tried to sign one of them, Ricky Foley. The Cardinals signed Stevie Baggs, formerly of the Saskatchewan Roughriders.

All this activity across the border made me wonder whether we're seeing more CFL players than usual landing with NFL teams.

The numbers are slightly up, according to the CFL. Along the way, I learned how these signings generally work.

A typical CFL contract includes an NFL option window that usually begins Jan. 1 and always ends Feb. 16. Players with such options in their contracts can sign with NFL teams during that window. If later released from the NFL, the player's rights revert to his previous CFL team.

Thirteen CFL players with options in their contracts signed with NFL teams during their option windows, up from 10 last offseason. Four others -- all three added by NFC West teams so far, plus Ryan Grice-Mullen of the Dolphins -- agreed to NFL deals as free agents untethered to Canadian teams.

Six of the 10 from last offseason returned to the CFL.

The chart shows all 17 players added from CFL teams this offseason. The CFL confirmed 16 of them, but had no information yet on Foley's reported deal with Seattle, which might not be official yet.

NFL SCOREBOARD
Thursday, 11/20
Sunday, 11/23
Monday, 11/24
WEEKLY LEADERS