NFL Nation:

Washington hires Jay Gruden
January, 10, 2014
Jan 10
10:30
AM ET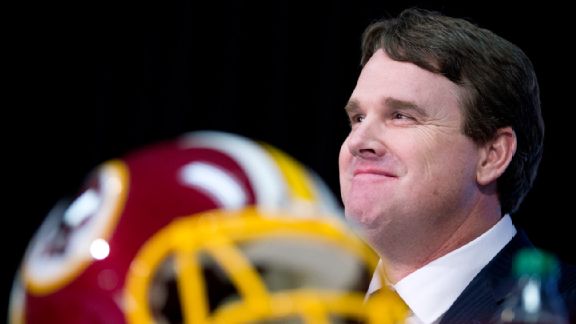 AP Photo/Manuel Balce CenetaNew head coach Jay Gruden comes to the Redskins with something to prove.
ASHBURN, Va. -- At some point during Jay Gruden's introductory news conference, it became clear: Gruden was, for lack of a better phrase, a breath of fresh air.
That doesn't mean he'll work out as the
Washington Redskins
' head coach. No coach has proved he can win in Washington under owner Dan Snyder. The owner isn't always the reason, but it is his organization and facts are facts: No coach that he's hired has left here with a winning record.
And he's hired some of the all-time winningest coaches: Marty Schottenheimer (career winning percentage: .606), Joe Gibbs (.665) and Mike Shanahan (.552). He hired the college hot shot, Steve Spurrier (.730). Yet that group posted a combined winning percentage of .420 as Redskins coaches with eight losing seasons out of 11. The three longtime NFL coaches combined for seven losing seasons in their other combined 48 NFL seasons.
Again, it's not all on Snyder. But the organization can't hide from its past and this is what they've done here.
Yes, Jim Zorn was not Snyder's typical hire, though that resulted as much from lack of preparation as anything. They were caught off-guard by Gibbs' retirement and had no real plan. Zorn, a nice personable guy, could not command a room and did not have the respect of his players. Even coaches would wonder about some of the bizarre tales he would tell the team, wondering how it related to his ultimate message. After Zorn's first news conference, I remember thinking: I'll like this guy, but it will not go well.
Gruden also is atypical, though in a different way than Zorn. He, too, comes across as personable. He does not come here with the résumé of the other non-Zorn hires. You can point to reasons why he'll be good and equally point to reasons why he won't be. A case can be made either way.
But it's good that Gruden arrives without the sizzle of the others. Gibbs did not arrive with any in 1981 either. Nor did Schottenheimer when he took over in Cleveland. Shanahan was a hot-shot coordinator but failed first-time head coach when he got the Denver job. They all won.
There's a different sort of energy that comes with a guy trying to reach a certain place rather than trying to maintain it. When you've had success, perhaps you start to get too confident in what you can do -- and with whom. You can overestimate your abilities as a coach because of your track record. Gruden, it seems, understands he'll need help -- from coaches, but mostly from players.
The past brings instant credibility, but it clearly hasn't guaranteed anything here. It's not like other teams wouldn't have hired any of these previously successful coaches. During their first news conferences you could see, and feel, why they'd won in the past. But duplicating past success is difficult, especially when you work for an organization with a weak foundation. Is it more firm now? Will there really be a better way of making decisions? I say: Prove it. We've heard this talk before about Redskins Way and Redskins Grades. Why is this time different?
But this is why hiring someone such as Gruden is intriguing. He needs to work hard to prove himself to his players rather than pointing to his résumé. It's not that the others weren't respected; they were. And I'm not even blaming them solely for their losing records here; good organizations win. The Redskins have not. Schottenheimer probably would have won had he stayed longer, but taking all control from Snyder was a bad move, one he felt he could do because of, well, his track record of success.
Of course, the track records buy respect with the owner and can keep him less involved.
But with Gruden, the newness brings something new, something fresh. His personality could be good for quarterback
Robert Griffin III
, a more personable coach with an even-keeled demeanor. I also can't imagine a former quarterback isn't hard on his own quarterbacks. And it's not as if Shanahan was out of control; Griffin deserves his share of the blame in this breakup. However, Gruden might just be a better fit for him.
Every coach needs authority, but not every coach needs power. Too often here there's a power struggle. Spurrier had none, but he was ill-equipped for the NFL. Zorn had none, but was blinded by an 8-2 start into thinking he was a coach he really wasn't. Only Gibbs knew how best to use that power under Snyder.
Gruden doesn't arrive here as a polished guy, nor as someone who will wow anyone with his charisma when he walks into a room. Maybe that's good because, for a change, it's not all about the coach here. The coach must be in charge; he must be the authority. But he doesn't have to be the star.
A lot has to go right for Gruden to work, just as would be the case anywhere (though Griffin could make his life easier by returning to his old self). The Redskins have never proved all will go right for more than a season at a time. So this is far from just up to him. That can't be emphasized enough. The front office must provide the players and also the support. The owner can't undermine his coach -- whether it's real or perceived -- by his conduct, whether in recommending certain moves or getting too tight with players.
The coach has to do his part too. That's where Gruden's newness can help. Yes, he has a famous last name. But he still needs to make his name.
January, 9, 2014
Jan 9
10:25
PM ET
ASHBURN, Va. -- His path started out as a typical one, with Jay Gruden starring at quarterback for the University of Louisville. He left there as the Cardinals' all-time leading passer.
But there was no shot at the NFL. He's not tall, he's not strong-armed and a knee injury as a sophomore altered his game. So he wasn't drafted. And thus started quite a journey, one that started with a gig as quarterback for the Barcelona Dragons and then Sacramento Surge of the World League of American Football.
After a graduate assistant's job with Louisville, he jumped to a $500-a-week gig as a quarterback in the Arena Football League for five seasons.
One of his linemen, Carl Watts, once told the St. Petersburg Times that Gruden's fearlessness as a quarterback wasn't always good (which should give him something in common with his new quarterback,
Robert Griffin
III).
"You know he's about to take off and scramble," Watts said. "I pick him up and say, 'Jay, you got to cut this out. We need you hanging around until the end.'"
His Louisville coach, Howard Schnellenberger, told the Times that Gruden, "Took a real physical beating with us."
Gruden won six Arena League championships, including two as a coach. He once admitted to Dan Daly of the Washington Times that he was a little bitter that he never earned one invite to an NFL camp.
"Given the opportunity I could have at least played some preseason games or something," he told Daly in 2003. "I think the rest of the league thought, 'If his father [a scout] doesn't want to sign him, why should we want to sign him?' But I see these other slappies who've gotten nine or 10 years in and wonder why that couldn't have been me."
Even in that article, his brother, Jon, predicted Jay Gruden would someday be a great coach. But Jay Gruden often admitted that he was not as intense or driven as his brother. Jon Gruden would be with their father, a former director of player personnel in Tampa, while Jay Gruden said he'd be watching cartoons.
Still, he stayed on the path. He was the offensive coordinator for the Nashville Kats in 1997, then the head coach of the Orlando Predators from 1998 to 2001. He served as an offensive assistant with the
Tampa Bay Buccaneers
from 2002 to '08. During that same period, after the NFL season ended he was the Predators' quarterback from 2002 to '03 and then their head coach from 2004 to '08.
"He's a hard worker," Redskins general manager Bruce Allen said. "He would commute in the middle of the night from Orlando to Tampa."
Gruden not only called the offensive plays, but also the defensive ones for the Predators. And he resisted overtures from college and NFL teams. Finally, after two years in the United Football League, first as the offensive coordinator under Jim Haslett and then a year later as the head coach of the Florida Tuskers, Gruden made the jump to the NFL. He served as Cincinnati's offensive coordinator the past three seasons.
"There's a lot at stake here," he told the Tampa Tribune in 2011 during his first offseason with Cincinnati.
Yes, there was. And it led him to Washington.
January, 9, 2014
Jan 9
9:15
PM ET
ASHBURN, Va. -- Jay Gruden's familiarity with several coaches on the
Washington Redskins
' staff helped make the job attractive. But, while it's likely that his future coordinators already are in the building, he's still going to interview other coaches for those positions.
The leading candidates to be the coordinators are thought to be Sean McVay (offense) and Jim Haslett (defense). Both are holdovers from the previous regime -- and both have ties to Gruden, having coached with him in the United Football League. Gruden said later Thursday that he greatly respects both. Because Gruden said he will call plays, it would be a surprise if McVay, who turns 28 later this month, wasn't elevated from tight ends coach. Also, Gruden said he wants to stick with a 3-4 defense, which Haslett has coached for four seasons here and two others in Pittsburgh.
But he also wasn't ready to name his coordinators just yet.
"We'll go through the process," Gruden said. "There are a lot of great coaches out there."
The Redskins also retained secondary coach Raheem Morris, who worked with Gruden in Tampa Bay for four seasons. But Morris fired Gruden when he took over as head coach in 2009, though it would still be a surprise if he wasn't retained considering he's well-liked by general manager Bruce Allen. Washington also has holdovers in running-backs coach Bobby Turner, offensive-line coach Chris Foerster, defensive-line coach Jacob Burney and assistant special-teams coach Richard Hightower.
"I will interview a lot of coaches," Gruden said. "I'll look at each coach that has been retained by Bruce [Allen] and interview everybody. I know a lot of coaches here that can coach. There are also good football people across the country looking to work and work for the Redskins. I've had 350 texts from great coaches looking to coach. I don't think finding a great coach and coaching staff will be difficult as it will be finding the right ones."
It helps the Redskins that only two other teams have filled their coaching vacancies and four others remain.
"The good part about getting our coach now is, his phone is blowing up with people ready to coach who are available now," Allen said.
January, 9, 2014
Jan 9
1:45
PM ET
Robert Griffin
III was part of the lure, making the
Washington Redskins
' head-coaching job a little more attractive to Jay Gruden. One thought from his side: If he could turn
Andy Dalton
into a productive passer, what could he do with Griffin?
He's about to find out. And it will take both of them to make it work.
[+] Enlarge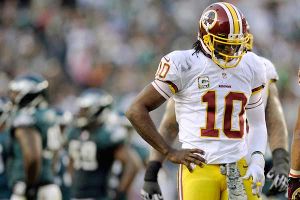 Michael Perez/AP PhotoRobert Griffin III gets to push the reset button early on in his Redskins career, but he must buy into what Jay Gruden will sell.
For Griffin, it's a fresh start, a break from a regime that, in the end, he did not embrace -- and wasn't sure if it embraced him. After he was benched, Redskins corner
DeAngelo Hall
said Wednesday night on Fox Sports, Griffin told teammates that he didn't think coach Mike Shanahan liked him. We don't need to rehash all those issues right now; suffice it to say trouble started brewing late last season, simmered in the offseason, and resurfaced during the summer and season. It could have worked had the Skins won. But a bad start and inconsistent play only made it worse.
Regardless, Griffin needed a change, potentially a refreshing one for him. Now he'll get a coach who some say does a good job selling what he wants done. Now he has two coaches with even-keel demeanors in Gruden and Sean McVay, assuming McVay will be the offensive coordinator, as we hear will happen. That matters. It also helps that McVay already knows Griffin and that Gruden was a successful college quarterback.
Will it work? Don't know. But these are reasons why it could.
For Griffin, he'll need to buy into what is being sold. Though he ran everything the previous staff asked him to, there was doubt as to whether he ever bought in. When that's the case, you can only improve so much. If Gruden gets him to buy in, Griffin could have a blast. But Griffin can't just assume his rookie success will return because the Shanahans are gone. He does have to buy in; he does have to mature as a professional. Of course he does; he's only 23.
Here's what Gruden's agent, Bob LaMonte, said that was one of the factors that convinced Gruden to take the job: "As he analyzed the four jobs, the quarterback he found the most intriguing would be [Griffin] because he has such big upside to him."
Let the love affair commence. Again. But Gruden must convince Griffin what he's doing is for the best.
"The biggest thing for him and Gruden is instilling confidence in the offense," said former Redskins tight end
Chris Cooley
, now part of their game-day broadcast . "That's what they have to do with Robert. If they make him feel confident as a player, then they'll love him. That's what he lacked more than anything. It was the continued doubt of what he could do and what he should do in this offense. They have to confidently say, you can be the best quarterback in the league.
"Everyone saw him struggle with that [this season]. He didn't trust himself."
Griffin will have plenty to prove after his reputation took a pounding this season. Is he a diva? Is he a leader? When you speak to players about him, they recognize that he has to mature, that he has to accept more blame for bad plays. There were definite concerns about whether he saw himself as entitled -- and that's why some feared what might happen if they hired his college coach, Art Briles.
But one player who expressed all of these fears also stressed this: "I like Robert."
I heard frustration about things, but not hostility. When you're 3-13, frustration erupts. It's certainly not something that can't be mended with a strong (and low-key) offseason, a lot of hard work and on-field success. Watch how fast the frustration then melts away.
Griffin was given a quick reset on his career. He'll be healthy entering next season. He'll have a new coach, a new chance to build the trust he lacked over the past year. This is what he needed and wanted. There's no more drama. Now he just has to produce.
January, 9, 2014
Jan 9
1:00
PM ET
The Washington Redskins announced Jay Gruden
as their new head coach Thursday morning.
In the moments that followed, I heard several versions of the same assessment among NFL types who tried to explain the decision: Gruden might be a better head coach with the Redskins than he was during his occasionally criticized run as offensive coordinator with the Cincinnati Bengals.
Well then. I can think of no better way to express my own ambivalence about this hire than to pass along the hope that Gruden will perform better in a job necessitating more responsibility and stronger leadership than the one he carried out to mixed results over the past three years. His quick rise -- as late as 2010, he was coaching in the Arena Football League -- speaks to a number of factors unrelated to his specific aptitude for this job.
Among them:
Let's get it out of the way: Gruden is the younger brother of ESPN analyst Jon Gruden, a Super Bowl-winning coach long thought to be an object of Redskins owner Dan Snyder's affections. If his last name were different, would Jay Gruden have been a candidate in Snyder's eyes? It's a question worth asking.

[+] Enlarge

AP Photo/David KohlThe work Jay Gruden, right, did with Bengals QB Andy Dalton provides reasons for optimism and a few red flags for Washington.

The Redskins clearly weren't looking to overhaul their operation after firing Mike Shanahan, a plan that might have disqualified some stronger candidates. Early reports suggest that defensive coordinator Jim Haslett will be retained and that tight ends coach Sean McVay could be promoted to offensive coordinator.

NFL teams are desperate for the profile Gruden provides: A relatively young, offense-minded coach who has had success with young quarterbacks. He is 46 with a goofy personality, based on his appearances last summer on HBO's "Hard Knocks," and his offense ranked 10th in the NFL in scoring (24.3 points per game) over the past three seasons. During that period, the Bengals won 30 of 48 regular-season games in the first three years of quarterback Andy Dalton's career.
Gruden's work with Dalton is an illustration of the genuine ambivalence surrounding this hiring. While Dalton had plenty of NFL success relative to other quarterbacks in their first three seasons, his poor playoff performances reflect limited growth and development -- part of the responsibility of a coaching staff. So should Gruden be praised for running a playoff-caliber offense with a limited quarterback? Or does Dalton's apparent plateau suggest a threshold for Gruden's abilities?
I asked those questions of Matt Williamson, who studies NFL personnel for ESPN.com. Williamson noted that most of the Bengals' talented offense was collected during Gruden's tenure, often to his specifications, and seemed part of what he viewed as a plan to surround an average quarterback with superior weapons.
"I think he maximized Dalton," Williamson said. "That's a feather in his cap. Dalton was especially good in the red zone, and that's a reflection of the playcaller. You could make an argument that Dalton is a guy that entered the league with very, very average tools. I think they have coached him up to his max.
"When you look at those spurts where he was awful, a lot of it was decision-making. I'm not sure I can kill a coach for Dalton thinking he has a bigger arm and more tools than he does. He's trying to make throws he can't make. That's a bad decision and on him not knowing who he is."
In some cases, however, Gruden seemed to put too much faith in Dalton. Trailing by seven points entering the fourth quarter last week against the San Diego Chargers, for instance, Gruden ignored the running game and called for Dalton
to throw 31 passes in a game he already was struggling in.
That decision is part of why the Bengals' season ended once again in disappointing fashion.
Gruden's hire had me thinking back to a few years ago, when Chicago Bears general manager Phil Emery said that the first criteria for any hire he makes is excellence in the candidate's current job. It is a simple but perfect way to put the uncomfortable discussion we're having here.
Was Jay Gruden an excellent offensive coordinator? Did he earn a job as an NFL head coach? I'm not sure about the former, and if we're now projecting better performances in more difficult jobs, then I'm not sure the latter even matters.
January, 9, 2014
Jan 9
12:45
PM ET
This is the best hire the
Washington Redskins
could have made. That's what some who know Jay Gruden say. He's reserved and bright, they say. He's an excellent motivator, others say. His relationship with general manager Bruce Allen will soften any tension that could arise with owner Dan Snyder. Look what he did with
Andy Dalton
, they say.
"I would have hired him," one former general manager said.
This is not nearly the best hire the Washington Redskins could have made. That's what the skeptics say: There's nothing special about him; his last name paved the way. Look what he did with Andy Dalton in the playoffs, they say.
"I like him, but his offense wasn't more creative than any other coordinator out there," one NFL defensive coach said. "If his last name wasn't Gruden, we wouldn't be talking about him."
When it comes to the
Redskins' new coach
, there's a split opinion, and it makes this one of the more unusual hires they have made. Yes, he has a last name everyone knows. But it was his brother Jon Gruden's success that made it a big name, not Jay's own success. In the past, all but one of the coaches hired by owner Dan Snyder was a big name.
But when it came to this coaching search, there was no big name left to hire. Bill Cowher wasn't coming out of retirement. Nor was Jon Gruden. And no coach in this field had that wow factor the Redskins often gravitate toward (with the exception of Jim Zorn).
That doesn't mean it's a bad hire. We also don't know if it's a good one. There's a chance it could be excellent. But one coach said several days ago that Jay Gruden does an excellent job of getting players to buy into his system. If that's the case, it will be welcomed. While quarterback
Robert Griffin
III might have run the last system, it's clear he did not buy into it. Others did, but if Gruden can sell this to them, as well, that will be a good start.
His Bengals offense sputtered in the playoffs, averaging 11 points per game the past three years -- all one-and-done showings. That's not good. Nor is the fact that he was knocked for getting away from the run each time. But one thing I've learned over the years is not to judge a potential head coach by what his offense did when he was a coordinator.
Being a head coach incorporates so much more. It's about leadership and command of the room much more than system. It's about hiring the right people on your staff, and promoting tight ends coach Sean McVay to offensive coordinator will be viewed by many on the roster as the right move. We'll see where Gruden goes defensively, and that will be worth watching.
It was telling this morning that retired linebacker
London Fletcher
, knowing Jim Haslett was still around, tweeted this: "Defensive struggles where not solely on salary cap
#excuses
#blahblahblah
" and this: "I think [Raheem] Morris as DC would be great choice! Brings energy & excitement! Would feel pretty good about HC, DC, & OC then!"
I've seen too many Redskins hires under Snyder to fully know if this one will work. There are parts to like and wonder about. Marty Schottenheimer, Joe Gibbs and Mike Shanahan -- three of the all-time winningest coaches in NFL history -- all have failed to build consistent winners.
I know the opinions on Gruden from the people I spoke to throughout this search were as diverse as any.
But I also know of the candidates available, perhaps Gruden was the best fit. To have the familiarity he does with Allen and others on the staff will help. Gruden knows what he's getting into, not just with Snyder but with the market and the entire organization. The fact that a relationship already exists will matter; Gruden needs to trust whatever he's been told and to know how he must operate in regards to ownership. Here's a tip: Keep Snyder involved -- and that doesn't always mean allowing him to meddle -- and win. Then he will be happy.
It will also help the Redskins and Gruden to avoid the leaking of stories that hurt the franchise since early December -- and in past years. The organization needs to rebuild a trust, not only with certain players (Griffin), but with the fans. As tired as everyone at Redskins Park was about the leaks, it's probably quadruple for the fans, who thought that two decades of mediocre to bad football -- and needless drama under Snyder -- had finally ended after last year's playoff run. A low-key guy has to help here, right? You would think.
Gruden is also tight with the Redskins' director of football operations Paul Kelly, an understated but important aspect because of how closely the two must work.
There are a lot of reasons this has to work, for many people -- including Allen (who was at the forefront of this hire) and Griffin (who clashed with Mike Shanahan and Kyle Shanahan). It's their jobs, their reputations on the line here.
What I also know is that this hire will shape the franchise for a long time. That's obviously the case whenever you hire a coach. But it's even more true now because of Griffin. They have a young head coach; they have a young quarterback. It's boom-or-bust time.
January, 9, 2014
Jan 9
12:10
PM ET
A few quick observations from Thursday's news that offensive coordinator Jay Gruden is leaving the
Cincinnati Bengals
to become head coach of the Washington Redskins, and that he will be replaced as OC by Hue Jackson:
With respect to Jackson being promoted, I like this move.

Jackson

I like this move so much that, as you can see in this particular blog, I believe the Bengals' entire offense will benefit from the switch. It was clear after a third straight postseason failure that some change needed to come. In my opinion, personnel wasn't the issue. The scheme, mainly when it came to the postseason, was the issue. While Gruden had good game plans for the regular season, he just didn't draft up the same blueprints -- or have enough confidence in them, at least -- for the postseason. That really was the Bengals' only offensive problem. In some cases, the type of offensive ineptitude the Bengals showed in their past three playoff appearances would lead to calls for the head coach or offensive coordinator to be fired. (Actually, those calls have come anyway.) With owner Mike Brown in control, though, you knew head coach Marvin Lewis wouldn't be let go. But if a change needed to occur, Gruden might have made for the perfect scapegoat to get fired. For that reason, think of this particular offensive coordinator switch as a much cleaner change than the alternative.
This change ought to promote an added emphasis on the run. In the past three playoff games, the Bengals handed off to their running backs on just 25 percent of their plays. That is far from balance. During this past regular season they were closer, running the ball with their running backs on 36.3 percent of all plays. With Jackson's reputation as a coach who likes to run, and another season of BenJarvus Green-Ellis and Giovani Bernard playing together, expect Cincinnati to get back, in both the regular and postseasons, to the running game.
It was smart for the Bengals to promote from within. As is the case with any type of coaching change, the Bengals will need a little time to adapt to a new system. The good thing for them, though, is that with a coach who was already on staff, the terminology shouldn't need changing. The same types of calls and checks that were used under Gruden can remain under Jackson. Even though some things will get tweaked, the foundation of what the Bengals will try to get done shouldn't.
Another reason it was smart to promote from within and to do it so quickly: Cincinnati could be losing a second assistant in the coming days or weeks, defensive coordinator Mike Zimmer. The longtime assistant could be headed to Minnesota or Tennessee as a head coach, and you have to imagine the Bengals would rather hire from outside for one position and not two. By adding Jackson right now, it gives them a chance to fully focus on Zimmer's replacement if and when that time comes.
Lastly, I must say this about Jay. I like him. A lot. He's one of the calmest, funniest, most even-keeled personalities I've met in my brief time covering the NFL. Don't get me wrong, he can be an intense guy -- that's a gene that football coaches are apparently born with -- but he's not his brother. You'll see Jay Gruden get angry, but you won't see that same glare that former Tampa Bay and Oakland coach (and current ESPN analyst) Jon Gruden often had. I also genuinely believe Jay Gruden is a good coach. One of the things he'll have to do in Washington is make sure to trust his gut and instincts. The moment he second-guesses himself or starts overthinking, he's in trouble. It will be interesting following this chapter in his coaching career. I wish him all the best.
January, 9, 2014
Jan 9
12:00
PM ET
PHILADELPHIA -- It is all too easy for Eagles fans to be dismissive of the hiring of Jay Gruden as the head coach in Washington.
It's not like it's Jon, right?
Doesn't Dan Snyder always get this wrong?
With Chip Kelly completing his first year on the job, the Eagles still have the shiniest, most progressive program in the NFC East.
But it could be a mistake to take the hiring of Gruden too lightly, even if it means much of Mike Shanahan's coaching staff remains in place.
[+] Enlarge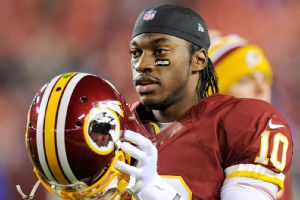 AP Photo/Nick WassIs Jay Gruden the coach who will get the most out of Redskins QB Robert Griffin III?
Washington didn't go for the wow factor the way the Eagles did with Kelly last year. The hiring of Gruden is much more reminiscent of the hirings of Marc Trestman in Chicago, Bruce Arians in Arizona and
Mike McCoy
in San Diego. Like Gruden, they were all NFL veterans who had been just under the radar for head-coaching opportunities in the past. They were almost too obvious for owners looking to make a splash.
And guess what? They all did just fine.
Arians' Cardinals went 10-6, same as Kelly's Eagles. The difference was that Arizona plays in the NFC West with Seattle and San Francisco and missed the playoffs, while that record was good enough to win the NFC East by two games.
McCoy's Chargers didn't have as good a regular-season record -- 9-7 in a division with Denver and Kansas City -- but they are still alive. They may have backed into the playoffs, but they won their first-round game.
Trestman's Bears played for the NFC North title on the final day of the regular season. If
Jay Cutler
hadn't gotten hurt -- or if Trestman had stayed with
Josh McCown
when he was hot -- who knows how Chicago's season might have been different?
Kelly's Eagles trounced Trestman's Bears 54-11 in a crucial game for both teams. Kelly beat Arians head-to-head, as well. Kelly lost to McCoy in their head-to-head meeting.
Point is, there is value in hiring a smart coach with a fresh approach and an outsider's perspective, as the Eagles did. But long experience in the league and a sound program are not to be discounted, either.
The biggest question is whether Jay Gruden is the right coach to get the absolute best out of quarterback
Robert Griffin III
. He doesn't seem like it at first glance. Going after San Francisco's Greg Roman, who has designed an offense around
Colin Kaepernick
, might have made more sense from that perspective. But we can't be sure until we see Gruden's offense with Griffin running it.
In the division, Tom Coughlin remains the No. 1 coach until someone else wins a Super Bowl. That said, in 2013 the
New York Giants
looked like a team on the decline.
Kelly jumped ahead of Dallas coach Jason Garrett almost immediately. The Cowboys' decision to stay the course may help the Eagles as much or more, within the division, as any hire Snyder could have made in Washington.
Gruden doesn't send shock waves through the NFC East. Hiring him may not be sexy, but recent history shows it could be a solid move.
January, 9, 2014
Jan 9
11:05
AM ET
CINCINNATI -- Well,
Cincinnati Bengals
fans, you wanted it. Now you've got it.
The changing of the offensive guard has begun.
With news Thursday that offensive coordinator Jay Gruden was leaving the franchise to become Washington's new head coach, the Bengals are now in position to alter their offensive philosophy in a way that will benefit the entire unit. Yes, that specifically includes quarterback
Andy Dalton
, and it most certainly includes the likes of running backs
Giovani Bernard
and
BenJarvus Green-Ellis
.
Expect true balance to come to Cincinnati.
Farewell to the days of passing in the playoffs on third-and-1s. Say
sayonara
to deep routes on fourth-and-3.
Gruden's departure created a domino effect that has already had ripples throughout the Bengals' locker room. According to ESPN's Adam Schefter, who broke the news about Gruden leaving, the Bengals are expected to promote running backs coach Hue Jackson to Gruden's old post. This will be the fourth different title Jackson has held with the Bengals, and it will be the fourth time he has served as an offensive coordinator in the NFL.
Jackson previously was the offensive coordinator in Washington (2003), Atlanta (2007) and Oakland (2010). Before joining the Bengals' staff in 2012, Jackson had been promoted to head coach of the Raiders in 2011 before getting fired that following January.
[+] Enlarge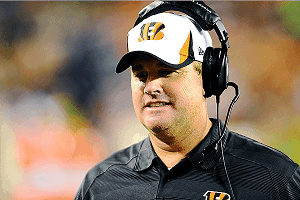 Andrew Weber/USA TODAY SportsJay Gruden's play calling has come into question during the postseason, including during Cincinnati's home loss to the Chargers this past Sunday.
With the Bengals, he has served as a receivers coach -- during an earlier stint that preceded his tours with the Falcons and Raiders -- a defensive backs coach, and most recently as a running backs coach. Under his watch this past season, Bernard and Green-Ellis rushed for more than 1,400 yards combined. A speedy, shifty playmaker, Bernard racked up 1,209 total yards of offense as both a running back and pass-catcher in Gruden's scheme.
While the Bengals were mostly successful under Gruden the past three seasons, posting a combined 30-18 regular-season record and watching Dalton enjoy some of the best passing numbers of any quarterback through his first three seasons, there was one glaring issue: They weren't very good in the postseason.
Sunday's 27-10 loss in the wild-card round of the AFC playoffs was the perfect display of the coaching ills that Bengals fans believed Gruden possessed. In a second half that was marred primarily by three Dalton turnovers and some poor decision-making on the part of the signal-caller, the playcaller had his issues, as well. He requested one fourth-quarter play that required receiver
Marvin Jones
to sprint deep on fourth down when he really didn't need to go so far. The Bengals only needed to convert 3 yards for the first down. With other receiving options covered, Dalton threw to his most open target -- Jones. He was too pumped up on the difficult deep throw and sailed it over Jones' head.
Also questioned after the game were Gruden's decisions to pass 31 times in a fourth quarter that his team entered trailing by just seven points.
Then there was that curious third-and-1 call near midfield in the first half when he brought in bruising defensive tackle
Domata Peko
as an extra blocker, only to call for a 7-yard pass that resulted in an incompletion.
As he had twice before, Gruden got
conservative in a playoff game and failed to trust
his running backs. As Green-Ellis would later lament, that wasn't "playoff football."
Gruden admitted during a local radio interview Monday night that he has a tendency to overthink certain game situations and plays.
"Sometimes maybe I give [defensive] coordinators too much credit like, 'OK, this play worked a couple times, no way it's going to work again,'" Gruden said to ESPN 1530 AM's Lance McAlister and former Bengal and team radio personality Dave Lapham. "You outthink yourself, and that's the whole thing you go through as a coordinator is how to attack.
"The big thing for us is trying to keep teams off balance. I don't think we're good enough to be one-dimensional as far as throwing the ball or as far as running the ball."
Under Jackson, expect the Bengals to get back to more of that true offensive balance, particularly in the postseason. In all three of Cincinnati's playoff games with Gruden coaching, the Bengals handed the ball to their running backs on just 25 percent of the overall plays. That's far from balance.
That gap ought to close under Jackson, who was a sort of running back savant at Oakland. While there, the Raiders had a rushing attack that featured a young
Darren McFadden
. The University of Arkansas product rushed for more than 1,100 yards his third season. He also had 14 carries of 20 yards or more that year. Through seven games in 2011, his fourth season in the league, McFadden averaged 5.4 yards per carry and had eight carries of 20 yards or more before a serious foot injury sidelined him the latter half of that year. He hasn't been the same since.
Now that Jackson is leading the Bengals' offense, Cincinnati has a coach who won't be afraid to run the ball in an effort of helping take pressure off Dalton. Against the Chargers on Sunday, the Bengals probably should have stuck with the run, in part, to relieve some of the pressure that piled itself upon Dalton's shoulders like two-ton boulders.
"With the atmosphere of the playoffs, the little things can get a lot bigger than they really are," Dalton said. "You get down two scores but still have so much time it might feel like you are down three scores, four scores. It's about being able to manage the emotion of the game."
Gruden's departure and Jackson's expected promotion ought to help Dalton control those emotions better. A more balanced offense means Dalton has a very real chance he needs to seize at being "Good Andy" more times than not.
January, 9, 2014
Jan 9
9:44
AM ET
Cincinnati Bengals offensive coordinator Jay Gruden will not even make it to Detroit for an interview with the Detroit Lions.
Per
a tweet from ESPN Insider Adam Schefter
on Thursday morning, Gruden has been hired as the next coach in Washington.
Gruden never seemed like a favorite candidate for the Lions, but he did fit the profile of what the team has been looking for, and the Lions requested to talk with him about the opening.
It also means the pool of candidates for Detroit has slimmed even more. Ken Whisenhunt, Mike Munchak, Jim Caldwell and Gary Kubiak are the four candidates who have either interviewed or are scheduled to interview with the team.
They are all, essentially, similar candidates. All have been head coaches in the NFL. All have offensive experience. Of the four, all except Munchak have extensive experience working with quarterbacks. And all except Munchak have led their teams to the playoffs in their time as a head coach.
As for Whisenhunt, Schefter reported Thursday morning that Whisenhunt,
as we wrote Wednesday
, will interview today with the Lions. Then he'll talk with Tennessee on Friday and Cleveland on Saturday leading up to his divisional playoff game against Denver on Sunday.
No team can hire Whisenhunt until after the Chargers are knocked out of the playoffs. By Monday, the Lions could know where they stand -- or potentially be able to hire -- the candidate they have appeared to favor all along.
January, 9, 2014
Jan 9
8:45
AM ET
The Washington Redskins always had Jay Gruden at or near the top of their list of coaching candidates. General manager Bruce Allen already knew Gruden from working with him in Tampa Bay, as did some Redskins coaches, including secondary coach Raheem Morris and tight ends coach Sean McVay. Defensive coordinator Jim Haslett worked one season with Gruden in the United Football League. So there is a familiarity, and he had an "impressive" interview, according to one source.

Gruden

Gruden was considered one of the hot candidates, maybe even the hot candidate, for the various head coach openings in the league. So once he started interviewing, it stood to reason that someone would sign him soon. In fact, his side expected a deal to be done with a team by Monday. One reason Mike McCoy landed in San Diego last year is because the Chargers had the first interview and wouldn't let him leave without a deal. This apparently was the guy the Redskins wanted, and it clearly looks as if they went with the full-court press.
Gruden met with Tennessee this week and had been scheduled to meet with Minnesota on Thursday, and Detroit this weekend.
It would make sense for McVay to become Gruden's offensive coordinator. He's highly thought of; they have worked together, and they share the same agent, Bob LaMonte. That doesn't always mean anything, but McVay is a smart coach and also would have been a logical candidate to make this jump had the previous staff stayed and, say, Kyle Shanahan had left. It's easy to see McVay climbing high on the coaching ladder. I don't know who would be the defensive coordinator yet, though I could see Morris being elevated to that role.
I know Jay Gruden's brother, Jon, is high on Redskins quarterback Kirk Cousins. During an interview I had with him before the Nov. 25 game against San Francisco, Jon Gruden brought up his name unprompted. Does that mean his brother is equally high on Cousins? Don't know. I do know he preferred Andy Dalton over Colin Kaepernick when they both came out of college. But Gruden said that was more because Dalton was much closer to being ready to play immediately. A number of teams liked Kaepernick, but believed he was more of a project.


What does it mean for Robert Griffin III? One person involved in the process said if Gruden could turn Dalton into a playoff quarterback, what could he do with Griffin? Also, Griffin was a consensus top-two pick, so we're not talking a direct comparison and that Gruden somehow does not like this style of quarterback. Most coaches like quarterbacks who have talent. Griffin remains the most talented one on the Redskins' roster.

NFL SCOREBOARD
Thursday, 8/28
WEEKLY LEADERS