NFL Nation:

Wayne Elliott
December, 4, 2012
12/04/12
2:30
PM ET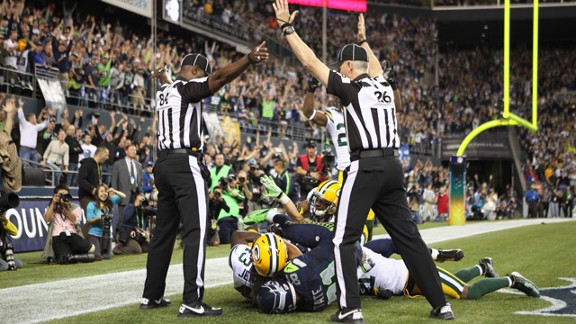 Otto Greule Jr/Getty ImagesThe "Fail Mary" may cost Green Bay a first-round playoff bye and help Seattle nab a wild-card spot.
You knew it was going to come to this, didn't you?
You knew the minute
Golden Tate
shoved
Sam Shields
out of the way.
You knew as soon as the ball settled into
M.D. Jennings
' hands, only to disappear in a web of arms.
You knew the minute that
one replacement official signaled for a touchdown
while standing next to another who called for a touchback.
And you knew when commissioner Roger Goodell shrugged it off as an example of
"the beauty of sports."
At the moment, the NFL's "Fail Mary" is directly impacting the playoff position of three teams in the NFC. There are four long weeks remaining before the postseason is set, but it's reasonable to believe that Tate's disputed touchdown reception -- a play that gave the
Seattle Seahawks
a 14-12 victory over the
Green Bay Packers
as time expired -- will weave its way into the 2012 playoff tapestry.
The chart shows how the NFC playoff standings would look if Jennings had been granted the interception, as the replacement referee in that game -- Wayne Elliott --
said later Jennings should have been.
The NFL also acknowledged the play
should have been overturned
by offensive pass interference on Tate, but it
drew no conclusions
on whether what happened next should have been ruled an interception or a touchdown. (
As we discussed at the time
, reasonable people can disagree on the "simultaneous possession" aspect of the play.)
At the moment, the difference for the Packers is a first-round bye in the playoffs. For the Seahawks, it's a spot in the playoffs entirely.
Yes, with a loss in that game, the Seahawks would now be 6-6 and would lose in a tiebreaker to the
Washington Redskins
for the final wild-card spot in the NFC. As it stands now, however, they have the edge on the Redskins because the victory gave them a 7-5 record. The Packers are currently the third seed in the NFC with an 8-4 record, but a 9-3 mark would put them ahead of everyone except the
Atlanta Falcons
.
Look, I realize nothing in an NFL season is this simple. There are innumerable moments in the course of four months that cause permanent ripple effects. And then there's
the Butterfly Effect
, which suggests that a Packers victory in that game would have started a new timeline, thus making it impossible to make such a direct connection between an event in September and playoff standings in December.
(Sorry for the brief turn into geekdom. We'll carry on from here...)
There's no sense in hashing through the abomination of replacement officials, other than to say the "Fail Mary" was a unique moment in NFL history and one that came outside the course of reasonably expected variables. Calls from officials, good and bad, impact every game. But in this instance, and really this instance only, the NFL knowingly lowered the chances that the game would be officiated well by hiring unqualified replacements as leverage in a labor dispute.
There is no telling how much impact the decision ultimately will have. The worst-case scenario would leave the Seahawks and Packers tied for the NFC's final wild-card spot. The Seahawks would clinch by virtue of the first tiebreaker, which is head-to-head matchups. If the Packers wind up tied with a team it hasn't played, the next tiebreaker is conference record -- which is one game worse than it would have been had they defeated the Seahawks.
The Packers
long ago left behind the disappointment of that game.
They had to in order to proceed with their season, and it's worth noting they are in position to minimize its impact. They own the tiebreaker over the
Chicago Bears
in the NFC North and can cement it with a victory at Soldier Field in two weeks.
But as outside observers, we don't have to fall in line with such thinking. It's important to note the lasting impact of the league's replacement fiasco.
For the next few weeks, I'll post our own "NFC Standings*" for the purpose of tracking the bearing of that game. It's not because I'm a sore loser or that I hate the Seahawks or feel compelled to stick up for the Packers. To me, the league should be held accountable for risking the integrity of its process to win a battle at the negotiating table. Let's see how it plays out.
October, 4, 2012
10/04/12
11:10
AM ET
Wednesday,
we directed you to an ESPN.com Hot Read on replacement officials
. Among other nuggets, Elizabeth Merrill and Wayne Drehs revealed that one former replacement official is back to his original job of working junior varsity eight-man football in Kansas.
Wednesday night, Showtime's "Inside the NFL" had two former replacement officials -- Wayne Elliott and Jim Core -- in studio for a fascinating 17-minute interview.
Elliott, of course, was in charge on that fateful Monday night when the
Green Bay Packers
lost 14-12 to the
Seattle Seahawks
on the final play. You can watch the entire video embedded in this post, but there were a couple of really interesting takeaways. Among them:
Elliott acknowledged that if he were one of the deep officials on the final play, he would "probably" have ruled the play an interception by Packers safety M.D. Jennings. Elliott said: "I learned a rule by screwing up a rule."
According to Elliott, officials were trained by the NFL not to call pass interference on Hail Mary plays. Elliott: "It was brought up that you don't really call interference on a Hail Mary. Deep officials were trained that during a Hail Mary, there are a lot of bodies in there, you just let it go." That's a sentiment we've heard often in the past few weeks. But the NFL later said Elliott and his crew erred by not calling offensive pass interference on Seahawks receiver Golden Tate.
Elliott's cell and home phones didn't stop ringing "for 72 hours" after the play, he said. There were "lots" of calls from Wisconsin numbers, he said, and he didn't answer them. One, however, came from Packers coach Mike McCarthy, who left a voice mail. Elliott: "He just had heard I was having a rough week and wanted to know that he thought what I did ... controversial, maybe he didn't agree with it, that I handled it with class. He has a home in Austin [Texas]. And he said it's always good to know another good Austinite. Just very classy." I second that. What a thoughtful move from McCarthy in the face of a lot of adversity.
When asked to share a story of on-field abuse, Elliott singled out Chicago Bears quarterback Jay Cutler. Elliott: "I had Jay Cutler, when we did not reset the game clock for him after a discussion among a penalty enforcement, call me a [expletive] replacement ref. [He said], 'just because you're a replacement ref, you've got to know the [expletive] rules.' Three minutes later during a timeout, I'm standing next to him. He's got some water. He said, 'Do you want some water?' I said, 'Yes, even though I'm an [expletive] replacement ref, I'll drink your water. He said, 'It's all I could say to get your attention.'"
Overall, this interview reminds us that the NFL's replacement officials are human. It reinforces the difficult position the NFL put them in, and justifies the wholesale direction of blame for the fiasco at the league and not the officials themselves.