May, 25, 2011
5/25/11
11:33
AM ET
Current NFC West teams popped up four times in
Mike Tanier's Insider list
of the 10 most disappointing NFL trades of the past 25 years.
How heartwarming.
By disappointing, Tanier meant for both teams. He was not analyzing lopsided trades, but rather those that hurt both teams.
Terrell Owens
, Kelly Stouffer,
Joe Wolf
,
Deion Branch
and
Trev Alberts
make appearances, so proceed at your own risk.
The
San Francisco 49ers
' 2004 trade sending Owens to Philadelphia for
Brandon Whiting
and a conditional fifth-round choice checked in at No. 2 on the list.
[+] Enlarge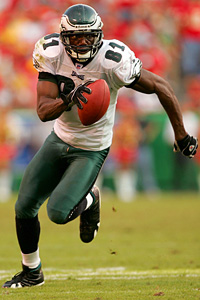 Jamie Squire/Getty ImagesTerrell Owens went to the Super Bowl with the Eagles after being traded by the 49ers.
I'm not sure how disappointing this trade wound up being for the Eagles. Owens played a leading role in getting them to a Super Bowl, and his gutsy play put Philadelphia in position to win the game. That one season was worth losing Whiting even though Owens became a headache for the team overall.
On some levels, this deal was a downer for all parties. Owens should have become an unrestricted free agent that year, but his agent failed to file the necessary paperwork to void his deal. The 49ers initially received a second-round choice from Baltimore as part of the trade, but with Owens seeking a ruling that would let him hit the market, San Francisco agreed to lesser compensation as part of a settlement. Owens did get a new contract, so he came out OK, but the trade was definitely disappointing.
The 1989 trade between Seattle and the then-Phoenix Cardinals ranked sixth on the list. The Seahawks got Stouffer, who never became the franchise quarterback they were seeking. The Cardinals drafted Wolf with the first-round pick they received from Seattle.
This deal was also memorable for the Seahawks' failed attempts to trade Pro Bowl safety Kenny Easley before settling on the first-round pick as compensation. The Easley trade fell through when doctors discovered Easley had suffered career-ending and life-altering kidney damage after ingesting massive quantities of ibuprofen over the years. The Seahawks' role in administering the ibuprofen drove a wedge between Easley and the organization. The sides reconciled 15 years later, but it was an excruciating process.
I appreciate Tanier's inclusion of the first Seattle-New England trade involving Branch. Sure, the Patriots came away with Pro Bowl safety
Brandon Meriweather
, while the Seahawks never got much in return for Branch. This trade was lopsided on the surface, but as Tanier points out, losing Branch cost New England during the playoffs following the 2006 season. I thought the move cost the Patriots a trip to the Super Bowl, and Tanier agrees.
This was a bad move for both teams even though the Patriots came out ahead. New England's relationship with Branch had soured amid a contentious contract dispute. The Patriots got significant value for a player they were unable to sign, but they missed Branch.
One more NFC West trade made the list, but I'm guessing you'll have a hard time singling it out. Tanier went with the 1994 deal between the
Indianapolis Colts
and then-Los Angeles Rams. The Colts acquired the fifth overall pick from the Rams to select Alberts. The Rams traded the seventh pick to San Francisco, which selected
Bryant Young
, while using an additional pick from Indianapolis for running back
James Bostic
. The Rams drafted
Wayne Gandy
,
Brad Ottis
and
Ernest Jones
with the picks from the 49ers.
This deal was disappointing from the Rams' perspective if the team missed out on Young. I wouldn't necessarily view it that way. The Rams came out ahead by a wide margin when we examine the trade itself. Gandy became a long-term starter. Alberts lasted three seasons and made only seven starts.
August, 29, 2009
8/29/09
12:20
PM ET
Posted by ESPN.com's Mike Sando
The 49ers confirmed tackle Marvel Smith's retirement Saturday morning. What now?
Adam Snyder is still the starter on the right side. That was not going to change even if Smith tried to continue playing despite back trouble.
Depth is the problem and this situation was predictable, even likely, given what we knew about Smith's health and how the 49ers' neglected to draft a tackle or sign a younger veteran in free agency (as someone suggested they should).
None of this will matter much if Snyder returns from his knee injury to start most of the games. The 49ers could then try to develop Alex Boone and/or target a tackle in the draft. Their thinking in drafting Michael Crabtree with the 10th overall selection hasn't worked out as anticipated so far, but I think the reasoning was sound and No. 10 was too early to select one of the remaining tackles. Right tackle is not a premium position.
The chart might look familiar. It's the same one I ran when the Seahawks found out Walter Jones needed another surgery.
Some have asked why I suggested former Eagles tackle Jon Runyan as a possibility for the 49ers without mentioning the Seahawks as a logical destination as well. Runyan is strictly a right tackle. Seattle has two players able to start at right tackle (Sean Locklear and Ray Willis) but only one player (Locklear) able to start at left tackle. Adding Runyan would not improve the Seahawks' depth at left tackle, which is their position of need while Jones is unavailable.
The 49ers need a right tackle for insurance. Runyan is coming off knee surgery. He might not be ready right away. The 49ers do not need him right away. They need insurance. I have no idea if Runyan would even consider moving across the country. But when I think of tough, physical tackles in the 49ers' mold, Runyan comes to mind.
April, 14, 2009
4/14/09
11:00
AM ET
Posted by ESPN.com's Tim Graham
How powerful it must feel to make 80,000 people, some of them wearing your jersey, ascend from their seats and cheer your effort.
How exhilarating it must feel to be completely surrounded by fans, pumping their fists and screaming their throats hoarse for you.
To consider the massive audience beyond the confines of the arena, the millions watching at home and around the world on television, or those who don't care one whit about your uniform but maybe drafted you in their fantasy leagues, the sensation must be profound.
NFL players affect the way people feel every time they snap up their Riddells and stride onto the field. In many cases, what transpires on Sunday can buoy or ruin a town's mood for an entire week.
Yet some players' greatest accomplishments happen nowhere near a stadium, aren't broadcasted and have only a handful of witnesses.
These moments often are the greatest feats players will achieve as human beings.
Overlooked too often are remarkable acts performed in the community by the same men who garner so much attention for participating in a football game. They help children, comfort the sick and encourage the destitute -- and don't expect any applause in return.
| | |
| --- | --- |
| | |
| | Al Pereira/Getty Images |
| | Running back Tony Richardson takes great pride in his contributions off the field. |
When NFL Charities recently rewarded 89 player foundations $1 million in grants, three of the five organizations it highlighted belonged to AFC East players: Miami Dolphins quarterback Chad Pennington, New England Patriots tackle Matt Light and New York Jets fullback Tony Richardson.
"I've been blessed to do what I do for a living, but with that I think it's also a tremendous responsibility," Richardson said. "The fact I can show up somewhere and somebody's life can be impacted, at the end of the day that's how we're all going to be judged."
Richardson's jersey isn't the NFL's biggest mover, but the three-time Pro Bowler and lead blocker for five 1,000-yard rushers has sold his share over the years for the Kansas City Chiefs, Minnesota Vikings and Jets.
One of his jerseys, in particular, symbolizes the influence an NFL player can have on one life.
Christopher, a 9-year-old Kansas boy, was buried in it.
"That's definitely humbling and overwhelming," Richardson said. "It doesn't even seem real. I would never think that I could have that kind of impact on one individual or family.
"You can't even put that into words that you've touched someone's life like that."
Christopher had leukemia. Richardson would visit him at Children's Mercy Hospital in Kansas City. Christopher, when his health permitted, would attend any event he could for Richardson's organization, the Rich in Spirit Foundation.
On the desk at Richardson's home in Kansas City is a picture of Christopher.
"My philosophy in life is that if you've had a bad day, that's up to you," Richardson said.
"You control how you respond to adverse situations. His picture helps me maintain that perspective. It reminds me how precious life is, how each day could be your last."
October, 29, 2008
10/29/08
6:29
PM ET
Posted by ESPN.com's Pat Yasinskas
FALCONS
You could kind of see this one building earlier when the Falcons signed veteran tackle Wayne Gandy this morning. Now, the team says rookie left tackle Sam Baker will have lower back surgery on Thursday. The team won't say how long Baker will be out or if he'll be placed on the injured reserve list. But it's not too much of a stretch to at least speculate that Baker's season might be over. Too bad, if that's the case, because he had been having an impressive rookie season.
BUCCANEERS
Pencil in Sabby Piscitelli as the new starting strong safety. With Jermaine Phillips out with a broken arm, Piscitelli is going to get his chance to earn the job and it could end up being on a long-term basis. Phillips is in the final year of his contract and the coaches believe Piscitelli has a bright future. He's been excellent on special teams and decent when he's had playing time on defense.
PANTHERS
John Kasay doesn't have an agent, so he's not going to leak the details of his new contract. But it's a pretty safe bet he'll be making in excess of $2 million a year.
SAINTS
Just about every punter and kicker available worked out for the Saints. Interestingly, Todd Sauerbrun, who is one of the most talented punters ever, didn't get a look. Then again, with all the controversy about reported positive tests for banned substances by New Orleans players, the Saints can't afford to even think about a punter who once was reported to be tied to a steroids investigation and once was suspended for using a banned dietary product.