May, 30, 2013
5/30/13
7:19
PM ET
Any ranking for the 20 greatest coaches in NFL history would leave off at least two of the
22 enshrined
in the Pro Football Hall of Fame.
The ballot I submitted for our "
Greatest Coaches
" project left off eight of them: Guy Chamberlin, Jimmy Conzelman, Weeb Ewbank, Ray Flaherty, Sid Gillman, Bud Grant, Greasy Neale and Hank Stram.
That seems outrageous. However, there were only 20 spots available, and many coaches appeared interchangeable to me outside the top 10 or 12. Current or recently retired head coaches such as Bill Belichick, Tom Coughlin, Mike Holmgren, Mike Shanahan, Tony Dungy, Bill Cowher and Marty Schottenheimer deserved consideration, in my view, but including them meant leaving out others. I also thought Chuck Knox should be in the discussion even though he's long retired and not a Hall of Famer.
Putting together a ballot was difficult. There's really no way to fully analyze the jobs head coaches have done. We must consider won-lost records over time, of course, but little separates some of the coaches further down the list. I figured most panelists would go with Lombardi in the No. 1 spot, but I'm not sure whether that was the case.
Herm Edwards revealed
his ballot

previously. We agreed on George Halas at No. 1. He put Lombardi second. I went with
Paul Brown
and
Curly Lambeau
after Halas, followed by Lombardi, Tom Landry, Bill Walsh, Don Shula, Joe Gibbs, Belichick and Chuck Noll to round out the top 10. The choices got tougher from there.
Edwards had Bud Grant, Dick Vermeil and Marty Schottenheimer in his top 20. He did not have Steve Owen, Holmgren or Cowher. I easily could have justified swapping out some of the coaches toward the bottom of my ballot for others not listed. Edwards and I both had Coughlin at No. 15. Our rankings for Lombardi, Landry, Walsh, Shula, Gibbs, Belichick, Madden and George Allen were within three spots one way or the other. I had Brown and Lambeau quite a bit higher than Edwards had them.
I tried to balance factors such as winning percentage, longevity, championships, team-building and impact on the game. The coaches I listed near the top of my ballot were strong in all those areas. There was room lower on my ballot for coaches whose achievements in some areas offset deficiencies in others.
Halas was a straightforward choice at No. 1 for me. He coached the Chicago Bears for 40 seasons, won six championships and had only six losing seasons. The Hall of Fame credits him as the first coach to use game films for preparation.
"Along with Ralph Jones, his coach from 1930 through 1932, and consultant Clark Shaughnessy, Halas perfected the T-formation attack with the man in motion,"
Halas' Hall of Fame bio
reads. "It was this destructive force that propelled the Bears to their stunning 73-0 NFL title win over Washington in the 1940 NFL Championship Game and sent every other league team scurrying to copy the Halas system."
Brown was my choice at No. 2 because he won seven titles, four of them before the Cleveland Browns joined the NFL in 1950, and he revolutionized strategy while planting a massive coaching tree. Lambeau edged Lombardi in the No. 3 spot on my ballot. He founded the franchise and won with a prolific passing game before it was popular. His teams won six titles during his 31 seasons as coach.
ESPN has revealed the coaches ranking 13th through 20th based on ballots submitted by Chris Berman, Jeffri Chadiha, John Clayton, Colin Cowherd, Mike Ditka, Gregg Easterbrook, Edwards, David Fleming, Ashley Fox, Greg Garber, Mike Golic, Suzy Kolber, Eric Mangini, Chris Mortensen, Sal Paolantonio, Bill Polian, Rick Reilly, Adam Schefter, Ed Werder, Seth Wickersham, Trey Wingo and me.
The eight coaches, beginning at No. 13: Jimmy Johnson, Coughlin, Grant, Stram, Levy, Gillman, Shanahan and Dungy.
Gillman was an interesting one. He spent 10 of his 18 seasons in the AFL and had a 1-5 record in postseason, but there is no denying
his impact on the passing game
. Like other coaches rounding out the top 20, his case for inclusion was strong, but open for debate.
June, 8, 2010
6/08/10
1:00
PM ET
»
NFC Big Question
:
East
|
West
|
North
|
South
»
AFC
:
East
|
West
|
North
|
South
Who will be remembered as the greater coach, Bill Belichick or Bill Parcells?
The passing of basketball legend John Wooden got me thinking about the great coaches in AFC East history. Don Shula is at the top. Weeb Ewbank and Marv Levy also are in the Pro Football Hall of Fame.
[+] Enlarge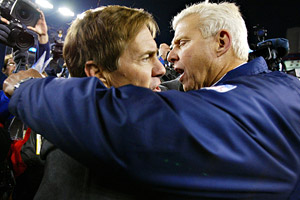 Al Bello/Getty Images Bill Belichick has a better winning percentage, but does that make him a better coach than Bill Parcells?
But there are two legends not yet eligible for enshrinement because they're still working in the AFC East.
And that led me to wonder, 15 years from now, whether Parcells or Belichick will be known as the finer football mind.
Their résumés are difficult to compare. Parcells has been a restless vagabond who seemingly can overhaul any abomination, while Belichick has been an exemplar of stability.
Parcells won two Super Bowls as head coach of the
New York Giants
and took the
New England Patriots
to the big game. He had a successful stay with the
Dallas Cowboys
and has been an influential personnel man with the
New York Jets
and now with the
Miami Dolphins
.
As Miami's football operations boss, he took over a 1-15 team and turned it into a division champion within a year. While his previous turnarounds weren't as dramatic as that, what he did with the Jets, Patriots and Cowboys was admirable.
Parcells' career head-coaching record is 172-130-1 for a .570 winning percentage.
Belichick deserves partial credit for Parcells' success. Every time Parcells went to a Super Bowl, Belichick was his defensive coordinator or assistant head coach.
On his own, Belichick won three Super Bowls with the Patriots and nearly closed out the NFL's most dominant season in 2007 with a fourth ring. He has overseen New England's football operations since he took over the job in 2001.
Belichick's career head-coaching record is 148-92-0 for a .617 winning percentage.
Of course, Belichick's legacy will be marked by the video-taping scandal that ensnared the team three years ago. The Patriots still almost ran the table after that. And Jets fans might hold it against Belichick that he rebuffed them to become head coach of the Patriots.
My selection is Belichick based on the number of Lombardi Trophies and the fact that without his work as defensive coordinator, nobody can say for sure Parcells still would have won his pair.
True, you can argue it's easy to run a defense with a revolutionary defender like Lawrence Taylor running amok, but that's how Parcells won his Super Bowls, too.
Some also might argue Belichick has been carried by
Tom Brady
, while Parcells has won with a variety of quarterbacks. Belichick did win 11 games with
Matt Cassel
two seasons ago, and Belichick shouldn't be punished in this debate for managing to remain in one place longer than four seasons, something Parcells has done just once.
But this question is open for debate, and I fully expect some animated comments below.
January, 17, 2010
1/17/10
11:42
PM ET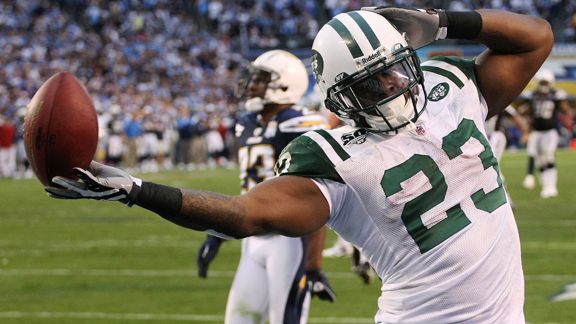 Stephen Dunn/Getty ImagesShonn Greene's 53-yard touchdown run was the second longest TD run in Jets postseason history.
SAN DIEGO -- Twenty-eight teams wish they were the New York Jets.
Imagine that. The Jets have reached the final four. They're in the conference championship game, one victory away from the Super Bowl.
The Jets silenced Qualcomm Stadium on Sunday. They scored all of their points in the second half to
stun the San Diego Chargers, 17-14
.
The Jets -- the
Jets!
-- will play the Indianapolis Colts on Sunday in Lucas Oil Stadium for the AFC title.
How did this happen?
It's preposterous, really. The Jets looked mediocre for most of the season. Their rookie head coach appeared flummoxed at times. Their rookie quarterback was disastrous some games. The Colts and Cincinnati Bengals needed to form a coalition of the willing to escort the Jets into the playoffs at all.
"People want to say it, go ahead and say it," Jets outside linebacker Calvin Pace said. "We've heard it all. We're pretenders. We're chokers. We can't finish games. We can't do this, can't do that. You know what? A lot of that might've been true. But we are what we are right now for a reason."
The Jets have pulverized the tournament bracket. They've gone on the road to eliminate a pair of division champions. The Jets have won four straight games and seven of their past eight. Five of their past six victories have been on the road.
"We had a lot of stuff go our way in order for us just to get into the playoffs, but you can't question the way we've been beating these teams," said Jets tight end Dustin Keller, who caught Mark Sanchez's touchdown pass Sunday. "It's just our destiny to go further."
[+] Enlarge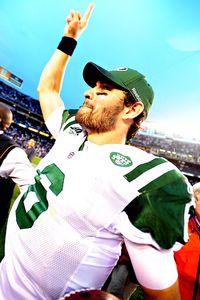 Robert Laberge/Getty ImagesA solid running game has helped Mark Sanchez and the Jets reach the AFC title game.
Said head coach Rex Ryan: "We don't have to apologize to anybody."
Ryan has been the NFL's court jester all year, and fans were having a good laugh two weeks ago, when he declared the Jets should be favorites to win the Super Bowl as opposed to the long shots Las Vegas installed them as.
"And you thought he was out of his mind, right?" linebacker Bart Scott asked a reporter.
Oh, you betcha.
A victory over the Bengals wasn't inconceivable, but the thought of the Jets winning at Cincinnati and San Diego and Indianapolis sounded farcical.
Not inside the Jets' locker room. When Ryan handed out the practice schedule for the first-round playoff game against the Bengals it wasn't for that week only. He planned out the next week, too. And the AFC Championship Game. And the Super Bowl, right down to the date of the
victory parade through the Canyon of Heroes
-- Feb. 9 if you want to make plans.
Word of Ryan's audacious itinerary went public the morning of the Bengals game. Hilarious, everybody thought. The Jets still were a joke to most, expected to enjoy their gift-wrapped playoff berth and quickly get the hell off the field so the legitimate clubs could compete for glory.
"They're idiots," Jets receiver Braylon Edwards said. "They need to watch us play football. Us lucking up or this and that, they're going to keep going against us. They're going to keep picking the opposition.
"Eventually, it's going to come down to us winning the Super Bowl. That's what it's going to take for us to get respect."
The road to validation the Jets have in front of them is shaping up symbolically. They humbled the Bengals, who didn't put up much of a fight in the regular-season finale the Jets needed to clinch their playoff berth. Then the Jets knocked off the Chargers for a crack at the Colts, the other team that laid down for them in Week 16.
"If they just gave us that win, this gives us a chance to make it more legitimate," Keller said. "I don't see them pulling starters out of this game. All of the doubters, saying that game was given to us, we definitely want to put those things to rest."
The underdog Jets, with their defiant proclamations, going up against the classic horseshoe helmets will conjure memories of Super Bowl III, when Ryan's father was an assistant coach on Weeb Ewbank's staff.
"It's us against the world, and for whatever reason, we've been thriving on that," Pace said. "It's going to be that same way in Indianapolis.
"The pressure ain't on us. It really isn't. When you're not supposed to be there, you can let it all hang out. When you're the No. 1 seed, and you got a first-round bye and you go 14-2, they got the pressure. We're just riding the wave. We got great momentum."
Maybe if the Jets get past the Colts they can play old friend Brett Favre for the Lombardi Trophy.
And those who rolled their eyes at that sentiment maybe haven't learned enough about these Jets yet.
"They don't understand the resolve of this football team," Scott said. "This team has been through a lot, but this team still stays the course. Throughout the year, our fans and the media, they can be up and down.
"We have to believe. That's the only way you have a shot. If you start questioning the system and start not believing, then you have no shot."
February, 25, 2009
2/25/09
4:30
PM ET
| | |
| --- | --- |
| | |
| | Andy Marlin/Getty Images |
| | After success in Baltimore, Rex Ryan takes over the reins in New York. |
Posted by ESPN.com's Tim Graham
INDIANAPOLIS -- Rex Ryan doesn't hear much about nepotism these days. His work has spoken for itself too long and too loudly for such mockery.
He's head coach of the New York Jets, thank you, after establishing the Baltimore Ravens as an elite defense and then maintaining it for nearly a decade.
"By me circling back here, busted down to college football and all that kind of stuff, I think I made my mark," Ryan reflected last week at his first NFL scouting combine as a head coach. "I know I earned it."
A dozen years ago, however, his coaching career was being defined by repeated accusations he and his twin brother, Rob, didn't belong in the NFL and wouldn't have been there if not for their father.
Buddy Ryan gave Rex and Rob their first NFL coaching jobs, hiring them as defensive assistants with the Arizona Cardinals. Neither of the twins had been a full-time coach at the Division I-A level, let alone in the pros.
What happened in Arizona wasn't pretty.
"That was brutal," Rex Ryan said last week with a weary smile. "We couldn't stop a nosebleed."
Arizona quickly grew tired of Buddy's act. He was brash before he arrived. Punching fellow coaches, public insults, bounties ... that behavior can be tolerated if you win.
But the Cardinals were losers. The Ryan boys came under fire. They were portrayed as symbols of their father's failure.
As for Ryan, his blatant nepotism is finally catching up to him, and those close to the situation now realize it. -- Atlanta Journal Constitution, Nov. 26, 1995
Buddy Ryan lasted two seasons as Arizona's head coach and general manager. He was fired, and the fact his sons were on the staff played a significant role. He also was criticized for signing tackle Larry Tharpe, whose agent was Ryan's oldest son, Jim.
"It was a nasty time because one bullet got all three of you," Rex Ryan said. "We're all gone. I think dad knew that was a possibility when he hired us.
"The first year, when we had the best defense in the National Football League, he really never heard a whole lot about nepotism, but the next year you did."
[Ryan] hired two clueless assistants who didn't have any pro coaching experience -- sons Rex and Rob. Players fought each other in locker rooms before games. Buddy's defense was 26th in the 30-team league, his offense was 27th in scoring. The only thing he led the league in was arrogance. -- Washington Post, Dec. 28, 1995

NFL SCOREBOARD
Sunday, 2/2
WEEKLY LEADERS