NFL Nation:

Week 7 Injury Replacements
October, 21, 2013
10/21/13
8:45
PM ET
GREEN BAY, Wis. -- Behind
Jermichael Finley
, the
Green Bay Packers
have four other tight ends on their roster.
But none of them comes close to matching the skill set that the 6-foot-5, 247-pound Finley possesses.
Finley has 25 catches (third on the team) for 300 yards (fourth on the team) and three touchdowns (second on the team).
With Finley's future in doubt after
the neck injury he sustained
in Sunday's 31-13 win over the
Cleveland Browns
, the Packers will likely have to change how they use their tight ends.
While they may have tight ends who are better blockers than Finley, they don't have one with the natural athleticism and skill to step into his role as a receiver and can cause matchup problems for opposing defenses.
"It's important to define roles for those guys and make sure that we have a clear understanding," Packers coach Mike McCarthy said Monday. "You never want to put too much on a young guy's plate."
With that in mind, here's a look at the other four tight ends on the roster:
Quarless
Andrew Quarless
: In terms of size, the 6-4, 252-pound fourth-year pro most resembles Finley.
He almost certainly will take over as the starter.
"That's not even something I really want to think about it," Quarless said on Sunday. "Playing time is irrelevant right now."
Quarless is a better blocker than Finley but not as polished or skilled as a receiver. He has four catches for 28 yards this season.
However, he has the most experience even though he missed the entire 2012 season while recovering from his 2011 knee injury. Quarless might be better suited to play on the line of scrimmage rather than in the slot or split out wide -- where Finley combined to play nearly half of his snaps.
Bostick
Brandon Bostick
: After spending last season on the practice squad, the former small-college receiver added weight and strength in the offseason and is viewed as a promising prospect at 6-3, 250.
But he has played only 11 snaps on offense all season, and eight of those came on Sunday against the Browns.
The Packers probably won't ask Bostick to do a lot of in-line blocking, but they might try to take advantage of his background as a receiver and perhaps use him on the seam routes that Finley often ran. He comes closest to rivaling Finley in the athleticism department, but he also might be the most raw of the tight ends.
"I feel confident that whatever we're asking him to do, he'll do well," tight ends coach Jerry Fontenot said last week. "He has made some strides from training camp until now in his run blocking. He's made strides in taking care of his body and holding weight and just being more of a presence out there. To me, he looks a little bit faster than he did last year, when he was lighter, and he looks really solid."
Taylor
Ryan Taylor
: The third-year pro has been almost exclusively a special teams player and a situational blocker.
He's not a strong candidate to pick up much of Finley's production in the passing game.
His status for Sunday's game at the
Minnesota Vikings
remains uncertain. He underwent arthroscopic knee surgery last Wednesday after he was injured on Oct. 13 against the
Baltimore Ravens
.
"Ryan Taylor is pushing, coming back strong," McCarthy said. "So we'll see what he gives us potentially this week."
Jake Stoneburner:
The undrafted rookie from Ohio State was promoted last week from the practice squad and played mostly on special teams against the Browns.
He saw only two snaps on offense.
He looked like a strong candidate to make the roster coming out of training camp until he fumbled during a preseason game.
The 6-3, 249-pounder also has a background as a college receiver before converting to tight end.
"He's a good route runner," Fontenot said. "He's a smart kid. He knows leverages and coverages. He works at his game, and he's going to do whatever's asked of him. He's got good speed. He can run block. He can pass protect. He's pretty well-rounded."
October, 21, 2013
10/21/13
8:45
PM ET
CINCINNATI -- They were trying to avoid saying it to reporters inside their open locker room Monday afternoon, but the
Cincinnati Bengals
all knew what the immediate future had in store for their recently hobbled teammate.
To them, it was a heart-breaking turn of events.
[+] Enlarge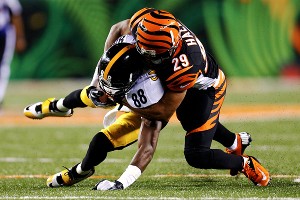 Kirk Irwin/Getty ImagesThe Bengals feel confident in their depth in the secondary despite the season-ending injury to star cornerback Leon Hall.
"I know me and T-New [
Terence Newman
] were looking at each other and we were like literally, tears were coming down our eyes," Bengals cornerback
Adam Jones
said, reflecting on the moment he saw an injured
Leon Hall
return to the Bengals' sideline in the first quarter of Sunday's game at Detroit.
That's part of the reason there was little surprise Monday evening when
sources told ESPN's Chris Mortensen
what everyone within the Bengals' inner chain had immediately known, but hoped to be proved wrong: that Hall, the team's veteran cornerback, was done for the year, being placed on injured reserve with an Achilles tear. A spot on the 53-man roster will now open up, bringing with it speculation and the gossipy rumor mill that is the NFL.
Sometime early Tuesday, we should know the Bengals' plans for replacing the injured star.
Coach Marvin Lewis was adamant during his news conference Monday afternoon that he didn't think the Bengals needed to go out and get a new cornerback. He felt content with the secondary players he already had.
"We don't have to look for anybody," Lewis said. "We have a couple of guys that have to step up and play now. They've been sitting here on scholarship for a bit, now it's time for them to go.
"We're not going to get anybody off the street that's going to outplay anyone here in the building."
Jones echoed those sentiments.
"This is a tough defense to pick up with all the calls you got to make and telling the [defensive] end this, and knowing you got this. It's a pretty complicated defense to pick up just right off the street," Jones said. "We've got all the tools that we need here instead of going and picking up somebody off the streets. These guys, they've been here for two years, they know the defense, they're hungry to play. It's our time for them to step up."
One off-the-street player who does know something about defensive coordinator Mike Zimmer's defense is
Shaun Prater
. He spent part of last season with the team before going on IR and eventually getting waived earlier this summer. The
Philadelphia Eagles
ended up picking him up off waivers, but they, too, released him.
That release came Monday.
In addition to Prater, 36-year-old
Antoine Winfield
is available and has reportedly been fielding interest in recent days from likely playoff-contending teams. The Ohio native signed with Seattle in the offseason, but was released during training camp. It appeared he was going to simply retire, but it seems that he may be entertaining thoughts of making a
Chris Crocker
-type of comeback.
Crocker, the 33-year-old veteran cornerback who was preparing for retirement this offseason, was brought back by the Bengals earlier this season as they tried to shore up depth at the position after Hall suffered a hamstring injury that kept him out two weeks. Crocker has appeared in every game since he arrived, and even had extended minutes Sunday in the wake of Hall's early departure with the Achilles injury.
"He's a piece of the puzzle," defensive backs coach Mark Carrier said about Crocker.
Perhaps the piece the Bengals are most optimistic about is second-year corner
Dre Kirkpatrick
. The former University of Alabama standout has played in a limited capacity this season as he's tried to overcome his own injuries, as well as his lacking NFL experience. Since his two pass interference penalties in the Bengals' preseason game at Dallas two months ago, Kirkpatrick has grown, Jones said. Even this past weekend, when Kirkpatrick entered the game to face arguably the league's best receiver, he held his own.
"Dre, he's there, really," Jones said. "He played good this week when he had to come in in the fire. The one catch Calvin [Johnson] caught, he had perfect coverage on him. He came in and played nickel real good for his first time coming in. As long as he's playing with confidence, he'll be all right."
Carrier has seen Kirkpatrick's practice efforts improve.
"It's amazing, and he'll be the first one to tell you that when he's healthy, he can go out there and play," Carrier said. "Everyone's time comes and he knew his time was coming soon."
Hall was one of the first players who sat down and talked to Kirkpatrick after the preseason performance that Kirkpatrick still says leaves a "sour, bitter feeling" in his mouth. Carrier said Hall told the young corner about his tough outings during the years when he first came into the league.
"He said you can learn from it and get better from it and I think Dre did," Carrier said.
In addition to Kirkpatrick -- who, like Crocker, could play slot receivers like he did some Sunday -- the Bengals also have depth with defensive backs
Taylor Mays
,
Brandon Ghee
and
Chris Lewis-Harris
. They are confident that if needed, any one of them could come in and provide even more talent and bodies at that position.
"It's hard to see Leon go down, but you know, the rest of the guys, we've got to step up and play," Jones said. "So we'll be all right, man."
October, 21, 2013
10/21/13
7:30
PM ET
EAST RUTHERFORD, N.J. -- Eleven days after rushing for 106 yards in a loss to the Bears,
New York Giants
running back
Brandon Jacobs
is inactive for Monday night's game against the Vikings due to a hamstring injury. That means rookie
Michael Cox
, who was the second-to-last pick in this year's draft and has not had a carry yet this season, will be the starting running back for the Giants on Monday. Newly signed veteran
Peyton Hillis
and fullback
John Conner
are the only other two active running backs for the Giants, who have lost
David Wilson
,
Andre Brown
and
Da'Rel Scott
to injury so far this season and are 31st in the NFL in rushing yards per game.
In other player-eligibility news, cornerback
Corey Webster
is active for the first time since Week 2. He's been out with a groin injury, and he may not be all the way healthy yet, as the team lists
Trumaine McBride
as a starting cornerback and Webster as a reserve for this game. Center
David Baas
is active for the first time since he injured his neck in a Week 3 loss in Carolina, and he is starting at center.
Jacobs missed practice Saturday with the hamstring injury and couldn't recover in time for the game. Cox, who has contributed on special teams but hasn't yet contributed as a running back, was coming along in practice and apparently has shown enough to earn the coaches' trust as the Giants continue to look for their first victory of the season. It remains to be seen how the carries will break down between him and Hillis, and what the Giants will do with their running backs on third downs and in pass-protection situations. But when they list a guy as the starter, he tends to be the one who gets the most work. (Unless he does something crazy like fumble twice in the season opener against the Cowboys.)
Defensive tackle
Johnathan Hankins
, who was active for the last two games, is inactive as he was for the first four games of the season. The Giants are deep with veterans at defensive tackle, and when all of the defensive linemen have been fully healthy this year, Hankins has been the odd man out. He played very well against the Eagles in Week 5, a little bit less well against the Bears in Week 6, and while the Giants like him and wouldn't hesitate to use him, they believe guys like
Mike Patterson
and
Shaun Rogers
are better bench options for them at that position at this time.
Also inactive for the Giants besides Jacobs, Wilson and Hankins are quarterback
Ryan Nassib
, tight end
Adrien Robinson
, safety
Cooper Taylor
and cornerback
Jayron Hosley
. Of those, Nassib (who is the third quarterback and has been inactive for every game) is the only one who has not been dealing with an injury of some sort.
October, 21, 2013
10/21/13
6:28
PM ET
If
Jay Cutler
left the Bears in a tight spot on offense because of the torn groin muscle that will keep him out at least four weeks, then
Lance Briggs
gave the defense a near-insurmountable task: to somehow improve without him on the field.
That's right. The loss of Briggs weighs more heavily because at this point, he means more to the defense than the quarterback does to the offense. It sounds silly, but that's simply the state of affairs these days at Halas Hall.
We expected the defense to fall off a notch this season, with the loss of linebacker
Brian Urlacher
and the acquisition of two new faces (
James Anderson
and
D.J. Williams
) and the hiring of a new coordinator in Mel Tucker. But what we're seeing is an injury-induced dive off a cliff.
[+] Enlarge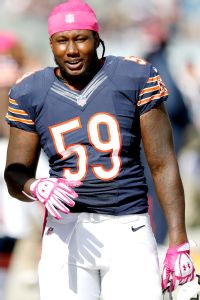 AP Photo/Scott BoehmThe Bears likely will choose between Khaseem Greene, above, and Blake Costanzo as the replacement for Lance Briggs.
In all, the defense -- which has allowed 21 points or more in every game, and gave up 499 yards to the Redskins -- has lost five starters. Briggs, who was playing at a Pro Bowl level, is expected to be out at least six weeks because of a small fracture in his left shoulder.
"There's no simple answers. There are a lot of teams in our position in the National Football League," Bears coach Marc Trestman said. "Defensively, we've got to improve our fits, our assignments. We've been completely inconsistent. At times we've been outstanding, and at times we just haven't done the right things."
That's what comes with thrusting young, inexperienced players into key roles. It's a situation not likely to improve soon. The team still hasn't decided who will call defensive signals in Briggs' place. Right now,
Jonathan Bostic
and
James Anderson
are the likely candidates.
Bostic made the calls in the loss at Washington on Sunday after Briggs left the game in the third quarter.
The club also will choose between rookie
Khaseem Greene
and veteran
Blake Costanzo
as Briggs' replacement.
"We're losing a great leader in Lance," Trestman said. "Arguably we're going to have to work very, very hard to recover, but that doesn't say we can't. It's been done before, we've got time to work through it and there's no reason why as a football team that we can't be confident we can rally around that position, find a way to win games."
On the offensive side of the ball, that's an easier proposition due to the quality of the replacement, the club's revamped protection, not to mention all of the weapons surrounding him, with running back
Matt Forte
, tight end
Martellus Bennett
and receivers
Brandon Marshall
and
Alshon Jeffery
.
Cutler's replacement,
Josh McCown
, demonstrated as much Sunday when he completed 14 of 20 passes for 204 yards and a touchdown to Bennett before finishing the game with a passer rating of 119.6 as the offense put up 34 points.
A 10-year veteran, McCown has logged 20 starts in the NFL and is considered "a glue guy" by general manager Phil Emery, and "a captain," by Marshall "without the 'C' on his chest."
Emery called McCown's "ability to play the position" the backup's greatest asset in his bid to replace Cutler without the offense skipping a beat.
"And probably foremost, just in terms of Josh and the person and the leader he is, the buy-in he has from his team in terms of being able to be a positive part of winning football on Sundays," Emery said. "I didn't notice it because I don't always watch the huddles, but Josh McCown is in every special teams break before they go out on the field. That to me signals to everybody what type of person this guy is. He could be content staying over on the sidelines with the headset and a clipboard, literally, but he's not. He's a big part of this team. He's a big part of the leadership group of this team."
[+] Enlarge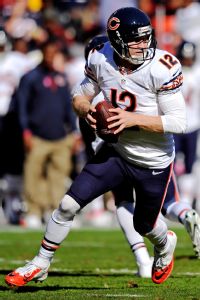 AP Photo/Nick WassJosh McCown is "a big part of the leadership group of this team," general manager Phil Emery said.
McCown's teammates agree. Cornerback
Tim Jennings
admitted Monday "it's going to be tough not having Jay out there, but I also think Josh came in there and played great, and he gave a lot of confidence to the guys in this locker room."
Left tackle
Jermon Bushrod
said he has "all the confidence in the world" in McCown because "he came in yesterday, and he did his thing. He spread the ball around. He got us in good positions, and we had a chance to win the game."
McCown, meanwhile, says the structure in place gives him a leg up from where he was two years ago, when the Bears first asked the veteran to start a game. It was 2011, he had been coaching high school football just before the Bears signed him, and he basically went in cold for his first start at Green Bay. McCown helped the Bears put up 21 points in a loss to the Packers, but helped the club break its five-game losing streak the next week in the season finale at Minnesota.
McCown says "I'm in a better spot right now," having learned Trestman's system from the ground up from Day 1 of the coach's tenure in Chicago.
"The structure is in place and the emphasis has been put on individuals to do their job and do their part," McCown said. "If we continue to get that, and we felt like we got that yesterday, it allows the quarterback to step in there, whether it's Jay or myself, to function and play, because guys are going to be coached to be where they are supposed to be and do what they're supposed to do. It's going to look different between Jay and I; our skill sets are different."
On offense, the highly productive results likely won't change, either. The same can't be said for an already reeling Bears defense without Briggs.
October, 21, 2013
10/21/13
5:41
PM ET
October, 21, 2013
10/21/13
3:40
PM ET
LAKE FOREST, Ill. -- The
Chicago Bears
have released tight end
Steve Maneri
to make room on the 53-man roster for veteran quarterback
Jordan Palmer
, who is en route to Chicago to take a physical, Bears general manager Phil Emery told reporters at Halas Hall on Monday.
If Palmer passes the physical, as expected, he will sign a contract to serve as the Bears' No. 2 quarterback behind
Josh McCown
for as long as starting quarterback
Jay Cutler
is sidelined with a groin tear -- the team announced Cutler will be out a minimum of four weeks and will then be evaluated week-to-week. Palmer impressed the Bears during his stint with the club in the preseason but failed to make the final cut as the organization decided to carry just two quarterbacks on the active roster.
Palmer completed 11 of 17 passes for 111 yards and a touchdown in the Bears' preseason finale versus the
Cleveland Browns
.
Maneri signed a two-year contract with the Bears in March after starting eight games for the
Kansas City Chiefs
in 2012. Maneri began the year on the club's active game-day roster but had been inactive the past three weeks.
Maneri's departure leaves the Bears with only two tight ends currently on the roster --
Martellus Bennett
and
Dante Rosario
. However, the Bears could choose to elevate 6-foot-6 tight end
Fendi Onobun
from the practice squad if the team is concerned about depth at the position. That would require a corresponding roster move.
The Bears also terminated the practice squad contract of wide receiver
Ricardo Lockette
on Monday, according to Emery.
October, 21, 2013
10/21/13
3:20
PM ET
INDIANAPOLIS -- The
Indianapolis Colts
entered the season with talent at wide receiver . It was also their thinnest position behind
Reggie Wayne
,
Darrius Heyward-Bey
and T.Y. Hilton because
LaVon Brazill
was suspended the first four games for violating the league's substance abuse policy and nobody stepped up to be the team's fourth receiver.
Wayne's season is over with a torn ACL, leaving the Colts trying to find a way to fill the void.
Colts general manager
Ryan Grigson
is likely burning up his cell phone minutes looking for a way to acquire another receiver on the roster.
But for the time being, it truly is "next man up" -- the Colts' staple statement when a player goes down.
"We'll see who steps up, and we're more than confident with the guys we have here," quarterback
Andrew Luck
said. "They've done a heck of a job, and they'll continue to do so."
There's obviously no replacing Wayne, a future Hall of Famer, so the Colts will have to do it by committee for the time being.
Heyward-Bey will likely be the No. 1 receiver on the Colts' depth chart. But that won't mean anything if he can't catch the ball. He made up for a rough game against the
San Diego Chargers
in Week 6 by having four catches for 44 yards and a touchdown against the
Denver Broncos
on Sunday. Heyward-Bey added a 30-yard run off a reverse. Heyward-Bey, however, has only 190 yards receiving this season. Those numbers won't cut it.
Hilton has been the Colts' most explosive receiver of the season. He's averaging a team-high 15.3 yards per catch, including a career-long 73 yards against Seattle in Week 5. He's been the second-best receiver behind Wayne.
Brazill is the wild card of the group. He's been back two weeks since returning from his suspension, and he's had more of an impact on special teams than with catching passes. Brazill has yet to catch a pass.
The same can be said about
David Reed
, who was inactive against the Broncos. He's returned 11 kickoffs for 276 yards but he's been non-existent playing behind Wayne, Heyward-Bey, Hilton and Brazill at receiver.
Griff Whalen
and Da'Rick Rogers are both on the practice squad.
"Again, it will be next man up, and they're going to have to raise their level of play," Colts coach Chuck Pagano said. "Again, you can't replace [Wayne], but somebody will rise up. Just like when we lose anybody else."
October, 21, 2013
10/21/13
1:30
PM ET
CHARLOTTE, N.C. -- Even before the
St. Louis Rams
made it official that quarterback
Sam Bradford
would miss the rest of the 2013 season with a torn anterior cruciate ligament in his left knee, the speculation about possible replacements began running rampant.
All the usual suspects from
Tim Tebow
to
Vince Young
to former Ram Austin Davis, among others, were tossed out as possibilities. But before we dive into the options, there are a few things that should probably be established first.
First, whoever the Rams bring in will almost certainly be the backup to veteran Kellen Clemens, at least in the short term. Clemens knows coordinator Brian Schottenheimer's offense and started games in Bradford's stead in 2011.
The Rams have almost no cap flexibility to work with, which means they'd either have to find a way to save some money by restructuring a contract or releasing someone, or they'll have to settle for a younger, cheaper option.
The Rams under general manager Les Snead have proved time and again that giving up draft picks is not something they enjoy doing. Considering that many of the quarterbacks they could trade for might exceed the cap space they have available it may not matter, but it would be surprising if the Rams gave up a pick of any sort for a short-term replacement who might only be a marginal upgrade over Clemens or possible free-agent additions.
All of that said, it really doesn't matter who the team brings in. Few teams in the league are blessed with strong backups in the first place, so you can only imagine what kind of production you're going to get from a player on the street or a different practice squad nearly halfway through the season. This is likely to be a lost season regardless.
In an Insider piece here on ESPN.com, Tom Carpenter rounded up some of the
various rumors
and options that have been floated since the rumor mill started churning.
Let's start with Tebow and Young, two polarizing options with well-known names and impressive college résumés. Tebow is an unlikely fit given his inability to throw accurately, and his addition certainly wouldn't help the Rams develop their corps of young receivers. Young and Rams coach Jeff Fisher didn't exactly get along famously in Tennessee, making that match unlikely also.
For possible trades, Minnesota's
Christian Ponder
and
Matt Cassel
can probably be had, and Cleveland may be willing to part ways with
Brandon Weeden
. Washington has
Kirk Cousins
but he carries the most value of potential trade targets and Washington may not even be willing to deal him, let alone for the type of bargain-basement price the Rams would offer, if they'd offer anything at all. As mentioned above, a trade seems unlikely no matter what because of the team's lack of cap space and aversion to giving up draft picks for someone who would only be a marginal upgrade, at best.
Next, we can dive into some of the more realistic options on the free-agent market, the type of players who could actually be had for cheaper prices without having to give up anything in terms of trade compensation. Former Ram Austin Davis would seem a logical candidate given his knowledge of the system and the personnel. He's young, cheap and available. Also on the free-agent market are players like
John Skelton
,
Tyler Thigpen
,
Matt Leinart
,
Caleb Hanie
and
Trent Edwards
available. Not that any of those players move the needle much but again, we're talking about backup options here.
One other avenue is scouring practice squads around the league.
Dennis Dixon
is on Buffalo's practice squad and actually worked out for the Rams in 2012 without signing. Cincinnati's
Greg McElroy
would also make some sense after spending time in Schottenheimer's offense in 2011 when both were with the
New York Jets
.
As of early Monday afternoon, the Rams hadn't made a decision on who will take Bradford's spot on the roster nor had Bradford been officially placed on injured reserve. Given what's available, it's probably best for those waiting on that choice to prepare to be underwhelmed.
October, 21, 2013
10/21/13
9:50
AM ET
GREEN BAY, Wis. -- When injuries occur, football players are conditioned to deal with them and move on to the next play, the next game.
In some ways, the whole next-man-up philosophy is rather callous.
But every so often, an injury makes even the most hardened veterans pause and wonder how they can stick to that mindset.
Such was the case on Sunday, when
Green Bay Packers
tight end
Jermichael Finley
was motionless on the ground at Lambeau Field after he sustained a neck injury, which left Finley
in the intensive care unit at an area hospital
, according to ESPN senior NFL Insider Chris Mortensen.
At least one Packers player, tight end
Andrew Quarless
, said
he cried on the field
after seeing Finley unable to move. Another player, receiver
Jordy Nelson
, appeared to be fighting back tears when talking about it after the game.
"That's honestly the first time it really got me," Nelson said as his eyes moistened. "I didn't like what I saw. Hopefully, he'll be all right. He needs to take his time."
The Packers said Finley had movement and feeling in all of his extremities, but that apparently wasn't the case initially. Quarless, one of the first players to reach Finley after the injury, said Finley told him he couldn't move.
"Me personally, that kinda messed me up for a little second," Quarless said. "But I knew I had to be strong for him but also for my team and just stay in there, stay locked in."
It was the second time this season that Finley sustained a serious injury. He was knocked out of the Packers' Week 3 game at Cincinnati with a concussion. Several players said Finley did not lose consciousness after Sunday's hit, which was delivered by
Cleveland Browns
safety
Tashaun Gipson
with 10:03 remaining in the Packers' 31-13 win.
Finley was surrounded by medical staff, and the game was delayed for six minutes.
"That's not something you teach or train," Packers coach Mike McCarthy said after the game. "I just think that's the humanistic part of our game. I think players on both sides of the ball, they're obviously concerned for Jermichael. I thought the officials did a nice job there not rushing right back into the game so we were able to have communication, kind of reset our clock there, and I think it was the next play or the second play after that was the big play to
Jarrett Boykin
. I think you've just got to give credit to our players in those types of situations."
But that doesn't mean it was easy.
"It was tough, man, seeing that happen," Packers left guard
Josh Sitton
said. "Watching him laying on the ground for a little bit and then having to keep playing is tough. We know how dangerous this sport can be, but still, man, when something like that happens, it's tough to keep playing and not think about it, but we did a good job of just, you know, we kept going and ended up scoring in the drive. But that's definitely tough."
October, 21, 2013
10/21/13
1:15
AM ET
CHARLOTTE, N.C. -- The
St. Louis Rams
' worst fears were confirmed late Sunday night when, according to a source,
an MRI revealed quarterback
Sam Bradford
would miss the rest of the season with a torn ACL in his left knee.
The immediate implications of the injury could well mean a lost 2013 season in which the Rams will struggle to find wins in their final nine games.
[+] Enlarge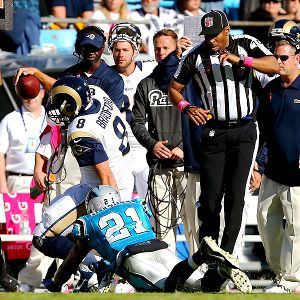 Streeter Lecka/Getty ImagesLosing Sam Bradford puts the Rams in a precarious position.
The bigger issue is Bradford's long-term future with the team.
With Bradford's contract running through the 2015 season and cap hits of $17.61 million and $16.58 million remaining, the Rams don't necessarily have to make a decision on his future anytime soon, but there's no doubt this was an important season in determining what his value would be moving forward.
Before Sunday's season-ending injury, Bradford was piecing together the best season of his four-year career, on pace for career highs in nearly every passing category and playing better in the Rams' more balanced offensive approach of the past few weeks.
As recently as three weeks ago, reports surfaced the Rams wanted to do a contract extension with Bradford and had decided he was the guy they wanted under center moving forward.
What's unknown about those reports is whether the Rams were doing what they should be doing and offering public support of Bradford while keeping their options open -- looking at a possible way of reducing his large salary-cap number -- or if they had already truly decided to keep building around Bradford.
At the time, there was a belief that Bradford was the one who didn't want to talk about an extension because he wanted to bet on himself and attempt to put up big numbers before sitting down to negotiate his next deal.
Bradford appeared to be on his way to having the type of cosmetic season that would do nothing to persuade the Rams to change their mind. Through nearly seven full games, he had 1,687 yards passing, 14 touchdowns and four interceptions for a rating of 90.9, which would be more than eight points better than his previous career best.
Now that Bradford won't return, he not only misses out on the chance to finish the job and actually post those numbers, but the Rams find themselves in a more precarious perch at the game's most-important position.
Not having the rest of the season to evaluate Bradford means the Rams head toward a 2014 NFL draft with a fair amount of uncertainty. It's also a draft in which the Rams hold two first-round picks, and many analysts are already predicting as a quarterback-rich crop.
Many had labeled this a make-or-break season for Bradford and the Rams. The franchise remained steadfast in its support of Bradford, and everyone -- from coach Jeff Fisher to general manager Les Snead -- insisted that wasn't the case.
In the early hours of Monday morning, the Rams find themselves in the unenviable position of first determining not only when Bradford can return but trying to project how effective he can be after such a serious injury.
Once those determinations are made, the Rams can truly begin to figure out what the future holds not only for Bradford, but for their quarterback position as a whole.
October, 20, 2013
10/20/13
10:44
PM ET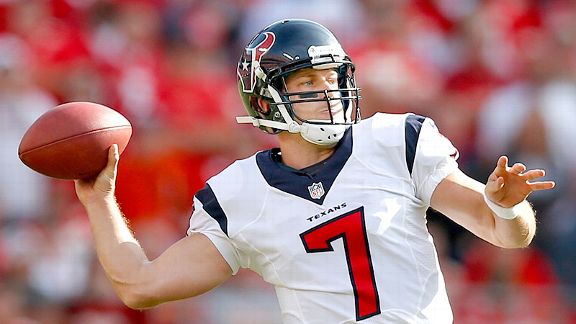 AP Photo/Ed Zurga"I learned a lot today," Houston Texans quarterback Case Keenum said of his first outing. "That was a big stage, obviously, and a really good football team."
KANSAS CITY -- The drive didn't end how any of the
Houston Texans
had hoped, but the young, inexperienced quarterback got into the huddle and urged his teammates with confidence.
"Let's take it 99,"
Case Keenum
said, as Texans center
Chris Myers
recalled.
It was the fourth quarter of a game the Texans' trailed by one point. Their net gain was negative-1 yard that quarter and that particular possession was their only fourth quarter possession with positive yardage. It ended in a punt after Keenum was sacked.
"I told him before the game, keep everyone upbeat," Myers said. "Everyone enjoys an upbeat huddle."
For a first outing, it showed promise. And it leaves the Texans with a tough decision for their next game.
"Energetic, excited, ready to go," running back
Ben Tate
said of Keenum. "Natural born leader."
Keenum was poised. It wasn't apparent this was the first time he'd played in a meaningful game since his sixth and final year at the University of Houston. (Keenum insisted last week that the preseason games in which he's seen action since then are meaningful, too.) He took chances and he recovered well when those chances didn't work.
This was the toughest defense he's ever faced and the toughest crowd he's ever seen, both of which showed late in the game.
"They were doing a good job, and I got confused," Keenum said.
He was sacked four times in the fourth quarter, fumbling the ball twice. The second time he did so, the Chiefs recovered the fumble and thus ended the Texans' comeback bid. From there Kansas City ran out the remaining 1:34 in the game.
Keenum opened up a deep passing game that the Texans moved away from lately. According to ESPN Stats and Info, he completed three of five pass attempts longer than 20 yards including one for a touchdown to
DeAndre Hopkins
. In the previous four weeks, the Texans had attempted only six such passes total.
He finished with a passer rating of 110.6, completing 15 of 25 passes for 271 yards and a touchdown. He was sacked five times -- all in the second half -- by perhaps the best defense in the NFL.
"I learned a lot today," Keenum said. "That was a big stage, obviously, and a really good football team. I learned that it's those small one or two plays here and there that make a difference."
His performance left Texans' owner Bob McNair thrilled.
"I thought he did a hell of a job," McNair said. "He was outstanding."
It left coach Gary Kubiak feeling like he'd made the right decision when he chose Keenum because the Texans needed a spark.
"Yeah, we definitely did [get a spark]," Kubiak said. "We found a little heartbeat today."
This week's decision was between Keenum and
T.J. Yates
, who entered the season as the Texans' backup quarterback. Yates won the backup job in the preseason, but was deposed after a two-interception performance against the
St. Louis Rams
last week.
Keenum was chosen with starter
Matt Schaub
out with an injury to his foot and ankle that he suffered against the Rams. Schaub said he suffered some ligament damage, but no broken bones.
But now the Texans have a bye week, which might give Schaub time to heal.
So if he's healthy what do the Texans do?
Before this week, my opinion was that Keenum was a desperation choice. Start him if you have nothing to lose.
After this game, there might be more there. It's hard to tell, still, what Keenum's future will be. But there are a lot more unknowns about his potential than there are about veteran quarterback Matt Schaub.
It's likely Keenum benefited a bit from the Chiefs defense's unfamiliarity with him. It's also likely that as he learns more about reading defenses, he'll get better at it.
The answer will lie in which direction pulls him more strongly.
October, 20, 2013
10/20/13
9:20
PM ET
DETROIT -- When
Cincinnati Bengals
cornerback
Terence Newman
made it back to the sideline after the Lions' first-quarter touchdown Sunday, he was given some of the hardest news he's heard all season.
"I lost it," Newman said.
He didn't say much about what exactly his losing it entailed. He didn't have to.
Newman had been told one of his teammates, a veteran player who he has come to know quite well and grow even fonder of, had just gone down with an injury whose severity is not yet immediately known. That player, seven-year vet
Leon Hall
, was dealing once again with
an Achilles injury
. For that reason, there was very little reason for Newman to try to hold it together.
"It's just tough," Newman said of Hall's injury following Cincinnati's
27-24 win
. "He's one of the best in the league, you know? So to have one of the best corners in the league go down? It's tough. Especially when he's your brother. We all spend a lot of time together.
"It just sucks."
That, it does.
Hall's injury leaves the Bengals wondering what's next? Where do they turn from here? Who will pick up the mantle and take over where Hall left off?
Right now, the easy answer is for Cincinnati to look at its bench. After all, that's what the Bengals were forced to do Sunday when they had three quarters to play and couldn't snap their fingers, miraculously summoning someone off the street to add to their depth. In fact, when it comes to depth, from a talent and numbers standpoint, cornerback actually is one of the team's deepest positions. It's so deep that coach Marvin Lewis is quick to point out that he has a team full of "defensive backs."
What Lewis means is that he has safeties and cornerbacks who are so versatile that they can play either position. Players like
Chris Crocker
and
Taylor Mays
have performed multiple duties in their opportunities this season, and probably will even more now that Hall is hurt for what could be a long period of time.
"You can't replace somebody like Leon," safety
Reggie Nelson
said. "But somebody has to step up. One of our young dudes has to step up. That's something that [defensive coordinator Mike Zimmer] and those guys are going to have to look at and see who can go to battle for us."
In the event the Bengals don't make any external moves, they won't have far to turn when attempting to set their 46-man active roster ahead of next week's showdown against the Jets. In addition to having Crocker, potentially Mays and
Adam Jones
and
Dre Kirkpatrick
at cornerback, the Bengals also have
Brandon Ghee
and
Chris Lewis-Harris
who can be moved around for added depth. While Crocker is most likely to take on Hall's slot coverage duties, Jones and Kirkpatrick have filled in at times this season, as well. Ghee and Lewis-Harris were among the inactives this week, but could have that status changed next week, if need be.
Hall's injury is his second of the season, coming two weeks after he returned from a hamstring injury that kept him out of two games. It's also his second potentially major ailment in three years. During November of the 2011 season, he tore his left Achilles and was lost for the remainder of the year. Sources told ESPN's Bob Holtzman that it is believed Hall ruptured his right Achilles this time.
October, 20, 2013
10/20/13
7:45
PM ET
CHARLOTTE, N.C. -- As tensions rose and tempers flared, you couldn't help but feel that somewhere along the way the
St. Louis Rams
or
Carolina Panthers
would suffer some collateral damage beyond the sting of a simple yellow penalty flag.
While the full extent of that damage will be better determined by an MRI on Sunday night, it appears the Rams might have taken the biggest hit of all.
Rams quarterback
Sam Bradford
's left knee injury left the team clearly concerned with his status moving forward after he was taken to the locker room on a golf cart with a little less than five minutes to play.
The question quickly became whether the Rams' hopes for a successful season were also a passenger on that cart.
"It's really tough," Rams defensive end
Chris Long
said following the team's
30-15 loss
. "Sam has been playing well. Whatever that situation might be, it's just tough to see him in pain, and it's tough to see him get some bad luck on that one. It was just a bang-bang play. It's football. It's a very physical game, and, sometimes, you are going to get hurt. Hopefully, we'll have Sam back soon. Sam fights hard for this team and works his ass off. For him to have to exit early, that's really hard for the team."
[+] Enlarge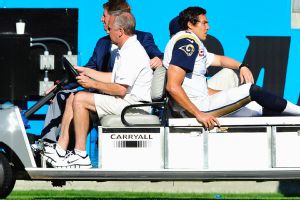 Grant Halverson/Getty ImagesRams quarterback Sam Bradford was taken to the locker room on a golf cart late in the fourth quarter.
Not that there are many teams around the league equipped to simply replace their starting quarterback and not miss a beat, but there's little doubt that Bradford -- regardless of opinions on his status as a franchise quarterback -- is the Rams' most irreplaceable player.
If the Rams do get good news and Bradford misses only a short period of time, it's possible they could bail water and stay afloat for the time being. If he's out for a long stretch, well, it's probably safe to say that any hopes of a step forward in 2013 are gone.
Before the injury, Bradford had been stringing together some of his best games as a professional, and he was having a solid outing against the Panthers, one that would've been even better were it not for some costly drops and penalties.
In the nearly seven games Bradford played this season, he was on pace for career highs in nearly every major passing category, with 14 touchdowns and four interceptions for a quarterback rating of 90.9.
The Rams' recent offensive shift to a power-run game with play-action seemed to suit Bradford well, making the sight of him on the sideline that much harder to swallow for his teammates.
"You never want to see your guy go down," linebacker
James Laurinaitis
said. "The feeling right now is it's tough. You have got to let it hurt for 24 hours and then move on no matter what the diagnosis for Sam, and we have got to watch the tape and focus on the football stuff."
The football stuff could well include another opportunity for veteran backup
Kellen Clemens
to step into the starting role. Clemens replaced Bradford for the final minutes of Sunday's loss and completed two of four passes for 19 yards.
Clemens has plenty of knowledge of the Rams' offensive system, so that part of it wouldn't be the hard part. The hard part would be getting the consistent production the team needs from the position.
Consistency hasn't exactly been Clemens' forte. Neither has production, for that matter.
In 31 career games, Clemens has a quarterback rating of 62.2 with seven touchdowns and 13 interceptions. He surprised some by winning the backup job over Austin Davis in training camp after it appeared the team might not re-sign him at all back in February.
"It's never easy when you see a teammate go down," Clemens said. "When you see a person that you spend as much time with as I do with Sam and genuinely care about as a person; I have a great respect for what he does on the field but just a genuine concern for him as a person. It was not easy to see. Hopefully, whatever it is, it's quick."
Whether Clemens' opportunity is a short cameo or a long-term situation, the Rams will have to add another quarterback to the mix this week. Perhaps Davis, with his knowledge of the offense, will get a call. Maybe the Rams will look elsewhere.
For now, it's not hard for the Rams to figure out what many will say if Bradford misses extended time: The season is over, the Rams are finished, they have no chance, will be a familiar refrain.
"Of course," offensive tackle
Rodger Saffold
said. "But what they don't know is that Sam believes in us just like we believe in him, and we're going to believe in Kellen, too."
The Rams had better, because, chances are, not many others will.