NFL Nation:

Wembley Stadium
January, 20, 2012
1/20/12
9:14
AM ET
The
New England Patriots
will take their game overseas to the United Kingdom next season. The team announced it will play the
St. Louis Rams
at Wembley Stadium on Oct. 28.
For the Patriots, this will be considered a road game. The Rams agreed to a three-year series in the United Kingdom and will be the hosting team. The NFL is working to grow its international fan base.
"The response to NFL games in the U.K. among our British fans has been exceptional," NFL commissioner Roger Goodell said in a statement. "We are confident that having the Rams host one game in the U.K. in each of the next three seasons will allow us to better serve the growing popularity of our sport beyond the borders of the United States."
The Patriots last played at Wembley Stadium in 2009. There is a chance New England could return to the United Kingdom as defending Super Bowl champions. The Patriots host the
Baltimore Ravens
Sunday in the AFC Championship Game for a chance to play in the Super Bowl in Indianapolis.
"We are honored to be selected for this year's game and eager to return," Patriots owner Robert Kraft said. "We had such a great experience during our last visit to London. We are proud to have great support from our fans when we are on the road."
October, 23, 2011
10/23/11
7:14
PM ET
Thoughts on the Tampa Bay Buccaneers'
24-18 loss
against the
Chicago Bears
at Wembley Stadium:


What it means:
This game was typical of what we've seen from the young Buccaneers this season. One week after playing the best game since Raheem Morris has been the coach (a victory against the
New Orleans Saints
), the Bucs were flat against the Bears. The offense didn't really show up until the fourth quarter and the run defense, which played so well against the Saints, was horrible. If the Bucs are going to challenge for the NFC South title, they have to start showing more consistency.
Time to worry?
Just like the rest of the team, quarterback
Josh Freeman
has been up and down this season. He was down against the Bears, after playing his best game of the season against the Saints. Freeman was intercepted four times. That gives him 10 interceptions for the season. Freeman threw just six interceptions in the entire 2010 season.
On the positive side:
There's not much to work with here, but cornerback
Ronde Barber
recorded the first safety of his career when he tackle Chicago's
Matt Forte
in the end zone. It was only the 10
th
safety in franchise history. Barber already had the NFL record for sacks by a cornerback. He extended it to 27.
Stat of the week:
0-2. That's Tampa Bay's record in regular-season home games in London. There have been indications the Bucs may want to volunteer a home game a season in the future to be played in London. Considering coaches, players and sometimes even owners are a superstitious lot, the Bucs might not want to be so eager to go back.
What's next:
The Buccaneers have a bye next week. They return to action Nov. 6 against the Saints in New Orleans.
October, 22, 2011
10/22/11
10:25
AM ET
At a forum in London on Saturday, NFL commissioner Roger Goodell said the
Tampa Bay Buccaneers
have expressed interest
in playing an annual "home'' game overseas.
The Bucs are scheduled to "host'' the
Chicago Bears
on Sunday at Wembley Stadium. The team previously played in London in 2009. When announcing the passage of a resolution to continue games in London through 2016, league officials said teams will be allowed to volunteer for one game a year in London and also implied they'd like a team to make repeat visits to help create a fan base in the United Kingdom.
The Bucs will become the first team to play in London twice in the regular season with Sunday's game and it sounds like there's a good chance they'll be back.
"I think they recognize that the growth of the league is important and they've been leaders in this area,'' Goodell said. "I think they want to see the Bucs become a global franchise and I think that's a great thing for Tampa and a great thing for the NFL.''
The league has talked about eventually basing a team in London on a permanent basis. Tampa Bay's willingness to play in London and the fact the team's owners (the Glazer family) also own the Manchester United soccer team have led to speculation that the Bucs could be a candidate for relocation.
But general manager Mark Dominik said earlier this week the Bucs
aren't looking to leave Tampa Bay
. I know there are conspiracy theories out there and many point to the team's struggles to sell out games in Tampa.
But I don't think Dominik was throwing out a smoke screen. Raymond James Stadium is one of the best facilities in the league and the NFL likes having Tampa Bay as a Super Bowl venue. When there was talk of the Bucs leaving in the mid-1990s, the league did its best to make sure that didn't happen. The Glazers have a lot invested in Tampa Bay. They built One Buccaneer Place with their own money.
Team officials have pointed to the economy for the attendance issues. They've also said that playing one game in London helps make season tickets more affordable in the short term. Team officials also have said they believe attendance will pick up if the economy improves.
October, 17, 2011
10/17/11
3:10
PM ET
The
Tampa Bay Buccaneers
should be arriving at London's Heathrow Airport sometime this afternoon. The early arrival is a major change from when the Bucs played in London in 2009.

On that trip, the Bucs treated the game the same way they would treat a West Coast trip. They arrived Friday night and tried to stay on their regular schedule. They lost that game and that may be a big part of the reason why they're going to spend the whole week in London getting ready for Sunday's game with the
Chicago Bears
at Wembley Stadium.
The players will be off Tuesday, although they'll be making some public appearances. They'll start a practice schedule Wednesday that will be similar to what they usually do at home, but their body clocks will have had time to adjust.
The Bears aren't arriving until Thursday and they had to play a Sunday night game against Minnesota. In recent years, different teams have taken different approaches on when to travel to London.
The approach the Bucs are taking this year is similar to what the
New Orleans Saints
did when they went to London and got a win against San Diego. The Saints played the previous Sunday in Charlotte and left directly from there for London. The Saints got acclimated and jumped into their regular practice schedule that Wednesday.
"Any time you're traveling that far and there's a big time change, there's a big adjustment,'' New Orleans quarterback
Drew Brees
said in a conference call with the Tampa Bay media last week. "I think getting used to the time change and the atmosphere and elements and just having a chance to kind of hunker down for a week and really practice and focus on football. That way, you can get all the newness and the hype out of your system early in the week and then you can just start to focus on football.''
The Saints stayed at a resort that had a soccer field turned into a practice field for most of the week. The Bucs are doing something similar.
"We had a great setup, where we got through that jet lag on Monday, Tuesday and sort of Wednesday,'' New Orleans coach Sean Payton said in a conference call with the Tampa Bay media last week. "That's your main practice day. But as the week progressed and we traveled into the city before the game, it helped get everyone on their clocks and comfortable with the routine. I only know the way we approached it. I would probably say we'd approach it the exact same way, having gone through it before.''
October, 16, 2011
10/16/11
7:35
PM ET
TAMPA, Fla. -- Thoughts on the
Tampa Bay Buccaneers
'
26-20 victory
against the
New Orleans Saints
at Raymond James Stadium:


What it means:
The NFC South race is closer than anticipated. The Saints had a chance to run away with it if they could have collected a third straight road victory. They didn't. Tampa Bay played its most complete game of the season and earned this one. The Bucs and Saints each are now 4-2 and the Falcons are only a game behind them in the win column.
Play of the day:
Tampa Bay linebacker
Quincy Black
intercepted
Drew Brees
in the end zone with three minutes and 16 seconds left to seal the victory for Tampa Bay. It's not often you see Brees not succeed when the game is on the line.
Bizarre scene of the day:
With the exception of Joe Paterno, you don't see many coaches getting hit on the sidelines. But New Orleans' Sean Payton took a big shot in the fourth quarter. After catching a pass, tight end
Jimmy Graham
was forced out of bounds and collided with Payton. The coach spent much of the rest of the first half sitting on a bench with his leg elevated. He appeared to still be calling plays. At halftime, the Saints announced Payton had a torn MCL and a fractured tibia. The team also said Payton would coach the second half in an upstairs booth with some of his assistants.
Who needs practice?
Not Tampa Bay safety
Tanard Jackson
. He was reinstated Tuesday after being suspended for 56 weeks for violating the NFL's substance-abuse policy. He practiced Wednesday and Thursday, went through Friday's light walkthrough and got the start Sunday. Jackson intercepted a tipped Brees pass in the second quarter to give Tampa Bay's offense good field position. Three plays later, the Bucs scored a touchdown to take a 20-7 lead.
What's next:
The Bucs play a "home'' game with the
Chicago Bears
next Sunday at London's Wembley Stadium. The Bucs will fly out Monday morning and spend the week practicing near London. The Saints host the
Indianapolis Colts
next Sunday night at the Superdome.
October, 11, 2011
10/11/11
5:53
PM ET
There's a very interesting quote in the NFL's press release announcing that owners approved a resolution to continue playing regular-season games in the U.K. through 2016.
The resolution leaves it up to the league to decide if more than one regular-season game per year will be played in the U.K. The resolution also allows teams to "volunteer'' for one home game a year in the U.K.
This year's game will be played at Wembley Stadium. It's a "home'' game for the
Tampa Bay Buccaneers
against the
Chicago Bears
. The Bucs also played a home game there in 2009.
Keep all that in mind and now read the interesting quote.
"When the initial resolution was approved in 2006, the thinking at the time was that we would have two new teams every year," said NFL International vice president Chris Parsons. "As the series evolved, we felt as though having a team return to the U.K. on a regular basis would certainly increase the fan base for that particular team, which in turn would drive fan growth for the entire league. We think there is a tremendous benefit for a team to return to the U.K. on an annual basis."
Read that last part ("tremendous benefit for a team to return to the U.K. on an annual basis'') again. Are you thinking what I'm thinking?
The Buccaneers could be playing an annual "home'' game in London? Well, it's logical in a lot of ways. Look back at that "return'' word again. The Bucs are about to become the only team to return to London since the NFL started playing regular-season games there.
The Bucs already have had a
strong fan club
in the U.K. for years. The owners of the Bucs (the Glazer family) also own the Manchester United soccer team.
There's also the matter of attendance in Tampa Bay. Prior to last week's sellout of a "Monday Night Football'' game against Indianapolis, the Bucs had not sold out their previous 10 regular-season home games. When accepting the trip to London this year, the Bucs said part of their reasoning was done with the local economy in mind. Team officials said one less game at Raymond James Stadium would cut the cost of paying for season tickets.
Plus, a yearly game in London would guarantee the Bucs at least one "home'' sellout a season.
The language in the resolution about teams "volunteering'' to play in London is very interesting. I can't see teams with huge fan bases like the
Green Bay Packers
and
Pittsburgh Steelers
ever volunteering to give up a sure sellout at home.
But it's pretty easy to picture the Bucs and the
Jacksonville Jaguars
, who also have had attendance issues, throwing their hands up when the NFL asks for volunteers.
July, 21, 2011
7/21/11
1:00
PM ET
»
NFC
:
East
|
West
|
North
|
South
»
AFC
:
East
|
West
|
North
|
South
Our divisional bloggers discuss one thing they'd change as commissioner for a day:
All eight division bloggers get to play commissioner on Thursday.
We each get one wish, and since Roger Goodell has been more than a little busy with the labor situation, I'll go ahead and jump forward on something he seems to have been dreaming about for quite some time. I'll go ahead and put a team in London.
Yes, London. Not Los Angeles. The nation's second-largest city last had the NFL in 1994. Through the years, there's been steady talk of relocating a team to Los Angeles or putting an expansion team there. It hasn't happened, and that's not the NFL's fault. It's the fault of the local leaders. The league has made it clear that all Los Angeles (or one of its suburbs) needs is a modern stadium. Nobody's been able to step up and make that happen. Forget Los Angeles. And while you're at it, forget San Antonio and Toronto. San Antonio's not all that big and Toronto already has a presence with the
Buffalo Bills
playing some home games in Canada, and their real home isn't all that far away.
[+] Enlarge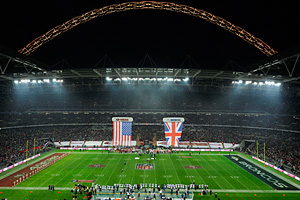 AP Photo/Dave ShoplandThe Broncos and 49ers played last season at Wembley Stadium.
Goodell's hinted at European expansion since he became commissioner. There have been regular-season games played in London the past three years, and the response has been outstanding. London -- and all of Europe, really -- represents an untapped market far bigger than anything Los Angeles, San Antonio or Toronto can offer.
Should the league put an expansion team in London? Well, you'd probably have to add a second expansion team to balance things out, and that might be difficult. It could mean a second team in Europe or maybe even Japan, and that would only complicate the logistics. On the plus side, the league could increase its revenue stream nicely by dividing up two expansion fees.
The other option is to move an existing team to London, and that might be the more realistic alternative at the moment. The
Jacksonville Jaguars
have been struggling to sell tickets for years, and the
Minnesota Vikings
have stadium issues.
Either one could be a viable candidate, but it's not as simple as just moving one of them to London. The NFL has to think through the process very thoroughly. Visiting teams would need bye weeks after (or maybe even before) a London trip. Divisions might have to be realigned, and some measures would have to be taken to make sure the London team stays competitive.
That could mean some extended road trips to the United States, and the London team might need a regular or borrowed practice facility on this side of the Atlantic. But, once Goodell puts the labor situation behind him, he can start working on logistics for a London team.
Spacious Wembley Stadium is waiting. I'm sure the rest of the logistics in London can be worked out a lot faster than they've been moved on in Los Angeles.
April, 12, 2011
4/12/11
7:44
PM ET
Before the conspiracy theories go too far on how the
Tampa Bay Buccaneers
playing in London means they're moving there, stop.
The Bucs may be visiting London for the second time in two years when they play the
Chicago Bears
in Wembley Stadium this season. But the Bucs and the NFL aren't looking for a permanent rearrangement.

Yes, Tampa Bay ownership had some say in getting this game. And, yes, that same ownership also owns the Manchester United soccer team. But this is about a lot of other things beyond relocating a team that plays in one of the league's finest stadiums (Raymond James Stadium, which is being paid for by taxpayers) and one of the league's finest practice facilities (One Buccaneer Place, which was paid for by ownership).
The Bucs aren't looking to get out of Tampa Bay and the NFL probably wouldn't let them. The league already threw its weight around to keep the Bucs in town in the 1990s. The league likes the market and likes having Tampa Bay as a Super Bowl venue (the area is probably the front-runner for the 2015 Super Bowl, which is expected to be announced in the fall). There are at least several markets the league would consider abandoning for London or Los Angeles before the Bucs would even get a shot to escape.
This is much more about marketing. This is a team that's marketing itself hard and there have been and continue to be talks about appearing on HBO's "Hard Knocks'' this summer. This is also a team that struggled to sell tickets last year, when all home games were blacked out on local television.
The Bucs have lowered season-ticket prices and sales have improved in a region where the economy still is struggling. But, at least at the moment, the Bucs are probably looking at some more blackouts next season. Imagine if Chicago came to Raymond James Stadium for this game? I'm not talking just the Bears. I'm talking about all the Tampa Bay transplants from Illinois and all those who would make the trip down for a weekend when it's winter in Chicago and summer in Tampa Bay.
That's how it used to be every year back before the Bucs became good and the new stadium was built. Back in the days when the Bucs played in the NFC Central, it was the norm for crowds to favor Chicago, Green Bay, Detroit and Minnesota. If you want more recent evidence, just look back to last season's home game with Pittsburgh.
By taking their act to London, the Bucs are saving themselves and their fans from the strong possibility of a hostile takeover by Chicago fans. They're also marketing their team on an international stage, which might help solve the attendance problem for the long term.
Oh, and guess what else? The Bucs just lowered season-ticket prices again. Take the cost of the Chicago game off the cost of season tickets and you've got another discount. Oh, one other thing -- if you don't have season tickets and live in the Tampa Bay area, you'll be able to watch the game on television.
October, 26, 2008
10/26/08
7:27
PM ET
Posted by ESPN.com's Pat Yasinskas
LONDON, England -- As New Orleans Saints history goes, this was a massive moment.
| | |
| --- | --- |
| | |
| | Laurence Griffiths/Getty Images |
| | Deuce McAllister faces an uncertain future after returning to the featured-back role in London. |
The only question is how we'll reflect upon it in time.
Say it ain't so, Deuce. Or did the road to the Super Bowl really start in, of all places, Wembley Stadium?
Hey, it's happened before. As the British media were quick to point out and the Saints were incredibly happy to grab onto, the New York Giants won in London last year. But that's just a lifeboat and the Saints have to cross the Atlantic Ocean and get back to the Mississippi River -- and reality -- Monday.
But reality was already hitting Sunday night in the postgame locker room after the 37-32 victory over San Diego when questions turned away from following in the Giants' footsteps. Hit especially hard was Deuce McAllister, perhaps the most popular Saints player in history and an icon up and down the Gulf region, when he sat down in Wembley's theater-style media room.
McAllister -- who has been the most popular man in Louisiana, Mississippi and parts of Alabama for much of his career -- suddenly became the face of scandal. Since Friday, there have been reports that McAllister is one of at least three Saints who have tested positive for a supplement banned by the NFL. Defensive ends Charles Grant and Will Smith are the other New Orleans players who have been identified in the controversy.
Since Friday, the Saints have been silent. That ended after the game, when McAllister stood up and faced the music. He had just stepped back into his featured-back role with Reggie Bush injured and gave the Saints 18 carries, but that wasn't discussed much in the conversation.
When asked how the reports might impact his legacy, McAllister didn't take the company line about how the matter was in the hands of the NFL, which has remained silent.
"You really hate to put yourself in this position," McAllister said. "I've always played by the rules, not only the eight years I've been in the league, but four years in college, four years in high school. I was always one to play by the rules and that's what myself and the others tried to do. I don't know how much you guys know and my counsel will put his case together. There's more to the story than just a couple lines."
Yes, there's something to this story and it's obviously going to play out in the coming days. Grant declined comment, but Smith acknowledged he's heard something from the league.
"I'm not going to comment on that because I just found out about it myself earlier in the week," Smith said. "I really don't feel comfortable talking about that. I just want to let things play out when we get back to the States. I'm not going to elaborate on anything. It's too early. I don't know a lot about it. We're just finding out about it ourselves and we're going to go from there and take the right procedures and figure out what happened."
Suspensions are possible and it's obvious the players are hinting at some legal issues. Perhaps the most vocal player was defensive end Bobby McCray, who obviously would be an automatic starter if Grant or Smith misses any time. But McCray said he's rooting against that and staunchly defended his teammates.
"We know about it," McCray said. "But we've got guys with great character that never had those problems before. We've got guys trying to stay in shape by shaving a few pounds. The way they did it, they didn't harm anybody and they didn't know about it. It's not our guys. They've got great character. It's a lot of other guys elsewhere that got in trouble for it."
Sounds more than a little ominous, but McCray wouldn't elaborate. The Saints have a bye week and some time off as they return home. However, it's obviously not going to be a quiet time back in New Orleans.
But the Saints are 4-4 and that's a lot better than 3-5 when you're facing a 10- or 12-hour flight home. Even with all the other issues, that thought made things a lot more pleasant for Smith and the rest of the Saints.
"We know we have a good team just like the Giants," Smith said. "They weren't playing that well until they came over here last year, and they were great after that. We can look at them and say that could possibly be us."
There's hope for the Saints.
"We have to build on this one," linebacker Scott Fujita said. "We've bounced around .500 too much the last two seasons. We have to build some momentum.''
They've got road games at Atlanta and Kansas City before breaking a 42-day absence at the Superdome with a Nov. 24 contest against Green Bay. By then, the Saints could be like the Giants. Or they could be without several key players.
Either way, the victory and the off-field issues have made sure the Saints, who could have had their season slip out of control, stay relevant.
They might have saved their season. Or just made it hang on a bit longer.
October, 26, 2008
10/26/08
1:11
PM ET
Posted by ESPN.com's Pat Yasinskas
LONDON, England -- Truly is a Super Bowl atmosphere over here.
Although the Chargers and Saints haven't met preseason expectations so far, the NFL has gone all out for this one. I got a chance to wonder out through the "tailgate area" a little bit ago and it was different than anything I've seen.
It is basically a festival with the interactive stuff that's usually part of the NFL experience at Super Bowls -- lots of food and drink and an amazing gift shop, which is housed in a tent. One security guard told me there were 350 people inside the tent and about 335 of them were just standing in line to get up to the counter where they could select their items and pay for them.
The prices weren't too bad. Hats were going for 20 British pounds and jerseys for 40 pounds. That's roughly $40 for a hat and $80 for a jersey.
Also, lots of glitz coming up inside the stadium. The pregame show is about to start with British rock band Stereophonics. The American national anthem will be done by Ne-Yo (American pop and R&B singer and songwriter). God Save the Queen will be done by Joss Stone (English soul and R&B singer and songwriter). The halftime show will feature a Mardi Gras parade.
Also, Rebecca Adlington, a gold-medal swimmer in the 400-meter freestyle and 800-meter freestyle for Great Britain, will be an honorary captain for the Saints.
October, 24, 2008
10/24/08
12:02
PM ET
| | |
| --- | --- |
| | |
| | Chris Graythen/Getty Images |
| | "Whatever I have to do to help this team win, that's what I'm going to have to do,'' Deuce McAllister said after Thursday's practice. |
Posted by ESPN.com's Pat Yasinskas

COLNEY, England -- Sean Payton won't say it. Deuce McAllister won't either. So let's just cut to the chase.

More than ever -- even more than in the good old days -- the New Orleans Saints need McAllister.

Payton's a football coach and he's making sure he doesn't give away his strategy. McAllister's a smart and seasoned player and he's not going to give away what the coach won't. But just look at the facts and it's pretty obvious what's going to happen Sunday.

With their season pretty much on the line, the Saints play the San Diego Chargers at London's Wembley Stadium. There's a good chance the field will be muddy and rain and wind may be factors. That doesn't bode well for quarterback Drew Brees and an offense that's lived by the pass all season.

The Saints need to run the ball and they'll be without running back Reggie Bush, who's not really a running back. Bush is back in New Orleans recovering from knee surgery. If you've followed the Saints' strange season so far, you know that Payton talked to McAllister early
in the season and told the veteran the Saints would need him at some point.

That time is now.

At least for one day -- at least until they get through the bye, get back to playing in domes and get Bush back -- New Orleans needs McAllister, 29, to be what he was a few years ago. That's a power runner who can handle 20 or 25 carries, or at least something close to that.

"Whatever I have to do to help this team win, that's what I'm going to have to do,'' McAllister said after Thursday's practice at Arsenal Football Club's practice facility. (UPDATE: McAllister made news Friday, reportedly testing positive under the NFL's steroid policy as a result of taking water pills to lose weight.)

That's as much as you're going to get out of McAllister, no matter how many different ways you ask him if he'll be back in the starting lineup or if he'd like more carries than he's been getting this season.
McAllister's always been a humble team player, even though he's one of the best players in franchise history.

He's stayed quiet and polite through a confusing season in which he's had only 50 carries for 208 yards. He didn't get a single carry in Week 1 or Week 3 as he began a comeback from his second major knee injury since 2005.

New Orleans fans screamed for him to get more playing time, but he didn't. With McAllister standing on the sidelines early in the season, Payton talked to the veteran and told him not to get his spirits down. McAllister, the franchise's all-time leading rusher, seemed to be back in the team's plans when he got 20 carries and produced 73 yards in a Week 4 victory against San Francisco.

But he's only averaged about nine carries in the three games since. Maybe it was all part of Payton's plan. There's no way the coach could know Bush would go down in the middle of the Carolina game and be unavailable for at least a few weeks.

But Payton knew all along the game in England, where the weather can be nasty this time of year, was coming. Plus, Payton knew the Saints, at some point, were going to have to grind out some yards and control the clock. Bush, an outside runner and threat as a receiver, isn't the kind of back who can do that.

Maybe Payton was playing it slowly with McAllister's knee and targeting big things for him in this game -- and the second half of the season -- all along.

"I think they were definitely being cautious," McAllister said. "It's always a long season and you never know what's going to happen. At some point you're going to have to deal with some circumstances and that's what we're trying to overcome."
The Saints have plenty to overcome. After one of the league's busiest offseasons (they overhauled their defense and traded for tight end Jeremy Shockey), they're 3-4 and, arguably, one of the league's most disappointing teams. As brilliant as Brees and the passing game have been, the Saints may need a whole different game plan if the field isn't
a fast track.

Reserves Pierre Thomas and Aaron Stecker also could play roles in the running game, but they're just role players. What the Saints need is the 232-pound McAllister running like he did in 2006, when he ran for 1,057 yards, and like he did in 2002 through 2004, when he recorded three straight 1,000-yard seasons.

"Deuce is a man,'' linebacker Jonathan Vilma said. "When he runs the ball, you see him run over linebackers and defensive linemen. From minicamp to training camp to now, you see him running better and running harder. If you didn't know he had the surgery, you wouldn't know now that he had it.''

McAllister and the Saints have been patient for half a season. They can't afford to stay that way any longer. Lose this game and they'll be 3-5 and the season will be pretty much lost. Win it and they'll be .500 heading into the bye and they'll still be
in the NFC South race.

The best chance for that happening is if the Saints run McAllister a lot Sunday. He's sat quietly and been nothing more than a role player for six games. Even if it's only for one game, the Saints have to put the ball in the hands of the man who used to be their best player and hope
he can fill that role once again.
October, 23, 2008
10/23/08
2:21
PM ET
Posted by ESPN.com's Pat Yasinskas


WATFORD, England -- Saints executive vice president Rita Benson LeBlanc, the daughter of owner Tom Benson, said there will be a New Orleans feel to Wembley Stadium on Sunday.
The game with San Diego, after all, technically is a "home'' game for the Saints. They'll try to take advantage of that and boost the profile of New Orleans and the NFL.
"The exterior of Wembley Stadium itself is going to have all the manner of fan festival, the lights, the spirit and all the musical elements as far as those things that are really true to New Orleans and our culture,'' LeBlanc said. "In fact, to help our economy back home, they're also using a New Orleans-based company that does that sort of production all over the world.
"They'll have a parade type element with a giant-sized football player at the front, which is very near and dear as far as Mardi Gras sentimentality for New Orleans. You'll get a feel for that.''
Although the Saints will have only seven games at the Superdome, LeBlanc said many fans from New Orleans have decided to plan vacations to London around the game.
"We have 4,000 to 5,000 season ticket holders and people that we've been in touch with that we expect to be coming over,'' LeBlanc said. "Our season-ticket holders and suite holders and sponsors had first priority first on tickets before they went out to the mass public. It's been exciting to see that many people travel. In New Orleans, we like to party and celebrate a little bit. You'll see some black and gold New Orleans fans running around London and having fun.''
NFL SCOREBOARD
Thursday, 12/5
Sunday, 12/8
Monday, 12/9