NFL Nation:

Where Tebow Lands NFC
March, 2, 2010
3/02/10
11:35
AM ET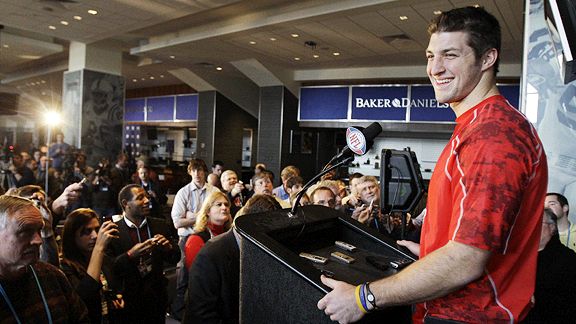 AP Photo/Darron CummingsCould Tim Tebow end up playing for one of the teams in the NFC North?
It wasn't my turn to cover the scouting combine this year. My Blog Network colleagues kept you
apprised of the daily news
, and the fellows over at Scouts Inc.
broke down
the actual workouts as they occurred.
Even from afar, however, it was hard not to see the NFC North connotations to the biggest story of the combine: The transition of Florida quarterback
Tim Tebow
to the pro game. I'm not ready to suggest Tebow is headed our way, but I think he could do a lot worse than ending up in any number of our cities.
Given the near-constant flow of Tebow-related questions you send to the mailbag portal, I thought he would be a worthy topic for our featured post of the week. In brief: We have one team in Green Bay that already demonstrated success in tweaking the mechanics of a successful college quarterback, and we have another in Minnesota that employs Tebow's favorite receiver.
Before we get to the Packers, Vikings and even the Lions, let's make sure you're updated on Tebow's combine performance. Although he is saving his passing workout for a March 17 pro day, Tebow did produce a 38.5-inch vertical leap -- tying a combine record for quarterbacks. He also ran the 40-yard dash in 4.72 seconds. The showing mostly confirmed what we already know: Tebow is an elite athlete for the position whose aptitude as a pro passer remains a mystery.
Speaking Monday, ESPN draft analyst Todd McShay said nothing happened at the combine to alter his original view on Tebow as a secondary prospect who shouldn't be drafted higher than the third round next month. Tebow's elite college career forged a romanticized view of his pro prospects, McShay said on ESPN Radio's "Mike & Mike in the Morning."
"It's funny because there are so many people that are trying to talk the positives on Tim Tebow," McShay said. "I understand because there are so many positives as a college player, and physically when you watch him in a setting like this. ... But then they follow up and say, 'As much as I love him, he's still a third-round pick.'
"The bottom line is that he's just not an elite prospect and has so much room to grow. As great as he's been [at the combine] and as good as his interviews have gone, ultimately his skill set is a mid-rounder at best as a passer. We've all moved him up in our minds because of intangibles."
Yet it is those intangibles that had Packers coach Mike McCarthy and even general manager Ted Thompson expressing what I believe to be honestly glowing assessments of Tebow's potential. Remember, McCarthy and Packers quarterbacks coach Tom Clements provided the modern template for developing a young quarterback prospect during two years with
Aaron Rodgers
. Among the improvements they made was smoothing out Rodgers' throwing motion, now considered one of the prettiest (and most successful) in the NFL.
According to my colleagues who attended the combine interview sessions, McCarthy admitted he doesn't know enough about Tebow to make a full evaluation yet. But, McCarthy said, "I would definitely love to coach him."
[+] Enlarge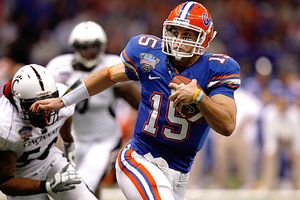 Matthew Stockman/Getty Images Tebow may develop into a legitimate starter if he ends up in Minnesota.
McCarthy added: "I think the guy's a winner, just the way he plays the game. I know a lot's being said about his mechanics. Just the way he approaches the game of football, I think he'll do everything he needs to do to improve. But you look for football players. And his record in college, I think, speaks for itself. But I'd love the opportunity to work with a Tim Tebow."
Thompson, meanwhile, said Tebow's college success should merit more credibility than it seems to in public discussions.
"Based on his history," Thompson said, "I think that would be a little bit premature to start criticizing him and doubting his ability to play. He's been playing at a pretty high level for quite some time. Has to go down as one of the great college football players of all time, so let's don't sell him short just yet."
We all know better than to read into what any NFL official says about the draft. As the old saying goes: If they're not lying, then they're not talking. (Actually, I just made that up. But it sounds old and sage-like.)
What it does suggest, however, is that Tebow's ideal landing spot is a place
like
Green Bay that includes an established starter and a quarterback-friendly coaching staff with proven developmental success.
The Vikings haven't had much success developing quarterbacks -- see Jackson, Tarvaris -- but coach Brad Childress acknowledged he is drawn to Tebow's competitive spirit. Trust me when I tell you coaches revere the so-called "intangible" qualities of a quarterback as much as they do his ability to throw. If a strong arm was the only qualification for NFL success,
Ryan Leaf
would still be starting.
"I just think he's been -- taking everything else aside -- as good a competitor as I've seen," Childress said. "I've heard about his leadership skills and abilities. But he's as good a competitor as I've seen on the football field, and he competes in a different way and plays a physically-natured game."
In Minnesota, you would assume Tebow would have at least one year to develop behind starter
Brett Favre
, who seems
more likely to play
in 2010 than he does to retire. Regardless, I think Tebow would have the luxury of watching from the sideline for at least one year if he ends up in Minnesota.
Again, I'm not suggesting the Vikings will use a draft choice on Tebow, even with the presence of ex-Florida receiver
Percy Harvin
. But if he does land in Minnesota, Tebow has a better than average chance of developing into a legitimate player.
In fact, I wouldn't rule out Detroit as a positive environment for Tebow -- mostly because of the presence of offensive coordinator Scott Linehan, who will double as the Lions' quarterbacks coach in 2010. Linehan excelled in that role while working with
Daunte Culpepper
in Minnesota from 2003-04, and Tebow would be in good hands with him as well.
Should the Lions use a draft choice on a developmental quarterback? Given their needs across the board, the presence of young starter
Matthew Stafford
and coach Jim Schwartz's desire to have a veteran backup, Tebow might be a luxury the Lions can't afford.
But if I were going to draw up an NFC North motto for him, it would go something like this: "The Black and Blue: Tim Tebow could do a lot worse than here."
Ok, I'm off to my second job as an advertising copy writer.
March, 2, 2010
3/02/10
11:30
AM ET
By
Matt Williamson, Scouts Inc.
| ESPN.com
Florida quarterback Tim Tebow is working to refine his throwing motion. Will he play QB or some other position in the NFL? Let's assess his chances of landing in the NFC East.

Dallas Cowboys
: This is Jerry Jones that we are talking about, so
Tim Tebow
might just end up in Dallas. That's not an indictment of
Tony Romo
, but grooming another quarterback for the Cowboys' stable might not be such a terrible idea this year. Why this year specifically? Well, when looking at each NFL team and analyzing their specific needs, Dallas might just have fewer than anyone else. It would be great to add a real playmaker at safety and adding youth along the offensive line makes sense, but overall, there isn't one massive need -- outside of kicker -- that Dallas needs to address to be a contender. Plus, that is quite a large stadium that Jones just built and if something were to happen to Romo, having Tebow waiting in the wings would ensure that they keep it packed with paying customers.
Draft probability
: Low.

New York Giants
: This one doesn't seem likely to me, but the Giants certainly are in the market for an upgrade at backup quarterback. Still, my guess is that New York will not use the pick needed on draft weekend to secure Tebow's services. The reasons are simple; they just have too many pressing defensive needs. The Giants would be wise to use the top of their draft to get younger, faster and more talented at safety and linebacker and maybe add a beefy, run-stopping nose tackle. The offensive needs are not as pressing, but using a high draft pick along the offensive line would make more sense than using it on Tebow. But, as I said, they do need to improve the backup quarterback spot. Imagine Tebow-mania in the Big Apple!
Draft probability
: Low.

Philadelphia Eagles
: As it stands, the Eagles now have more quarterbacks than they know what to do with. But hear me out. Let's say that the Rams (or another team) offer the Eagles very good value for
Michael Vick
and the Browns offer up their early first-round pick for
Kevin Kolb
-- two situations that could come to fruition. Then Tebow could come into the mix as the long-term successor to
Donovan McNabb
. Andy Reid does value strong quarterbacks who move well -- like McNabb -- and is a collector at the position, but this West Coast scheme is predicated on getting the ball out quickly, which clearly is not Tebow's strong suit. But the Eagles might take a win-now approach in the above scenario and would be the type of team who could allow Tebow to work on his craft behind McNabb while also taking over for Vick in the Wildcat package.
Draft probability
: Low.

Washington Redskins
: With Tebow's long release and inability to get the ball out quickly, he does not appear to be a good fit in Mike Shanahan's offense (or anyone's offense) in Washington. However, he does move very well, has a strong arm and off-the-chart intangibles, so he might just pique Shanahan's interest. This only works, though, if the Redskins decide to make
Jason Campbell
the starting quarterback for the near future and assemble a supporting cast for him with their offseason resources -- which is what I would do. If the Redskins instead add
Sam Bradford
or
Jimmy Clausen
with their first-round pick, Tebow becomes a nonfactor. But if they hedge their bets, go with Campbell for the short term, use the first-round pick on say, a left tackle, and then use a later pick on a developmental quarterback like Tebow, the former Gator could find himself in Washington, where the owner has been known to like making a splash.
Draft probability
: Medium.
March, 2, 2010
3/02/10
11:29
AM ET
Florida quarterback
Tim Tebow
is working to refine his throwing motion. Will he play QB or some other position in the NFL? Let's assess his chances of landing in the NFC South.

Atlanta:
Unless Tebow wanted to switch positions and the Falcons thought he could play tight end or somewhere else, there's no chance of him landing in Atlanta. They've got
Matt Ryan
as their franchise quarterback. Coach Mike Smith and offensive coordinator Mike Mularkey aren't big believers in gimmicks. They rarely use the Wildcat formation and they're not going to change and disrupt their offense.
Draft probability:
No chance.

Carolina:
The Panthers probably are in the market for a quarterback in free agency or the draft. At the moment, they have an uncertain situation with
Matt Moore
and
Jake Delhomme
as the only real options to start. Tebow has a history as a winner, and the Panthers have done their homework on him. But coach John Fox and general manager Marty Hurney have to win big this year, and they've always believed it takes too long for a quarterback to develop from the time he's drafted. Tebow is just adjusting to an NFL throwing motion. It's very unlikely Fox and Hurney will take him because they don't have the time for him to develop.
Draft probability:
Low.

New Orleans:
Yeah, it's tempting to think about the possibilities of what a great offensive mind like Sean Payton could do with Tebow. But do you really think Payton is going to do anything that potentially would take the ball out of Drew Brees' hands?
Draft probability:
No chance.

Tampa Bay:
The Bucs have young quarterbacks in
Josh Freeman
and
Josh Johnson
. Freeman clearly is the franchise guy. If the Bucs do anything at quarterback, it will be to add a veteran free agent to help mentor Freeman. They have 10 draft picks and lots of needs. A project at quarterback isn't one of them.
Draft probability:
No chance
March, 2, 2010
3/02/10
11:27
AM ET
Florida quarterback
Tim Tebow
is working to refine his throwing motion. Will he play QB or some other position in the NFL? Let's assess his chances of landing in the NFC West
.

Arizona Cardinals
:
Matt Leinart
is the only quarterback on the Cardinals' roster, so I wouldn't rule out Tebow entirely. Arizona does need numbers at the position. Also, coach Ken Whisenhunt has shown flexibility in finding ways to work unconventional players into his offense. He has used safety
Antrel Rolle
as a Wildcat quarterback. He found a role for rookie running back
LaRod Stephens-Howling
(two starts, 16 touches) last season even though Stephens-Howling is only 5-foot-7 and 180 pounds. I'm sure Whisenhunt and his offensive staff could find ways to maximize what Tebow offers, even though Tebow isn't a conventional quarterback. But with the Cardinals potentially facing significant personnel losses and the Final Eight rules limiting their options in free agency, I question whether they could justify taking Tebow in the first few rounds.
Draft probability
: Low.

San Francisco 49ers
: The 49ers have strongly advocated a best-player-available philosophy in the draft, and their quarterback situation is far from settled for the long term. "Again, a good football player is a good football player," general manager Scot McCloughan said at the NFL combine. "It's the reason why he's been successful. You can't lose sight of the intangibles he brings with him. There's no reason why he can't be successful in the NFL. You look at
Philip Rivers
and his release, and everybody will make fun of that and say things about that, but it doesn't matter. All that counts is what he does on the field and does he win games -- that's what you get measured by. And that's all he's done." The 49ers have a good defense and several key pieces in place on offense. They also have two first-round choices. That might make it easier for them to consider Tebow later in the draft.
Draft probability
: Medium.

St. Louis Rams
: The Rams' viability as a landing spot for Tebow hinges in part on whether the team drafts
Sam Bradford
first overall. If the Rams do not select Bradford, they could be in the market for a quarterback later in the draft. Tebow could conceivably factor into the discussion at that point. His selection would certainly provide some buzz for an organization that has had problems selling out the Edward Jones Dome. One question to consider, though, is whether Tebow's shortcomings would make it tough for him to become a precision passer in Pat Shurmur's West Coast offense.
Draft probability
: Medium.

Seattle Seahawks
: The Seahawks already have a veteran starter in
Matt Hasselbeck
and I question whether the could justify taking an early round flier on such an unpolished quarterback. General manager John Schneider does believe in drafting quarterbacks somewhat frequently, an approach that sometimes worked for the Packers when Schneider was in Green Bay. With Seattle needing to rebuild its lines on both sides of the ball, and with the offense lacking every-down playmakers, selecting Tebow might be a luxury the team can't afford.
Draft probability
: Low.