June, 3, 2014
Jun 3
6:30
PM ET
CINCINNATI -- For the second time in as many weeks
Jermaine Gresham
's absence
headlined one of
the
Cincinnati Bengals
' voluntary organized team activities.
As you'll read here, injuries and absences weren't the only events worth mentioning from Tuesday's practice.
Here is a rundown of seven observations from the open session:
[+] Enlarge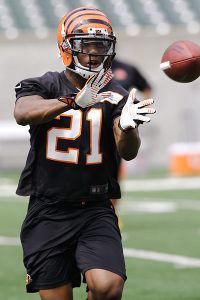 Al Behrman/AP PhotoBengals' first-round pick Darqueze Dennard sees plenty of action on the field during Tuesday's OTAs.
1. Dennard gets work.
Rookie cornerback
Darqueze Dennard
, the Bengals' first-round pick, got his share of action with the first-team defense playing the slot cornerback position early in the practice. He also got his share of snaps at the right cornerback position, playing on the outside with second-teamers such as fellow cornerback
Dre Kirkpatrick
. If you recall, Kirkpatrick told reporters last month that
he hoped the Bengals would draft a cornerback in the first round
because he felt that with
Leon Hall
,
Adam Jones
and
Terence Newman
getting up in age, it was time the cornerback group got younger. His hope is that he and Dennard can form a solid tandem for years to come. It's clear the learning still is taking place for Dennard. Coaches were in his ears often, talking to him after many of the first-team plays.
2. Hill and Bernard a tandem?
Speaking of duos, the Bengals may already have one at running back with second-year player
Giovani Bernard
and rookie
Jeremy Hill
. When the Bengals picked Hill in the second round, it seemed they were committing to making him not only part of their backfield of the long-term future, but also to using him in their immediate plans, as well. It's clear after the first two open OTAs that they are trying to see whether he'll be ready to be used regularly this fall. So far, Hill has gotten his share of hand-offs with the first-team unit alongside Bernard. The two have been in the backfield at the same time, in addition to trading roles as the lone back in single-back sets that get called. It's left veteran
BenJarvus Green-Ellis
a little bit out of the starting picture. Green-Ellis has gotten his opportunities to work in Cincinnati's running back rotation, one that includes
Rex Burkhead
and
Cedric Peerman
, but it's clear Hill and Bernard are trending toward being the top tandem in the Bengals' backfield.
3. D-line rotations.
Cincinnati's defensive line will get its share of tweaks and looks all throughout this OTA season as
Geno Atkins
continues rehabbing from an ACL tear. Those rotations include figuring out exactly where the large group of defensive ends will go, and determining which of them will have duties as defensive-tackle pass-rushers in nickel defenses. It appears
Carlos Dunlap
, the end who had been playing on the left side, might end up getting real action at right end this year. Second-year lineman
Margus Hunt
likely would take his spot on the left side.
Wallace Gilberry
could rotate with Hunt at left end, with rookie
Will Clarke
potentially doing the same with Dunlap on the right side. In nickel situations, Gilberry has fit on the interior of the line often in practices, just as he did at times last season. In truth, though, multiple ends could rotate into playing on the interior. Hunt and Clarke most specifically have backgrounds playing there.
4. Keep a close eye ...
on the Bengals' offense this fall. Offensive coordinator Hue Jackson has alluded to them in the past, but don't be surprised if the Bengals incorporate a few trick plays next season. They certainly have the capability with all the playmakers they have, but the added luxury of having a player as versatile as
Mohamed Sanu
helps. The receiver is a former quarterback who still throws accurate, tight passes. He's also athletic enough to be a threat to run or pass if he gets the ball behind the line of scrimmage. It's quite possible Jackson uses him and others for a host of unique reasons as he starts injecting some life and big-play capability into the Bengals' scheme.
5. Slow movers.
Jackson was none too pleased once during practice when he shouted to players about breaking the huddle too slowly. This is only worth mentioning because tempo and pacing are two things he and others have harped on all offseason as Cincinnati's offense gets tweaked. Jackson wants the Bengals to break their huddles quickly so they can get to the line, dissect the defense, make any changes, and get the ball snapped early in the play clock. In that sense, it's not a true no-huddle, but it will operate at a pace that requires the play to come in quickly from the sideline and relayed even faster. Jackson hopes to limit the amount of times he has to call out a slow-moving huddle.
6. Burden practices.
The newest Bengal, Cincinnati-area product
Chandler Burden
, practiced Tuesday. He had just cleared a physical and was signed earlier in the morning. The offensive lineman can be used at either tackle or guard. His addition comes at the same time center/guard
Mike Pollak
has missed time during OTAs with an unspecified injury.
7. Green in midseason form?
The NFL's official Twitter account tweeted a picture Tuesday afternoon of receiver
A.J. Green
leaping high and catching a pass (see below). The photo tagged Green's handle and said he was "already in midseason form." It may have been easy to see that from the picture, but it was pretty evident just by watching the way he was going for passes that Green was practicing at a high level. He looked like an elite receiver at times, running through routes and catching difficult passes he could have otherwise let sail on by in a voluntary workout. He jumped at least three times for passes, including through defenders at least once.
.@ajgreen_18 already in mid-season form. #OTAs pic.twitter.com/BVay5NJl63

— NFL (@nfl) June 3, 2014
May, 10, 2014
May 10
7:30
PM ET
»
NFC wrap-ups
:
East
|
West
|
North
|
South
»
AFC
:
East
|
West
|
North
|
South
CINCINNATI -- A wrap-up of the
Cincinnati Bengals
' draft.
Click here
for a full list of Bengals draftees.
[+] Enlarge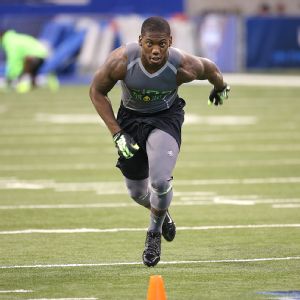 AP Photo/Ben LiebenbergDarqueze Dennard was rated near the top of the Bengals' board, and the team ended up pouncing in the first round.
Best move:
When the Bengals finalized their big board in the days leading up to the draft, they put cornerback
Darqueze Dennard
near the top of the list. Offensive coordinator Hue Jackson said Dennard was ranked among the team's top 10 overall players. Defensive coordinator Paul Guenther felt that rating was accurate and had few reasons to believe the man-press corner would actually fall to No. 24 where the Bengals were waiting for a defensive back. Once
Justin Gilbert
was scooped up by the Browns at No. 8 and
Kyle Fuller
came off the board to the Bears at No. 14, it started looking like a real possibility that Dennard -- rated the No. 2 cornerback on most draft boards -- would be available. That was especially the case when the Browns traded with the Eagles to move up to No. 22, taking a team with a cornerback need (Philadelphia) off the board before the Bengals' selection. As arguably the best player available when his pick was made, Dennard's selection was a wise one and deserved to be classified as the best of the Bengals' draft.
Riskiest move:
It's never easy for teams to evaluate draft hopefuls who come into the draft process with arrest records, let alone convictions. That was what the Bengals had to do with running back
Jeremy Hill
, though, as they tried to figure out whether two separate events -- one from when Hill was in high school and another from when he was at LSU -- ought to be enough to deter them from selecting him. After consultations with Hill's coaches and others around him, the Bengals felt Hill had experienced enough of a life transformation the past several months to warrant grabbing him in the second round. Hill's conviction was for a misdemeanor sexual assault charge from his senior year of high school. He didn't play his entire first season at LSU because school officials wanted to wait until the legal process ran its course. Last year, he was arrested after punching a man in a bar fight. The incident was caught on tape. Taking him in the first place was a risky move. Doing so in the second round might have been even riskier. Time will be the judge of that.
Most surprising move:
The biggest move of the Bengals draft was also its most surprising one. After four rounds went by without them selecting a quarterback, it started looking like the Bengals might end up not even entertain taking one. After all, based on their pre-draft chatter about having a firm belief in
Andy Dalton
, it seemed they might end up feeling so comfortable with their starter and the rest of their quarterback room that they might move beyond thinking about signing one. When quarterbacks started going off the board in the fourth and fifth rounds, though, it was time for the Bengals to act if they were going to act at all. What makes
AJ McCarron
's selection most surprising, though, was the fact that he was the one picked and not another quarterback. Target
Aaron Murray
could have been a possibility in earlier rounds.
Tom Savage
, too. It wasn't long after Murray's pick at 163rd overall that the Bengals did end up grabbing McCarron. They took him with the next pick.
File it away:
In case you haven't already, something you might want to remember for future drafts under coach Marvin Lewis is this: He likes drafting SEC players. Entering the draft, the Bengals had claimed 26 players from the conference since Lewis' arrival in 2003. The conference that had the next-highest draft representation was the Big Ten, which had 15 selections. This year, the Bengals took three players from the SEC, including two from LSU. Their first-round pick, Dennard, is the lone Big Ten representative in this class.
May, 9, 2014
May 9
11:16
PM ET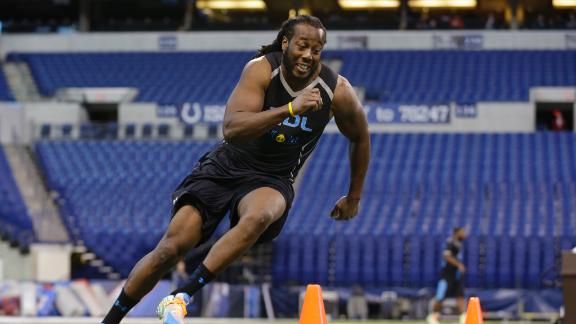 CINCINNATI --
The pick:
Will Clarke
, DE, West Virginia.
My take:
After going offense with their second-round pick, the Bengals returned to the defensive side of the ball in Round 3. They landed Clarke, a tall, rangy lineman who mirrors former Bengals defensive end
Michael Johnson
. Clarke is 6-foot-6, weighs 271 pounds and could grow even bigger, the Bengals believe. Defensive coordinator Paul Guenther said in a post-pick news conference that Clarke has a body frame that can get him up to 290 pounds. He'll be paired in the coming seasons with
Margus Hunt
, a 2013 second-round selection. Like Clarke, Hunt was the third player the Bengals selected in his draft class. Clarke also joins ends
Robert Geathers
,
Wallace Gilberry
and
Carlos Dunlap
at the position.
Bat away:
One of the hallmarks of Clarke's play in college was his ability to knock down passes at the line of scrimmage. He had seven deflections his final season at West Virginia, rivaling the eight Johnson had for the Bengals last season. Johnson left Cincinnati in March, signing with Tampa Bay in free agency. Several of Johnson's deflections came at crucial moments. Two of the tips resulted in key interceptions.
What's next?
The Bengals have now shored up three key position groups in defensive end, running back and cornerback. Next for Cincinnati will likely be some combination of quarterback, outside linebacker and offensive line additions in the remaining rounds. The final few rounds begin at noon ET Saturday. Expect the Bengals to possibly look for a quarterback with the fourth-round pick and then move on from there. Cincinnati has been quite pleased with where it has been able to select through the first three rounds. In each of those rounds, multiple players that were high on the Bengals' draft board were present when the picks were made. They are hopeful to see that trend continue Saturday.

NFL SCOREBOARD
Thursday, 12/18
Saturday, 12/20
Sunday, 12/21
Monday, 12/22