May, 16, 2011
5/16/11
10:07
AM ET
Vince Young
's ugly divorce from the
Tennessee Titans
drew
disapproving reviews
and will scare off some potential suitors.
Should the
Seattle Seahawks
consider him?
[+] Enlarge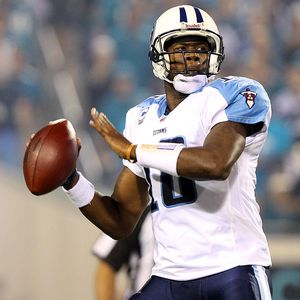 Kim Klement/US PresswireWould Vince Young fit in with what the Seahawks are trying to do?
I asked the question Friday
, drawing a wide range of well-considered responses. Let's consider a sampling of them here, augmented with my own thoughts.
"Absolutely not!"
Anointed102969
wrote. "Look at our roster on offense?
Russell Okung
,
Max Unger
,
John Moffitt
,
James Carpenter
and
Golden Tate
could all be starters next season. Those are five guys on offense with less than one year of NFL experience. Vince Young
quit on his team
. He walked out on his coaches during a film-review session. Cops had to
look for him
. You want this kind of head case leading a bunch of young bucks on offense? No thanks!"
The Seahawks, without even considering whether Young would fit their offense, will likely eliminate Young from serious consideration for these reasons alone. General manager John Schneider said the team avoided drafting Colorado cornerback
Jimmy Smith
, among other players with off-field question marks, because the Seattle locker room was not yet strong enough to assimilate such players. Of course, Smith would have cost the team a first-round draft choice. Young would not require such an investment.
"I am a Seahawks fan that has been stationed at Fort Campbell, Ky., for the last seven years,"
Jeroli1
wrote. "I have seen Young play, including going to a preseason game when he was a rookie. This kid has raw talant. The problem is his mouth. If Pete Carroll can put a gag on him and keep him from pouting, Young could be just what Seattle needs. With the addition of two young offensive linemen and a quarterback that can flat out run, they could be scary again."
Young's mix of athleticism and arm strength might have fit the Seahawks' passing game better last season, when coordinator Jeremy Bates was running a Mike Shanahan-style offense. The team is expected to place more value on accuracy and timing under new coordinator Darrell Bevell, although Carroll has sometimes downplayed the changes.
The bigger question is really whether Young's baggage would be tolerable at his position, under these circumstances. Taking chances on non-quarterbacks is easier. The stakes are lower. Teams generally carry only three quarterbacks on their rosters. Young would be at least one-third of the equation at the position. Other players look to quarterbacks for leadership. Quarterbacks must lead by example with their work habits, how they interact with others in the organization and how they project themselves publicly. Young has failed on some of those levels.
"Between Carroll and line coach Tom Cable, there should be plenty of 'tough love' to keep his head straight,"
akmac61
wrote.
Let's say Young played well in 2011. Then what? Could a rebuilding team seriously consider making a more significant commitment? I have serious doubts.
"Hey naysayers, there's no risk!"
iamdugan
wrote. "No loss of draft picks, no real investments -- no harm, no foul. Either Pete Carroll helps Young reach his potential and we get an absolute stud horse superstar, or he flops and probably gets cut faster then
LenDale White
. Also, I know we all have high hopes for the two latest rookie additions to our offensive line, but what if they don't pan out? What if we're crippled by injuries again? Wouldn't having a QB with Young's athleticism and mobility be a huge plus?"
The White experiment applies on a couple levels.
One, the Seahawks gave White a look even though they had to know exactly what they were getting into. Carroll had coached White at USC. Schneider, vice president of pro personnel Will Lewis and others in the Seattle organization have strong ties to Tennessee general manager Mike Reinfeldt and numerous others in the Titans organization. Those ties would have enhanced the Seahawks' feel for the situation.
Two, the Seahawks proved with White that they would act preemptively if they felt as though a player weren't holding up his end. They could, at least in theory, take a similar approach with Young, provided they could sign him to a deal without significant guarantees.
"A team should only consider Young if they have a veteran in place who is able and willing to shepherd him into the team's offense and culture,"
ptech
wrote. "Young is talented, but juvenile and fragile and he will require the right mix of both tough-love and unfettered support. By all reports, he's a huge headache and his return to the league would need to happen in a perfect place. I'm not sure Seattle is that place."
February, 27, 2010
2/27/10
3:43
PM ET
INDIANAPOLIS -- Seahawks coach Pete Carroll and general manager John Schneider touched on a few issues affecting the team during an interview Saturday at the NFL combine:
Left tackle Walter Jones is contemplating retirement, but nothing is final and the Seahawks can afford to wait for him if the salary cap disappears, as expected, next month. Carroll expects to see Jones at the team's facility next week. He "ran into" Jones' agent at the combine Friday night.
Receiver Nate Burleson will test free agency. The Seahawks would like to re-sign him.
The decision to name kicker Olindo Mare a franchise player became easy after the Raiders signed kicker Sebastian Janikowski to a lucrative deal.
The Seahawks would like a "physical presence" at running back, Carroll said. The comment wasn't a reflection of the running backs on Seattle's roster, he said. Carroll had strong praise for Justin Forsett.
Carroll said this draft features "wonderful, extraordinary speed guys" at running back.
Carroll heaped praise upon USC safety Taylor Mays while also acknowledging that he must work to keep in perspective his personal feelings for former players.
The Seahawks are setting up their draft board using the method Schneider used in Green Bay, but the team did not change its grading scale for players because it wasn't practical, Schneider said.
Carroll said he's loving life in the NFL. The combine allows for much more hands-on contact with players than is available through the college recruiting process, leaving Carroll much more confident in the evaluations the team is making.
Vice president of football operations Will Lewis, pro personnel director Tag Ribary and assistant director of pro personnel Trent Kirchner were working at an adjacent table in the hotel lobby where Carroll and Schneider were speaking with reporters. Lewis, Ribary, Kirchner and Schneider worked together for the Seahawks in 2000.
January, 20, 2010
1/20/10
2:56
PM ET
RENTON, Wash. -- Thoughts and observations from the Seahawks' news conference to introduce new general manager John Schneider, hired away from the Packers: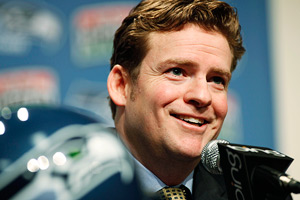 AP Photo/John FroschauerJohn Schneider was introduced as the new Seahawks general manager Wednesday.
This is all about fit. Specifically, it's about Schneider fitting with coach Pete Carroll and helping to find players that fit precisely what Carroll wants. The Seahawks didn't do this as well in recent seasons when former GM Tim Ruskell was identifying players to fit his long-range plans while the team tried to win with Mike Holmgren's offense. Seattle should get more from its personnel this way.
Carroll holds the authority over personnel, CEO Tod Leiweke said, noting that Carroll would win any coin tosses. Schneider then said he would never try to cram a certain player into his head coach's roster, regardless of who had ultimate control of personnel. The structure arguably makes Schneider a better candidate than GM finalist Floyd Reese, who is older and more established in his ways. I got the sense Schneider and Carroll would work well together. It's in Schneider's nature to make this work. I sense he's a pure personnel guy, not someone who cares about getting the credit.
The Seahawks will not be making sweeping changes to their front office or scouting staff. Schneider knows quite a few of the people already in place. Ruston Webster, John Idzik and Will Lewis will remain with the organization, Leiweke indicated. Lewis and Schneider worked together in Seattle previously. The team's salary cap and contract negotiating arm -- headed by Idzik -- will report to Schneider. Carroll wants to pick players, but he doesn't want to be a GM or cap guy.
The Seahawks will become younger not by design but through an effort to encourage competition. The Packers have been one of the NFL's two youngest teams (along with the Colts) in recent seasons. Carroll was opposed to playing rookies during his past incarnation as a head coach. His outlook changed after coaching in college (Carroll compared that experience to being coach and GM, with the GM part changing his view). Personnel guys love to play young players. Seattle was the NFL's eighth-oldest team this week, not counting players signed to future contracts. That ranking will fall, no doubt.
The Seahawks are better off now than they were a few weeks ago. I do think the front office has a better chance to function without the infighting and competing agendas that marked previous regimes in recent seasons. That can help the Seahawks regain credibility lost over the last couple seasons.
Carroll addressed a few hires relating to his coaching staff. Jeremy Bates (offensive coordinator), Alex Gibbs (offensive line), Jedd Fisch (quarterbacks), Pat McPherson (tight ends), Gus Bradley (defensive coordinator), Dan Quinn (defensive line), Jerry Gray (secondary), Ken Norton Jr. (linebackers) and Brian Schneider (special teams) are in place.
The Seahawks are weighing the possibility of trying a 3-4 defensive alignment, but it's early.
Those were a few highlights. Heading home now.