April, 15, 2014
4/15/14
10:30
AM ET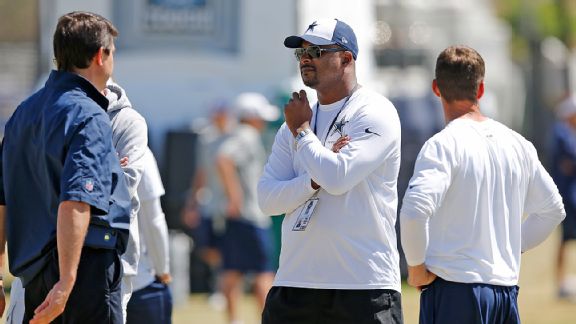 AP Photo/James D SmithAssistant director of player personnel Will McClay, 47, will be an asset to the Cowboys in May's draft.
IRVING, Texas -- There is a Herm Edwards story that keeps coming back to Will McClay, especially now.
The story is from more than 10 years ago, when Edwards was coach of the
New York Jets
. As a boy, Edwards' father made him sweep the back patio of their house. When Edwards was done, his father went out back, saw the pile his son made and immediately went to the corners. They were untouched.
The message that stuck with McClay when he first heard the story was simple: Details matter.
In his current job as the
Dallas Cowboys
' assistant director of player personnel, McClay is sweeping the corners.
In this case, sweeping the corners is looking anywhere and everywhere for a player to help the Cowboys in next month's draft. This is McClay's first as the Cowboys' highest-ranked personnel chief not named Jones.
"He's there night and day," said McClay's former Arena Football League assistant and confidante Terry Gray. "He's got a relentless passion to provide Mr. [Jerry] Jones and Stephen [Jones] the very best product available within the means and the parameters of what he's able to work with. He's nonstop. Nonstop. He doesn't sleep a whole lot."
There will be time to sleep after the draft. Maybe McClay, 47, can sneak in a little bit in June after the minicamp ends but before training camp in Oxnard, Calif., begins in late July.
For now, sleep can wait. McClay, whom the Cowboys declined to make available for this story, is in charge of putting the Cowboys' draft room together. It is a painstaking process that takes months to go through but picks up its pace in the final few weeks before the Cowboys pick No. 16 overall in the first round on May 8.
This week, nearly 30 players from across the country will visit Valley Ranch, wrapping up on Wednesday. On Thursday, the club will host its Dallas Day workouts for the local draft prospects. When it is all over, McClay and the scouting department will be back in the office grinding away, sweeping the corners.
McClay's rise to this current position has taken him through the Arena Football League as a player and coach, the defunct XFL and the
Jacksonville Jaguars
, where he was the assistant director of pro scouting. He joined the Cowboys organization in 2002 as defensive coordinator of the AFL's Dallas Desperados and became the head coach in 2004. He also served as a pro scout for the Cowboys, and in 2012 he was named the director of football research. Last spring he was promoted to his current title.
"Everything equates in looking at talent," Cowboys executive vice president Stephen Jones said. "He found some really unique guys in the arena league and then of course when he was back in scouting. He has had a passion for it, and it just seems like every step of the way he's done a good job for us. I commend him on the job he did finding guys like [George] Selvie and [Nick] Hayden, people like that. People that everybody had a shot at, but he brought them in."
Over the past few years, the Cowboys have found several prizes in street free agency in
Laurent Robinson
,
Tony Fiammetta
,
Eric Frampton
,
Ernie Sims
and Selvie, who had seven sacks last season. The Cowboys dressed 20 different defensive linemen in 2013.
McClay spent most of the season sweeping the corners for defensive linemen. And he was doing it long before he ever heard Edwards' tale. He did it at Houston Marian Christian, playing wide receiver as a freshman and quarterback as a senior to win Class 3A state titles in the Texas Christian Interscholastic League in 1981 and '84.
His high school coach, Mike Treybig, remembers walking into his office only to see McClay feeding the 16-millimeter film into the projector.
"

He found some really unique guys in the arena league and then of course when he was back in scouting. He has had a passion for it, and it just seems like every step of the way he's done a good job for us.

"

-- Cowboys executive vice president Stephen Jones on assistant director of player personnel William McClay
"William liked watching tape," Treybig said. "I would imagine he would've loved it if we let him call his own plays. I know there were times we allowed him to do that. He was definitely a student of the game. We didn't have to worry about a lot of stuff when it came to William. We knew he did his homework and would take care of things to give us the best chance to win on that Friday."
McClay could have gone to Nebraska, but he chose Rice instead to stay close to home and played defensive back. He was recruited there by Mike Nolan, the current defensive coordinator of the
Atlanta Falcons
. Tyrone Willingham, the former head coach at Notre Dame and Stanford, was the receivers coach at the time.
He remembers questions from McClay about what receivers looked for, searching for ways to get better as a defender even if the wins did not come as much as the Owls would have liked. Willingham and McClay remain close to this day.
"I'm personally excited for the individual, but I'm more excited for the organization because they did not let talent, for one reason or another, slip through the cracks," Willingham said. "That, to me, is so important because when you have talent you want to let it rise to the top to better everyone else in the organization."
Clint Dolezel played two years at East Texas State, throwing for 3,152 yards and 22 touchdown passes. McClay was defensive coordinator with a hand in personnel for the Milwaukee Mustangs in 1995 when Dolezel was recommended and eventually signed.
By the time Dolezel retired in 2008 with the Desperados with McClay as his head coach, he threw for 44,563 yards and 931 touchdowns.
"So many scouts get caught up in the fact, 'Well, we want him because he went to this big school,'" said Dolezel, now the head coach of the AFL's Philadelphia Soul. "And a lot of times they're right, but those are the no-brainers that no one is pointing a finger at if he doesn't pan out. Hey, he had the pedigree because he went to Texas or Oklahoma or Florida State or Alabama. The good ones find the ones at East Texas State and schools like that."
In his interview with the Jaguars, Tom Coughlin had McClay research a particular free-agent cornerback the team was high on and wanted to sign. McClay watched the tape and concluded that the player would not be worth the money or fit in the system. Coughlin briefly objected, but McClay held firm. He got the job, and the Jaguars did not sign the player.
"There is not a magic formula," Gray said. "It's just good, old-fashioned bust-your-ass hard work and lots and lots of tape. Lots of calls. Lots of research. Just looking at thousands of players until you find one you think fits for you. He's just got a very unique way knowing a football player when he sees one. That's commonly described by a lot of people, but he just knows it at a different level. It's more than just everybody saying, 'He can't play.' It's Will finding guys that can play that no one considered.
"Will McClay is a machine. He's a film-watching, evaluating, researching machine. He just never stops and he will never stop."
There always will be corners to sweep.
March, 5, 2014
3/05/14
1:00
PM ET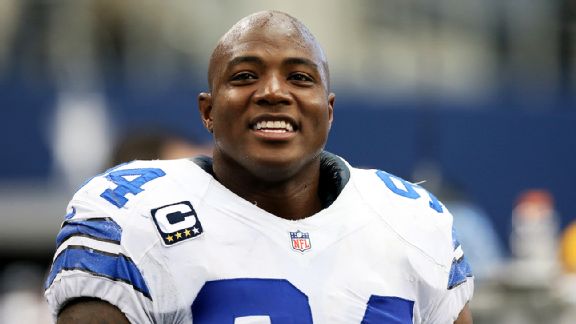 Matthew Emmons/USA TODAY SportsIt might be time for the Cowboys to let aging defensive end DeMarcus Ware go.
The Dallas Cowboys have a chance to start over.
It's not an ideal situation, but in the big picture, this is the perfect time.
The Cowboys are talking with Pat Dye, the agent for defensive end
DeMarcus Ware
, about a reduction in salary.

Ware has been the Cowboys' best defensive player for roughly seven consecutive seasons. But last year was different. Ware battled elbow, back, quad and a stinger in 2013.
His health betrayed him and he finished with just six sacks in the 2013 season. You could say health was the reason for his declining play or that he's just getting old.
The reality is Ware is still a good player, not a player worth taking $16 million of your salary cap, but maybe half that.
The Cowboys have basically told him to take a pay cut or find another team.
I don't believe they should keep him though because although Ware is still a productive player, if the team is trying to forge ahead and stop the mediocrity of the franchise, then letting him go is the best thing possible.
Rebuild.
If Ware is off the books, it saves $7.4 million.
On June 1, you get another $5.5 million in savings when your rid yourself of Miles Austin's contract.
That's close to $13 million in savings from two veteran players who are battling health issues as they move to the backstage of their careers. Sure some other NFL team will sign them, that's life in the NFL.
The Cowboys need to get younger, like yesterday. If Jason Garrett wants a contract extension he should tell Jerry Jones, let's get younger.
It's time to end the way the franchise has kept players around for too long and move toward the future. It's time for the Cowboys to draft the best players on their board and clean up the communication mess of the last few years in the war room.
March, 3, 2014
3/03/14
10:00
AM ET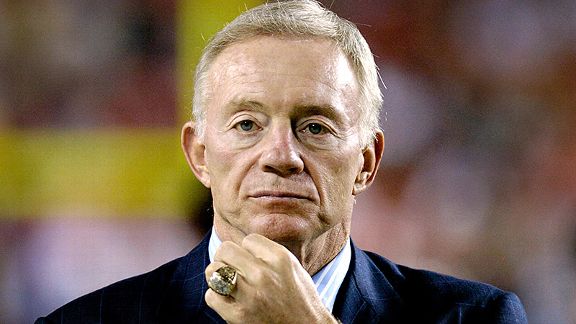 Al Messerschmidt/Getty ImagesJerry Jones has been trying to balance the acts of owner and general manager for 25 years.
IRVING, Texas -- It is never easy to decipher
Dallas Cowboys
owner and general manager Jerry Jones.
Stories go on and on and sometimes never reach an end. Statements are made to a point, but sometimes there is no conclusion. Proclamations are made that completely counter proclamations made minutes earlier.
It sometimes sounds as if the general manager is talking out loud to the owner as he answers questions.
For more than a few years, there has been a common thread in talk surrounding the Cowboys: When will Jerry the owner fire Jerry the general manager? It's wasted breath because it will never happen. That doesn't mean you don't ask the question, but you do so knowing the answer.
Listening to Jones on his bus at the NFL scouting combine in Indianapolis, it was as if GM Jerry sat on one shoulder and Owner Jerry sat on the other. You have the feeling that whoever has the last speech wins.
As is their custom, the Cowboys coaches and scouts have dinner at St. Elmo Steak House in downtown Indianapolis, eating the spicy shrimp cocktail and expensive filets while sipping on the even more expensive Caymus Select wine.
The dinner lasts hours before eventually they leave in drips and drabs.
Jones recounted one discussion he had with his coaches.
"They were telling me about how guys with some experience, they just get it quicker," Jones said. "You don't need to make it complicated. They said how important it is to have free agents on your team. They just come in, and they know what to do where these rookies don't. Well, I'm talking to coaches when I'm listening to that. They want guys that immediately come in and do a better job but yet won't be probably by the end of the year."
That is the answer of a perfectly sound general manager. The GM has to always keep the future in mind. It is never about one season because a team is never one player away. The GM has to know that a draft is never just for the current season but for two, three, maybe four years down the road.
But during the course of the two-hour discussion with local media, Owner Jerry took over for a little bit.
"We need to try everything we got to compete and win next year," Jones said. "We don't have time with Romo, the stage he's at in his career. We don't have time to sit here, build for three or four years from now. And there's the challenge. So if we get it done, I know you guys will say that was a helluva job."
There is a natural fight between scouts and coaches. Scouts look at development and the long term. Coaches want players who can help them win right away.
This is the fight assistant director of player personnel Will McClay must wage. He has to convince Owner Jerry and GM Jerry that whatever plan the Cowboys devise this offseason is the right one. Jeff Ireland was able to do it for a few years, and the Cowboys had some of their better drafts.
Jason Garrett can say everything that will be done in procuring better players in the draft and free agency will be with the best interests of the Cowboys in mind. He is also a coach entering the final year of his contract and without a winning season will not be back in 2015.
Jones does not have a contract. He is as secure as a Supreme Court justice. He is 71, and the Cowboys have only two playoff victories since 1996. His desire to win has never been greater, and that has led to some unwise personnel decisions.
He takes the blame for what has gone wrong since the Cowboys won Super Bowl XXX.
"Who the coach is falls directly at my feet," Jones said. "The players that are on the team, it falls directly at my feet. The contracts that are on the team fall at my feet. Did it fall directly at my feet to get Deion [Sanders] on the team? Did he make a difference in winning that Super Bowl? Of course he did. So that's at your feet. Are there things that are both positive and negative that will ultimately fall at my feet? There's no mistake about that."
Sanders was signed in 1995. A generation of Cowboys fans has grown up since then without its team sniffing a Super Bowl.
Not that Jones has made only poor decisions. In 2007, the Cowboys were 13-3 and had the best record in the NFC only to lose to the
New York Giants
in the divisional round of the playoffs.
The common refrain from 2007 to 2010 was the Cowboys had some of the best personnel in the NFL. That is repeated by far too many now when it is simply not true.
There's a reason why most teams do not operate this way. There has to be a separation of state.
"My experience has been that it's a little bit like holding a couple handfuls of Jell-O," Jones said. "About the time you reach out and get a little cut off on one side, it's slipping out the other side. You just can list the kinds of things you need to do to have success and then, of course, the Super Bowl team will win it and we all know that all of a sudden that what wins is a rotation in the defensive line, fresh defensive linemen matter, what wins is the running game or what wins is this. … But the truth is there's different ways to win these games. That's what I've observed over the last 25 years."
So the Cowboys keep muddling along stuck between Owner Jerry and GM Jerry, hoping that things will come together.
January, 10, 2014
1/10/14
3:30
PM ET
IRVING, Texas --
John Elway
is in his third year as the
Denver Broncos
' executive vice president of football operations. It's a fancy title that says, basically, he's in charge of all things football when it comes to the Broncos.
The Hall of Fame quarterback has been able to ride
Tim Tebow
to a playoff appearance -- and win -- and was able to lure
Peyton Manning
to the Broncos as a free agent.
[+] Enlarge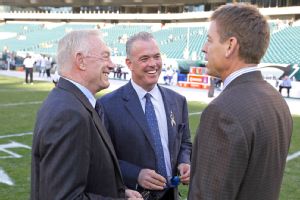 AP Photo/James D SmithBringing Troy Aikman into the front-office fold would help the Joneses generate goodwill with Cowboys fans.
Before Elway took that job, his personnel experience consisted of owning the Colorado Crush of the Arena Football League.
The Broncos have gone 26-6 in the last two seasons with Manning as quarterback and are the AFC's top seed in the playoffs for the second straight year.
The
Dallas Cowboys
do not have an executive vice president of football operations.
They have Jerry Jones as owner, president and general manager. They have Stephen Jones as chief operating officer, executive vice president and director of player personnel. Will McClay is the assistant director of player personnel.
On Sunday, I was fortunate enough to appear on "The Score With Babe Laufenberg." Sportscaster Bill Jones asked what changes could or should the Cowboys make in 2014. I came up with change the defensive coordinator. I mean, how hard is that when Monte Kiffin's defense was as bad as it was?
Laufenberg, the former Cowboys quarterback, sports director at KTVT and Cowboys radio analyst, had an ingenius thought.
Hire
Troy Aikman
.
Brilliant.
Think about the goodwill that would give Jones, who has long been criticized for being the general manager by just about everybody upset with the lack of success the Cowboys have had. Think of the jolt it would give the franchise.
Last year, Jones talked about sometimes having to do something "inordinate" to get the change you seek. His idea of change was to fire Rob Ryan as defensive coordinator and have Bill Callahan call plays. And the Cowboys still went 8-8.
In his role as a Fox analyst, Aikman has been closer to the game than Elway was when he took over. I wonder if a part of him sees what Elway has done and thinks, "I can do that." Is Elway poring over player reports every waking minute and up on all of the salary cap machinations? Not necessarily.
Dan Marino
tried to do this in 2004 and it didn't take. He lasted just three weeks as the senior vice president of football operations. Last fall Marino hinted he would be interested in a front-office gig once again, referencing Elway's success.
A lot of this is pie in the sky. We know Jones won't give up the GM duties. Ever. We also don't know if Aikman would ever consider giving up the Fox gig for something a little more grinding than calling games about 20 weekends a year. And we don't know if he could work with (or for) Jones again.
As we sit and wait to see what changes Jones will or will not make in this offseason, it sure is fun to ponder a Cowboys' life with Aikman in the front office.
Thanks for the idea, Babe.