NFL Nation:

Will Ta\'ufo\'ou
July, 18, 2014
7/18/14
11:00
AM ET
Examining the
Jacksonville Jaguars
' roster:
QUARTERBACKS (3)
General manager David Caldwell has said he likes to keep three quarterbacks, which means all three will have to be on the active roster, because Stanzi is ineligible for the practice squad. Stanzi should start the season as the No. 2 because he's more ready to play than Bortles, but that will likely flip-flop at some point.
Stephen Morris
is a practice squad candidate.
RUNNING BACKS (5)
If the Jags elect to keep only four backs, Todman and Johnson likely would battle for the final spot. That is assuming Robinson continues to be very good in camp. He might end up getting more playing time than any of the other backs after Gerhart if he shows he can be a reliable pass-catcher. Johnson has to prove he can pass block and doesn't have problems with ball security.
RECEVIERS (6)
The first four players should be locks, but it will be an interesting competition for the final two spots among Brown, Taylor, free-agent signee
Tandon Doss
, undrafted rookie
Allen Hurns
, and former practice-squad player
Chad Bumphis
. Doss missed most of the organized team activities and minicamp because of a calf injury, allowing Taylor, Bumphis and Hurns to get valuable reps. Doss was not a consistent receiver in his three seasons in Baltimore and has more value as a returner, but Sanders' strength is as a punt returner and the Jags have other options at kickoff returner. I have Taylor narrowly beating out Hurns because of his experience, but I can easily see that being flipped if the Jags want to add more size. Hurns is 6-foot-3; Taylor is 6-0.
TIGHT ENDS (3)
Jensen flashed during OTAs and gets the edge over three other players. He's a big kid (6-6, 270) who is a raw version of Lewis, one of the league's best blocking tight ends. Jensen will need a year or two to develop and likely will be used as an extra blocker more than a pass-catcher.
OFFENSIVE LINEMEN (8)
Some of the battles for starting jobs along the line are going to be intriguing during camp. Joeckel and Beadles are safe, but every other spot is up for grabs. Even Pasztor, who started 12 games last season, is uncertain because we don't know how his surgically repaired shoulder will hold up during camp. If it's fine, then he will win the starting job at right tackle. McClendon and Linder are battling for the right guard spot, and Brewster is going to have to hold off Bowanko and two others to be the starter at center. Bradfield has value because he can play both tackle spots.
DEFENSIVE LINE (10)
This should be the biggest upgraded position on the roster thanks to the additions of Clemons, Bryant and Hood. Despite public perception, Alualu isn't on the bubble for two reasons: He played solidly last season, and there really isn't anyone else on the roster as talented as he is to back up Bryant. The Jags are excited about Smith, who could end up playing more than Davis as the No. 3 LEO (hybrid end/linebacker) by the time the season is over.
LINEBACKERS (6)
Either
John Lotulelei
or
J.T. Thomas
, two key special teams players last season, could stick if the Jaguars decide to keep an extra linebacker instead of five cornerbacks, or if Hayes' surgically repaired knee doesn't respond well. Reynolds did a solid job subbing for Watson (groin) during OTAs and minicamp at the new OTTO position (replaces strongside linebacker).
CORNERBACKS (5)
The Jags will have to decide whether to keep fourth-year player
Mike Harris
or Jeremy Harris, a seventh-round pick in 2013 who spent his rookie season on injured reserve with a back injury. The 6-2, 185-pound Jeremy Harris is a better fit for what coach Gus Bradley wants in his cornerbacks than the 5-10, 188-pound Mike Harris, who was a member of former GM Gene Smith's final draft class. Blackmon has been working inside as well, which also makes Mike Harris expendable. Fourth-round draft pick
Aaron Colvin
will begin the season on the PUP list and doesn't count against the roster limit.
SAFETIES (4)
Chris Prosinski
has seemingly been a bubble player since he was drafted in the fourth round in 2011, but there is too much competition for him to survive this time. Martin started 36 games for Carolina in his first five seasons, and that experience gives him the edge. Evans seems to be the name everyone mentions when talking about the first Caldwell draft pick to get cut, but though he might lose his starting job to Guy, he's likely to stick around at least another year.
SPECIALISTS (3)
These guys should have little or no competition to make the roster.
March, 24, 2014
3/24/14
7:30
PM ET
ORLANDO -- Fourteen
Jacksonville Jaguars
received
performance-based incentives
of more than $100,000, led by rookie safety
Josh Evans
.
Evans, a sixth-round pick out of Florida in 2013, was thrust into a starting role because
Dwight Lowery
sustained a concussion in a Week 3 loss to Seattle. Evans was expected to spend the season in a reserve role but instead ended up playing 653 of a possible 1,016 snaps (64.3 percent). That additional playing time earned him $181,381.06 to bring his total compensation for 2013 to $437,205.
Performance-based pay compensates players whose playing time was much higher than what their salary would have paid. Players whose base salaries are very low -- which is usually low-round draft picks and undrafted free agents –--stand to earn the most money under the program.
In addition to Evans, the following players earned more than $100,000: offensive tackle
Austin Pasztor
($175,996.58), offensive tackle
Cameron Bradfield
($155,588.53), receiver
Mike Brown
($142,384.82), cornerback
Will Blackmon
($134,617,61), cornerback
Alan Ball
($129,120.82), receiver
Ace Sanders
($127,592.32), safety
Winston Guy
($112,796.88), cornerback
Mike Harris
($110,352.63), fullback Will Ta'ufo'ou ($108,097.31), safety
Johnathan Cyprien
($108,018.59), receiver
Cecil Shorts
($104,795.99), cornerback
Demetrius McCray
($104,681.44) and tight end
Clay Harbor
($102,227.69).
On the other end of the spectrum was running back
Delone Carter
, who received $182.17.
Jaguars players received a total of $3.46 million in performance-based pay, which is the league limit for each team. However, the players will not be paid until April 1, 2016.
February, 25, 2014
2/25/14
2:00
PM ET
Here is the second of a 10-part series breaking down the Jaguars' free-agency needs, position by position:
Running backs
Who's on the roster:
Delone Carter
,
Shaun Chapas
(FB),
Justin Forsett
,
Maurice Jones-Drew
,
Denard Robinson
,
Jordan Todman
and
Will Ta'ufo'ou
(FB).
Analysis
: Jones-Drew becomes an unrestricted free agent next month, but every other player is under contract through at least 2014. Jones-Drew fought through ankle, hamstring and knee issues to rush for 803 yards and five touchdowns. The running game, though, never really got going until the 11
th
game of the season. The Jaguars ran for at least 112 yards in games 11-14 but things dropped off the table after that: 105 yards in the last two games combined. Part of the yearlong issue was due to the offensive line's struggles, but the fact that the Jaguars rarely made any explosive plays in the run game was a big factor as well. The Jaguars had just four runs of 30 or more yards all season. Todman was solid as Jones-Drew's backup and ran for 109 yards in his only start, but he's not a featured back. Forsett was hurt in camp and never found his fit in the offense and likely will be released. Robinson never had a defined role until settling in at running back midway through the season and he has had ball-security issues. Carter and Chapas (practice squad) were signed late in the season.
NFL free agents of interest:
Ben Tate
,
Darren McFadden
,
Knowshon Moreno
,
James Starks
,
Anthony Dixon
and
LeGarrette Blount
.
Need meter: 7.
If Jones-Drew does not re-sign with the Jaguars -- and right now it appears he won't -- the team needs to sign a replacement via free agency. There are a lot of affordable options on the market because of the number of players available. Tate tops the list and should be the Jaguars' top target at this position, but if they're looking for a cheaper option then Starks, who has been a featured back in spurts with Green Bay, could be an option. Robinson is an intriguing player on the roster, though, because the staff is having him bulk up a bit to handle the pounding of playing running back. If he can solve his fumbling problems, he could be a surprise. Expect the team to draft at least one back as well.
November, 27, 2013
11/27/13
5:30
PM ET
JACKSONVILLE, Fla. --
Jacksonville Jaguars
guard
Mike Brewster
could almost taste the glory.
Brewster
All quarterback
Chad Henne
had to do was lob the ball in front of him. No doubt in Brewster's mind he would catch it and then he'd have what every offensive lineman dreams of: his very own touchdown.
"It would have been awesome," Brewster said.
Instead, it was awful. Henne, with a defensive end in his face, didn't have time to wait for Brewster to get open in the end zone. Instead, he threw a quick pass toward fullback
Will Ta'ufo'ou
that fell incomplete.
Just like that, Brewster's chance of catching a 1-yard touchdown pass against the
Houston Texans
last Sunday was gone.
Maurice Jones-Drew
carried the ball on the next play and scored, putting the Jaguars ahead 7-0 in a game they would eventually win 13-6.
The play was one the Jaguars have practiced all season. Brewster lines up on the right side of the offensive line as an extra tight end in a jumbo package on the goal line. He fakes a block then runs an out pattern and is open for an easy touchdown.
It's a play that works often. Tight ends do it all the time. The
New England Patriots
make a living off it with
Rob Gronkowski
. Before him they used linebacker Mike Vrabel, who caught 10 touchdown passes out of similar formations with the Patriots and
Kansas City Chiefs
.
But it didn't work last Sunday.
"It's something we've kind of been toying around with," Brewster said. "Maybe it would have caught them a little more off guard if we didn't have to take a time out, because then they kind of probably zeroed in that we've got a heavy lineman in and he's on the end of the line of scrimmage, keep an eye out [for him to go out for a pass]."
Brewster said he's got good hands and would have definitely made the catch -- "It would not have been a problem to catch it," he said -- and he had a pretty good touchdown celebration planned. He wouldn't elaborate, but said it would have poked fun at what one of the Houston players have previously done.
Instead, he's left to wonder if he'll ever get another shot at a TD.
"If I do some more jumbo on the goal line, even if we don't call it again they've still got to respect the fact that I could go," he said.
October, 13, 2013
10/13/13
10:25
PM ET
DENVER -- A lot of the roster moves the
Jacksonville Jaguars
have made over the past two months have been to improve on special teams.
They really struggled during the first half of the preseason, but those signings helped stabilize the units. But the problems the Jaguars had on special teams during Sunday's
35-19 loss
to the
Denver Broncos
had nothing to do with personnel.
It was execution and one questionable decision.
[+] Enlarge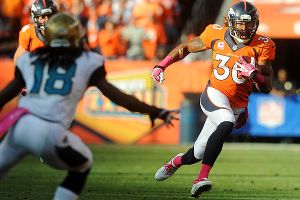 Jerilee Bennett/Colorado Springs Gazette/MCT via Getty ImagesDavid Bruton's 35-yard run on a fake punt was just one of the Jaguars' special-teams miscues.
"We went in with the mindset that we're going to be aggressive in this game," Jaguars coach Gus Bradley said. "Instead of [how] maybe some thought we would back off, we wanted to be the other way. We wanted to be really aggressive."
That's why Bradley called for a fake punt on the Jaguars' first possession. It was a gutsy call because the Jaguars were on their own 26-yard line. But it showed his players that he wasn't kidding about being aggressive.
It was a sound call, too, because the Jaguars saw something on tape that they believed they could exploit. It wasn't a spur-of-the-moment decision. Not a bad gamble at all, considering the winless Jaguars had been 28-point underdogs.
But the fake itself was questionable at best. It was fourth-and-4 and fullback
Will Ta'ufo'ou
took a direct snap and tried to run up the middle. There was no room, just a pile of bodies. Not surprisingly, he gained just 1 yard, and the Jaguars gave Denver the ball on their 27-yard line.
"We felt like we had something," Bradley said. "[We] reviewed it and we talked about it and we felt like from the 20 to the 40 in that situation we could maybe steal a series."
Six plays later, the Broncos led 7-0.
The Jaguars' two other big special-teams mistakes were because of poor execution. Rookie long-snapper
Carson Tinker
bounced a snap about a foot in front of holder
Bryan Anger
, who couldn't corral it and ended up being tackled for a 14-yard loss.
"Sometimes rookies make mistakes," Bradley said. "We talk about
Josh [Evans]
and Cyp [
John Cyprien
] and some other rookies that do it. You know, he's a rookie, too. I guess sometimes that can happen at inopportune times."
The Jaguars got burned again late in the third quarter. The Broncos ran a fake punt on fourth-and-2 from their own 48-yard line, with
David Bruton
taking a direct snap and going around left end for a 35-yard gain.
It was perfect timing. The Jaguars were trailing by only 11 points, had just forced what they thought was a three-and-out and were thinking of possibly making it a one-score game. It was a well-designed play, too. Bruton is a safety, not a fullback. And he ran outside, not into the middle of the line. Nobody even saw him until he blew by the first-down marker.
Being aggressive was a sound plan, and it's something the Jaguars should continue to do. But it's not going to work if they continue to make small mistakes.
October, 13, 2013
10/13/13
7:05
PM ET
DENVER -- A few thoughts on the
Jacksonville Jaguars
'
35-19 loss
to the
Denver Broncos
:

What it means:
If there are such things as moral victories in football, the Jaguars got one on Sunday. They came in as 28-point underdogs -- which tied the mark for the largest point spread in NFL history -- and ended up losing by 16 points. That still doesn't change the fact that the Jaguars are one of only three winless teams. They are improving, especially on offense. The offensive line, until late in the third quarter when it gave up two sacks in three plays, did a solid job in pass protection. It's odd to think the defense did a good job in giving up 35 points, but the Broncos had scored more than 50 points in back-to-back games and were averaging 46 per game. The Jaguars didn't give up a lot of big plays and made the Broncos work. Plus, linebacker
Paul Posluszny
returned an interception for a touchdown late in the first half.
Stock watch:
There can't be any remaining doubt regarding how important receiver
Justin Blackmon
is to the offense. The team's two best offensive performances have come the past two weeks and that coincides with Blackmon's return from his four-game suspension. What made his performance even more impressive on Sunday was that it came without leading receiver
Cecil Shorts
. He left the game after suffering a shoulder sprain on the third offensive snap and did not return. Blackmon finished with 14 catches for 190 yards.
Not-so-special teams:
The Jaguars made three huge special-teams gaffes. Coach Gus Bradley called for a fake punt from his own 26-yard line on the first possession. The ball was snapped directly to fullback
Will Ta'ufo'ou
, who tried to run up the middle but gained only 1 yard. Denver scored six plays later. Long-snapper
Carson Tinker
bounced a snap on a failed field goal attempt. The Broncos also converted a fake punt of their own for a 35-yard gain.
What's next:
The Jaguars play host to San Diego on Sunday.
September, 2, 2013
9/02/13
5:15
PM ET
JACKSONVILLE, Fla. -- The Jaguars made one roster move on Monday, adding rookie fullback Lonnie Pryor to the practice squad.

That was a pretty quiet day compared to Sunday, when the Jaguars were awarded seven players off waivers, cut seven players and signed seven more players to the practice squad, the Jaguars front office was pretty quiet. And while things won't be as busy as they were Sunday, GM Dave Caldwell and coach Gus Bradley have said they will be aggressive in terms of trying to improve the bottom part of the roster and special-teams play, which means the team will be signing and cutting players on a somewhat regular basis.
So while things are (relatively) quiet for now, here's a quick breakdown of the 54-man roster (we're including WR
Justin Blackmon
, who is suspended for the first four games):
According to data collected by The Philadelphia Inquirer and posted on its website, the Jaguars have the league's
fifth-youngest roster
in the NFL. The numbers may not be 100 percent accurate now because the website used the rosters as of 9 p.m. Saturday and teams continued to add and cut players on Sunday, but it shouldn't make too much of a difference in the final results.
Here's how the Jaguars roster breaks down in terms of age:
The Jaguars have 38 players 26 years old or younger, including 12 projected starters: WR
Cecil Shorts
(25), LT
Eugene Monroe
(26), LG
Will Rackley
(23), RT
Luke Joeckel
(21), WR Justin Blackmon (23), QB
Blaine Gabbert
(23), DT
Tyson Alualu
(26), DT
Roy Miller
(26), DT Sen'Derrick Marks (26), LB
Geno Hayes
(26), CB
Dwayne Gratz
(23), S
Johnathan Cyprien
(23).
They have 12 players between 27 and 30 years old, including six starters: RG
Uche Nwaneri
(29), TE
Marcedes Lewis
(29), FB
Will Ta'ufo'ou
(27), RB
Maurice Jones-Drew
(28), LB
Paul Posluszny
(28) and S
Dwight Lowery
(27).
There are only three players older than 30, all of which are starters: DE
Jason Babin
(33), C
Brad Meester
(36) and K
Josh Scobee
(31).
Sixteen players are either rookies or first-year players.
The Jaguars have four players on the roster who were drafted under GM Shack Harris (2003-08) and 10 players who were drafted under GM Gene Smith (2009-12).
If you eliminate the 2012 draft class because those players are only in their second year and should still be on the roster (four of the six picks are), the number remaining from Smith's tenure drops to six. The 2009 and 2010 drafts should have produced the core group of players that should be the strength of this year's team since they would be entering their fourth and fifth seasons, which is when most players enter their prime. But only two of the 15 players taken in those two drafts remain: Monroe and Alualu.
August, 10, 2013
8/10/13
1:12
AM ET

Any chance to tighten a hold on the
Jacksonville Jaguars
' starting quarterback job disappeared on
Blaine Gabbert
with a miserable stat line against Miami.
Five completions in 10 attempts for 19 yards isn't going to make anyone feel like Gabbert rose to the occasion or staked a claim in a 27-3 preseason loss at EverBank Field.
That's 1.9 yards per attempt and 3.8 yards per completion. The Jaguars averaged 4.8 yards a carry when they ran the ball.
For comparison, Miami quarterback
Ryan Tannehill
also completed five passes. His were good for 75 yards.
All the disclaimers for the Jaguars' passer in one paragraph: Gabbert was without the team's top two receivers,
Cecil Shorts
and
Justin Blackmon
, and its top two running backs,
Maurice Jones-Drew
and
Justin Forsett
. He got sacked early when
Cameron Wake
beat rookie right tackle
Luke Joeckel
. He suffered as a result of a drop by rookie receiver
Ace Sanders
and the lack of a play on a pass to
Mike Brown
that was probably catchable. On an early third-and-12 the Jaguars ran a screen pass with no chance of extending a drive. The interception he threw hit fullback
Will Ta'ufo'ou
in the hands and he failed to pull it in.
Even with all that context, a starting NFL quarterback needs to make more of his chance than Gabbert did.
Chad Henne
was far better: 8-for-11 for 87 yards for a 95.6 passer rating compared to Gabbert's 16.7.
Henne deserves the start in the second preseason game.
A few other thoughts:
Defensive tackle Sen'Derrick Marks was active, with a sack on the second play from scrimmage and at least one more disruptive play. Working from the left end spot, Tyson Alualu also had one very nice early pressure.
Dustin Keller pulled in the game's first score, a 22-yard TD from Tannehill. Safety Chris Prosinski was all over the tight end but didn't have the awareness to find the ball so it didn't matter.
Sanders' second punt return went for 22 yards and showed some nice shake.
Denard Robinson had one very nice change-of-direction play that went for a 7-yard gain, but in his first game action as a running back the production was poor as he averaged 3.6 yards. He got smashed in the backfield on a Wildcat keeper midway through the second quarter. The story of the run game was Jordan Todman, who turned six carries into 45 yards and seemed to get into his top gear pretty quickly.
Rookie cornerback Dwayne Gratz took advantage of a somewhat off-target throw from Matt Moore to confidently collect an interception.
Jaguars quarterbacks combined to complete six passes that were good for 2 yards or fewer: two 2-yard passes, two 1-yard passes, one pass for no gain and one completion that resulted in a 3-yard loss.
September, 3, 2011
9/03/11
6:49
PM ET
Check here
for a complete list of the
Chicago Bears
' roster moves.

Surprise move:
The Bears have now bid farewell to three locker room stalwarts: Center
Olin Kreutz
, receiver
Rashied Davis
and now tight end
Desmond Clark
. The Bears released Clark as part of Saturday's roster cutdown, deciding to keep undrafted rookie
Kyle Adams
instead. Clark
said via Twitter
that "I played my butt off but sometimes it's more about the business." The Bears indicated that he was released with an injury. Regardless, intentionally or otherwise, the Bears have at least temporarily created a player leadership void.
No-brainers:
After last week's communication fiasco, there was little doubt that running back
Chester Taylor
would be
part of this cutdown
. The Bears need only two tailbacks behind starter
Matt Forte
, and those roles will be filled by
Marion Barber
and
Kahlil Bell
. They also kept fullback
Will Ta'ufo'ou
. I don't know if the Bears entered training camp planning to keep undrafted rookie receiver
Dane Sanzenbacher
, but his quick ascension as a slot receiver was obvious by the midpoint of the preseason. Quarterback
Jay Cutler
loves throwing to him.
What's next:
The Bears' depth at linebacker is a little scary. They kept only five at the position, with
Brian Iwuh
and undrafted rookie
Dom DeCicco
as the reserves behind
Lance Briggs
,
Brian Urlacher
and
Nick Roach
. You would think the Bears would at least scan the waiver wire for additional depth, especially with Briggs nursing a knee injury. And with Barber and Bell having suffered preseason injuries, the Bears might check out emergency running back depth as well.
February, 19, 2009
2/19/09
8:14
PM ET
Posted by ESPN.com's Tim Graham
INDIANAPOLIS -- California's Alex Mack is a blue-chip prospect at least two AFC East teams will be watching closely.
| | |
| --- | --- |
| | |
| | Paul Jasienski/Getty Images |
| | Cal center Alex Mack might be a fit in the AFC East. |
The
Buffalo Bills
and
Miami Dolphins
are looking for a center, and Mack is the top-rated player at the position.
Mack, however, won't be running or jumping around Lucas Oil Stadium on Saturday with the rest of the offensive linemen. Cal fullback Will Ta'ufo'ou stepped on Mack's right ankle during a recent workout.
"I got really unlucky," Mack said Thursday. "Just kind of a freak accident. ... No one is more disappointed about it than I was."
Mack still can make an impression this weekend at the combine with his interviews. He already has met with the Bills. Other teams that have interviewed him include the Pittsburgh Steelers, Arizona Cardinals, San Diego Chargers and Atlanta Falcons.
"The Bills was one of those get-to-know-you sessions," Mack said. "I talked to them about the players who are already on the Bills. I know they have Langston [Walker] and Marshawn Lynch. There is a history of Cal people playing there."
Since he mentioned Lynch, this is where we tell you Mack won the Draddy Trophy as the college football's top scholar-athlete and graduated last year with a degree in legal studies. Insert your own zinger.
Mack is a shade below 6-foot-4 and weighs 311 pounds. He's projected as a late first- or early second-round draft pick.
He's probably not elite enough of a prospect for the Bills to draft him at No. 11, but the Dolphins hold the No. 25 selection, a more reasonable spot. The Bills aren't scheduled to pick again until No. 42, but could maneuver if they want him badly enough.
Teams already have had a chance to watch Mack up close at the Senior Bowl, where he also played guard.
"I think the Senior Bowl was really helpful," Mack said. "It was a great experience. It was fun to go out there with some NFL coaches and the scouts and just get a warm-up for this event.
"It also helped me showcase some talents of mine. I got to get some good playing time at guard and show that I can be a versatile lineman and play a lot of positions. So I had a lot of fun at the Senior Bowl."
The AFC East features three teams with 3-4 defenses, the Bills being the lone exception. Mack claimed he can play against the monstrous nose tackles that anchor 3-4 schemes.
"It's going to be a challenge," Mack said. "Anytime you face a tough opponent, every time there is some tough D-lineman, it's a challenge, and technique is something that I used at Cal to help me get there. Using technique can really help you defeat the really heavy guys, the powerful guys. It's about being a technically sound player that really makes you a good lineman."