NFL Nation:

workout bonuses
July, 17, 2012
7/17/12
5:21
PM ET
Andrew Brandt gave a very
thorough breakdown
of Drew Brees' new contract last week. He covered all the big spots and I just got a look at the full contract details, so let's touch on a few minor things here.
Brees
First off, Brees can earn a little pocket change in a way he wasn't able to this year. He didn't take part in the team's offseason program as the contract was getting worked out. But each year going forward, Brees can earn a $250,000 workout bonus for taking part in the offseason program.
Brees' cap figure for this season will be $10.4 million and that gives the Saints some room to make some moves in the preseason. But Brees' cap figure isn't nearly as generous in the future and the Saints are going to run into problems with keeping their own free agents and bringing in players from the outside. In 2013, Brees' cap figure escalates to $17.4 million and jumps to $18.4 million in 2014.
But the real big issues might not come until the last two years of the deal. In 2014, Brees will count $26.4 million against the cap. In 2015, his cap figure jumps to $27.4 million.
It also is important to note the deal contains no offset language. That means, in the unlikely event Brees is released, the Saints don't get any relief if he signs with another team.
March, 19, 2011
3/19/11
1:15
PM ET
As ugly as it has been, the NFL lockout really hasn't hit players in the wallet so far. That's because, for the most part, players get paid only during the season.
The way it works is base salaries are paid in 17 checks (including the bye week) during the course of the regular season. That means no player is missing a regular paycheck until September, if the lockout lasts that long.
We've run through the handful of
workout bonuses in the division that could be impacted
. But the players haven't lost that money yet because offseason workouts for most teams weren't scheduled to start until later in March or early in April.
[+] Enlarge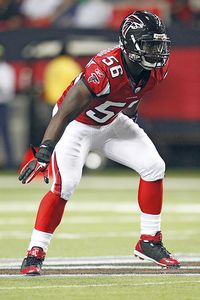 Todd Kirkland/Icon SMIBefore the lockout, Falcons linebacker Sean Weatherspoon was slated to collect a roster bonus of $3.8 million on March 4.
But there are a handful of guys in the NFC South -- and all of them are pretty big names -- who actually have been hit hard by the lockout already. I just took a look at contract information for all four teams and looked at roster bonuses, which generally are payable on the first day of the league year. That was scheduled to be March 4, but the labor situation has prevented the lockout from starting.
So far, the biggest (financial) losers in the lockout are Atlanta linebacker
Sean Weatherspoon
, Tampa Bay quarterback
Josh Freeman
and New Orleans safety
Malcolm Jenkins
. Each of the three already would have received a check for well over $3 million by now if the league year had started.
Weatherspoon was scheduled for a $3.8 million roster bonus. Freeman and Jenkins each were scheduled to get checks for $3.15 million. Some other prominent players around the division who have large roster bonuses are Atlanta's
Tony Gonzalez
($2 million), Tampa Bay's
Earnest Graham
($1.15 million) and
Brian Price
($510,000) and New Orleans'
Patrick Robinson
($391,000).
The other guy in this mix is New Orleans running back
Pierre Thomas
, who signed a four-year contract shortly before the lockout started. The Saints didn't give Thomas a traditional signing bonus, but structured his deal to include a $2.7 million roster bonus.
This isn't lost money because the players will get their roster bonuses as soon as a labor agreement is reached and a new league year officially kicks off. There also is the chance there could be legal action to seek workout bonuses and roster bonuses if the lockout lingers. The theory, among several agents, is that this is money the players are under contract for, but the NFL has prevented them from earning it by locking them out.
Like I said, the players probably will get their roster bonuses at some point. But wouldn't you like to have picked up Weatherspoon's check or Freeman's check back on March 4 and already have collected a few weeks of interest?
Oh, one last thing. In preparing for a lockout long before anyone else, Carolina owner Jerry Richardson and general manager Marty Hurney made sure roster bonuses aren't an issue for the Panthers. Carolina's contract numbers show there's not a single player scheduled to earn a roster bonus in 2011.
January, 17, 2011
1/17/11
1:02
PM ET
Now that all the NFC South teams are out of the playoffs, it's time to start looking ahead. We'll be talking a lot in the coming months about the 2011 draft, mainly because that's the only thing we know for sure that will happen this offseason. We'll also talk about free agency, although that could be delayed slightly or greatly by whatever happens with the league's labor situation.
Speaking of that, I decided to take a look at some contract stuff to see what a potential protracted lockout would do to workout bonuses around the NFC South. In general terms, some players have contracts that call for bonuses to be paid for participating in a specified amount of offseason workouts.
The number of workouts varies from contract to contract. But, generally speaking, most contracts call for a player to participate in a majority of offseason workouts and many contracts require the player to participate in at least 75 percent of the workouts.
If there is a lockout, it would take hold March 3. Most teams have offseason programs that are scheduled to begin later in March. If the lockout is lengthy, like many expect, there will be no offseason programs. In most cases, that would mean players with workout bonuses would not be able to earn them and players collect their base salaries only during the regular season.
I talked to one agent this morning who represents an NFC South player who is scheduled to collect a significant workout bonus in 2011. This player came into the league recently, when the possibility of a lockout was already on the horizon. Due to that fact, this player's contract includes some language where he could recoup the lost workout bonus down the road if a new labor agreement is reached after the window for this year's offseason programs. But the agent said this player is one of the few exceptions and most players would lose their workout bonuses if all or most of the offseason workouts are canceled.
With that in mind, let's take a look at the workout bonus situation for each NFC South team.

New Orleans.
This is a much bigger deal for the Saints than any other NFC South team. They have a division-high 12 players with workout bonuses in their contracts and eleven of them are well into six figures.
Malcolm Jenkins
has a team-high $350,000 workout bonus and
Sedrick Ellis
has a $250,000 workout bonus.
Drew Brees
and
Jahri Evans
each are scheduled to receive $200,000 bonuses and
Will Smith
has one for $150,000, while
Robert Meachem
is scheduled for a $147,000 bonus.
Jonathan Vilma
,
Jabari Greer
, Jon Stinchcomb and
Devery Henderson
each have a $100,000 bonus and
Marques Colston
has a $75,000 bonus.
Tracy Porter
is scheduled for a $7,280 workout bonus.

Atlanta.
All general managers are different in how they spread out money in contracts. Atlanta's Thomas Dimitroff isn't a big fan of workout bonuses. In the past, he's included some very small ones. But the Falcons don't have a single true workout bonus for any of their players in 2011. Receiver
Roddy White
can earn up to $5 million in escalators based on Pro Bowl selections and participation in offseason workouts that would kick in later in his contract.

Carolina.
General manager Marty Hurney used to include some workout bonuses in contracts and that was especially prevalent when defensive linemen
Julius Peppers
and
Kris Jenkins
were in town because the Panthers felt they had to keep Peppers interested and Jenkins interested and in shape. But Hurney has steered clear of workout bonuses in recent years. There is not a single true workout bonus for any Carolina player this year. In fact, most of the contracts for the 2010 draft class include clauses where future salaries can de-escalate if players don't participate in offseason workouts.

Tampa Bay.
Donald Penn
is scheduled to receive a division-high $400,000 workout bonus and defensive tackle
Gerald McCoy
has a $300,000 bonus. The only other Tampa Bay player with a workout bonus in his contract is
Ted Larsen
and that's for $7,280.

NFL SCOREBOARD
Thursday, 12/18
Saturday, 12/20
Sunday, 12/21
Monday, 12/22