October, 25, 2013
10/25/13
8:00
AM ET
LONDON -- It's not easy following the World Series here.
The games start after 1 a.m. and baseball isn't a big deal in England. However, for 49ers running back
LaMichael James
, following the Fall Classic is a must.
Middlebrooks
James
James' high school teammate,
Will Middlebrooks
, is the third baseman for the
Boston Red Sox
. Middlebrooks was the quarterback and James the running back at Liberty-Eylau High School in Texarkana, Texas.
The
San Francisco 49ers
are playing the
Jacksonville Jaguars
on Sunday at Wembley Stadium.
James is also friends with Middlebrooks' World Series adversary, St. Louis pitcher
Michael Wacha
, Thursday's starter. He attended rival high school Pleasant Grove in Texarkana and is two years younger than Middlebrooks and James.
"Wacha's my guy too, but I have to go with Will," James said. "He's my guy."
James said he and Middlebrooks are in contact, often through Twitter, on a daily basis.
James said he played baseball with Middlebrooks but never got serious about the game. The reason?
"I'm scared of the ball," James said. "I'm not joking. I'm terrified of that ball coming at me like that."
Let's get this straight. James, a 5-foot-9, 194-pound speedster, can handle returning a kick with 11 men coming at him like a herd of buffalo with bad intentions, but he's frightened by the idea of baseball whizzing at him.
"Yes," James said. "I can handle the football stuff, but not that ball."
October, 23, 2013
10/23/13
12:50
PM ET
FOXBOROUGH, Mass. -- Patriots quarterback
Tom Brady
is on the record with his World Series prediction: "Red Sox in five," he said. "We'll give [the Cardinals] one."
Brady
The quarterback opened his weekly press conference by answering questions about the Red Sox, who will vie for their third World Series title since 2004 beginning Wednesday night against the St. Louis Cardinals.
Brady expressed not only his confidence that the Sox would win the series, but also his support for the team.
"That's our team!" he exclaimed. "I've been here a while, so I've gotten to see a lot of Red Sox games over the years and watched them win a few championships, so tonight is -- you don't take these for granted because you don't know if they'll ever come again."
Brady also expressed admiration for the Red Sox turnaround, going from 69 wins last season to 97 regular-season wins this season, tied with the Cardinals for the best in baseball.
"The Red Sox have had a great year and what they've done, based on what happened last year, shows everybody what fighting through adversity is all about," Brady continued. "They obviously have a lot of mental toughness and it's a great thing to see, a great thing to watch, to go from last place or where they were last year to playing for the World Series."
March, 23, 2011
3/23/11
4:02
PM ET
With
Chad Ochocinco
trying out for
a Major League Soccer (I still wonder if that's an oxymoron) team, it got me thinking about other NFC South players and the lockout.
There are some wonderful athletes out there, who probably could play another sport at a high level. I've read about a couple of borderline NFL receivers who are planning to play in the Arena Football League and there have been several stories about players trying boxing or mixed-martial arts.
But I haven't really heard of any NFC South players trying anything else. So let's have some fun (in other words, this isn't all serious, although some of the background information we're going on is real) throw out some hypothetical ideas.
[+] Enlarge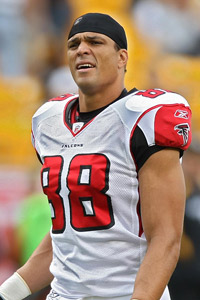 Jason Bridge/US PresswireFalcons tight end Tony Gonzalez can throw it down on the field and on the court.
Atlanta tight end Tony Gonzalez in the NBA.
The guy was a very good college basketball player and numerous people with pretty good qualifications have said Gonzalez could have been an NBA forward had he set his mind to it.
Atlanta receiver Roddy White as a wrestler.
He was a state high school wrestling champion in South Carolina, which isn't exactly Iowa or Pennsylvania. And high school wrestling is real wrestling, unlike the professional version, which is entertainment. But White's got an entertaining side and could probably cut it if he bulked up a bit or you could probably find a New Orleans defensive back ready to take him on as is.
Atlanta cornerback Brent Grimes as a gymnast.
In terms of pure athleticism, this guy is perhaps the most gifted person in the NFC South. The Falcons try to reign him in to make sure he doesn't get hurt, but you'll see Grimes sneaking in some backflips during training camp. Besides, in a lockout, the Falcons can't stop him.
Carolina wide receiver Steve Smith as a quarterback in a flag-football league at the Siskey YMCA in Charlotte
. This one's not really hypothetical. Much to the delight of ownership, management, former coaches and teammates, he's done it before.
Carolina linebacker Jon Beason and New Orleans linebacker Jonathan Vilma as boxers.
Not sure if either of them has any experience. But they both have the natural skills (strength and speed) associated with the sport. These are two genuinely nice guys, but if you got them riled up enough, Beason and Vilma are probably the last two guys in the NFC South anybody would want to fight.
New Orleans quarterback Drew Brees as a Major League shortstop or second baseman.
I've read some stories about and seen some pictures of him
taking batting practice
. It looks and sounds like he can hit. I'm guessing on the position, but Brees' size makes him a natural as a middle infielder. Heck, start an expansion team in New Orleans and Brees probably will be leading a World Series parade down Bourbon Street within five years. Brees also was a champion tennis player as a teenager, but I'd rather watch baseball than tennis.
Tampa Bay' backup quarterback Josh Johnson as a shooting guard in the NBA.
The Bucs will tell you that Johnson is the best basketball player in the locker room. That's saying a lot because all NFL locker rooms have some guys who can play basketball at pretty high levels. Speaking of basketball, it's worth noting that offensive tackle
Donald Penn
was an all-state selection in California in high school. California's a big state and produces lots of good basketball players. Somehow, I'm thinking Penn must have carried a lot less bulk in his basketball days or else California just had a really down year.
LeGarrette Blount as an Olympic hurdler
. Hey, think back to last season when he was jumping over defenders all the time and never broke stride.
Earnest Graham and Cadillac Williams as professional bowlers.
It's not really the sport you'd expect many football players to be good at. But sources tell us Graham and Williams are pretty serious when it comes to the pins.
NFL SCOREBOARD
Sunday, 2/2
WEEKLY LEADERS