February, 10, 2010
2/10/10
10:01
AM ET
I appreciated the thoughtful debate you produced Monday on Dick LeBeau's pending enshrinement to the Pro Football Hall of Fame. I asked if you
considered LeBeau a Hall of Famer
independent of his stellar coaching career, and from the top I should tell you how the voters themselves considered his candidacy.
[+] Enlarge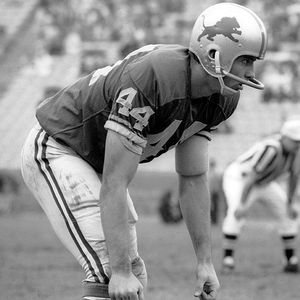 David Boss/US PresswireDick LeBeau went to three Pro Bowls as a member of the Detroit Lions.
As NFL vice president Greg Aiello
points out
, coaches aren't eligible for enshrinement until five years after they retire. LeBeau remains Pittsburgh's defensive coordinator, so by definition that means the Hall's 44 voters were required to evaluate him solely on the merits of his playing career.
I've independently confirmed that with voters. They elected LeBeau based on his performance as a Detroit cornerback from 1959-72. That said, I thought some of you made a reasonable leap by suggesting LeBeau's tenure as an elite defensive coordinator at least kept his name fresh for this generation of the seniors committee and voters.
Wrote
whelk
: He should have been elected a HOF'er as a player in the first place. However, it was his coaching that kept reminding people he was out there. Without the coaching, this deserving player likely would have been forgotten.
And who was that deserving player? You engaged in some of the most interesting debate we've had in Have at It.
Elkman812002
pointed to
this analysis
from Pro Football Reference. The piece notes LeBeau totaled 62 interceptions during an era when teams passed much less frequently than they do now. But it also points out interceptions were much more frequent relative to passing attempts during those times. "Even though only 14 games were played per season in LeBeau's era it was in fact easier to get interceptions," concluded Elkman812002.
Jerious6
countered with what we noted in the original post: LeBeau had more interceptions than any other NFL player during the meat of his career from 1960-71.
Wrote Jerious6: "No matter how easy or hard interceptions were to come by during that time, having more total picks than anyone over that period accounts for something, mostly his consistency."
I think it accounts for more than that.
My take?
I realize there was some gray area in LeBeau's candidacy. There is a reason it took 38 years after his retirement for him to be elected. He was surrounded by some better-known Hall of Fame players, including cornerback Lem Barney, cornerback Dick "Night Train" Lane and safety Yale Lary. The presence of high-caliber teammates tends to lead to the argument that LeBeau got more opportunities for interceptions because opponents chose to "pick" on him rather than challenge ostensibly more talented players.
To me, however, the point is LeBeau made teams pay if they in fact took that approach. He didn't just intercept some passes. When he retired, he had more interceptions than all but one player in the history of the game. Even today, his total ranks among the top 10 of all time. It's overthinking to suggest there is a mitigating circumstances that should overshadow 62 interceptions in 14 seasons.
Interceptions should be a weighted statistic, in my book. In general terms, turnovers are as closely associated to wins and losses than any other figure. Even if LeBeau was a less-skilled cover man than some other Hall of Fame players on his own team and elsewhere, he made up for it at the end of the day.
I understand why it took LeBeau so long to reach the Pro Football Hall of Fame. I also understand why he has finally been included.
February, 3, 2009
2/03/09
1:05
PM ET
Posted by ESPN.com's Kevin Seifert
My AFC East colleague, Tim Graham, has a post detailing the recent formation of the American Football Kicking Hall of Fame -- which exists primarily because only one kicker has been inducted into the more widely-known Pro Football Hall of Fame.
(It's Jan Stenerud, for those who didn't immediately guess.)
We're in early February and there are than two weeks before the next event on the NFL calendar (combine, baby!). So Tim's post got us to thinking: How many kickers and punters from the NFC North would be deserving of induction into the Kicking Hall of Fame?
The best way to identify possibilities is to answer this question: Who is the best punter and kicker in the history of each NFC North team?
I've gone through each team's histories and culled 12 nominations, two for each position on each team. But as many of you have pointed out, I'm still working to perfect my expertise in some corners of the NFC North. So I'd like your help.
| | |
| --- | --- |
| | |
| | Paul Spinelli/Getty Images |
| | Ryan Longwell, now with the Vikings, holds most Packers records for field goals. |
Did I miss anyone? Are any of these names out of place? And who would you pick?
Let me know what you think in the comments section below or in the mailbag. I'll come back later this week with the all-time NFC North kickers and punters team.
Kind of has a nice ring to it, huh?
CHICAGO BEARS
Kickers: Kevin Butler or Robbie Gould
Comment: Butler had 243 career field goals, over a 100 more than the next kicker on the list. Gould's career conversion percentage of 85.9 is by far the best in Bears history.
Punters: Bob Parsons or Brad Maynard
Comment: Maynard ranks second all-time with a 42.3 gross average and first with 194 punts downed inside the 20. Parsons ranked second with 158 inside the 20.
DETROIT LIONS
Kickers: Jason Hanson or Eddie Murray
Comment: Hanson is the Lions' all-time leading scorer, and his 385 career field goals is 141 more than Murray. Hanson's career percentage of 82.2 also bests Murray (75.1).
Punters: Yale Lary or John Jett
Comment: Lary's career gross average of 44.3 yards on 503 punts is amazing. Jett dropped 154 punts inside the 20.
GREEN BAY PACKERS
Kickers: Ryan Longwell or Chris Jacke
Comment: Longwell holds most franchise records for field goals. Jacke is a close second.
Punters: Craig Hentrich or Max McGee
Comment: Hentrich had a team-best 42.8 career gross average. McGee averaged 41.6 yards over 11 seasons while also playing receiver.
MINNESOTA VIKINGS
Kickers: Fred Cox or Gary Anderson
Comment: Cox's 455 career field goals is almost 300 more than the next player. Anderson had a perfect 35-for-35 season in 1998.
Punters: Greg Coleman or Chris Kluwe
Comment: Coleman dropped 154 punts inside the 20-yard line over 10 seasons. Kluwe has the best career gross average (44.8) in team history.


NFL SCOREBOARD
Sunday, 2/2
WEEKLY LEADERS