August, 17, 2014
Aug 17
7:17
PM ET
Sure, it's preseason, and sure it's like football base jumping to make too many lasting judgments on what happens in August games, but the
Denver Broncos
have gone toe-to-toe in back-to-back weeks with NFC powerhouses and fared like a Super Bowl hopeful should.
With starters against starters, the 2s against the 2s and the 3s against the 3s, the Broncos have defeated the
Seattle Seahawks
and then simply overpowered the
San Francisco 49ers
34-0 on Sunday in Levi's Stadium. The Broncos' top two quarterbacks,
Peyton Manning
and
Brock Osweiler
, were a combined 22-for-27 passing for 207 yards and two touchdowns against the 49ers.
Here are some other thoughts on the Broncos' second preseason game:
More than the obvious efficiency Manning has shown thus far is the willingness of offensive coordinator Adam Gase to work on a few things without revealing some of the new wrinkles in the playbook. In the Broncos' two preseason games, Gase has run the starters through some power looks to go with their bread-and-butter, three-wide receiver packages. Sunday, Gase flashed some two tight-end looks, including one with Julius Thomas and running back Ronnie Hillman bracketing Manning in the backfield. The Broncos also emptied out the backfield at times and later showed a four-wide receiver set. Late in the third quarter, Gase even put No. 3 quarterback Zac Dysert in a pistol set. They have put a lot out there for defensive coordinators to study without really showing the details of what's to come.
The Broncos starting offensive line has performed well against two of the league's most physical defenses; both the Seahawks and the 49ers finished in the league's top five last season. Manning has not been sacked in four possessions and has thrown just five incompletions. Orlando Franklin continues to settle in at left guard, and the Broncos have kept Manning clean in the pocket and carved out some room in the running game.
As Hillman has continued to reconstruct his role in the offense after losing the starting job and dropping far enough down the depth chart to be a gameday inactive four times in the regular season and all three playoff games, one of the big items on his to-do list was to be more decisive with the ball in his hands. Sunday, Hillman showed that one-cut quickness on a selection of inside runs. On a 6-yard reception in second quarter, Hillman caught the ball between the hashmarks and turned immediately up the field. Hillman hasn't yet broken off the big run the Broncos keep hoping to see, but if he continues to maintain that north-south work, he'll keep getting some carries.
The Broncos might have to take a look at adding a linebacker in the coming days. On Tuesday, Danny Trevathan suffered a fracture on the top of his tibia that will keep him out six to eight weeks. On Sunday, rookie Lamin Barrow suffered a lower right leg injury. With Trevathan's injury, Barrow was already working in one of the linebacker spots in the starting nickel at times and has been Nate Irving's backup at middle linebacker. Barrow will be evaluated more, including an MRI, on Monday.
Odds and ends: The play of the day might have been rookie running back Juwan Thompson catching a ball off of his shoe-tops and then barreling over a 49ers safety to take the ball to the 49ers 1-yard line. … Rookie wide receiver Cody Latimer caught a touchdown pass from Osweiler. … Cornerback Kayvon Webster (ankle) and wide receiver Emmanuel Sanders (thigh) were held out.
August, 2, 2014
Aug 2
6:25
PM ET
DENVER -- A daily review of the hot topics coming out of
Denver Broncos
training camp:
The Broncos went through 43 plays -- penalties included -- in the scrimmage portion of Saturday's work at Sports Authority Field at Mile High. Though the defense, as is training camp norm, has been a little ahead of the offense in practices over the past week or so, Saturday was solidly a day for the offense. The three quarterbacks -- Peyton Manning, Brock Osweiler and Zac Dysert -- were a combined 17-of-21 passing for 246 yards and two touchdowns. Manning, against the team's No. 2 defense, was 7-of-10 for 107 yards and a touchdown. Both sides kept things pretty vanilla throughout, but in terms of tempo, the first-, second- and third-team offenses worked efficiently out of the no-huddle look.
With the progression of Julius Thomas from two injury-marred seasons to Pro Bowl tight end this past season, Jacob Tamme saw his snap count on offense take a significant dip last season. After a 52-catch season in 2012 when Thomas played in just four games and did not have a catch, Tamme had 264 snaps on offense last season -- 21.9 percent of the team's snaps. But Saturday Tamme once again showed his value in that break-the-glass-in-case-of-emergency sort of way. With Thomas having been given the day off because of a thigh bruise, Tamme worked at tight end with the starters and finished out the first drive with a diving one-handed catch for a 17-yard touchdown. Tamme, who is also one of the best special teams players on the roster, came within inches of another touchdown catch on the second drive. "Jacob is always there when you need him," Manning said.
Manning and the offensive starters worked against the Broncos' No. 2 defense, so that left Osweiler to have at it against the Broncos' starting defense. Though linebacker Von Miller, defensive end DeMarcus Ware, cornerback Chris Harris Jr. and defensive tackle Kevin Vickerson were held out of the scrimmage, Osweiler faced more pressure in the pass rush than the other two quarterbacks did -- Danny Trevathan had what was called a sack (quarterbacks were not hit) and the second-team offense had five called runs in its 11 plays of work to go with two Osweiler scrambles. However Osweiler was 3-of-3 for 33 yards and a touchdown. Osweiler had a 22-yard completion to former Arizona State teammate Gerell Robinson on a third-and-2 and later had a 2-yard shovel pass to Robinson for a score. "Brock's had a good camp," Manning said. "He's just improved every single year that he's been here and I thought he had a really good day as well."
The running back rotation Saturday showed where things are as the first preseason game approaches, Thursday night against the Seattle Seahawks. Montee Ball and Ronnie Hillman worked with the No. 1 offense, C.J. Anderson and Juwan Thompson worked with the second-team offense, and Kapri Bibbs and Brennan Clay split the carries with the third-team offense. Thompson's size (225 pounds) and his ability in pass protection and as a receiver have pushed him up the depth chart. Anderson continues to show that dropping almost 20 pounds between minicamp and the start of training camp was a wise move that likely saved him a quality shot at a roster spot, because he was on wobbly ground with the team's decision-makers after the June minicamp.
In what was the most extensive live tackling the Broncos have done so far in camp, there were some signs of rust. Hillman broke a tackle on a 10-yard catch-and-run on the team's first drive, rookie wide receiver Bennie Fowler later broke a tackle on a 9-yard gain and the starting defense surrendered a 16-yard run to Anderson and the second-team offense. Defensive end Derek Wolfe said; "obviously we need to work on out tackling." And defensive tackle Terrance Knightson said "We're going against the best offense in the game, so we'll be ready for anybody."
Odds and ends: The Broncos' kickers kicked extra-point attempts from the 15-yard line, an experiment in place league-wide for the Hall of Fame game and the first two weeks of the preseason ... Julius Thomas was held out of the scrimmage with a thigh bruise suffered in Friday's practice, but the injury wasn't considered serious and following the workout Thomas said; "I'm good." ... There were 38,620 fans on hand for the scrimmage. With the 9,207 who turned out Wednesday in a downpour and 21,993 for a practice last Sunday, 69,820 people turned out for the team's three stadium practices combined. Fans could not attend practices at the Broncos' complex during this training camp because of construction at the facility.
September, 2, 2013
9/02/13
1:00
PM ET
As much as everyone in the locker room hopes the roster is "set'' when the cuts are made to get to 53, it is always a fluid situation when it comes to how things shake out over the course of a season.

But the Broncos' first-year class fared OK as it exited the preseason and is poised for Thursday's opener. With that in mind, here's the rookie report, a weekly check-in with how Denver's first-year class on offense is doing:
Running back Montee Ball:
Ball figures to get the most work of any
Denver Broncos
first-year player as the season unfolds. At least that's what he wants, and the Broncos have him squarely in the rotation. And it will be a rotation, uneven at times, with the carries being handed out with the ebb and flow of each game. Ball was held out of the preseason finale, so many have presumed since the starters were held out of that game, he is the starter. However, tread lightly there fantasy footballers,
Knowshon Moreno
was held out of the game as well, and
Ronnie Hillman
was given two carries simply because they wanted him to have a re-set after three fumbles -- two were recovered by the opponent and returned for touchdowns -- in the previous two preseason games combined. Ball will get the rock, but at least for now, so will Hillman, and Moreno is the most consistent pass-protector as the third-down down guy, and it will be tough to predict how the carries go for quite some time.
Quarterback Zac Dysert:
All through training camp Dysert said he wanted to make it tough for the team not to keep him. He did just that, showing some good poise, mobility and chucked it around for 163 yards and a touchdown against the Cardinals to close out the preseason. With the number of players who were claimed on waivers this year after the cuts to 53 -- teams were claiming five, six and seven players -- it might have been difficult to get Dysert through waivers so the Broncos could bring him back to the practice squad. So, they elected to keep three quarterbacks for the second time in the three-year John Elway/John Fox tenure. As Fox put it; "I think it's a key position in this league. Finding young ones to develop is not easy. Obviously, we felt (Dysert) was one of our 53 top guys. I don't think you can ever have too many of those guys … He earned it."
Running back C.J. Anderson:
He was the only undrafted rookie the team kept on offense, but it was the 10
th
consecutive year an undrafted rookie has made the initial cut to 53 players. He's still recovering from a severe MCL sprain suffered in practice following the preseason opener, but at 224 pounds, he gives the Broncos the big back they want and showed enough in one preseason game, and the practices leading up to it, that they kept him even though he isn't ready to see the field right now.
Practice squad:
Wide receiver
Tavarres King
, a fifth-round pick, and tackle
Vinston Painter
, a sixth-round pick, were waived, cleared waivers and signed back to the practice squad. King's talent puts him among the team's top 53 players, but his work habits were inconsistent enough for them to waive him. Painter is an athletic tackle prospect who just needs some time to develop.
September, 1, 2013
9/01/13
6:21
PM ET
Broncos quarterback
Peyton Manning
has assembled an all-time football resume, piles of 4,000-yard seasons, four MVP awards and a Super Bowl win.
And yet, as he approaches his 16
th
season opener, he said he remains as excited as ever at what a new season might bring. Asked Sunday if he still gets butterflies before the opener, Manning said:
[+] Enlarge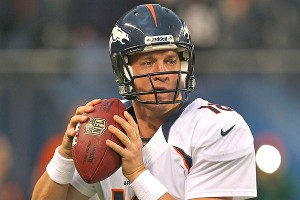 Jonathan Daniel/Getty ImagesHe might appear calm under center, but Broncos QB Peyton Manning admitted that he'll be a bit nervous before Thursday night's season opener.
"I do, I do. I think if you don't you probably ought to be doing something else. Sixteenth opening day, having played in this opening game three times. It's got a little something extra to it … Healthy butterflies, it's a good thing.''
Some things to consider as the Broncos formally kicked off their practice week Sunday for Thursday night's affair:
With a night to sleep on it, the Broncos came to the conclusion – as expected, perhaps -- that six linebackers wasn't enough on the roster after the initial cutdown to 53 players. That was especially true since one of the players they formally list at linebacker – Shaun Phillips – lines up at defensive end for the majority of his snaps. So, the Broncos claimed second-year linebacker Adrian Robinson off waivers Sunday and he's expected to practice with the team Tuesday. Robinson is a 250-pounder who made the Steelers roster last season as an undrafted rookie largely because of his special teams play. The Broncos are also his third team since Aug. 23. That's when he was traded to the Eagles, for running back Felix Jones and the Eagles then waived him Saturday. He played at inside linebacker in the Steelers' 3-4 look and the Eagles tried them there in their new 3-4 as well. The Broncos use plenty of 3-4 principles in their defense, though their base look is technically a 4-3, but if his game video is any indication Robinson will have a chance to contribute quickly on special teams. To make room for Robinson, running back Jacob Hester was released.

The Broncos have obviously had their turn-the-page meeting leading up to Thursday's season opener. Any and all questions about the crushing double-overtime loss last January, when the Broncos let the home-field advantage slip away, were met with some kind of what's past is past response. That is Gameweek 101, to be sure, but those in the seats at Sports Authority Field at Mile High may be a different matter entirely. Football fans in the region have done little else but re-hash the playoff loss, the kneel-down the Broncos took just before the end of regulation with two timeouts in hand and the Joe Flacco to Jacoby Jones touchdown to tie the game late in the fourth quarter. Should the Broncos start slowly Thursday, it will be curious to see how those on hand respond. Asked Sunday if revenge played any part in the discussion about the game, from his perspective Manning said: "If people need that as extra incentive that's fine. But I think there's plenty, just with the schedule and the timing of when we're playing.'' Some players said thinking about the loss may have helped push them through offseason workouts at times, but that Thursday's game is the fresh start for the 2013 season.

Hester's release unquestionably makes Knowshon Moreno the most accomplished back in pass protection for the Broncos. Because of that, Moreno could see plenty of work in some longer down-and-distance situations in place of rookie Montee Ball and Ronnie Hillman. Hester was signed last season, in large part, because the Broncos believed they needed help in pass protection at the position. Hester had spent most of this year's training camp and the preseason at fullback. And the Broncos will run the offense with three wide receivers or two tight ends in the formation far more than they will out of a traditional two-back look, so Hester's spot became somewhat expendable given the numbers at linebacker. Tight end Virgil Green would line up in the backfield much of the time if the Broncos wanted a lead blocker in front of the running back. It also confirms how determined the Broncos are to keeping rookie quarterback Zac Dysert on the roster at the moment.

A look at the starting lineups for the playoff game last Jan. 12 does show how change arrives in the league. Nine players who started for the Ravens in that game are not on this year's roster, including seven on defense. The Broncos weren't hit quite as hard by full-blown departures, but some things have changed. The Broncos had four starters in the game who are no longer with the team – Justin Bannan, Brandon Stokley, Keith Brooking and Elvis Dumervil. Also, Dan Koppen is now on injured reserve, Von Miller is suspended for the first six games of the season and neither Chris Kuper nor Joel Dreessen are expected to start Thursday. "Both teams have a lot of new guys,'' said wide receiver Demaryius Thomas. "They were other places for that game.''

Broncos safety Rahim Moore, when asked if he had won back the fans after last year's playoff loss: "Camp is camp, there is nothing you can really tell by just practice. You can go out there and just show your hard work, but you're judged by your games. What you're doing week in, week out is how people judge you.''

The Broncos signed seven players to their practice squad Sunday, including two draft picks from this past April they had released in tackle Vinston Painter and wide receiver Tavarres King, who were the team's sixth- and fifth-round picks, respectively. Also signed to the practice squad were wide receiver Gerell Robinson, running back Edwin Baker, defensive tackle Ben Garland, tackle Paul Cornick and defensive end John Youboty. Baker is the only player of the seven who was not in training camp with the Broncos. The 200-pound second-year back rushed for 1,201 yards as a sophomore at Michigan State in 2010.
August, 31, 2013
8/31/13
6:40
PM ET
Most significant move:
It was a tough couple days for some of the Broncos' younger players. After retaining the bulk of their draft classes in the first two years on the job for John Elway and John Fox, the Broncos waived four former draft picks Saturday. Three were from the two Elway/Fox classes, when they trimmed the roster to 53 players.

Center/guard
Philip Blake
(fourth round in 2012),
Jeremy Beal
(seventh round in '11), wide receiver
Tavarres King
(fifth round in '13) and tackle
Vinston Painter
(sixth round in '13) were all let go. King, who spent much of training camp and the preseason working with the second-team offense, likely lost his spot when the Broncos kept 11 defensive backs and three quarterbacks, including rookie
Zac Dysert
.
King and Painter are practice squad possibilities if they clear waivers.
"As you get better -- you never want to release anybody -- but as you get better, you have fewer slots,'' Elway said. "That's the situation that we're running into.''
Eleven's a crowd:
In 2011, the first year of Elway's tenure as the Broncos' top football decision-maker, the Broncos kept nine defensive backs when they cut the roster to 53. Last year they kept 10 -- five cornerbacks, five safeties.
This year, with needs on special teams carrying the day, they kept 11 defensive backs, six cornerbacks and five safeties. The Broncos, like many teams in the league, have gone to more defensive backs on special teams, taking several jobs in coverage units that used to go to linebackers.
"You have to look at special teams too, what guys do on special teams," Elway said. "… So, those are the type things that a lot of people don't think comes into the equation but what you do on fourth down is part of it."
As a result the Broncos are little light at wide receiver, with just five including returner
Trindon Holliday
. Holliday played just seven snaps on offense last season after joining the Broncos in October. They team will likely to expand his role slightly this season.
What's next:
They are reasonably healthy after an offseason filled with drama, but it remains to be seen if they can consistently generate a pass rush without Miller and if they can consistently protect quarterback
Peyton Manning
when they play their preferred three-wide receiver look on offense.
But Elway likes the choices they made.
"The bottom line is we kept the best 53,'' Elway said. "Everyone says you want to win now, and I say we want to win now on.''
Broncos cuts/moves:
RB
Lance Ball
, C/G
C.J. Davis
, RB
Jeremiah Johnson
, C/G
Ryan Lilja
, TE Jake O'Connell, DE Jeremy Beal, C/G Philip Blake, T
Paul Cornick
, DT
Romney Fuga
, DT
Ben Garland
, CB
Aaron Hester
, LB
Damien Holmes
, WR
Tavarres King
, T Vinston Painter, S
Ross Rasner
, WR
Gerell Robinson
, WR
Lamaar Thomas
, DE
John Youboty
. DE
Quanterus Smith
, LB
Stewart Bradley
, LB
Lerentee McCray
were placed on injured reserve. LB
Von Miller
was placed on reserve/suspended.
August, 30, 2013
8/30/13
6:30
AM ET
DENVER -- On a night the
Denver Broncos
desperately wanted to escape without major injury, they came away from Thursday's preseason finale feeling good about where the depth chart stands at a position where they hope they won't really have to test it.
But with conventional wisdom typically putting Denver on the brink of disaster should quarterback
Peyton Manning
be injured,
Brock Osweiler
closed out the preseason hoping he had alleviated at least some of those concerns, both inside and outside the Broncos' complex, as he trains behind one of the game's all-time greats.
"As a football player, as a competitor, I always want to play," Osweiler said after Denver's
32-24 loss
to the
Arizona Cardinals
at Invesco Field at Mile High. "It's hard sitting back and watching someone else, but at least that someone else is probably going to be a first-ballot Hall of Famer, so it makes it a little bit easier. But this preseason was great, I think from the first game to this game I grew tremendously … and now, shoot, it's Peyton's turn to go out there and lead us."
[+] Enlarge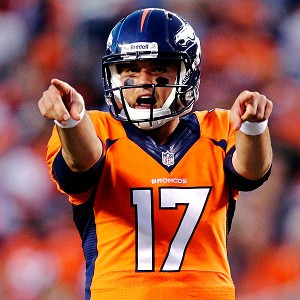 AP Photo/Joe MahoneyBackup QB Brock Osweiler says the Broncos would not have to change the offense if starter Peyton Manning is not in the lineup.
Osweiler finished 7-of-11 passing for 108 yards against the Cardinals and led the team on a 10-play, 80-yard touchdown drive on its opening possession. The Broncos certainly had a low-impact game plan in place, so there weren't many opportunities for Osweiler to test his ability to adjust on the fly against Arizona, but the second-year quarterback said he's ready to use the entire playbook if forced into action.
"I believe last year I would have been just fine," Osweiler said. "The package we would have run would have been a lot smaller. This year, I am way more comfortable with the total package. I understand our protections, I understand what we are trying to do in the run game and I understand our checks now. Last year I only knew that on a small scale. … If my number gets called, hopefully I can step in and the team won't skip a beat.
" … Obviously, if you're building a house and you have a choice between four or 25 tools, you're probably going to want the 25 tools. With me being more comfortable with the full offense, I think without question we are able to do more things on the field."
The Broncos also got a quality look at the quarterback they took in the seventh round of April's draft,
Zac Dysert
. Dysert saw his most significant action of the preseason, playing the entire second half Thursday. Dysert directed two scoring drives, finishing 9-of-20 passing for 163 yards and a touchdown.
"I just tried not to do too much," Dysert said. "I just tried to put the ball in the playmakers' hands and let them do the work for me."
Dysert might have done enough, however, to force the Broncos to keep three quarterbacks on the final 53-man roster, a move they probably didn't anticipate having to make as recently as two weeks ago. But with several quarterback-starved teams facing injuries at the position poised to troll the waiver wire this weekend, it could far more difficult to get Dysert through waivers -- which Denver would have to do if it wants to sign him to the practice squad.
And keeping Dysert on the 53-man roster would almost certainly cost the Broncos a player at another position for a quarterback who would not take a snap in a regular-season game if things go as planned.
"It's going to be nerve-wracking … but I can't control it and I try not to worry about things I can't control," Dysert said. " … Like I've said, I've just wanted to prove to them that I can play."
August, 30, 2013
8/30/13
12:24
AM ET
DENVER -- The
Denver Broncos
' plan Thursday night was easy to see when, just more than three hours before kickoff, most of the players who sit at the top of the depth chart at their respective positions were working with strength-and-conditioning coach Luke Richesson, as Richesson prodded them all from one end of the field to the other over and over again in something far more stringent than just a warm-up.

That's because they weren't going to play in the game that followed. And with just a few roster spots still in play, the Broncos' reserves closed out the preseason with a
32-24 loss
to Arizona at Invesco Field at Mile High.
Some things to consider as the Broncos now turn their attention to the
Baltimore Ravens
:
There was almost as much to learn by who the Broncos did play as by who they didn't. Tight end Julius Thomas earned the night off as a starter, but Jacob Tamme did not, as Tamme played in several two-tight end sets, lining up in the slot. Some of that was a numbers game with Joel Dreessen still coming back from two knee surgeries since late May, but it's clear the Broncos have big plans for Thomas in the front-line offense. Running back Montee Ball also was in the pregame workout with the starters, but Ronnie Hillman was not. Hillman started at running back, likely just to give him confidence with a carry or two early in the game given his recent fumbles -- he had a fumble returned for a touchdown in each of the previous two preseason games -- and given he is still very much in the mix to be a mainstay in the run game. Hillman carried twice for 14 yards on the Broncos' first two plays of the game and then headed for the sideline with his work finished for the night. Knowshon Moreno also did not play, so Ball, Hillman and Moreno are solidly the top three.
Broncos coach John Fox said last week that linebacker Von Miller, who is suspended for the first six games of the regular season for violating the league's substance-abuse policy, would play in the final two preseason games because Fox didn't want to turn a six-game suspension into eight games. Miller did play last weekend against the Rams, but he was held out of Thursday night's game. Miller's suspension officially begins Saturday since the Broncos play next Thursday night. In the end the Broncos elected to give some young players those snaps instead of risking an injury to Miller.
And one of the Broncos' undrafted rookies made the most of that decision. Lerentee McCray, who has made a strong push for a roster spot since training camp opened, started in Miller's strong-side linebacker spot and finished the first half with three tackles, a sack and a forced fumble. (McCray blocked a punt in the previous game against the Rams.) But McCray was helped off the field with just under four minutes left in the third quarter with a right ankle injury. He had difficulty putting weight on the leg, and if an MRI shows any significant problems Friday, it could complicate what the Broncos can do with him if it's an injury that would keep him on the sideline for several weeks. But McCray certainly earned a spot with his play on the field.
The Broncos have struggled to protect the quarterback with the backup linemen in front of him during the preseason -- Brock Osweiler had been sacked eight times in three preseason games coming into his start against the Cardinals -- so the Broncos bulked things up in front to open the game. After not using the two-back look for anything more than a smattering of plays in the first three preseason games, the Broncos worked out of it for most of the first half. They used it on six of 10 plays in their opening drive of the game -- an 80-yard touchdown drive -- and 12 plays in all in the first half. They used a two-tight end/two-back look once and a two-tight end look six times in the opening half. The move did give fullback Jacob Hester a chance to get some work on offense. Hester was the fullback in all of those two-back sets after playing just 25 plays on offense in the first three preseason games combined. Hester's chances of making the final roster are enhanced by the fact he is the only running back who has lined up at fullback in the offense, that he can play running back and that he is a key special-teams player.
The Broncos have plenty of tough decisions awaiting in the secondary for final cuts, but they unveiled at least one of their potential solutions against the Cardinals. Cornerback Omar Bolden, who has played plenty on the outside with the second-team defense in the preseason, lined up at free safety in the base defense for much of the first half. He showed himself to be physical, quick to the ball and comfortable despite it being his first game at the position. It means the Broncos consider him a potential swing player in the secondary, one who could line up at corner and work at safety as well. If the game video confirms for the coaches what seemed clear in real time -- that Bolden can function well at safety if needed -- that likely makes it difficult for veteran Quentin Jammer to make the roster. The Broncos had originally signed Jammer because they envisioned him being able to be a combination player in the secondary.
Rookie quarterback Zac Dysert got his first significant action of the preseason. He tossed a 25-yard touchdown pass late in the third quarter and led another touchdown drive in the fourth quarter that included a short toss to running back Lance Ball that turned into a 69-yard catch-and-run. Dysert will be around the team, whether on the practice squad or as one of those to get one of the final two or three roster spots. If the Broncos feel they can't afford the luxury of three quarterbacks on the 53-man roster, they will have to get Dysert through waivers to get him to the practice squad.
Rookie cornerback Kayvon Webster could get a look from the league office with an unnecessary-roughness penalty in the first half -- he was called for striking an opponent with his helmet -- to go with another personal foul in the opening half for intentionally slamming a player to the ground.
August, 29, 2013
8/29/13
6:30
AM ET
The
Denver Broncos
, like the rest of the league, will tie a bow on the preseason Thursday night. Most of the team's regulars will get the night off against the visiting
Arizona Cardinals
, but decisions still need to be made at a few spots at the back end of the roster.
With that in mind, some things to keep an eye on:


One of the most difficult spots for the Broncos to make cuts ahead of Saturday's deadline to pare the roster to 53 players -- the bulk of which will come Friday -- will be in the secondary.
The Broncos kept nine defensive backs on the opening-weekend roster in 2011 and 10 last season -- five cornerbacks and five safeties. The issue this year is that Denver has two young, homegrown cornerback prospects in
Omar Bolden
and rookie
Kayvon Webster
, who have shown themselves to be worthy of the roster and would raise the overall athleticism at the position.
With
Champ Bailey
,
Dominique Rodgers-Cromartie
,
Rahim Moore
,
Duke Ihenacho
,
Chris Harris
,
David Bruton
and
Tony Carter
having worked in the top seven slots all through the preseason, that doesn't leave room for Webster, Bolden,
Mike Adams
and
Quentin Jammer
to all make it.
If the Broncos stick with nine players in the secondary, they are essentially choosing between youth and experience for those final two spots. If they keep an extra cornerback, however, it may be an indication they feel they need to open the season with some insurance for Bailey's foot injury.
Unless Denver takes the uncharacteristic step and keeps 11 defensive backs, Bolden and Webster both figure to play plenty against the Cardinals to state their cases.
Brock Osweiler is slated to get the start at quarterback behind what is largely a backup line. That has been a tough combination thus far in the preseason for Osweiler, who has been sacked eight times in the three previous games behind the reserves. It makes it difficult for the Broncos to work out of the three-wide look as much as they'd like given that they haven't consistently protected the quarterback in it -- even when the starters have been in the game -- this preseason. If things get dicey they might have to go big again, as they did last weekend against the Rams. After opening the game with three wide receivers and allowing too many rushers to get too close to Peyton Manning, the Broncos went to a two-tight-end look. They lined up in a two-tight-end look on 29 of the next 35 plays after the opening three-and-out, including all 12 in a drive that ended with a blocked field goal. The Broncos might feel like they need to give Osweiler a little more beef up front.

The last few rosters spots will be decided on special teams, and the Broncos could use a good showing there. In the past two games they have surrendered a 107-yard kickoff return for a score, a 33-yard punt return, an 81-yard punt return and seen a field goal blocked. Many of the Broncos' youngest players will have a chance to help their causes against Arizona, with Denver special-teams coach Jeff Rodgers looking for those who display speed and smarts.

[+] Enlarge

AP Photo/Eric BakkeCornerback Kayvon Webster, a third-round pick, gets a last chance tonight to show he deserves a roster spot.

The Broncos have lost five fumbles in three preseason games -- two by Osweiler, two by Ronnie Hillman and one by Julius Thomas. Hillman is not expected to play Thursday, but things need to be cleaned up. Lance Ball and Jacob Hester figure to get some work as the Broncos face some tough decisions at running back as well. Hester has not had a carry in the preseason and is the only back that has lined up at fullback thus far.

The Broncos have to sort things out in the offensive line, where they kept nine players in both 2011 and last season. After the starting five -- Ryan Clady, Zane Beadles, Manny Ramirez, Louis Vasquez and Orlando Franklin -- the Broncos need a swing tackle, likely Chris Clark, and a swing guard/center or two, with Ryan Lilja, Steve Vallos and Philip Blake in the mix. Blake, a fourth-round pick in 2012, has been headed the wrong way on the depth chart -- the Broncos didn't even work him much at center in the preseason, a position he played in college and one they originally drafted him for. Blake is decidedly on the bubble -- a long way down for a player some believed was pushing to start before a thumb injury ended his rookie season. He has regressed since that point, so he's either not getting the message about the changes in the offense or is not reacting well to the coaching he's getting. Rookie tackle Vinston Painter has shown the kind of athleticism that deserves a roster spot, but the Broncos may be in a position where they have to hope he makes it through waivers so they can sign him to their practice squad. Lilja is a tough call, too. Denver certainly likes him in the offense, but he had microfracture surgery on his knee just a few months ago and has missed significant amount of practice time of late because of the knee.

Rookie quarterback Zac Dysert will likely get his most significant work of the preseason. Dysert has shown some quality scrambling skills in practice, so he could have an entertaining down or two if he gets loose. He projects to the practice squad, but the Broncos would like to see some better accuracy from the pocket, especially in the shorter and intermediate routes.

Linebacker Lerentee McCray and wide receiver Lamaar Thomas are the undrafted rookies with the best chance to make the final 53 -- especially McCray. If the Broncos don't keep McCray, there are at least two other teams that would consider signing him. He's a big-bodied linebacker who, while not always showing good instincts, has the ability to disrupt an offense and closes to the ball with speed and intent.
August, 7, 2013
8/07/13
4:34
PM ET
ENGLEWOOD, Colo. -- Despite the Broncos' recent run of 30-something signings -- offensive linemen
Dan Koppen
and
Ryan Lilja
to go with defensive back
Quentin Jammer
in late May -- the key to remaining a Super Bowl contender and managing some coming salary-cap dilemmas will be how well they draft and develop those draft picks.
Or as Tony Dungy often said during his coaching career; "you can't be afraid of young players."
After all this is a team with 33.4 percent of its cap space in 2013 devoted to three players (
Peyton Manning
with a $17.5 million cap figure,
Ryan Clady
at $12.6 million and
Champ Bailey
at $11 million).
In light of that, we will be doing a weekly check-in with how the team's first-year players are doing. Let's get to it:
THE DRAFT CLASS
Defensive tackle Sylvester Williams.
The Broncos' first-rounder was slowed early in camp with a knee injury that cost him a few days worth of practices, but it's clear the Broncos have plans for him in their pass-rush looks early on. Williams has most often lined up as
Terrance Knighton
's backup on the nose in the team's base 4-3 look. But when defensive coordinator Jack Del Rio goes to the specialty looks that feature a variety of fronts, Williams has been in the mix with the regulars. At least early on, he figures to play on longer-yardage situations most often.
[+] Enlarge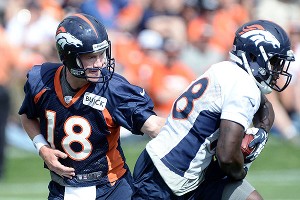 Ron Chenoy/USA TODAY SportsSecond-rounder Montee Ball, right, could be a red zone threat for the Broncos.
Running back Montee Ball.
Ball has consistently said he "attacked'' the playbook before training camp as well as in his limited free time since the team began its preseason work. He is already at the top tier of the rotation in the run game -- a No. 1B to
Ronnie Hillman
's No. 1A status. Ball cannot match Hillman's speed or big-play ability. But Ball has good vision, quick feet and
has shown the team better hands in the passing game than some scouts believed he had. Ball is also bigger than Hillman -- Ball weighs about 214 pounds compared to Hillman's 195 -- so could appear in some scoring situations deep in the red zone. But Ball will have to continue to progress in pass protection to see work in longer-yardage situations.
Cornerback Kayvon Webster.
Webster has shown good speed in practices thus far and a willingness to match up in both press coverage and play with awareness off the ball in zone. But he also finds himself at one of the more crowded spots on the depth chart. Champ Bailey,
Dominique Rodgers-Cromartie
,
Chris Harris
,
Tony Carter
and
Omar Bolden
are ahead of him at the moment. Rodgers-Cromartie will miss some time with an ankle injury so Webster will get the benefit of some additional practice snaps in the coming weeks.
Defensive end Quanterus Smith.
Smith is coming back from surgery to repair a torn ACL he suffered in the 10th game of the 2012 season at Western Kentucky. The Broncos worked him back slowly through the offseason program. Other than one practice he left early because of the knee, he has practiced fully throughout training camp. The Broncos believe -- and he has shown it in practice thus far -- that he can contribute immediately as an edge player in some of their nickel and dime packages. He has worked as the No. 3 right defensive end in most team drills behind
Robert Ayers
and
Shaun Phillips
but has moved up the ladder when the team goes to its long-yardage groupings.
Wide receiver Tavarres King
. On another team or in another situation, King would have the potential to be a rookie of notice league-wide. But he arrived to a team with plenty of veteran production at wideout in
Demaryius Thomas
,
Eric Decker
and Wes Welker. King, who played a school-record 56 games at Georgia, has shown a savvy about how to conduct himself in practice to go with upper-level ball skills, an understanding of a complicated offense and the ability to make plays in traffic. He was slowed during offseason workouts with a thigh injury, but has been healthy so far in camp and is making a legitimate push to be the No. 4 player at the position, especially if he can show some value on special teams in the preseason.
Tackle Vinston Painter
. When the Broncos selected Painter in the sixth round this past April, they saw an athletic project with a pile of potential. What they got was a player who has steadily worked his way up the depth chart, some by necessity because of injuries and some because he has advanced slightly more quickly than expected. Painter has worked much of the time as the backup right tackle, just behind
Orlando Franklin
. But the coaching staff showed this past week it doesn't think he's quite ready for work with the starters yet. Rather than simply elevating Painter after Franklin was injured, the coaches jumbled things up front, moving
Louis Vasquez
to right tackle in one practice and
Chris Clark
there in another.
Quarterback Zac Dysert
. There is no rush for Dysert, whose task right now is to show enough to force the Broncos to keep three quarterbacks among the final 53. He's shown mobility and the ability to improvise as things break down in front of him. But he'll need to be more accurate, especially throwing to his right as well as in the short and intermediate areas.
UNDRAFTED ROOKIES
The Broncos have had at least one undrafted rookie make the roster for nine consecutive seasons. A number of undrafted rookies have stood out as candidates to keep the streak going.
Running back
C.J. Anderson
, at 224 pounds, has flashed some quality work with the ball in his hands, especially on runs between the guards. But his attention to detail wavers at times and he has made just the kind of assignment errors that get players ushered out. He needs a quality, no-nonsense showing in the first two preseason games, especially if he can make a play or two on special teams.
Linebacker
Lerentee McCray
is one of the biggest players, at 6-foot-3 and 249 pounds, the Broncos have at the position. He had just 25 tackles in 11 starts for the Florida Gators last season, but has shown the Broncos enough to have worked as the No. 3 strongside linebacker behind
Von Miller
and Phillips. If he can do some quality special-teams work in the coming weeks that could be the difference for him, especially if Miller loses his appeal of a four-game suspension to open the regular season for violating the league's substance-abuse policy.
Wide receiver/Kick returner
Quincy McDuffie
has missed some time of late with a hamstring injury and will have a difficult time getting many quality snaps at wideout. But he has done good work in the return game and while he would not supplant
Trindon Holliday
as the team's top returner, he has certainly gotten the Broncos' attention.
April, 27, 2013
4/27/13
7:40
PM ET
The AFC West added quarterbacks Saturday.
Oakland took Arkansas quarterback
Tyler Wilson
in the fourth round, and in the seventh round the Chargers added Southern Utah's
Brad Sorensen
and Denver picked Miami-Ohio's
Zac Dysert
.
Sorensen, who originally went to BYU, is big, smart and productive. He does have some field limitations and he is already 25. There were some thoughts the Chargers would draft
Philip Rivers
' potential replacement this year. I don't think Sorensen is that guy. He is a potential backup, though.
Denver's decision to draft Dysert will make people wonder about
Brock Osweiler
, who Denver drafted in the second round last year. It shouldn't, Denver loves Osweiler. If Dysert ever leapfrogs him, it would be a surprise.
But Denver likes Dysert's skills and executive vice president John Elway covets arms. He figured taking a seventh-round flier on Dysert was worth it.
Now it is up to these young quarterbacks to show their new AFC West teams they were worth the picks.
April, 27, 2013
4/27/13
12:18
PM ET
I admire the Jacksonville Jaguars' restraint so far with regard to quarterbacks in the draft.

They just passed again at No. 98 to lead off the fourth-round, trading the pick to the
Philadelphia Eagles
for Nos. 101 and 210 in the seventh round. The Eagles took quarterback
Matt Barkley
.
GM
David Caldwell
has so many spots to fill that the infrastructure isn't in place for a quarterback to come in and succeed. The Jaguars can give
Blaine Gabbert
one final chance, have an alternative in
Chad Henne
and can draft to fill up a lot of other stuff.
My NFC West colleague Mike Sando points out that often the clock doesn't really start ticking on a new coach like Gus Bradley until he declares his hand at quarterback, so slow playing that decision can be smart.
The Jaguars are the only team in the league with quarterback uncertainty that hasn't added something at the position this offseason. They are content to keep it that way, at least for now.
Caldwell is not reactionary and isn't going to force anything.
If they wind up with a quarterback in this draft, it'll be because they see someone as a value on their board, not because they are feeling the strain of necessity.
At some point,
Ryan Nassib
,
Tyler Wilson
,
Tyler Bray
,
Matt Scott
,
Landry Jones
or
Zac Dysert
becomes a value, even for a team not craving an addition.
April, 27, 2013
4/27/13
10:00
AM ET
There are still several quarterbacks available going into the final day of the draft and many league observers expect an early run in the fourth round.
The
Kansas City Chiefs
,
Oakland Raiders
and
San Diego Chargers
all could draft a developmental quarterback. The Chiefs have the second pick in the fourth round and the Raiders have the third. The Chargers do not because they sent it to Arizona to draft
Manti Te'o
trade in the second round.
The biggest name available is USC's
Matt Barkley
. He would fit the Chiefs' system and Oakland general manager Reggie McKenzie attended Barkley's pro day.
He could be an interesting developmental quarterback if either team decides to take a flier. Other quarterbacks available include
Tyler Wilson
,
Ryan Nassib
.
Zac Dysert
,
Matt Scott
and
Tyler Bray
.
The Chiefs, Raiders or Chargers could end up taking a quarterback on the final day of the draft. At this point, it's pretty low risk.
March, 1, 2013
3/01/13
12:00
PM ET
»
NFC Eight in the Box
:
East
|
West
|
North
|
South
»
AFC
:
East
|
West
|
North
|
South
Welcome to Eight in the Box, an NFL Nation feature that will appear each Friday during the offseason. This week's topic: How each AFC North team needs to address the quarterback position.

Baltimore Ravens
: The biggest issue with Baltimore is whether it will reach a long-term deal with
Joe Flacco
by Monday or use the franchise tag on him to keep him off the free-agent market. If the Ravens use the tag, it will likely be the exclusive one to stop Flacco from negotiating with other teams. It's safe to say the Super Bowl MVP will remain the Ravens' starter in 2013. There is more uncertainty with the backup spot.
Tyrod Taylor
has been Flacco's backup the past two seasons, but there was a sense that Baltimore tried to upgrade the spot when it signed
Curtis Painter
last offseason. It wouldn't be a surprise if the Ravens used a late-round pick on a quarterback or signed a veteran free agent to compete with Taylor again. The backup quarterback position hasn't been an important spot for the Ravens because Flacco hasn't missed a game in five NFL seasons.
UPDATE:
The Ravens and
Flacco agreed to a long-term deal
Friday night.

Cincinnati Bengals
: The Bengals can't be happy that
Andy Dalton
had four interceptions returned for touchdowns last season and flopped in the playoffs for a second consecutive year. But Cincinnati still has confidence in Dalton and isn't expected to bring in anyone who will threaten his hold on the starting job. There is a decision to be made at the No. 2 spot because
Bruce Gradkowski
is a free agent. The Bengals will probably look to re-sign Gradkowski, who is familiar with Jay Gruden's offense. If the team decides to go in a different direction, the Bengals could add another veteran backup (which has been head coach Marvin Lewis' preference) or use a late-round pick on a quarterback.

Cleveland Browns
: This is the one starting quarterback job that is up in the air in the division. The Browns' new regime will have a competition in training camp, but
Brandon Weeden
is still considered the favorite to remain the starter. There's a chance that the Browns will trade for Patriots backup
Ryan Mallett
, a rumored favorite of vice president of player personnel Mike Lombardi. Cleveland, though, would prefer not to give up a draft pick after using a second-round one on wide receiver
Josh Gordon
in last year's supplemental draft. And it doesn't sound as though the Browns intend to draft a quarterback like
Geno Smith
with the No. 6 overall pick. The Browns can provide some competition for Weeden by signing the Dolphins'
Matt Moore
or the Saints'
Chase Daniel
out of a weak free-agent class.

Pittsburgh Steelers
: As long as
Ben Roethlisberger
stays healthy, there's no question that he's the starting quarterback. Roethlisberger, though, hasn't played a full season since 2008, which puts more emphasis on the backup position. This could be the year when the Steelers look for a younger quarterback in the mid-to-late rounds to develop.
Zac Dysert
, a Miami (Ohio) quarterback like Roethlisberger, is expected to go in the fourth or fifth round. The Steelers went with more experienced backups last season in
Charlie Batch
and
Byron Leftwich
, both of whom are free agents and whose returns are uncertain. Batch is 38 years old, and Leftwich is not durable. Even if there was a better free-agent backup available, Pittsburgh doesn't have the cap room to sign him.
NFL SCOREBOARD
Thursday, 10/23
Sunday, 10/26
Monday, 10/27
WEEKLY LEADERS