May, 2, 2014
May 2
3:35
PM ET
CINCINNATI -- The
Cincinnati Bengals
are now down to three quarterbacks on Friday after they cut backup
Zac Robinson
, a third-year player who struggled with elbow issues the past year or so.
The team announced it was waiving Robinson under the category of "failed physical." He spent the entire 2013 season on the Bengals' physically unable to perform list due to an elbow injury that predated the start of the season's training camp. He was joined on the PUP list by fullback
Chris Pressley
, who was waived himself late last season.
Robinson's release gives the Bengals a cap savings in 2014 of $570,000. He is the second player the Bengals have waived this week. On Monday, practice squad center
Scott Wedige
was cut.
The releases also come one week before the Bengals are expected to draft both a center and a quarterback. With starting quarterback
Andy Dalton
's future in Cincinnati beyond 2014 somewhat uncertain, the Bengals are likely to draft a quarterback who could become a long-term option down the road in case a deal isn't reached that will keep Dalton in town. The drafted quarterback also would be brought on to help give the Bengals some added depth at the position behind veteran
Jason Campbell
and new third-string signal-caller
Josh Johnson
.
Robinson, who has been in Cincinnati the past two weeks for part of voluntary workouts, had been listed behind Dalton, Campbell and Johnson.
Earlier this offseason, Bengals practice squad quarterback
Greg McElroy
announced he was retiring. He later joined ESPN as an analyst for the new SEC Network.
In their three-round mock draft Thursday night, ESPN draft insiders Mel Kiper Jr. and Todd McShay picked center
Marcus Martin
(USC) for the Bengals in the second round. The third-round pick went to quarterback
AJ McCarron
(Alabama).
February, 20, 2014
Feb 20
10:00
AM ET
With the NFL combine this week, through Friday we're taking a look at positions of need and who the Cincinnati Bengals might be looking at during the combine at those positions
.
Position of need:
Quarterback
Ah, yes. Quarterback. Is there a position of "need" that creates more buzz among the Bengals' fan base than this one? Even though there is at least one more truly pressing need on the roster, this one will end up drawing the most attention, especially if the Bengals keep open the possibility of wanting to bring in another backup for the inconsistent
Andy Dalton
. Again, rehashing points made earlier this week when looking at Cincinnati's pre-combine situations at
running back
,
offensive line
and
defensive line
, there are relatively few major draft concerns for the team this offseason. This draft is about depth and shoring up the players behind a mostly returning starting core. Still, that doesn't mean it isn't worthwhile to look at a solid young signal-caller, especially since this draft seems ripe with second-tier, middle-round talent.
At best, the Bengals might look to the third round to take a quarterback. If that is the case, as long as the best available player at that time happens to be a quarterback, don't be surprised if they decide to make that move. What would drafting a quarterback mean for the Bengals' current reserves? It likely would mean one of them would have to go.
Josh Johnson
and
Zac Robinson
are currently on the club's 53-man roster. Neither has done much, nor had the opportunities to inspire confidence in their abilities in the event something happened to Dalton.
Greg McElroy
finished the 2013 season on the practice squad, giving the Bengals another potential option at the position. Depending on who he might be, a new quarterback could leap-frog all three or potentially force at least one to get cut.
Three players the Bengals might be targeting (all three are expected to attend the combine)
Aaron Murray (QB), Georgia:
If the Bengals realize in early May that they want to draft a quarterback, and if they by some strange twist in the cosmos were to give me a vote on which player they should select, I would implore them to give Murray serious consideration. Before an ACL tear sidelined him at the end of the 2013 season, he had been getting attention as a possible early-round pick. Toughness, an ability to play through injuries and leadership are some of the traits he's most known for exhibiting. At 6-foot, he is a shorter quarterback. But short or not, he is a Georgia Bulldog, and the Bengals' love affair with players from that school is quite apparent with the high rate of Georgia players who have been drafted by Marvin Lewis' staff over the years. It could help that one of Murray's first receivers at Georgia,
A.J. Green
, is Cincinnati's top pass-catching threat.
David Fales (QB), San Jose State:
Like Murray, Fales' toughness has been noted, as well as his ability to pass both on the run and stationary in intermediate ranges. If the Bengals under new offensive coordinator Hue Jackson maintain the heavy emphasis on the short-to-intermediate passing game that his predecessor, Jay Gruden, had, then Fales could make for a good fit. From a size standpoint -- he's just under 6-foot-2 and weighs 220 pounds -- Fales compares to Dalton. Fales impressed all week at the Senior Bowl. During the game, he went 6-for-7 for 104 yards, a touchdown and an interception in the South team's win.
Tom Savage (QB), Pittsburgh:
While Murray and Fales could be gone in the third or fourth rounds, Savage could end up being a late-round pick. If the Bengals decide to shore up other concerns through the first five rounds, Savage could be an intriguing possibility if they were to wait until late in the draft to select quarterback. On a conference call earlier this week, NFL Network's Mike Mayock called Savage a "wild card" who "nobody talks about." Similar to Virginia Tech's
Logan Thomas
, Savage, at 6-foot-4, 245 pounds, is a bigger-bodied quarterback who possesses a relatively strong arm. Thicker quarterbacks like that don't much match the Bengals' post-
Carson Palmer
approach, but he still could be one to watch late.
December, 10, 2013
12/10/13
4:40
PM ET
CINCINNATI -- The
Cincinnati Bengals
announced Tuesday that they have kept quarterback
Zac Robinson
on the physically unable to perform list and waived fullback
Chris Pressley
as a three-week window to activate them to the 53-man roster expired.
Per NFL rules, teams have a 21-day window in which they can allow players on the PUP list to practice and participate in normal team activities. If after that 21 days team don't activate them to the playing roster, they have to waive them. Since Pressley practiced the last three weeks after having cleared a physical, he was eligible to be added to the roster. The Bengals, however, decided not to make that move.
In Robinson's case, since the team never cleared him to practice within those 21 days, the backup is able to remain part of the club but he must remain on the PUP list for the remainder of the season.
Both players suffered injuries that predated the start of training camp and were placed on the PUP list as a result. Robinson had an elbow injury and Pressley had a knee issue.
Since the Bengals haven't had a true fullback all season, it appeared Pressley had a chance to make the team if he returned to fully conditioned health. In an effort to work around his absence in the lineup, the Bengals moved
Orson Charles
from tight end to fullback in the preseason in an effort of grooming him into the role. Charles has barely played this year, though, and the Bengals have been more content with using rookie tight end
Tyler Eifert
in fullback situations, lining him up in the backfield as an H-back. When Eifert isn't run-blocking from there, the Bengals have mostly gone with a two-halfback formation that puts
BenJarvus Green-Ellis
and
Giovani Bernard
in the backfield at the same time.
August, 31, 2012
8/31/12
9:12
PM ET

Click
here
for a complete list of the
Cincinnati Bengals
' roster moves.
Significant move
: The Bengals' final spot likely went to wide receiver
Ryan Whalen
over middle linebacker
Roddrick Muckelroy
. What weighed in the decision was the Bengals' increasing confidence in rookie
Vontaze Burfict
, whose character issues caused him to plummet from being a first-round pick to an undrafted free agent. Muckelroy, a 2010 fourth-round pick who isn't eligible for the practice squad, was supplanted by Burfict as the primary backup to
Rey Maualuga
. Whalen, a 2011 sixth-round pick, is the seventh wide receiver on the roster. Guard-center
Trevor Robinson
joined Burfict as the only undrafted rookies to make the final major cutdown. The Bengals decided to keep 10 defensive backs, which includes seven players who have been drafted in the first round.
Onward and upward
: The only one of the 10 Bengals draft picks this year not to make the team (or get placed on injured reserve) was running back
Dan Herron
. He was projected to go on the practice squad when Cincinnati made him its final pick of the draft and he didn't earn his way onto the roster. Herron led the team with 25 carries in the preseason but he averaged 1.7 yards per carry. Another draft pick on the bubble, fourth-round tight end
Orson Charles
, beat out
Colin Cochart
. The Bengals can put their third quarterback
Zac Robinson
on the practice squad just like last season.
What's next
: The Bengals are expected to put center
Kyle Cook
on injured reserve Tuesday, taking advantage of that new rule that allows them to bring him back after eight weeks. Cook injured his right foot and ankle in a preseason game on Oct. 23, and the Bengals signed veteran
Jeff Faine
this week to replace him. After placing Cook on IR, Cincinnati can use that roster spot to bring back guard
Otis Hudson
, a 2010 fifth-round pick.
December, 1, 2010
12/01/10
10:00
AM ET
»
NFC Stock Watch
:
East
|
West
|
North
|
South
»
AFC
:
East
|
West
|
North
|
South
FALLING
1. Fillin Theblank, Detroit Lions quarterback:
We kid, we kid. The Lions appear set for their fourth injury-related change at quarterback in 12 games this season. They opened the year with
Matthew Stafford
, who gave way to
Shaun Hill
midway through the first game because of a separated shoulder. Hill started the next five games before fracturing his left forearm. Stafford replaced him for two starts before separating his right shoulder again. Hill started three more games before reportedly fracturing his right index finger. It appears as though No. 3 quarterback
Drew Stanton
will start Sunday against the
Chicago Bears
, with recently acquired rookie
Zac Robinson
as his backup. Stafford, at best, is still a few weeks away from returning. The offseason can't arrive fast enough for the Lions.
2. Confidence in the Green Bay Packers' running game:
Coach Mike McCarthy abandoned the running game for long stretches of his team's 20-17 loss to the
Atlanta Falcons
, instead employing a five-receiver package that produced decent success. The Falcons have a disciplined and stout run defense, but it will be interesting to see if McCarthy has more patience with the running game as we move into December football. You can't drop back on 71.1 percent (42 of 59) of your offensive plays, as the Packers did in Week 12, and then expect to line up in a power formation in short-yardage situations to run for a first down. That's the biggest problem the Packers face with their running game right now: They can't rely on it to get a yard or two on third-and-short.
3. Grains of salt in Minnesota:
There are differing opinions on the
Minnesota Vikings
' 17-13 victory over the
Washington Redskins
, their first game under interim coach Leslie Frazier. The optimists suggest that the nature and means of any road victory, especially when it comes after nine consecutive defeats away from home, should not be measured. The pessimists note that the Redskins had a punt return for a touchdown called back by penalty and missed on any number of other opportunities to win this game. I'll give it all a pass for one week, at least, considering the tumult Frazier inherited and the effort it took just to get players focused on a game rather than the circus that had been surrounding them.
[+] Enlarge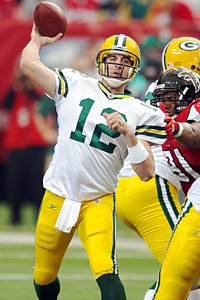 Dale Zanine/US PresswireAaron Rodgers threw for 344 yards in Sunday's loss to Atlanta.
RISING
1. Aaron Rodgers, Green Bay Packers quarterback:
A brilliant performance in Sunday's loss to Atlanta brought one silver lining. Rodgers surpassed 1,500 career passing attempts, qualifying him for the
Pro Football Hall of Fame's all-time rankings list
. And as it turns out, Rodgers has the second-best passer rating of all time (97.28) among qualified passers. (At the top of the list is
San Diego Chargers
quarterback
Philip Rivers
, who is just ahead at 97.34.) The passer rating metric isn't perfect, but to be sure, a quick glance through the top 10 doesn't reveal many slappies.
2. Tommie Harris, Chicago Bears defensive tackle:
We haven't emphasized enough, at least on this blog, the game-changing play that occurred just after the two-minute warning of the first half Sunday at Soldier Field. The
Philadelphia Eagles
had a second-and-goal from the Bears' 4-yard line, hoping to take a lead at halftime. But Harris pushed through a double-team and tipped quarterback
Michael Vick
's pass, forcing a wobbler that safety
Chris Harris
easily intercepted and returned 37 yards. The Bears scored a touchdown of their own just before halftime, extending their advantage to 21-13, and never looked back. Harris has taken his share of criticism this year and has yet to regain his starting job after a Week 3 benching. But he deserves mention for making a big play Sunday.
3. Kevin Williams, Minnesota Vikings defensive tackle:
Frazier had several one-on-one discussions with Williams last week, trying to revive his season after a stretch of invisible games. Williams responded by tipping three passes against the Redskins and playing a big role in shutting down the Redskins' running game. Frazier wants to re-emphasize the Vikings' once-dominant run defense, and that can't happen without Williams taking a lead role.
November, 30, 2010
11/30/10
9:32
PM ET

Hill
We're starting to get some clarity on the
Detroit Lions
' quarterback situation, courtesy of
Dave Birkett of the Detroit Free Press
.
According to Birkett,
Shaun Hill
could miss the rest of the season because of a broken right index finger. He almost certainly won't start Sunday against the
Chicago Bears
, meaning No. 3 quarterback
Drew Stanton
will get his second career start.
Hill apparently suffered the injury during the Lions' 45-24 Thanksgiving Day loss to the
New England Patriots
. The team reconvened for practice Tuesday, but Stanton took all of the first-team repetitions. Coach Jim Schwartz would not discuss the injury with reporters.
Stanton's backup Sunday is likely to be rookie
Zac Robinson
, whom the Lions claimed on waivers three weeks ago.
November, 7, 2010
11/07/10
2:53
PM ET
SEATTLE -- The
Seattle Seahawks
' list of inactive players leaves them severely shorthanded on both lines.
Left tackles
Russell Okung
and
Tyler Polumbus
are inactive. Seattle's seven active offensive linemen:
Chester Pitts
,
Mike Gibson
,
Chris Spencer
,
Stacy Andrews
,
Sean Locklear
,
Breno Giacomini
and
Allen Barbre
.
On defense, starting tackles
Brandon Mebane
and
Colin Cole
are inactive. Mebane's status following a calf injury had been in question. Not having him against the
New York Giants
further diminishes a group already without defensive end
Red Bryant
, who landed on injured reserve during the week.
Seattle's inactive list: quarterback
Matt Hasselbeck
, fullback
Michael Robinson
, defensive tackle
Frank Okam
, Okung, Polumbus, receiver
Golden Tate
, Cole and Mebane.
Robinson had been the emergency quarterback behind Whitehurst and Zac Robinson, who was signed from the practice squad for this game.
I'm not sure what the Seahawks would do at quarterback if injuries felled Whitehurst and Robinson. Running back
Leon Washington
did complete a pass while with the
New York Jets
in 2007. I heard it was a beauty.
NFL SCOREBOARD
Thursday, 10/30
Sunday, 11/2
Monday, 11/3
WEEKLY LEADERS