May, 19, 2014
May 19
8:20
AM ET
ASHBURN, Va. -- After watching the rookies Saturday, here are some first impressions -- and the word
first
must be stressed. The key will be seeing how they develop from now through minicamp and again this summer. A lot of the flaws, or positives, they showed in college were evident Saturday.
Here's a look at the draft picks from this past weekend:
LB Trent Murphy
: Definitely has a variety of moves; did a good job getting to the inside on occasion. Knows how to use his hands – knocked tight end
Ted Bolser
back on one rush with a good thrust to his chest. Can definitely see why the Redskins feel he can add weight and still be effective. Though strong, he does not appear to be fully filled out.
Murphy needs to work on cutting angles even more and knowing how to finish moves at an NFL level, as coaches discussed with him, like not rounding off too much at the top of his rush. He was not blowing past blockers in camp, but you could see aspects of his game to develop, with his hands and multiple moves -- that, combined with his versatility, is vital and why the Redskins liked him.
RT Morgan Moses
: Felt after the draft it would take him a little while and still feel that way after watching him this past weekend. But that's why he lasted to the third round; it's tough for a player at his position to start immediately as a rookie. His long arms bailed him out of situations in college and did so again Saturday. But his feet need to catch up quicker.
You could tell he was working on trying to stay low, but at times did not look comfortable because he was bent a little too much at the waist and not the knees. Like Murphy, comes across as smart. (Moses graduated this past weekend.)
OG Spencer Long
: Looks comfortable pulling and takes proper angles. Appeared to change directions just fine while pulling, based on a linebacker's movement. In the one-on-one pass drills Saturday, saw him get beat with speed to his outside, but also later saw him anchor well. Saw similar moments -- good and bad -- in his game tape. It's really tough to get a good feel for a guard in 11-on-11 on some plays because of all the congestion. But he'll be one to watch in camp.
CB Bashaud Breeland
: Physical but will have to learn how to make sure he's not always getting called for holding or pass interference. He could have been called for holding a few times and pass interference at least once. (He'd work best with a good pass rush; then again, who wouldn't?) It's definitely something to watch because he wasn't going against starting NFL receivers. Knows how to play press coverage. Breeland is patient and mirrored receivers well. After talking to him, he has a good understanding of his own game and what he must do.
WR Ryan Grant
: He's smooth in and out of breaks and a mature route-runner; patient. But Grant dropped a few passes (one when he turned his head too soon). He did have one nice grab over the middle with outstretched arms. He made a nice adjustment on another catch. Curious to see if he can get separation against starting corners, especially in man coverage. That's his challenge moving forward.
RB Lache Seastrunk
: First, you
absolutely must read this piece on Seastrunk
. It's hard to measure running backs until the games begin. He has terrific moves, but will he always be content to get what's there and then some or will he look to bounce a lot? We'll see. His hands were OK when we saw him, but heard there were a few issues in a practice we did not see. One thing that jumped out when talking to Seastrunk: his confidence. He has a lot.
TE Ted Bolser
: Did not look like a guy who'd threaten any of the three tight ends ahead of him for a roster spot. When he blocked in college, he too often kept his head down and that got him in trouble at least once Saturday. He'll need to add strength. Bolser also dropped too many passes Saturday – I think ESPN980's Chris Russell had him with four at one point. Bolser is a developmental guy, as seventh-round picks should be. But, again, it's about planning.
Niles Paul
is in the last year of his contract. They'll want Bolser eventually to be a move tight end a la Paul -- lining up in different areas; a better blocker on the go than on the line. If Paul leaves and Bolser develops, they have a replacement. That's how it should work. Plus, special teams will be key.
Place-kicker Zach Hocker
: He was accurate, but I can't say I paid close attention to him. Kickers win their job in games, not practices (unless you're
Shayne Graham
and lose it in practice; he was horrendous). It will be an interesting competition with
Kai Forbath
this summer.
May, 18, 2014
May 18
8:00
AM ET
Some thoughts from Redskins coach Jay Gruden on the rookies following Saturday's second minicamp practice:
He likes linebacker Trent Murphy -- a lot. The Redskins' second-round pick lined up at left outside linebacker in the two practices open to the media. Gruden loves Murphy's variety of moves. And he likes the ability to use him as a third linebacker and play him in different spots – in college he rushed from a standup position on both sides, through the middle, and also from a four-point stance."He's another element of the pass rush we drastically need," Gruden said. "The ability to move him around and do things with him defensively is exciting."
Gruden also really likes guard Spencer Long and receiver Ryan Grant. Gruden said after four practices watching Long, including two on Friday, "you could see how effective he's going to be, how smart he is and how physical he can be. He's athletic enough to do whatever we want in the zone game and smart enough to pick up the blitzes and line stunts. He's going to be competitive right away."
As for Grant, Gruden said, "he plays like a 10-year veteran already." I'll have more on Grant in a couple days, but he understands how to run routes. That matters.
Two rookies who need a little seasoning? Left tackle Morgan Moses and running back Lache Seastrunk. Moses switched back to the right side after playing left tackle at Virginia last season (but he was on the right side the previous three years). He'll also have to learn how to block in the outside zone."It will take him some time," Gruden said of Moses. "We're happy with his progress and he has some major, major upside with his size."

Seastrunk must adjust to being a pass-catcher in the NFL. That doesn't just mean showing he can catch the ball, it means knowing how to run routes out of the backfield at an NFL level. It also means being able to pass protect.

"It will take time," Gruden said. "It's not going to happen overnight. He has a long way to go, but he'll get there."
Bashaud Breeland's aggressiveness jumped out (I'll have more on this in a couple days as well). Gruden said he'll have to watch the holding, but they like Breeland's long arms and physical style.
Gruden did not single out undrafted free-agent receiver Cody Hoffman, but Gruden was asked about him. It's way too early to project how an undrafted player will do, but Gruden did say he likes Hoffman's size (he's 6-foot-4). Gruden also said, "He's a very smooth route runner with natural hands. He doesn't have the great vertical speed." Special teams will be huge for a player like Hoffman.
Gruden said of place-kicker Zach Hocker: "Rookie kickers in the NFL, not many of them have had a lot of success but we have high hopes for him. He's going to compete. He has a strong leg and the added dimension for kickoffs and touchbacks is important. We'll see how things transpire and how he handles the pressure."
May, 10, 2014
May 10
6:35
PM ET
»
NFC wrap-ups
:
East
|
West
|
North
|
South
»
AFC
:
East
|
West
|
North
|
South
ASHBURN, Va. -- A wrap-up of the
Washington Redskins
' draft.
Click here
for a full list of Redskins draftees.
Best move:
Trading out of the 34
th
pick overall and picking up another third-round choice. The Redskins did not have a first-round pick, so being able to pick up another choice among the top three rounds was a strong move. The Redskins might have stayed at 34 had linebacker
Marcus Smith
still been available. The Redskins saw a couple other players they liked get picked as well, so trading back was a no-brainer. Plus, they liked a handful of pass-rushers, so they knew someone they liked would still be around at 47.
[+] Enlarge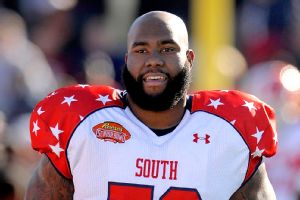 Stacy Revere/Getty ImagesOffensive lineman Morgan Moses, taken in the third round, has a chance to develop into a starter.
The Redskins were able to get a player who might help their pass rush in linebacker
Trent Murphy
and then two players who could be future starters on the offensive line in tackle
Morgan Moses
-- whom many experts said could go in the first round -- and guard
Spencer Long
. Though you can debate if the Redskins reached on Murphy -- they liked his all-around game better than
Jeremiah Attaochu
's -- the bottom line is they found three players who can possibly help instead of two. Murphy could be insurance if
Brian Orakpo
leaves after this season via free agency. Or Murphy, Orakpo and
Ryan Kerrigan
could form a strong pass-rush group.
Riskiest move:
Long from Nebraska in the third round. There is a chance that Long becomes a solid player for the Redskins. One scout called Long a potential longtime starter at center (though the Redskins, for now, view him as a guard). The scout considers him a smart, tough player with good size, so perhaps he works out well -- and might ultimately end up being a steal. However, Long is coming off an ACL tear. It's always hard to say a team could have waited and still gotten their man with the next pick, but in this case, that could be true. This is more of a pick for 2015 and beyond than anything else, so there is a definite benefit to selecting him. But if he doesn't pan out, the perception will be that they reached in the third round for a guy who had been hurt.
Most surprising move:
Drafting kicker
Zach Hocker
in the seventh round. The Redskins have
Kai Forbath
, who has made 35 of 40 field goals in two seasons with Washington. The Redskins don't like to draft players they feel have no shot at making the roster, so they clearly expect Hocker to do more than compete with Forbath. Hocker could be better than Forbath on kickoffs, too, which would please the Redskins. Still, it's a bit surprising they ended up drafting more kickers than safeties. But the coaches entered the draft feeling like they had enough competition there already. The same is true at inside linebacker.
File it away:
Bashaud Breeland
could develop into a solid player and help the Redskins in a variety of ways, perhaps even at safety at some point. The Redskins did not need a cornerback to come in and play immediately; they did not view anyone after the second round as being better than their top three. But Breeland can help right away on special teams -- another area of need. In college, he blitzed well from corner and was never afraid to mix it up against the run. He also plays a physical style the coaches love. The knock on Breeland is speed, so he'll need some work, but he has a chance.
NFL SCOREBOARD
Thursday, 11/20
Sunday, 11/23
Monday, 11/24
WEEKLY LEADERS