October, 6, 2013
10/06/13
3:40
PM ET
CHICAGO --
Chicago Bears
defensive tackle
Nate Collins
sustained a left knee injury in the third quarter against the
New Orleans Saints
and has been ruled out for the remainder of the game.
Collins hurt the knee while attempting to pressure Saints quarterback
Drew Brees
on a pass attempt. Collins' knee appeared to buckle as he was tied up with a New Orleans offensive lineman. The four-year veteran defensive lineman grabbed his knee after falling to the ground and remained on the turf for a short period of time before eventually walking back to the locker room under his own power.
Collins moved into the Bears' starting lineup after Pro Bowl defensive tackle
Henry Melton
suffered a season-ending ACL tear. Entering Sunday's game versus the Saints, Collins led all Bears defensive linemen with 10 tackles through the first four games. Collins also recorded two quarterback pressures and forced one fumble.
The Bears are perilously thin on their defensive line. Not only are
Turk McBride
and Melton already on injured reserve, but starting nose tackle
Stephen Paea
was inactive on Sunday because of toe injury. The Bears also lost another prospective body on the defensive line when veteran tackle
Sedrick Ellis
announced his retirement on the eve of training camp.
Because of the rash of injuries on the defensive line, relative newcomer
Landon Cohen
and undrafted rookie
Zach Minter
are both in the defensive tackle rotation on Sunday, along with
Corey Wootton
, who the club bumped inside from his customary defensive end spot.
David Bass
is seeing significant playing time outside at end.
September, 25, 2013
9/25/13
5:15
PM ET
LAKE FOREST, Ill. – While
Henry Melton
might be lost for the season with a knee injury and understandably demoralized, he still has figured out a way to offer the
Chicago Bears
a little bit more.
Melton reached out to the guy who will absorb much of his playing time moving forward, and
Nate Collins
was appreciative of the gesture.
"Me and Henry are really tight," Collins said after practice Wednesday. "He said, you know this is something that happens to guys, and you just have to be ready and take advantage of it. I wish Henry the best. I know Henry's going through a lot right now. Hopefully it will be a fast, healthy recovery."
[+] Enlarge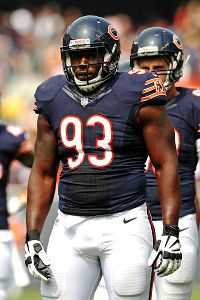 Jonathan Daniel/Getty ImagesThe injury to Henry Melton has opened up a spot on the Bears' defensive line for Nate Collins.
While Collins is itching for his chance, he knows it's inevitable that his play on the line will be compared to Melton's. The 6-foot-2, 296-pounder, who has spent much of his four seasons in the NFL at nose tackle, hopes he can be appreciated for his own unique skill set.
"I feel like I'm aggressive," said Collins, who ran extra wind sprints after practice because he doesn't want conditioning to be a reason he might struggle. "I feel like I might be a little undersized, but in some situations playing inside that phone booth at nose tackle, it's an advantage if I keep my pads down and use my leverage to my advantage."
Stephen Paea
still is expected to remain at nose tackle for the Bears this week, but alongside Collins at defensive tackle, the Bears could present something of a double-nose-tackle look at Detroit on Sunday.
"I feel like we're both guys that can penetrate and push the pocket and we're both small guys in there," Collins said of lining up alongside Paea. "We try to use our leverage to our advantage, and when we go against bigger guys we have to stick with our technique and let our technique work everything out."
First and foremost for Collins will be recognizing his gap and staying in it. He doesn't have to come out and be the hero.
"The coach says every day, the star of the defense is the defense," Collins said. "If we stay in our gap, then we'll have an opportunity to make plays, and when the plays come your way you have to make them. That's what I think I've been doing. There's always room for improvement. Out here it's not really about me, I'm just trying to get better."
If anybody knows what Collins is capable of doing it's defensive coordinator Mel Tucker. They were together with Jacksonville as recently as 2011.
"He's a high-effort guy, a high-energy guy," Tucker said. "He's stout with a relentless mentality. He plays with a good pad level. He has a chip on his shoulder and I really like him."
Now that Collins becomes a starter on defense, the question becomes how the Bears organize their rotation on the defensive line.
Julius Peppers
or
Corey Wootton
could move inside at times from their defensive-end positions, ramping up the playing time for defensive end
Shea McClellin
. Or the Bears could test their depth even further by calling on defensive tackle
Zach Minter
.
The 6-1, 297-pound Minter is an undrafted free agent out of Montana State who has not been active for any of the first three games of the season.
"The biggest adjustment is learning the margin for error," Minter said. "There is little room to slip up. You always want to be on your game. Just the pace of the game, too. It's why I lean on these guys, to learn from them and learn from the coaches and trust in the defense and trust in the older guys."
Minter said he isn't worried about the speed of the NFL game if and when he gets his first opportunity. He said the Bears go at full speed during much of practice. But now that he is on the cusp of some playing time, he has taken a minute to look at the big picture.
"I think you have to," he said. "This is the National Football League. Not everybody gets a chance to play here, so when you do you kind of take a step back and figure out where you're at while figuring out what you have to do to get better."
While playing time will be a big opportunity for Minter, Collins is trying to downplay things. He was asked if this is the moment he's been waiting for.
"I mean, you know, I guess you could say that," Collins said. "But at the same time, just being on the team and having an opportunity to play on defense and being out there, that's the opportunity. I've been on the field, and this is really no different for me. I just have to go out there and make the plays I need to make, and continue to just play well like I've been doing."