August, 31, 2013
Aug 31
6:32
PM ET
There were no real surprises among the 20 Rams released Saturday evening to bring the roster down to the league-mandated total of 53.(Note: The Rams have roster exemptions for suspended running back Isaiah Pead and linebacker Jo-Lonn Dunbar, both of whom were placed on the reserve/suspended list.)

Most significant move:
Releasing linebacker
Josh Hull
. It's not that letting Hull go was a surprise so much as where it leaves the team in his absence.
Removing Hull from the picture, the six linebackers the Rams currently have include four rookies, three of whom are undrafted free agents.
Alec Ogletree
is an expected starter, but for now is backed up only by rookie free agents
Ray-Ray Armstrong
,
Daren Bates
and
Jonathan Stewart
.
Veteran Dunbar is still around, too, but the Rams have a four-week exemption for his roster spot following his suspension for violating the league's policy on performance-enhancing substances.
Rams coach Jeff Fisher and general manager Les Snead are not afraid to trend younger, but they have left themselves with a quartet of unproven rookies behind veterans
James Laurinaitis
and
Will Witherspoon
.
Hull spent three seasons with the Rams, playing in 28 games, with most of that work coming as a core piece on special teams.
Armstrong, in particular, flashed the upside of a future starter, but unless the Rams add another veteran, they'll go a quarter of the season without experienced depth against teams such as Atlanta and San Francisco.
Keeping Clemens:
Last year, the Rams surprised many by cutting veteran quarterback
Kellen Clemens
in favor of undrafted rookie
Austin Davis
. Davis played well in the preseason and the Rams were concerned they wouldn't be able to get him to the practice squad. They had the added benefit of bringing Clemens back after week one, making his contract non-guaranteed. This year, Clemens and Davis competed for the job throughout camp and neither really set himself apart until Clemens' strong performance in the preseason finale. The Rams opted to release Davis, leaving Clemens as the backup for now and eschewing the chance to execute the same plan as last year.
What's next?
Probably a lot of scouring the waiver wire and looking for more help at the bottom of the roster. Fisher and Snead didn't hesitate to take advantage of waivers last year, making four roster moves within 48 hours of the initial cut to 53. It wouldn't be much of a surprise if they were equally active this year, though they don't have the benefit of the No. 2 spot on the waiver wire this time around.
In addition to linebacker, the Rams are light on experience on the offensive line and could look to bolster those areas with some veterans. Backup quarterback and safety are two more positions where they could do some tweaking.
Rams cuts:
QB:
Austin Davis
FB:
Eric Stevens
TE:
Philip Lutzenkirchen
,
Zach Potter
OL:
D.J. Young
,
Ty Nsekhe
(waived/injured),
Sean Hooey
WR:
Nick Johnson
,
Emory Blake
,
Justin Veltung
DL:
Garrett Goebel
,
Sammy Brown
,
R.J. Washington
,
Mason Brodine
LB:
Josh Hull
S:
Rashard Hall
,
Cody Davis
CB:
Drew Thomas
,
Andre Martin
,
Darren Woodard
March, 11, 2013
Mar 11
1:37
PM ET
Tuesday is the deadline for teams to put tender offers on restricted free agents, guys who have played for three years and have expiring contracts.
There are three levels of tenders:
$2.879 million comes with a first-round draft pick attached as compensation
$2.023 million comes with a second-round draft pick attached as compensation
$1.323 million comes with an original-round draft pick attached as compensation
If another team negotiates an offer sheet with a restricted free agent, the original team can choose to match the offer or let the player go for the corresponding draft pick. Tender numbers count against the cap, so teams must have the room carved out and ready for a player to sign the offer.
Here's a team-by-team look at RFAs and their status as we know it.
Houston
OT
Andrew Gardner
(status unknown)
Indianapolis
LB
A.J. Edds
(not tendered), G
Seth Olsen
(not tendered), CB
Cassius Vaughn
($1.323 million), G
Jeff Linkenbach
($1.323 million)
Jacksonville
DE
George Selvie
, FB
Brock Bolen
, C
John Estes
, WR
Jordan Shipley
, LB
Kyle Bosworth
, TE
Zach Potter
Ryan O'Halloran of the Florida Times-Union has reported
none will be tendered
.
Tennessee
C-G
Fernando Velasco
($2.023 million
per Jim Wyatt
of The Tennessean).
September, 3, 2012
9/03/12
5:10
PM ET
The
Jacksonville Jaguars
may get more of a test of their depth Sunday in Minnesota than they'd like.

Coach Mike Mularkey told Jacksonville reporters after Monday's practice that starting cornerback
Derek Cox
(hamstring) doesn't look likely to play and would be replaced by
William Middleton
.
And starting right guard
Uche Nwaneri
(sprained ankle) got a rest day and will go through full treatment tomorrow.
"We're hoping to get him back Wednesday," Mularkey said. "That's kind of the plan as we speak. If that's not the case we can work with (Mike) Brewster in there or (Josh) Beekman, either one. We are planning on Uche being back."
The Jaguars also suffered a new injury, as Mularkey watched
Brett Brackett
go down right in front of him with a knee injury. Brackett, a tight end, was recently claimed off waivers from the Eagles.
"I was standing right behind him and it did not look like something simple," Mularkey said. "It looked serious. They're checking him out. They were checking him out at one o'clock today, but it did not look good standing behind him."
If he's lost the Jaguars would be shopping for a third tight end after
Marcedes Lewis
and
Zach Potter
.
August, 5, 2012
8/05/12
10:11
AM ET
JACKSONVILLE, Fla. -- If you care to think the Jaguars are a mess and going to be in the running for the No. 1 pick in the 2013 draft, they're fine with that.

As they worked through the early days of Mike Mularkey's first training camp, they repeated the new coach's mantras (like, "we just want to get a little bit better every day"), fell in line with his policies (like potential $10,000 fines for answering media inquiries about injuries) and gave team-first answers to questions about the absence of their two biggest names --
Maurice Jones-Drew
(holding out for a new contract) and
Justin Blackmon
(unable to strike a rookie deal).
Sure, they don't have much choice but to buy in, but there is an undertone that suggests they have a secret to spring on the league in a couple of weeks.
Every team at this stage of camp thinks it can be good. In Jacksonville, a significant improvement from 5-11 is certainly possible, no matter what the popular storylines are. Honest.
Theirs is a defense loaded with quality, front-line talent. Beyond middle linebacker
Paul Posluszny
, most of it remains largely unknown. But if you don't know linebacker
Daryl Smith
or cornerback
Derek Cox
or defensive tackle
Terrance Knighton
, that's not the Jaguars' concern.
"If anyone feels we are not in a proper place or we have problems, that's OK," Posluszny said. "We feel like inside these walls we're doing everything that we can to be a very successful team.
"Mularkey's done a great job for us. He's a former player who's been through it. To me, that all means a ton, because he knows exactly what we are going through and what it takes to be successful."
While the offense is being revamped, and Mularkey and his assistants are trying to reformat quarterback
Blaine Gabbert
after a horrific rookie season, the defensive system and bulk of the staff have been in place for a while now.
Gabbert has nice moments, but his overall inconsistency at practice halts any proclamations that he made a significant offseason jump.
No matter how much players and coaches talk about his gains in leadership, no matter how much faith the organization has in him, no matter how patient they are, it comes down to making throws under pressure.
The early snapshot says the defense can be really good, but that a limited offense could be the obstacle to the surprise the Jaguars would so like to produce. There is a lot of time to work on what's been installed, to find what works and to run it better than it's been run so far.
THREE HOT ISSUES
[+] Enlarge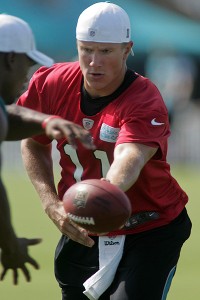 Phil Sears/US PresswireBlaine Gabbert finished his first season with 12 TD passes, 11 interceptions and a 50.8 completion percentage.
1. Is Gabbert good enough?
He folded under pressure too often last season, but the rush wasn't all he was facing. The team drafted him 10th overall intending for him to sit and learn for a season, but that plan didn't pan out and Gabbert was hurried into the starting role for 14 games during which he had poor pass protection and very limited receivers.
There were big distractions off the field, too: Jack Del Rio got fired and the team was sold.
Mularkey was hired in large part because he's developed quarterbacks, and he, coordinator Bob Bratkowski and quarterbacks coach Greg Olson have to get steadier play from Gabbert and get his arrow pointing up. His good moments look very nice, but there are still too many bad ones that leave you shaking your head. A kneel-down would seem less disheartening in many of those instances.
It's a slow process, installing a new offense and rebuilding a quarterback's confidence. Exactly how slow is the question we need answered.
Mentions of mechanical or technical adjustments by his coaches have been well-received, and he acts on them quickly. That's great, but when the rush turns live and the pocket starts collapsing, will he have open people he can stand in and find? We simply can't know yet.
2. The missing pieces.
Jones-Drew is demanding a new contract. The Jaguars have said they won't give him one with two years left on the old one. Boom -- a stalemate. I can't see the team altering its stance unless he holds out into the season and it struggles horribly without him. He's got an ego that will make it hard for him to return without any contract alteration, so this could drag on.
Blackmon is a rangy target who can go get the ball, and missing early camp is helping no one. He got a DUI after being drafted fifth overall, and the team wants insurance against any further troubles. Blackmon's unwilling to give the Jaguars what they are looking for, though.
So we're seeing second-year man
Cecil Shorts
work in the Z spot where Blackmon will eventually be, with veteran addition
Laurent Robinson
at the X.
Rashad Jennings
is the lead back without Jones-Drew in camp, and is a bigger guy who also ranks as a power runner. I liked what I saw and heard from him.
3. Will there be enough of a pass rush?
The Jaguars had 31 sacks last season, and to reach their potential on defense they need more in 2012. More consistent pressure and more sacks will come with improved coordination from the defensive linemen.
Their line coach, Joe Cullen, said they just missed on a bunch of chances last season, and another season together and the work they are doing now will result in better communication. The Jags face
Tom Brady
,
Aaron Rodgers
,
Matthew Stafford
,
Jay Cutler
and
Andy Dalton
in addition to two games against
Matt Schaub
and two against hotshot rookie
Andrew Luck
this season, and they won't win many of those without consistent pressure.
The relentless
Jeremy Mincey
promises the production will increase.
Andre Branch
was drafted in the second round to help, and looks like a quality player. Depth off the edge remains a concern.
Austen Lane
suffered yet another injury while I watched practices, during which
John Chick
walked the width of a practice field dragging heavy weight as he rehabilitated his knee.
REASON FOR OPTIMISM
[+] Enlarge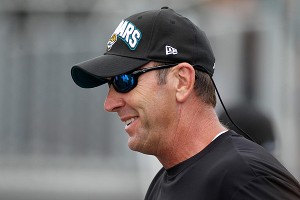 AP Photo/John RaouxNew head coach Mike Mularkey and his staff have made a positive impression on the players.
Mularkey and his staff. There is planning and logic to everything going on here, and the new staff has genuine concern for players on and off the field. Players are being told what the plan is and the right way to execute it. They felt that was lacking with the previous regime, and welcome it.
Position coaches like Olson, receivers coach Jerry Sullivan and one of the key holdovers, linebackers coach Mark Duffner, are true teachers, and they have guys under them who want to learn. That leadership and teaching faltered in many areas at the end of Del Rio's tenure. It's present in full force now. If guys follow and doing so produces results, it'll snowball.
REASON FOR PESSIMISM
A lot more is in place for Gabbert, and everyone has a stake in his performance: the GM who traded up to draft him needs him to succeed; the new coach who was hired to polish him needs him to succeed; the high-priced free-agent receiver and first-round draft pick receiver need him to succeed; the talented defense needs him to succeed.
Gabbert's saying the right things and working hard, and you can see improvement on some drop backs. But there are still enough dud plays sprinkled into practices to make you wonder if he can succeed. The team wants him to avoid turning the ball over -- staying away from the worst-case scenarios -- and it's a smart goal, but will it make Gabbert too cautious?
Can you ask him to be careful and function as a game-manager type when the best attribute he has is a big arm that can get the ball into tight windows? It might turn out to be complicated.
Also, there is not great roster depth. I have particular concerns about the offensive line, defensive end and safety if someone goes down.
OBSERVATION DECK
The team appears to be high on undrafted rookie linebacker Julian Stanford out of Wagner. With Clint Session's future in doubt because of post-concussion issues, Russell Allen is likely to start opposite Daryl Smith outside. Stanford could make the team as a special-teamer who can provide depth. Brandon Marshall, a fifth-round pick, also has what looks to be an NFL-ready linebacker frame.

Mike Thomas needs Blackmon signed, in camp and taking the bulk of the snaps at one of the two outside receiver spots. I'm convinced that to get his head right, Thomas needs to be given the slot role and allowed to focus on it exclusively. His snaps were cut down during my visit, with Shorts working at the front of the line in Blackmon's Z spot. The slot is what Thomas is best suited for, and his performance has slipped when he's been expected to do more. He had a lot of drops early in camp, and Mularkey agrees with the potential for less to be more with Thomas.

Josh Scobee has the leg to get a lot of touchbacks and Bryan Anger has the leg to force a lot of fair catches. The Jaguars obviously still have to work on covering kicks and punts, but how often will they actually be covering kicks and punts? If the offense can produce some first downs, we should see more scoring, and more scoring will mean more kickoffs from Scobee and less work for Anger.

The depth at tight end is interesting after No. 1 Marcedes Lewis. Colin Cloherty got a lot of work as the No. 2 early on, and Zach Miller is another move guy who's very intriguing, though Miller is rarely healthy. Zach Potter is giant, but hasn't earned a lot of time, and undrafted rookie Matt Veldman is also extra large.

Posluszny is the centerpiece of this defense. He covers a ton of ground and makes big hits. He's a model for doing things the right way, which is a major point of emphasis for Mularkey and his staff. Posluszny was a solid signing last season, and continues to deliver just what the team hoped for. That helps offset the fact Session, who also came to Jacksonville for a big contract in 2011, might not be on the field any time soon, or ever again.

The cornerbacks look good. Cox is really solid, and Aaron Ross and Rashean Mathis will be effective as the Nos. 2 and 3. The depth grew with last season's injury onslaught, and William Middleton and Kevin Rutland can play, too.

Branch, the rookie pass-rusher, came into the league facing questions from many teams about his ability to stand up against the run. The Jaguars have no such concern at this point. He's got to be an effective part of a four-man group at end with Mincey, Lane and Chick. Branch certainly looks the part, but so did former Jaguars bust Derrick Harvey, so we can't put much on the early eyeball test.

Along with Stanford, running back Jalen Parmele caught my eye. He's spent time with Miami and Baltimore.
December, 24, 2011
12/24/11
2:47
PM ET
NASHVILLE, Tenn. — And now a few thoughts about tight ends.
They've figured prominently in the first half of the Jaguars-Titans game. Tennessee
leads 17-10
.


Jared Cook
, who's not lived up to expectations this season, has found seam after seam and has six catches for 136 yards and a touchdown for
Matt Hasselbeck
and the Titans.
Marcedes Lewis
, who's not lived up to expectations this season, pulled up on a ball he could have caught for the Jaguars out of fear of a hit from
Michael Griffin
. Griffin's hardly been doling out giant pops this season.
Blaine Gabbert
's gotten one catch out of Lewis, same as
Zach Potter
and half as many as
Colin Cloherty
.
The Titans should continue to attack using Cook, who's gotten himself in one-on-one situations with middle linebacker
Paul Posluszny
, who's not equipped to survive such a matchup.
It was unreasonable to expect Lewis to pull in 10 touchdowns this season the way he did last season. But certainly he should have more than zero, and he should be a featured piece of an offense severely lacking at receiver.
December, 16, 2011
12/16/11
12:00
AM ET
Thoughts on the Jaguars'
41-14 loss
to the Falcons at the Georgia Dome:


What it means:
The Jaguars fell to 4-10 as they were completely handled in Atlanta. Sunday they'd broken through with a 41-14 home win over the Buccaneers. Four days later they lost by the same score to a team that looks to be heading into the NFC playoff field. In receivers
Roddy White
(10 catches, 135 yards, two touchdowns) and
Julio Jones
(five, 85, one) the Falcons and quarterback
Matt Ryan
have just the sort of weapons the Jaguars need but lack. Shahid Khan, just approved by NFL owners to purchase the Jaguars and take over Jan. 4, was in attendance and saw in person just how far off his new team is.
What I didn't like:
The Jaguars plan and play-calling looked to have no confidence in
Blaine Gabbert
and he showed why. Five sacks were partly on him and partly on his pass protection. But the pocket presence that's been an issue all season wasn't any better, and he lost two fumbles while throwing a pick (on a ball bobbled by
Marcedes Lewis
) and a touchdown (to
Chastin West
well after the game was out of reach).
Knocked out:
Right tackle
Guy Whimper
struggled again, this time with defensive end
John Abraham
. Abraham knocked Whimper from the game with a knee sprain when he sacked Gabbert and forced a fumble that defensive tackle
Corey Peters
recovered and returned 13 yards for a third-quarter touchdown that made it 34-0. Abraham finished with 3.5 sacks and two forced fumbles. I don't know why the Jags wouldn't try
Cameron Bradfield
the rest of the season even if Whimper is healthy.
What I want to know:
How
Maurice Jones-Drew
can gain yards when a defense has no fear of getting beat by the pass. He carried 17 times for 112 yards.
Something on special teams:
For the second game in a row, special teams provided something big.
Kassim Osgood
blocked a punt that
Zach Potter
recovered and returned for a 46-yard touchdown that ensured Jacksonville wouldn't be shutout. It was one of a handful of good moments on an ugly night.
What's next:
The Jaguars have a long break before they return to action with a trip to Nashville for a rematch with the Titans. Jacksonville beat the Titans 16-14 at EverBank Field on opening day.
October, 10, 2010
10/10/10
12:05
PM ET
ORCHARD PARK, N.Y. -- Here are the scratches from Sunday afternoon's game between the
Jacksonville Jaguars
and
Buffalo Bills
in Ralph Wilson Stadium:
Jacksonville Jaguars
Buffalo Bills

NFL SCOREBOARD
Sunday, 12/22
Monday, 12/23