NFL Nation:

Zeke Bratkowski
April, 4, 2011
4/04/11
12:21
PM ET
I still have lots of leftover stuff from the NFL owners meeting in New Orleans in March, so let's grab onto another chunk of it right now.
The
Atlanta Falcons
have been very quiet this offseason. The lockout has kept them from making any transactions and their players haven't been in any trouble (see
Aqib Talib
in Tampa Bay). Perhaps the biggest move so far in Atlanta has been the hiring of quarterbacks coach Bob Bratkowski.
Bill Musgrave had been in that position through
Matt Ryan
's entire tenure in the league. Along with offensive coordinator Mike Mularkey, Musgrave widely was credited with Ryan's rapid development. But Musgrave left after this past season to become offensive coordinator in Minnesota.
The Falcons quickly went out and hired Bratkowski, who recently had been fired by Cincinnati after serving as offensive coordinator there from 2001 through last season. Bratkowski is the son of former University of Georgia quarterback Zeke Bratkowski, but that has nothing to do with why he got the job.
Much of Bratkowski's time in Cincinnati was spent working with
Carson Palmer
, who had some good seasons, but also had his career interrupted by injury. Bratkowski's offense with the Bengals was fairly similar to what the Falcons run and Ryan, like Palmer, is mostly a pocket passer.
Bratkowski also had stints as an assistant coach in Pittsburgh and Seattle, after starting his coaching career on the college level. He did a stint as Seattle's offensive coordinator. At the owners meeting, I asked coach Mike Smith about the hiring of Bratkowski and he said he expects the transition to be very smooth.
"Bob has worked with a very successful quarterback in this league and is highly respected,'' Smith said. "He's been an offensive coordinator for a number of years and a number of teams. I feel Bob is going to be a very solid addition to our coaching staff. He has a very good background in the passing game. His teams through the years have always been able to throw the football. We're excited about integrating Bob into our coaching staff and our offensive system."
There's a little more to this and Smith didn't get into that, but I will. There had been some thinking around the Falcons that Mularkey could be moving on to a head-coaching job and Musgrave was viewed as his logical heir apparent as coordinator. Mularkey drew some interest this offseason, but only interviewed for one job. He could be a candidate for another job after next season and it's wise for the Falcons to have a guy like Bratkowski already in place.
He's experienced as a quarterbacks coach and can be fine in that job. But he also could step up and be a coordinator again if Mularkey moves on.
March, 16, 2010
3/16/10
12:00
PM ET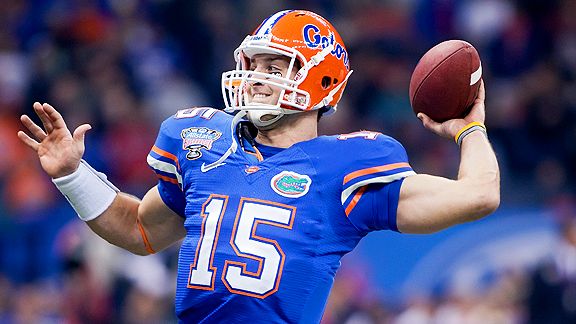 John Korduner/Icon SMITim Tebow is expected to unveil a new throwing motion when he works out for pro scouts.
The scaffolding around
Tim Tebow
comes down Wednesday. The drop cloths get packed, the paint flecks and loose plaster swept up.
It's time for NFL eyes to inspect the renovations.
Few workouts have created as much anticipation as the University of Florida's pro day. Tebow, viewed by some as a collegiate supernova and others as an overrated novelty, will debut a refurbished throwing motion he hopes will sway the skeptics.
There's a heightened curiosity over how Tebow will perform. After weeks of special tutoring and no public displays aside from Internet video snippets, you wonder if the charismatic left-hander will emerge from the tunnel and hurl bombs right-handed.
One of Tebow's personal coaches predicts the NFL scouts will be impressed.
"I think it's going to change some opinions," said Arizona State offensive coordinator Noel Mazzone, one of four gurus who has been trying to transform Tebow from a spread-offense concoction into a pro-style prospect.
Scouts won't see a completed project Wednesday or whenever teams hold their private workouts with Tebow. The
Buffalo Bills
and
Seattle Seahawks
already have signed up for special screenings.
But Mazzone is confident Tebow will show he's worth drafting as a quarterback and isn't meant to be converted into an H-back.
"He looks totally different to me," said Mazzone, a longtime college coordinator and quarterbacks coach who served as
New York Jets
receivers coach from 2006 through 2008. "This guy's an NFL quarterback in my eyes."
The Bills have the only unsettled quarterback position in the AFC East, but the
New England Patriots
are an interesting possibility.
The Patriots have only two quarterbacks on their roster. Backup
Brian Hoyer
is an undrafted sophomore. Bill Belichick, a close friend of Gators coach Urban Meyer, might be willing to pick up a rare competitor such as Tebow and groom him.
"I want this guy on my football team because he's got so many traits," Mazzone said. "I'm not getting paid to do this or to say this, so I can say how I feel. They always talk about the 'it factor' that the great quarterbacks have got. Well, he definitely has the 'it factor,' a great presence about him."
Nobody will argue that Tebow possesses off-the-charts intangibles. Those traits, however, are mitigated by several on-field weaknesses that make it difficult to imagine his collegiate star power translating to the NFL.
[+] Enlarge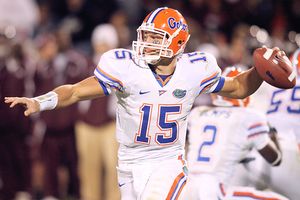 Shelby Daniel/Icon SMITim Tebow hasn't thrown publicly since a rough outing in the Senior Bowl.
In an ESPN Insider column that
projects where Tebow should be drafted
, analyst KC Joyner listed the shortcomings:
Tebow has a really elongated throwing motion that hasn't improved even with extensive coaching.

He tends to lock onto receivers.

He usually doesn't look off the safety.

He doesn't read blitzes or other pass-rushing tricks very well.

The step forward he takes on play-action fakes is something he almost certainly will not be able to do in the NFL.

He is very uncomfortable working in a pocket environment.
To overcome these issues, Tebow has been working with a team of instructors that includes Mazzone, former Jets offensive coordinator Zeke Bratkowski, former
Cincinnati Bengals
and
Tampa Bay Buccaneers
head coach Sam Wyche and Montreal Alouettes head coach Marc Trestman.
Mazzone hooked up with Tebow as a favor. They share the same agent, Jimmy Sexton, who also represents such major clients as
Miami Dolphins
football operations boss Bill Parcells, Dolphins head coach Tony Sparano and
San Diego Chargers
quarterback
Philip Rivers
, whom Mazzone coached at North Carolina State.
Sexton reached out to Mazzone for a favor after Tebow blundered his way through Senior Bowl week in January.
"That was not a very good showing for Tim," Mazzone said.
All of the doubts surrounding Tebow's pro potential were on display at the Senior Bowl.
He spent his college career taking shotgun snaps for the Gators and was dazzling in the process. He became the first sophomore to win the Heisman Trophy. He played on two national championship teams. He broke myriad records.
But he didn't sparkle at the Senior Bowl. With Sparano and his staff running the South team practices, Tebow struggled with direct snaps from the center. He fumbled a few, looked clumsy on his drops and obviously pressed. Passes routinely failed to find their targets.
In the game, Tebow completed eight of 12 passes for 50 yards. We haven't seen him throw since. He chose not to throw at the NFL scouting combine in Indianapolis last month.
That decision has intensified the anticipation for Wednesday.
Mazzone claimed scouts will notice some key differences compared to what they saw at the Senior Bowl.
Mazzone said Tebow has a faster release, his throws have more velocity because of an improved power step and he obviously is more comfortable with his drops because of instruction and repetition. All of that, Mazzone noted, has increased Tebow's confidence and decisiveness in drills.
"I'm not trying to change the guy's motion," Mazzone said. "I went back and looked at his high school film. He's got a great motion.
"It's different when you're in the gun your whole life and not making five- and seven-step drops. Bad feet make bad throws. We worked a lot on loading up his back foot, having good posture and getting his feet and body more involved with his throw.
"Now, their next question is going to be, 'Can he do this with a full NFL front four rushing him?'"
Tebow questions won't stop for a long time. They'll persist through the draft, into training camp, through preseason and well into his career.
Mazzone doesn't envision a problem with that, acknowledging that Wednesday will be merely the first of many steps toward making over Tebow.
"He's got great confidence and he wants to be That Guy," Mazzone said. "I don't know any guy that's truly competitive, and you tell him he can't do something and he doesn't have a chip on his shoulder."
March, 7, 2010
3/07/10
6:02
PM ET
The
Buffalo Bills
are intrigued enough by quarterback
Tim Tebow
that they're going to
conduct a private workout with him
after the University of Florida's pro day March 17.
NFL.com personnel guru Gil Brandt also reports the
Seattle Seahawks
will hold an individual workout with Tebow, the most famous question mark of next month's draft.
Tebow didn't throw at the NFL scouting combine because he's trying to revamp his awkward delivery to look more orthodox.
The Heisman Trophy winner
has been working out with a quartet of specialists
, including former Bills quarterbacks coach Sam Wyche. His other tutors also have AFC East ties: former
New York Jets
offensive coordinator Zeke Bratkowski, former Jets receivers coach Noel Mazzone (Arizona State offensive coordinator) and former
Miami Dolphins
offensive coordinator Marc Trestman (head coach of the CFL's Montreal Alouettes).
February, 24, 2010
2/24/10
10:34
AM ET
Tim Tebow won't throw at the NFL scouting combine this week, but the coaching quartet trying to salvage the University of Florida star's quarterbacking future claims he's making significant progress as a pro-style passer.
In case you haven't noticed, all four of the
contractors brought in for "Home Makeover: Tebow Edition"
have AFC East ties.
[+] Enlarge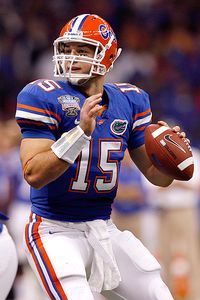 Matthew Stockman/Getty Images Tim Tebow has a team of coaches preparing him for the NFL.
The men trying to renovate Tebow's throwing mechanics are former offensive coordinator Zeke Bratkowski, Arizona State offensive coordinator Noel Mazzone, retired coach Sam Wyche and Montreal Alouettes head coach Marc Trestman.
Bratkowski served on the
New York Jets
' staff from 1985 through 1989 and again in 1995 and '96 as offensive coordinator. Mazzone was the Jets' receivers coach from 2006 through 2008. Wyche coached the
Buffalo Bills
quarterbacks in 2004 and '05. Trestman was the
Miami Dolphins
' offensive coordinator in 2004.
ESPN's Adam Schefter wrote a feature on the reclamation project. He noted Bratkowski is focusing on an improved, over-the-top delivery.
Tebow's footwork also is a concern because the Gators were a shotgun-exclusive team. He must learn how to master the center-quarterback exchange and the type of dropbacks he must be comfortable with as a pro.
The coaches sound like they're happy with how their project is coming along.

"You're not looking at the same quarterback," Bratkowski said in Schefter's feature. "To say we're there 100 percent where we want to be, no. But we'll be more improved come pro day than we are at this point in time now."

Wyche told Bengals.com reporter Geoff Hobson that
Tebow's mechanical flaws are minor
and could be corrected within a week once he gets into an NFL program.

"If you don't think he can line up at quarterback in the NFL, then you don't know about lining up in the NFL," Wyche told Hobson. "The last thing I told him when I left was not to change how accurate he is and his touch. The two things you have to have in a quarterback are accuracy and intelligence. If you don't, you're going to be finding another one pretty quickly. And [Tebow] is as smart as a whip."

Trestman cited Tebow's mind as his greatest asset to helping him make the transition.

"His intelligence level is as high as any quarterback I've encountered coming out of college," Trestman said in Schefter's feature. "His intelligence is off the charts. After spending time with Tim, it was evident that he learned a lot of football in his four years at Florida -- a lot.



"As a result he has been able to quickly adapt and make corrections in his throwing motion and footwork that will allow him to get the ball out faster and improve his accuracy. He has more than enough arm strength and shown he can make all the throws at the next level. He has only been at it for a few weeks. So I can only anticipate he will continue to improve."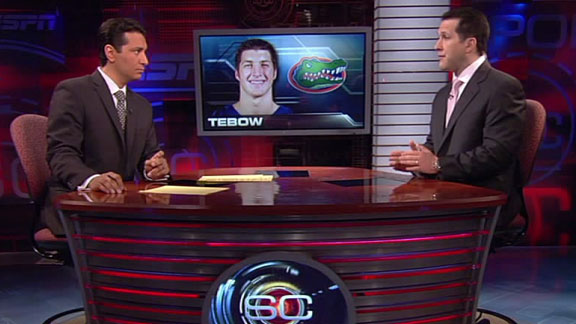 NFL SCOREBOARD
Thursday, 11/20
Sunday, 11/23
Monday, 11/24
WEEKLY LEADERS