NFL Nation:

Final Word 2010 Week 14
December, 10, 2010
12/10/10
4:00
PM ET
»
NFC Final Word
:
East
|
West
|
North
|
South
»
AFC
:
East
|
West
|
North
|
South
Five nuggets of knowledge about Week 14:
Elements shouldn't be an issue this time around:
It is supposed to be a brilliant day in San Diego for the biggest game of the AFC West season to date. The forecast calls for a sunny day with the temperature expected to be between 75-80 degrees. Yes, perfect weather for a game in which the 8-4 Chiefs can move to the doorstep of the division title and the 6-6 Chargers must win to have any chance of keeping their four-year division championship streak alive. The conditions should be much different than when these teams played in Kansas City in Week 1. The Chiefs won the Monday Night Monsoon game, 21-14. Kansas City was able to adjust to the rain and the Chargers were clearly affected. It should be an even playing field this time.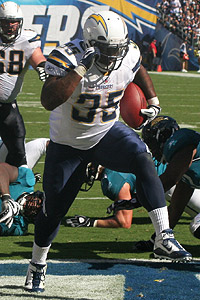 Icon SMIMike Tolbert has been the Chargers' go-to running back inside the 3-yard line, scoring seven touchdowns on 12 carries from that distance.
Better than the last time:
The Raiders are 6-6 and still in the playoff race as they head to Jacksonville. The team has made progress and continues to climb out of a seven-year funk. Three years ago, Oakland played in a late-season game in Jacksonville. It was the first extensive playing experience for rookie quarterback
JaMarcus Russell
. The game was highly anticipated in Oakland because Russell was the No. 1 overall pick, but he was awful in a 49-11 defeat. He completed 30 percent of his passes and had a passer's rating of 17.4. It never really got much better for Russell, who was finally cut by the Raiders in May.
Draft-pick bowl:
The first game of what will likely be the four-game Eric Studesville era is a winnable game for the 3-9 Broncos at Arizona. But is it worth it? According to ESPN Stats & Information, the Cardinals (3-9) are on pace to have the No. 5 overall draft pick. Denver -- which fired second-year coach Josh McDaniels on Monday -- is on pace to have the No. 6 pick. Thus, the winner of the game will be on pace for a worse draft pick. Of course, both teams will want to win to make this miserable season a little less, well, miserable. But in the end, a better draft pick means more drafting power in April.
Tolbert is a go-to player at the goal line:
If the Chargers get to the goal line, the Chiefs will likely know the play, especially if it's a run. According to ESPN Stats & Information, Chargers' running back
Mike Tolbert
is tied for the NFL lead with 12 carries inside the opponents' 3-yard line. He has scored seven touchdowns in those situations, second behind NFL leading rusher
Arian Foster
of Houston. The bowling-ball shaped Tolbert is a perfect goal-line threat because it usually takes multiple defenders to bring him down.
Raiders are traditionalists:
According to ESPN Stats & Information, the Raiders lead the NFL in traditional two-running back, two-receiver and one tight-end sets. The Raiders have run 286 plays out of that basic set. The Jets are No. 2 in the league with 10 fewer plays than Oakland. The Raiders have been average using the set. They have gained 1,446 yards, which is far from the league lead. But it seems like Oakland's offense is evolving as their receivers and tight end
Zach Miller
close in on regaining their health. Offensive coordinator Hue Jackson called a very strong game Sunday against San Diego, and it seems like the unit may get more creative in the final quarter of the season.
December, 10, 2010
12/10/10
4:00
PM ET
»
NFC Final Word
:
East
|
West
|
North
|
South
»
AFC
:
East
|
West
|
North
|
South
Five nuggets of knowledge about Week 14.
[+] Enlarge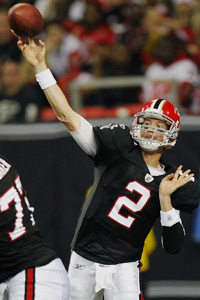 Kevin C. Cox/Getty ImagesMatt Ryan should have a bounce-back performance against the lowly Panthers.
'Matty Ice' thaws out.
Prior to last Sunday's game in Tampa Bay, Atlanta quarterback
Matt Ryan
had gone four games without throwing an interception, and the entire offense had gone the same period of time without turning the ball over. The streak ended as the Bucs picked off Ryan twice. Almost all day long, Ryan looked just a little off with his passes. But I don't think that's any cause for concern. When the game was on the line, Ryan led the Falcons on a sharp touchdown drive. The bounce back will continue this week. That's partly because Ryan is good and partly because he'll be playing the
Carolina Panthers
.
Something to play for.
Speaking of the Panthers, if I'm one of their veterans, I'm making sure I go all out in these final four games. Yes, coach John Fox is on his way out the door and this has been a lost season. But back in 2002 when Fox was hired to replace George Seifert, the first thing he and general manager Marty Hurney did was to sit down and watch film from the previous season. They noticed some veterans who pretty much packed it in at the end of the season. Those guys immediately were gone. All indications are that Hurney still will be around, and you can bet he and the new coach will do the exact same kind of film review.
Bucking the trend.
For the first time this season, the Bucs have lost back-to-back games. That would be a sign of trouble for a lot of teams, but I don't think that's the case here. The Bucs have lost close games to Baltimore and Atlanta, two good teams. That's not enough to end the momentum they had going before that. The Bucs go up to Washington on Sunday, and the Redskins have some issues. I usually avoid predictions, but I'm going to make one here. I say the Bucs beat the Redskins 24-17.
Where's the defense?
A lot has been said about how New Orleans' offense has come together, scoring 30 or more points in each of the last four games. That's a great sign and this is a wonderful time of the year for that to happen. But, if the Saints really are going to make a run, their defense still needs to show some major improvement. When the Saints have to score 30 or more to beat teams like Dallas and Cincinnati, it makes you wonder what would happen against a good team in the playoffs.
Doubting Thomas
. One other big storyline on the Saints is that running back
Pierre Thomas
appears likely to return Sunday from an ankle injury that has kept him sidelined since late September. This probably won't be much of a story.
Chris Ivory
has come in and shown he can do most of what Thomas did last year. With
Reggie Bush
also in the mix, the Saints aren't going to suddenly give Thomas 20 carries. They'll probably use him only sparingly, and Ivory's success doesn't bode well for Thomas' future with the Saints. He's a free agent after this season. Unless there are injuries and Thomas suddenly lights things up, he's probably out of New Orleans as soon as the season is over.
December, 10, 2010
12/10/10
4:00
PM ET
»
NFC Final Word
:
East
|
West
|
North
|
South
»
AFC
:
East
|
West
|
North
|
South
Here are five nuggets of knowledge about Week 14:
Must-win Mangini:
Sunday starts a must-win stretch for
Cleveland Browns
head coach Eric Mangini. The Browns have played solidly recently, going 4-2 in their past six games. But at 5-7, Mangini must continue to pad his record to increase his job security. The good news for Cleveland is it has two of the NFL's worst teams coming up in the
Buffalo Bills
(2-10) and
Cincinnati Bengals
(2-10). The bad news is both games are on the road and Mangini likely cannot drop either contest. Cleveland will finish its season as big underdogs against the
Baltimore Ravens
(8-4) and
Pittsburgh Steelers
(9-3). Therefore, seven wins or more will
make for a tough decision
by Browns president Mike Holmgren.
[+] Enlarge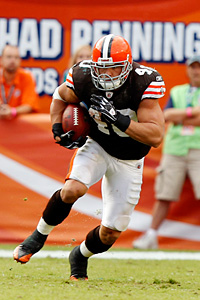 AP Photo/Wilfredo LeeCleveland's Peyton Hillis is closing on his first 1,000-yard season.
Hillis for 1,000:
Browns tailback
Peyton Hillis
has a very good chance to eclipse 1,000 yards rushing for the first time in his career this weekend. Hillis has 962 rushing yards, and Buffalo has the league's worst run defense (170.9 rushing yards per game). It's a good matchup for the Browns, so expect them to pound the ball with Hillis. Bad weather in Buffalo also could be a factor.
Avoiding a letdown:
The Steelers and Ravens played another
brutal and emotional game
last week, adding to their heated rivalry. Now both teams must avoid a hangover. The Steelers (9-3) host the struggling Bengals on Sunday. Pittsburgh, which is banged up at quarterback, tight end and the offensive line, is 6-2 in the regular season since 2006 after playing the Ravens. Baltimore, trying to bounce back after the tough loss to the Steelers, will play Monday against the
Houston Texans
(5-7), who are well-rested with 11 days to prepare. Baltimore is 4-4 since 2006 after playing Pittsburgh the week prior.
Dunlap gaining steam:
Keep an eye on Bengals second-round pick
Carlos Dunlap
, who is starting to turn the corner. The rookie defensive end has 4.5 sacks in the past five games and has added a much-needed boost to Cincinnati's abysmal rush. The recent hot streak was enough for Dunlap to take the team lead in sacks this season. Safety
Chris Crocker
, who was
put on injured reserve Nov. 22
with a knee injury, remains second on the team with two sacks. Dunlap was a first-round talent who entered the draft with questions about his motivation and motor. The Bengals are finally getting Dunlap to play hard more consistently.
Big game for T.O.?
Bengals receiver
Terrell Owens
is having a great season, and he could be in for another big game against the Steelers. In the Nov. 8 game against Pittsburgh, he caught 10 passes for 141 yards and two touchdowns. Steelers defensive coordinator
Dick LeBeau traditionally prefers to
take away
Chad Ochocinco
, which provides single coverage on other Bengals. In the first meeting, Owens got the best of Pittsburgh defensive backs in one-on-one matchups. If Pittsburgh keeps the same strategy, cornerbacks
Ike Taylor
and
Bryant McFadden
must play much better against Owens.
December, 10, 2010
12/10/10
4:00
PM ET
By
Matt Mosley
| ESPN.com
»
NFC Final Word
:
East
|
West
|
North
|
South
»
AFC
:
East
|
West
|
North
|
South
Five nuggets of knowledge about Week 14.
[+] Enlarge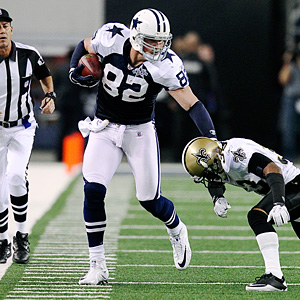 AP Photo/Bill NicholsJason Witten had 10 catches for a season-high 99 yards against New Orleans in Week 12.
The Philadelphia Eagles' defense will have to slow down Jason Witten.
Dallas Cowboys
quarterback
Jon Kitna
loves throwing the ball to Witten. Over the past three games, Witten has been targeted 20 times and has 19 catches. He's always been a matchup problem for the Eagles, and there's no way that middle linebacker
Stewart Bradley
can cover him one-on-one in the middle of the field. Eagles defensive coordinator
Sean McDermott
has immense respect for Witten, so he'll probably use safeties
Nate Allen
and
Quintin Mikell
against him at times.
The New York Giants need to continue their emphasis on starting fast.
In last week's win over the
Washington Redskins
, the Giants scored a touchdown on their opening possession for the first time this season. Giants offensive coordinator Kevin Gilbride has placed more emphasis on scoring quickly, and it's paid off in recent games. With
David Diehl
likely returning to the lineup at left tackle, look for the Giants to run right at Vikings defensive end
Jared Allen
.
Brandon Jacobs
raced for 39 yards on a carry to the left side on the first possession against the Redskins. I think the Giants will try the same thing against the Vikings. If they can score quickly, it will take one of the loudest crowds in the league out of the game.
It's time for Mike Shanahan to bust out the running game.
The Redskins should have tailback
Ryan Torain
in the starting lineup against Tampa Bay on Sunday. Torain had back-to-back 100-yard rushing days earlier in the season, but we haven't seen him since Week 8 because of lingering hamstring issues. The Bucs are 26th in the league against the run, allowing 128.5 yards per game on the ground. If
Trent Williams
can come back strong at left tackle, I think Torain will have some success on that side.
Stephon Heyer
was overwhelmed at left tackle last week, which pretty much fouled up everything. Williams hasn't been great in his rookie season, but he's about the best the Skins have to offer at this point.
The Cowboys will try to follow the Chicago Bears' game plan against Michael Vick:
The Cowboys may blitz a little more than the Bears did against Vick two weeks ago, but they'll rely heavily on their defensive front. Safety
Gerald Sensabaugh
told me Wednesday that the secondary has watched all of the double moves
DeSean Jackson
and
Jeremy Maclin
like to use. Sensabaugh said the key will be not taking his eyes off the receiver too soon. If you look up to get your bearings, one of the Eagles receivers will race past you for a touchdown. The Cowboys will probably play their safeties deeper than usual, and they'll try to frustrate Jackson by not allowing him to have anything downfield. The Cowboys did a great job against Jackson last season. One matchup to keep an eye on will be
Jason Avant
versus Cowboys cornerback
Orlando Scandrick
. If Scandrick is unable to play because of a concussion, look for rookie
Bryan McCann
to line up across from Avant, one of the most underrated receivers in the league. He and the Giants'
Steve Smith
do a superb job on third downs.
Will the New York Giants face Brett Favre or Tarvaris Jackson?
The Giants spent most of the week preparing for Favre, but they'll be ready to adjust if the famous streak ends. I think the Vikings are actually more dangerous with Jackson right now. He moves around the pocket much better than Favre and he's a threat to take off when everybody is covered. Much like they did in the second half against Vick, the Giants need to knock down Jackson. With Favre, I think the key will be to make sure you catch those interceptions. He's going to make some mistakes, and right now this Giants defense is doing a good job of capitalizing. If
Devin Thomas
can mix in another partially blocked punt, the Giants will be in business.
December, 10, 2010
12/10/10
4:00
PM ET
»
NFC Final Word
:
East
|
West
|
North
|
South
»
AFC
:
East
|
West
|
North
|
South
Five nuggets of knowledge about Week 14:
[+] Enlarge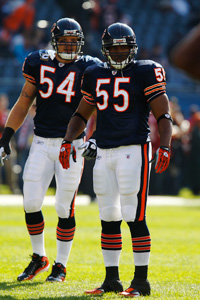 AP Photo/Nam Y. HuhThe Bears' Brian Urlacher and Lance Briggs lead one of the NFL's best defenses.
Exposed?
National doubters believe the
Chicago Bears
will finally be exposed as something less than an elite team Sunday by the red-hot
New England Patriots
, whose offense has averaged 40 points per game in its last four contests. I'm not picking a winner in this game, but I would be really surprised if the Patriots romped in this one. No matter what you say about the Bears' offense or think about quarterback
Jay Cutler
, their defense has been consistent throughout the year and currently ranks third in the NFL in points allowed per game. The Bears are at their best when they
use their standard four-man rush
, which maximizes their potential to make big plays, create turnovers and at the very least, keep this game close.
Strength-on-strength:
You could make a whole list of interesting comparisons for this game. So let's do it. The Patriots rank first in the NFL in points per game. The Bears rank third in fewest points allowed. The Bears have the best third-down defense in the NFL. The Patriots' third-down conversion rate (44.8) is the fourth-best in the NFL. The Bears have caused 26 turnovers, the fourth most in the league. The Patriots have committed nine turnovers, tied for the league's fewest. Patriots coach Bill Belichick is known for his innovative schemes. The Bears are known for playing their standard scheme as well as anyone in the league. I'll be fascinated to see where the ball drops on this one.
The Cutler factor:
I wonder how many NFC North fans realize the Patriots' defense has given up the second-most yards in the NFL this season. (They rank No. 18 in points allowed.) The Patriots have survived in large part by intercepting 18 passes, which provides a cautionary tale for Cutler. But this week we endeavored to paint a picture of why Cutler has been so successful lately. He's been a
playmaker as a runner
. He's focused most of his passing efforts on
high-percentage throws
and has been
excellent in play-action
. I don't know about you, but to me, that sounds like a good combination as you head into a December game against an elite opponent.
Fine tuning:
As you know by now
,
Green Bay Packers
quarterback
Aaron Rodgers
is on an 11-touchdown, 0-interception streak over the past five games. Receiver
Greg Jennings
is on a seven-game tear of 43 receptions, 761 yards and eight touchdowns. And so naturally, Sunday's game against the
Detroit Lions
offers the Packers an excellent chance to re-balance their offense as they begin their final push to the playoffs. The Lions are giving up 127.4 rushing yards per game, the eighth-highest total in the NFL, and the Packers achieved a bit of a breakthrough last week against the
San Francisco 49ers
. Rookie running back
James Starks
rushed for 73 yards on 18 carries. It will be interesting to see if he can emerge as a legitimate weapon moving forward. The Packers' final three games are all outdoors and in cold weather -- twice at Lambeau Field and once at New England's Gillette Stadium. Chances are, they'll need more of a running game than they've had to this point. Let's see if they can build off Starks' performance Sunday at Ford Field.
Talk about numbers:
As of this posting, we have no idea whether
Minnesota Vikings
quarterback
Brett Favre
will extend his consecutive games streak to 298 or if he will miss his first game since 1992. So let's focus on the quarterback on the other sideline. In four career starts against the Vikings, all losses,
Eli Manning
has a 47.8 passer rating. He's thrown nine interceptions among 139 attempts. Every year is a new year, but those numbers have spanned six seasons. Just sayin'.
December, 10, 2010
12/10/10
4:00
PM ET
»
NFC Final Word
:
East
|
West
|
North
|
South
»
AFC
:
East
|
West
|
North
|
South
Five nuggets of knowledge about Week 14:
[+] Enlarge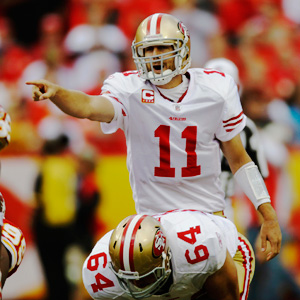 AP Photo/Orlin WagnerAlex Smith has been handed the reins once again as the 49ers try to stay in playoff contention.
Alex Smith has 49ers fans seeing red.
More than a few have reached out to me in anger after the 49ers reinstalled Smith as their starting quarterback heading into an elimination game against Seattle (the 49ers must win to keep alive their playoff hopes). Watching
Troy Smith
struggle deep in Green Bay territory last week pointed to one area where Alex Smith enjoys a significant advantage: the red zone. Alex Smith leads the NFL in red zone passer rating (125.0) among players with at least 10 attempts. He has eight touchdowns, no interceptions, no sacks and a 75.9 percent completion percentage on those throws. Troy Smith's red zone numbers: 2-of-7 for 20 yards, one touchdown and a 79.2 rating.
Rams must avoid deep trouble.
The
St. Louis Rams
have cut down on the number of deep pass completions they've allowed this season. Opponents are completing only 34.1 percent of attempts traveling 15-plus yards past the line of scrimmage, the fourth-lowest figure in the NFL, according to ESPN Stats & Information. Opposing quarterbacks have a 53.6 rating on these passes, the second-lowest against any defense in the league. Injuries in the secondary are putting the Rams at risk in this department heading to New Orleans. Consider: Since 2008, Saints quarterback
Drew Brees
leads the NFL in rating (111.2) and touchdowns (37) on passes traveling at least 15 yards downfield.
Seattle's line playing together.
The Seahawks expect to start the same five offensive linemen for the third game in a row. They used the same five in consecutive games only once previously this season (victories over Chicago and Arizona coming out of the bye).
Marshawn Lynch
is averaging 4.2 yards per carry when
Russell Okung
plays left tackle, up from 2.3 without Okung. Lynch's 22-yard touchdown run against Carolina was his fifth scoring run of the season and the first longer than 1 yard. Week 14 opponent San Francisco is allowing 3.6 yards per carry this season. Only Pittsburgh (3.0) and the
New York Jets
(3.4) allow fewer yards per attempt.
Time for Rams to open it up?
The Rams have failed to exceed 20 points in 10 of their 12 games this season. They twice failed to reach 20 points against Arizona even though every other Cardinals opponent scored at least that many. Conventional wisdom says the Rams must lean on their ground game against New Orleans to keep Brees off the field. I'll buy that to an extent. The reality, however, is that Brees is probably going to get his points anyway. The Saints have scored at least 30 in each of their past four games. If the Rams can turn this game into a low-scoring brawl, it's an indication they might be able to win a playoff game this season, should they qualify for one.
Cardinals must make a (home) stand.
The Cardinals had to smile a little when they checked out their schedule heading into the season. Sure, they opened with three of four on the road, but having three in a row at home beginning Nov. 29 was going to put them in position to finish the season strong. Not quite. The Cardinals have lost the first two games of that three-game home stand, extending their overall losing streak to seven. Losing to the
Denver Broncos
in Week 14 would guarantee a losing home record for Arizona this season, something the Cardinals haven't experienced since going 3-5 at home in 2006.
December, 10, 2010
12/10/10
4:00
PM ET
»
NFC Final Word
:
East
|
West
|
North
|
South
»
AFC
:
East
|
West
|
North
|
South
Five nuggets of knowledge about Week 14:
Keyed by run defense:
The personnel in their secondary is the Jaguars' primary defensive concern. But the Jaguars' past three losses -- to Tennessee, Kansas City and the Giants -- have been to teams that run the ball better than they throw it. Oakland fits that mold for sure. Jacksonville's run defense has been a key as it has won four out of five. The interior guys,
Terrance Knighton
and
Tyson Alualu
, have a swagger and don't believe a back can find any yards up the middle. That may mean a quiet day for
Michael Bush
. But what about
Darren McFadden
?
[+] Enlarge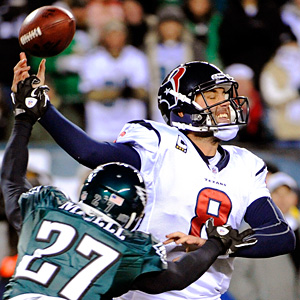 AP Photo/Miles KennedyMatt Schaub is far less effective when facing pressure from the secondary.
Pick up the DB:
If the Ravens can collapse the pocket around
Matt Schaub
the way they did against Pittsburgh a week ago, they're sure to get him off his spot. But blitzing with front seven guys hasn't produced giant results, according to ESPN Stats and Info. Schaub's passer rating drops from 95.7 to. 81.9 when a defense brings at least five pass rushers, but he's taken 13 sacks each against standard rushes and blitzes. If the Ravens want to really affect his production, they might send a defensive back after him. His passer rating dips to 72.1 against pressure out of the secondary.
A donut in his game:
David Garrard
is faring well on short stuff and long stuff, but not so much on stuff in the middle. Balls that travel 10 yards or less in the air have produced a 99.4 passer rating, and balls of 21 yards or more a 90.8 rating. But on balls that carry from 11 to 20 yards, his rating is 57.5. Jacksonville will want to pound it with
Maurice Jones-Drew
and simply supplement him with Garrard throws. Let's see what's available to him against the Raiders' defense, which ranks ninth against the pass.
Okoye playing better:
The Texans are in need of an additonal defensive tackle no matter what. But just when I started to think
Amobi Okoye
's future was completely up in the air, he's been playing better. He was disruptive in the Texans' games against Tennessee and Philadelphia, and it would be nice to see the 2007 first-rounder maintain that level of play through the final four games of the regular season. If he does it Monday night, Joe Flacco may get to know him.
Enjoying a break:
The Colts beat the Titans in Nashville on Thursday night. Both teams are enjoying a restful weekend that could give them a bit of an advantage next week. The Colts are home for a key game against the Jaguars, and wouldn't mind an Oakland win and the Raiders doing their best to beat up Jacksonville. The Titans will have a long rest while Houston will have a short one after a Monday night game in advance of its trip to Tennessee.
December, 10, 2010
12/10/10
4:00
PM ET
»
NFC Final Word
:
East
|
West
|
North
|
South
»
AFC
:
East
|
West
|
North
|
South
Five nuggets of knowledge about Week 14: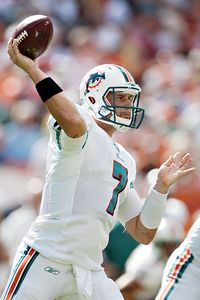 Jonathan Brownfield/US PresswireChad Henne gets another chance to prove he's Miami's QB of the future.
Mark Sanchez and Chad Henne will try to pull out of their tailspins against each other.
One of the more popular topics on the AFC East blog over the past 10 months or so is whether Sanchez or Henne has the brighter future. Readers have been zealous in their stances. But it's safe to say we expected to know a heck of a lot more about these quarterbacks by Week 14. Yet here we are with as many questions as ever about a pair of second-year starters as they prepare to square off Sunday at New Meadowlands Stadium. Both are coming off three-interception defeats and trying to regain a semblance of homestretch momentum. Sanchez is in a more appealing situation. His team is 9-3 and can clinch a playoff berth with a victory against the Dolphins (and a couple other things happening). Henne's team is on the verge of elimination from the postseason race and he has been benched already this year. We might know more about these erratic lads by Sunday evening, but there's also a chance -- with the way they've been playing lately -- the winning team comes through despite its quarterback.
Don't be surprised if the Patriots deliver a letdown game.
ESPN analyst Herm Edwards is known as an excitable guy. He was just as passionate a head coach as he was a player. Nobody ever could accuse him of not giving his all. But even Edwards recognizes a team can't maintain fevered emotion without an occasional dip, which is what he expects from the Patriots this week. The Patriots have been playing with an acute intensity. In the fourth quarter of Monday night's blowout victory against the Jets, running back Fred Tayor entered the game for mop-up duty, and
Tom Brady
screamed:
"C'mon, Freddy, take it to the [expletive] house!"
But that energy is bound to wane, and this week's game against the Bears at Soldier Field offers a confluence of banana peels. The Patriots are coming off a short week after beating a division rival. They're on the road against an NFC team that plays on an atrocious field. And, as ESPN.com columnist Ross Tucker wrote this week, the
rookie wall is looming large for a lot of important contributors
. If the Patriots can leave Chicago with a victory, then it will be an admirably gritty effort.
The weather at Ralph Wilson Stadium should be fitting for the Browns and Bills.
A nasty storm is headed for the Great Lakes on Sunday. Arctic air. ... Snow turning to rain turning to ice turning to misery. ... Wind gusts. ... Should be a hoot. But this Bills-Browns series has been nothing but ugly lately anyway. Last year's 6-3 Browns victory ranks as the worst game I've witnessed. Browns quarterback
Derek Anderson
completed two of 17 passes -- and won. In 2008, the Bills committed four turnovers and lost on a field goal with 1:39 left. Three years ago, the Browns won 8-0 in a Cleveland blizzard. Sunday should be Chan Gailey's first game with Buffalo in its infamous wintery conditions. "I don't know that I'd say I look forward to it, but I know it's going to happen," Gailey said. "You've got to choose to make it a home-field advantage. You can gripe and complain, or you can get excited about the opportunity."
Jason Taylor has something to prove down the stretch.
Taylor goes into Sunday's game against his former team as the Jets' leader with four sacks. But he hasn't recorded any in his past three games and has just two in his past nine games. Jets coach
Rex Ryan accepted blame for their failure to deploy Taylor
more often against the Patriots on Monday night. That admission, plus going up against his old mates, could mean an inspired performance. ESPNNewYork.com's Rich Cimini reported Taylor's 2011 salary is dependent on his sack output. If he doesn't register seven sacks, then his $750,000 guarantee for next year is voided. If Taylor can hit double-digits, then his guaranteed salary will rise to $1.25 million. If he gets to 12 sacks, then Taylor's salary will jump to $2 million. So Taylor better get cracking. One of his sacks this year was against the Dolphins in Week 3. On a semi-related note, Dolphins outside linebacker
Cameron Wake
leads the NFL with 12 sacks.
The best rivalry debate can't be settled by one weekend.
I woke up Tuesday morning to see James Walker declaring "Checkmate" for our debate last week --
which rivalry was better, the Ravens-Steelers or the Jets-Patriots
-- because of what happened in their Week 13 games. What our Lionel Hutz of the AFC North obviously doesn't understand, apparently in addition to the premise of last week's debate, is what happens inside one weekend doesn't make a rivalry. In fact, it can be argued Monday night's 45-3 verdict adds another layer to the Jets-Patriots series because the team that won so handily in the rematch lost by two touchdowns just two months earlier. In 2006, the Ravens beat the Steelers by a combined score of 58-7. In their first meeting the next year, the Steelers won by 29 points. Did those blowouts end that rivalry or enhance it? These division foes will continue to play twice a year and perhaps in the playoffs. Since he declared "Checkmate," maybe somebody should inform Walker his king's exposed.