NFL Nation:

William Beatty
August, 29, 2011
8/29/11
11:05
PM ET
I'm going to start with the positives, because I get accused too often by overly sensitive
New York Giants
fans of being too negative about their team. And when they look bad, I promise I'll continue to point that out. But in their second-to-last preseason game Monday night -- a meaningless
17-3
loss to the
New York Jets
-- I saw a lot of things on the Giants' defense that I really liked.


I'm going to start with
Justin Tuck
, even though that seems obvious, because he's the Giants' best defensive player and it all starts with him. If Tuck is flying around the field, pressuring quarterbacks and making plays on the edge, the rest of the Giants' defense works off of that. And I think Monday night's Tuck was a Tuck who looks ready for the season. As a result, the defensive tackles looked energized, swingman
Mathias Kiwanuka
was active and effective,
Aaron Ross
(pressed into starter's duty after the injury to
Terrell Thomas
) made several nice plays in pass coverage and the Giants' defense more than handled the Jets' starting offense in the run game and the passing game.
I was especially impressed with Ross, who is a starting-caliber cornerback more than capable of filling in for Thomas if he's able to stay healthy (which, granted, has been a big issue with him). The Giants showcased their depth at safety by moving
Antrel Rolle
into a slot cornerback role (and bringing
Deon Grant
in at safety) in the nickel package, and that should work fine until and perhaps after
Prince Amukamara
returns from his injury. And I think
Jonathan Goff
looked very strong against the run as he continues to grow in his role as the starting middle linebacker. As I have continued to stress when discussing positives and negatives of all four teams this month, the preseason has no predictive value whatsoever, so I'm not saying the Giants' defense will be great because it was great in this game. But to see their established players putting up strong individual performances this late in the preseason should encourage Giants fans that those players are healthy and their minds are right.
Now, not all can be rosy in this Giants' preseason, and so a good night on defense came with hiccups. Kiwanuka left the game with a groin injury he later described as "not serious," and Tuck left with what the team described as a "neck burner," which they obviously hope isn't serious. But while the Giants' first-team defense was in the game, they looked fired up and ready to go.
Now, about the offense and the special teams ...
[+] Enlarge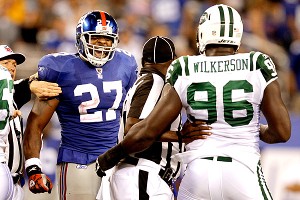 AP Photo/Julio CortezBrandon Jacobs was ejected from the game after being goaded into a fight by Muhammad Wilkerson.
1. The running game will be critical.
Ahmad Bradshaw
's playing time was limited because of a minor back injury, but he looked very good when he did play, especially on a 29-yard catch-and-run on a screen pass in the second quarter.
Brandon Jacobs
looked outstanding, as he has all preseason, running with spark and power and looking as though he could easily regain the No. 1 running back role should Bradshaw get injured or struggle with fumbles again. Sadly, though, Jacobs spoiled his effort with an idiotic play that got him ejected from the game. Jets defensive lineman
Muhammad Wilkerson
baited him into a fight. Jacobs, who fancies himself a boxer, threw a couple of punches, and both players were thrown out. Jacobs is a proven hothead who last season threw his helmet into the stands when he got upset during a game, and it's possible the book on him is that he's easy to rile up and prod into a stupid mistake. He surely did nothing in this game to dispel that.
2. Eli Manning and the interceptions.
One was on a fourth-down play where he was trying to take a chance because it was fourth down. The other was just a poor decision. And the fact that there were two of them is, of course, what stands out when we're talking about a guy who threw 25 picks last season. Now, he looked good throwing to
Hakeem Nicks
(and to Bradshaw), but the lack of depth of receiving options has him looking confused at times. He doesn't always seem to remember that
Victor Cruz
is on the field, let alone see that he's open. So it may be that there's work to be done for Manning to get used to his new receiving corps. It may also be that he'll look totally different come the regular season, as so many established players who struggle in preseason do. The good thing is that you know a poor preseason performance won't affect Manning's confidence or attitude, even if the same can't be said about the fans watching him. Fact is, Manning's got the job, and if he's going to have a bad season, the team is too and there's nothing anyone can do about it. I think he'll be fine.
3. Not-so-special teams.
Rookie
Jerrel Jernigan
looks as if he already needs a vacation. Muffs, fumbles ... not the kind of stuff you like to see out of your return man. They may need to look at other options. And the kick and punt coverage continues to look terrible, which actually does mean something since those teams are populated by guys playing for roster spots and increased playing time. One bright spot is that both punters looked good again, which I continue to believe means good things for
Steve Weatherford
and bad things for
Matt Dodge
. We'll see on that, but whoever gets that job is going to look a lot better if they can cover his kicks.
4. Cruz versus Domenik Hixon
. It was all Cruz early in that No. 3 wide receiver spot, with Hixon coming in late in the game again. I continue to believe the Giants have been trying to ease Hixon back from his knee injury and that he's the favorite to earn playing time in that No. 3 wideout role as the season goes along. But the fact that Cruz and
Mario Manningham
have seen so much time there makes me think they're going to continue easing Hixon back in once the regular season begins and want to know what they have there in terms of other options. Especially since they're not getting much out of the tight end position.
5. Offensive line improvement.
New center
David Baas
appears to be over the issues that plagued him in the first preseason game. And left tackle
William Beatty
might not look super-smooth over there with his grabby arms and constantly-moving feet, but he's more or less blocking his man. Left guard
David Diehl
struggled a couple of times early on, as he failed to pick up a few interior pass-rushers on the blitz. But that got better as the game went along. And the run-blocking is just outstanding across the board.
Finally, I'm not too troubled by this inability to punch the ball into the end zone that has everybody so upset. It's preseason. They moved the ball well. Pretty good chance they'll call different plays when it counts, no?
August, 29, 2011
8/29/11
3:22
PM ET
The news of the day so far in the NFC East is the
Dallas Cowboys
' decision to release center
Andre Gurode
and apparently head into the season with
three new starters on the offensive line
. Now, as happens whenever anyone we've ever heard of gets released, fans of the teams in this division want to know if he's going to end up on their teams. So:
Cowboys: No, obviously.
Giants: Extremely unlikely. They targeted and signed David Baas to play center and they like him. They like their guards, too.
Eagles: Doubtful. They want Jason Kelce to win the job, and even if he doesn't, they already have Jamaal Jackson.
Redskins: Possible, but I admit I don't have any insight into whether they're still looking to add to their line.
Miami makes sense, and I think I saw somebody mention Chicago. If Gurode is to be a division alum, we wish him well, but we're not likely to pay him much more attention. I'd rather focus on the offensive linemen who are actually in the division, and since the line pictures are starting to come into clear focus with all four teams (for better or for worse), let's take a look at each. Alphabetically, of course, since that's the only way I know to minimize hurt feelings.
Dallas Cowboys

Starters
: LT
Doug Free
, LG
Bill Nagy
, C
Phil Costa
, RG
Kyle Kosier
, RT
Tyron Smith
Reserves:
G
David Arkin
, G
Montrae Holland
, T
Sam Young
, C
Kevin Kowalski
Analysis:
Wouldn't be surprised to see them add a veteran swingman who can back up the tackles. Nagy or Kowalski can handle center if Costa's not ready for the start of the season. I'd expect Arkin to get the first shot at playing time over Holland if a guard spot opened up, but if they should need a long-term fill-in, they might lean toward Holland. They like Arkin a lot but believe he needs more seasoning. Overall, there are more question marks here than you'd like to see. Nagy knows what he's doing but may not be strong enough yet to play the position full-time in the NFL. Smith is a beast, but his footwork still needs some refinement. And the group as a whole hasn't played together for more than a couple of weeks. The most important guy may be Kosier, whom line coach Hudson Houck described to me last week as "kind of a secondary coach out there" because of the way he communicates with and among the other linemen. If they come together quickly and the rookies develop, Kosier is likely to get a lot of the credit.
New York Giants

Starters
: LT
William Beatty
, LG
David Diehl
, C David Baas, RG
Chris Snee
, RT
Kareem McKenzie
Reserves
: T
Stacy Andrews
, T
Jamon Meredith
, C
Adam Koets
, G
Kevin Boothe
Analysis
: Koets may have to begin the season on the PUP list because of his injured knee, which could open a spot for
Mitch Petrus
or even rookie
James Brewer
. With Snee and McKenzie, the Giants have as strong a right side as any line in the entire league. Baas looks like a professional and a mauler, and the only question is how quickly he can get up to speed with
Eli Manning
and his linemates, since he's the new guy in town and they haven't had many here lately. Moving inside to guard should help Diehl, who struggled at tackle last year even when he was healthy. For me, the whole thing rests on whether third-year man Beatty is ready to handle the role of starting left tackle in the NFL. Diehl is right there to help him, and Beatty isn't a rookie or new to the Giants. They believe they've groomed him for this and that he's ready. Assuming he is, the talent and the relative lack of major changes makes this the division's top line.
Philadelphia Eagles

Starters
: LT
Jason Peters
, LG
Evan Mathis
, C Jason Kelce, RG
Danny Watkins
, RT
Todd Herremans
Reserves
: C Jamaal Jackson, T
Winston Justice
, T
King Dunlap
, G
Reggie Wells
Analysis:
If Justice isn't ready, maybe
Mike McGlynn
grabs that spot. Still some things unsettled here, including among the starters. Mathis, Kelce and Watkins are all new, the latter two are rookies and Herremans is changing positions from left guard. Watkins is the first-round draft pick and as such he can expect to be the starter no matter how badly he's struggled in the preseason. They're saying the same about Kelce, but if he's clearly not ready they can always go back to Jackson until he is. Peters is a given, and a stud, in the passing and running games. And Herremans should be fine at tackle, though it says a lot about where the Eagles are with the state of their line that they moved him there with two weeks left in the preseason. I predict that this line will struggle at the outset, and maybe even cost Philadelphia an early game or two, but that it will show improvement under Howard Mudd as things move along and ultimately be good enough to deliver effective protection for
Michael Vick
and the Eagles' other outstanding skill-position players.
Washington Redskins

Starters:
LT
Trent Williams
, LG
Kory Lichtensteiger
, C
Will Montgomery
, RG
Chris Chester
, RT
Jammal Brown
Reserves
: T
Sean Locklear
, G
Artis Hicks
, G
Selvish Capers
, C
Erik Cook
Analysis
: One of the reasons I couldn't rule out Gurode here was that the group could use some depth. As for the starters, though, this is the line in the NFC East that looks most like it did last year. Only Chester is new, and while Montgomery wasn't the starting center last year, he played there and is likely to be an upgrade over
Casey Rabach
. Due to Mike Shanahan's zone-blocking scheme, this is a group that must play and execute together in order to be effective. If one guy looks bad, the whole line is going to look bad. A lot rests on Williams, the fourth overall pick in the 2010 draft, who must play with more consistency this year if he's to prove his talent justified that pick. Brown was a big re-signing, as he was well liked by teammates and linemates and brings a veteran presence among a relatively young group.
August, 22, 2011
8/22/11
11:33
PM ET
Observations from the Giants 41-13 preseason victory over the Chicago Bears on "Monday Night Football":
We preach all the time that preseason games don't matter, but so few people really take it to heart. Fans like to hang on every play, to wonder whether or not it matters that
Eli Manning
doesn't look sharp, or to try and figure out whether or not
Brandon Jacobs
deserves more carries than
Ahmad Bradshaw
. But in the end, there are no accurate judgments to be made off of these games and the only thing that actually matters in any of them is that nobody gets seriously hurt.
And that's why, regardless of the final score or the potentially very encouraging way the rest of the team played during the game itself, Monday night's victory over the Bears was a disaster for the
New York Giants
.
Shortly before halftime, Giants starting cornerback
Terrell Thomas
collided with Giants defensive end
Jason Pierre-Paul
and limped off the field. At halftime, Giants coach Tom Coughlin revealed to ESPN's Suzy Kolber than Thomas had torn the anterior cruciate ligament in his right knee and would miss the entire season.
[+] Enlarge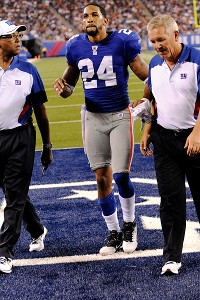 AP Photo/Bill KostrounNew York Giants cornerback Terrell Thomas has a torn the anterior cruciate ligament in his right knee and will miss the entire season.
This is devastating news, first and foremost, for Thomas, one of the very good guys and leaders on the Giants' roster and a player who has one year left before free agency. Thoughts go out to him, and best wishes for a speedy recovery.
But it's also awful news for the Giants, who earlier this preseason lost cornerbacks
Prince Amukamara
and
Bruce Johnson
to major injuries (and later in this game saw
Brian Witherspoon
carted off with a knee injury). Amukamara is out for at least a couple of months, Johnson for the year and now a team that was already struggling for depth at cornerback has lost one of its starters. They've gone from hoping
Aaron Ross
could be a reliable No. 3 corner and play as their extra defensive back in passing situations to hoping Ross can be a reliable starter and probably using safety
Deon Grant
in that role as they did last year. The Giants weren't deep to begin with, and they came out of their second preseason game with a major hole on the roster and in the starting lineup.
So that's all that matters from this game, period. But if you want to know what else I saw that might have a chance to matter down the road if by some coincidence regular-season developments jive with preseason performance in specific areas, here you go.
1. On the bright side, Ross looked very good.
He knocked down two
Jay Cutler
passes intended for
Roy Williams
on third down early in the game. He made another play on a receiver later to prevent a touchdown (though he may have pushed off on that coverage). He made a nice tackle on
Marion Barber
behind the line of scrimmage in the third quarter. You could do worse than Ross as a fill-in cornerback when one of your starters gets hurt, and it's encouraging that he played well. But again, the Giants were figuring on Ross as their third corner, not one of their top two.
2. Oh, and X-rays on William Beatty's foot were negative.
Which is a good thing. Beatty didn't have to take on
Julius Peppers
all night as we expected, since the Bears moved Peppers over to the other side to terrorize
Kareem McKenzie
and the Giants' overmatched tight ends. Beatty looked better overall in this game, holding his own and keeping his man off the quarterback, though he still looks a little grabby to me. You don't like to see a left tackle reaching quite as much as Beatty does to try and prevent the edge rush. He's got to do a better job of getting his whole body in front of his guy, or he's going to be a walking holding penalty.
3. Giants' special teams looked better.
Devin Thomas
is really showing his speed and athleticism on kick returns.
Matt Dodge
and
Steve Weatherford
both bombed huge punts all night. There was good kick coverage, including a big tackle by receiver
Victor Cruz
as he continues to work to try and secure a spot in the receiving corps.
Jerrel Jernigan
doesn't show much on punt returns, but the Giants had so many problems on special teams last year that if they can get it down to just one, Coughlin is going to be ecstatic.
4. How did those receivers keep getting open between Corey Webster and Kenny Phillips?
It happened twice in the first half, and Cutler hit it for a big gain each time. It looked as though the receiver got by Webster and Phillips didn't get over in time to help. There are three possibilities that I can see: 1. Webster let his man go by him without making sure he had the safety help; 2. Phillips was supposed to help but was slow getting over; 3. Phillips went with the tight end up the seam after the tight end got by middle linebacker
Jonathan Goff
, which would kind of lead back to (1.) though with some blame to be shared by Goff. Either way, I'm certain it'll be discussed in detail in meetings this week. The Giants will obviously need mistake-free play from Webster and Phillips with as vital a piece as Thomas now missing from the secondary.
5. Victor Cruz, preseason wonder.
Domenik Hixon
had the big touchdown catch, but I really believe the Giants are trying to bring Hixon along slowly as he's coming back from his knee injury. And if that's the case, it opens up opportunities for guys like Cruz to get more reps at wide receiver. Cruz lined up with the starters in the team's three-receiver sets at the start of the game, and he did a lot of good, athletic, impressive things, just like he did last year in the preseason. As long as he keeps contributing on special teams, he's a good bet to make the roster. And if he does and Hixon is still being babied come the regular season, Cruz should get a serious chance to show whether or not his preseason success can carry into the regular season this time.
6. Some notes on the sure things.
Manning looked fine, though I wouldn't put him in
John Beck
's class as a preseason quarterback. (Easy, folks... I kid because I love...) Brandon Jacobs looked especially spry on his touchdown run. And how about
Justin Tuck
's downfield tackle on
Matt Forte
? Tuck's a beast, but I couldn't help thinking a linebacker or a safety should have made that unnecessary. Overall, the Giants' defense looked very good, especially when it came time to keep the Bears out of the end zone in goal-line situations.
Mark Herzlich
's interception on the fourth-down play late in the fourth quarter was the most fun of the stops.
7. Still could use a tight end.
Not that this is a Priority No. 1 at this point, but
Travis Beckum
and
Bear Pascoe
have been fully underwhelming at a key position for the Giants' passing game. We saw Manning audible at the line a few times and look to check it down, but with
Steve Smith
in Philadelphia and
Kevin Boss
in Oakland, he's still looking for reliable options to serve as safety valves. There was a third-down throw on which he and
Mario Manningham
couldn't connect that made you think he missed Smith. But two more preseason games to go and work still to be done, as is the case with every team.
August, 22, 2011
8/22/11
12:55
PM ET
Three things to watch for in the Giants' preseason game against visiting Chicago on Monday night. Kickoff is set for 8 p.m. ET. The game will be televised on ESPN.


1. Better cohesion along the offensive line.
New center
David Baas
and newly promoted left tackle
William Beatty
struggled in the first preseason game, as did
David Diehl
in his new position at left guard. A lot of that can be attributed to change -- offensive lines are always better when they're made up of players who've played together on the same line for a while -- and improvement is to be expected as time goes on. We don't know if they'll get it together in time for the regular season, but they would like to see improvement game-to-game in the preseason so they know the issues are about familiarity rather than quality. Of particular interest Monday night will be the macthup between Beatty and Bears defensive end
Julius Peppers
, one of the premier pass-rushers in the league. This season Beatty will be facing off against the likes of
DeMarcus Ware
,
Brian Orakpo
and
Trent Cole
in the division, so if Peppers plays and stays in for a couple of series, this should be a good test to see how he handles that level of competition.
2. Identifying and evaluating secondary receiving targets.
Quarterback
Eli Manning
was shaky in the first game, which could have had something to do with the line (and/or Baas specifically). Manning didn't help the Giants get a line on who's likely to take over
Steve Smith
's role as the slot receiver. I expect to see
Mario Manningham
and
Victor Cruz
in that role, and possibly
Domenik Hixon
, though the team has been trying to limit him as he continues to recover from his knee injury. The Giants would also like to see tight end
Travis Beckum
play better than he's practiced, since he's their best receiving option at the position with
Kevin Boss
having gone off to Oakland.
3. Mathias Kiwanuka continuing to settle in at linebacker.
There were a couple of plays last week on which Kiwanuka seemed to play as though he'd forgotten he was now a linebacker and no longer a defensive end on first and second downs. He'll have to stay home more, be more patient and pay more attention to coverage assignments. There's little doubt he can do it, but when he doesn't, it stands out, because
Jonathan Goff
isn't the most seasoned middle linebacker in the world and benefits from having guys on either side of him who know their assignments. I'll also be watching to see if
Jason Pierre-Paul
can repeat his first-game performance at defensive end, since he looks like the starter for a while now that
Osi Umenyiora
's had knee surgery.
August, 16, 2011
8/16/11
5:40
PM ET
I love a contrarian point of view, and K.C. Joyner's got one here. While everybody is gushing over the
Philadelphia Eagles
as free-agent champs and NFC East favorites, K.C. has written
an Insider piece

listing eight reasons to think the
New York Giants
should be the favorites instead. Like I said, it's an Insider piece, so if you want to read it you can either buy the insider subscription or call my cell phone and I'll give you my password.
K.C.'s eight reasons are:
[+] Enlarge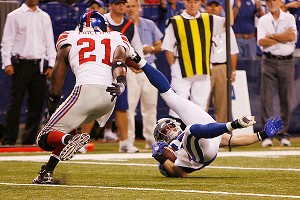 Brian Spurlock/US PresswireSafety Kenny Phillips, 21, now healthy, is among the reasons the Giants could win the NFC East.
1.
Michael Vick
was lucky last season, as a high percentage of his potential interceptions weren't actually intercepted.
2.
Eli Manning
was unlucky last season on the opposite end of the same scale.
3.
Hakeem Nicks
and
Mario Manningham
are better against good coverage than
DeSean Jackson
and
Jeremy Maclin
are.
4. Manning can overcome the loss of
Kevin Boss
and
Steve Smith
simply by throwing to Nicks and Manningham more.
5.
Jason Pierre-Paul
and
Marvin Austin
will improve the Giants' already strong pass rush.
6.
Steve Weatherford
is a better punter than
Matt Dodge
, who cost them games last season.
7. Offensive line coach Pat Flaherty is the best in the NFL, and that should help the transition to the reworked alignment there.
8.
Kenny Phillips
is fully healthy.
K.C. has numbers to back up many of these points, and many of them are points with which I agree. I think Phillips will be a huge help, agree completely on Weatherford and can easily believe both that Manning will throw fewer interceptions than he did last season and that Vick won't be quite as awesome as he was last season. On the comparison of the two teams' wideouts, I have no reason to doubt K.C.'s numbers.
I have specific issues with points 4, 5 and 7, as follows:
4. I don't think it's as simple as "throw it to Nicks and Manningham more." Nicks and Manningham surely benefited from defenses having to pay attention to Smith, who'd caught 107 balls the season before, when he was on the field. He's gone and has not been replaced.
5. I like Pierre-Paul and Austin fine, but they're not being added to the mix. They're replacing people who have departed.
Mathias Kiwanuka
moved back from the line to linebacker, and Pierre-Paul will take his spot.
Barry Cofield
signed with the Redskins, and Austin replaces him. It's a big leap to believe that those two young players will approximate the production and performance of those two veterans and a bigger one to believe they'll improve on it.
7. Flaherty could be a wizard, but if William Beatty isn't ready for the starting left tackle job in his third season in the league, the Giants' line will struggle. And as of right now, we still don't know if he is.
So what do I think of K.C.'s basic thesis? I think the Giants have a very good team as far as the front-line starters go, and I don't think it'd be some huge upset if they won the division. I have all kinds of respect for the work K.C. does and the numbers on which he is basing his conclusions. He makes a strong case and a case worth making amid all the Eagles hype.
But the way I see it, the Giants' problem the past couple of seasons hasn't been one of measurables.
The Giants' defense over the past two seasons has been inconsistent and hasn't always played up to the level of the talent on the roster. The same can be said, in places, for the running game and for Manning. The Giants were good enough to make the playoffs in 2009 and 2010 but didn't, and the reason they didn't was because the good players they have in key spots like that didn't always perform the way the numbers would expect them to perform. Supposedly reliable parts of the roster let them down when it mattered most.
Ahmad Bradshaw
fumbled. Manning threw interceptions.
Kareem McKenzie
had an inexplicably bad game against the Titans. Half of the defense quit on its coordinator in 2009.
That's the kind of stuff that doesn't show up in preseason projections, when we're imagining everyone playing as well as they can possibly play and predicting outcomes based on that. If the Giants stay healthy and play 16 games that reflect the talent on their roster, sure, they can be division champs. But that was true last season and the season before, too. And those teams, which looked a lot like this team except maybe deeper, didn't do it.
August, 14, 2011
8/14/11
12:02
PM ET
EAST RUTHERFORD, N.J. -- It's funny to say this about a team that plays where they play, but the
New York Giants
like it when nobody notices them. They like being forgotten, underestimated, treated as an afterthought. They're OK with the Jets getting all the back-page-tabloid attention and the Eagles being the big offseason story because of their free-agent shopping spree. The Giants believe in their own way of doing things, and if that means lying in the weeds while people on the outside are distracted by other teams that are hot at the moment, that's fine with them.
"We believe in our organization, and we believe in our coaches," said ninth-year offensive lineman
David Diehl
, who has moved from left tackle to left guard as part of the Giants' offensive line shuffle. "We're not running around doing the free-agency fiasco and all that stuff. Yeah, you hope that, if an opportunity arises, you bring in guys that fit holes. But at the same time, we've got guys that have been here, guys that are a part of this team, guys who know the system."
That's why, even though they lost tight end
Kevin Boss
and receiver
Steve Smith
in free agency and didn't sign new guys the way the Eagles did, the Giants say they're not worried. They have a different way of doing things here. They build through the draft and groom their own players to replace the ones who leave. And they have a few guys they think can fill the holes created by their cuts and free-agent defections. It remains to be seen whether they're right, of course, but the vibe at Giants training camp is clear: Go ahead, underestimate us. We'll see how it turns out in the end.
THREE HOT ISSUES
[+] Enlarge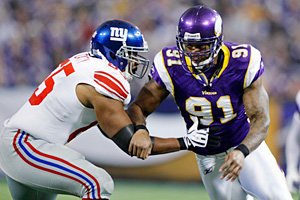 Bruce Kluckhohn/US PresswireThe Giants will have a revamped offensive line that includes William Beatty, left, at left tackle.
1. The new offensive line.
When they cut longtime center
Shaun O'Hara
and guard
Rich Seubert
on the first day of free agency, the Giants signaled a decision to change an aspect of their team that hadn't changed much over the past six or seven years. They signed free-agent center
David Baas
from San Francisco, moved Diehl inside, and gave the starting left tackle job to 2009 second-round draft pick
William Beatty
. So there are questions that must be answered about how quickly the newly configured group can jell, how smooth the relationship between Baas and quarterback
Eli Manning
will be and, perhaps most importantly, whether Beatty in his third NFL season is ready for the responsibility of protecting Manning's blind side.
"In the case of William Beatty, it's time," Giants coach Tom Coughlin said. "We've had him here. He's talented. He's had an opportunity to learn. He's practiced against some of the best. We've had some defensive ends around here that can play. So it's time. It's his turn."
Beatty started four games in his rookie season and two last season as he was being groomed for this opportunity. He's perhaps the best example of the Giants' belief in their ability to groom their own replacements for departing veterans rather than having to hit the free-agent market to do so. Now, he must prove that their faith in him was justified.
2. Can Osi Umenyiora be happy?
Upset about his contract, the Giants' star defensive end has sat out practice and demanded that the team re-work his deal or trade him to a team that will. Neither of those things appears likely to happen, though the Giants have offered an olive branch in the form of some 2011 incentives depending on the number of sacks Umenyiora gets this year. He had his knee checked out last week and there's a sense he could return to practice Monday. The way
Jason Pierre-Paul
played in Saturday night's preseason opener only helped the Giants' leverage in this situation. They believe Pierre-Paul, their 2010 first-round pick, can be a capable replacement for Umenyiora at the defensive end spot opposite
Justin Tuck
. Of course, if Umenyiora wants to come back and play, they'll be thrilled to be able to rotate three such weapons at the defensive end spots. It would also enable them to put
Mathias Kiwanuka
at linebacker and leave him there.
3. Manning's safety valves.
As the Giants' passing game evolved over the past couple of seasons, Manning relied heavily on Smith and Boss as targets when things broke down. Both are gone. The Giants hope that 2009 third-round pick
Travis Beckum
is ready to replace Boss. Beckum is a good receiver, but he doesn't have Boss' size or blocking ability. And they're trying everyone from
Mario Manningham
to
Domenik Hixon
to
Victor Cruz
in Smith's old slot-receiver role in the hopes that someone can play the position the way Smith did. Top receiver
Hakeem Nicks
appears poised to have another big year, and the Giants can use Manningham on the outside as they did last season. But Manning is justifiably concerned about who will be there for him when a play inevitably breaks down, and tight end and slot receiver are positions that need to be sorted out before camp ends.
"When we've gotten in trouble in the past, we always had Steve in the slot, and that's kind of all we worked on -- Steve's in the slot, there you go, he's got it down," Manning said. "And so last year, when he got hurt, we were in trouble. No one else really knew how to play it. So this year we're putting everybody -- Hakeem is in there, Manningham's getting in here, we're getting a lot of people in there to get them to learn some of it, so that'll probably create some more opportunities for us to move guys around and get some mismatches."
MAN IN THE MIDDLE
[+] Enlarge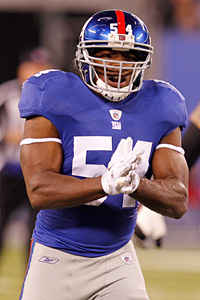 William Perlman/The Star-Ledger via US PresswireJonathan Goff is entering his second season as the starting middle linebacker.
Linebacker has been a weak spot for the Giants the past couple of years. Unable to add outside free agents because of cap concerns, they'll address it by moving Kiwanuka there for first and second downs. But much will still fall on the shoulders of
Jonathan Goff
, who enters his second season as starter at middle linebacker in the Giants' 4-3 defense. "I'll have better composure this year," Goff said. "Last year, being my first year, was a little bit of a learning experience for me. This year, I think we're all on the same page to move forward as a defense and get better. It's just natural now." Goff is responsible for communicating the calls from the sidelines and for making any front-seven checks. (The coverage checks are the responsibility of the safeties.) He knows he'll need to take a stronger on-field leadership role for the defense to play more consistently this season.
AN 'EXPLOSIVE' PHILLIPS
Two years ago,
Kenny Phillips
was on the verge of breaking out as one of the top safeties in the NFL. But he lost his 2009 season to a left knee injury, spent the 2009-10 offseason rehabbing the knee and wasn't the same player when he returned in 2010. This year, Phillips said, he was able to condition himself the way he normally would for a season, rather than have to rehab, and believes it has made a huge difference. "Just being more explosive," Phillips said. "Last year, just seeing the field, it was kind of difficult at times, because I'd been away from the game, to be able to break on the ball -- to actually see it and then be able to get to it. But this year, now, everything is just fluid. My technique and everything is sound. I just feel good about everything this year." Phillips said he learned a lot last season playing and working with veteran safety
Deon Grant
(who remains an unsigned free agent), and that, with his physical ability fully restored, he believes he'll be a better player.
OBSERVATION DECK
Hixon could be a very important player for the Giants if he's recovered from his knee injury. He showed ability to play that slot receiver position when he was healthy, and will get a chance to show it again, though it seems clear the Giants would like to have multiple options there in case something goes wrong.
Linval Joseph, the 2010 second-round pick, would seem to have the playing-time edge at defensive tackle over 2011 second-round pick Marvin Austin. But each brings impressive size and agility to the position, and between them the Giants should be able to capably replace Barry Cofield, who signed with Washington.
The starting secondary of Phillips, Antrel Rolle, Terrell Thomas and Corey Webster looks excellent in practice. The question is whether there's enough depth behind those guys if there's an injury. Cornerbacks Michael Coe and Brian Witherspoon and safety Tyler Sash have a chance to earn playing time with Prince Amukamara hurt and Grant not re-signed. Witherspoon has been impressive on special teams and looked good in Saturday's game. Sash appears to be very athletic, but he needs to play with more discipline.
Kiwanuka at linebacker is a work in progress. No question he has the ability to play it, but he over-pursued Saturday at times the way a defensive end might.
Even before he left Saturday's preseason game with a thigh injury, kicker Lawrence Tynes looked as though he might be cause for concern. Having missed a few practices as he recovers from knee surgery, Tynes was unable to boot kickoffs out of the back of the end zone the way it seems every other kicker in the league has so far this preseason. And he missed a couple of field goals (though the first was a 56-yarder he shouldn't have been asked to try). Worth keeping an eye out to see how he looks the rest of August.
As for punters, Matt Dodge has looked better than he did in his difficult rookie season, but it's going to be tough for him to beat out Steve Weatherford, who's just better at the job.
August, 13, 2011
8/13/11
11:48
PM ET

The
New York Giants
could have used a feel-good preseason opener Saturday night. No, I don't think you can read much into these preseason games. You don't know which teams are game-planning and which aren't. You can make judgments on individual efforts in certain cases, and get a sense of what teams might be planning in terms of playing time and defensive and offensive alignments. But when we say a team looked good or bad in a preseason game, we are not making any predictions or judgments about the way the season will go based on that.
All of that said, after a week in which they got knocked around in free agency and faced questions about whether their offseason plan was sound or even extant, the Giants could have used a match that left them feeling good about things. Kind of like the one the Redskins had Friday.
They didn't get it.
Yeah, some good things happened in their
20-10 exhibition loss
to the
Carolina Panthers
.
Jason Pierre-Paul
was the star of the first half, looking fast, athletic and hungry as he recorded two sacks. Both punters looked good, third receiver candidates
Domenik Hixon
and
Victor Cruz
had nice moments, and
Michael Boley
ran back an interception for a touchdown on the first series of the game. But all in all, it wasn't a good night. There were tackling issues, communication issues and special teams issues. The backup offensive line was so bad that it may have gotten kicker
Lawrence Tynes
hurt.
Other than the Tynes thing, none of this is cause for any reason concern. Just because they were sloppy Saturday night doesn't mean anything about the season. I'm just saying, given the way their fans were feeling in the wake of the free-agent departures of
Steve Smith
, they could have used a better performance.
Here's some stuff I saw:
[+] Enlarge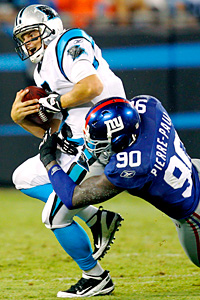 AP Photo/Chuck BurtonJason Pierre-Paul nabbed two sacks and could be a viable replacement if Osi Umenyiora continues to sit out.
1. Pierre-Paul looks like a monster.
The Giants' 2010 first-rounder has been getting a lot of snaps with the starters in practice with
Osi Umenyiora
sitting out, and he looked fantastic Saturday night. Two sacks, pressure on almost every play, quickness off the edge, athleticism, determination -- everything you want in a pass rusher. If Umenyiora wants to continue to sit out because of his contract, the Giants have some tape they can show him of a guy who looks like a very capable replacement. If Umenyiora wants to come back, the Giants have even more depth on the offensive line and can keep
Mathias Kiwanuka
at linebacker. Pierre-Paul's rapid development would be a very useful thing for the Giants.
2. Other good stuff from the defensive line.
We saw encouraging play from the defensive tackles, too, with
Chris Canty
getting into the backfield,
Rocky Bernard
getting a sack, rookie
Marvin Austin
playing well in the second half and the Giants generally producing a lot of pressure with their defensive front. As expected, they moved Kiwanuka up to the line in passing downs, and they did the same thing with
Adrian Tracy
when he replaced Kiwanuka in the second quarter. Tracy played well, helping generate the pressure that led to the Bernard sack as well as
Alex Hall
's. The Giants are looking for depth at linebacker, and Tracy could help if he plays like this.
3. The punters look good. The coverage? Not so much.
Matt Dodge
hit a couple of nice punts, including one that looked a little bit like a
Jeff Feagles
directional special. But
Steve Weatherford
was one of the best punters in the league the last couple of years and hits the ball farther than Dodge does. Could be tough for Dodge to win this competition. And regardless of who wins it, the coverage team will just have to do a better job. This is one area that actually does mean something in preseason, because the guys on special-teams coverage units should be playing hard and trying to win roster spots. They were miserable all night until Cruz came up with a big solo tackle on a punt return in the third quarter. A guy like
Michael Coe
, who has an opportunity with the Giants losing so much depth at cornerback, needs to come up bigger than he did on
Armanti Edwards
' long first return.
3a. Also, one punt-related question:
Why in the world did Tom Coughlin call for a 56-yard field goal attempt in the first quarter when Tynes is coming off knee surgery and he's trying to get a look at two punters? Just wondering. Seemed like a weird decision. Tynes, who is also the only kicker I've seen so far this preseason who hasn't been able to kick it through the end zone on kickoffs, missed the attempt.
4. William Beatty -- some good, some bad:
The new starting left tackle got manhandled a bit on the first two offensive series, looking overwhelmed and doing a lot of reaching and grabbing as he was getting beaten off the edge. But he seemed to settle in and looked much more authoritative and aggressive on the next few series. He stayed in longer than did the other starting offensive linemen, and it's no coincidence. Whether Beatty is ready to handle his new full-time job will go a long way toward determining how well the Giants handle their transition to this new offensive line assignment.
5. Brian Witherspoon was a bright spot.
The Giants' starting secondary looks as though it should be very good (though there did seem to be some communication issues there early on). The question is whether they have depth behind the starters, with
Prince Amukamara
and
Bruce Johnson
hurt. Witherspoon was a star of the second half on special teams as well as at cornerback. A guy to watch as the preseason rolls along.
6. Quick hits:
It was fun to watch top draft pick
Cam Newton
get his first game action for the Panthers. He beat Giants rookie
Tyler Sash
with a great throw on his first drive, but Sash and Coe made good plays to help keep him from capping that drive with a touchdown pass. ... It appears as though Hixon is the leader for that No. 3 receiver spot. He got a lot of work in the slot in the second half with
Sage Rosenfels
throwing to him. ... I thought
Danny Ware
looked all right as a third-down back catching screen passes. ... The word on Tynes was a thigh contusion, which is better than a knee injury for sure.
More on the Giants on Sunday, as you'll get my "Camp Confidential" report on them. Meantime, let me know what you thought.
August, 10, 2011
8/10/11
6:32
PM ET
EAST RUTHERFORD, N.J. -- Tom Coughlin had been working his
New York Giants
out in the evenings here at the Meadowlands, with practices running from 6 pm to 8 pm ET throughout the first week and a half of training camp. But Coughlin changed it up Wednesday moving practice up to 1:30 pm because, he said, it hadn't been hot enough for those evening sessions.
"Football has to train in the heat, so we'll train in the heat," Coughlin said.
Thing is, the weather here is very pleasant today. There was some cloud cover throughout practice, and it wasn't very hot at all. Perhaps Coughlin will look into moving camp down to Texas if this continues.
Anyway,
Osi Umenyiora
hopped off his exercise bike and did some drills, "bad knee" and all. The Star-Ledger's photographer snapped
a picture of Umenyiora
doing a pass-rush drill on his own while his teammates practiced, and Ohm says
Umenyiora will see a specialist
on Thursday to have his knee checked out. Still not convinced the Giants are out of the woods on this one yet, as there's still lingering suspicion that Umenyiora is using the knee as an excuse not to practice while he sits out in protest of his contract situation. But the fact that he actually got on a field and did some footballish activity might indicate at least that he's thinking about practicing soon. We will, of course, continue to monitor.
The Giants announced that tight end
Travis Beckum
missed practice with a hamstring injury, which is really crummy news because it's the latest in a long string of evidence that some Wiccan cult has cast a spell on the Giants' tight end position similar to what they did to Pam the vampire in "True Blood." First,
Kevin Boss
left to sign with the Raiders. Then,
Ben Patrick
retired on them. Now, Beckum, their best receiving option at tight end, is out with a hamstring. If I were Coughlin, I wouldn't let
Bear Pascoe
out of my sight.
As for practice observations,
Darius Reynaud
had a great day at receiver, where there's obviously opportunity.
Eli Manning
seemed to be looking for a variety of different targets today, whereas Monday night I felt like he was always looking for
Hakeem Nicks
.
Victor Cruz
caught a touchdown pass from
Sage Rosenfels
and got tackled in the end zone after the catch by cornerback
Michael Coe
, who earned a stern talking-to from Coughlin after the play. Pascoe also dropped a touchdown pass he should have caught.
The stars of the day in team drills and one-on-ones were the starting secondary, especially safety
Kenny Phillips
and cornerback
Corey Webster
. And rookie defensive tackle
Marvin Austin
practiced after missing Monday with a hip injury. So the defensive line depth is looking better while the starting secondary looks strong.
More in the coming days from here, including Manning's thoughts on the 25 interceptions he threw last year and some thoughts from the principals in the daily battles
Will Beatty
and
Jason Pierre-Paul
have been fighting in the trenches as each prepares for a larger role in 2011.
April, 7, 2009
4/07/09
9:58
AM ET
Posted by ESPN.com's Mike Sando

Jim Thomas of the St. Louis Post-Dispatch says the Rams would consider trading down from No. 2 if other teams were interested in the pick. Also: "Two more offensive tackles, Michael Oher of Mississippi and William Beatty of Connecticut, are making pre-draft visits next week to Rams Park, the Post-Dispatch confirmed Monday. Add North Carolina wide receiver Brandon Tate to the list as well."
Also from Thomas: He checks in with Billy Devaney following the Rams' trade for Laurent Robinson. Devaney: "He showed a lot of potential his rookie year. Good ball skills, smooth route runner. He's got some size, too."
VanRam of Turf Show Times says getting Robinson healthy should be a top priority for the Rams, who have too much experience dealing with hamstring injuries.

Kevin Lynch of Niner Insider says the 49ers' approach to the draft has changed since the Bill Walsh days. Assistant coaches have less input.
Matt Maiocco of the Santa Rosa Press-Democrat quotes draft prospect B.J. Raji as saying he's been assured he did not fail a drug test. Raji is visiting the 49ers.
Also from Maiocco: Tennessee running back Arian Foster and USC linebacker Rey Maualuga were the first college prospects to visit the 49ers this offseason. Raji and Texas Tech receiver Michael Crabtree also arrived for visits. Also, the 49ers have remodeled their headquarters.
David Fucillo of Niners Nation says the 49ers are a team with needs but not necessarily one with holes heading into the draft. How should that affect draft strategy?

Kent Somers of the Arizona Republic says the NFLPA has not yet received paperwork regarding Karlos Dansby's decision to fire agent Kirk Wood. Somers: "Dansby is close to Cardinals strong safety Adrian Wilson, who is represented by Eugene Parker. Sources close to the situation expect Dansby to hire Parker."
Darren Urban of azcardinals.com says Cardinals nose tackle Alan Branch has lost weight. Does that mean Branch is serious about realizing his potential?
Also from Urban: He isn't sure what to make of Dansby's decision. Urban: "I don't know if the Cards and Dansby were necessarily about to consummate a deal, but you would think, at least in the short term, this would represent a step back if talks were progressing."
Revenge of the Birds' Andrew602 sizes up which players mock drafts are sending to Arizona. Running backs Knowshon Moreno and Donald Brown appear as first-round candidates, as does outside linebacker Larry English.
Danny O'Neil of the Seattle Times quotes former Seahawks linebacker Julian Peterson on the trade that sent Peterson to Detroit. Peterson, via KJR radio: "It's business and I'm fine with it."

Eric Williams of the Tacoma News Tribune summarizes Matt Hasselbeck's comments to KIRO radio regarding the Seahawks' draft plans. Hasselbeck advises against drafting a quarterback with the fourth overall choice. "I'm a little biased here, right?" Hasselbeck said.
Also from Williams: Seahawks coach Jim Mora expects Hasselbeck to be healthy this season. Hasselbeck, slowed by a back injury last season, will be on the field for minicamp practices beginning Tuesday.
John Morgan of Field Gulls explains why he thinks Brian Orakpo wouldn't be a good fit for Seattle in the first round. Morgan: "Seattle doesn't need a defensive end, he marginalizes or forces out Baraka Atkins, he marginalizes Darryl Tapp and maybe Lawrence Jackson, and he has an extensive and worrisome injury history."
William Tomisser of Seahawk Addicts uses our draft-firepower Excel file to conclude that teams are unlikely to trade into the top two spots. The likelihood improves if teams use a modified draft-value chart in determining values for the top few picks, which the standard chart seems to overvalue. But rarely do we see teams trade into those spots.

NFL SCOREBOARD
Thursday, 8/28
WEEKLY LEADERS